Here stands the victim of my weekend refinishing project. I plan on using this old dresser as the nursery changing table, since it's the perfect height and has six drawers for plenty of storage space for Eggroll's tiny articles of clothing. And it's solid wood too!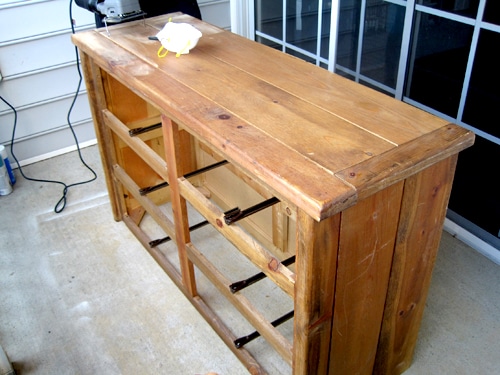 It took very little elbow grease to strip the finish off this old dresser thanks to my handy-dandy palm sander (my very first power tool!). I used 100 grit sandpaper and sanded with the grain of the wood while wearing my very stylish face mask so as not to inhale anything that might be harmful to Baby.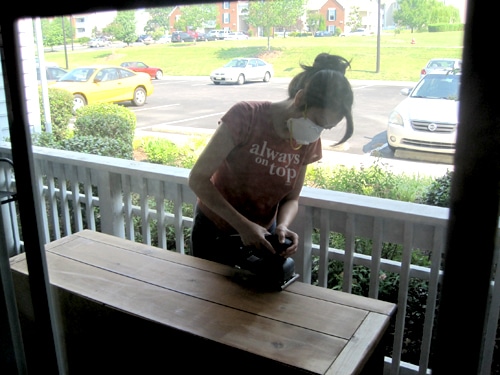 Also, to avoid as much fumes as possible, I initially wanted to use an oil-based wood stain and a non-toxic, low odor, low-VOC sealant separately, but after finding limited color choices on the shelf, I ended up going with Minwax Polyshades in Bombay Mahogany (Satin 380), which is a stain-and-polyurethane-in-one kind of deal. Unfortunately, it's a lot more fumey and toxic, so I left the staining up to dear Husband and decided not to put Eggroll at risk.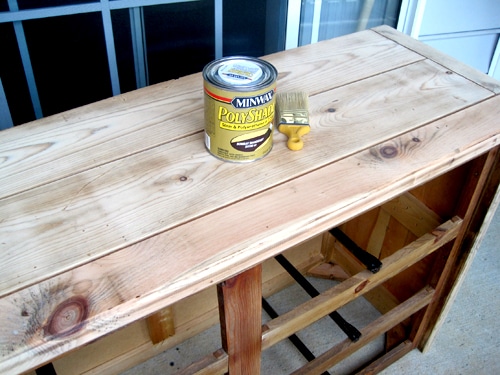 We should have plenty of time to let it off-gas before Baby arrives, but just in case the dresser still stinks in September, I'll seal up all those nasty fumes with a non-toxic, low-VOC sealant like Safecoat Acrylacq.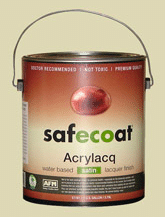 But back to the task at hand. The first coat of stain went on and I was really disappointed to see how red it was turning out (it looks almost plum-colored! Ew). That's what I get for underestimating the term 'mahogany.' I've only ever worked with an oil-based wood stain (sans polyurethane) before and was getting a little frustrated that the stain-and-poly-in-one option wasn't going on as smoothly. It had more of a gel-like consistency, so it pretty much stayed where it was brushed on, instead of spreading and leveling out like an oil- or water-based stain would. But we didn't give up hope. We gave that messy, uneven first coat the benefit of the doubt and waited 6 hours for it to dry before applying the second coat.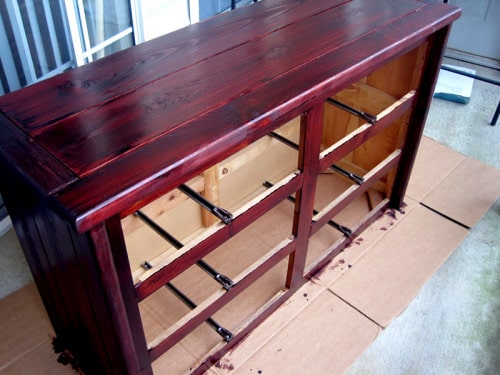 1st coat of stain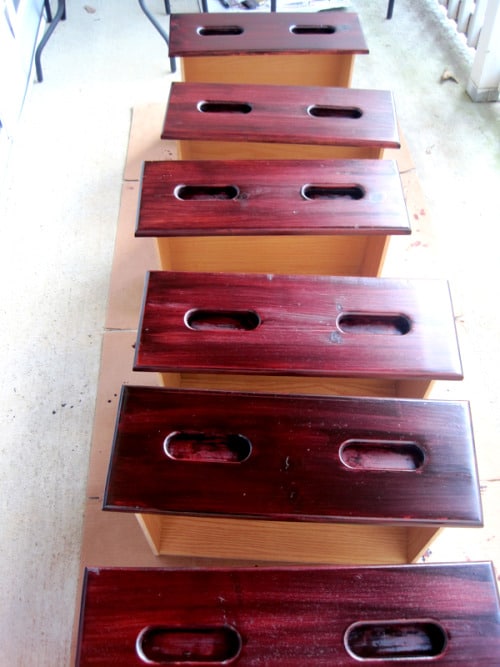 1st coat on the drawers
After the first coat was completely dry, I lightly sanded it with 220 grit sandpaper just to rough it up a bit for the second coat. Then I wiped it down with a damp cloth to remove any dust and debris, let that dry and tackled it with another coat of stain.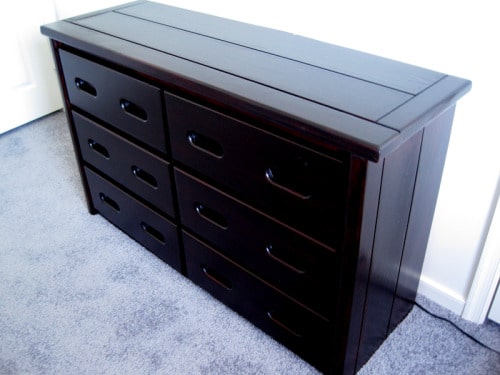 Dresser Drawers (Re)Finished!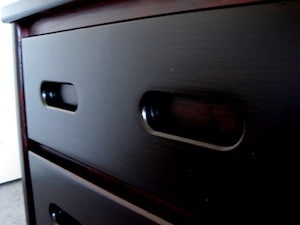 Cost Breakdown:
Dresser: already owned
Face mask: already owned
Palm sander: already owned
Dust cloths: already owned
Gloves (pkg of 10): $1.78
Minwax Polyshades in Bombay Mahogany (Satin 380): $10.68
2″ Economy brush: $2.69
Total: $15.15
Not too shabby, eh? It's amazing what a complete transformation our old el cheapo dresser went through with just a few dollars spent. It looks like a million bucks! Also, it's worth mentioning that our friendly neighborhood Lowe's honors a 10% military discount (yes!) so we take advantage of that little perk every time we shop there.
And I'm happy that the end result was not, in fact, eggplant or plum-colored, but a lovely espresso-toned finish, which will match our crib beautifully. Suh-weet!