*This post is sponsored by The Home Depot.
Hey House of Wood readers, this is Adam writing to tell you about a few new products we received from The Home Depot recently. From time to time when Jen receives products that I really like, I "borrow" them from her. Here are a few really handy tools that have quickly become my favorites.
First up is the MILWAUKEE 500-LUMEN LED PIVOTING RECHARGEABLE FLASHLIGHT. Now I know Jen has told you how I like to be prepared at all times. I've made survival kits for each of our cars and I always have a pocket knife (or three) and a flashlight on my person. In my car, I keep a second flashlight and this little Milwaukee just became my favorite one for the car. It's got three power settings, spot (500 lumens for 2.5 hours), High flood (400 lumens for 3 hours), and Low flood (100 lumens for 10 hours).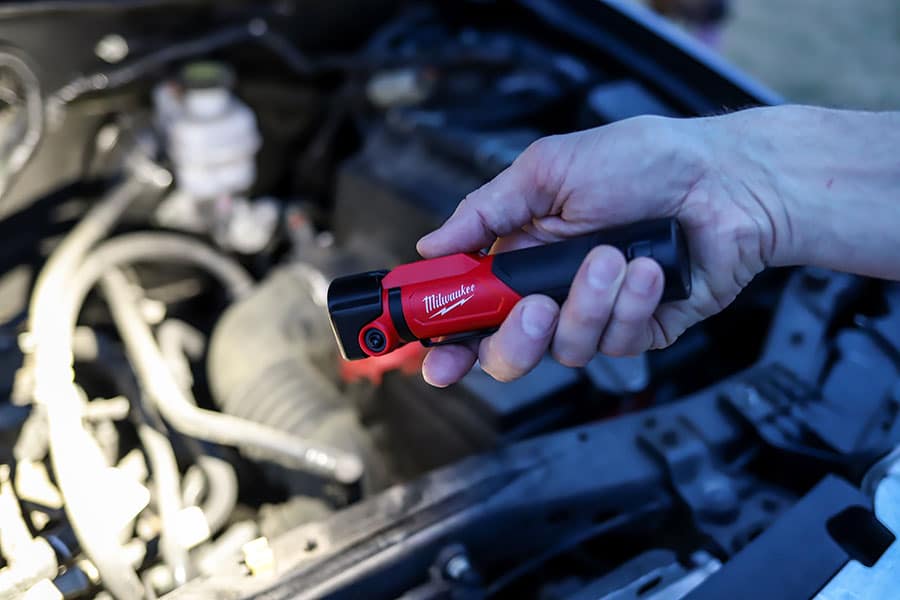 I find it really handy that I can use the lower power setting and go longer between charges. Oh, and did I mention that it's rechargeable? The REDLITHIUM USB battery is charged internally with micro-USB cable from USB power source or AC outlet. It comes with a 2 ft. job-site tough, braided micro-USB cable with metal ends, but I use a multi-USB cable in my car that charges my phone and my flashlight simultaneously. You can also switch the battery with a fresh one allowing even less down time for extended use.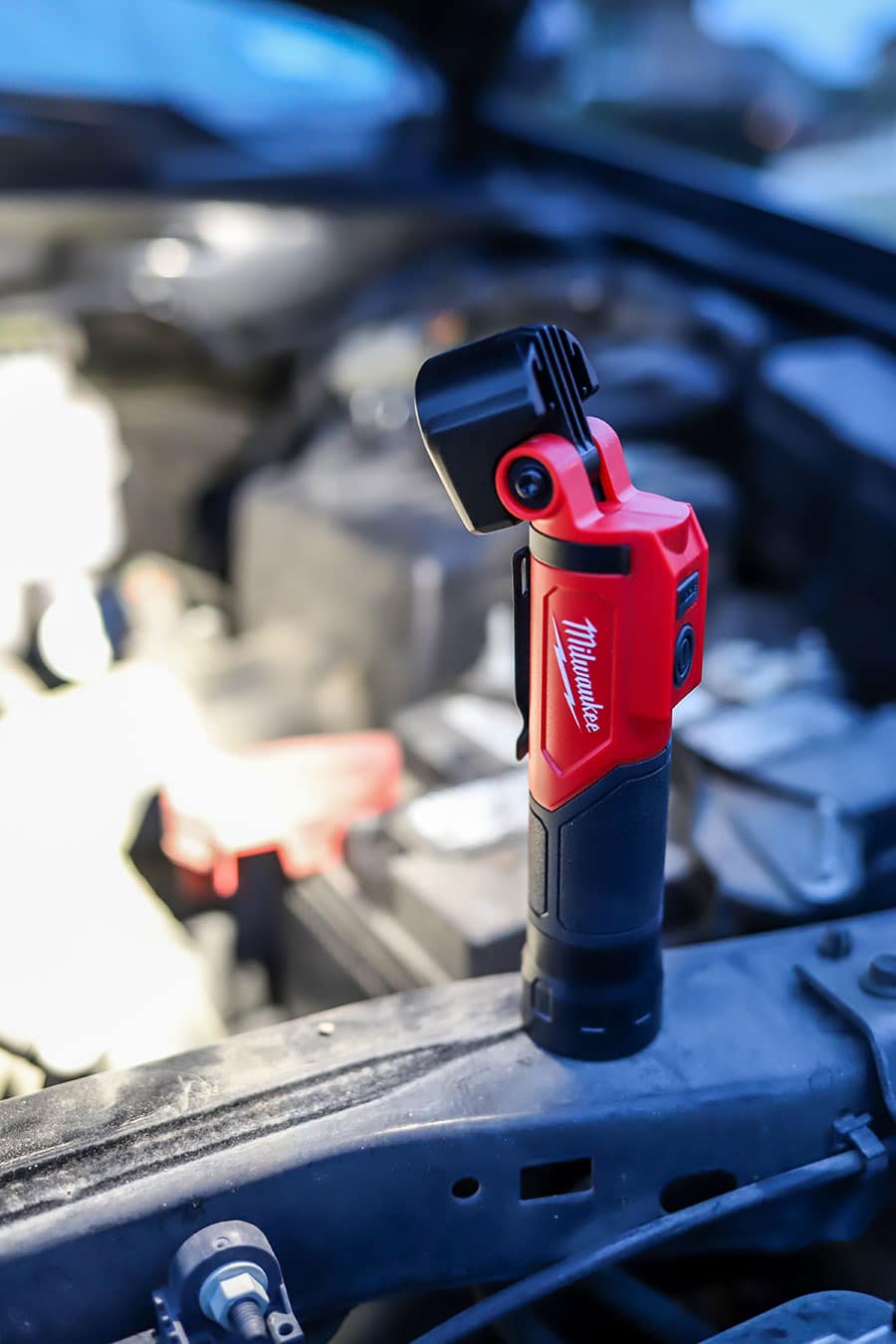 So all that stuff is convenient, smart, and useful, but let me tell you what I LOVE most about this little light. It has a magnetic base that lets me set it down and work with both hands and still have my workspace illuminated. The head swivels so I can direct the light where I want it.
I have a lot of flashlights – I have no less than a dozen name brand high end flashlights that I've acquired over the years in the Army, but the Milwaukee 500 lumen LED pivoting rechargeable flashlight is the one I keep in my car now.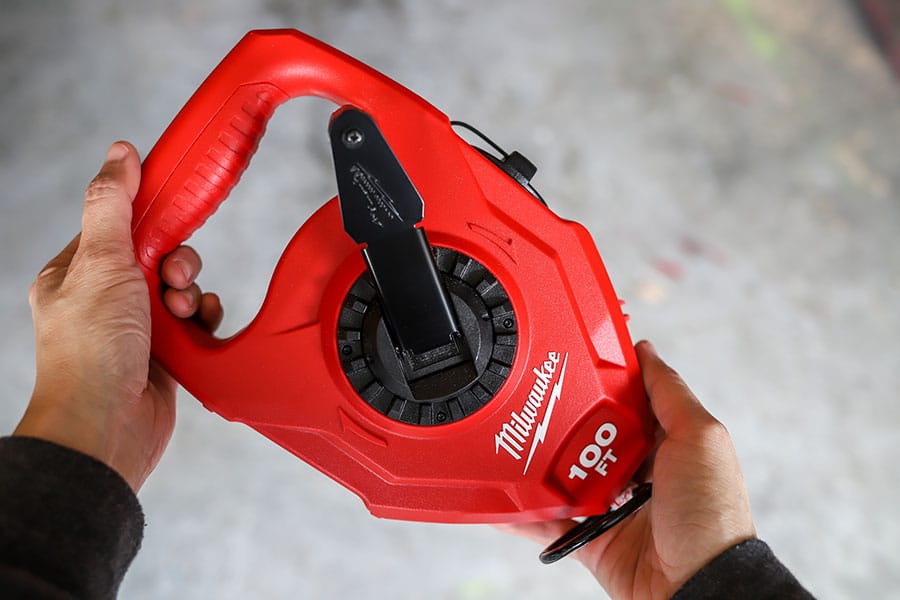 The Milwaukee 100 ft. chalk reel seems ginormous to me, but this isn't your standard chalk reel. I'm used to using a small chalk reel that fits in a tool belt and this one is definitely a touch too big for that. Jen and I will be putting this monster to use on our first big project after we move next month – we're going to build Jen a detached workshop and I'm pretty sure we'll be using this ginormous chalk reel as we are laying in the bottom plate. This chalk reel will come in handy with its 100-foot line and 18 oz. chalk capacity. We would have loved to have this thing when we were building our neighbors a floating deck and pergola. But stay tuned for a lot more new projects coming up the pipeline with the new house!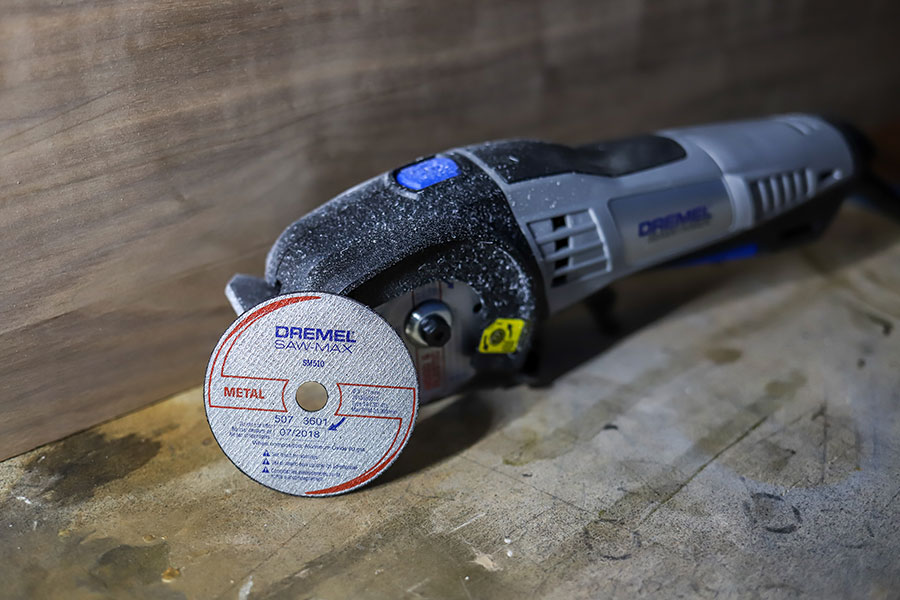 I'm a fan of all things Dremel. I don't use them for nearly as many applications as they are capable, but I love them. We've been wanting a DREMEL SAW-MAX 6 AMP VARIABLE SPEED CORDED TOOL KIT for a while so we were really excited to get this one. While I don't have a project to use this on just yet, I can assure you that Jen has already informed me that we are re-doing the flooring on the ground level of our new house… all of it.  I think this thing will be my go-to tool for trimming the flooring as we are laying it down.
Personally, I plan on doing some work in the basement because rumor has it, I'm finally getting a space that doesn't become a "photography studio" or "storage for styling props". A space that I can call my… wait for it… MAN CAVE.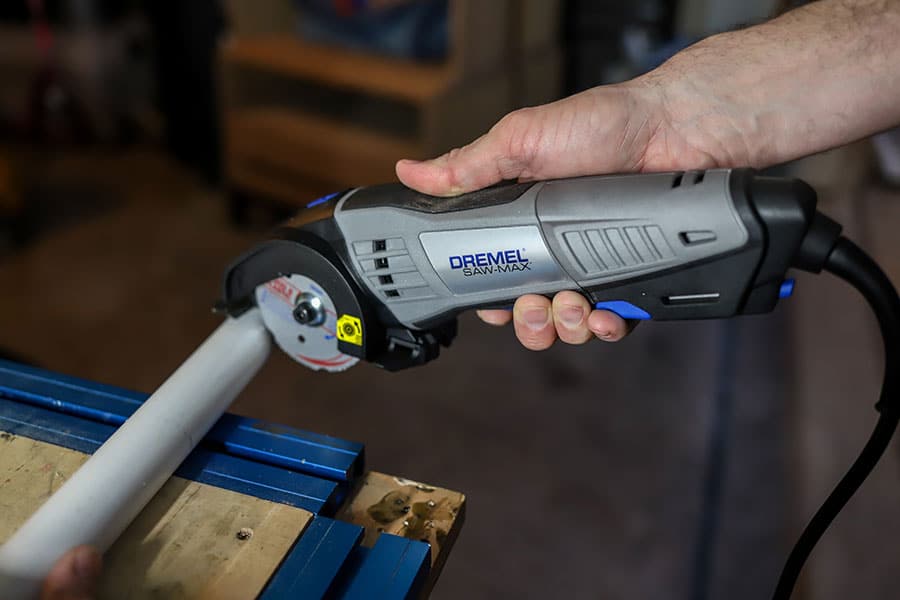 I don't know if I'll be putting in a wet-bar (are those still a thing?) or maybe making a bookshelf/secret hidden door that leads to a fireman's pole a la the Batman television show circa 1966-1968 (Adam West is the best). Regardless, the Dremel Saw-Max is great to use in spaces where a circular saw may be just a bit too bulky to fit. By the way, it can be used for wood, plastic, metal, tile, and masonry and it does plunge cuts! I'm near certain Jen is going to want to replace perfectly good tile somewhere so that'll be convenient for me.
We just started welding last year and rather than do anything that makes sense, Jen decided to start learning how to TIG weld. (That Frankenstein square tube stock in the photo below shows our practice welds). Now that Jen is working with metal and welding, I get to do LOTS of prep work which means cutting, grinding, and cleaning the steel.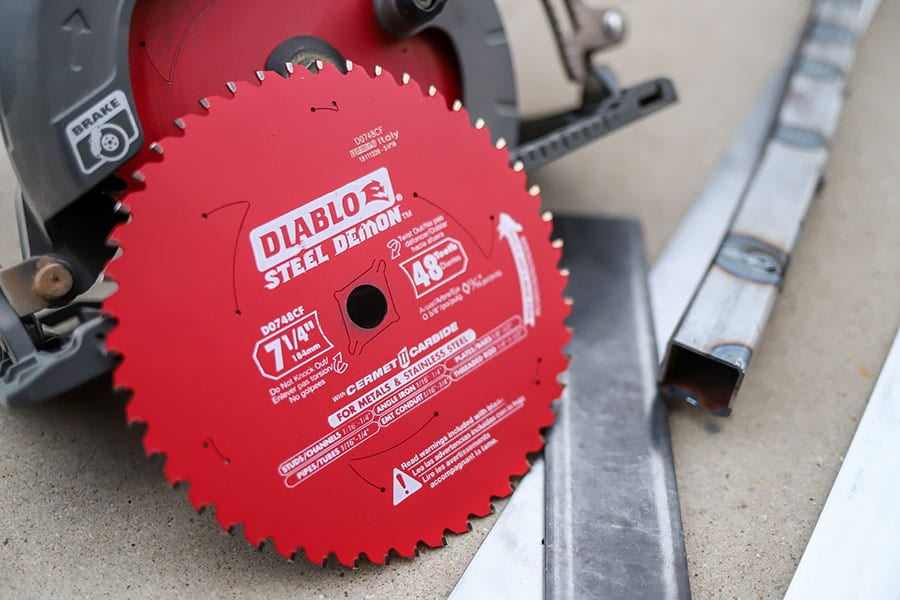 Traditionally, when you're cutting metal, there is a tremendous buildup of heat. The metal can easily get to 800 degrees F! The first time I ever saw this blade demoed, the folks at Diablo tossed the freshly cut piece of steel to me and I caught it with my bare hand – it didn't feel the slightest bit warm!
This DIABLO 7-1/4 IN. X 48-TEETH CERMET STEEL DEMON FERROUS METAL CUTTING SAW BLADE cuts 1/16 in. to 1/4 in. wall thickness in steel studs, angle iron, flat bar, channel, EMT conduit, plate, and bar stock. It also cuts 1/4 in. to 1 in. diameter threaded rod and can handle both mild and stainless steel. I'm really excited about what all this blade can handle because I know of one project Jen has coming up that I can put this to use on and lets just say it's going to make me sleep a lot easier. Stay tuned for that (pretty sure Jen will be sharing sneak peeks on Instagram, so follow her to get the inside scoop). It's going to be good.
*I acknowledge that The Home Depot is partnering with me to participate in the ProSpective 2018 Campaign. As a part of the Program, I am receiving compensation in the form of products and services, for the purpose of promoting The Home Depot. All expressed opinions and experiences are my own words. My post complies with the Word Of Mouth Marketing Association (WOMMA) Ethics Code and applicable Federal Trade Commission guidelines. This post contains affiliate links. To read my full disclosure policy, please click here.