After months of searching for the perfect piece to go in one corner of my foyer, I finally found her on Craigslist. This is a really big deal because I rarely find anything worth buying on my local CL. It's slim pickins around here. The ad claims she's an antique, but I'm not sure… the carvings look more 'art deco' to me. I suppose she could pass for 'art nouveau' – in which case she'd then be an antique, but I don't know much about furniture, so I'm just guessing here. Anyone know what era this charming little piece is from?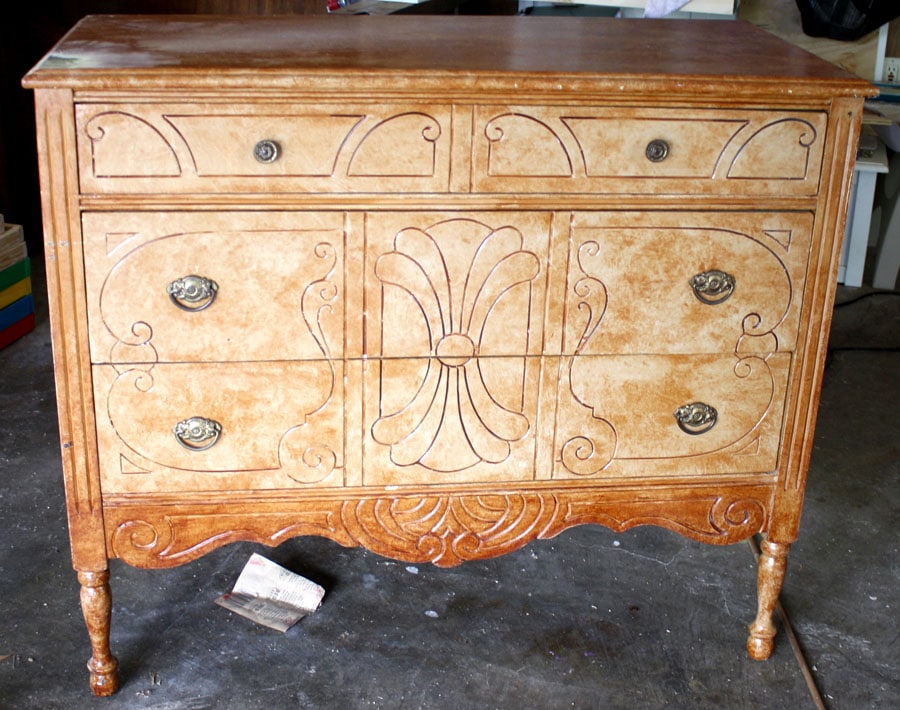 She's got an interesting paint job, right? Yep. She's going to need a lot of work. But I do love that patina on those drawer pulls! I'm guessing they're original…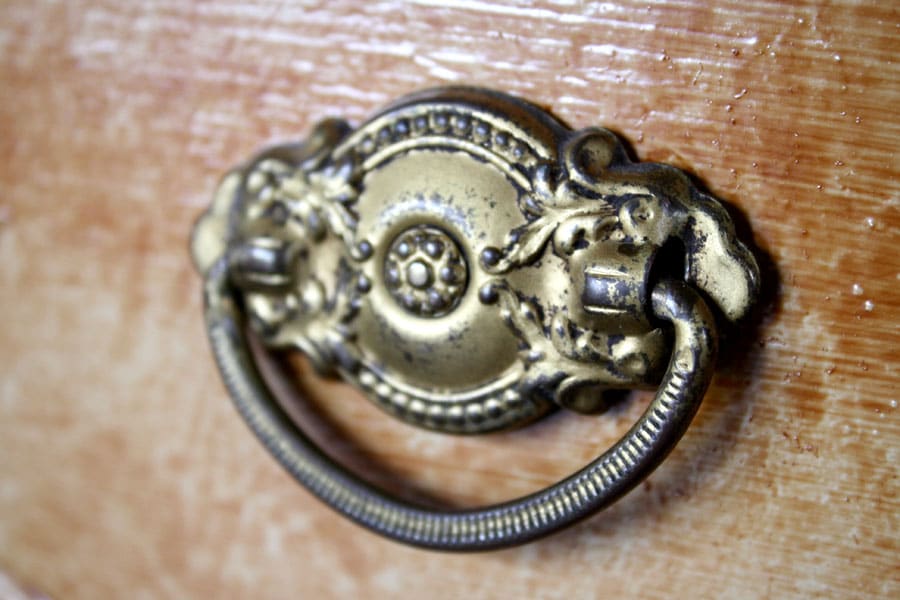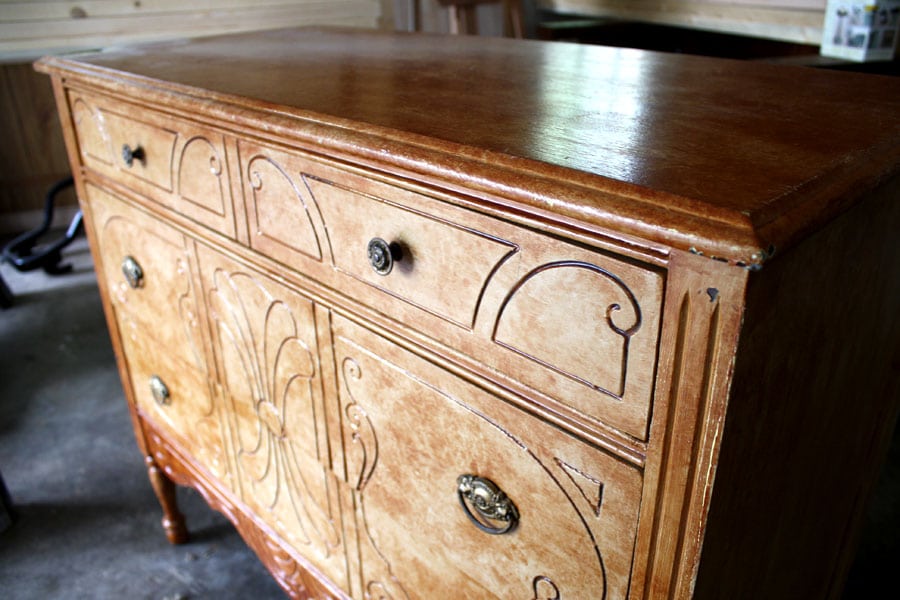 After discovering that sanding the finish down wouldn't work very well, I turned to this paint stripper: Citristrip. I love that it's the greener alternative to the other caustic, toxic paint strippers on the market. It not only worked like a dream, it smelled pretty nice too. I used chemical-resistant gloves, safety glasses and a couple of different scrapers. I'd recommend Citristrip if you want to go the safer, greener route when stripping paint, though it does take a lot longer than the hardcore stuff. But for me, I'd gladly trade-off time for safety.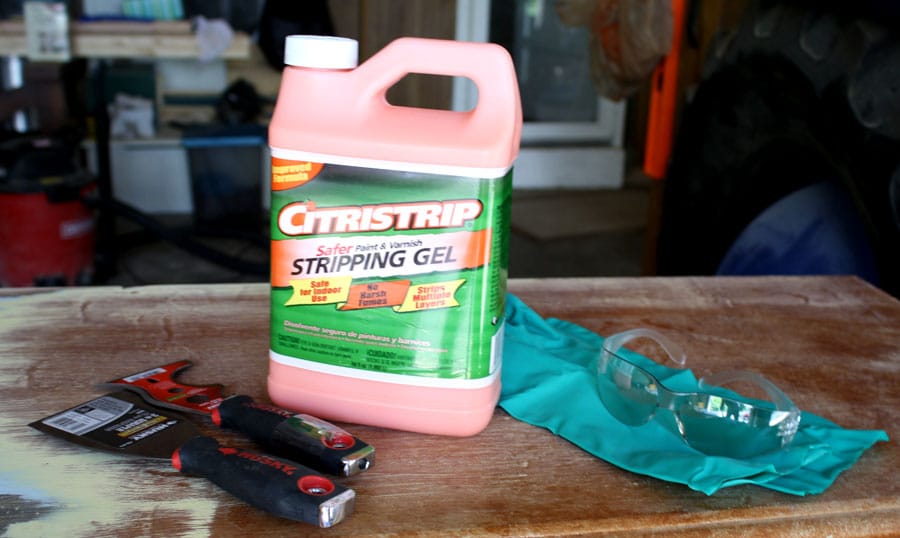 I painted on a liberal amount with a paintbrush and after about 15 minutes, this started happening: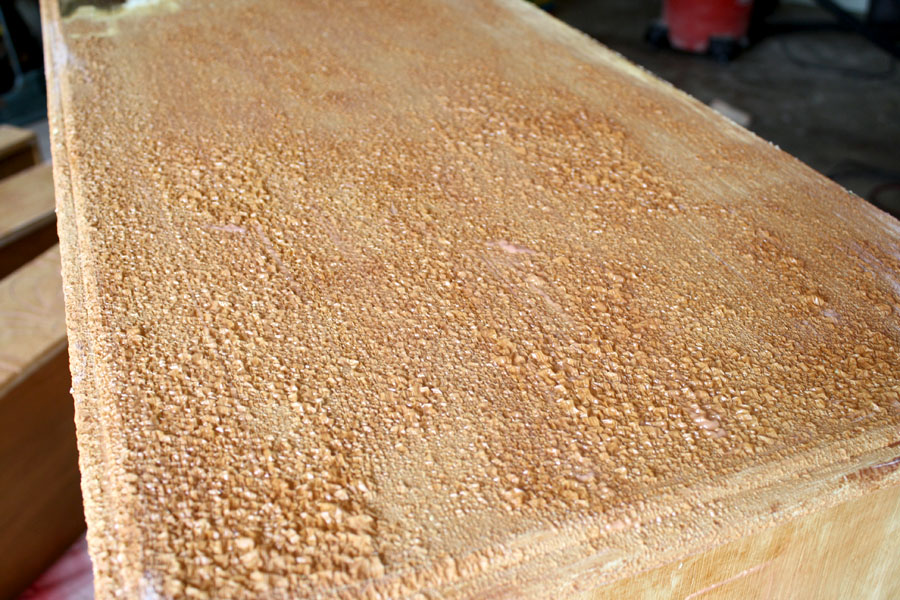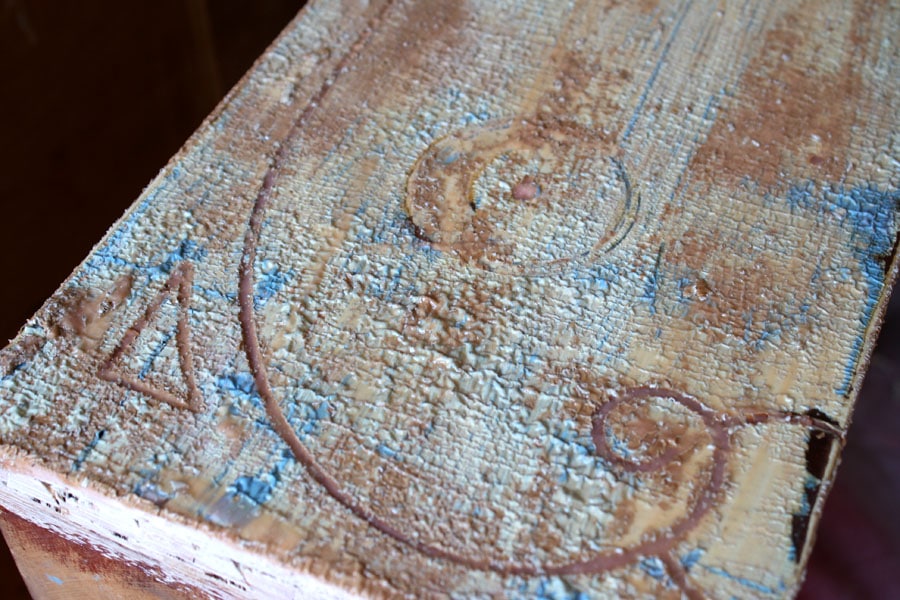 I waited about 30 minutes before scraping the bubbling paint off. I was surprised to see how easily it came off! Like butter! I also discovered she had at least 3 different paint colors on underneath: yellow, blue, and orange. It was interesting to uncover the layers of history hidden under all those layers of paint.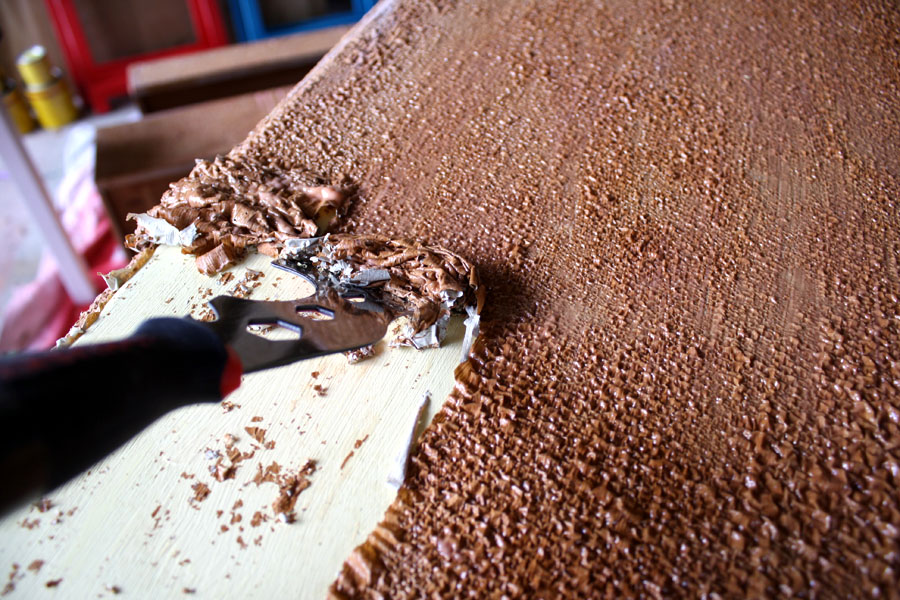 The veneer on each side had to be replaced. It looked like someone tried to do a (pretty sloppy) patch-up job. Instead of adding insult to injury, I just replaced the entire side panels with a panel of Purebond 1/4″ Hardwood Plywood. I'm not sure if I committed a big antique furniture refinishing no-no by replacing the veneer, but I didn't see any other way to repair it.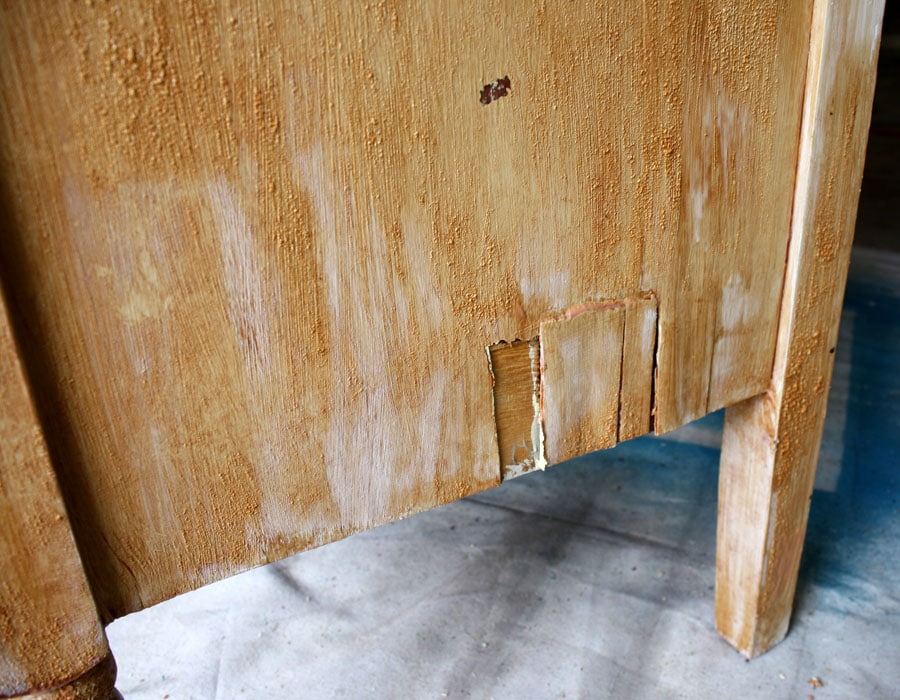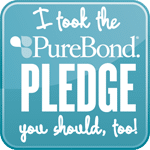 Again, I chose the greener alternative by using Purebond plywood. Their wood is harvested from sustainable forests and they don't use formaldehyde in their adhesives. I bought it from Home Depot and had the friendly lumber guy cut my plywood down to size.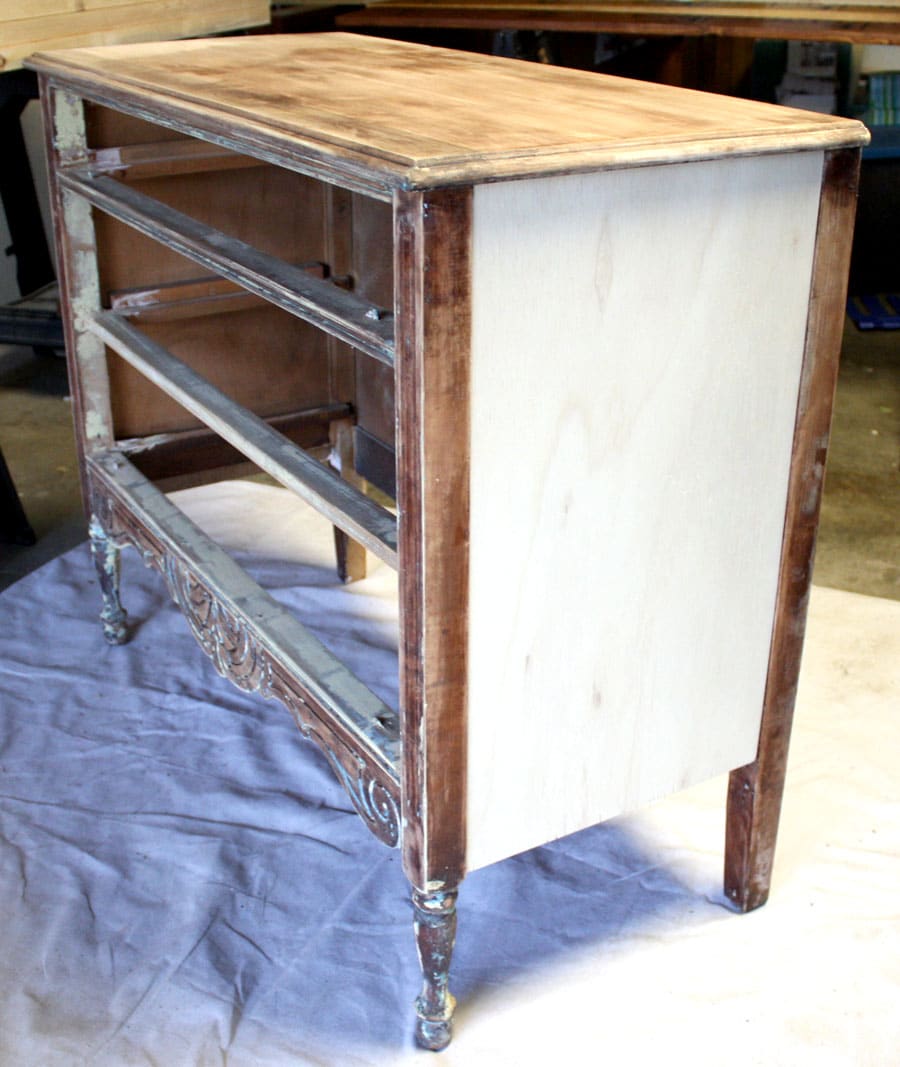 Here she is, all stripped down to the best of my ability. It was painstaking and impossible to get all of the paint out of those intricate carvings.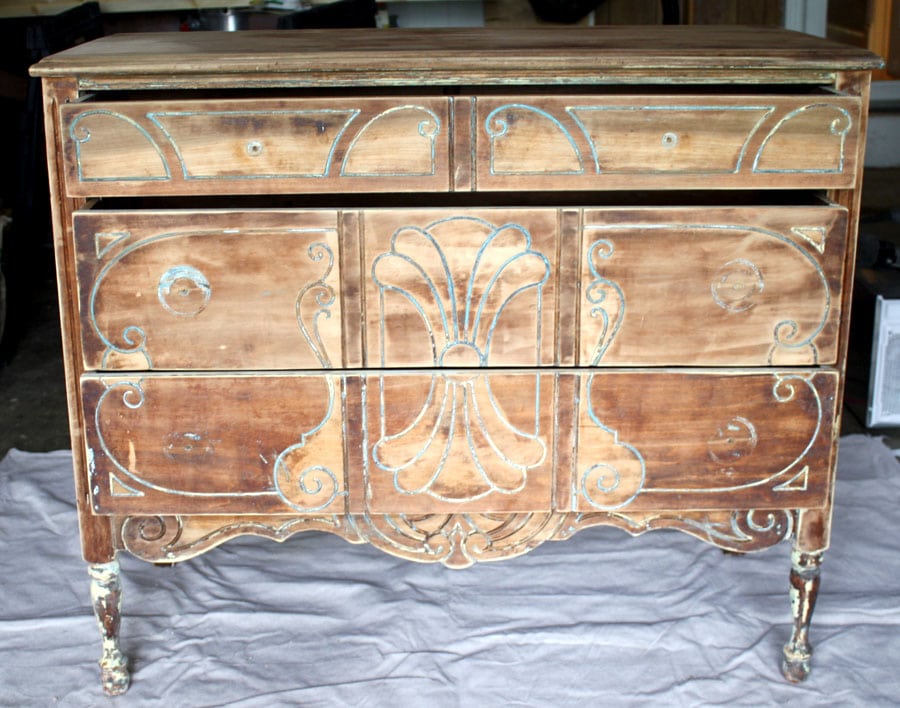 I really wanted to refinish her and bring her back to her original glory, but the wood was too damaged to achieve a beautifully stained finish. Plus, there was still paint stuck in the carvings that I tried desperately to remove, but failed. Painting her was my only option. Womp womp.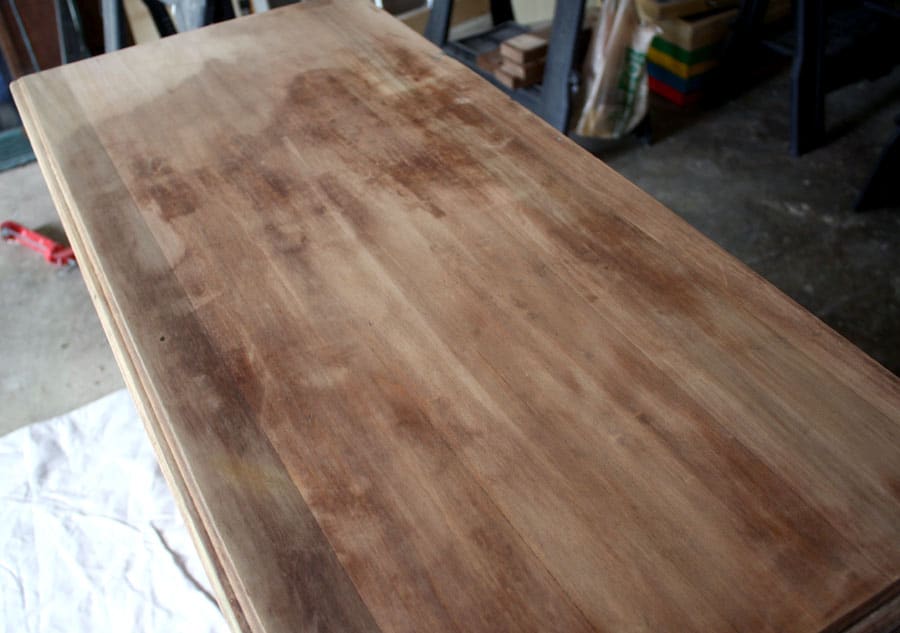 I gave her a couple coats of Annie Sloan chalk paint in French Linen.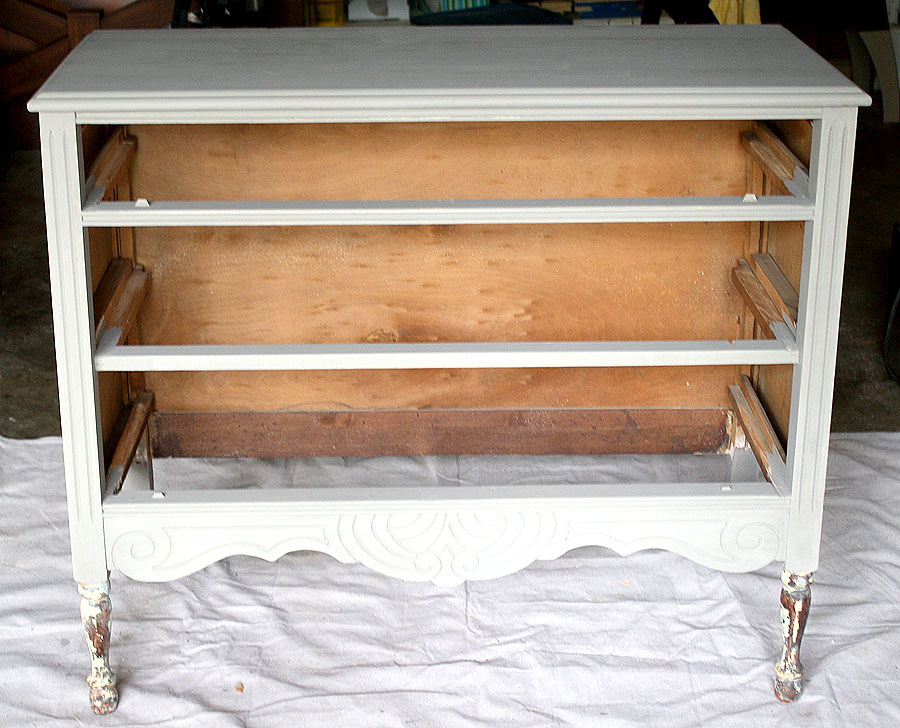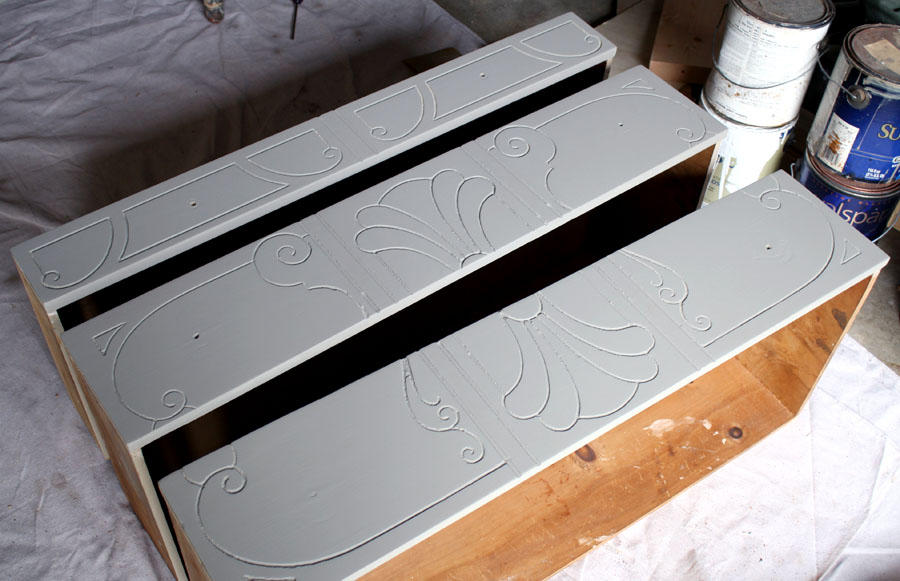 She was looking a little too humble, so I decided to glam her up a little with some gold spray paint on those pretty legs. I mean, if you've got 'em, flaunt 'em, amiright?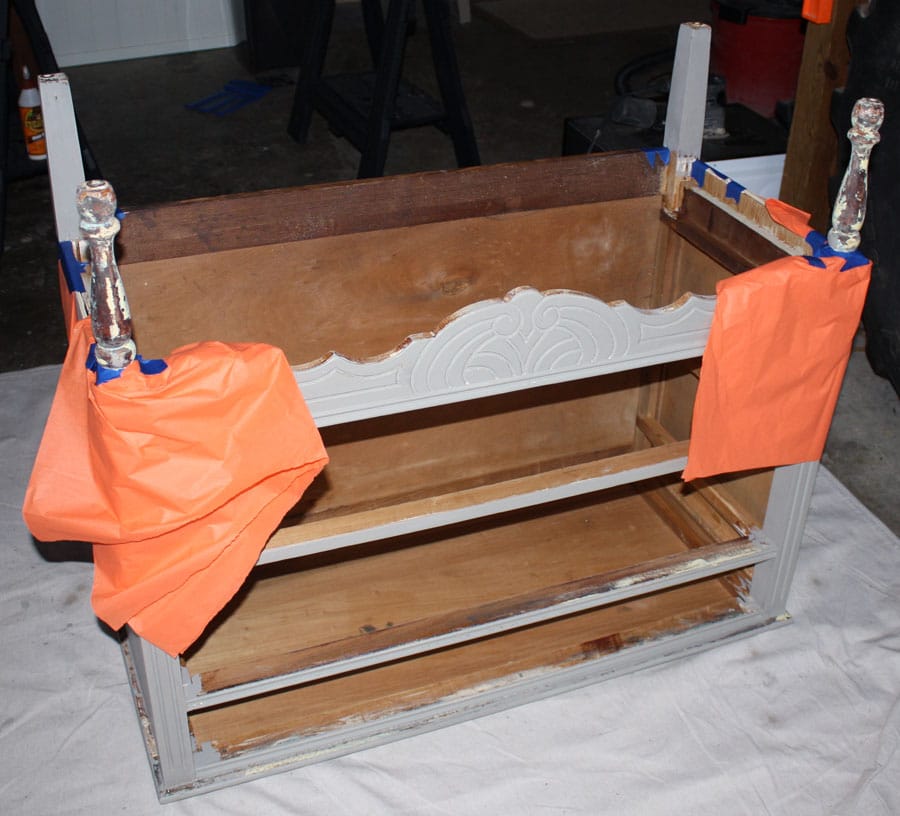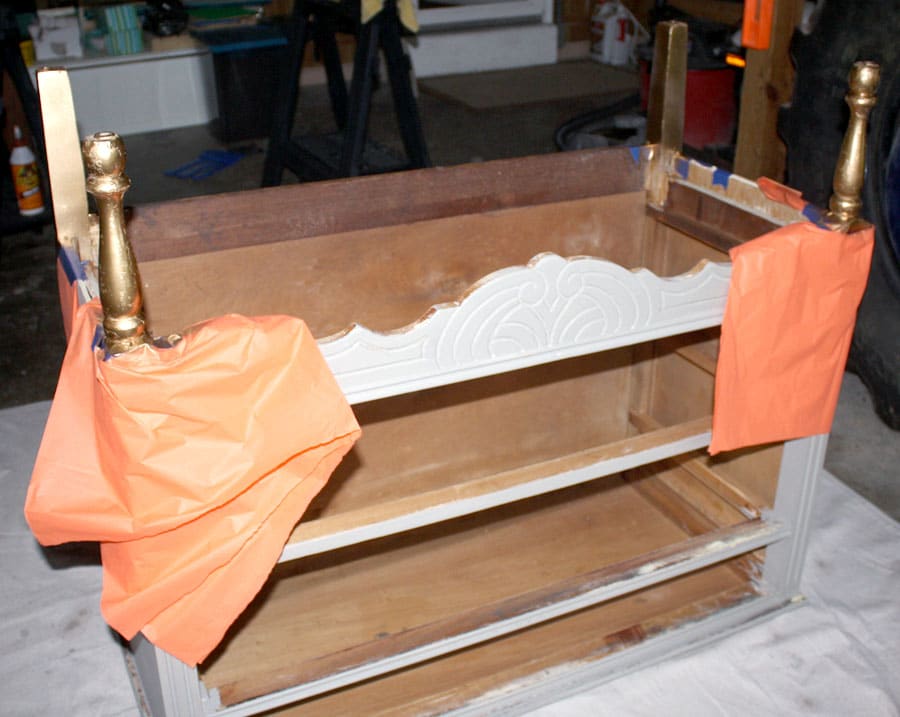 Voila! Those little gold legs are like a pair of glittery stilettos. And they match her pretty drawer pulls so well too! Love that!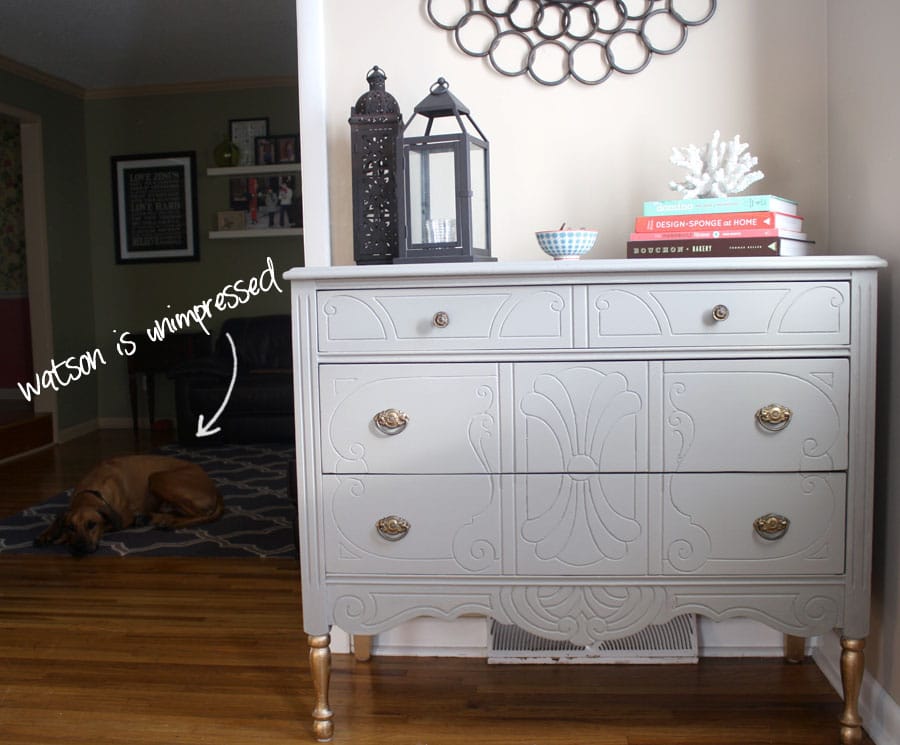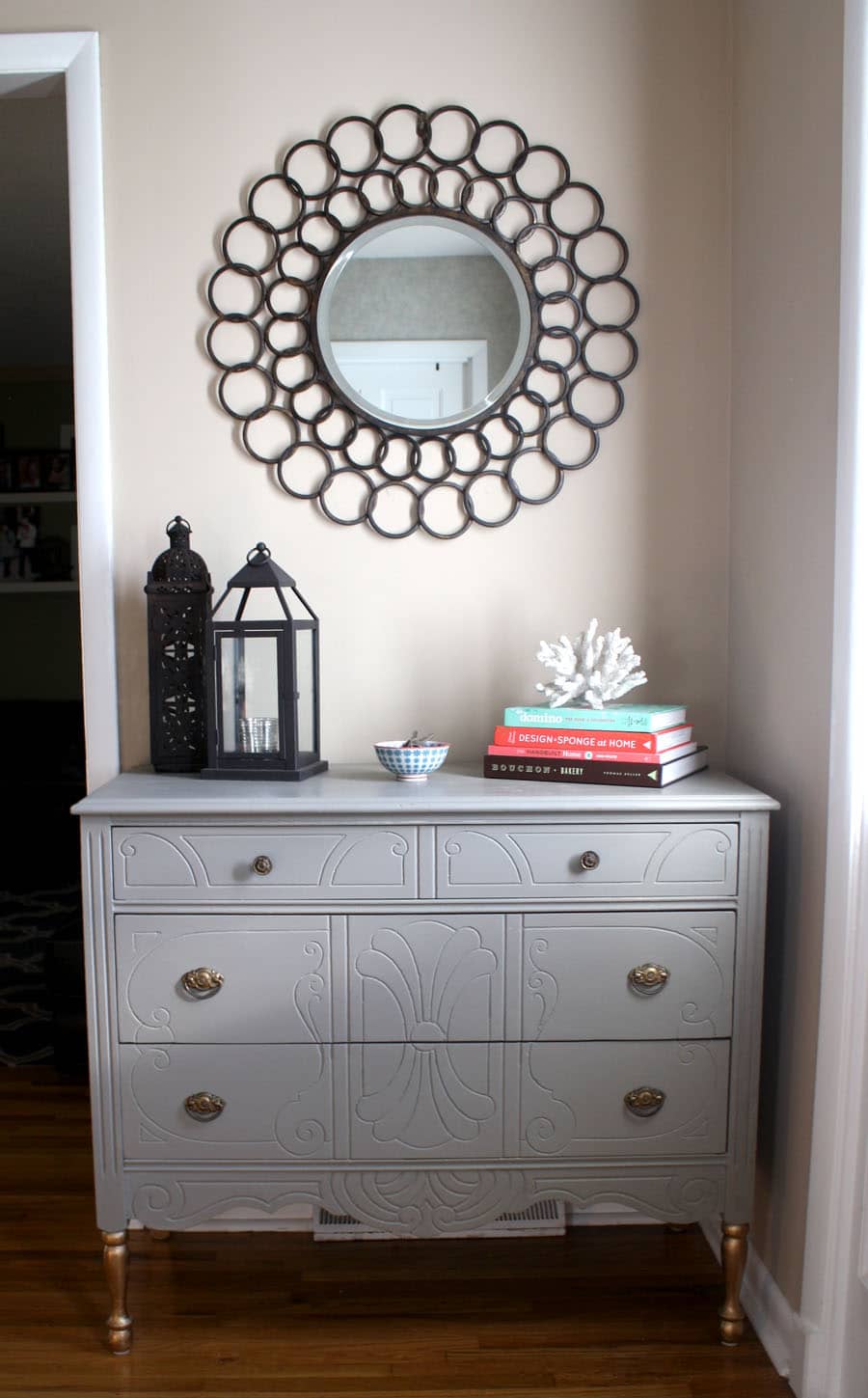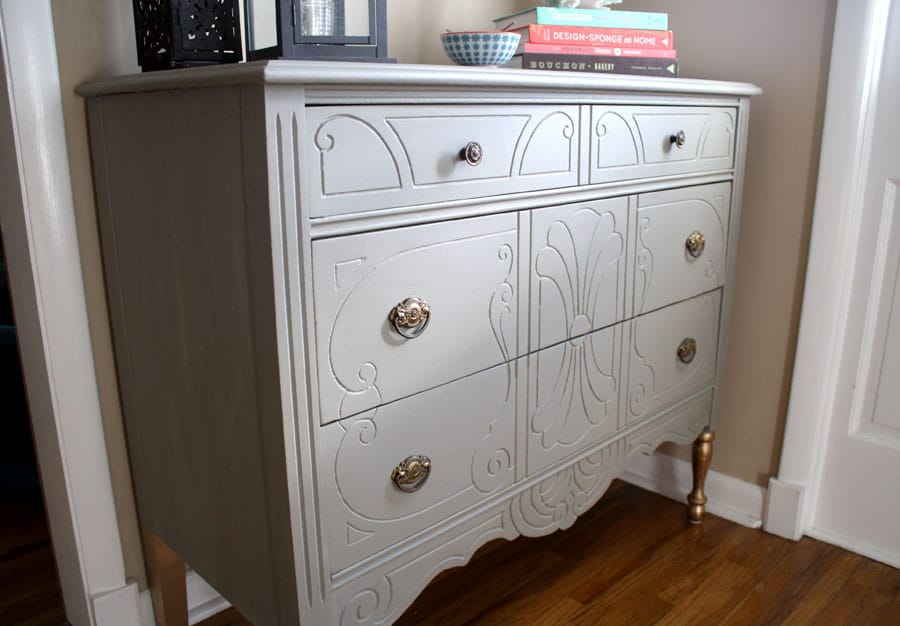 Pin it for later!