*This post is sponsored by Wood, Naturally.
When planning your deck project, there are many factors to consider. Cost is typically the first thing to consider, while choice of material is a close second. The type of material you choose may be dependent on your budget. In this post, we'll take a look at two types of decks a $10,000 budget will allow.
Last summer, we built a floating deck and pergola and we chose to use pressure-treated lumber for many reasons. Mainly, to keep our costs down, but also because we absolutely love the warmth and character that natural wood brings to a space.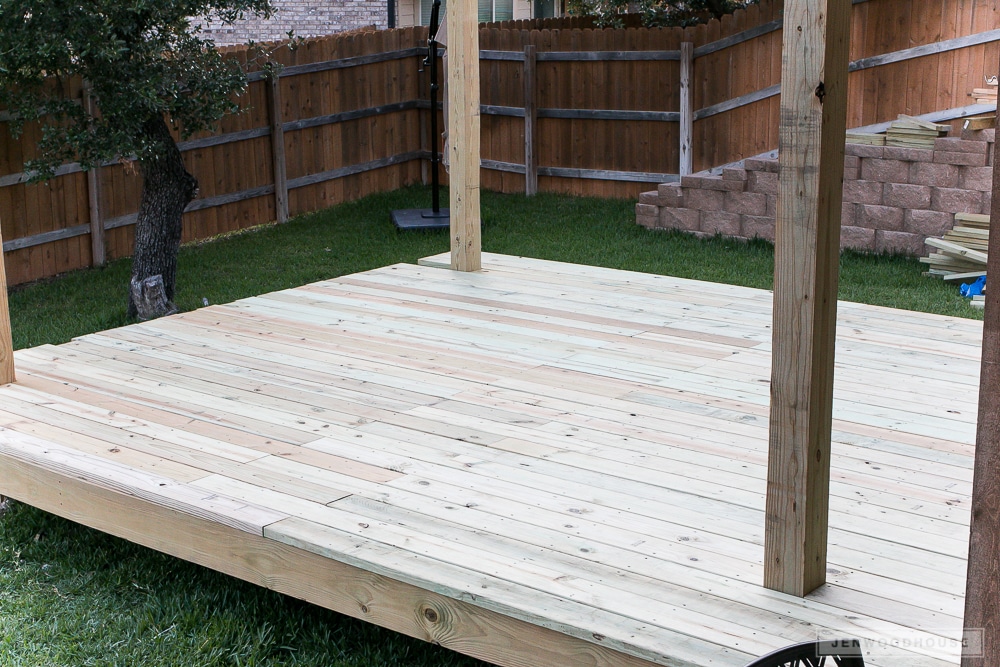 Real wood continues to be the most widely used material due to affordability, availability, and aesthetics. Natural wood decking can generally be divided into several categories: pressure-treated lumber, cedar, and redwood. Pressure-treated lumber is the most affordable, best-selling, and most widely available material for decks.
Manufactured materials, such as composite decking is made up of plastic material and wood fibers. The appeal of composite decking is that it's virtually maintenance-free, but this convenience usually comes at a much heftier price tag.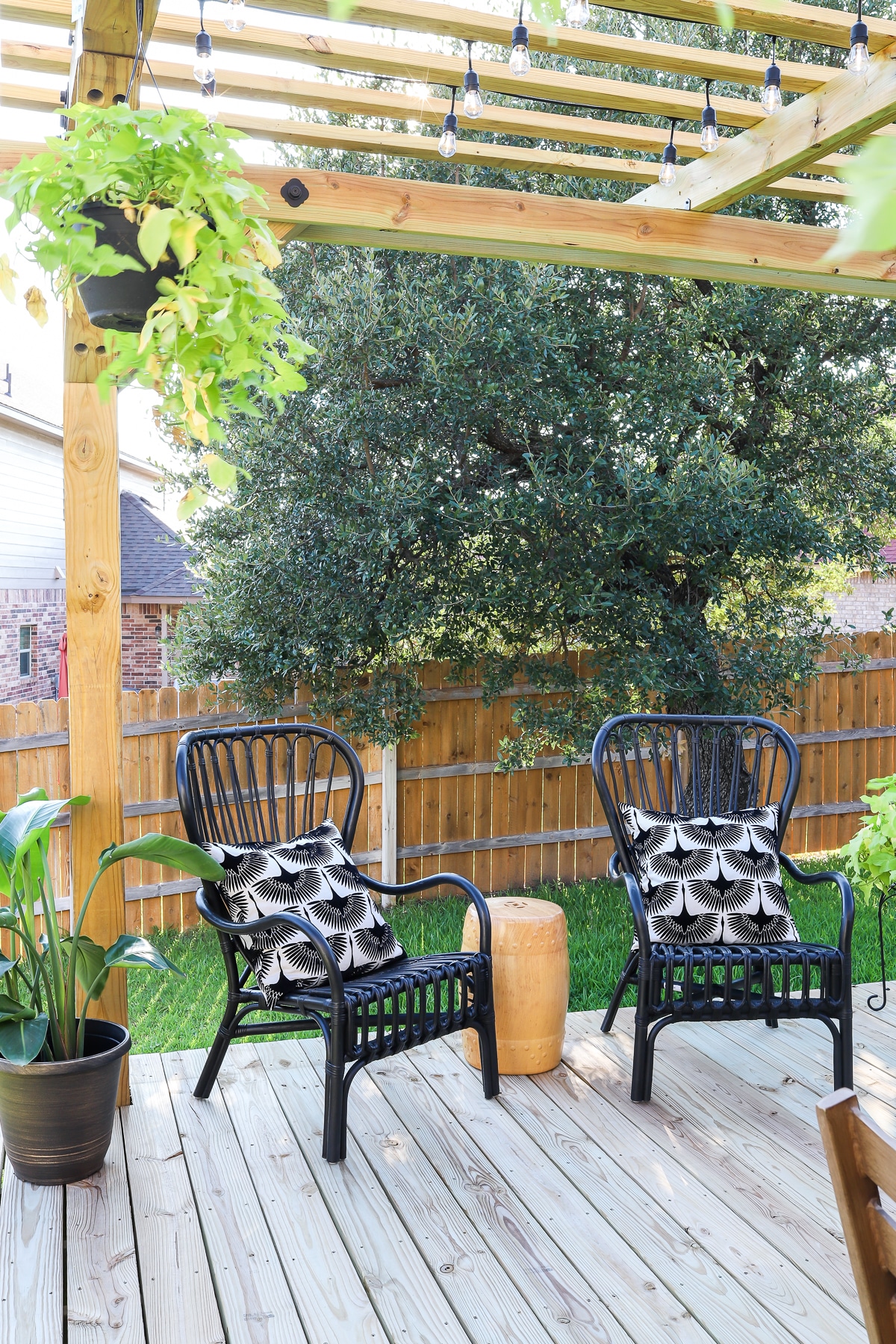 Pressure-treated lumber is the most economical choice, while composite decking is typically the most expensive. Prices fluctuate depending on locality and availability, but here is a good rule of thumb when estimating cost.
Cost per square foot
Pressure-treated wood is about $17 to $25 per square foot.
Composite runs about $32 to $45 per square foot.
So what kind of deck can you get on a $10k budget?
Here's a ballpark breakdown of each:
Pressure-treated: ≈ 400 to 575 square foot deck
Composite: ≈ 220 to 310 square foot deck
As you can see, a natural wood deck can be half the price of a deck made of composite material. To help visualize what a $10,000 deck would look like, I've sketched out a couple of designs.
The model below shows a 23 x 23 foot deck (529 square feet). This deck would be possible if built with pressure-treated lumber. Pretty luxurious, right? I'd love to have this outdoor space in my backyard! Look at all that space – there's ample room for lounging, grilling, and dining!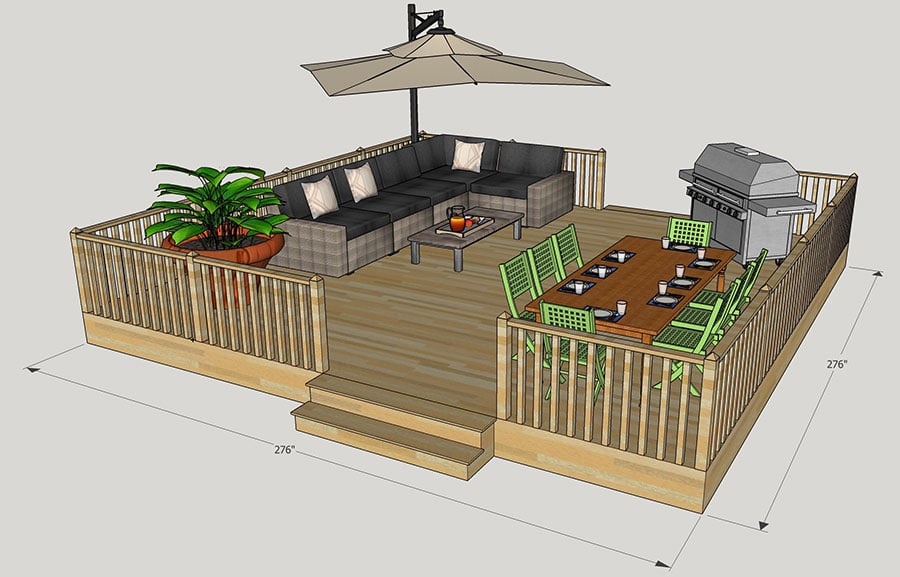 Now let's see what a $10k composite deck would look like. The model below is a 12 x 20 foot deck (240 square feet). Obviously, the composite deck is much smaller – the natural wood deck is more than twice the size of the composite deck!
Which deck would you choose?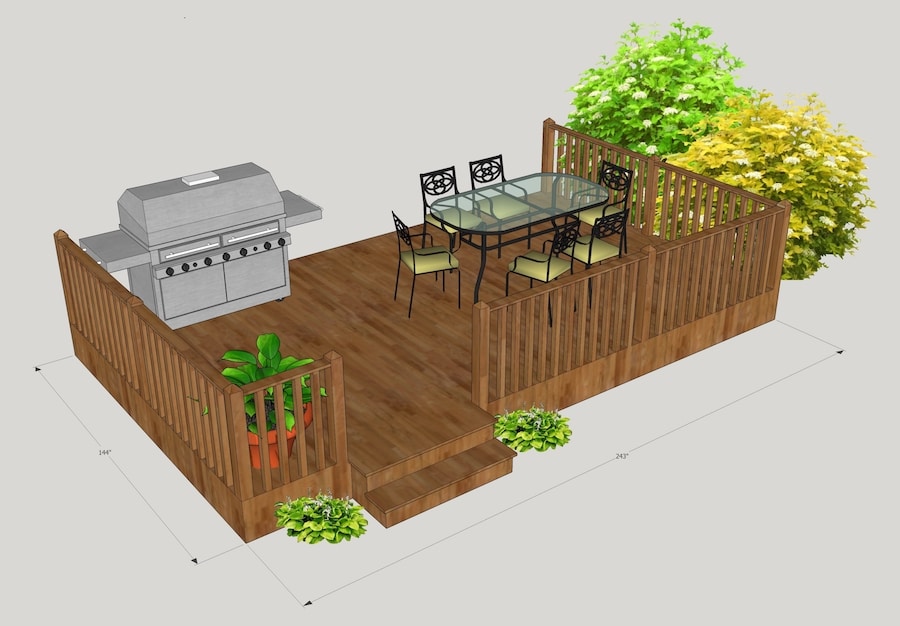 If you're wanting the most 'bang for your buck', I'd recommend natural wood over composite decking any day of the week. Additionally, the warmth, character, and texture that real wood brings to a space is beautiful and unmatched.