Agate has been on trend for the past few years, but these gorgeous stones don't often come cheap. Just to give you an idea, Williams Sonoma sells a set of 4 agate coasters for $155! Bananas! Let's make our own faux DIY agate coasters for a fraction of the cost and keep that extra cash in our pockets.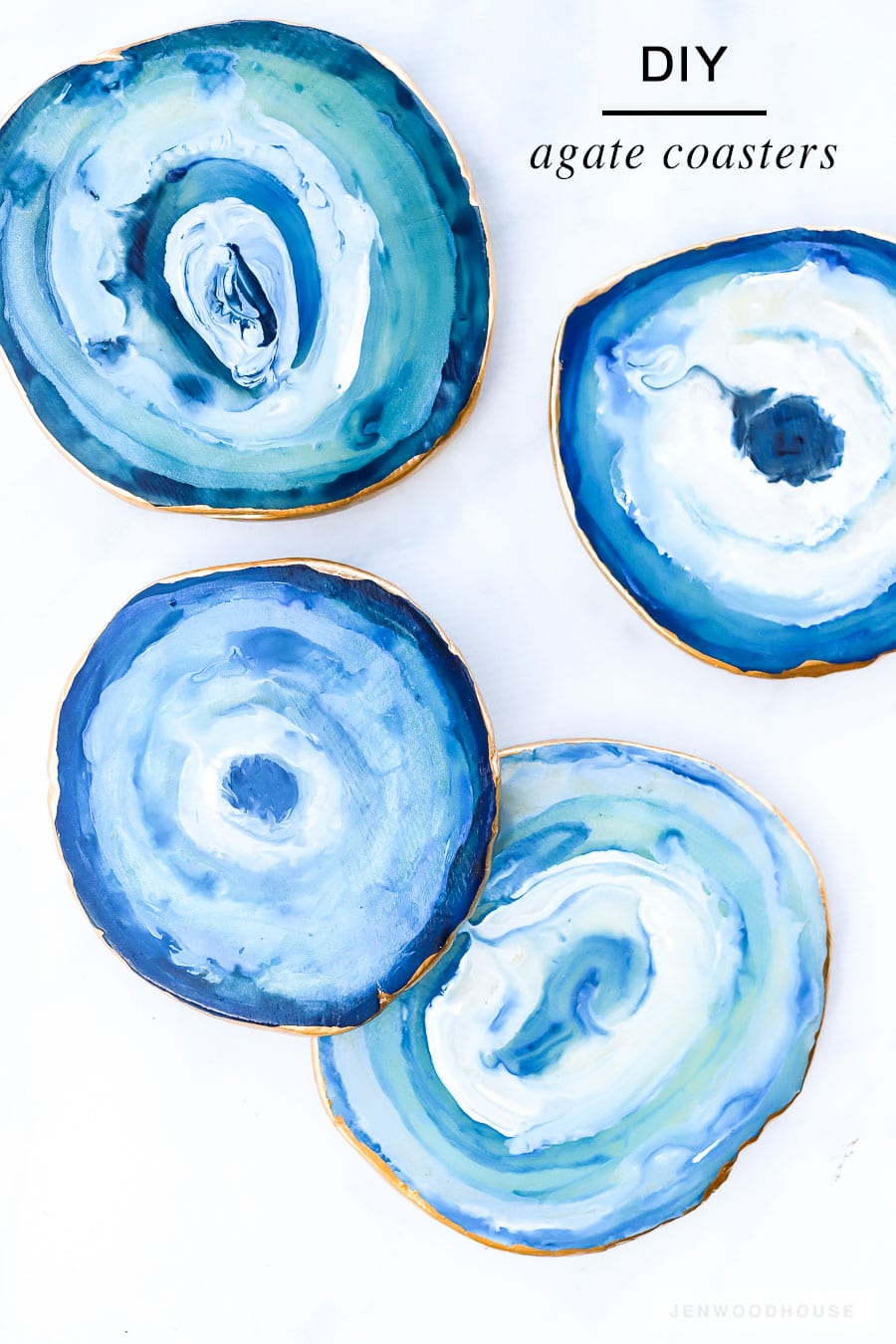 As a JOANN brand ambassador, I shopped the aisles of my favorite craft store for all of the supplies and made these chic coasters in an afternoon. Or, crafternoon, if you will.

How To Make DIY Agate Coasters
Supplies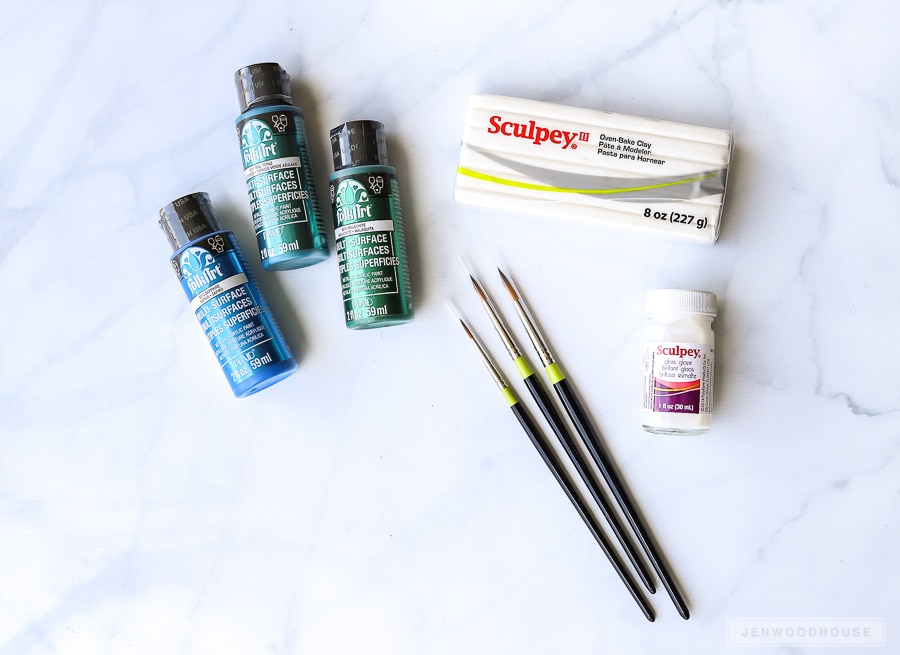 Sculpey polymer clay comes in a vast array of colors, but I chose white since I knew I would be painting my coasters. I also picked up a ton of different acrylic paint colors – only three are shown here, in an effort to hide my craft supply hoarding tendencies. Don't judge.
By the way, what's the difference between geodes and agate? Anyone?

Step 1
Preheat the oven to 275º F. While the oven heats, roll out the clay. Since geodes (agate slices?) are natural, their shape and texture is organic, so no need to make a perfect circle here. Just go with the flow and make them circle-ish. Roll them out to about 1/4-inch thick and 3 1/2 to 4 inches in diameter.

Step 2
Place the clay on a parchment paper-lined pan and bake in a 275º F oven for 15 minutes. Remove from oven. Allow to cool.

Step 3
Now for the fun part – paint! I used varying shades of teal here. Don't stress over this – remember, perfection is overrated and because these are supposed to mimic natural stones, you can be cavalier with your designs. I mixed the colors up, added water here and there, to help the paint behave more fluidly. I liked it when the colors sort of ran together, almost like watercolor. Allow the paint to dry.
Step 4
To add shine to the coasters, brush on a couple of coats of gloss glaze. Allow to dry.

Step 5
Here's where the magic happens. With a small paintbrush, paint the gold liquid leaf along the edges. The agate coasters just come to life with that beautiful gold edge! Such a small detail, but it makes all the difference. So fancy!
Step 6
Attach adhesive-backed bumpers to the underside of the coasters and you're done!
You have your very own set of faux DIY agate coasters! Enjoy your favorite beverage on your new fancy coasters – place them on a tabletop or style them on a coffee table – these coasters would make great handmade gifts too!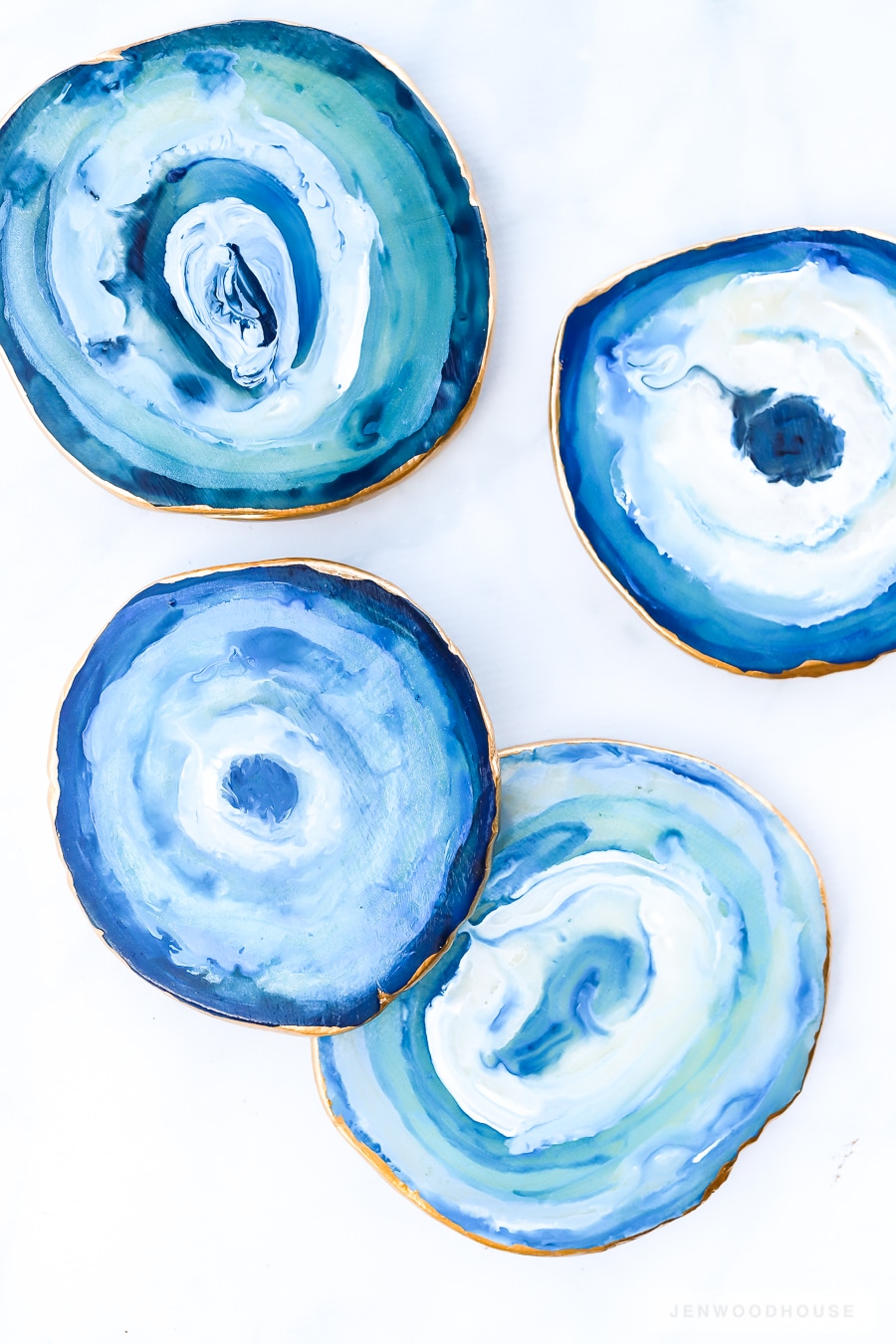 *This post is sponsored by JOANN and may contain affiliate links. I am a JOANN Brand Ambassador; all opinions and efforts are my own. To read my full disclosure policy, please click here.