*This post is brought to you by GE Lighting.
Hanging a statement light fixture in my little girl's room is such a luxury, I know. But what's more fun and adorable than having your very own princess pendant light?
Answer: nothing.in.the.world.
So I did some window-shopping online and stumbled across some amazing beaded chandeliers and pendant lights, but pretty much swallowed my tongue over the cost.
Here are a few that inspired this project: one / two / three / four
Of course, in true DIY form, I balked at the price and thought, "I could totally make that!" So the wheels started turning. And so did the 'Pinteresting' (anyone else use Pinterest as their own personal Google?). Well, whadya know. Turns out DIY beaded light fixtures are like, a thing. I can't tell you how relieved I was to discover I didn't have to reinvent the wheel. These are a few excellent tutorials that I found super helpful: House and Home, Gus & Lula, The Chronicles of Home, and The Lemonista.
Here's how mine turned out: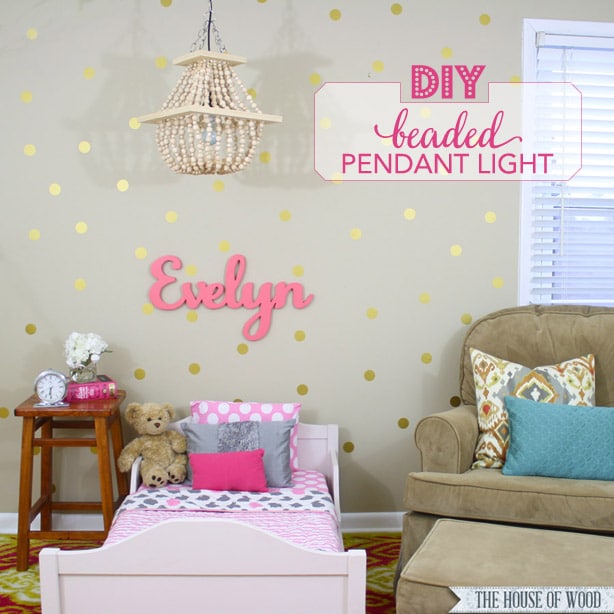 Adorable, right? Alrighty then, let's get started! I quickly drew up a plan and got to work. Here's how it all shook out for me.
Materials:
288 ct. 3/4″ (20mm) round beads, 5/32″ hole
312 ct. 1/2″ (12mm) round beads, 5/32″ hole
GE reveal® light bulbs
Mini pendant light kit
28-gauge steel galvanized wire
72 ct. – #212 screw eyes
4 ct. – #208 screw eyes
3 ft. light fixture chain
1 – 3/16″x1-1/2″ steel ring
2 – 1x2x6′
1-1/4″ brad nails
Wood glue
Tools:
Cut List:
4 – 1×2 @ 14″ (mitered corners, measurement is from long end to long end, not parallel)
8 – 1×2 @ 7″ (mitered corners, measurement is from long end to long end, not parallel)
First, I built the large, center frame. It measures 14″ square.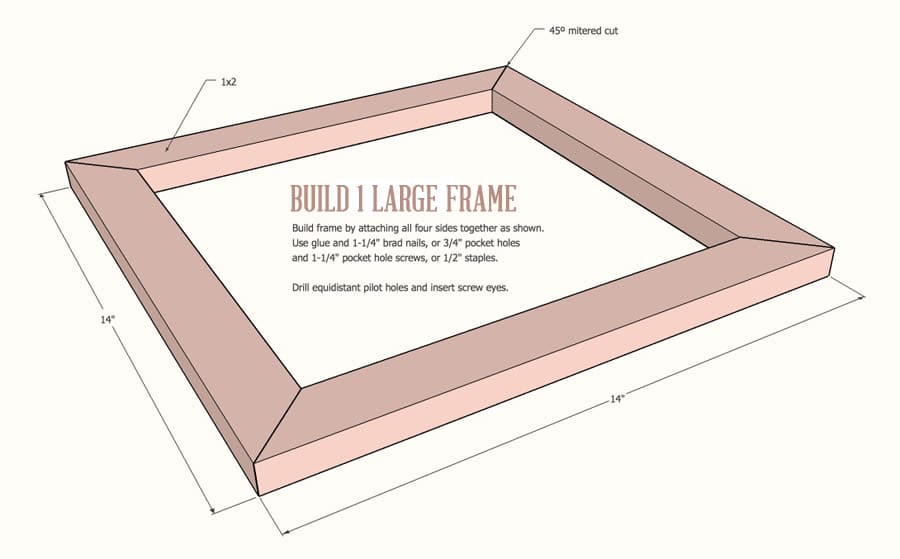 I glued and clamped the pieces together and used 1-1/4″ brad nails to attach them.
Because I'm a visual person (and also not so good at The Maths, as I call it), I eyeballed the distance between the beads and laid them in place to figure out how far apart I wanted them. Then I pre-drilled the pilot holes for the screw eyes.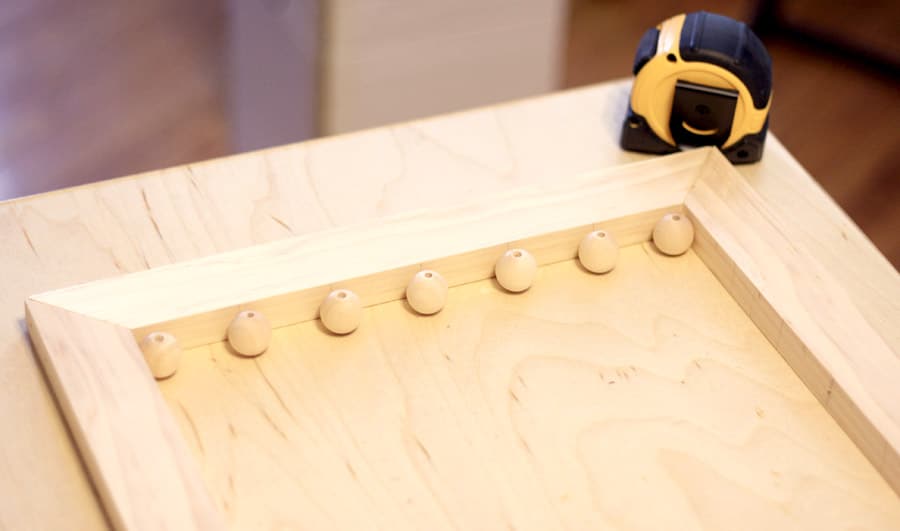 Next I cut 8-1×2 boards at 7″ long, mitering the ends, then drilled pilot holes for the screw eyes and screwed them in. I constructed the 2 small frames, attaching with wood glue and 1-1/4″ brad nails. Be sure to pre-drill the screw eye holes and insert them before constructing the frame, otherwise the drill won't fit in the 4″ opening.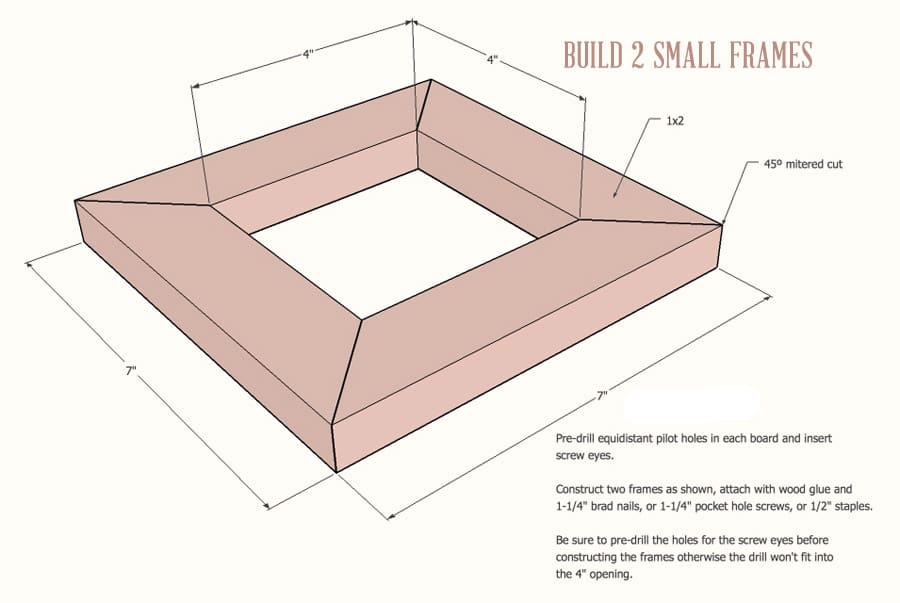 There ya go! The framework for this hanging light fixture is done. Now onto the tedious part: The Stringing of the Beads. Not to be confused with The Running of the Bulls. Although I do consider this task to be quite a marathon event, so suit up, Prefontaine.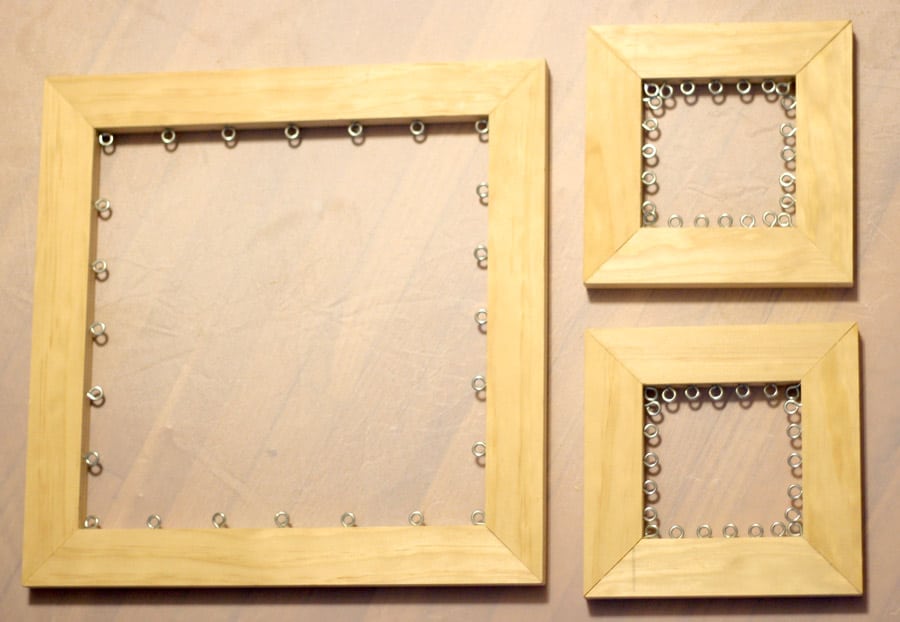 Using 28-gauge wire, I strung the beads onto the frames. Each strand has 6 large beads for each tier, with a small bead in between them. I started each strand by stringing 3 small beads, then alternated large and small, ending with 5 small beads at the very end.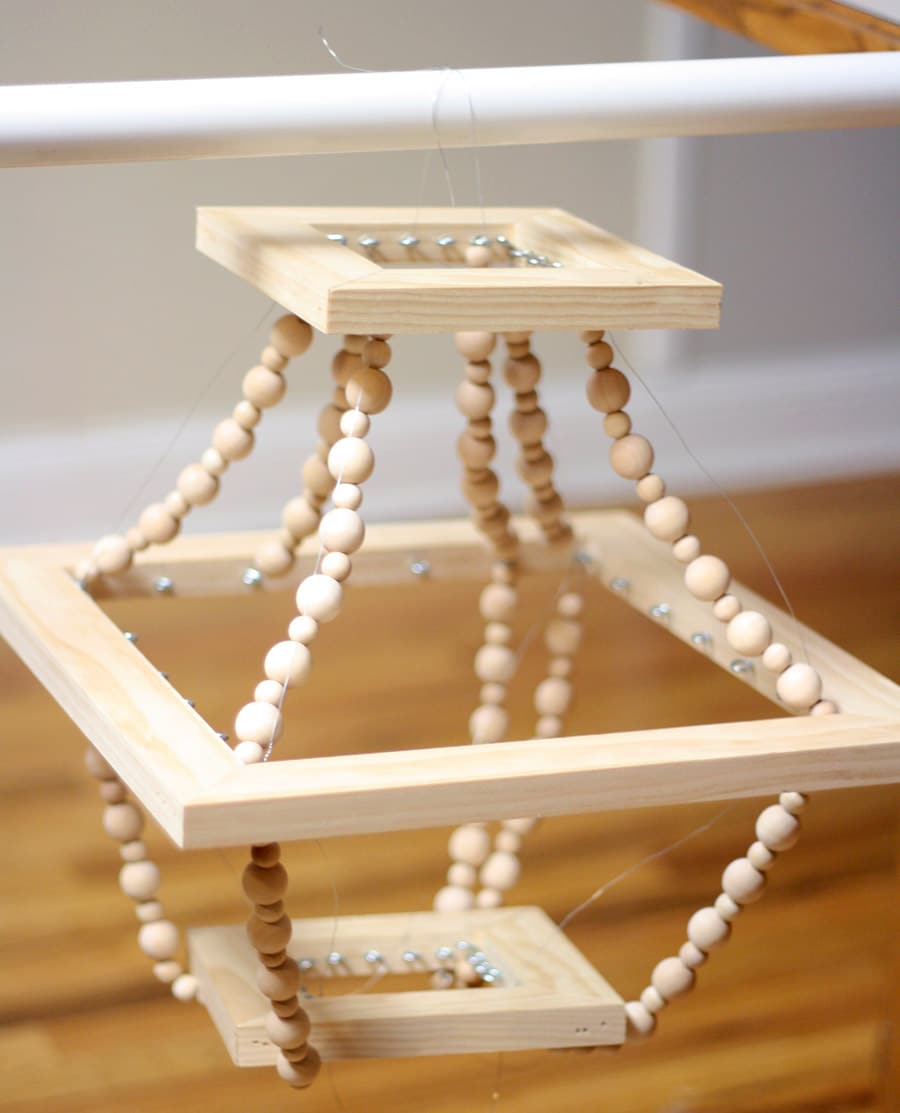 Congratulations. I'm a hundred years old at the completion of this project.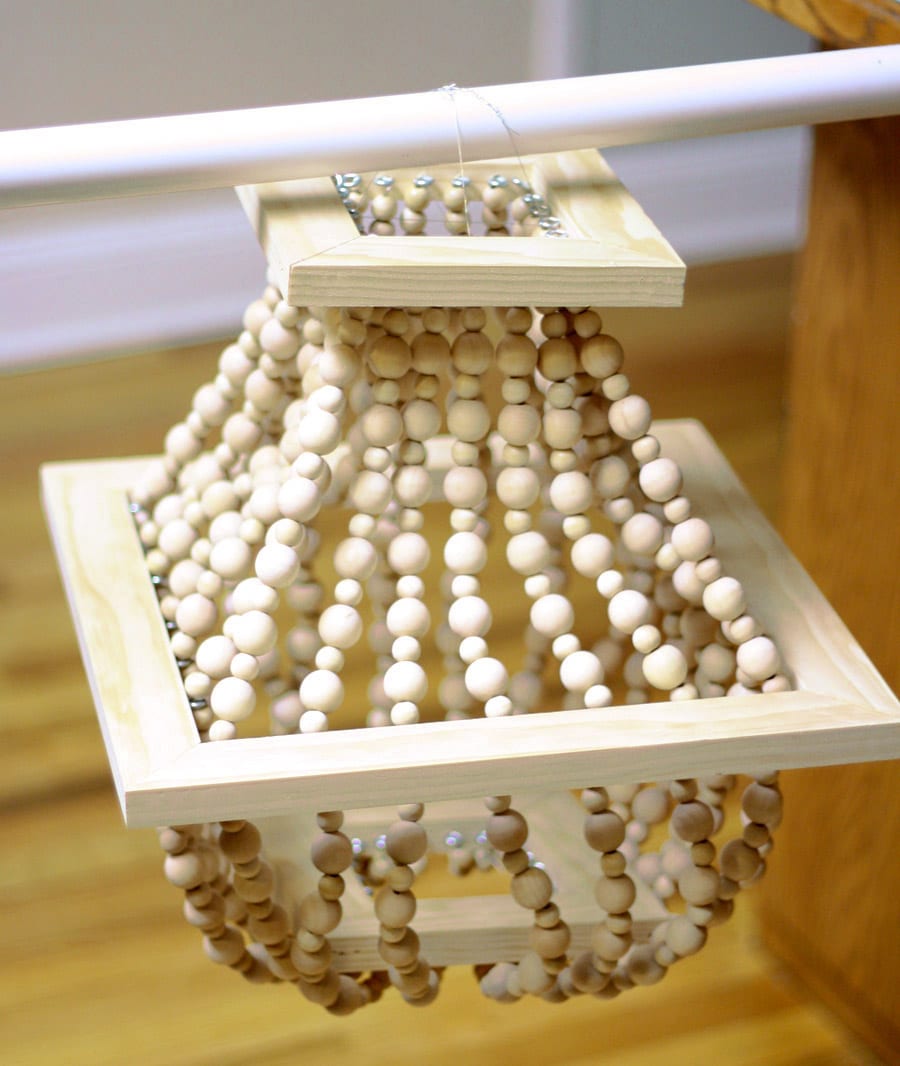 To hang the light, I drilled four pilot holes into the top frame, screwed in the larger screw eyes, and attached a fixture chain to it. I joined the four chains together with a steel ring like this: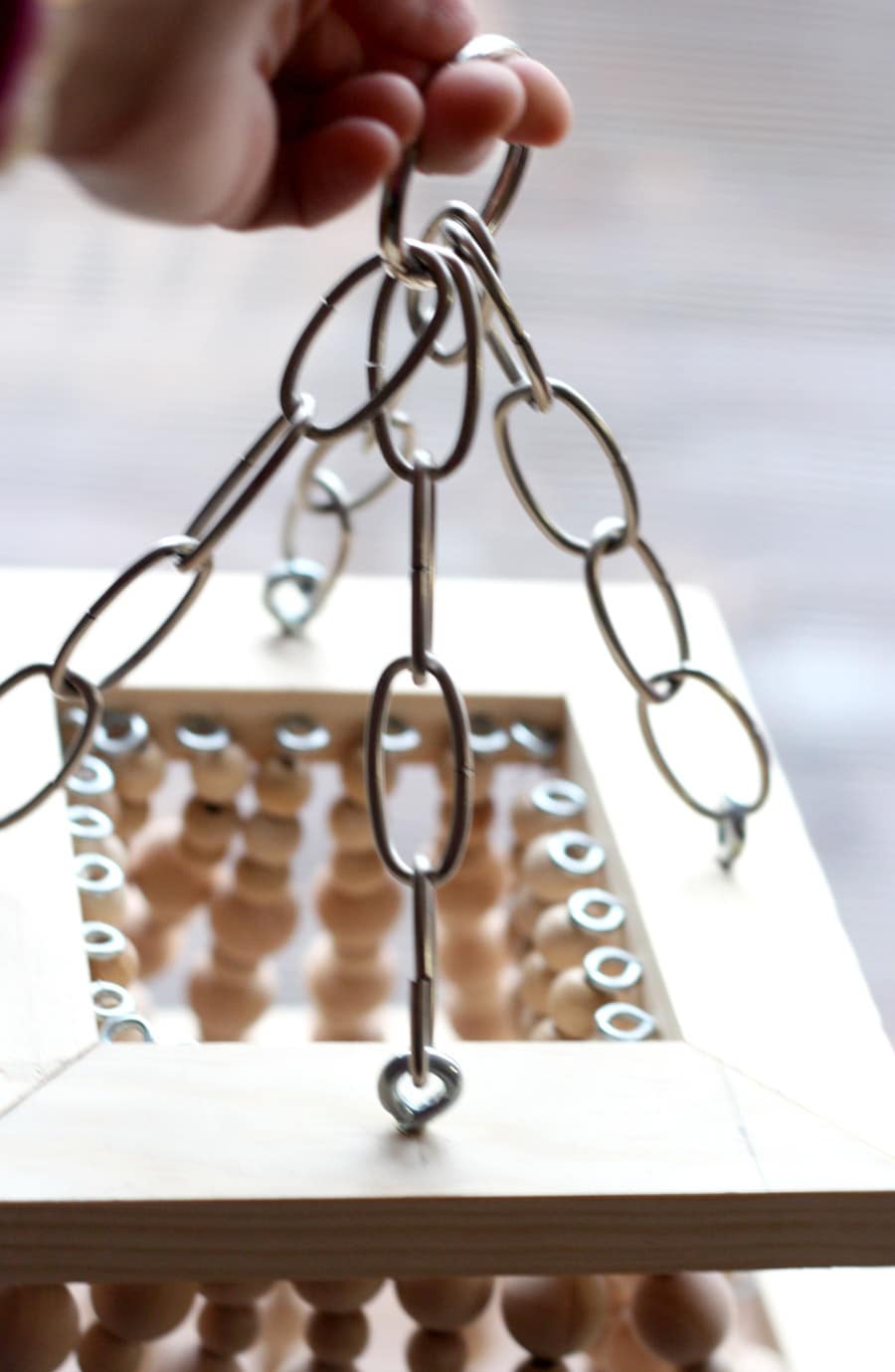 Then I used the remaining chain and hung the whole thing from the ceiling, dropping the mini light pendant kit into the center of the beaded fixture. The pendant light isn't attached to the beaded frames – it's simply hanging in the center of it, with the wire weaved around the chain to keep it in place. Okay, so let's talk actual light. With all my tedious work, finding the right light bulbs to light the room was of the utmost importance. I mean, after a hundred years of hard work, I wasn't about to drop the ball now. Amiright or amiright? I changed out all the bulbs in my daughter's room with GE reveal® light bulbs, as well as popped one into her new DIY beaded light fixture.
Here's how her room looks now: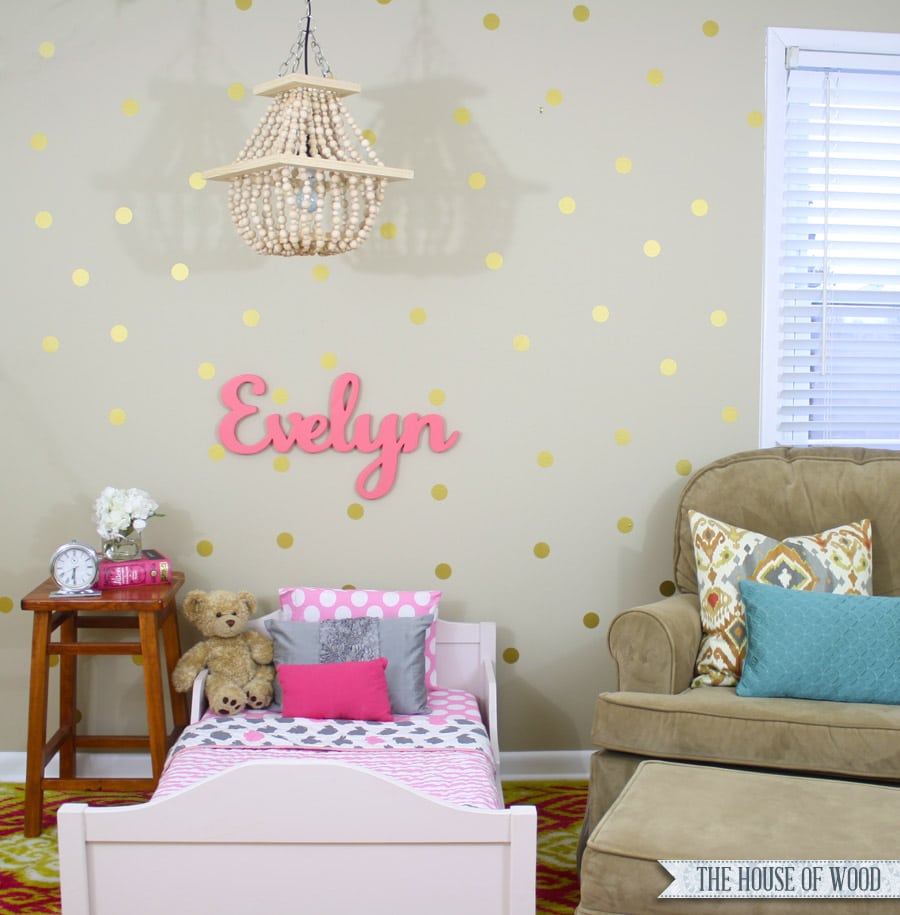 Oh my goodness. You guys. What a breath of fresh air! I absolutely LOVE the clean, white light that comes from these GE reveal® bulbs. It's a cool-toned light that makes the whole space look clean and bright. I totally heard the "Hallelujah Chorus" when I flipped the switch. I am not even kidding. It brings the whole room to life. I just love it. And this is what the room looks like with just the pendant light on.
How fun are those shadows that the light casts on the walls?
Answer: Exactly one ton of fun.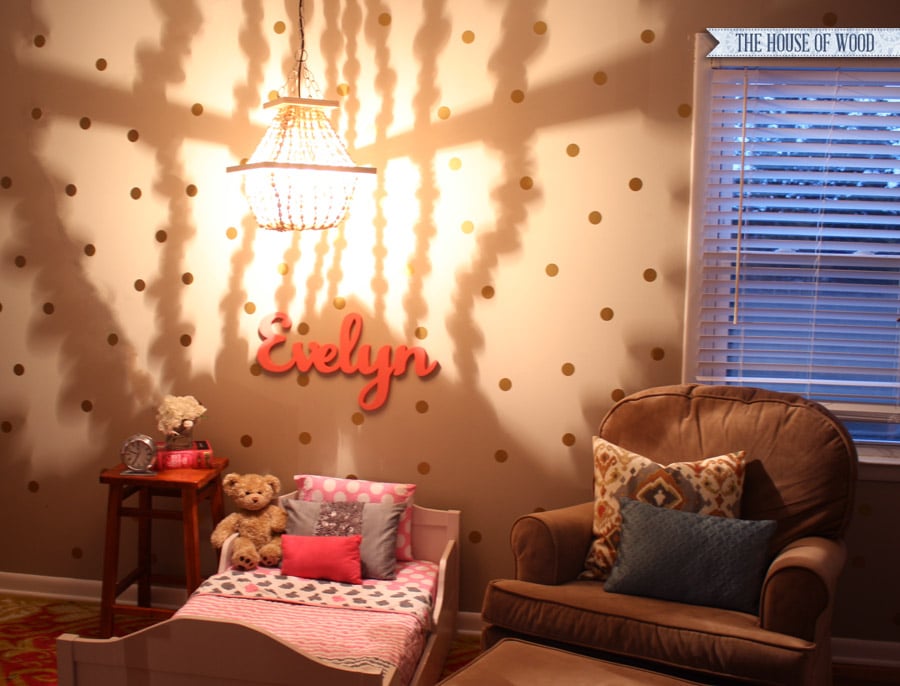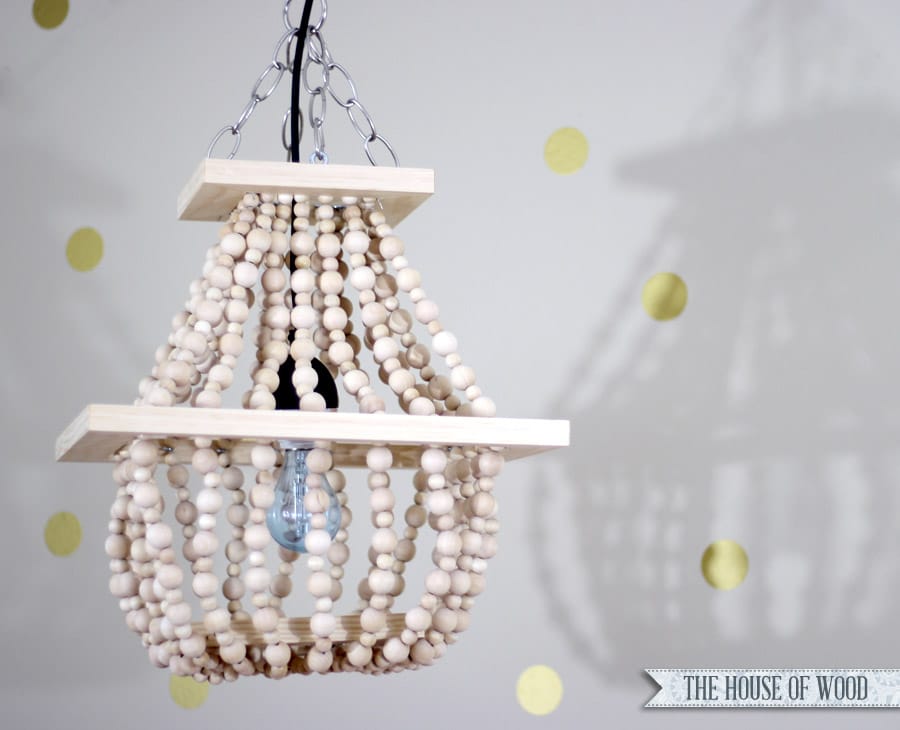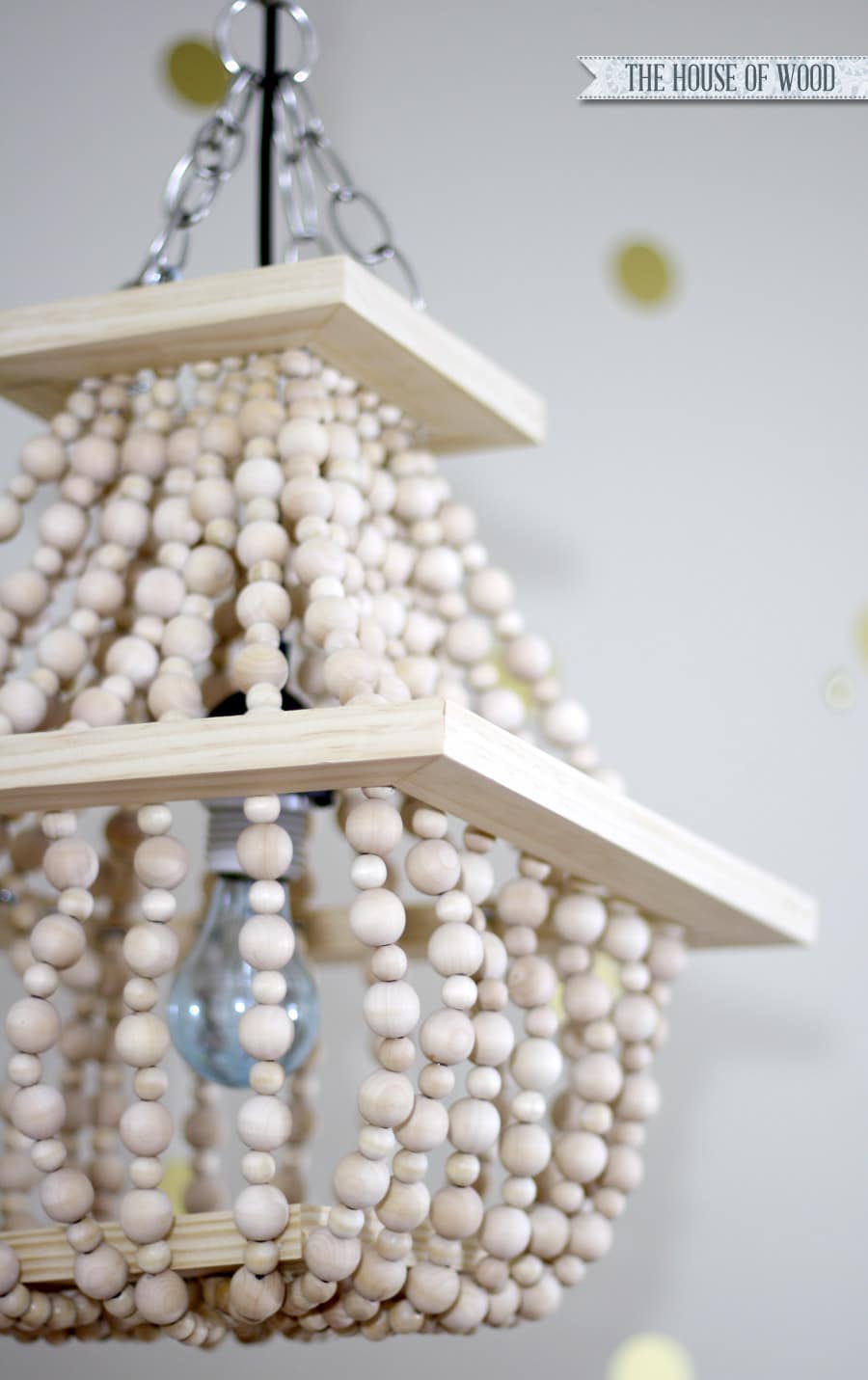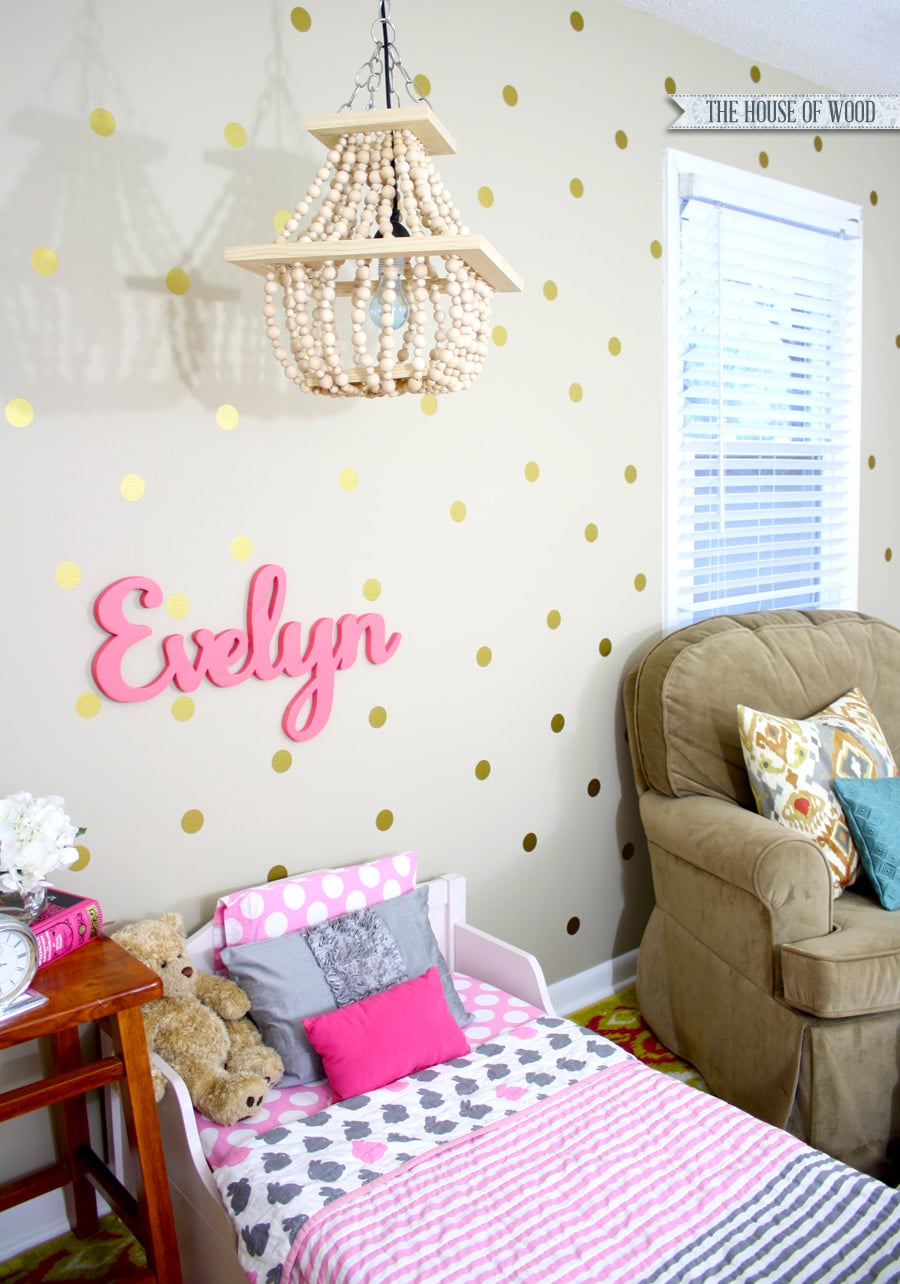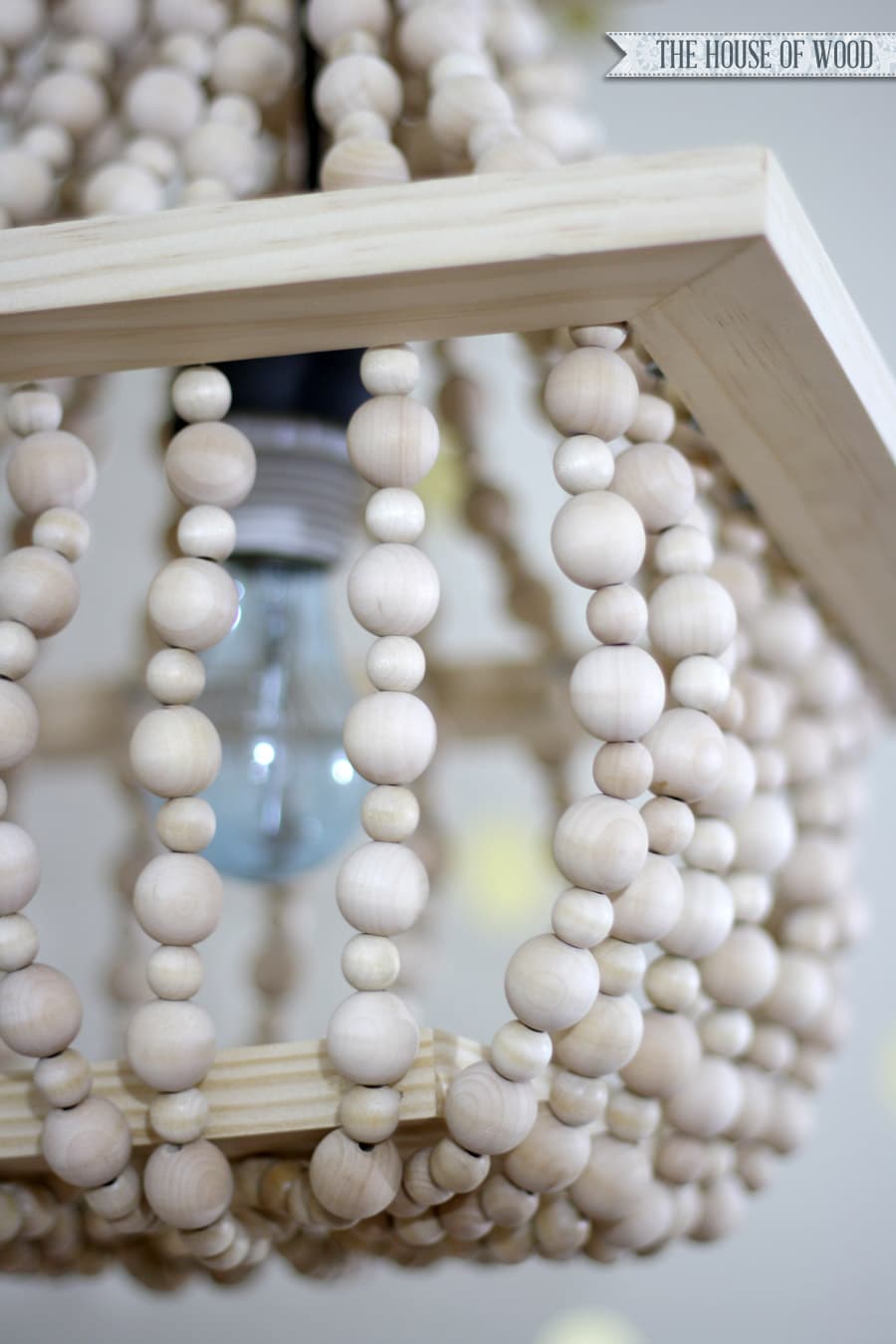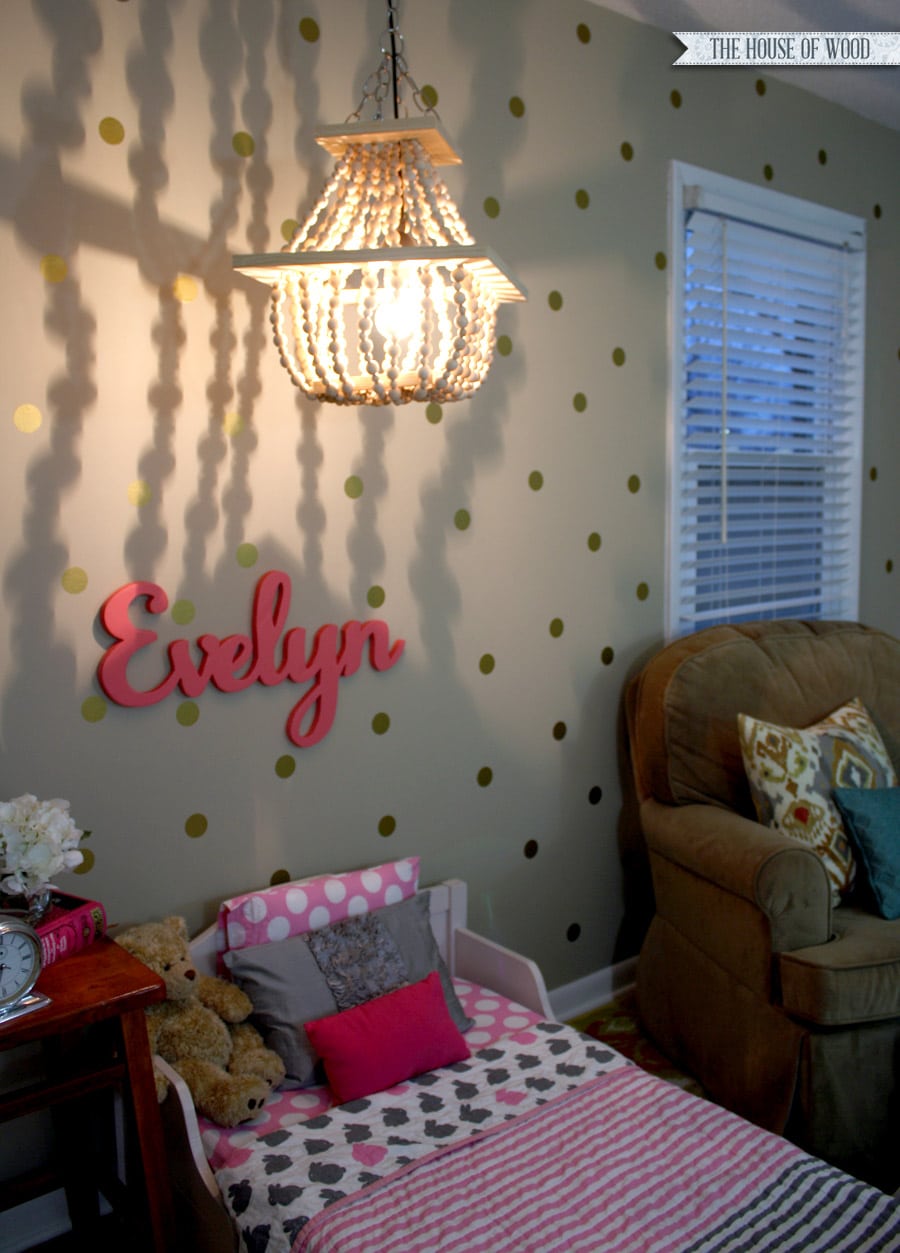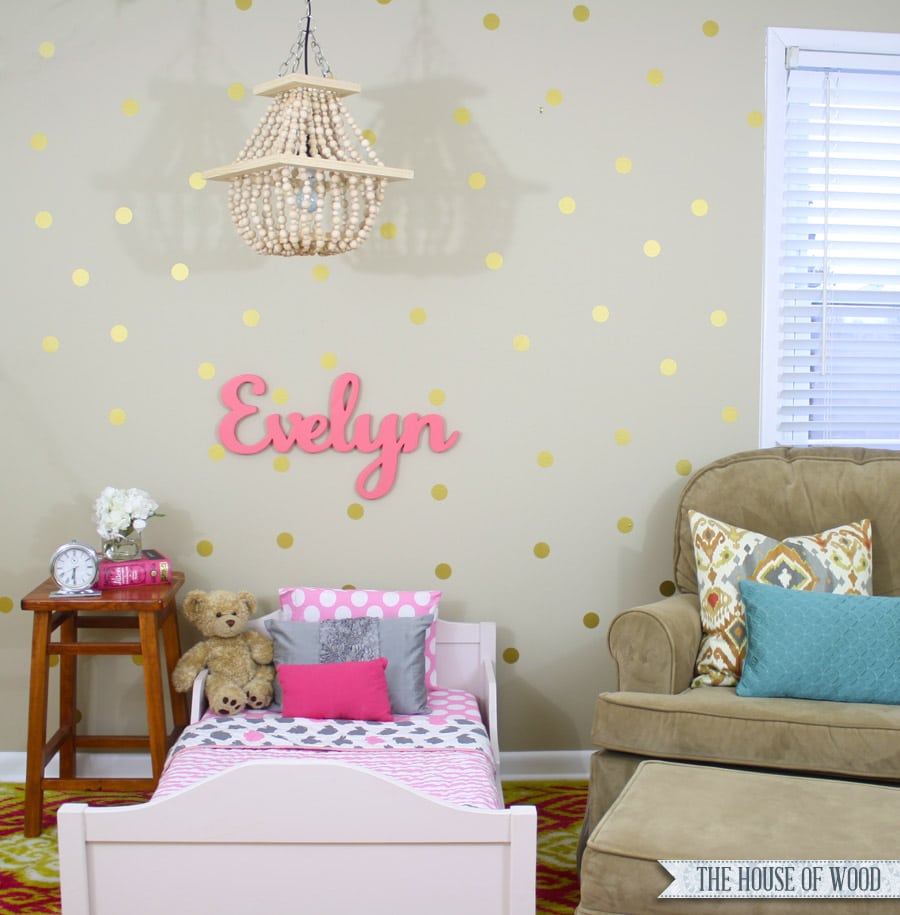 For those of you who want details, here is a source list:
Wood Name Sign: my Etsy shop
Toddler Bed: DIY – tutorial here
Beaded Pendant Light: DIY
Bedding: Land of Nod
Silver Ruffle Pillow: The Home Centric
Ikat Pillow: Festive Home Decor
Teal Pillow: DIY
Gold Polka Dot Wall Decals: DIY
Rug: Overstock
Glider & Ottoman: Babies R Us
What do you think of my – I mean, my daughter's new DIY beaded light fixture? I am in love with it and so is she! And the GE reveal® light bulbs illuminate the whole room with clean, beautiful light; it's like a whole room makeover! As always, thanks for dropping by – I would love for you to pin and share this project!
Pin it for later!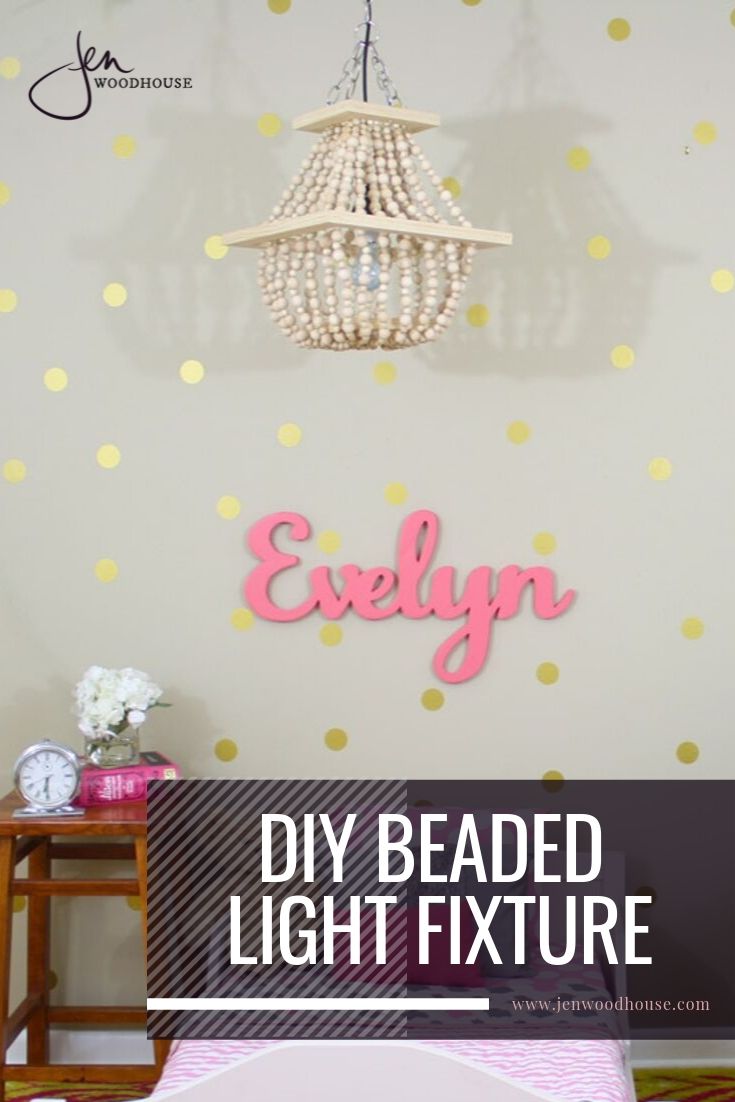 In the comments below, tell me what you want to reveal in your home with GE reveal® lighting for a chance to win a $100 Visa gift card to complete your own #100reveal! 
Sweepstakes Rules: No duplicate comments. You may receive (2) total entries by selecting from the following entry methods: 1. Leave a comment in response to the sweepstakes prompt on this post 2. Tweet (public message) about this promotion using #100reveal; including exactly the following unique term in your tweet message: "#SweepstakesEntry"; and leave the URL to that tweet in a comment on this post 3. Blog about this promotion using #100reveal, including a disclosure that you are receiving a sweepstakes entry in exchange for writing the blog post, and leave the URL to that post in a comment on this post 4. For those with no Twitter or blog, read the official rules to learn about an alternate form of entry.  This giveaway is open to US Residents age 18 or older. Winners will be selected via random draw, and will be notified by e-mail. The notification email will come directly from BlogHer via the sweeps@blogher email address. You will have 72 hours to respond; otherwise a new winner will be selected. The Official Rules are available here. This sweepstakes runs from 1/19/2015 – 3/1/2015. Be sure to visit the GE reveal® Lighting brand page on BlogHer.com where you can read other bloggers' posts!
*Big thanks to GE reveal® for sponsoring this post. I received complimentary GE reveal® Light Bulbs and compensation for featuring this project. All efforts followed by happy dances and professions of undying love are my own.