Ana White and I are alike in so many ways, it's scary.
She has two insanely good-looking kids, a girl and a boy.
I have two insanely good-looking kids, a girl and a boy.
She has an adoring, yet manly husband who encourages and supports her awesomely creative endeavors.
I have an adoring, yet manly husband who encourages and supports my awesomely creative endeavors.
She has 10 million hits on her blog.
I have 10 million hits on my blog.
(Okay, so my number may be closer to… ten, but that's not even including my mom.)
She built a cabin in Alaska.
I built a cabin in Alabama.
I mean, we're practically LIVING THE SAME LIFE.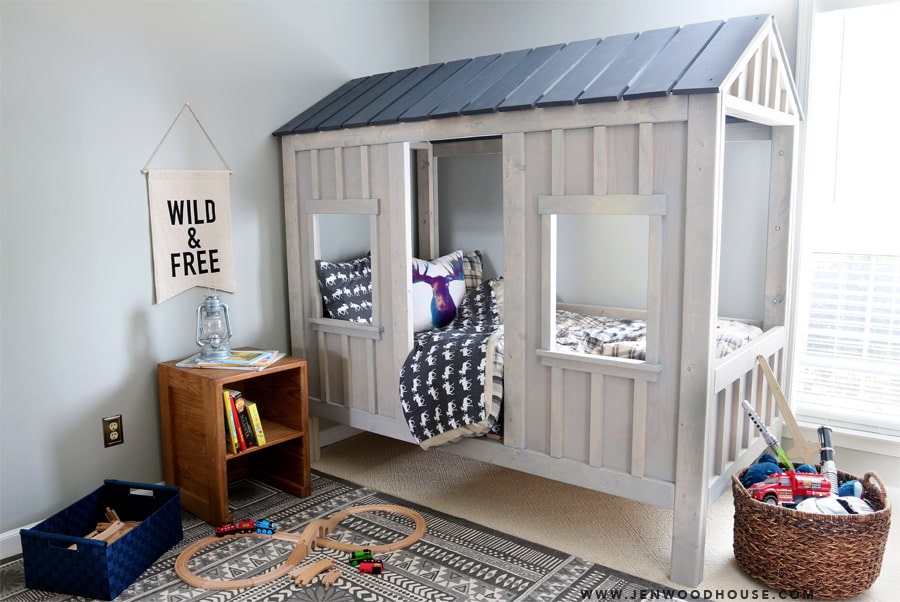 Needless to say, I am crazy excited about my latest DIY project. I teamed up with the aforementioned practically twin sister/BFF/doppelgänger, Ana White and the friendly folks at PureBond® Plywood to bring you the building plans and tutorial for this DIY cabin bed.
Remember how I built my three-year-old son a $30 platform bed that primarily served as a placeholder until I built him The Most Epic Bed Ever? Well, this is the bed I was talking about.
Pretty stinkin' adorable, right?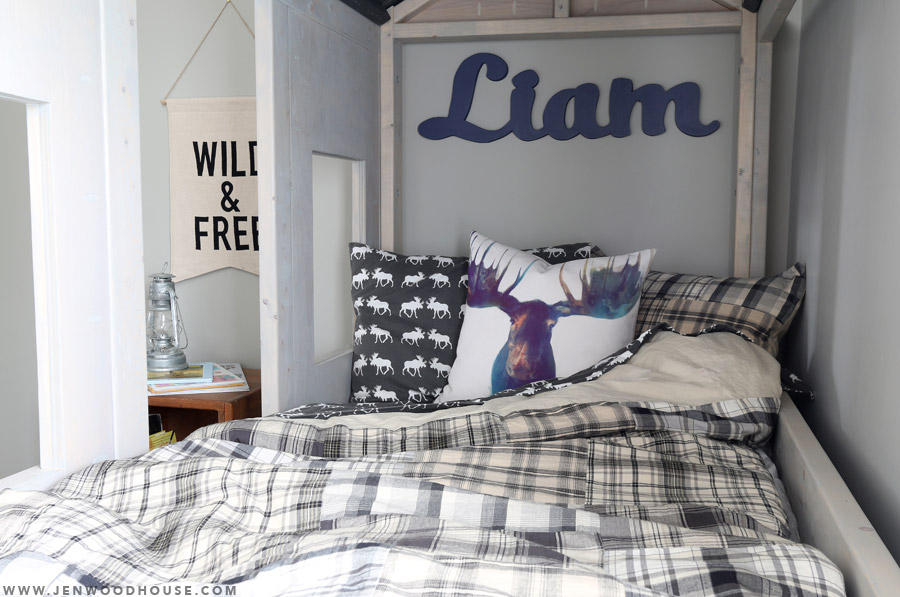 *This post contains affiliate links. Click here to read my full disclosure policy.
Now, before we get started on the tutorial, I have a confession to make. I've been sitting on these plans for months. Literally, MONTHS! (I'm sorry.) Honestly, I was pretty intimidated to tackle this build. The thing that kept me from just digging in and getting it done was the fact that we're moving again this Summer (Army life!) and I couldn't quite wrap my head around how I wanted to build this bed so that it could easily be disassembled and reassembled at our new duty station. I considered bolts and cross dowels, the same metal bed rail brackets I used when I built my daughter's bed, TimberLOK screws, and more. I mean, I racked my brain for months. I asked my woodworker friends. I googled the bejeezus out of it.
Finally, after mulling it over with Ana and her husband, we settled on these 5/16″ metal threaded inserts and so far, so good. The installation was fairly painless and the bed is super sturdy and solid. I'll let you know if these inserts don't hold up in a few months when it's time to move again, but I think they'll work out great.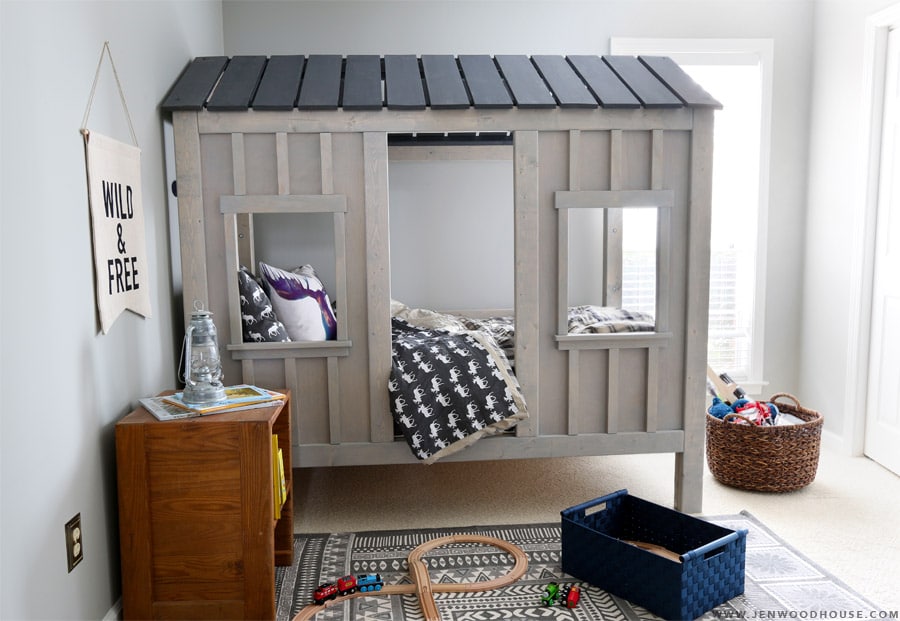 If you've spent any time at all around here, you'll have heard me talk about PureBond® Decorative Hardwood Plywood. Because it's formaldehyde-free and responsibly harvested and manufactured here in North America, the PureBond® brand is always my go-to plywood when I build furniture for our home. Even more so when it comes to building furniture for my children. My little guy spends a lot of time sleeping (hallelujah for 3-hour nap times!) so I want to make sure I'm making the best choices when it comes to choosing materials for his bedroom. Plus, PureBond® Plywood is available at most Home Depot stores throughout North America, so I can always find it no matter where we're stationed.
Once again, Ana drew up the plans in such a clever and efficient way (would you expect anything less?). Basically, you build the front, sides, and back pieces as separate panels, put them together, then add the roof and mattress slats. So smart. Be sure to download Ana's building plans here.
I made a quick little 2-minute video showing how easily the cabin bed comes together. My hope is that this video, together with Ana's thoughtfully laid-out plans and my tutorial, will take all the intimidation out of building this project. We're super excited to see your versions of this DIY cabin bed, so build it and tag us (@jenwoodhouse @anawhitediy) on social media so we can see your handiwork!
Alright! So let's get building! Are you ready?
I used pocket hole joinery for this entire project. This is the Kreg Pocket Hole Jig I use most, although the much smaller, more portable R3 model makes it easy to drill pocket holes in large sheets of plywood.
First, build the two side panels. Drill 3/4″ pocket holes into the plywood and 1-1/2″ pocket holes into the 2x4s, then join the plywood to the 2x4s with 1-1/4″ pocket hole screws. Next, attach the legs with 2-1/2″ pocket hole screws. Add the cross bar and then the gables. All of the angled cuts are detailed in Ana's plans.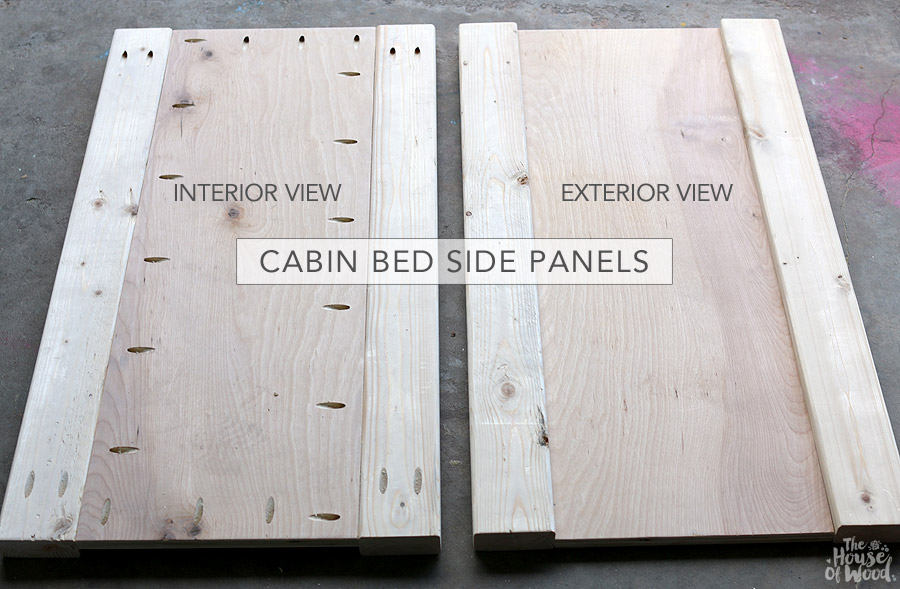 In the plans, Ana left the rafters open, but I chose to close it off with some scrap plywood cut to size. I simply measured and cut the panels to fit, then attached them to the frame with pocket hole screws. It's a bit of a tight fit for the drill, so if you're going this route, be mindful of where you place your pocket holes.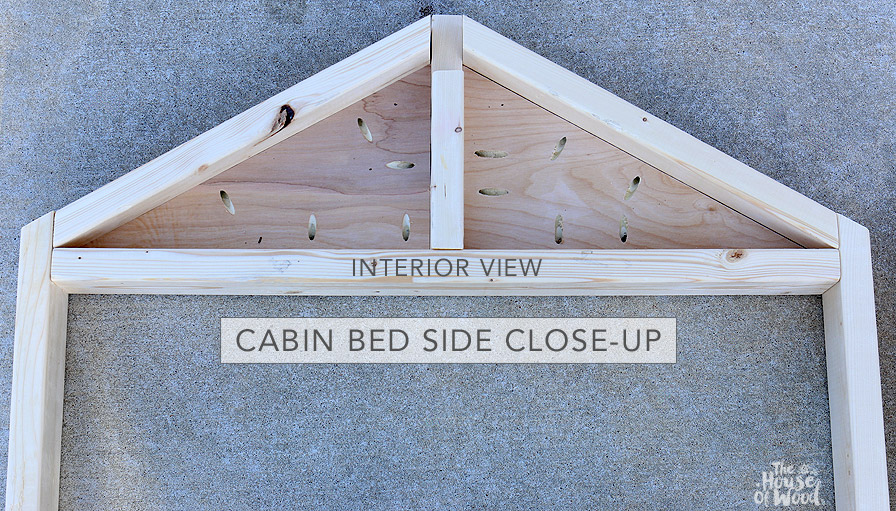 Next, build the back panel. Drill 3/4″ pocket holes into the plywood then attach the legs with pocket hole screws. Add the back cross bar with 2-1/2″ pocket hole screws.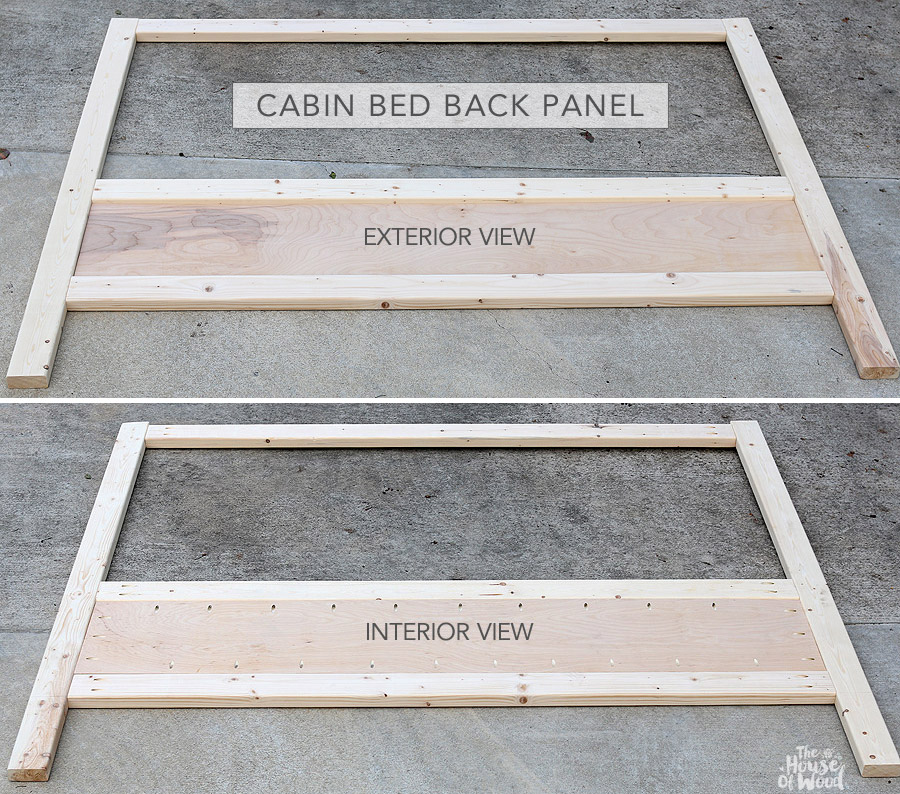 Now for the front panel. First, cut the two plywood pieces down to size, then cut out the windows with a jigsaw. Next, drill 3/4″ pocket holes into the plywood and attach it the 2×4 stiles with 1-1/4″ pocket hole screws. Then, build the front 2×4 frame with 1-1/2″ pocket holes and 2-1/2″ pocket hole screws and attach the plywood panels to the front frame. Finally, add the window trim with 1-1/4″ brad nails and wood glue.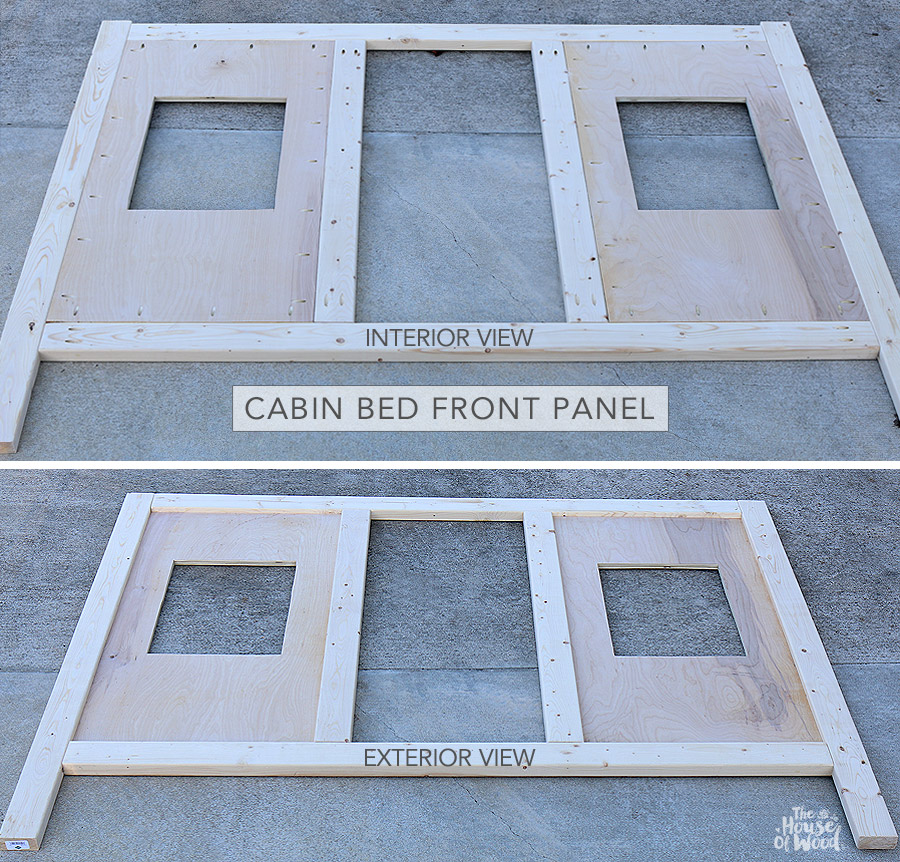 Now onto the roof. It's best to build the roof as one panel, then take the entire panel up to the cabin bed and attach it. I used a 3/4″ spacer block to ensure that the roof slats were evenly spaced.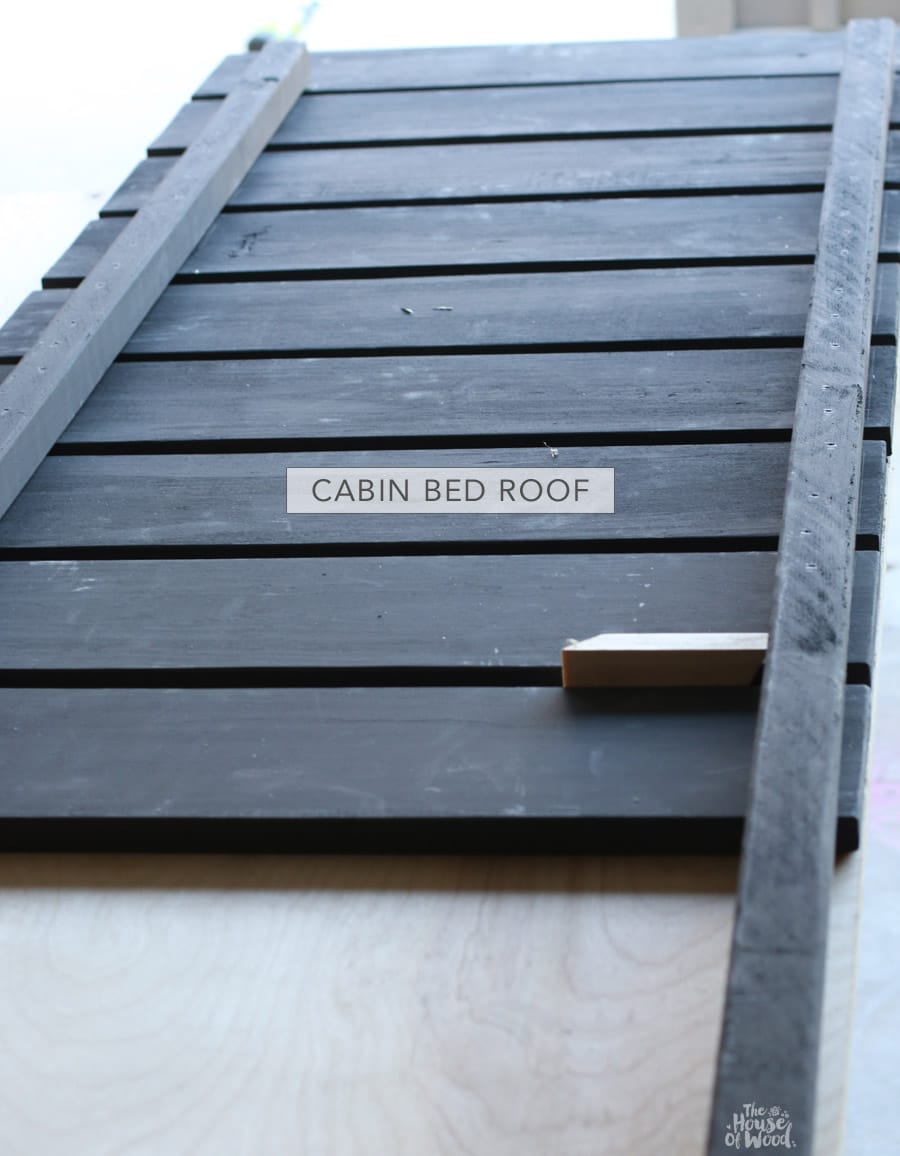 Okay, now that we have the sides, front, back, and roof panels built, it's time to put everything together. Here's where those metal threaded inserts come in. I purchased the 5/16″-18 size and got the power drive insert tool to go with it. The insert tool fits onto your drill so you can power-drive the inserts into the wood.
First, mark where you're going to put the inserts. Drill a hole deep enough for the insert to sit flush in the wood. Next, mix up some epoxy and spread it on the outer threads of the insert. You may want to cover one side of the insert with painter's tape so that the epoxy doesn't get into the interior threads of the insert. Drive the insert into the pilot hole with the insert tool. Let the epoxy dry overnight. Meanwhile, drill holes for the bolts to come through. When you put the bed together, the bolts will thread into the metal inserts.


The front, back, and side panels are being held together by four bolts and inserts placed at each leg. I wanted the hardware to be somewhat concealed, so I didn't drill the insert holes all the way through. This way, the bolts aren't visible from the outside view of the bed. I used 2-1/2″ hex bolts.
I also countersunk the holes so that the hex bolt head would sit flush. And since we've got metal threading into metal, there's no risk of the wood stripping out so we can assemble and disassemble this bed with each and every Army move. I love that!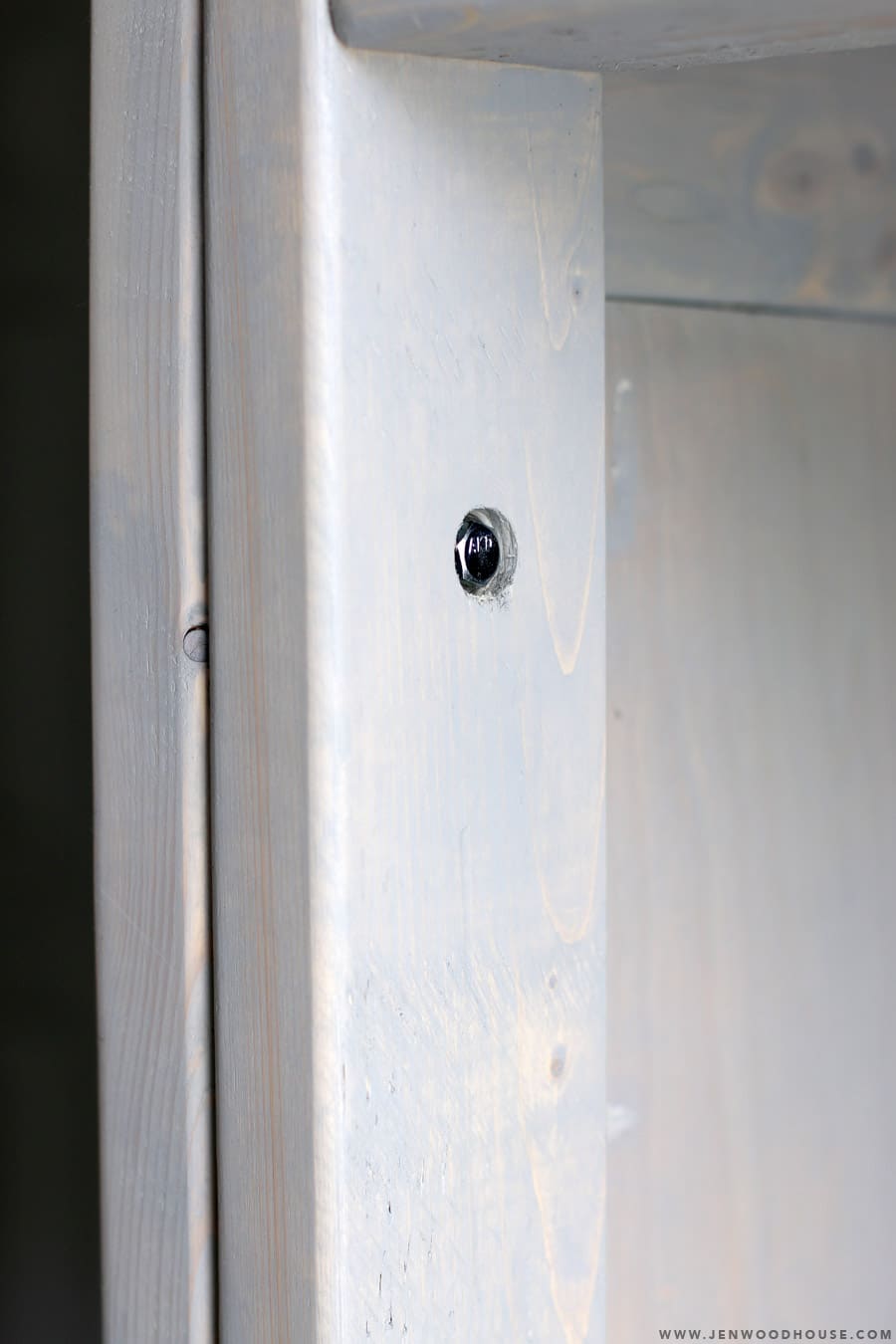 Finally, I added the board and batten detail with brad nails and wood glue. It helps to cut a spacer block so the battens are evenly spaced. This DIY cabin bed costs about $350 to build. Not bad, considering RH Baby & Child sells a similar cabin bed for over $2,000. Yikes.
Oh, and you may notice that the ladder to climb into the bed is missing. Well, you can thank my adoring, yet manly husband for that. His motto is, "Meh. It'll do."
In fact, the first day we met, he was wearing a t-shirt that read, "Hi. You'll do."
True story.
Now, you may be wondering what could make a girl fall for a guy who would wear such a dumb shirt.
Well, all I can say is, his arms looked amazing in that shirt. So.
But… I digress.
Here's how our little exchange went down:
Adam: Are you done building the cabin bed yet?
Jen: I just have to build the ladder and then I'm done!
Adam: Forget about the ladder! Who needs a ladder? Pfft… ladders.
Jen: Well… um, okay…
And the first thing our son notices when he sees his cabin bed for the first time?
Observe:
Yeahhh. *Forehead slap.
Mr. "It'll Do" strikes again.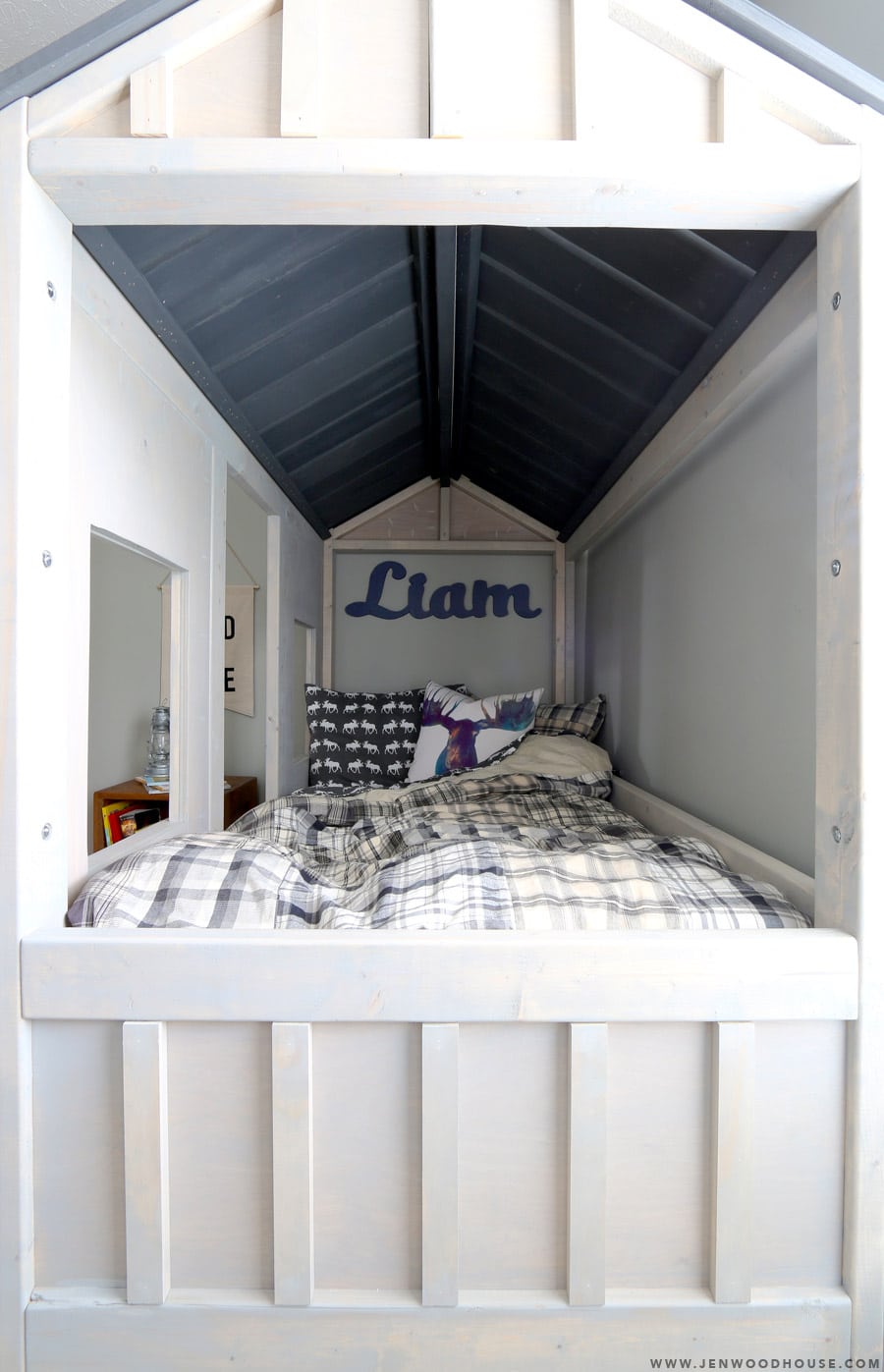 So what do you think? Super fun, right?! We absolutely love how it turned out! Seriously, I wish I had a cabin bed when I was growing up. Thanks a lot, Mom and Dad.
Alright then! What are you waiting for? You can build this DIY cabin bed for your little ones (or for yourself – no judgement). Be sure to visit Ana-White.com to download the free building plans!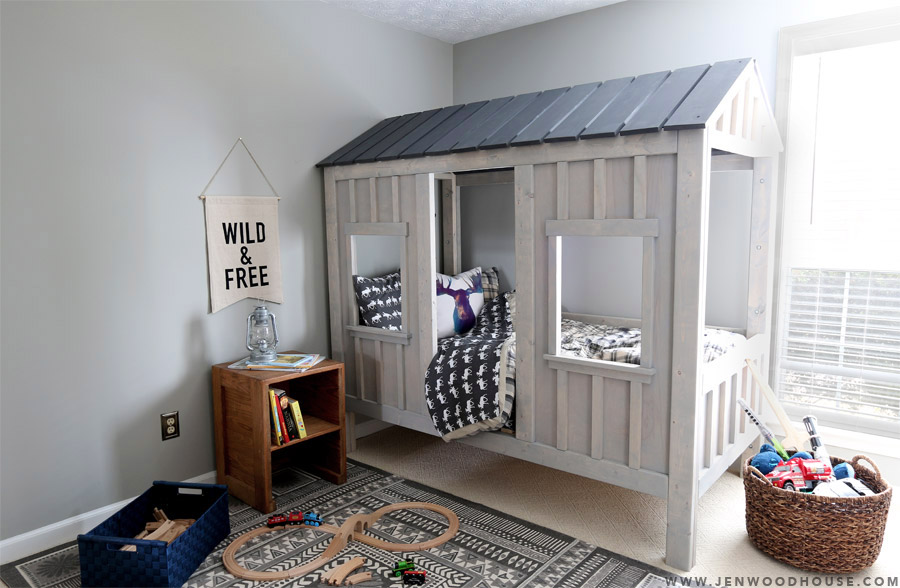 If you're interested, here is a product source list. Click the images below and you'll be taken directly to the product shown.
SHOP THIS ROOM

Thanks for reading friends! Want to know how I stained, painted, and finished this DIY cabin bed? Here's the finishing tutorial. Be sure to follow me on Instagram and Facebook for fun, behind-the-scenes sneak peeks of new building projects.
I'd love for you to PIN and SHARE this project. Thank you!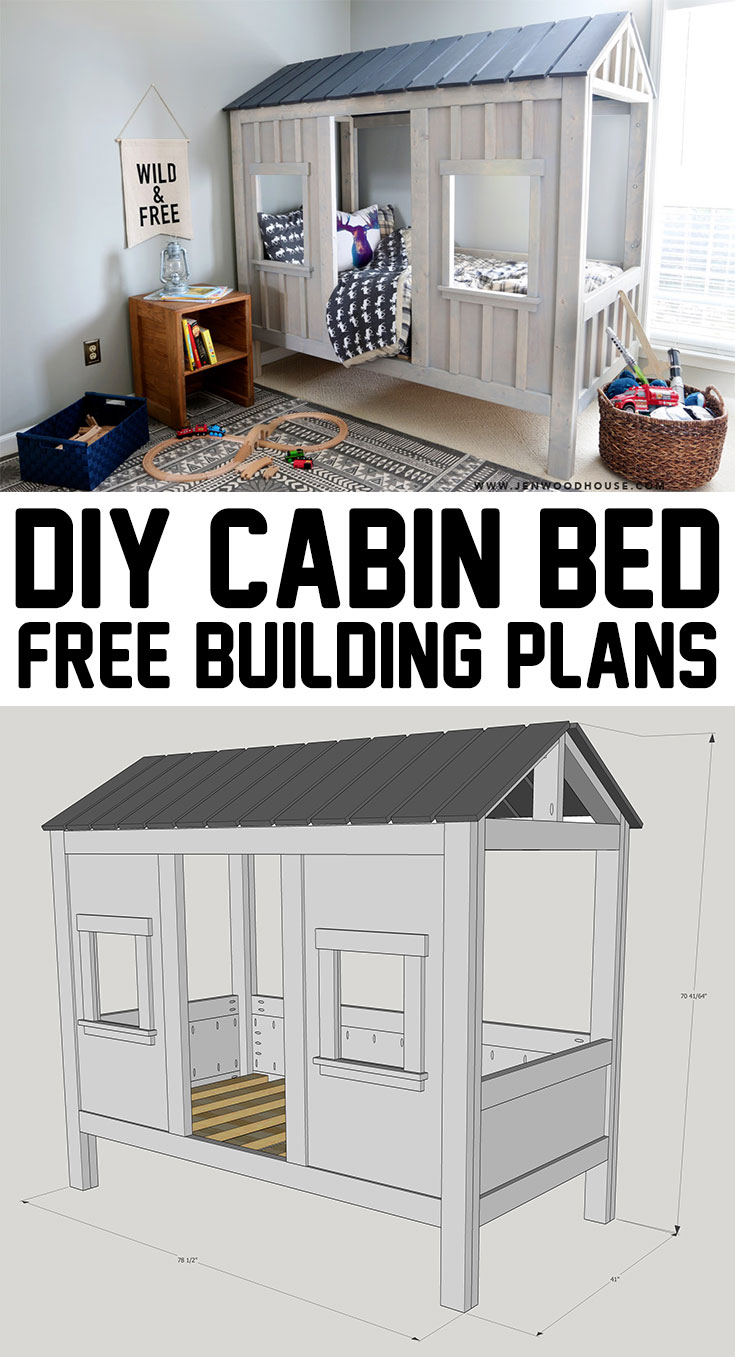 *A huge thank you to PureBond® Plywood for partnering with me on this post. All efforts and opinions are my own.