An in-depth tutorial on how to build DIY built-in cabinets with drawers! Lots of step-by-step photos, tips, and tricks on how to build and install drawers, including an awesome video!
Hiii!!! I am so excited to share my latest DIY project with you today! I am one step closer to completing my home office makeover. Did you see my progress so far? I shared it here on The Home Depot blog! Can you believe these beautiful built-in cabinets are DIY?! They look amazing and the functionality of it is SO GOOD. I made these drawers super deep and wide so I can hide pretty much everything I ever owned in here. But wait… there's more! These drawers have a little secret…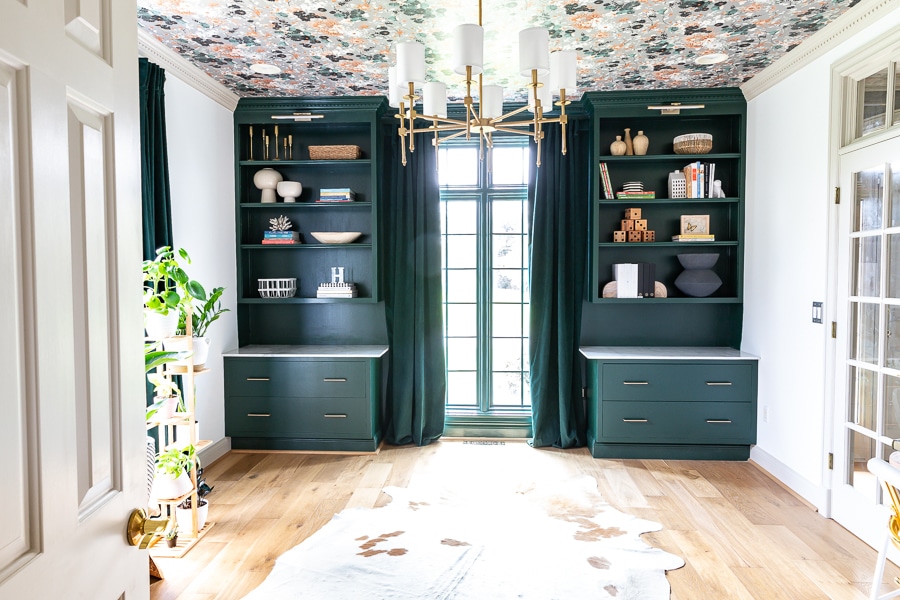 I really needed some file cabinets for my home office, but I didn't want them to look like file cabinets, you know? 'Cubicle chic' is not the vibe I'm going for in here. I wanted filing cabinets that looked more like a beautiful piece of built-in furniture and this is what I came up with! Have you ever seen file cabinets look so good?! And guess what – they were surprisingly easy and affordable to build. Two sheets of plywood and a few 1x boards brought the cost to about $150 for each cabinet! BANANAS.
Read on for a few of my tips and tricks and be sure to watch the video to see how it all came together!

Download the plans
As always, I've drawn up complete step-by-step plans for this DIY built-in cabinet. I write my plans like a recipe, so if you can follow a recipe, you can build this cabinet! The plans are much more detailed than this blog post and include both an easy and intermediate version for making the drawer dividers (hanging file folder feature). This project is a great beginner-level project that gives you a ton of bang for your buck. Also, I've included linked sources for the products in this room at the end of this post, for your convenience.

Cut the plywood parts
First, I cut the 3/4-inch plywood parts to size using my circular saw and a straight-edge guide. I also changed out the blade to a plywood blade, which will result in a cleaner, more precise cut with minimal tear-out. In the left photo above, you can see me using my foam board insulation trick – I like to use it as my cutting mat because it supports the entire sheet of plywood and protects whatever is underneath. This foam board is cheap, easy to store, and easy to manage and I cut on it over and over.
Once the side panels are cut, I used a jigsaw to notch out the bottom to accommodate the toe kick. Our baseboards are 5 1/2 inches tall, so that's how high I made the notch. If you have shorter or taller baseboards, just be sure to cut the notch accordingly. Keep in mind, however, this may change your measurements going forward. I clamped the two panels together and used a jigsaw to make these cuts. By clamping them together, I'm minimizing my room for error and I now had to make just two cuts instead of four. #worksmarter

Construct the carcass
Next, I cut out the toe kick parts as well as the middle support board. I drilled 3/4-inch pocket holes into these boards and attached them with 1 1/4-inch pocket screws and wood glue. If you don't have a pocket hole jig, you can pre-drill pilot holes and construct the carcass with just regular wood screws and glue. I typically use glue on all of my joints – I think of it as cheap insurance.

Add the bottom
After the carcass was constructed, I added the bottom. I laid it into place and secured it with wood glue and 1 1/4-inch brad nails. I also added the top supports with pocket screws and glue.
All of the dimensions and list of materials for this DIY built-in cabinet are in the plans, as well as a recommended cut layout for the plywood. I kept a few things in mind when laying out these cuts: I thought about how to make the best use of material so that there's very little waste, as well as how to make the most efficient cuts. I also kept grain direction in mind, in case you'd like to stain your project.

Attach the face frame
Now it's time to move onto the face frame. For this part, I used solid wood 1×2 pine boards. You don't really want to use plywood for this because you'll see the layered plywood edges. I attached the face frame with wood glue and brad nails.

How to build a drawer
Okay, it's drawer building time! I hear from a lot of folks that building and installing drawers can be intimidating, but as long as you take your time and make sure you're "checking for square," you shouldn't have too much of an issue. You're basically just building a box. Measure the opening and then build the box accordingly. Standard drawer slides typically require a 1/2-inch clearance on each side, which means you'll build the drawer box 1 inch narrower.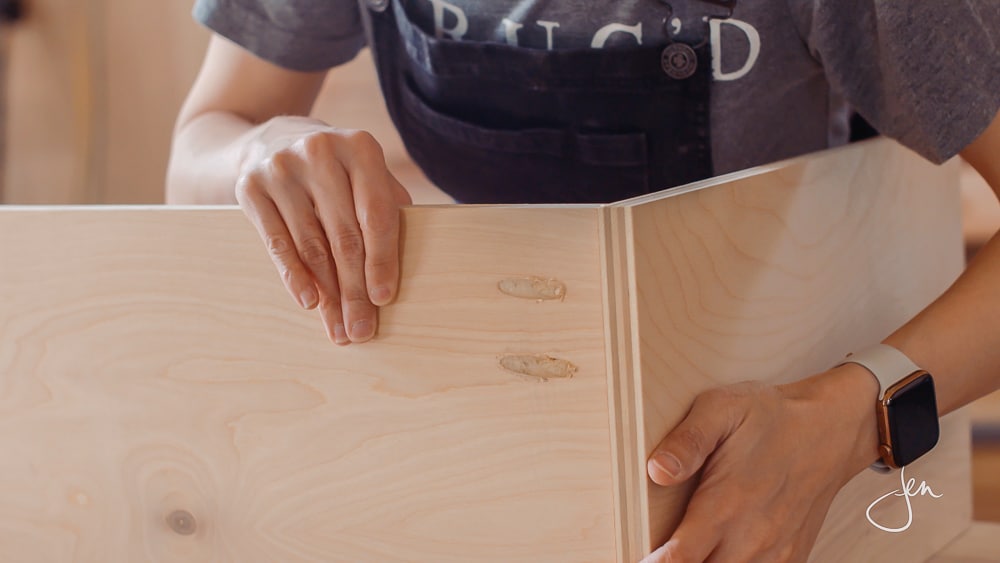 First, I cut the drawer parts from the plywood and labeled them to stay organized. Then I drilled 3/4-inch pocket holes into the front and back parts. You always want the front and back parts to sit inside the side parts, rather than the other way around (see photo above). If the side parts are inside the front and back pieces, when you push and pull the drawer, over time, the joint will weaken. Then I just constructed the box with 1 1/4-inch pocket screws and wood glue.

How To Check For Square
Here's what I mean when I say to "check for square." Take the tape measure and measure all four corners on the diagonal – these measurements should match. If they don't, then take the longer measurement and squeeze the corners together to adjust them until the two measurements are the same. Clamp, screw, and let the glue dry. After the four sides of each drawer box were constructed, I added the 1/4-inch plywood bottom with wood glue and staples. I prefer using staples here instead of brad nails because the staples have a little more holding power.
Be sure to watch the video above to see how I install the drawer slides. It's not as hard as you might think!

Attach drawer face
Finally, I attached the drawer face. I slid the drawer in, positioned the face where I wanted it, and clamped it down. I used my friend Brad's card trick to achieve the same spacing around the drawer face. Then I drove screws in from the inside of the box to attach the face.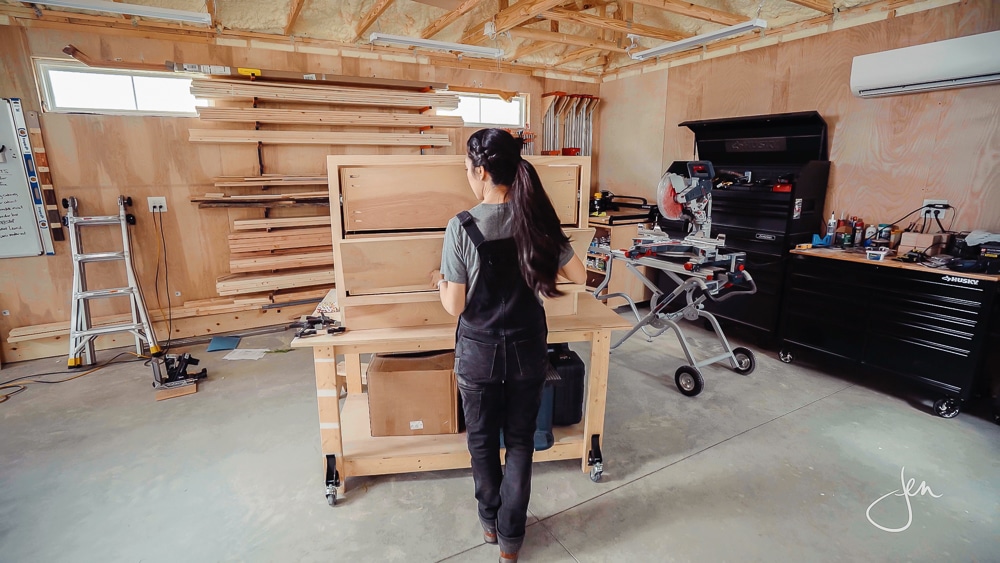 Sand, paint, and finish
We're almost there! Now it's time to finish this baby. I rolled a coat of primer on the cabinet and followed up with three coats of latex paint. This color is Sherwin Williams' Roycroft Bottle Green in a semi-gloss sheen. Once the paint was dry, we brought the cabinets into the room for installation! This is the most exciting thing ever!!!

Secure the cabinets to the wall studs and attach top
We used a few shims to level the cabinet since our floors aren't perfectly flat and then we screwed them to the studs in the wall. It's important to secure the cabinet to the studs because if both drawers are open at the same time, the cabinet can tip over. Once the cabinet was secure, my friend Josh added the baseboards and shoe molding. I had my local stone supplier cut the tops out of a beautiful Carrera marble slab, then attached them to the cabinet with silicone.
Wait one. hot. second. Let's just take a moment to drool over this gorrrrrgeous marble top… I can't even. Can you even? I. CANNOT. EVEN.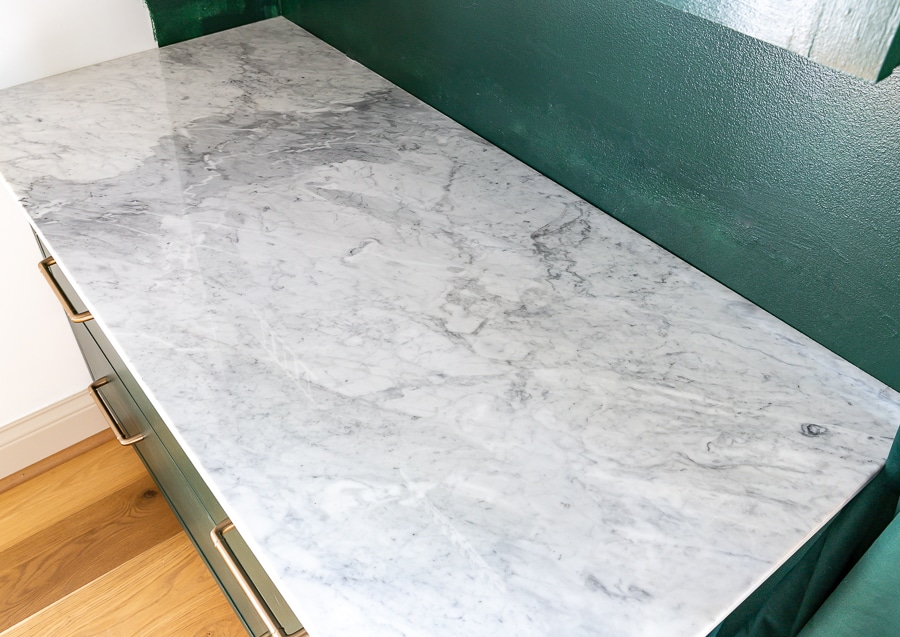 Okay. Carry on.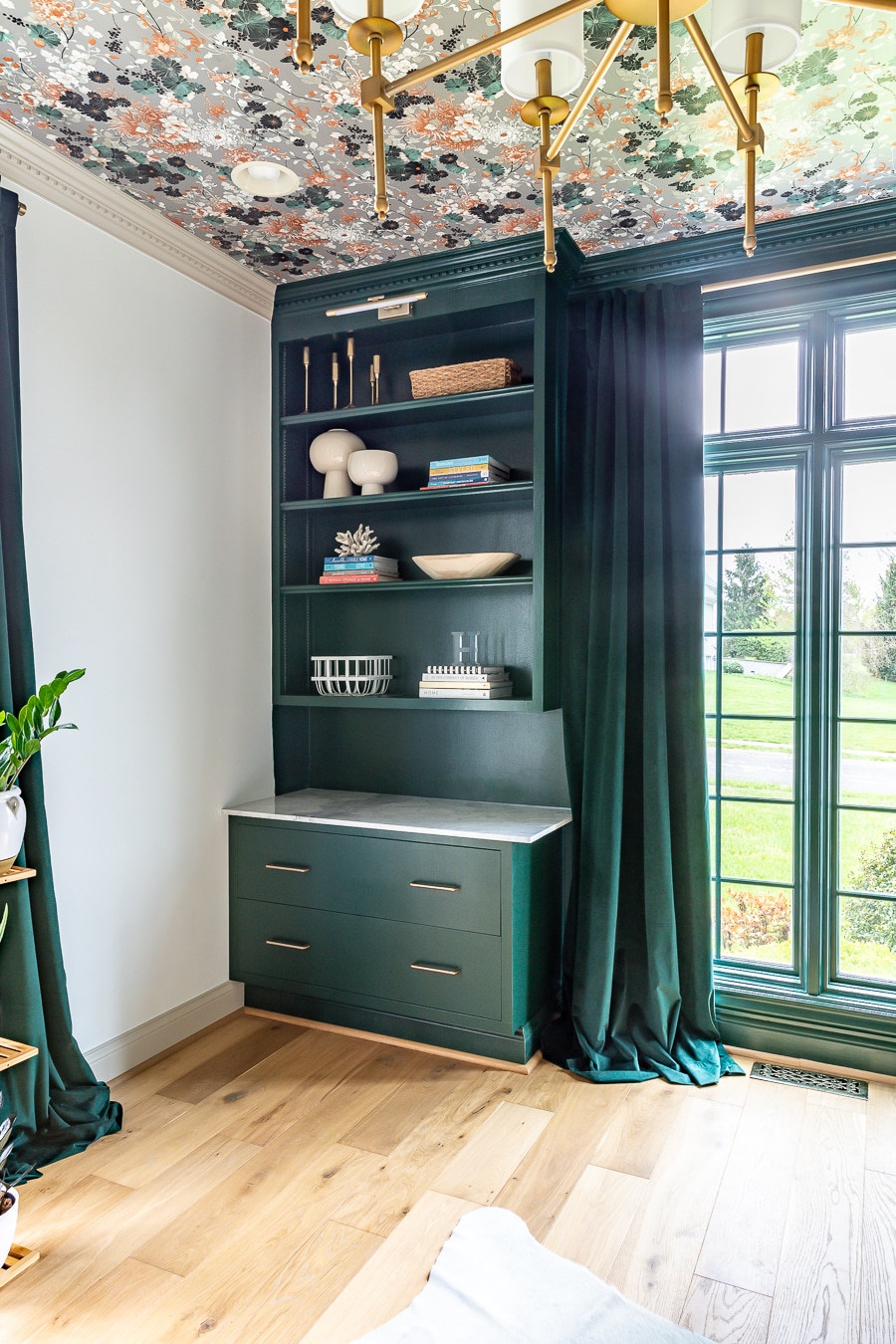 Are you freaking out like I am?! Because I am totally freaking out over these DIY built-in cabinets! I am insanely in love with how this space is coming together!

Here's what's left on the docket:
Design and build a desk (it'll go in front of the built-ins, with my back towards the bookshelves)
Build bookshelves down to meet marble countertop
Install that last bit of missing shoe molding
Add (make?) wall decor/artwork
It's going to feel SO GOOD to see everything come to fruition. Stay tuned for the full home office reveal…

Product Sources:
*Affiliate links used.
Built-in paint color: Sherwin Williams Roycroft Bottle Green
Wall paint color: Benjamin Moore White Heron
Trim: Benjamin Moore Revere Pewter
Sculptural vases (no longer available)
Ceramic house (similar)
White pug bookend (no longer available)
Stone bookends (similar)
Want to see more of my DIY cabinet projects? Check out this carved entryway cabinet, or this desk with hidden printer cabinet, or this printmaker's cabinet!