*This post is in partnership with Starbucks®.
If you've spent any amount of time around here, then you know we PCS (military-speak for 'relocate') every two years or so. Army life certainly has its share of challenges and one of those challenges when we move is trying to fit all of our stuff into the various rental homes we live in. Storage, or lack thereof, can often be an issue, so I have to create smart storage solutions that can move with us wherever we go. When we're short on kitchen cabinet space, this wall-mounted coffee mug rack is a lifesaver. It's not only functional, but cute too – if you enjoy collecting different coffee mugs, it's a neat way to display them! Form and function are my favorite.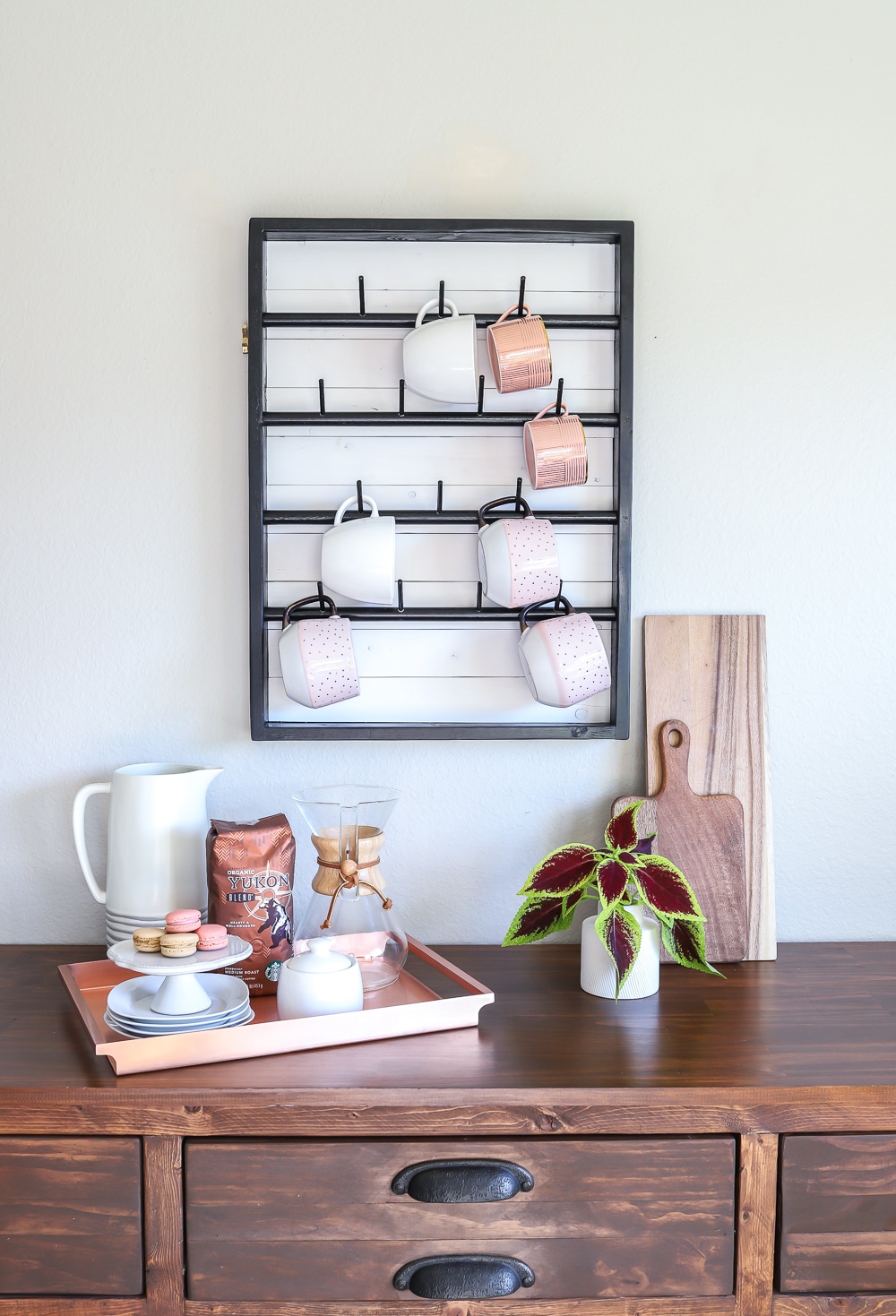 It's pretty dang expensive to move around as often as we do. We usually have garage sales beforehand to 1) off-load and purge any items we don't want to move across state lines and 2) help offset some of the costs associated with moving.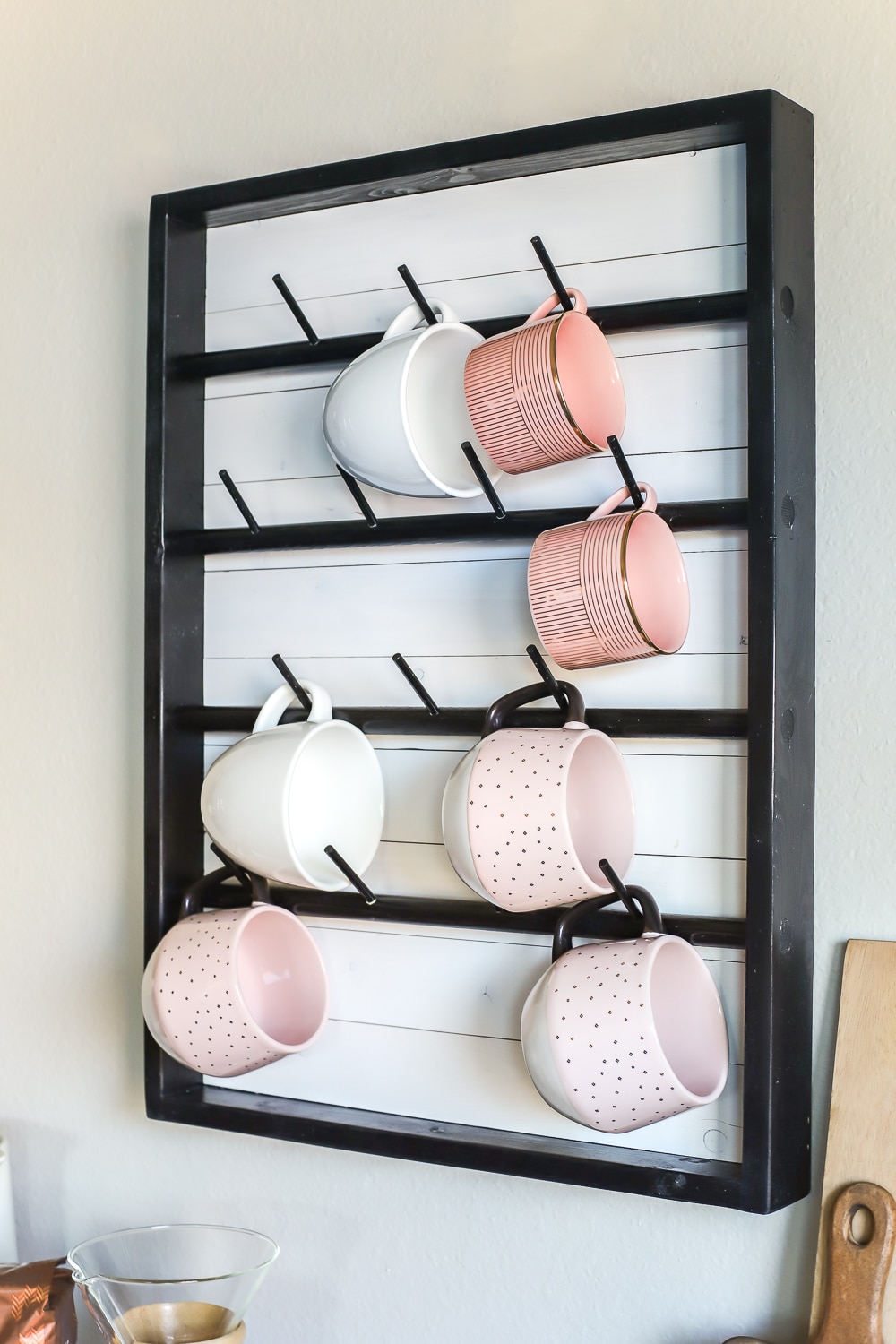 We recently got a Starbucks® Rewards Visa® Prepaid Card to help with our PCS budgeting. I can load the card with a certain amount of money and use it just for our move. We'll use it to buy things like cleaning supplies, new trash cans and plungers (because who wants to pack and move those? Ew. No, thank you), or to cover the cost of utility setup fees.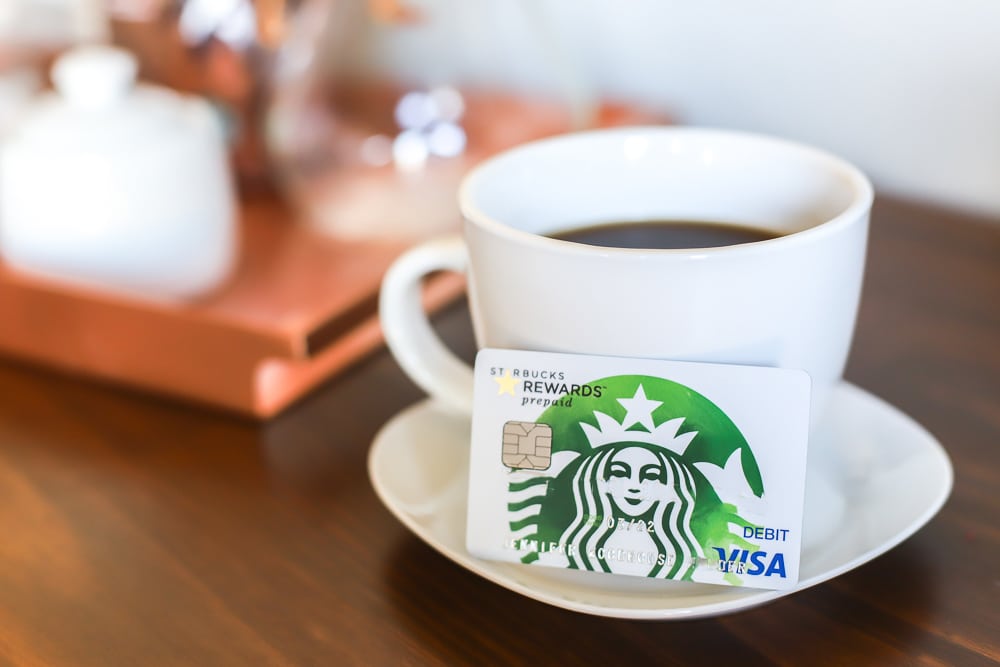 We're big Dave Ramsey fans, so we don't own any credit cards, carry any debt, or buy things we can't afford. The Starbucks® Rewards Visa® Prepaid Card is not a credit card and there are no monthly or annual fees (other fees may apply.) But here's the real selling point: whenever I make a purchase, I can earn Stars on the things I buy. So that brand new plunger is now serving two purposes: its original, intended purpose of course, and it's enabling my Starbucks habit. It's a twofer!
You can learn more about the Starbucks® Rewards Visa® Prepaid Card here.
I used this card to purchase all of the necessary tools and supplies for this project and I was able to earn more Starbucks Stars in the process. Alright friends, are you ready to build your own DIY coffee mug rack? Download and print the PDF plans by clicking the gray button below.

How To Make A DIY Coffee Mug Rack

First, we're going to cut the dowels and drill the holes for the hanging pegs. We used a 1/4″ Forstner bit for this. If you have one, I'd recommend using a drill press so the holes are drilled perfectly perpendicular. I drilled the peg holes 1/2-inches deep and placed them offset, 4 inches apart from each other. Three holes will go into two of the dowels and four will go into the other two dowels. This will allow space for the coffee mugs to hang freely.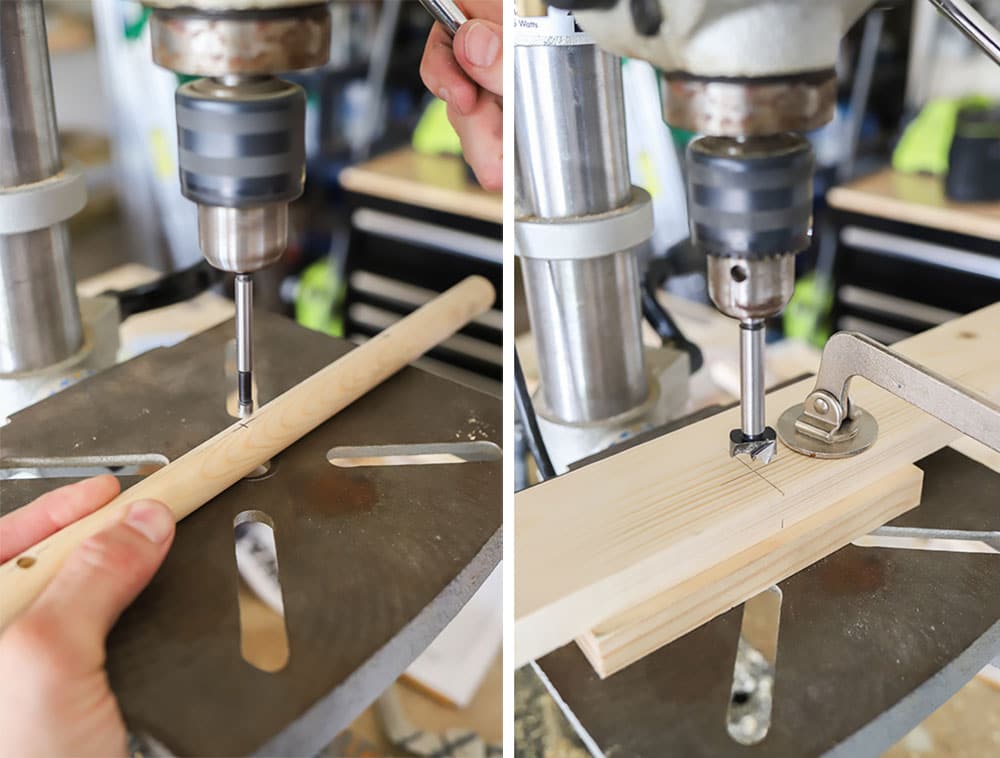 Next, measure, mark, and cut the 1×3 boards to length. Clamp the two long sides together, measure and mark 5 inches from the top. The dowel holes are spaced 5 inches apart. We used a 3/4″ dowel, so we used a 3/4-inch Forstner bit. Whatever size dowel you use, be sure to match the Forstner bit size. You're going to drill all the way through the boards. Place a scrap piece of wood underneath to minimize tear-out.
When all four dowels are cut and drilled, it'll look like this. Pause to play your pan flute.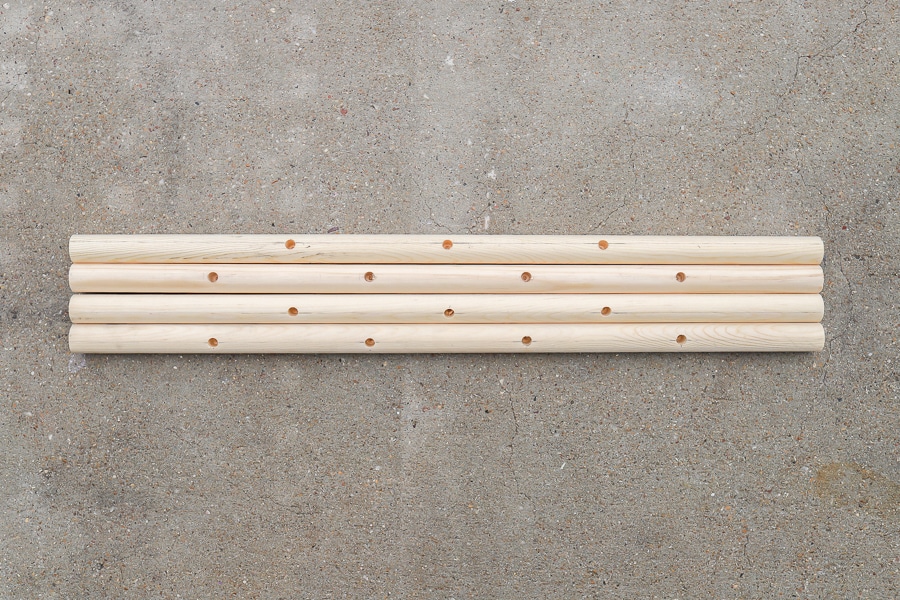 We used RYOBI's new battery-powered bolt cutters (what!) to cut the metal pegs. You could use wooden dowels here too, but I felt like metal would be sturdier so that's what I went with.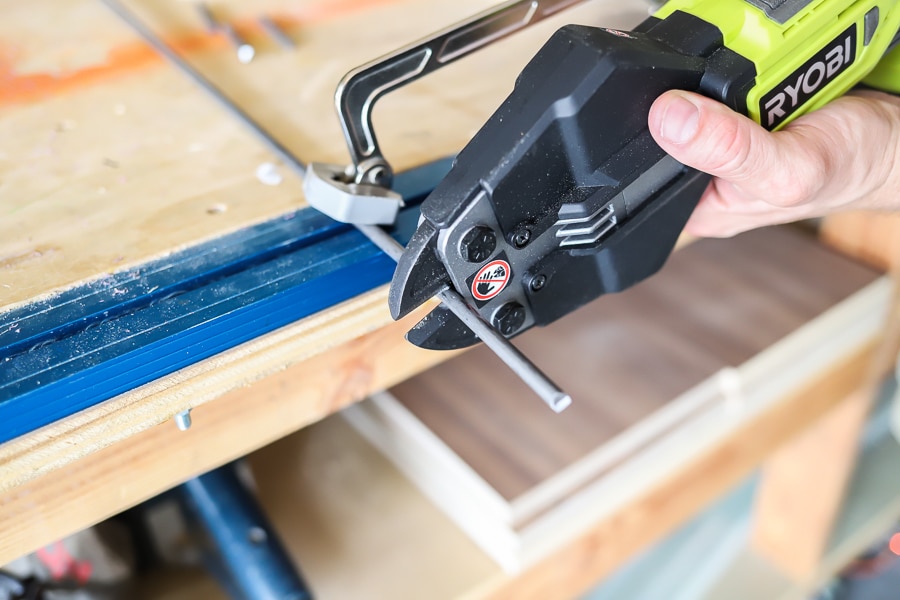 When you cut the pegs, do your best to cut them to about the same length – you can use an angle grinder to grind them down later until they're uniform in length.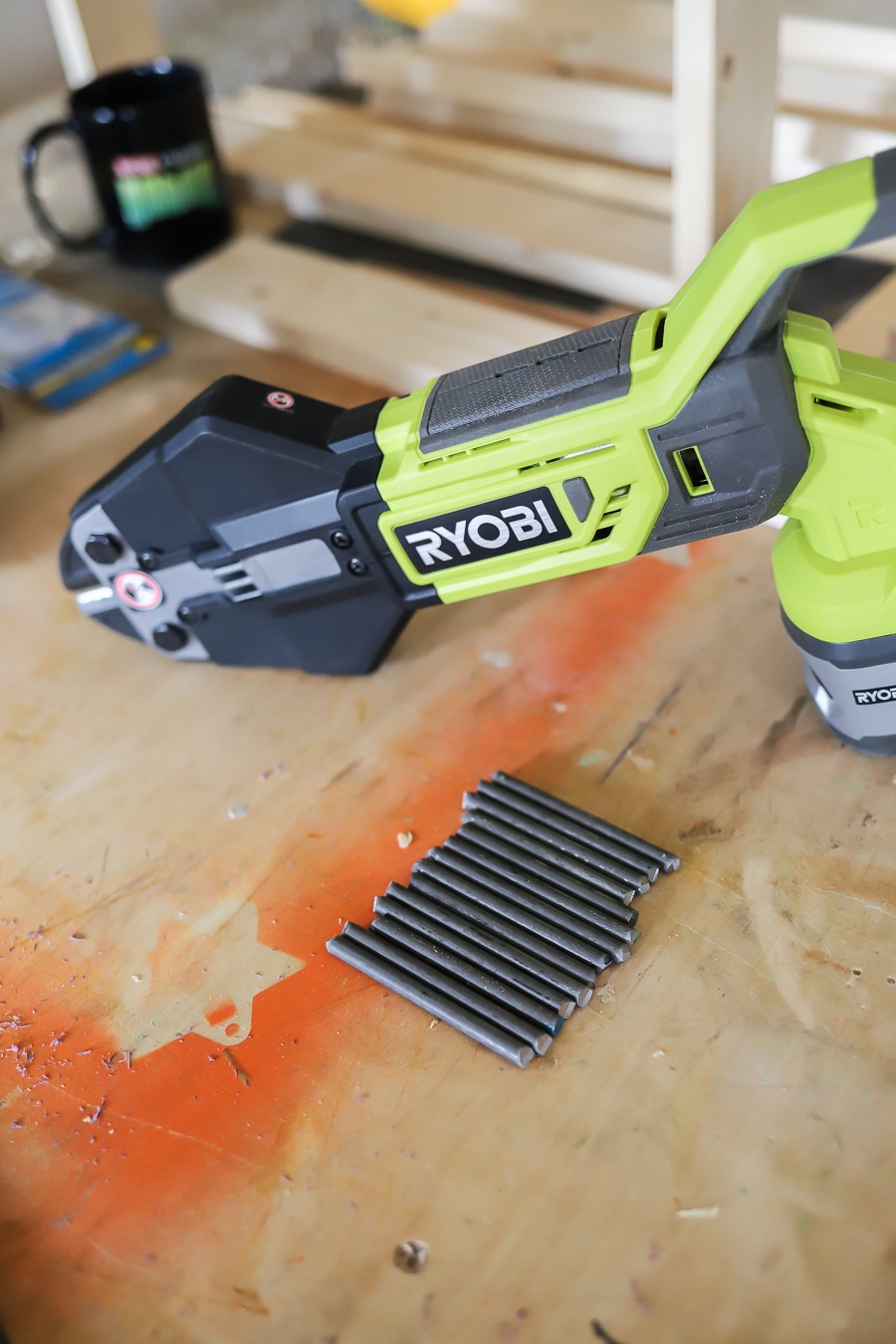 Next, I built the frame by attaching the long sides to the short sides with wood glue and 1 1/4-inch brad nails. Be sure you've drilled the holes for the dowels before you construct the frame.
I measured the inside of the frame and cut the 1×3 backer boards to fit. Construct the frame as shown then tap the dowels into the holes with a mallet. Use a construction adhesive to glue the metal pegs into place. To keep the dowels from spinning, shoot a couple of pin nails from the front frame into the dowel. This is the pin nailer I use.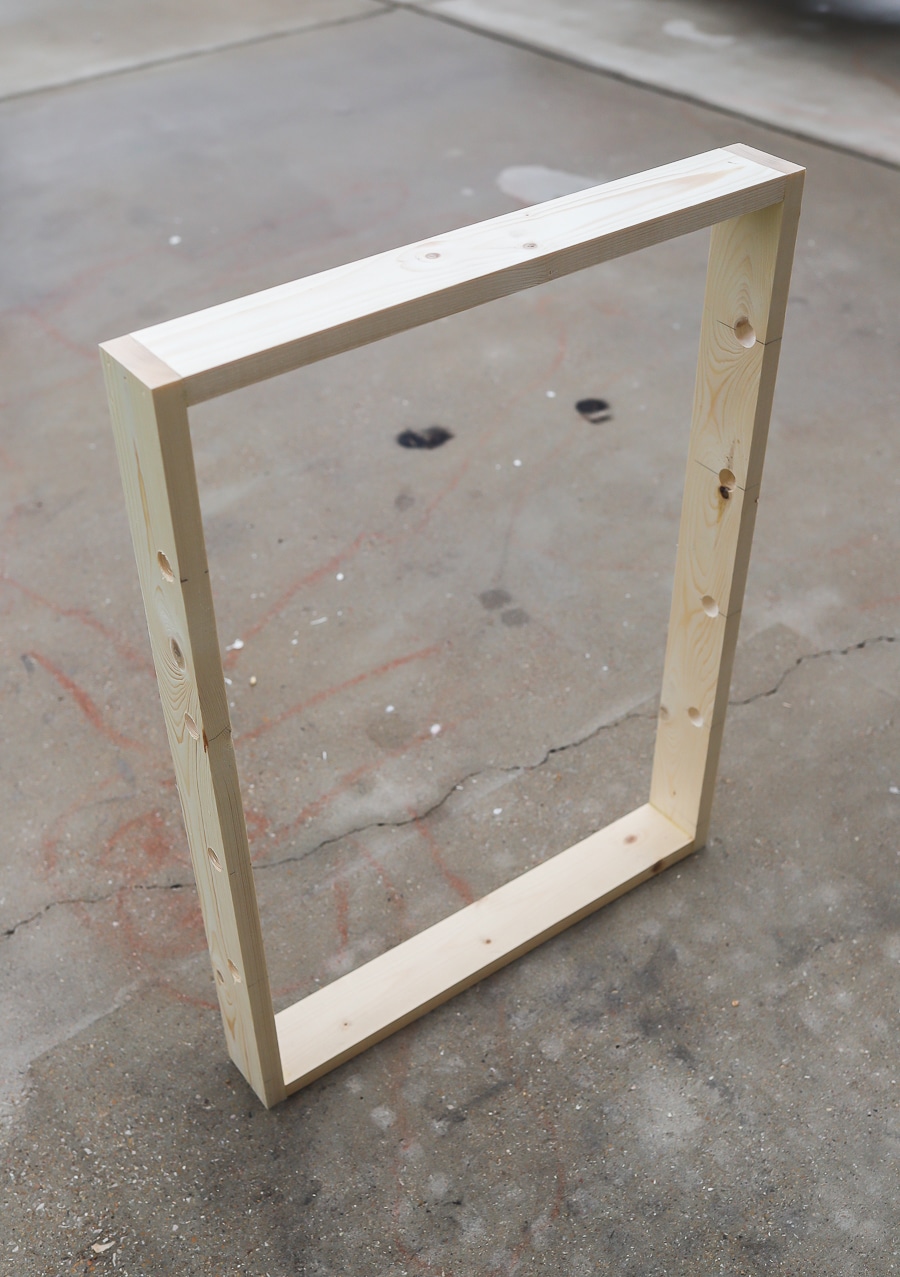 Because I wanted the frame and the cup hanger rows to be black and the backing white, I sanded and painted all of the pieces before assembling the entire thing.
Once everything was dry, I attached the backer boards with wood glue and 1 1/4-inch nails.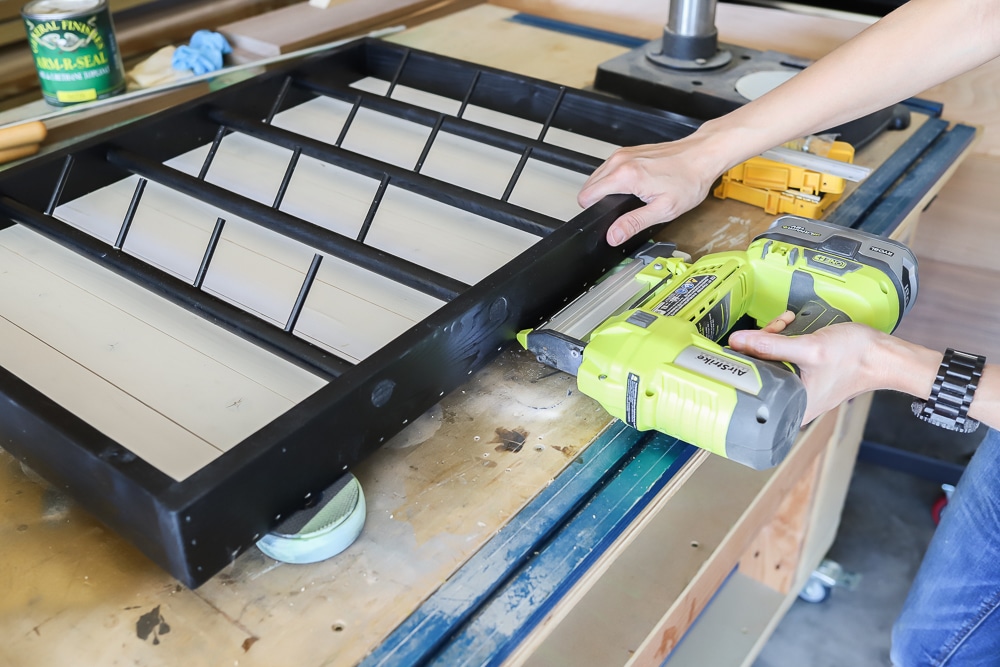 I recommend using a French cleat to hang this coffee mug rack. It can hold a hundred pounds of weight and it's super easy to install.


Screw one part of the cleat to the back of the mug rack and screw the other part to the wall. There's even a handy little level included so you hang the cleat straight. But because I have trust issues, I used my Empire True Blue digital level – it's accurate to the 0.0005 inch.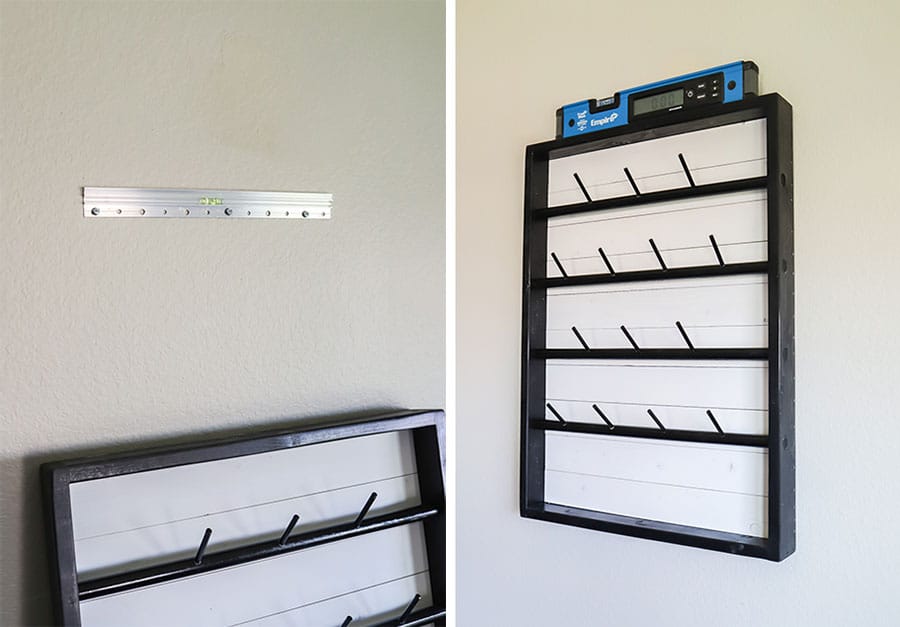 Finally, load up the mug rack with all of your favorite mugs and make yourself a cup of coffee while you're at it. You've earned it.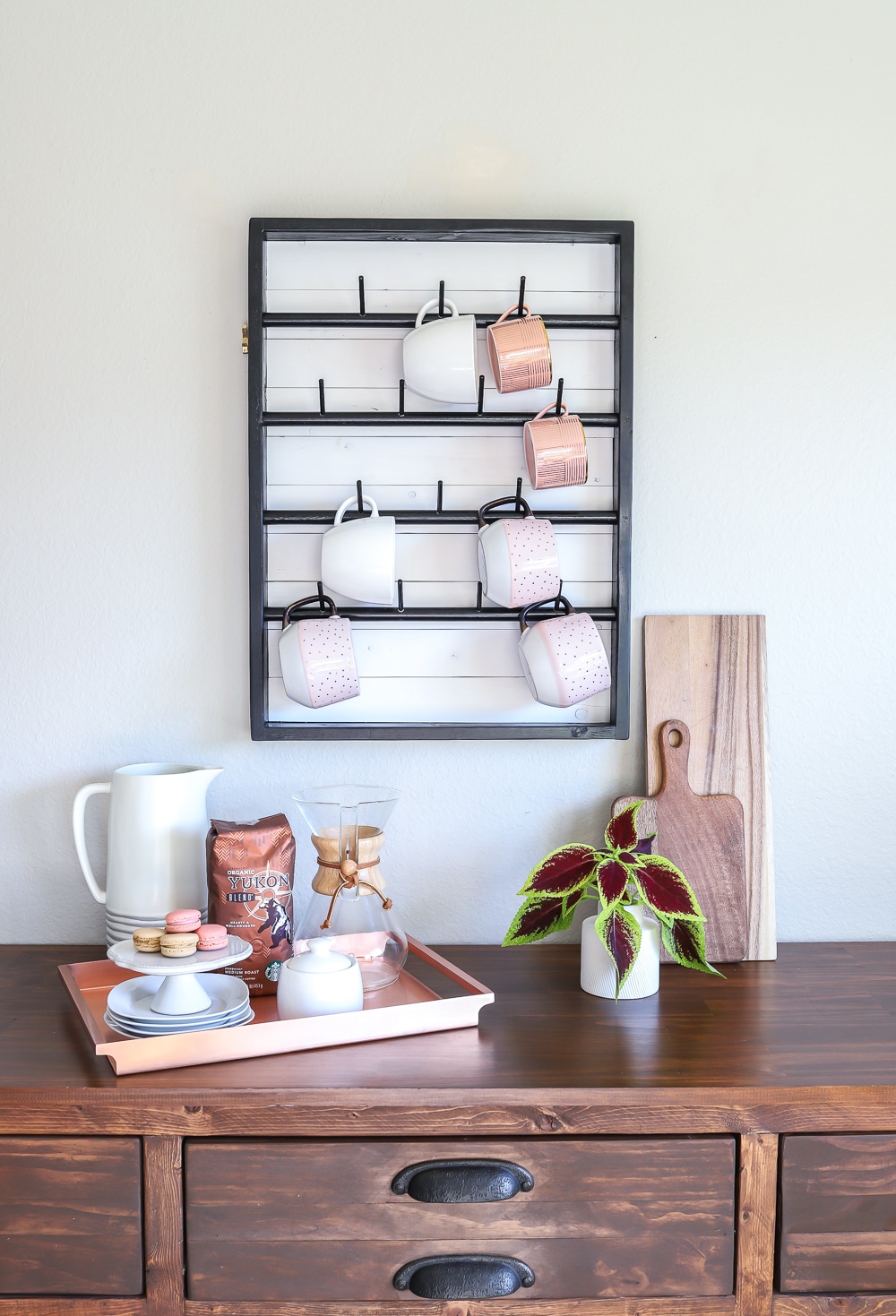 *I have partnered with Starbucks to help promote the Starbucks Rewards® Visa® Prepaid Card. All efforts, ideas, and opinions are my own. This post contains affiliate links. To read my full disclosure policy, please click here. Debit cards are provided by JPMorgan Chase Bank, N.A. Member FDIC.