We try to enforce a no-shoe policy at our house, which makes our entryway look like a perpetual train wreck. Not a pretty site. So we're in need of some shoe storage. Adam offered to hit up Target for a shoe rack, but I wanted something, oh I don't know, not hideous. And left to his own devices, my sweet Husband would have come home with this: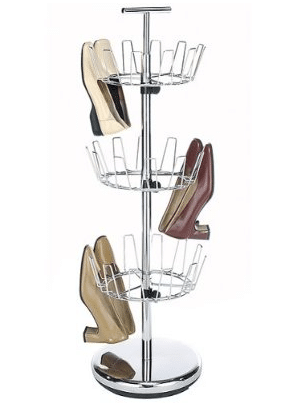 or this (he says it could hang easily over our front door). I'll let that one sink in for a second…
This: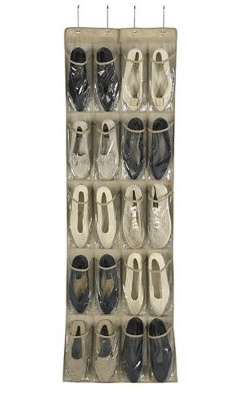 would be hanging on the back of our front door. Now, granted, we live in a rental at the moment and our foyer is, by no stretch, fancy-schmancy (it's basically a long hallway leading to the front door), but seriously? Slap yourself.
But then again, this is coming from a man who thinks this is suitable adult furniture:
Oh, bless his stupid heart. It's up to me to show him the error of his bachelor-pad ways. And so began the search for an entryway bench. Unfortunately, everything that fit my criteria gave me sticker shock. While any of these would have looked lovely in my foyer, it certainly wasn't my-kind-of-lovely at a whopping $399. Oh Pottery Barn, you're pure evil (by the way, I don't know about you, but I definitely need a monkey fist and a basket full of seashells handy and easily accessible)…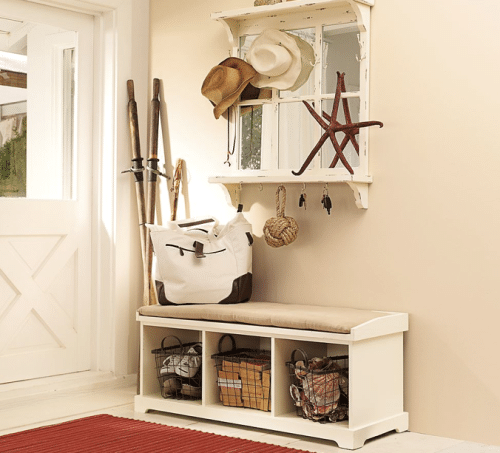 Pottery Barn Samantha Entryway Bench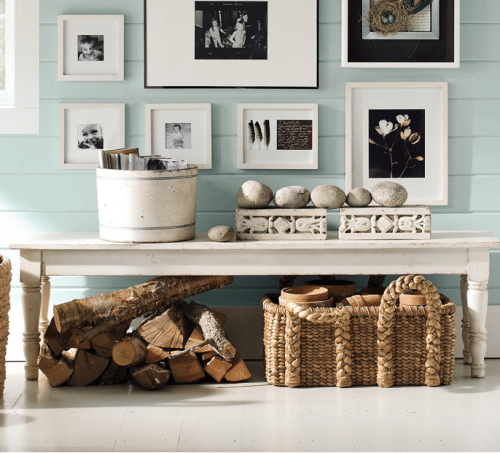 Pottery Barn Norfolk Bench
This mod beauty caught my eye: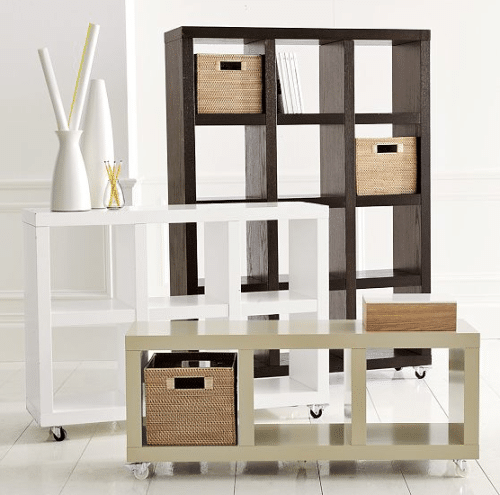 West Elm Rolling Storage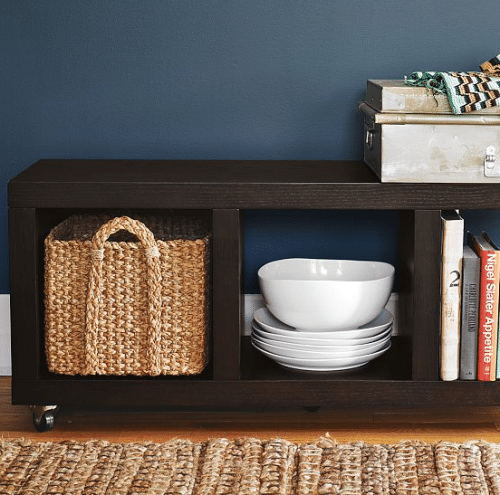 West Elm Rolling Storage
But, at $299 a pop, it can stay right where it's at, thankyouverymuch.
Enter Ana White of Knock-Off Wood. She's a stay-at-home mom/DIY diva in Alaska who builds her own furniture and inspires readers, like myself, to pick up a power tool for the first time, providing us with confidence and free use of her (even-a-girl-can-understand) building plans. A self-proclaimed girly-girl who can wield a compound miter saw with the best of 'em, she's a real life superhero. Spitting in the shiny, fat faces of those big absurdly-priced corporate furniture stores saying, "you want me to pay how much for MDF?! I'll build it myself, with solid wood!"
So, thanks to her plans, I set off to build my own rendition of the ridiculously-priced West Elm Rolling Storage. I altered her plans slightly, making the bench shorter so that it would fit nicely in my space (2 cubbies instead of 3). Then I headed to my friendly neighborhood hardware store and picked up some supplies (wood glue, finishing nails, etc.), including some white pine boards that I had the nice, strapping, young man at Lowe's cut for me (for free!). Now, I'm not sure if they start charging after the first several cuts, but I put this poor guy to work. When he saw my cut list, here's how it went down:
Nice, strapping, young man at Lowe's: Well, we usually make cuts so that the materials will fit into someone's car, but this… this is quite a list! But I guess if you don't own a saw…"
JWoo: Do I look like I own a saw? I don't own a saw.
NSYMAL: Well, alright then! We'll get it done for you.
JWoo: Sweet! (*insert dorky fist pump here)
If he was supposed to charge, he didn't (thank you NSYMAL!). It might have helped that I'm a) female, b) 6 months pregnant, and c) completely helpless.
I happily toted my freshly-cut pine boards home and set to work. And I must give credit where credit's due. I did solicit the help of my husband, but only as a confidence booster and a little bit of muscle. Even with Ana's super easy plans in hand, I was still a little timid because I'd never built anything before in my life, so I had to have him there for moral support (and to hold some bowing boards straight while I hammered away). So I can't say I built this all by myself, but you better believe, armed with my newfound carpentry confidence, the next project will be 100% JWoo. So in a single afternoon, we went from this: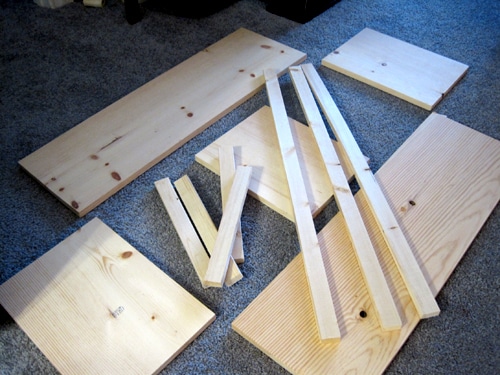 To this: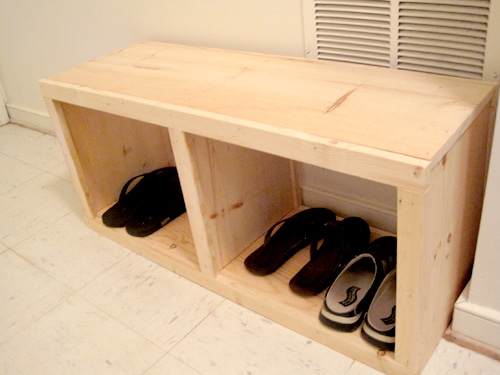 Then, after a quick sanding, priming, and coat of glossy white paint, I screwed on four swivel casters to the bottom and voila: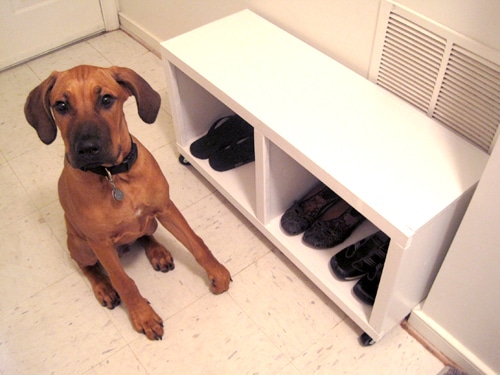 And of course, I couldn't resist including a couple gratuitous shots of Watson, our 4-month-old Rhodesian Ridgeback pup…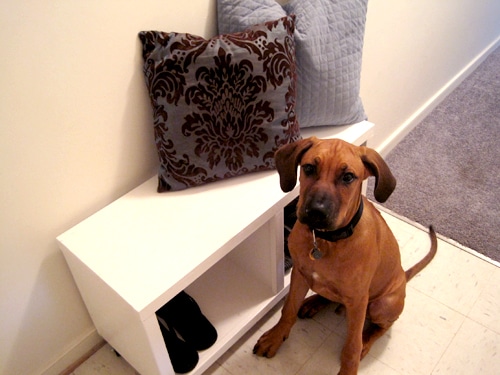 I mean, really? Who could? Just look at that handsome boy. As you can see, he's very proud of his power tool-wielding mama.
Cost Breakdown:
Wood glue: $5.35
Wood filler: $3.23
2″ Finishing nails: $2.92
4 1x2x8 White pine boards: $8.08
2 1x12x8 White pine boards: $17.94
1 Quart of white paint & primer: $13.48
4 2″ Industrial casters: $12.40
Total: $63.40
A far cry from West Elm's $299 price tag, right? And the cool thing is, I still have quite a bit of scrap wood left (along with the other supplies, like wood glue, filler, nails, and paint) for my next carpentry adventure. Fun times!
Now my next project will be to sew a cushion for this bench. I just bought my very first sewing machine (and I have never sewn anything before in my life), so we'll see how well this will play out… Stay tuned!