Renovating our master bathroom was always a part of the plan when we bought our house a couple years ago. Well, I'm excited to announce that time has finally come! After an absurd amount of time spent sifting through magazines, design books, Pinterest inspiration images, and more, I think I've finally landed on a bathroom design! By remodeling our bathroom, we hope to not only increase the efficiency, functionality, and comfort of the overall space, but to update the aesthetic and boost our home's value.
The Master Bathroom Before
Let's take a quick tour of our bathroom as it is today, and as it has been for the past 20+ years. I don't think any previous homeowners have ever remodeled this space before. When you enter, there's a long hallway where our closets are on opposite sides. Both closets are adequate, but nothing to write home about. It would be nice to renovate this space along with the rest of the bathroom remodel. I don't think I'll be able to increase the size, but some nice custom shelving will be a huge improvement in both form and function.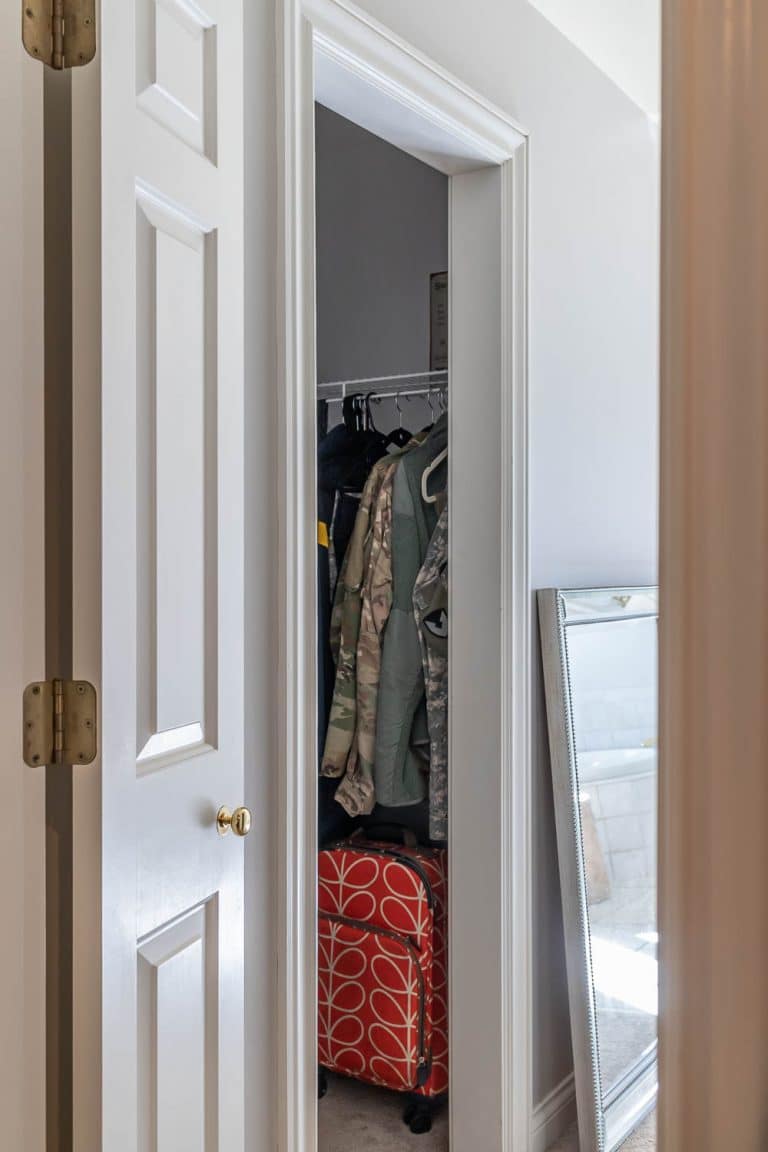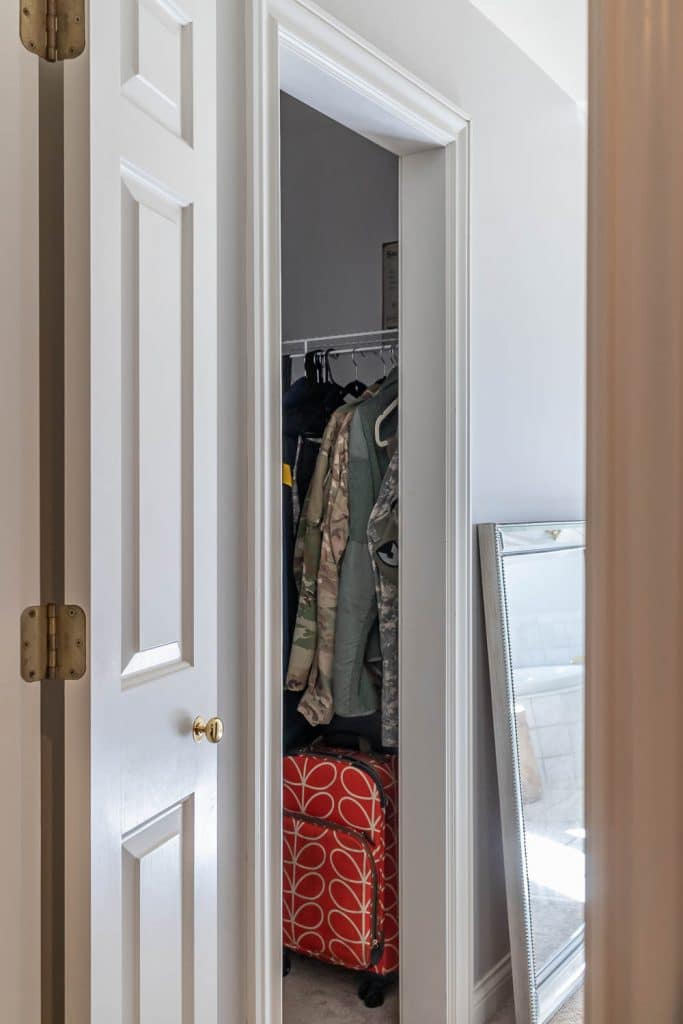 Once you pass the closets, the room opens up a little. The angled door to the tiny water closet is immediately to your left, the angled shower is next to that, and the angled bathtub is tucked in the back right corner. So. Many. Angles! (Angled walls must have been a hot trend in the 90s.) There's an impressive amount of natural light coming through that small window, right?! Ahhh, the power of south-facing windows!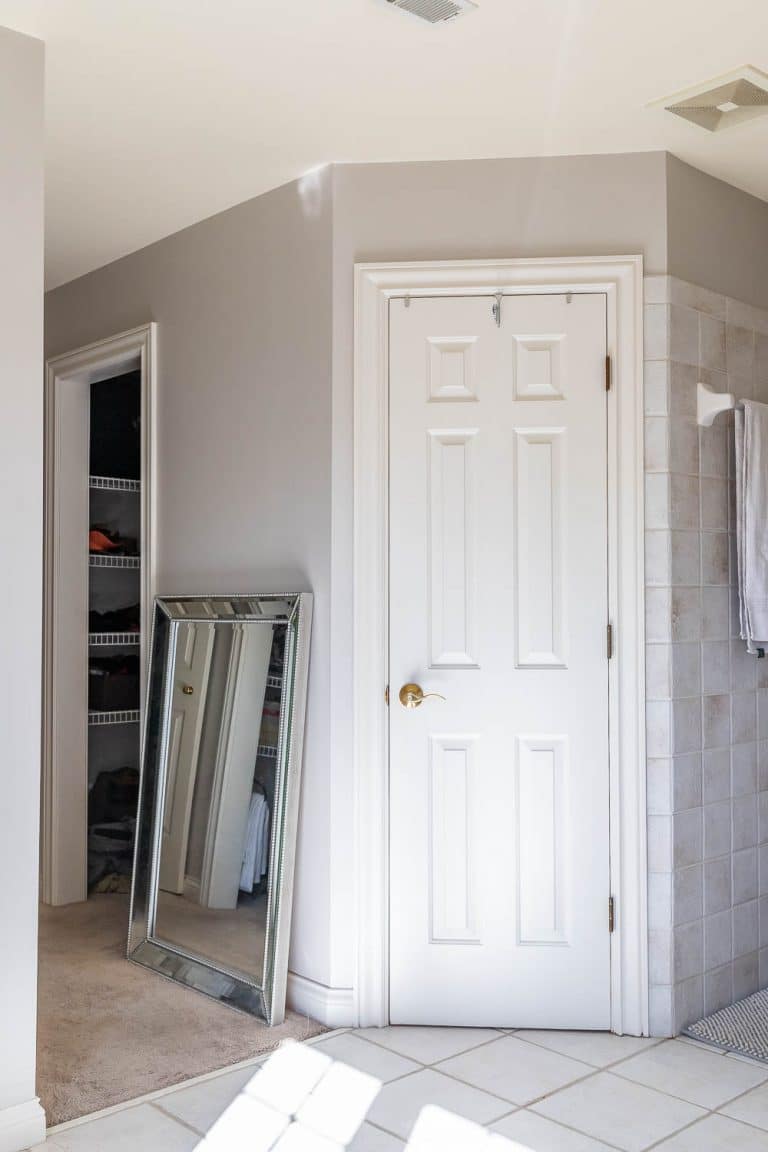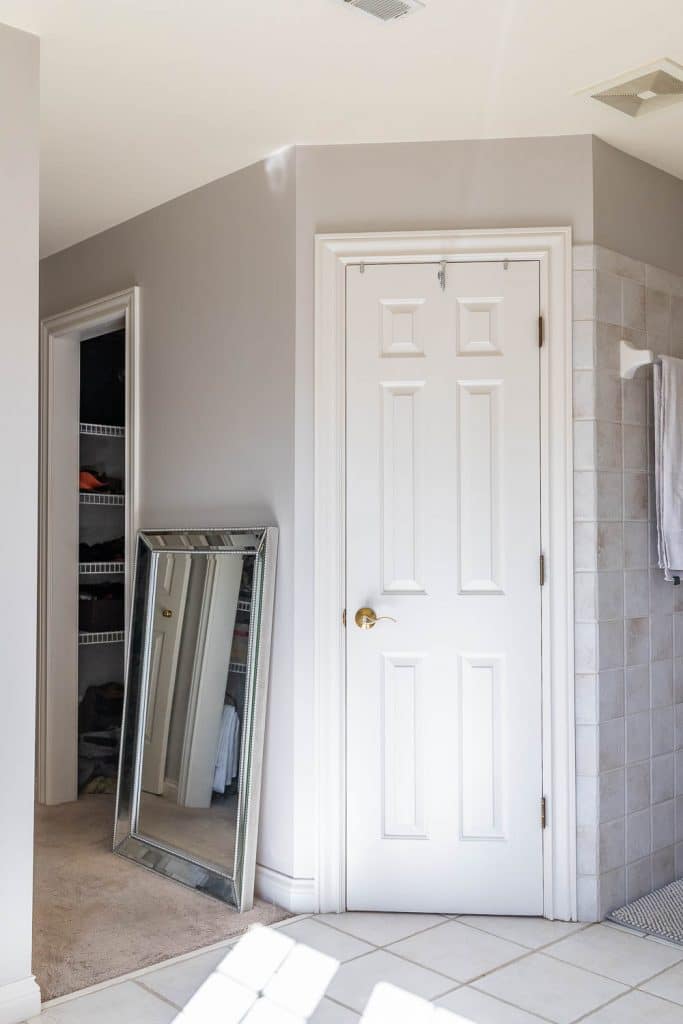 The Great Bathtub Debate
Another thing we're considering in our bathroom renovation plan is whether or not to keep the bathtub. If, during demo, we find out that the space feels too cramped for a wet room, we may just get rid of the tub altogether in favor of an extra large two-person shower. Adam and I haven't used the tub in our bathroom in all the years we've been married, so it wouldn't be something we'd miss. It always ends up being a catch-all for dirty gym bags and towels, so it's wasted space in our experience. As long as there's a tub in the kids' bathrooms, I don't think we're sacrificing anything in terms of resale home value.
Tub vs. Shower? Weigh In!
I'd love to hear your opinion: would you trade a bathtub for an extra large shower or is a bathtub a must-have item? My real estate friends say that buyers often want a tub if it's missing, or if it's there, they don't use it. My renovation/builder friends tell me they tear out about 90% of the bathtubs in favor of a larger shower when remodeling. So it would seem we have mixed results across the board. I'm banking on creating such a beautiful, luxurious bathroom that it doesn't matter one way or another. The right buyer will come along and fall in love with this home as it is (at least that's my hope!).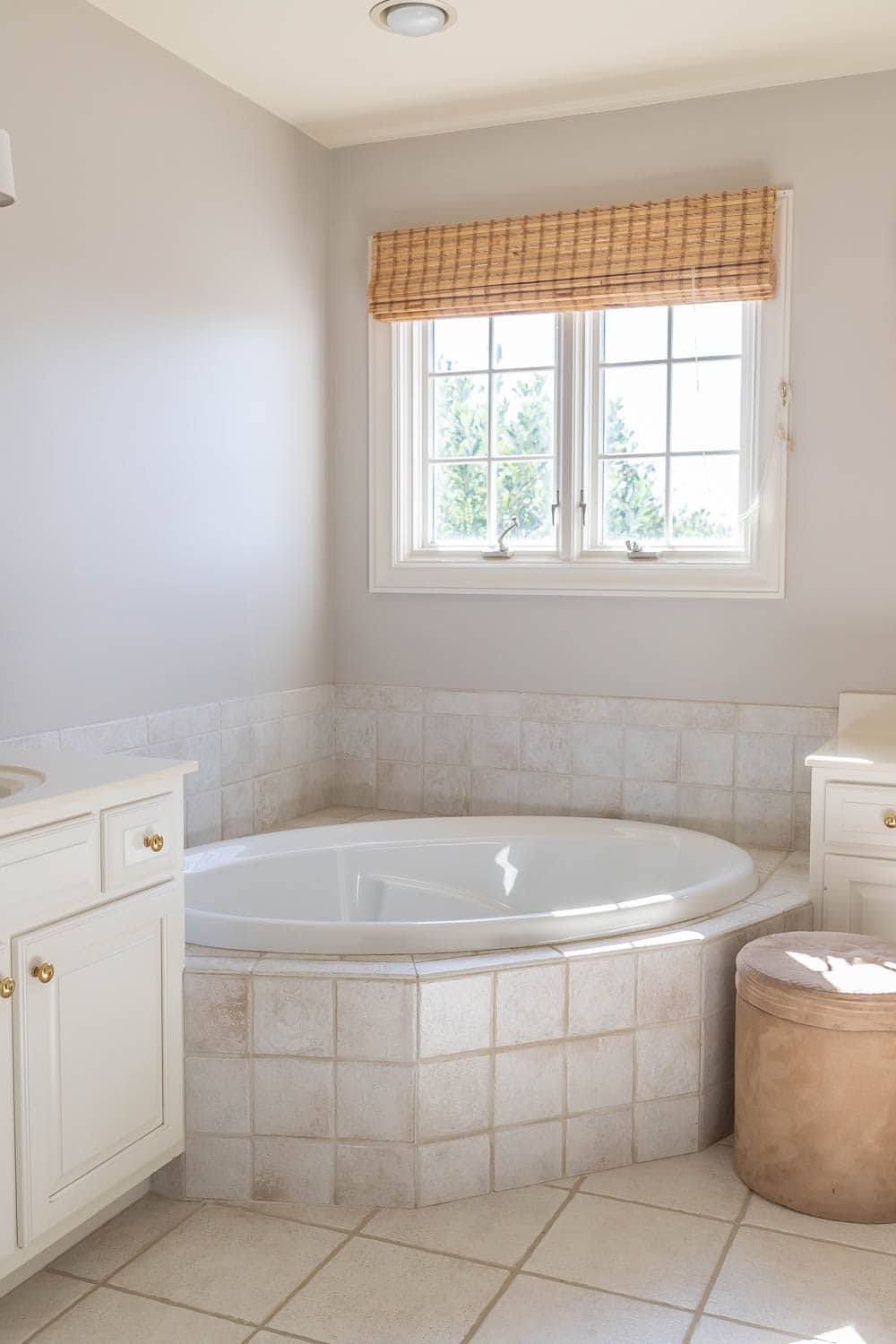 Water Closet
A water closet is a non-negotiable item for Adam, so we'll keep the water closet but I hope to increase the size, even just a little bit, because our current space is pretty cramped. Perhaps if we square off the room, it will make a difference. The shower is surprisingly roomy, but because there's no door, we had to hang a shower curtain to keep the heat in.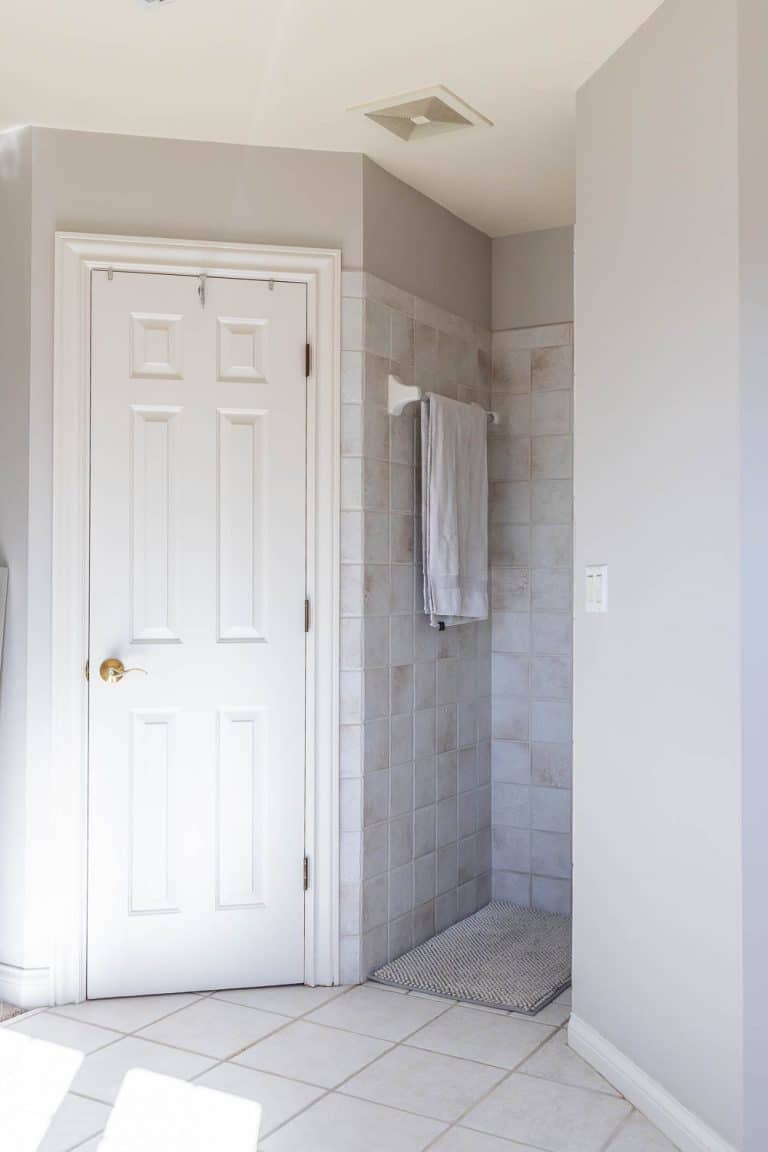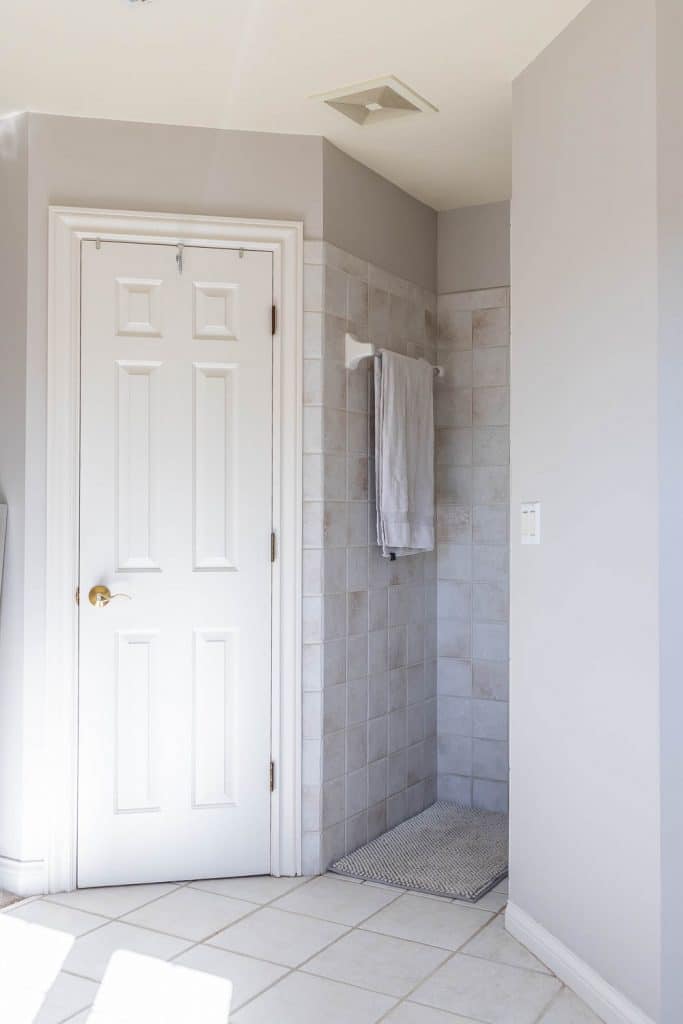 Speaking of our shower, let's take a peek inside (don't judge!). While I'm a big fan of 1930s and 1940s style, I can safely say that I'm happy to leave the glass block trend in that era. And I know you're jealous of my two-toned shower handle, aren't you? And peep that tile. I actually don't mind the shape of the tile, it's kind of a nice throwback, but the large grout lines and faux finish won't be missed even a little bit. I'm excited to take this wall down, open up the space, and take advantage of all that natural light.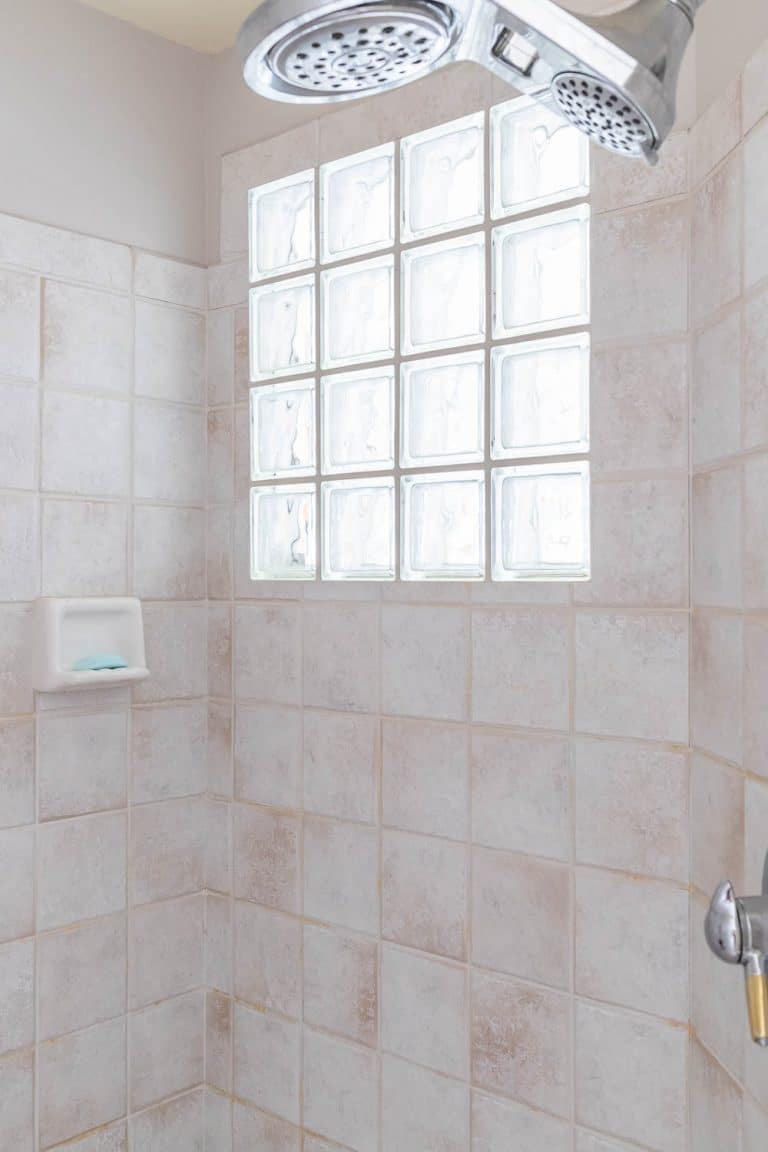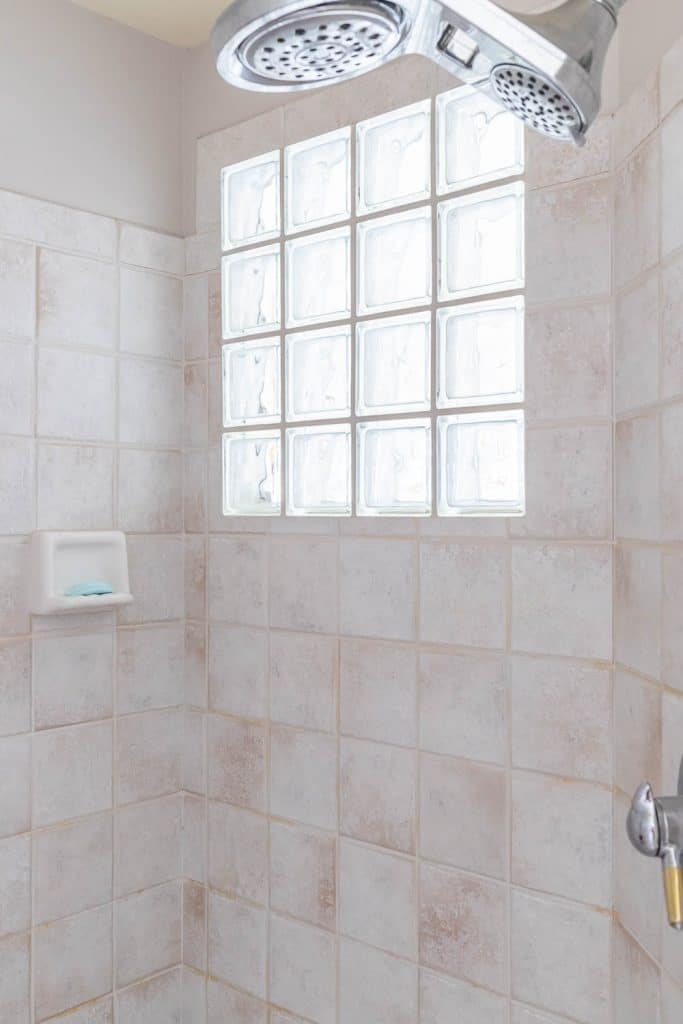 Our vanities are separated by the giant unused tub; Adam's vanity is to the left and mine is to the right of the room. Strangely, my vanity is a good 4 inches shorter than Adam's! I didn't realize it until I was washing my face one day and my back ached from having to bend over so far. *Mental note: make new vanity taller.
Reconfiguring the Layout
As for the layout, it'll get tweaked quite a bit. We'd like to square off the water closet (no more angles please!) and add a space-saving pocket door. We'll combine the vanities into one large double vanity which will increase our counter space and storage. And we hope to either create a wet room with a bathtub in the shower, or go with a two-person shower and remove the tub entirely (jury is still out!). Either way, taking down the shower wall will open up the space tremendously and allow all that natural light to flood in.
Are you ready to see the bathroom design ideas for this room? Refresh the page if you can't see the widget below. You should be able to click on any image for the links! I've also included a list of all the product sources at the end of this post.
The Design Board
Bathroom Remodel Wishlist
Wet room (tub in shower), if space allows
Console sink in the water closet?
Two-person shower with thermostatic shower system
Custom double vanity with storage
Stone countertop with curved backsplash
Wall-mounted bathroom sink faucets
Towel warmer?
Laundry chute?
What is a Wet Room?
When we lived in Japan years ago, having the bathtub inside the shower was common and I loved the design aesthetic and functionality of that, so I tucked the idea away for my "someday house." Our current bathroom is completely curb-less and the footprint should allow for this tub-in-shower scenario. As long as we don't run into any issues after demolition, I'd love to include a wet room into this bathroom remodel. Dream come true!
So what is a wet room? A popular bathroom style in Japan and some European countries, wet rooms are a waterproof space that's designed to get completely wet. This requires floor-to-ceiling tile and typically includes a bathtub inside the shower. It maximizes floor space and makes the entire bathroom feel more luxurious and open. Wet rooms can also add significant resale value to your home because of the 'wow' factor.
A Console Sink in the Water Closet?
Unlike traditional wet rooms, we won't be including the toilet in the same shower/bathtub space. Instead, we'll have a separate water closet but I'm really hoping to find enough space to include a console sink inside the water closet, like Chris Loves Julia did in their incredible modern cottage bathroom remodel. I don't think we'll have enough space, but I'm still blindly optimistic that we might discover some unused square footage once we tear all the walls down. Keeping fingers and toes crossed!
Two-Person Shower with Thermostatic Shower System
Another wishlist item is to have a two-person shower with separate thermostatic valves. What a luxury! While we do have a thermostatic valve in our current shower, because it's a single shower, it pretty much negates the function of a thermostatic valve because Adam and I end up changing the temperature to suit our individual preferences. With a two-person shower, we could each set our preferred temperatures on our designated shower heads and not have to mess with it. Adam could enjoy his cool showers while I could have the scalding, hot showers I love so much. So bougie, I know.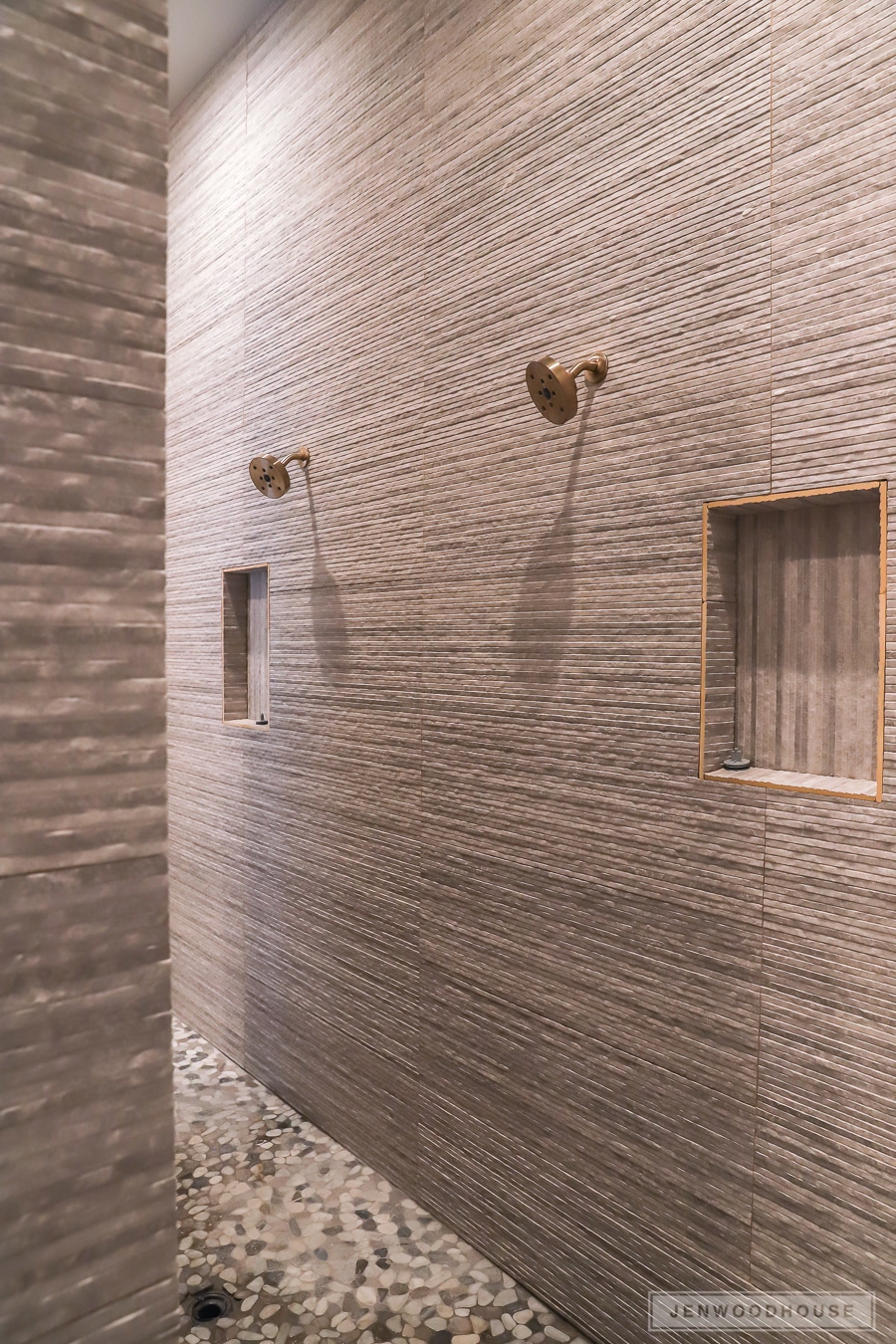 Budget and Timeline
My initial budget estimation for this bathroom remodeling project is around $20,000, but I'm not sure how accurate that number is because I've not gotten a quote from a general contractor nor any subcontractors yet. Especially with labor and material costs skyrocketing recently, I'm wondering if this budget is even realistic at this point. I expect the lion's share of the cost will be for plumbing, electrical, and tilework. Generally speaking, bathroom remodel costs in the United States range anywhere from $15,000 to upwards of $50,000!
I'm super excited to tackle this project, but because materials, parts, and supplies are backordered, delayed, or simply unavailable with no expected in-stock date, I'm expecting this remodel to be a slow-going process. We'll DIY some of the tasks, but we'll leave the heavy lifting (plumbing, electrical, etc.) to the experts, since they will be pulling permits and ensuring all of the renovations are up to code. Sadly, in my experience, contractors are notoriously unreliable, and may even be more so now because demand is at an all-time high. With that in mind, I'm giving myself a generous 8-12 weeks to get this done. Although, even that may be wishful thinking… only time will tell.
Wish us luck and send any helpful tips and encouragement our way as we tackle this crazy big renovation project! And be sure to follow along for process and progress updates on Instagram and Facebook. Let's do this!
To Do List + Timeline Breakdown
Design/planning: 1-2 weeks
Hire contractors: 1-2 weeks
Order products: 1-3 months
Demolition: 2-3 days
Framing: 2 days
Rough-in plumbing: 2 days
Rough-in electrical: 2 days
Insulation, cement board, drywall installation: 3-5 days
Waterproofing: 1 day
Tile installation: 8-10 days
Countertop fabrication: 1 week
Cabinetry: 2-4 weeks
Shower glass fabrication: 1-2 weeks
Finish plumbing: 1 day
Finish electrical: 1 day
Finish carpentry: 1-2 days
Painting: 3-5 days
Inspection: 1 day
Source List: