An easy tutorial on how to make giant DIY dice from scrap wood. This oversized dice set is great for outdoor lawn games!
Now that our family, like most, is spending more time at home due to the current climate, we're finding creative ways to entertain ourselves. Our days are spent hiking, biking, kayaking… it's ironic that being home-bound has made us more outdoorsy than ever before!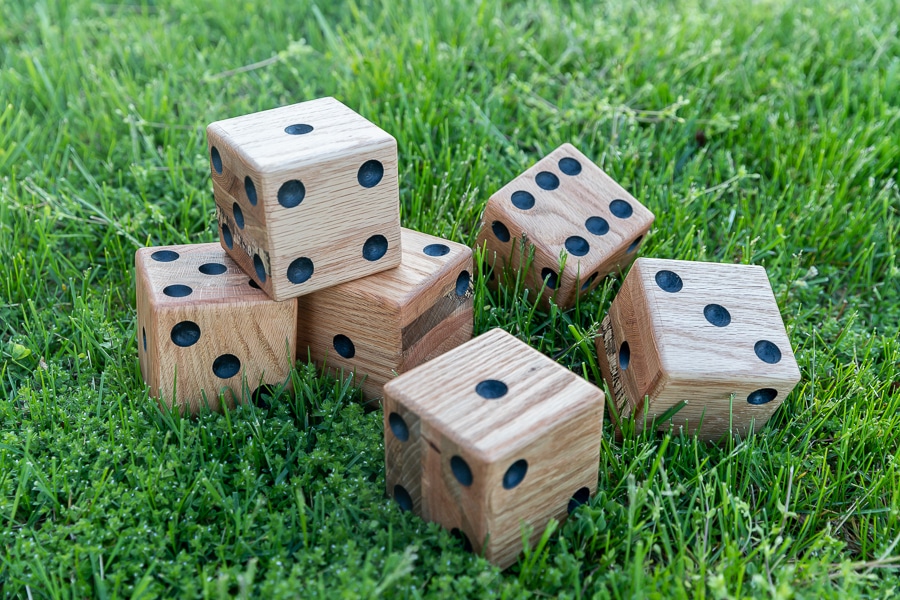 If you recall, my friend Sam and I hosted a #BuildAtHome scrap wood challenge last week, where we invited folks to join us in making projects from materials we had at home. As promised, I'm back to share the tutorial for these giant wooden dice. They were a quick and easy DIY project that's great for outdoor lawn games.
We recently renovated our staircase and had some leftover red oak cutoffs from the newel posts. I knew these 4×4 scraps would be perfect as oversized dice!

How to make a giant DIY wooden dice set
Materials:
4×4 scrap wood
Black acrylic craft paint
Clear wood finish
Tools: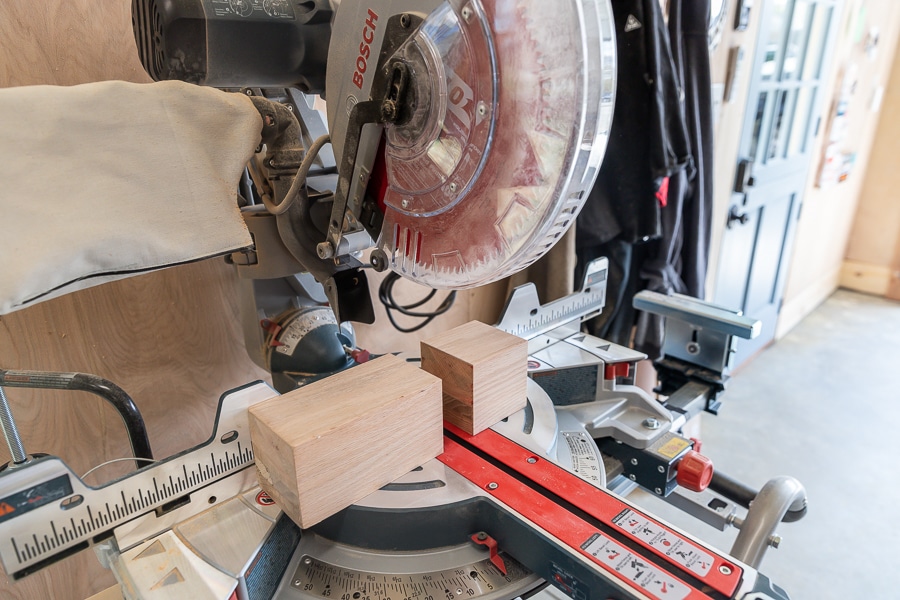 First, I cut the 4×4 scraps to length on the miter saw. Because this 4×4 actually measures 3 1/2 inches thick, I cut it to 3 1/2 inches long so I'd have a perfect square. Repeat 5 more times for a set of 6 dice.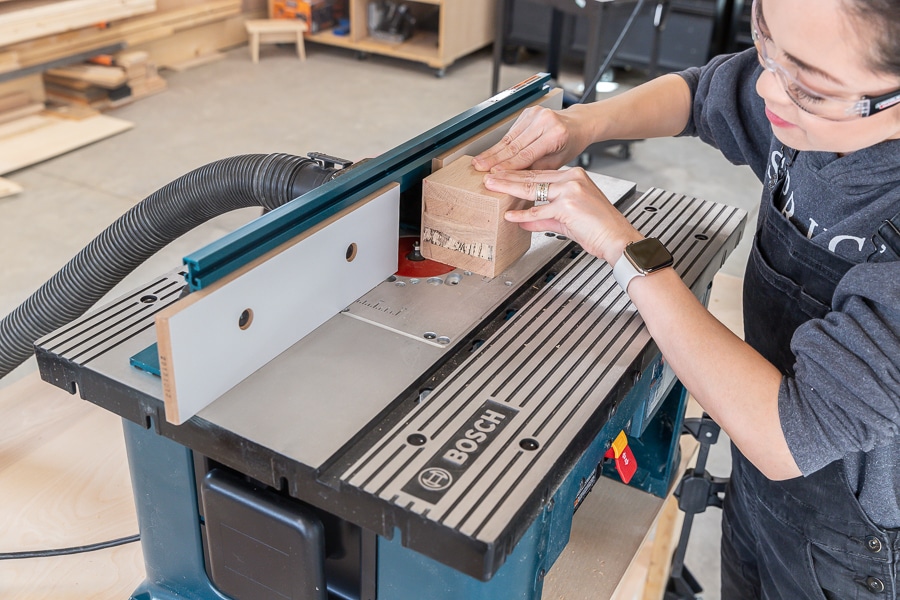 This next part on the bench router is totally optional, but I think the rounded edge on the die adds a really nice detail. Plus, it gave me an excuse to give my new Bosch router a spin. This router kit is pretty versatile – you can do plunge cuts as well as fixed-based cuts. You can also mount it to the coordinating router table, which is what I did for this project. I fitted the bench router with a roundover bit and sent each block through on each edge.
Next, I searched Google images for a die template and printed it out. Then I painstakingly marked where each dot goes on the die. This was before I realized that every opposite face of a die equals seven! Did you know that little tidbit? The 6 is opposite the 1, the 5 is opposite the 2, and the 4 is opposite the 3. MIND BLOWN!


To carve the pips (did you know dots on a die are called pips? If not, now you do!), I put a 3/4-inch cove box bit into my drill press and drilled the pips. You can use a regular drill/driver for this, but if you have a drill press, it'll make it easier to drill perpendicularly with more precision.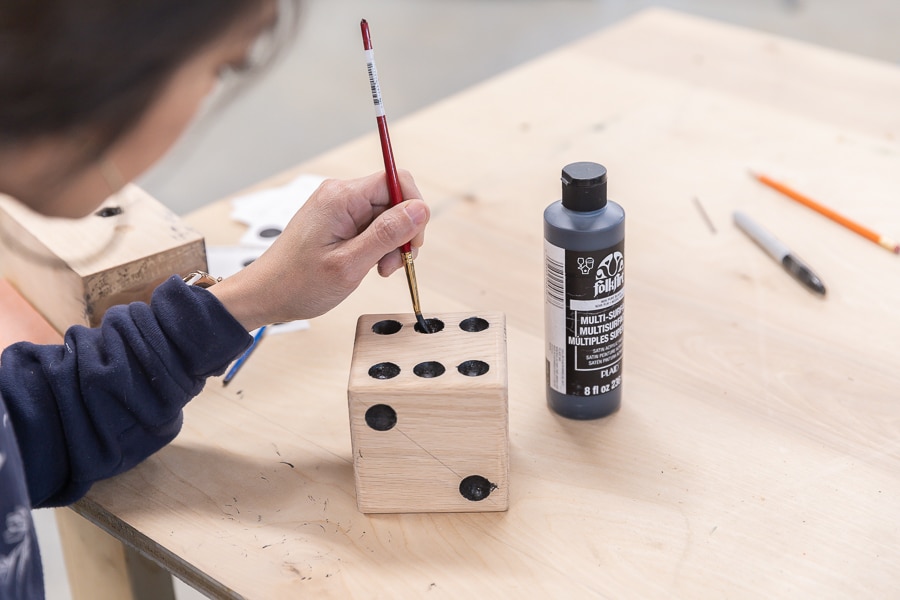 Then I painted the pips with black acrylic craft paint, and sanded the blocks to 220-grit.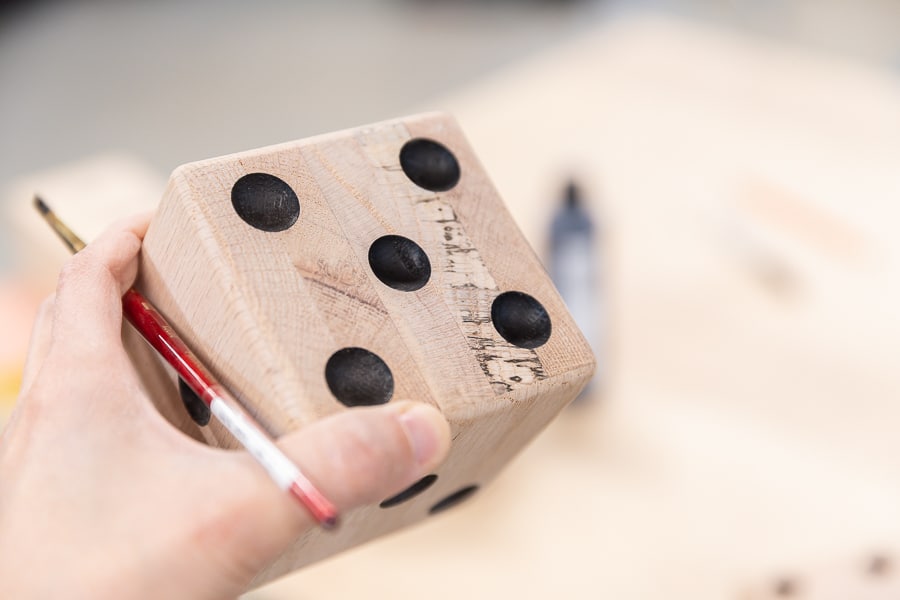 Apply a few coats of clear wood finish and you're done! I used Odie's Oil for my dice set and love it because application is as easy as rubbing it on with a soft cloth. This wood finish is a bit pricey, but a little goes a long way, it's non-toxic, and it actually smells good!

So now that we have a set of giant wooden dice, what games can we play?
These giant dice are also great for shelf styling or unique home decor!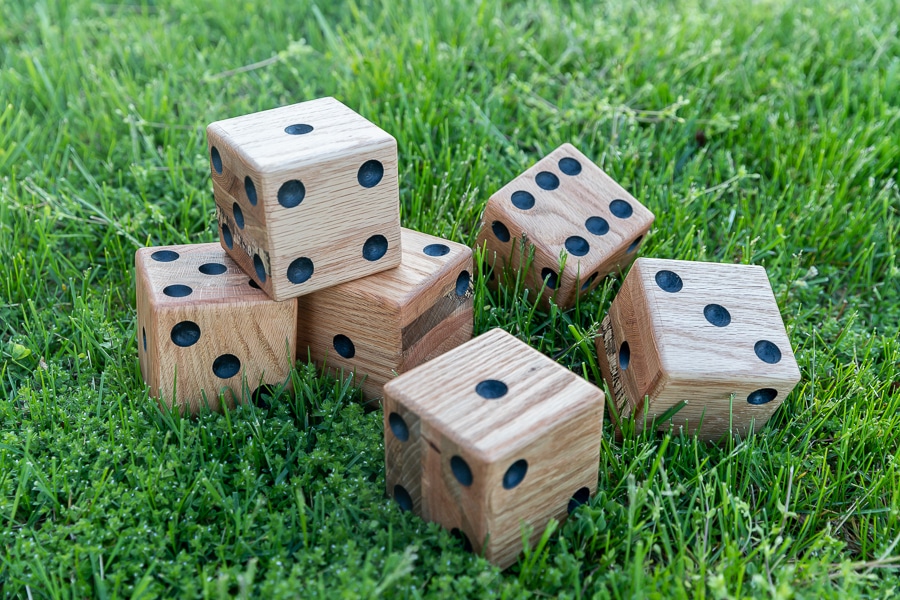 *I acknowledge that The Home Depot is partnering with me to participate in the ProSpective 2019 Campaign. As a part of the Program, I am receiving compensation in the form of products and services, for the purpose of promoting The Home Depot. All expressed opinions and experiences are my own words. My post complies with the Word Of Mouth Marketing Association (WOMMA) Ethics Code and applicable Federal Trade Commission guidelines. This post contains affiliate links. To read my full disclosure policy, please click here.