My baby sister got married this past weekend and it was one of the most beautiful weddings I've ever been to. One of the first things we did when she first got engaged was create a Pinterest board to start pinning ideas for the design of her wedding. She fell in love with this light-up marquee so I attempted to DIY one for her. If you follow me on Instagram, you'll have seen sneak peeks of this DIY project. There are countless tutorials out there on the interwebs, but I relied largely on my stylish friend, Brittany's awesome tutorial. Hop on over to her site to get the full how-to.
Here's how it all shook out for me (please forgive the wonky coloring on the next few photos – I didn't have my DSLR handy and my iPhone must have been on the fritz)…
Using a box cutter, I cut out the back side of each paper mâché letter, leaving a small border around the edges.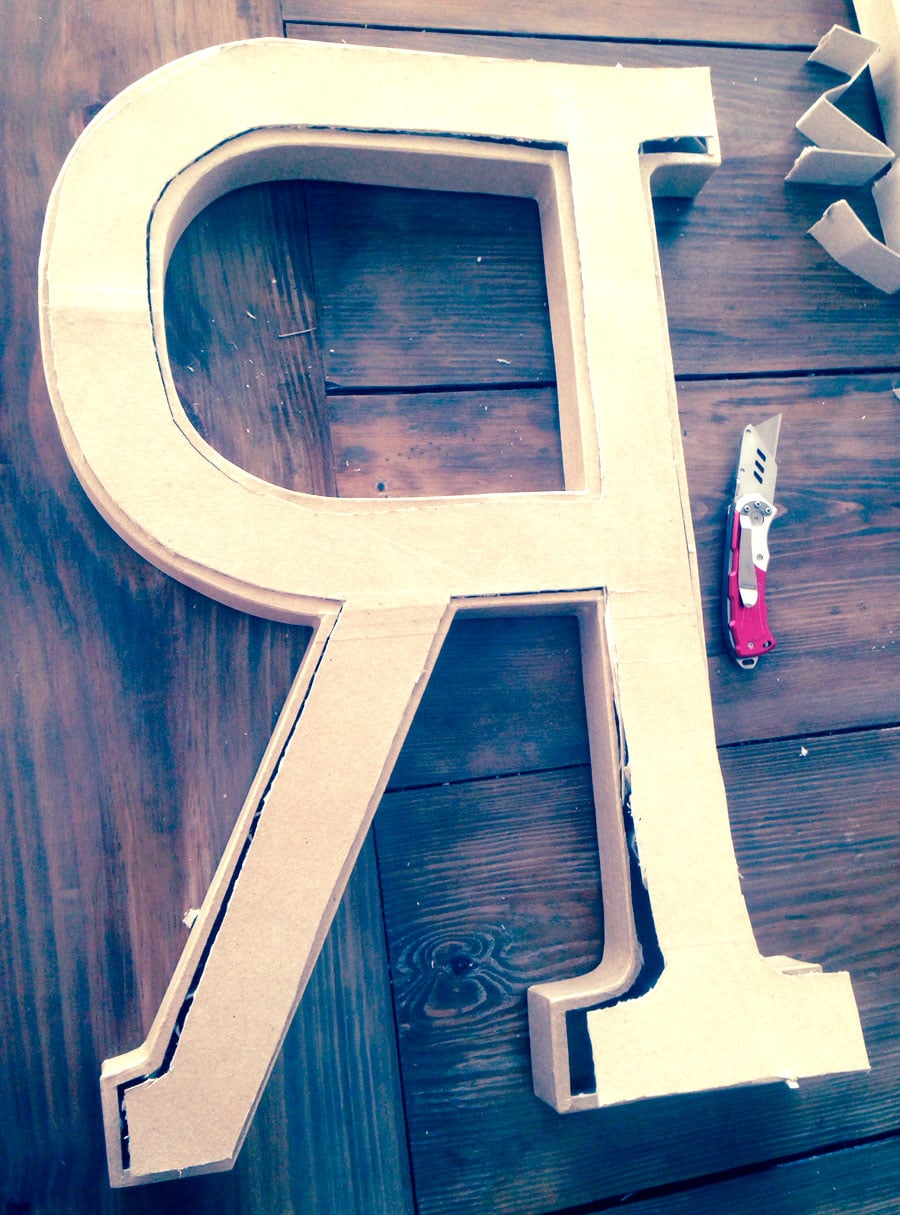 I was greeted with these fun zig zag thingies hiding inside. Good times, now get out (I threw them away).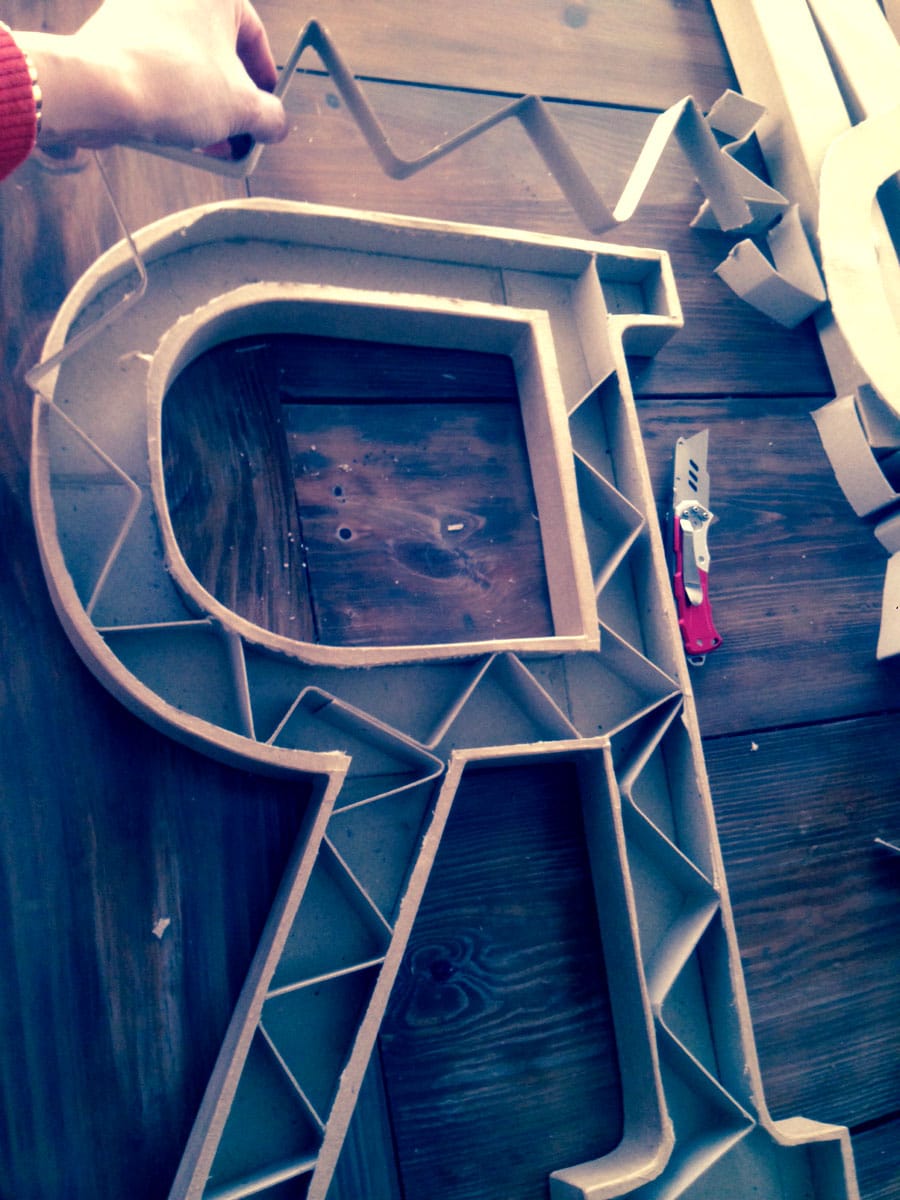 Then my arm got tired so I made this guy cut out the remaining letters (wedding stuff is hard, y'all!):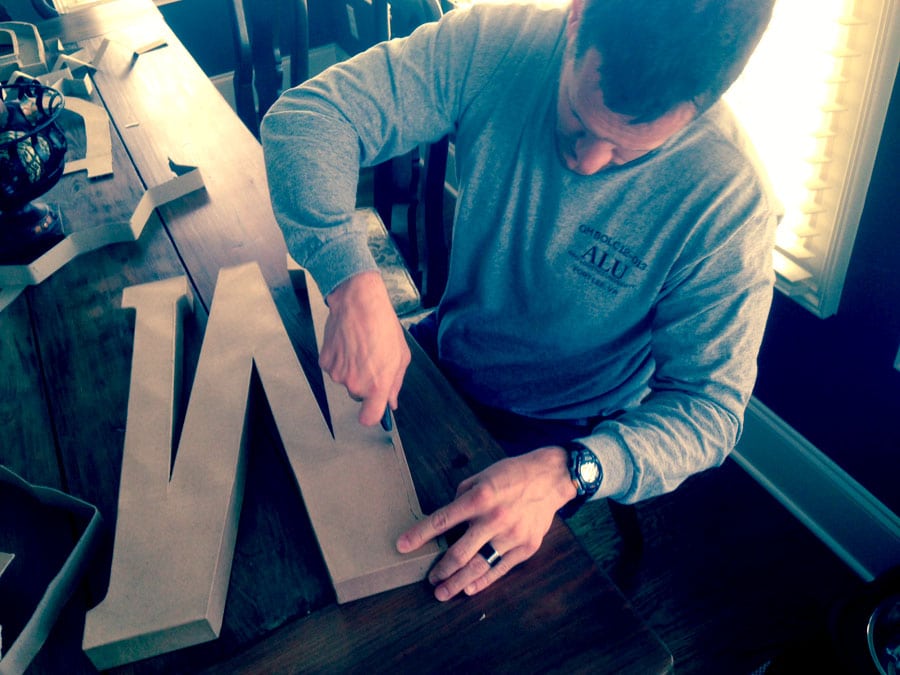 What a good husband, right? #backoffhesmine
Then I measured where I wanted to drill the holes for the string lights and spaced them about 1 3/4 inches apart and about an inch from the outside edges.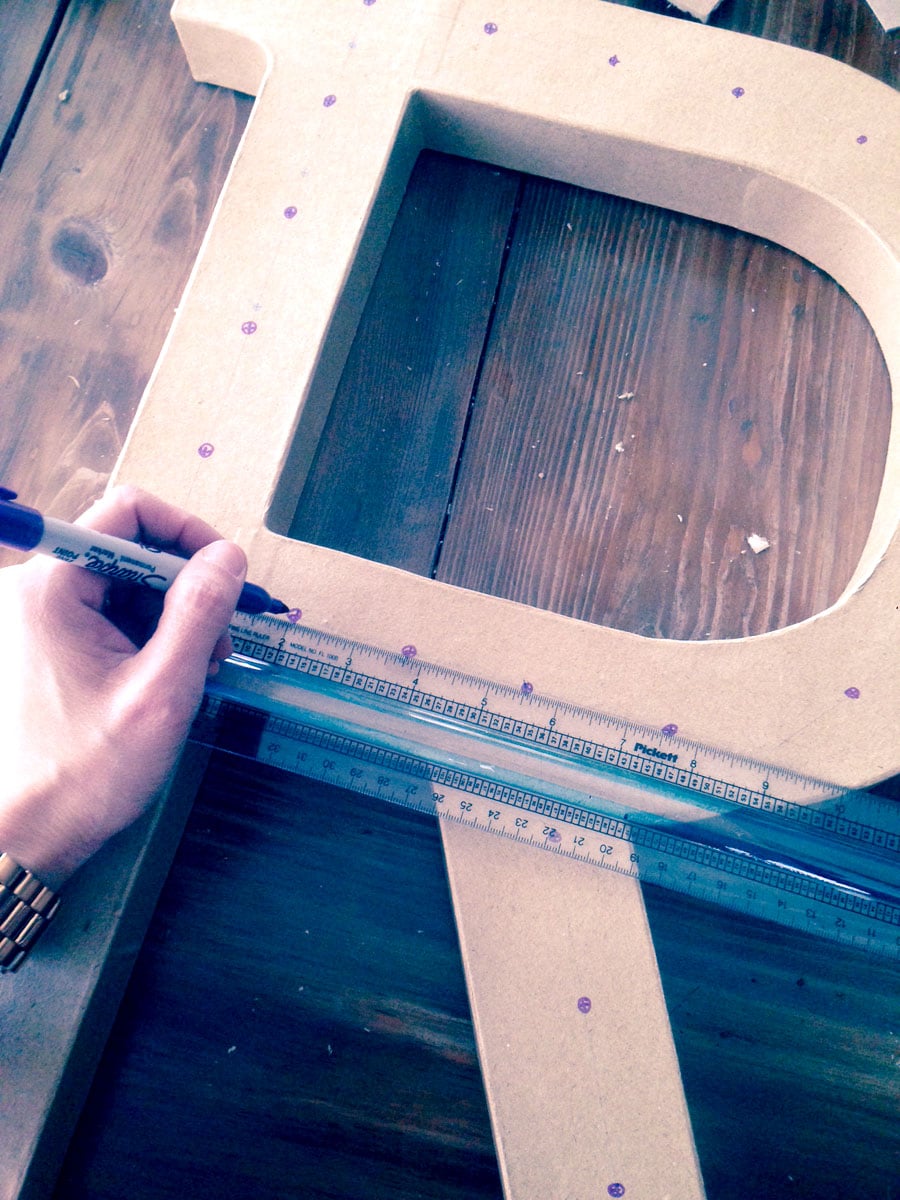 Using a 1/2″ spade bit, I drilled the holes for the bulbs to fit through: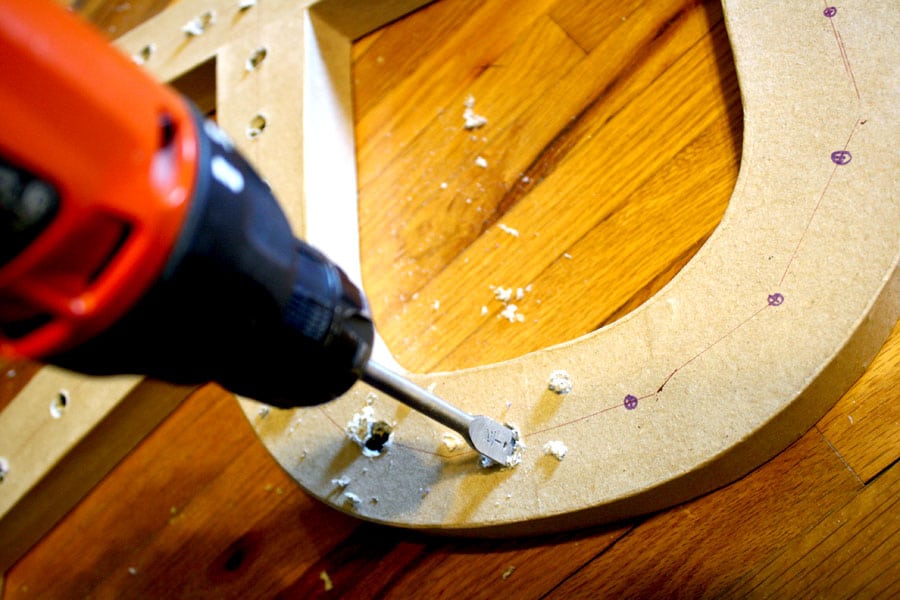 Because my husband forces me to watch every survival TV show known to man, I started thinking of how the shavings of my cardboard letters made the perfect material for tinder. Then I pondered: so many people have DIY'd these light-up cardboard letters already, so surely it's not a fire hazard, right? Well, I guess we'll just have to find out at the wedding. I mean, it's not a party until we burn the place down, amiright?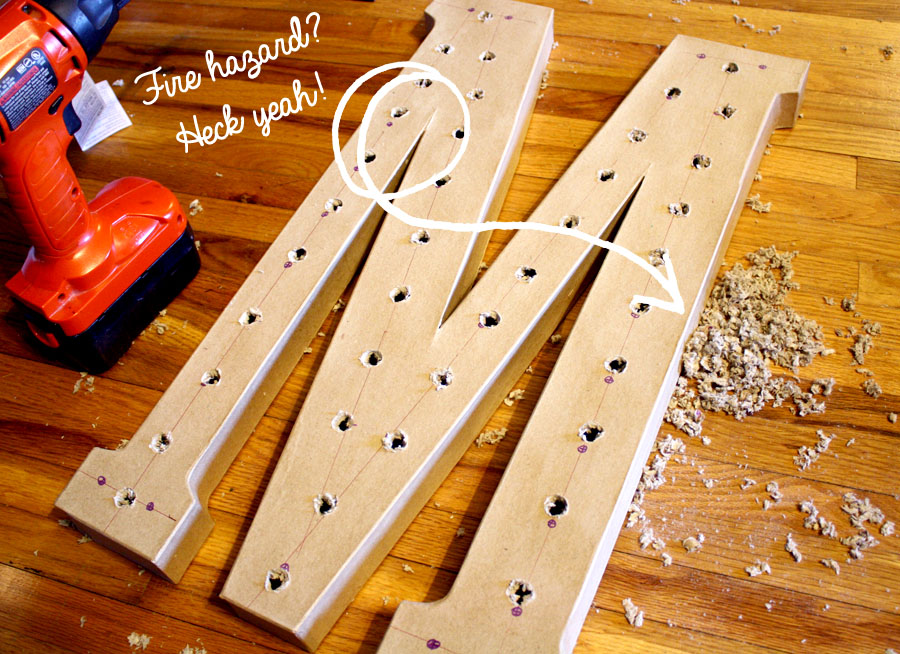 To make things even more precarious entertaining, I spray painted the letters gold.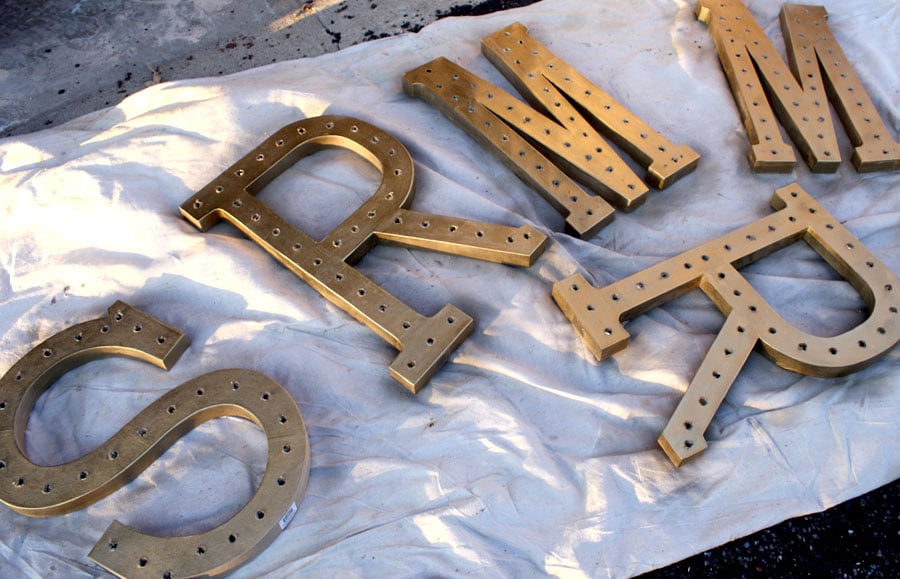 Then I popped the bulbs through, and braced myself as I plugged the lights in. The lights got warm, but not too warm that we couldn't touch them, so I figured we were good to go. In my defense, I did wait until the spray paint was sort of totally dry. What kind of pyromaniac do you take me for?
Turns out, they survived the night without issue, nothing spontaneously combusted, and no wedding venues (or bridesmaids) were harmed in the making of this DIY light-up marquee. Huzzah!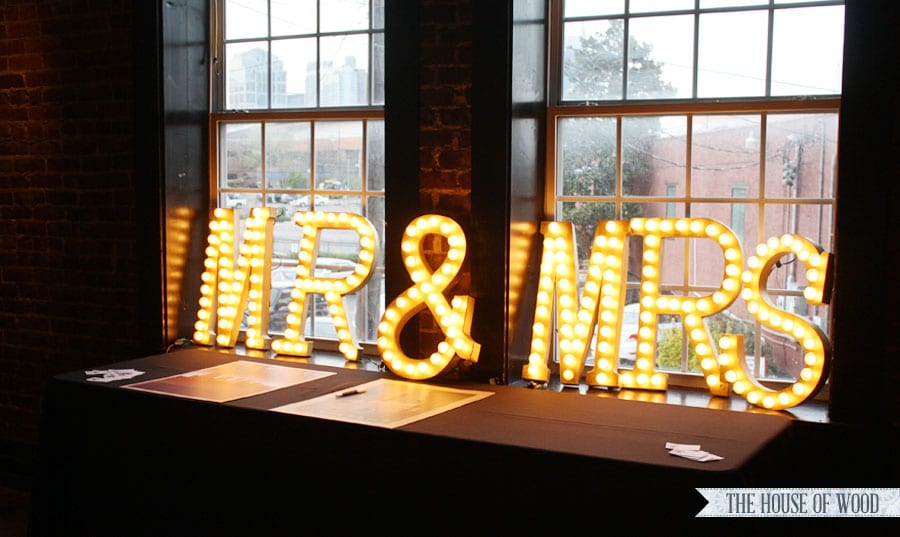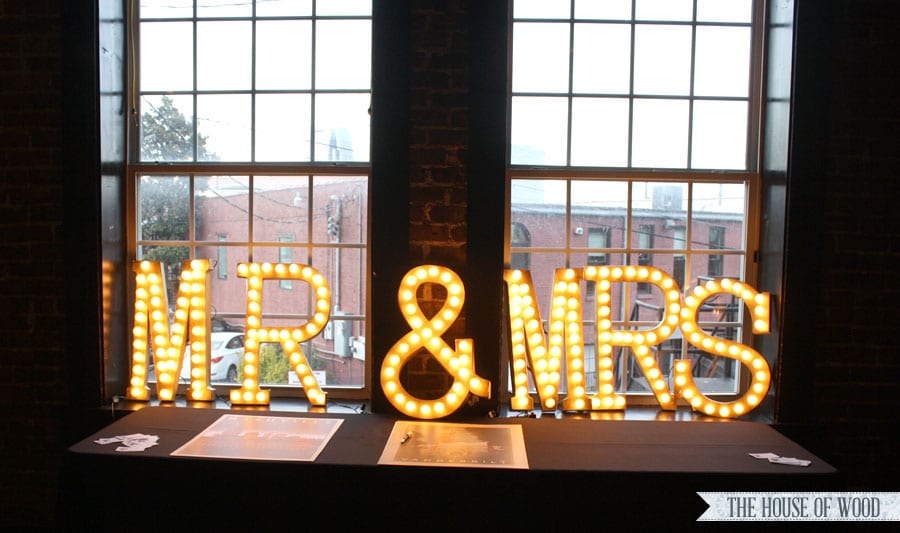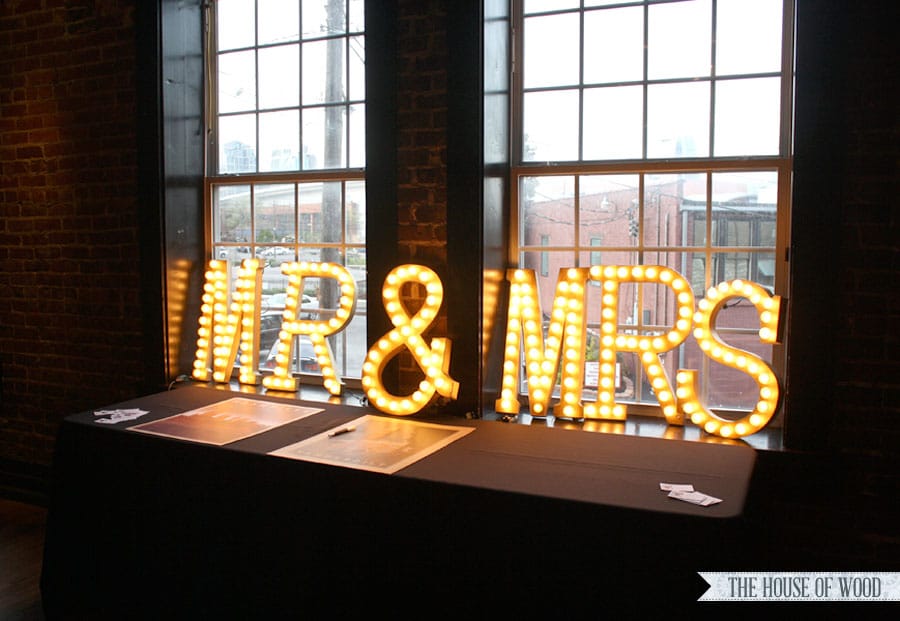 What about you? Have you DIY'd these light-up marquees before? Thanks for stopping by! Feel free to pin and share if you so desire and enjoy the rest of your week, friends!