***Are you on Instagram? I am! And I often share sneak peeks of my upcoming projects there, so let's be friends, it'll be fun.***
Y'ALL!!! I am SO EXCITED to share my newest build with you! I'm doing a happy dance right now. Be grateful you're not here to witness mah sexxxy man splits! #namethatmovie #pitchperfect #sorrynotsorry
Now that the weather's warming up, the building projects are gonna be rolling in and I'm super psyched that we have a brand-spankin' new plan to share, brought to you by the one and only Ana White! Honestly, I don't know how she does it in freakin' ALASKA. Superwoman, she is. I, on the other hand, am a such a wimp when it comes to working in my garage when the temps get anywhere below 40 degrees F, which is why I haven't done anything productive since, oh, I don't know, 1983.
But that was then and this is now. Y'all. I built this in about 6 hours! Not even kidding. It was that easy and I'm totally in love with it. This is a great beginner-level build, so if you're timid about building from scratch and want to try your hand at it (be forewarned: this hobby can be severely addictive), this would be the perfect starter project for you.
Make your own Restoration Hardware-Inspired Balustrade Coffee Table by clicking here to download the free step-by-step plans.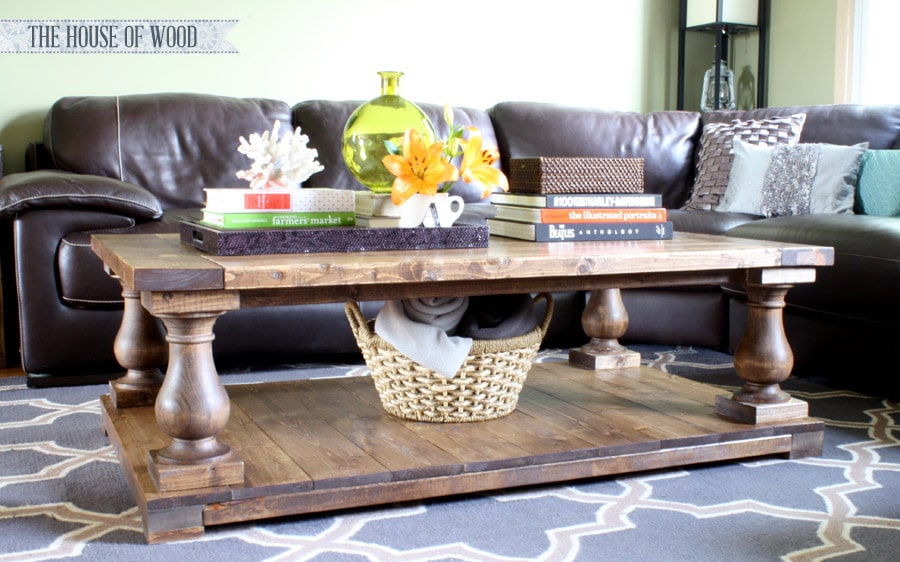 Ana's plans will have the supply list, as well as exact measurements and directions, so I'll just share some work-in-progress photos and a helpful tip or two with you. First, I built the bottom shelf by attaching the 1×6 boards with pocket holes and wood glue. I try to make sure I'm working on a level surface so the boards are as straight as possible – it makes it so much easier when it comes time to sand, not to have to sand down inches and inches of uneven boards later.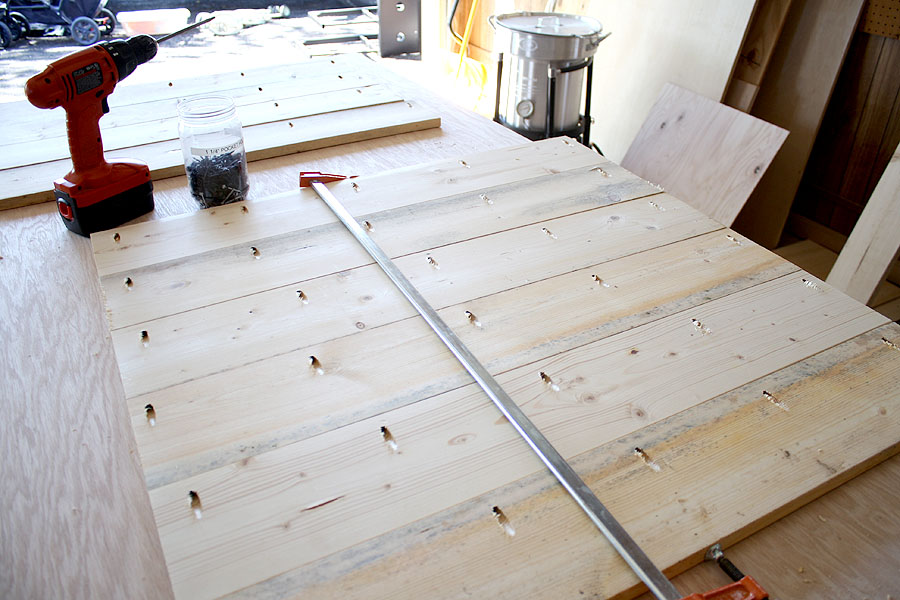 Next, I built a frame around the bottom shelf with some 2x4s and attached block "feet" at the corners (feet not pictured). The bottom is flipped upside down so that all the screw holes are cleverly hidden underneath.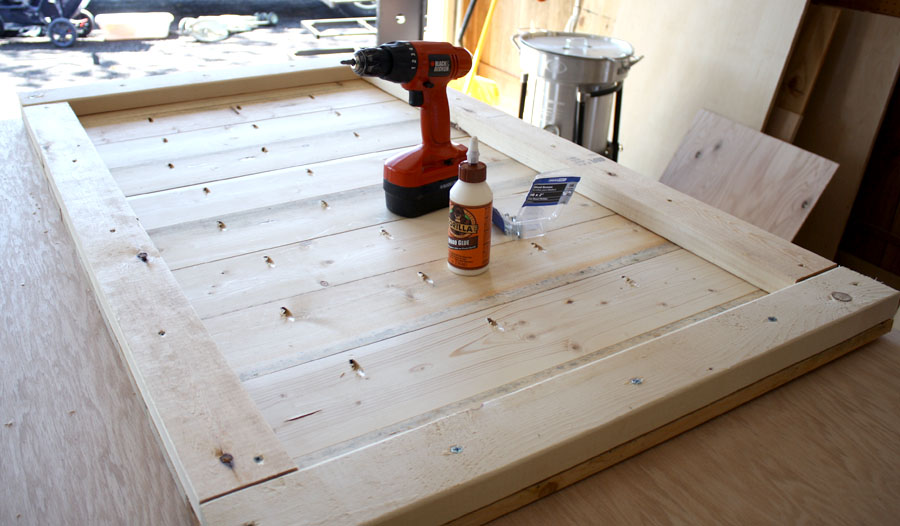 Osborne Wood is the jam, y'all. They created these gorgeous turned legs specifically for this project! And they're super affordable at less than $30 per leg! I won't mention how many times I lovingly caressed them during this project. (I lost count.)
The trickiest part of this build was making sure the two end blocks were straight and even on each turned leg. I concocted this little contraption to make sure everything was level, straight, and centered. Yes, I know, I am a genius and you are welcome.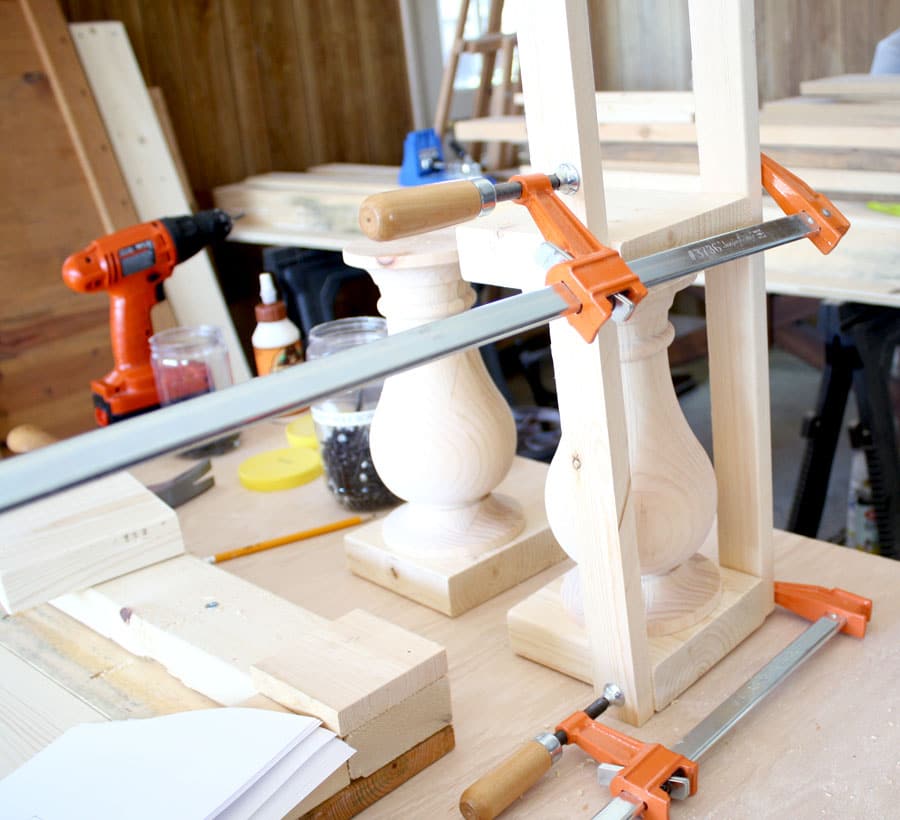 And because this is my idea of working out, I had to throw (not literally) one of my husband's kettlebells up there for good measure. I just glued the pieces together and waited for the glue to dry before I secured them with screws. One screw through the center of the top and bottom did the trick.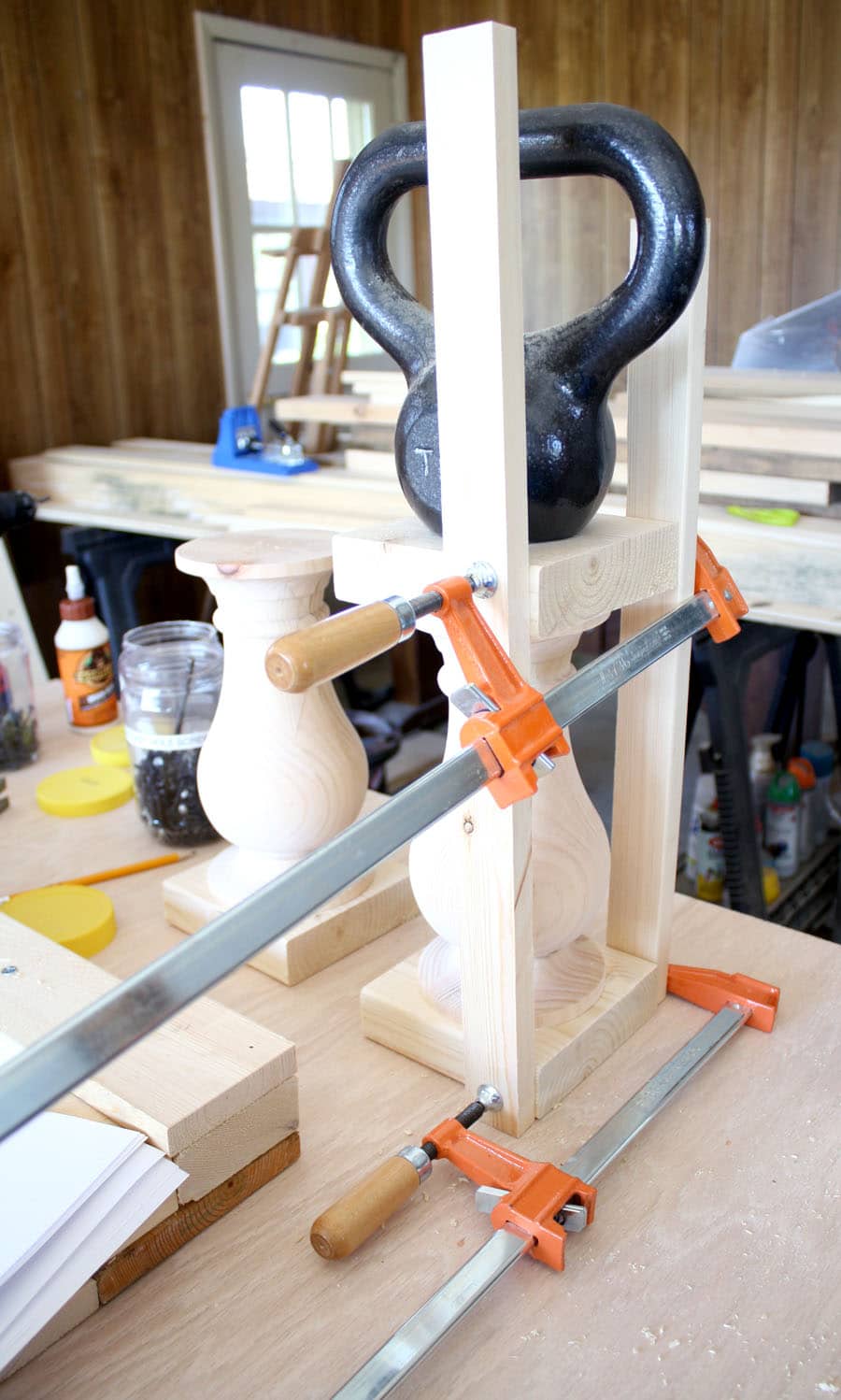 The legs are attached to the base with glue and and were screwed in from underneath. Crossfit, eat your heart out. (Yes, I realize 10 pound kettlebells are far from hardcore. Don't judge.)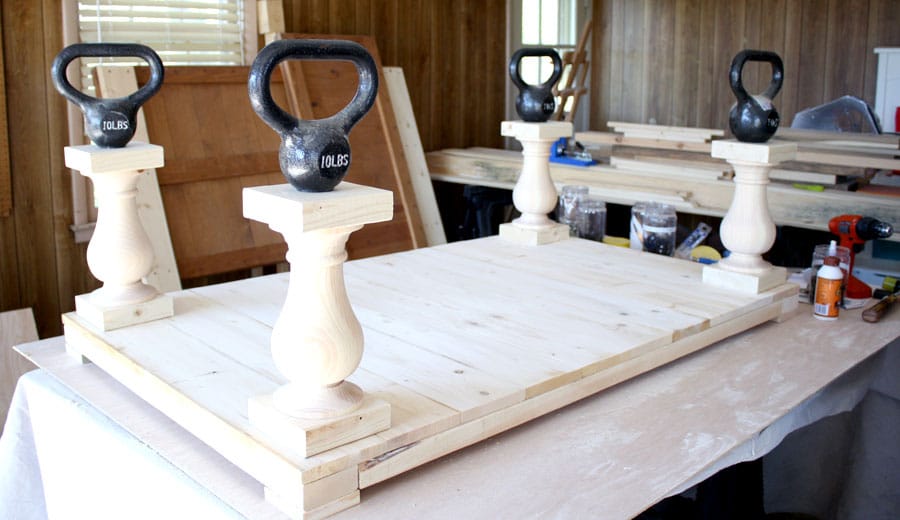 Then I built the tabletop the same way I built the bottom shelf. Clamped, glued and screwed. Shake and bake, Baby, shake and bake!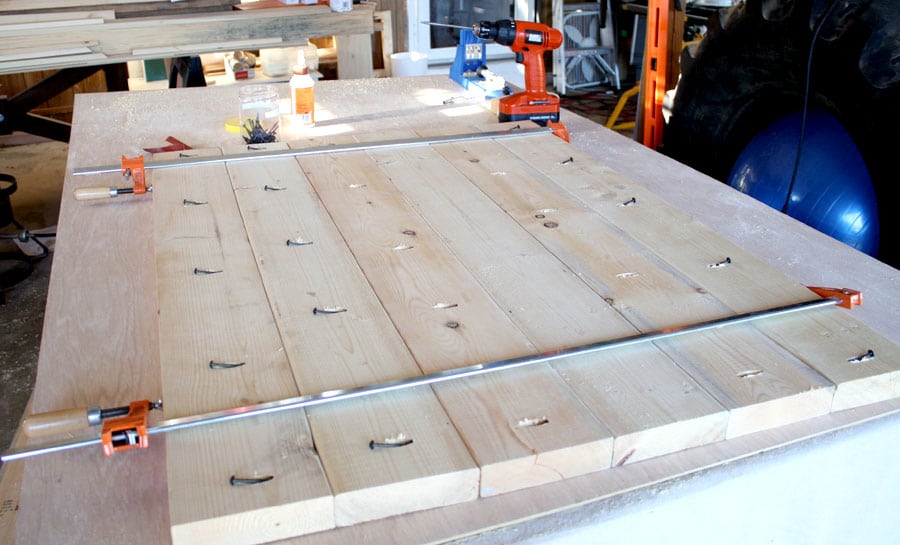 While there are different schools of thought on whether or not the information below is accurate in regards to reducing the risk of cupping/bowing boards, I usually like to alternate the direction of the end grain pattern like this: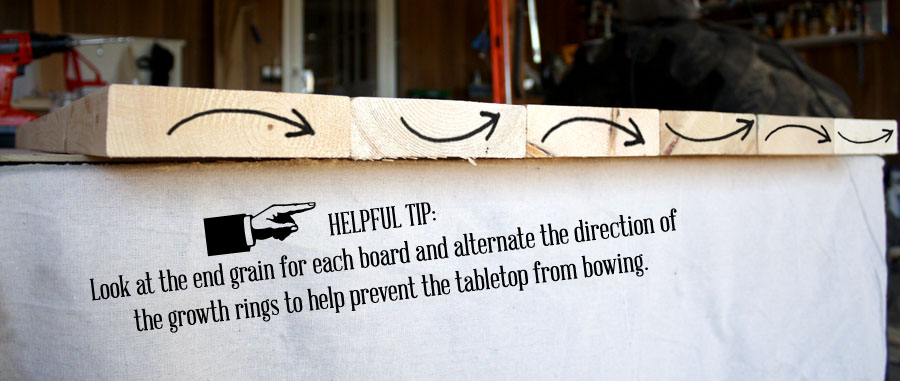 With the builds that I've done, I haven't noticed any cupping or bowing as the wood expands and contracts with the varying temperatures, so I'll stick to what's working for me thus far.
After attaching aprons to each leg, I placed the top on and screwed it to the aprons from underneath so that all the hardware stays hidden. And dun dun dunnnnn… we are DONE! See? Didn't I tell you? Piece of cake, right?
Great. Now I want cake.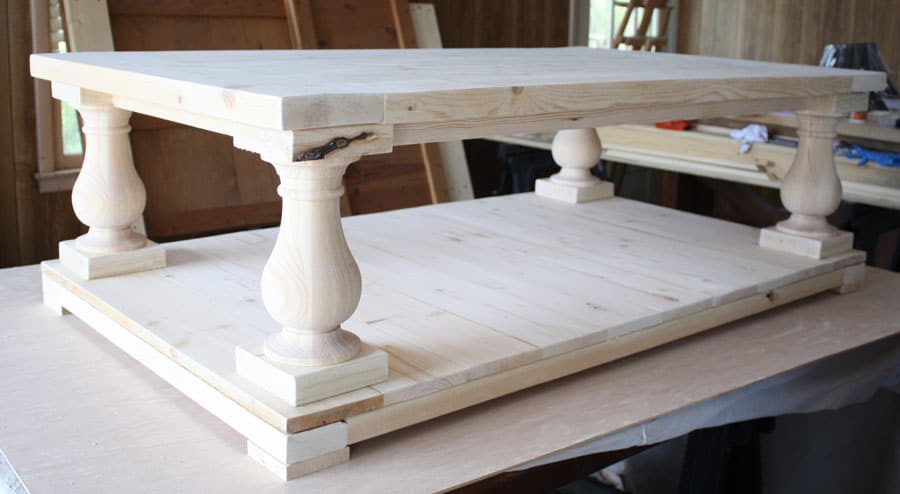 And now here's the part that feels like it takes me FOR.EV.ARRR to complete: the sanding/finishing process, aka The Bane of My Existence. First, I used my belt sander to sand down the top and bottom shelves so that all the planked boards were perfectly level and smooth. Even though I'd tried my best to get them as flat as possible during the building process, without using an industrial planer, there's going to be some slight variation from board to board.
You guys. Seriously, belt sanders are NO JOKE. I'm amazed every time I build a planked top, that a belt sander will sand down the boards so evenly that you can easily slide a salt & pepper shaker across the table. I bought my Ryobi belt sander from a pawn shop for $11. Whoop whoop! LOVE it.
After I was satisfied with that, I followed up with my palm sander fitted with 120- then 220-grit sandpaper. Then I vacuumed up the sawdust and wiped everything down with a very slightly damp rag. I stress "very slightly damp" because I wanted to remove the leftover dust and debris, but didn't want to raise the grain after I'd worked so hard to smooth everything down like buttah.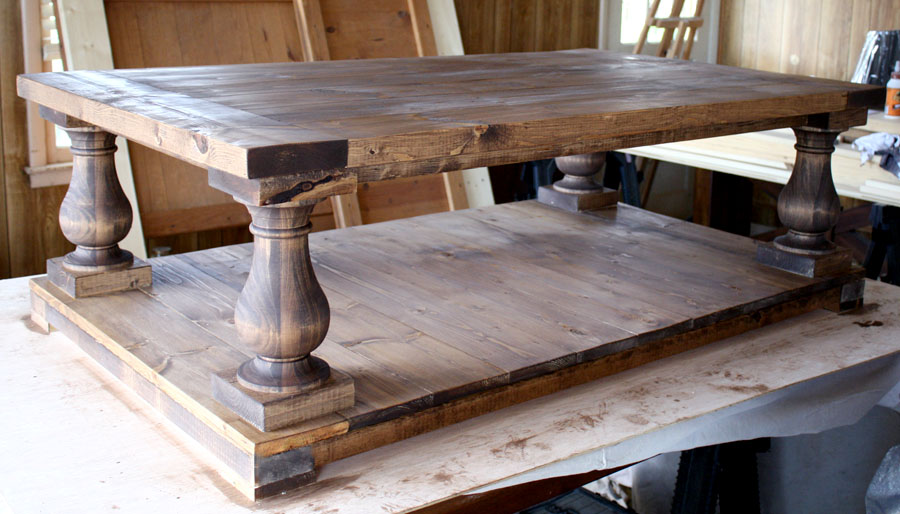 I chose Minwax's Ultimate Wood Stain in Special Walnut to stain this bad boy. I just took a clean rag, dipped it into the stain, then working in small sections, rubbed it into the wood, in all directions, usually in circular motions until it's all soaked in. Wax on, wax off, Daniel-son style. #namethatmovie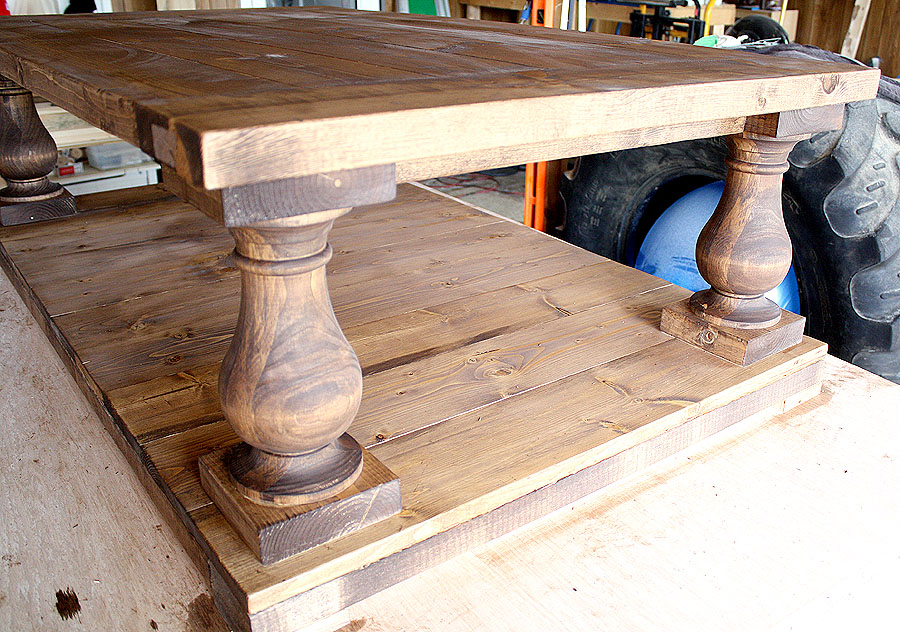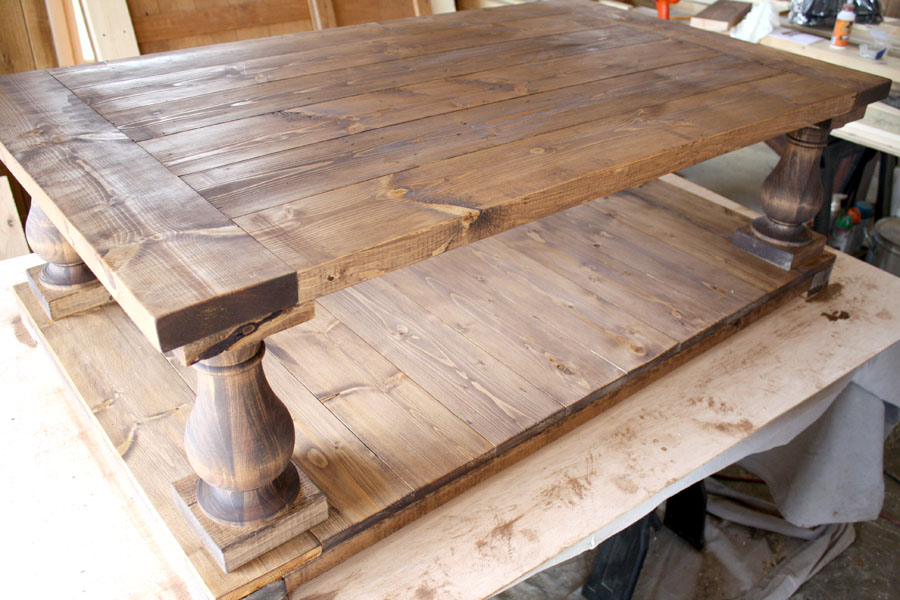 After the stain had a full 8 hours to dry, I tried Minwax's Wipe-On Poly for the first time ever then kicked myself for not trying it sooner. Hello? Has anyone used this stuff before? It's magic. You just wipe it on with a rag. No bubbles, drips, or streaks! What! Shut the front door.
Yes, it's not as durable as regular polyurethane, but after 3 coats, it was more than enough protection for a coffee table. I used a 220-grit sanding block in between each coat. I wouldn't recommend this stuff for a dining table, or anything that would be used more frequently, but for an occasional table? Abso-freakin-lutely. It was soooo easy to apply and so quick too! Only about 2-3 hours of dry time in between coats. Hallelujah, praise Jesus!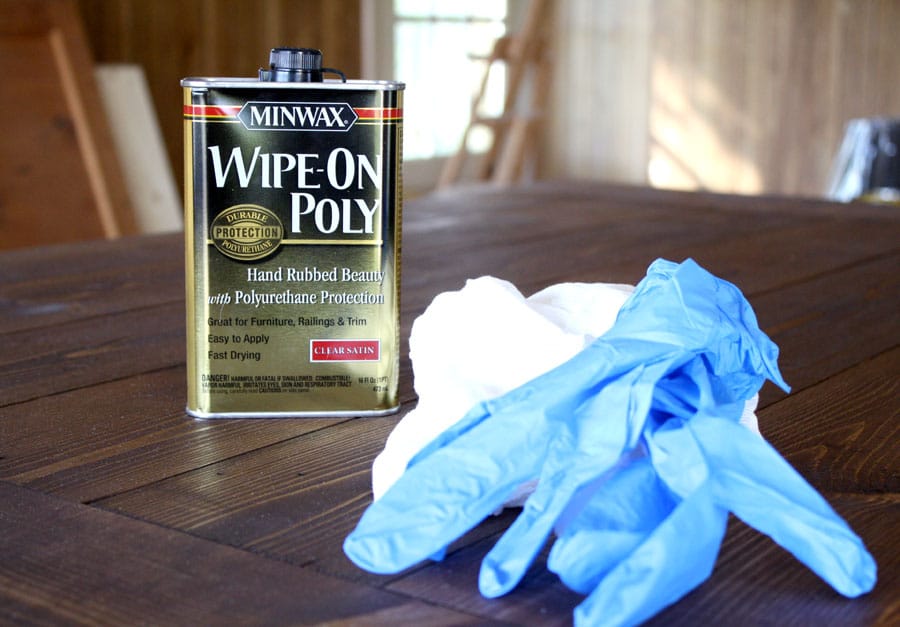 Then, just for kicks (and even more protection, because I'm redundant like that like that), I applied Annie Sloan's soft wax just on the tabletop so that it felt really soft and smooth to the touch. Love, love, looove that buttery hand-rubbed finish.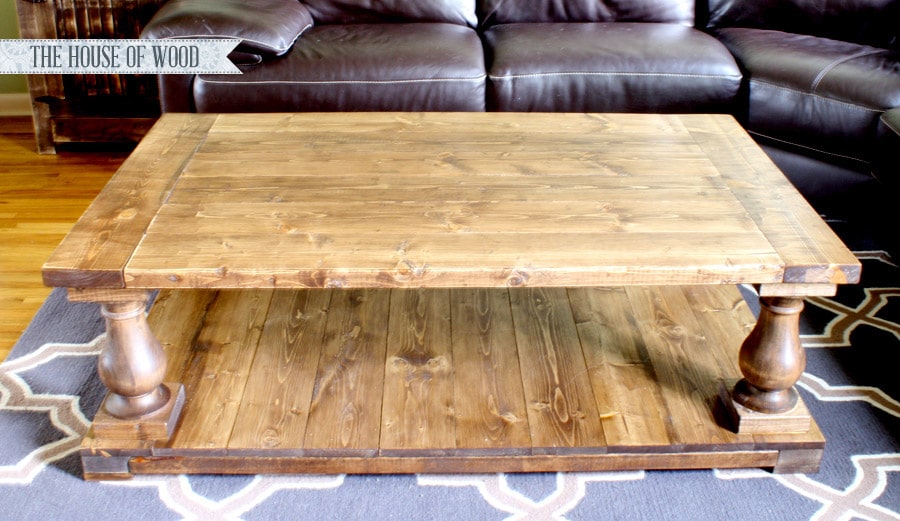 Gahhhh… I am dying over these gorgeous turned legs. Dying. Dyyying. I'm dead.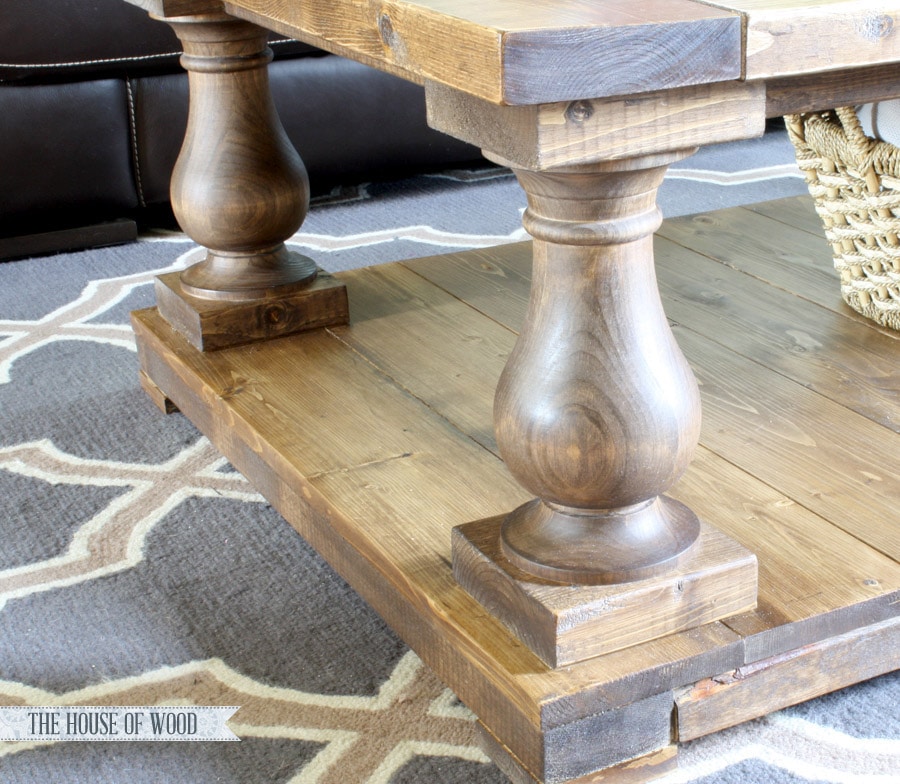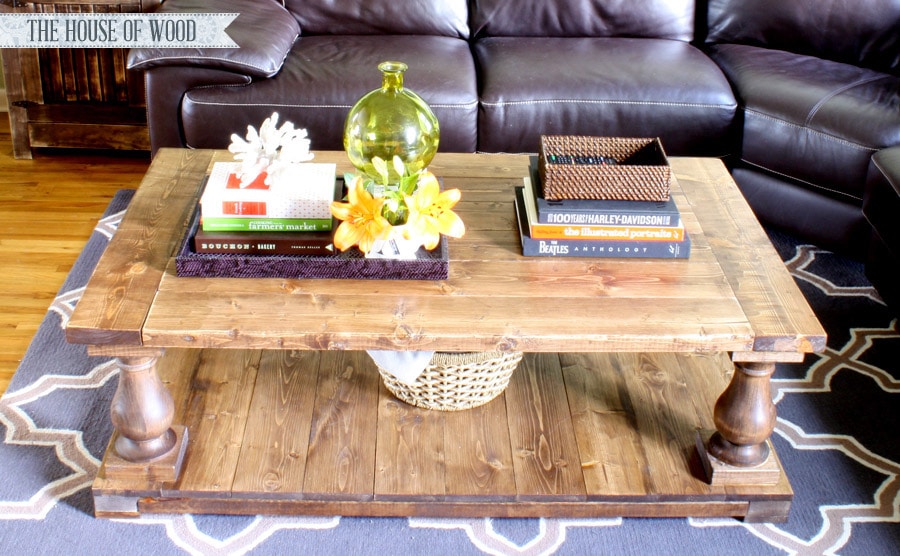 Did you spy that rustic little end table over there? Another Ana White plan, of course! Click here to learn more about that DIY project.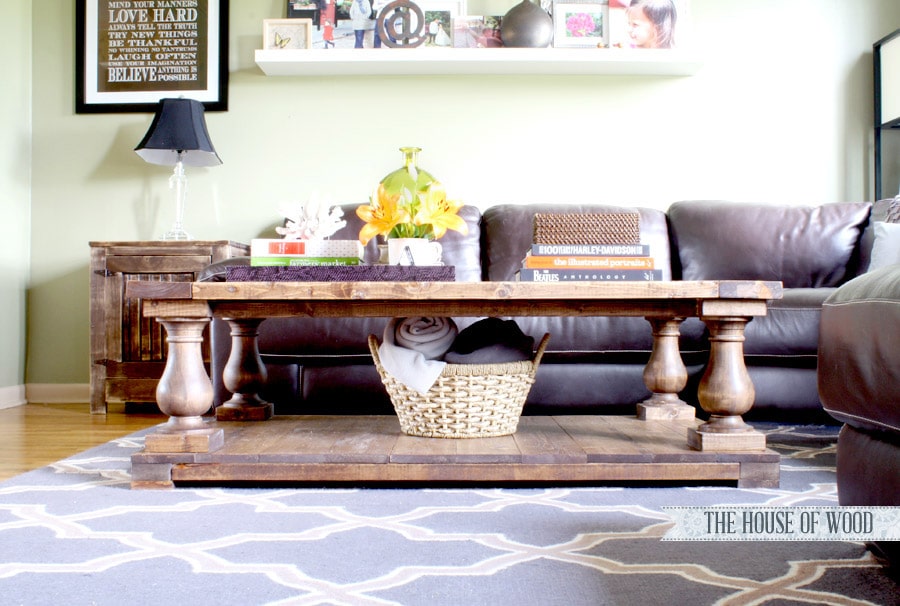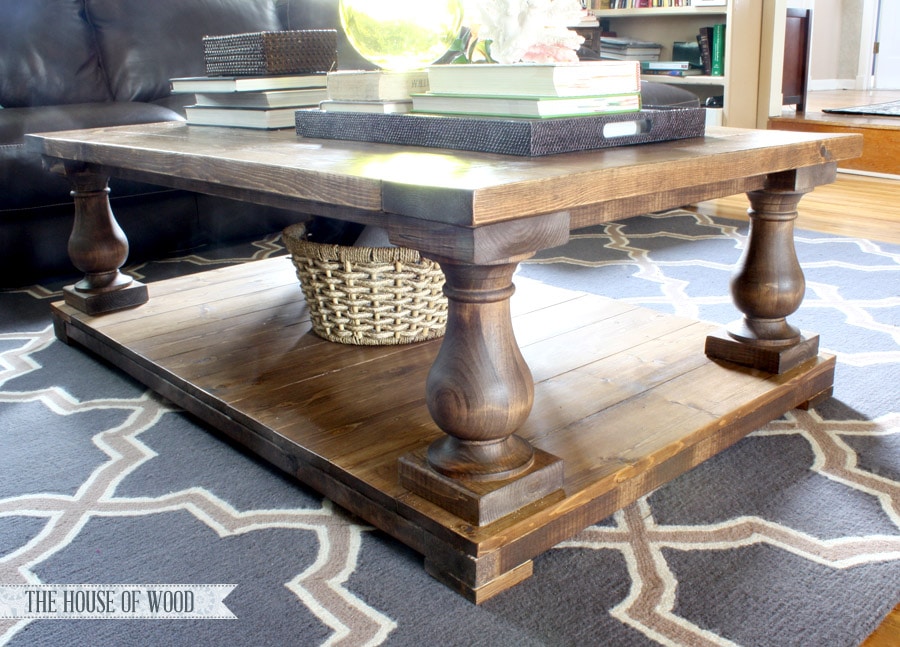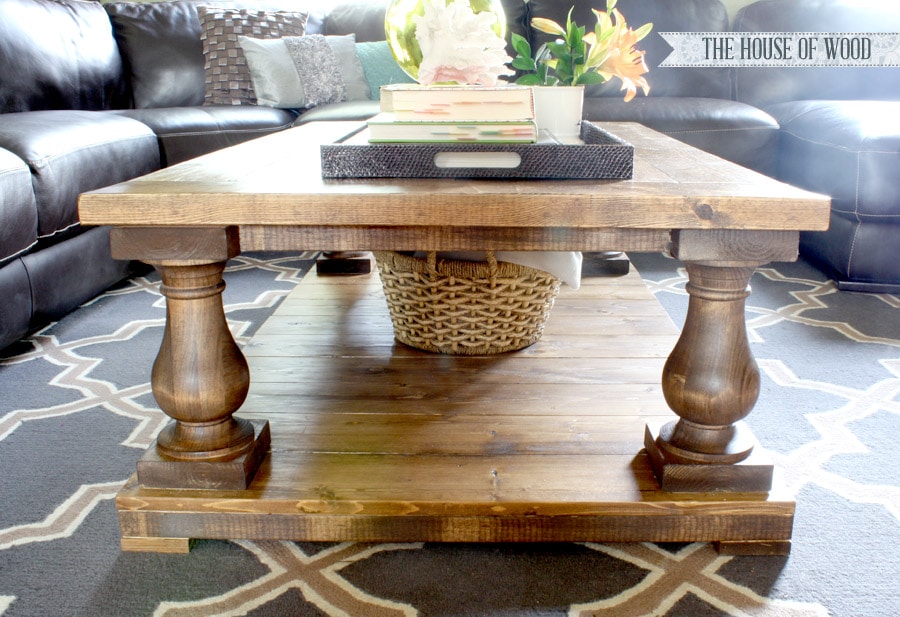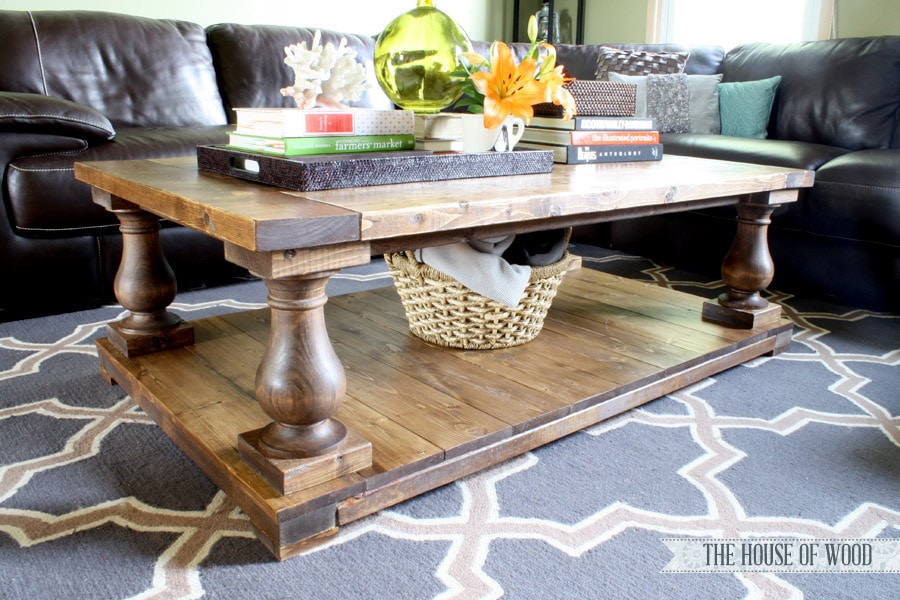 Ahhh… thank you Osborne Wood. I love you. Will you marry me?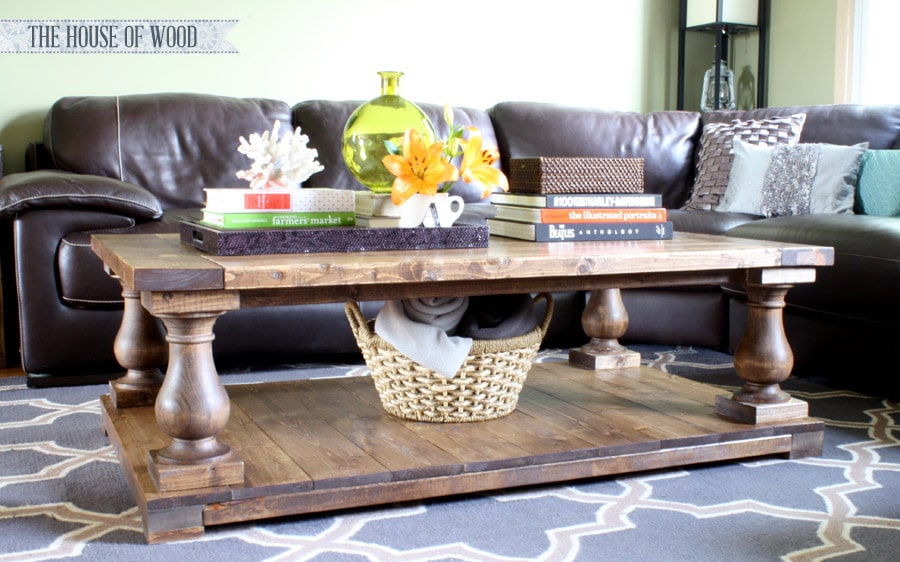 So what do you think? Think you can build this for hundreds of dollars less than the Restoration Hardware version? I know you can! Go here for the plans and get 'er done! And thank you for working with me on this one, Ana! You are the bomb dot com.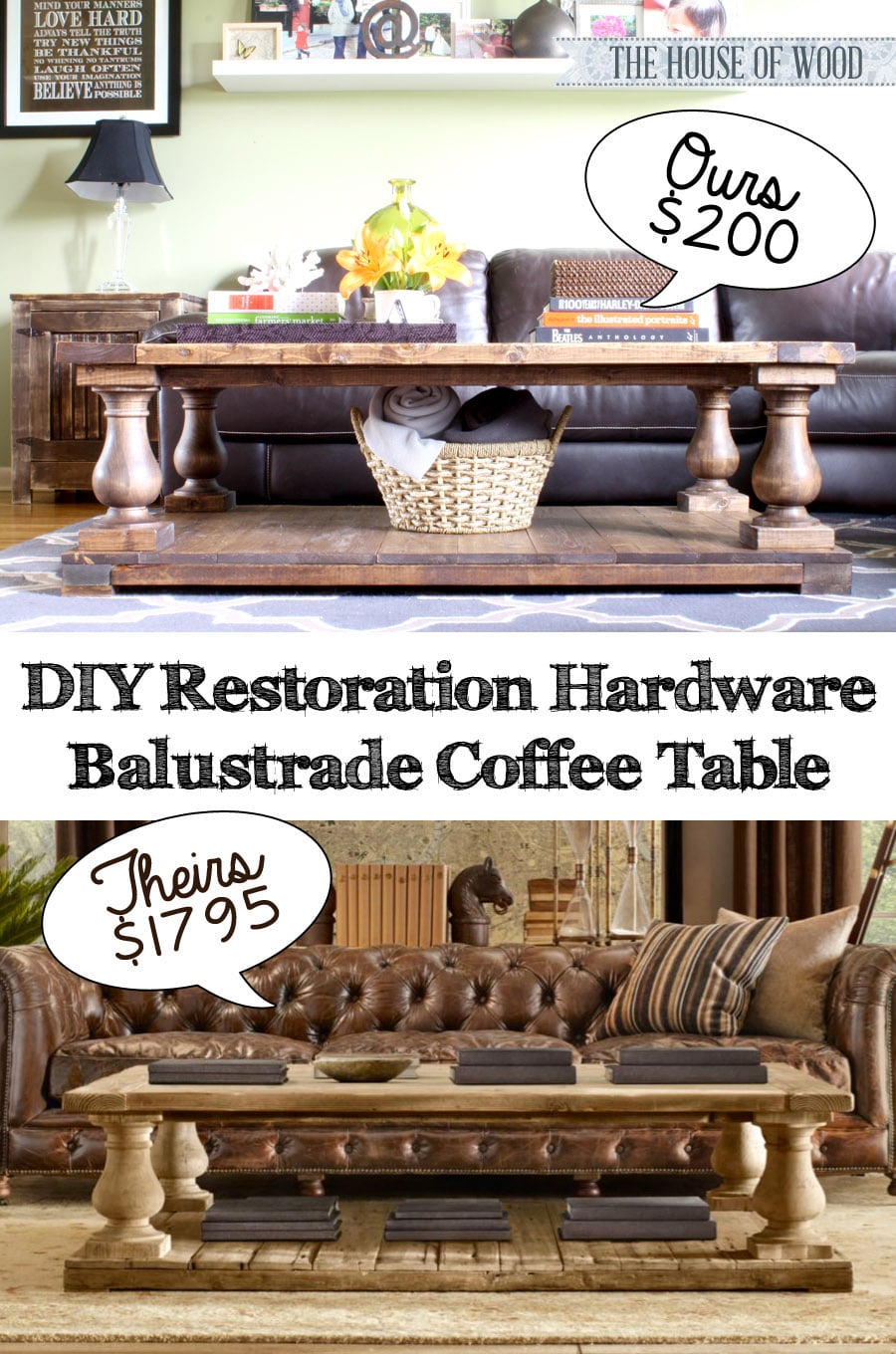 Thanks for reading, friends! If you enjoyed this post, feel free to pin and share it! Catch y'all on the flip side. Peace out.
Tools Used:
Measuring Tape
Speed Square
Carpenter's Pencil
Saw
18v Cordless Drill
Clamps
Belt Sander
Palm Sander
Budget Breakdown:

Total Cost: $208.12