It's contagious, y'all. The building bug, I mean. Once you see just how easy, affordable, and gratifying it is to build your own furniture,
you.
just.
won't.
stop.
Take for instance, my new neighbor, Kristle. When I learned she enjoys refinishing furniture as a hobby, I knew we'd get along like two peas in a pod. This was the first time she's ever built something from scratch, with her own two hands. But it was only a matter of time, really, because her husband builds houses. No big deal.
As much as we move around, it's unbelievable that we've always gotten awesome neighbors (knock on wood… heh. See what I did there?). Sure, it's one thing to ask your neighbor to keep an eye on your house while you're out of town, but it's a whole 'nother thing to have neighbors that you genuinely like and enjoy spending time with. What a blessing.
So when Kristle asked me to introduce her to the world of furniture-building, picture me, maniacally rubbing my hands together, cackling, "I'll get you yet, my pretty."
Okay, that was weird. I apologize. But seriously, now I have a DIY partner-in-crime and our husbands have no idea what they're in for. Before they know it, they'll be all 'Daddy Daycare' in the kitchen, while their wives are all 'Tim Taylor's Tool Time' in the garage. We might even hire a Pamela Anderson look-alike to hand us tools while we work and we'll be all like, "Boys! Get in the kitchen and bake us a pie!"
Anyone else find this role reversal amusing?
Well, that was quite a tangent. Okay, moving on. So here's our first project: a 'big boy' bed for their almost-4-year-old son: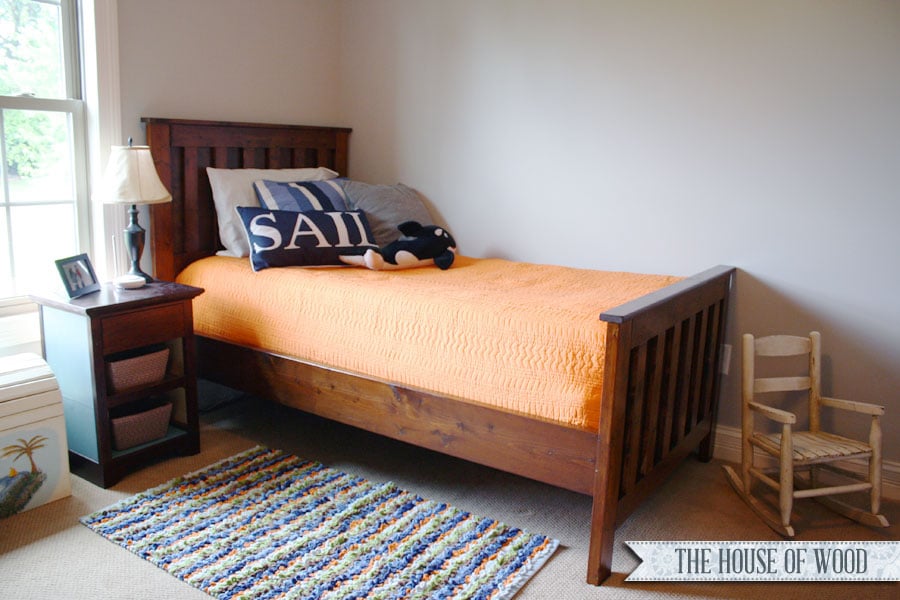 This was Kristle's first build, y'all. So stinkin' gorgeous, right? See what I'm saying? You just won't believe how do-able it is to build something and you'll wonder why you didn't do it sooner. And with Ana White's free plans, it's so easy, even Pamela Anderson could do it (I'm assuming… since she already knows her way around wood, I mean). Oh! Snap!
We used the plans for the Kentwood Twin Bed. Here are our cut pieces: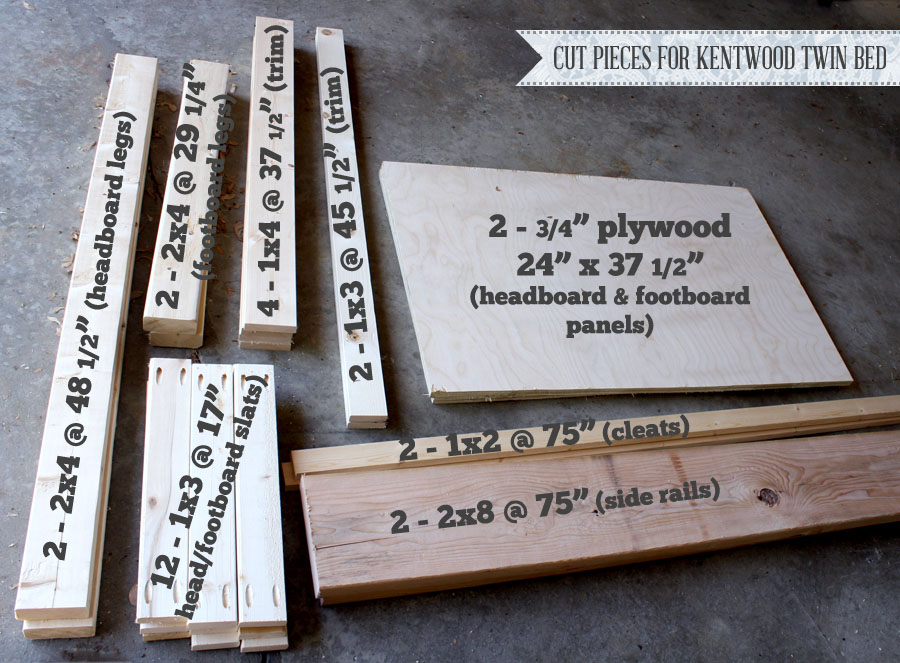 And because this bed is for her little boy, Kristle chose to use Purebond Plywood because it's non-toxic,formaldehyde-free, and made from sustainable wood. Just another bonus to DIYing: we love that we're able to use the safest materials for our families.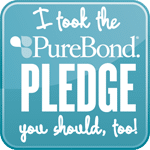 Here we are, happily hammering along. It took us no time at all to get this bed built… maybe a few hours or so.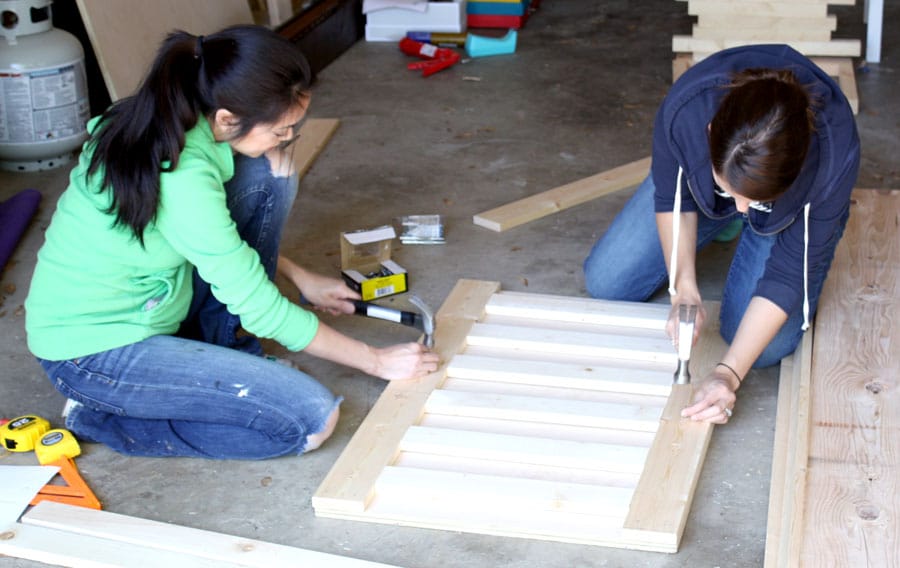 So much easier and more fun to build with a friend!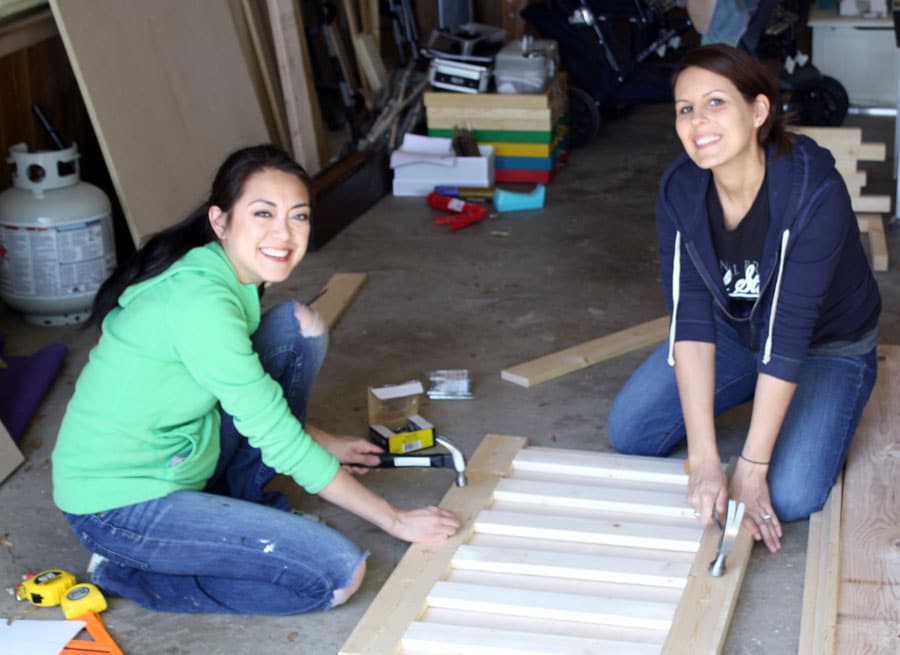 I love the slats on the head and footboard. It's perfect for a little boy!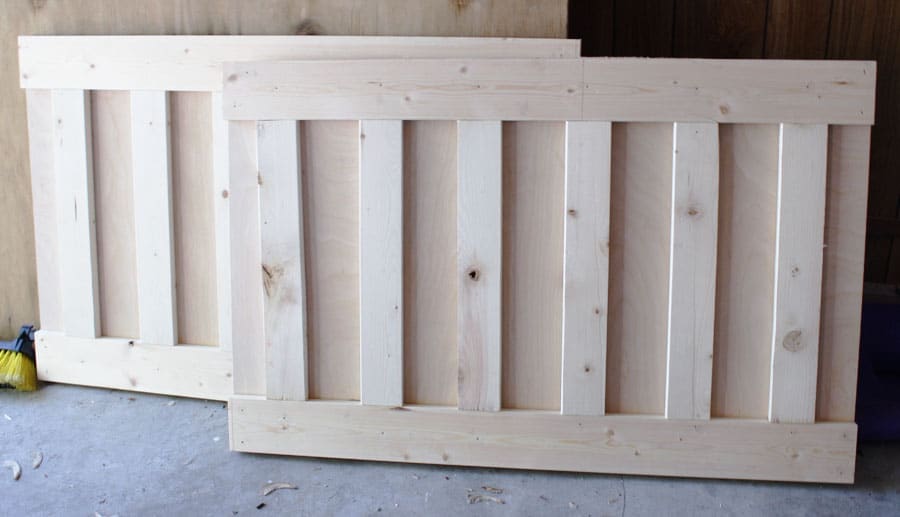 And we attached the 2×4 legs. Who knew 2x4s could look so good?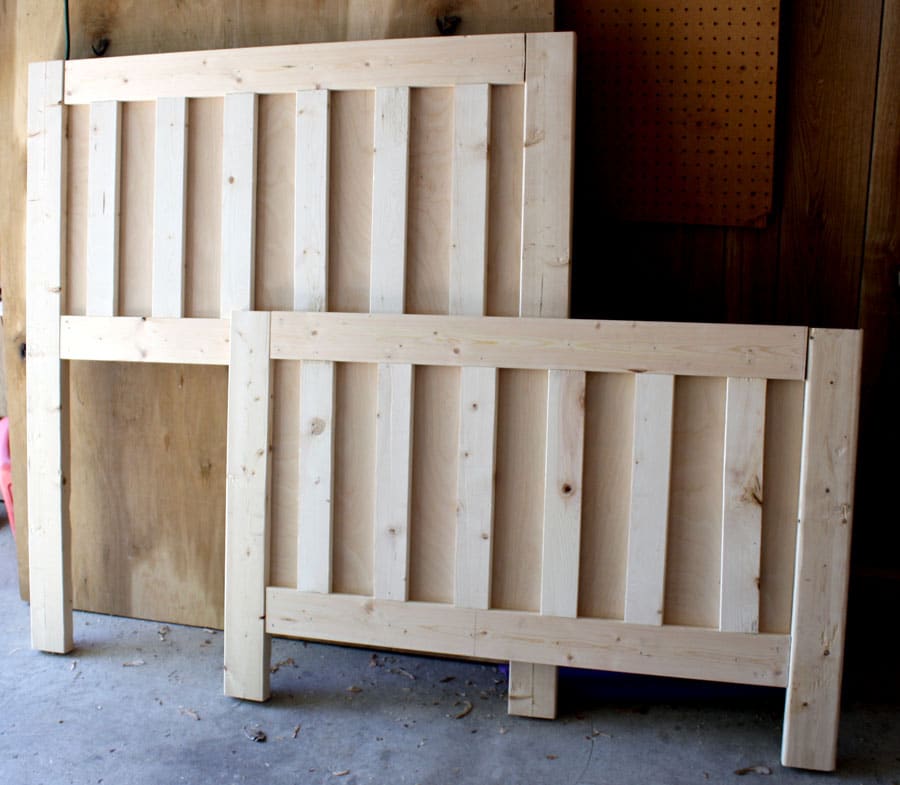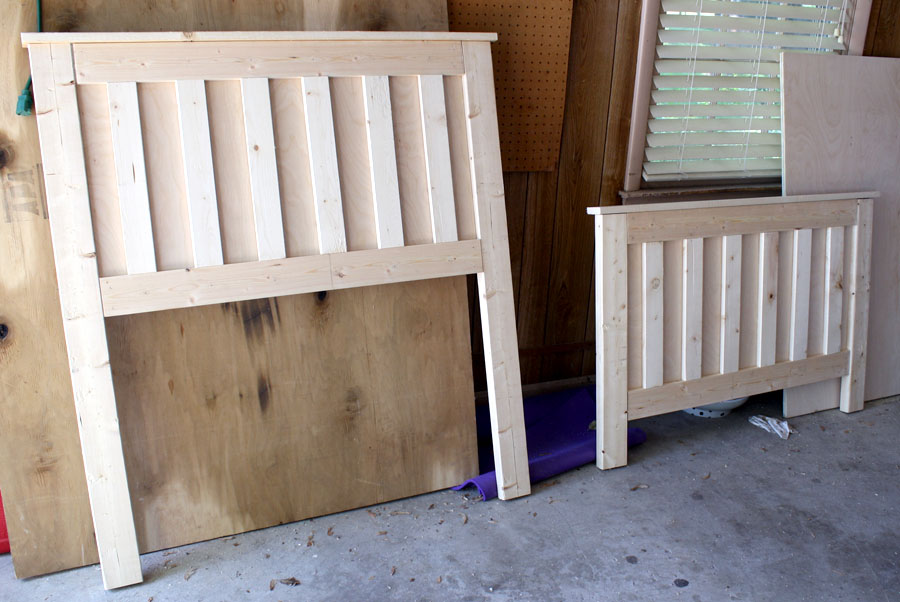 These are the side rails. We chose to fasten the support cleats flush to the bottom edge to allow room for the box spring and the mattress.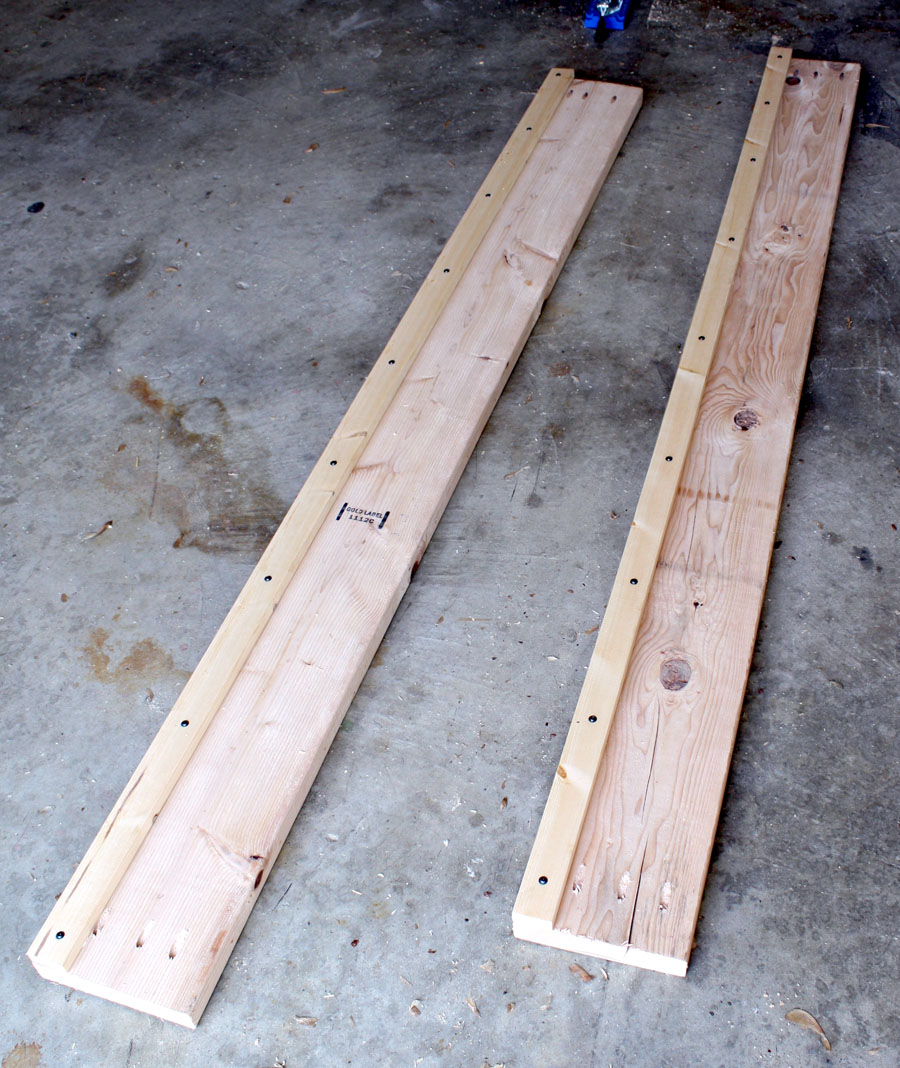 Then we toted the pieces across the street to Kristle's house, where she sanded, stained, and sealed it. And by 'we toted it' I mean, 'Adam loaded it up in his truck, drove over to her house, and unloaded everything.' Same difference.
Here it is, all done! I'm so excited it turned out so well!  Kristle says I've created a monster and I tell her it's only the beginning… the beginning of a beautiful friendship.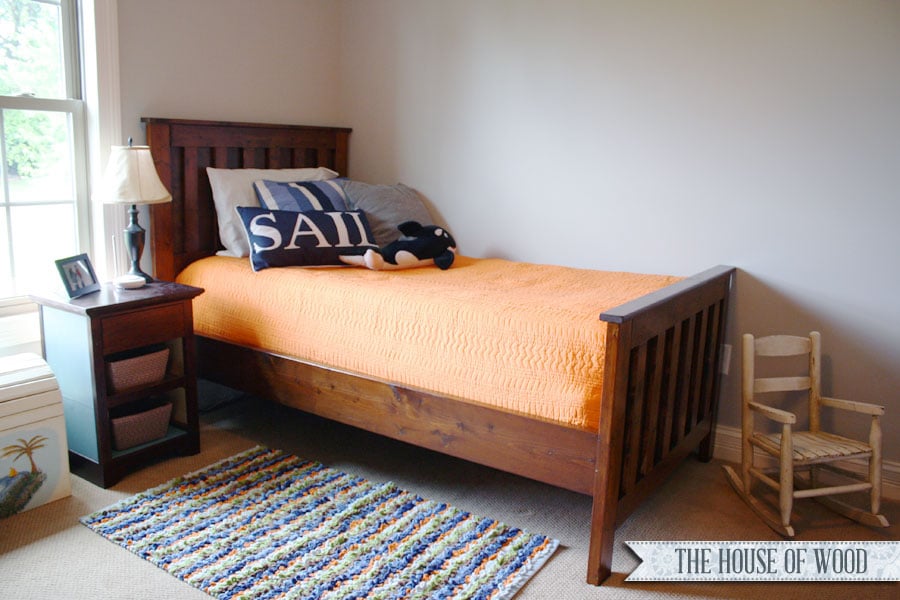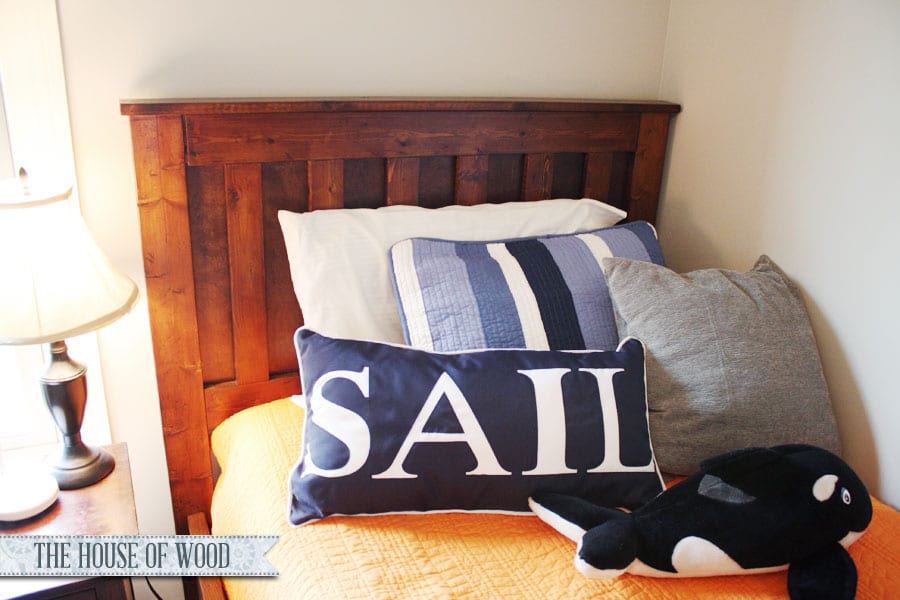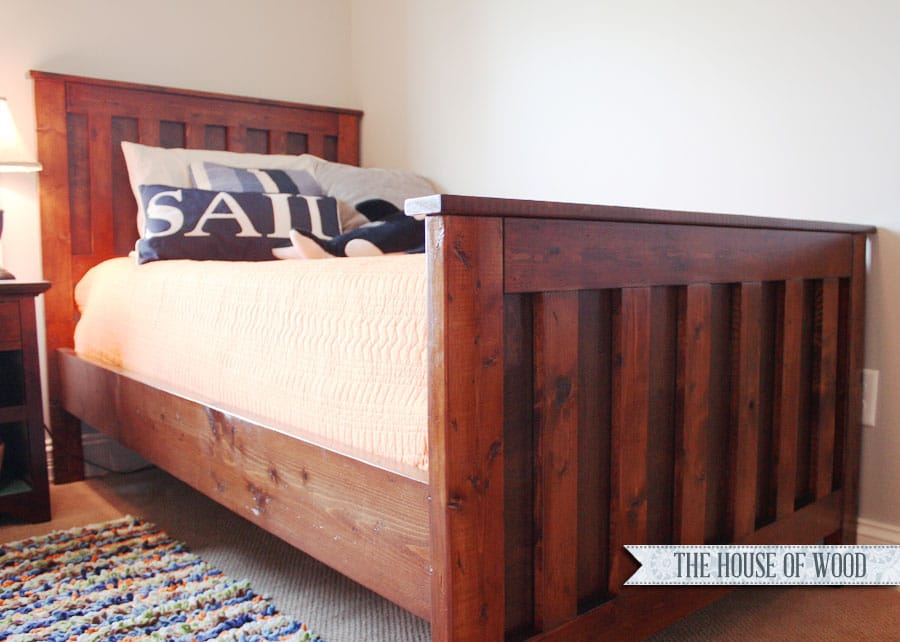 Budget Breakdown:
Lumber: $35
Purebond Birch Hardwood Plywood: $46.97
Stain (Early American) & sealer: already owned
Total cost: $81.97