*This post is sponsored by The Home Depot.
Hi friends! Hello and happy Monday! Are you ready for the DIH Workshop at The Home Depot this Thursday? Be sure to register here – the workshops are free and you'll learn how to build a fun DIY rustic wheelbarrow for your Fall decor!
Want to see how mine turned out?
When I think 'wheelbarrow,' I automatically think, 'red.' so naturally…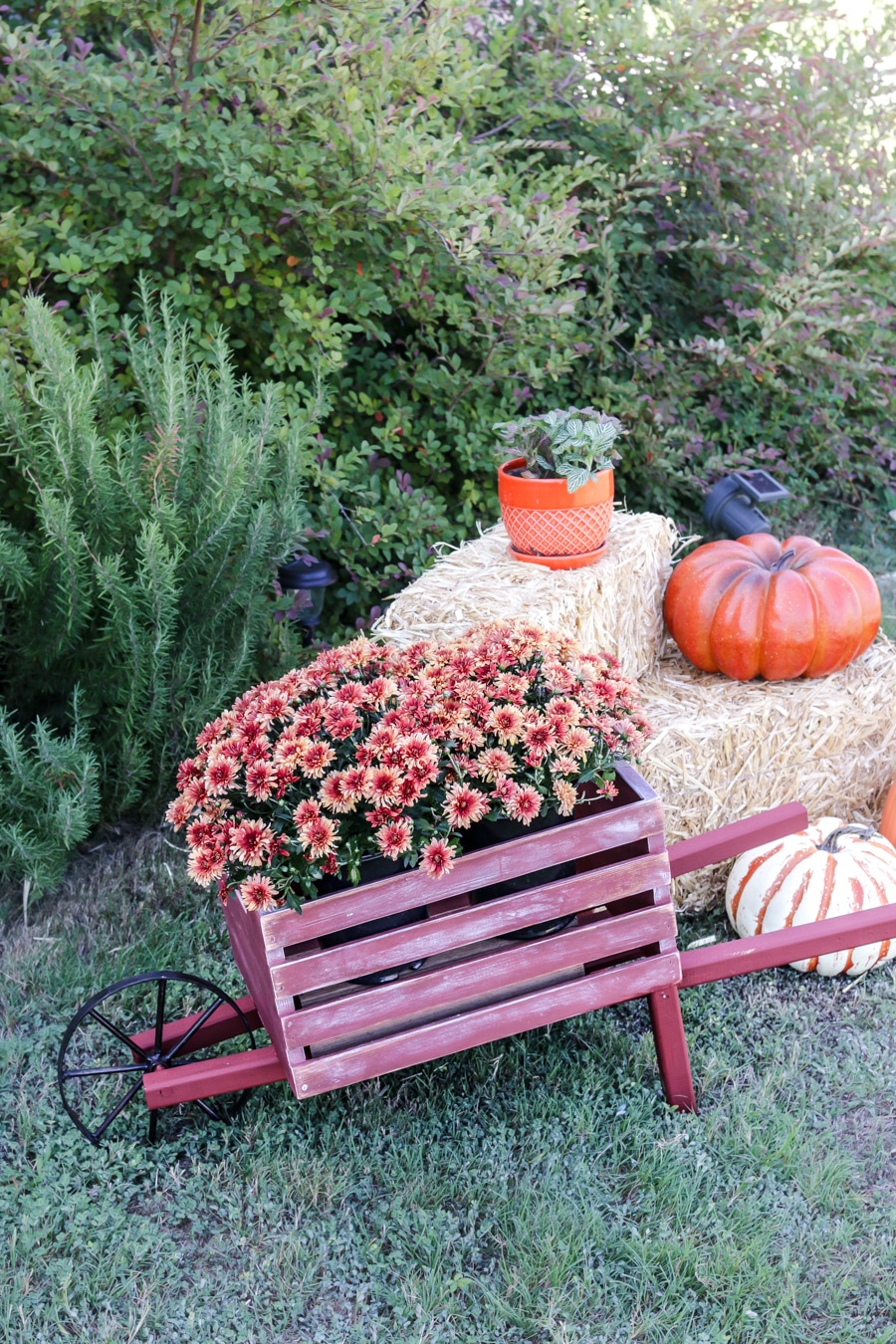 I chose a rustic barn red for this project. I sauntered up to the paint desk at Home Depot and told the paint person what I was looking for and this is the color she mixed up for me. It's called…
Wait for it…
"Barn Red."
Shocking, I know.
With just a few supplies from the Home Depot, this rustic wheelbarrow project was super easy and fun to make. Here's what you're going to need:
Materials:
(1) Wheel
2-1/2 inch Exterior Wood Screws
Wood Glue
Tools:
Tape Measure
Speed Square
Pencil
Drill with 1/2-inch drill bit
Circular Saw
Safety Glasses
Hearing Protection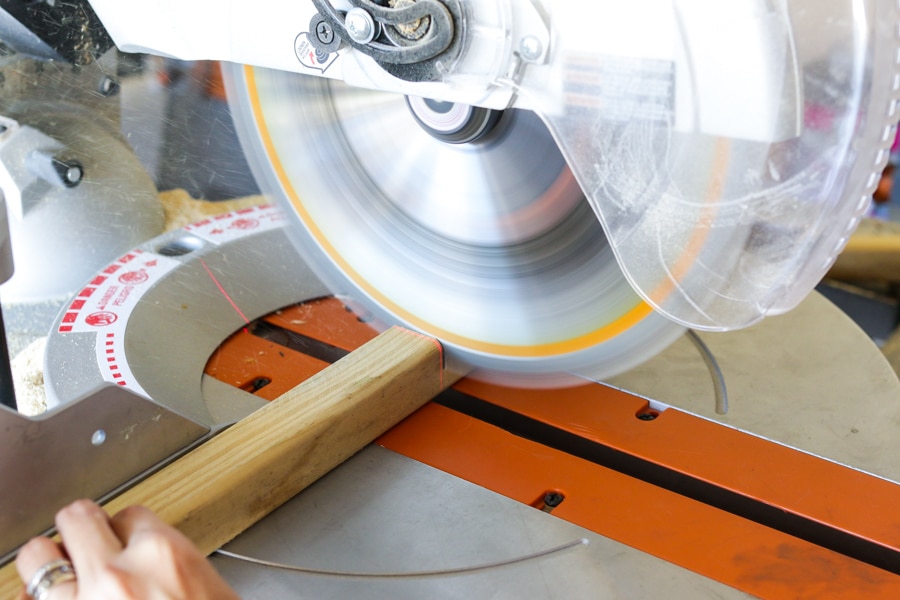 First, to make the legs of the wheelbarrow, cut two 8-inch pieces from one baluster. You'll leave the other two balusters as is, at 36 inches long. Using a 1/2-inch drill bit, drill a hole into the ends of the two long balusters – this will be so you can insert an axle for the wheel. Be sure not to drill the hole too close to the edge or the wood could split.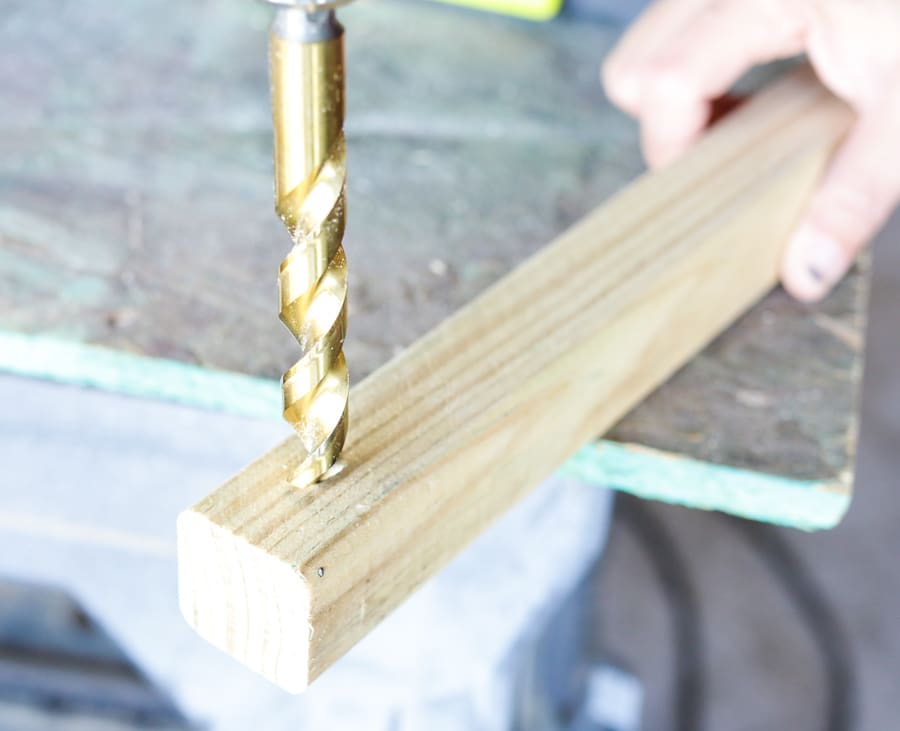 Attach the long balusters to the crate with 2-1/2 inch exterior wood screws. Let the balusters overhang on the crate about 6 inches for the wheel. Next, screw on the legs with 2-1/2 inch exterior wood screws. Cut the dowel to 3-3/4 inches for the axle. Insert the axle through the drilled hole in the balusters and slide the wheel on.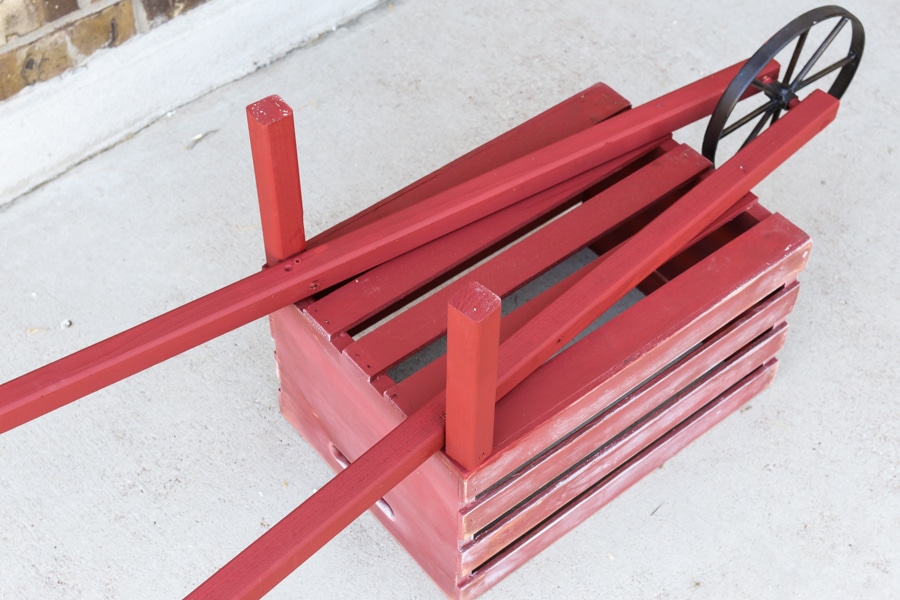 I found this 9-inch antique iron wheel at a yard sale years ago and have held onto it for no reason known to man because I'm weird like that. Who knew that it would come in handy one day?
I did. That's why I snatched it up.
Because I play the long game.
Boom.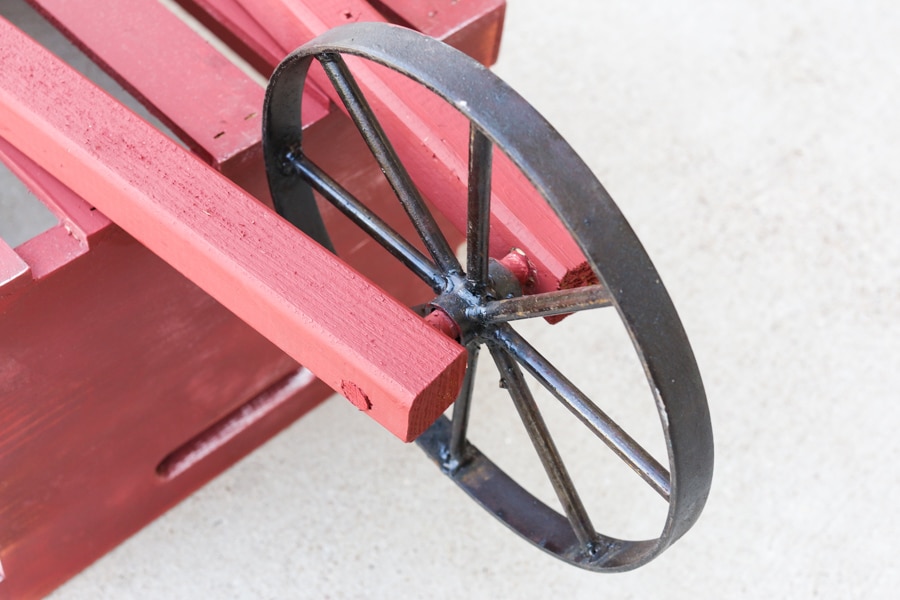 Surprisingly, my husband still asks me why I collect such random things.
So I told him that I could use this wheel as the world's largest keychain.
Or perhaps string a chain on it and wear it as a necklace, a la Flavor Flav.
Or even use it on my unicycle.
When you ask dumb questions, you get dumb answers, friends.
If you don't randomly have an antique iron wheel laying around in your garage, you can make your own wheel by cutting it out of a 2×8 scrap wood board. Whatever material you use to make your wheel, I'd recommend you make the wheel about 7-9 inches in diameter.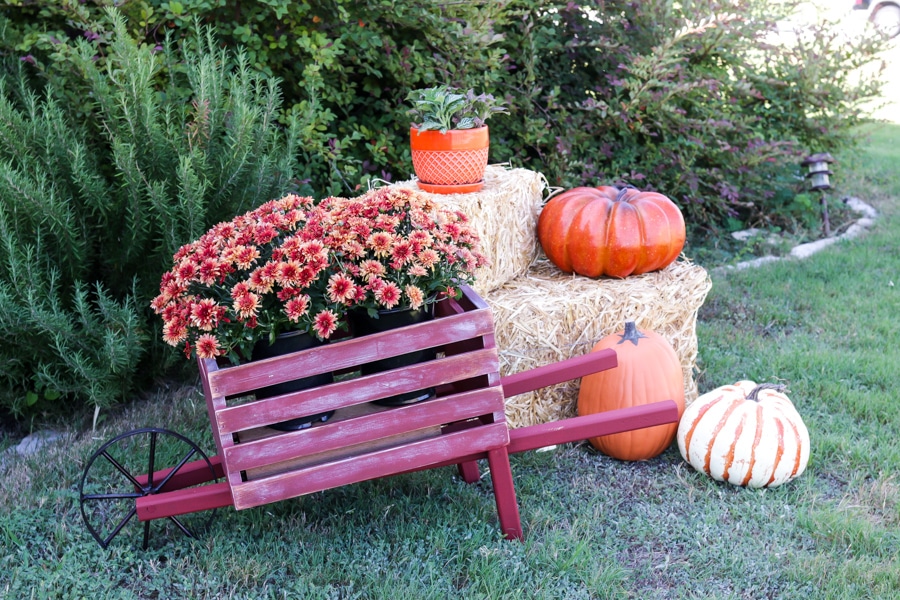 After I built the project, I sanded all the rough edges with 220-grit sandpaper. Then I painted it Barn Red and let the paint dry. After the paint was dry, I distressed some of the edges by sanding off some of the paint, then staining those exposed wood parts with Special Walnut wood stain. Then I dry-brushed some white paint on the crate to make it look old and worn. Finally, because this project will be outdoors, I applied 3 coats of an exterior-grade top coat to protect it from the outdoor elements.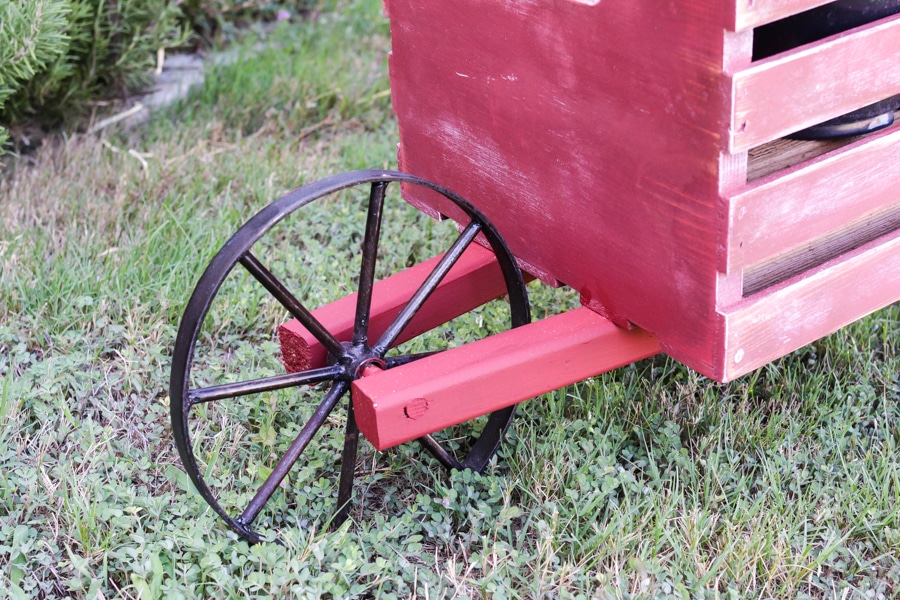 Pin it for later!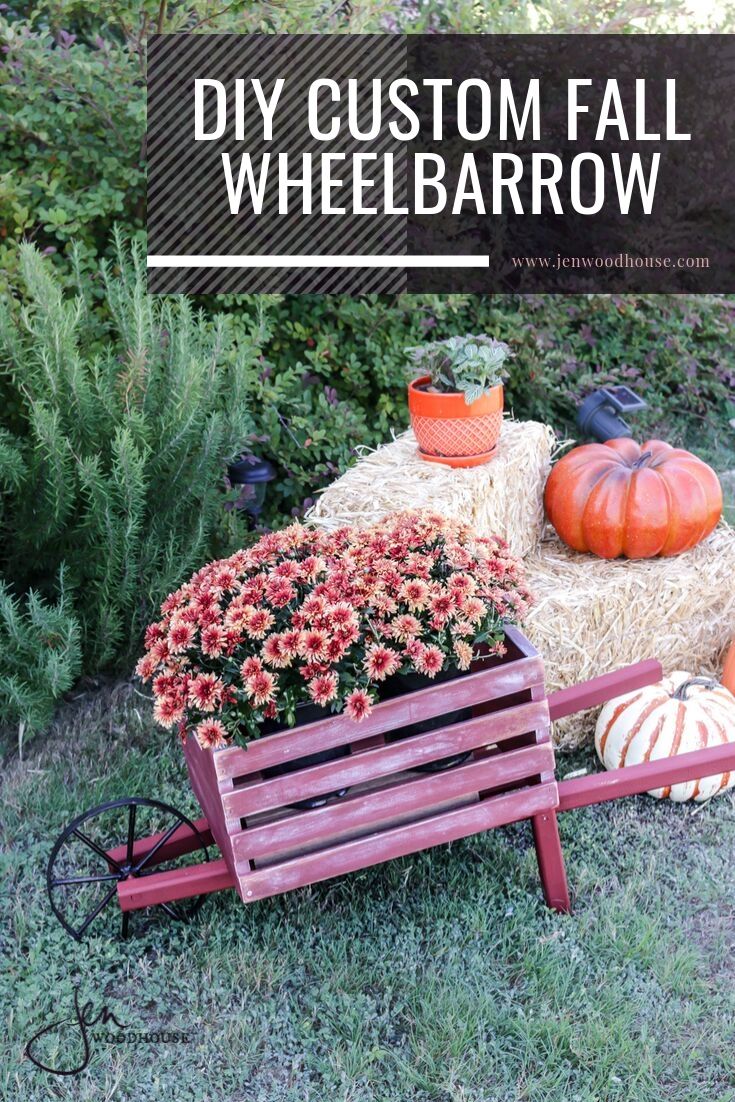 Be sure to check out how my DIY Blogging Buddies customized their rustic wheelbarrow. Click the links below.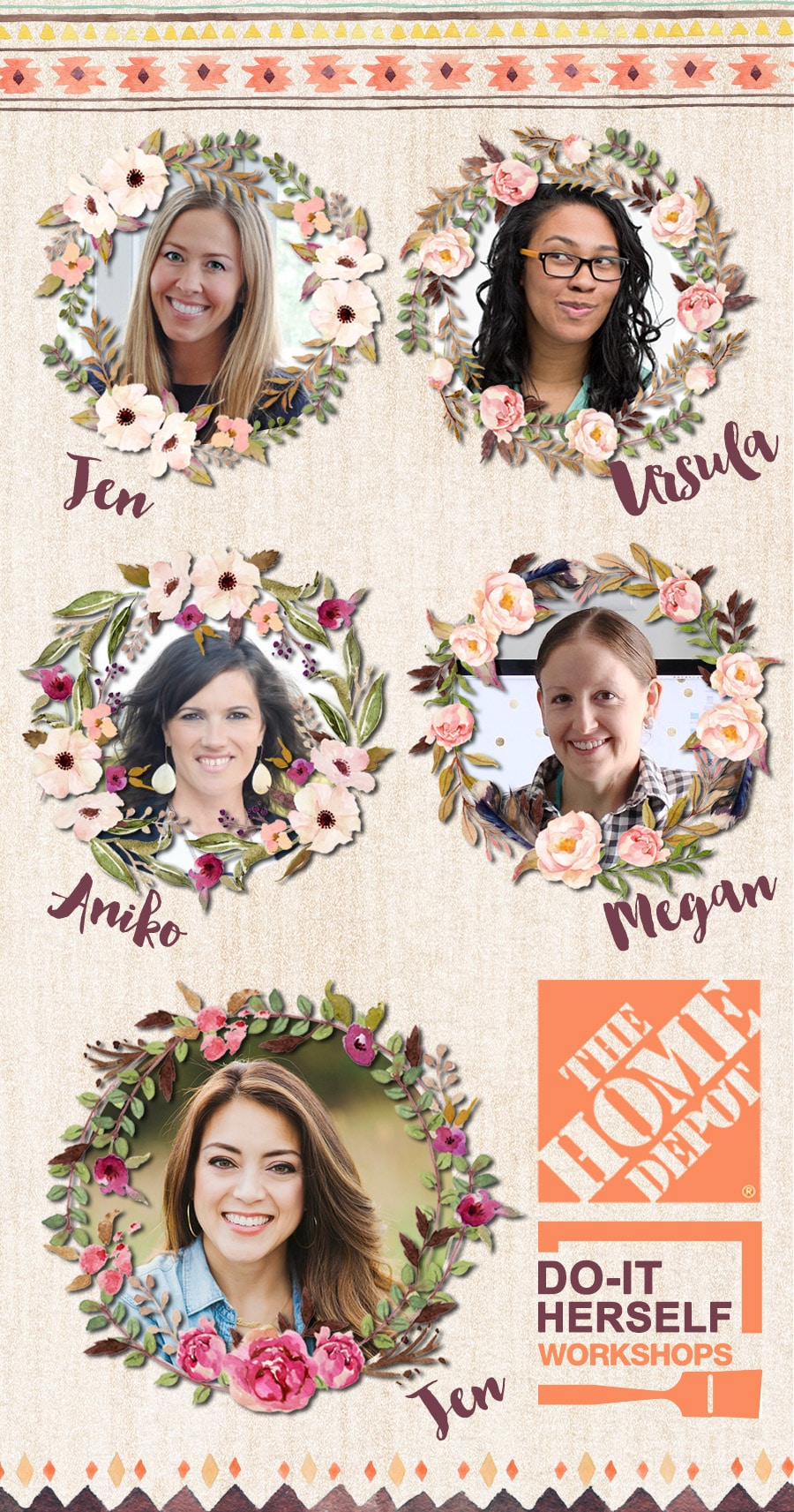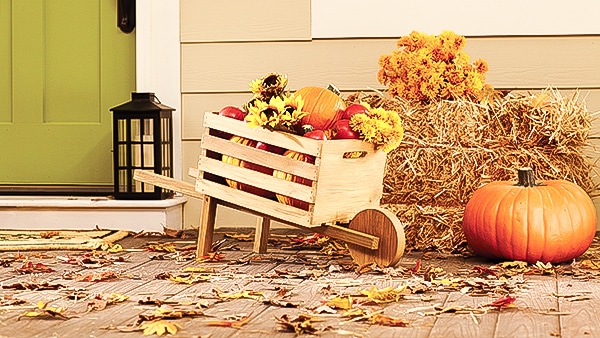 Are you ready to make your own DIY rustic wheelbarrow?
The Home Depot offers Workshops at all of their store locations. There are three types of Workshops: Do-It-Yourself (DIY), Do-It-Herself (DIH), and Kids. We love that Home Depot offers these free workshops because folks can come and learn how to build home decor projects, make easy home repairs and renovations, and safely operate power tools through the demonstrations and step-by-step instructions.
Visit http://workshops.homedepot.com to learn more and be sure to mark your calendar to attend the DIH Workshop this week!
Where: The Home Depot
What: DIH Workshop
Date: Thursday, Sept. 15, 2016
Time: 6:30 p.m. – 8:00 p.m.
Cost: Free!
Want to see even more cool customizations of this DIY Rustic Wheelbarrow?
Are you on Instagram, Twitter, or Facebook? Join in the fun and show us your DIY projects by tagging #jenwoodhouse, #homedepot, and #DIHWorkshop.
*I acknowledge that The Home Depot is partnering with me to participate in this Workshops Program. As a part of the Program, I am receiving compensation in the form of products and services, for the purpose of promoting The Home Depot. All expressed opinions and experiences are my own words. This post complies with the Word Of Mouth Marketing Association (WOMMA) Ethics Code and applicable Federal Trade Commission guidelines.