Hey, all! It's Shara here from Woodshop Diaries and I'm excited to be back on The House of Wood sharing one of my latest projects, a DIY wooden stove top cover!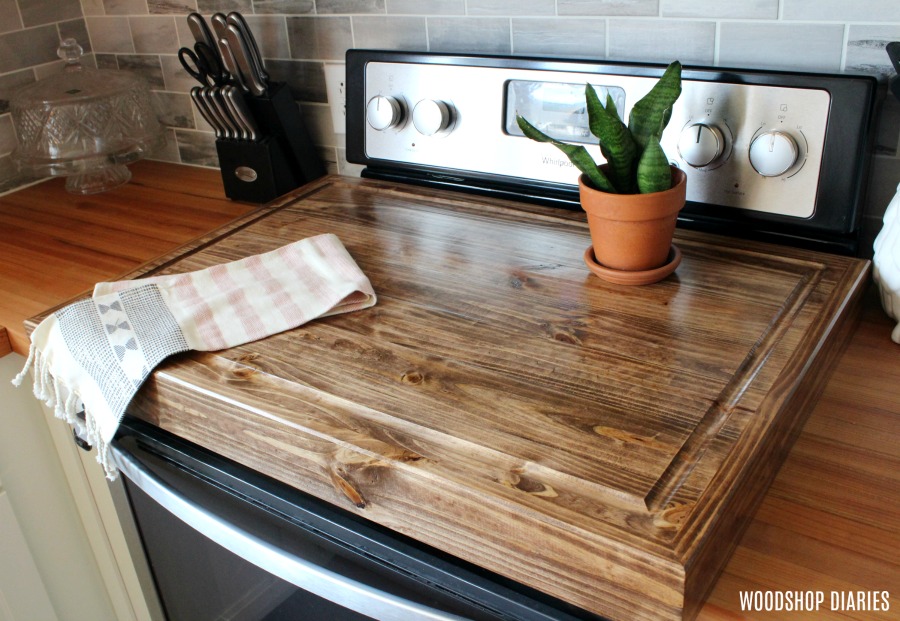 Have you ever thought you needed more counter space? Who hasn't, amiright? This wooden stove top cover can not only get you a few extra feet of counter space, but can also help keep crud, crumbs, and dust off your stove top, AND even provide a nice cutting board surface. A 3-in-1 project… sounds like a pretty sweet deal, don't you think? 😉
*Side note: this cover is made from wood. Wood can catch fire. It's not a wise decision to place the cover on a stove top that is on or is still warm. This is to be used on cool stove tops while they are NOT TURNED ON. Got it? Good. Now let's get building 🙂
Supplies:
(4) 1x4x8 (tongue and groove works best, but standard is fine, too)
Scrap wood for Routing Guide (See step 5)
Miter Saw
Table Saw or Circular Saw
Sander
Router
Juice Groove Router Bit
Nail Gun
Wood Glue
1 1/4″ brad nails
Clamps
Wood Finish
Step 1: Measure your stove
First, measure your stove. MOST stoves (not all) are standard width, but they can sometimes vary in depth, especially if it's got controls on the back like mine. Make sure to make your interior dimensions of your cover big enough to fit over your stove.
Step 2: Cut pieces for top of stove cover
Using a miter saw, cut 7 (or more depending on your own stove top size – this will create a 22 3/4″ deep opening. You can trim down later, but if you need larger, go with 8 instead of 7.) pieces of tongue and groove (or standard) 1x4s to slightly more than the width you need the stove top cover opening to be. If you have 8 ft boards, three 32″ lengths works out well. You can trim down later. So, long story short… cut 7 pieces of T&G to 32″ long 🙂
Also, FYI, I used pine for this and I stained it since I wasn't planning to use it as a cutting board – it's just decorative. However, if you plan to use it for food prep, be sure to finish in something food safe (not stain) and it's best to use a hardwood like maple or walnut.

Step 3: Glue T&G boards together
Apply glue in the grooves of the boards and clamp together as shown. Allow the glue to fully dry.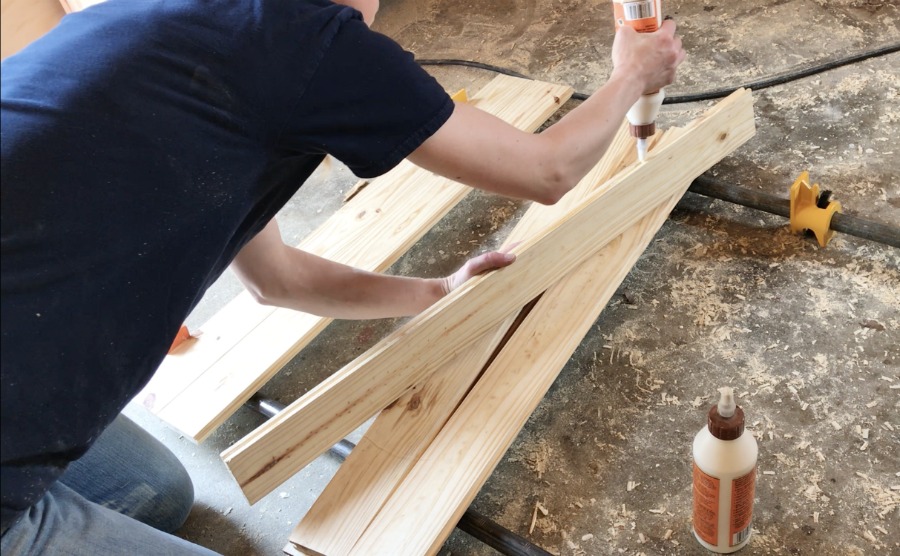 Step 4: Trim down and add sides
Once the glue is fully dry, remove the clamps and use a table saw or a circular saw and straight edge to trim down all sides to your desired opening size. Make sure to trim to trim all sides smooth (so no tongues or grooves are showing).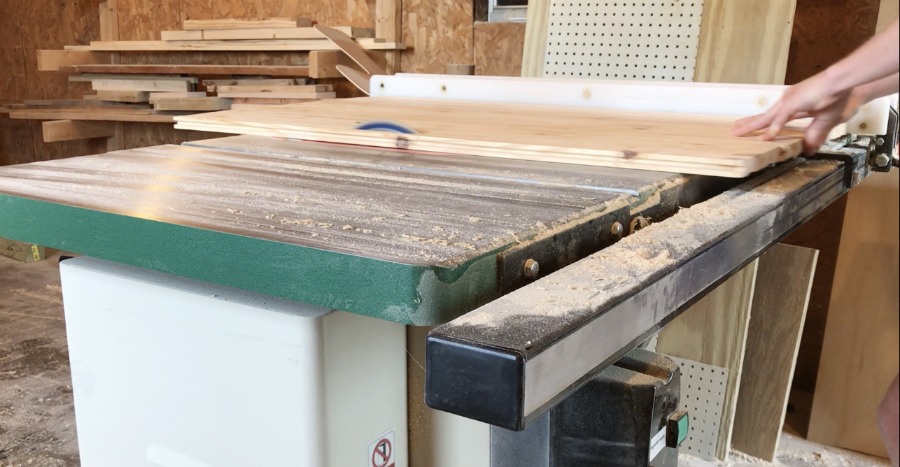 Then, cut pieces of 1×4 tongue and groove to trim out around the edges of this piece. Miter the corners 45 degrees for a more seamless look. Cut to fit these pieces around the edges for a tight fit and clean joints. Once you've got them cut to size, trim off the tongues using a table saw.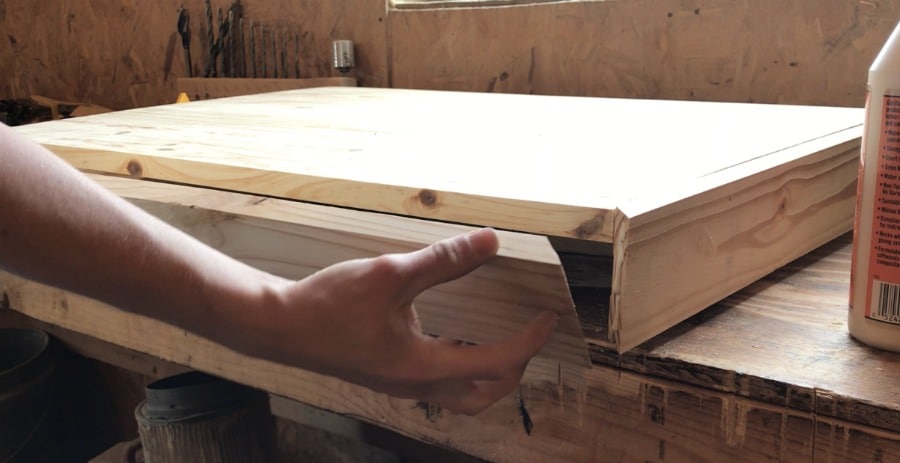 Glue and nail these pieces into place like shown (ignore the ugly corner joint here, I was just holding in place for a picture) making sure the smooth sides (not the grooves) face upward.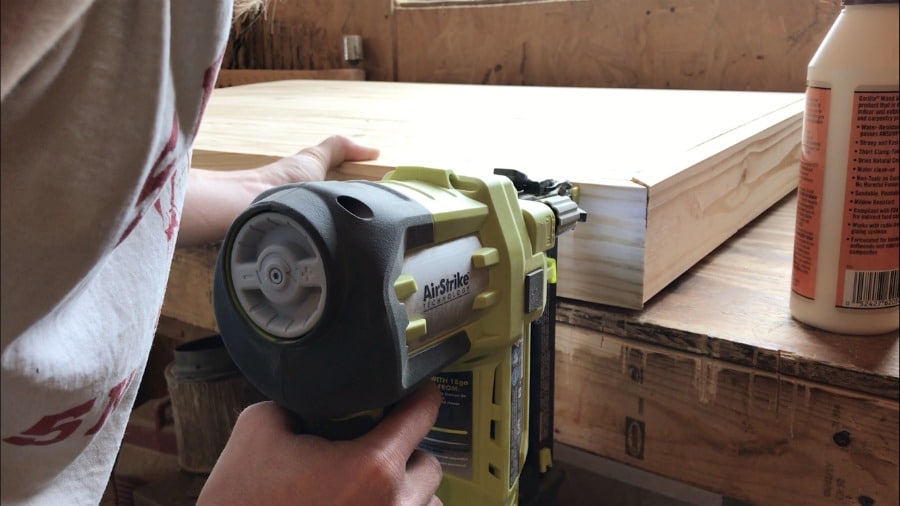 Allow glue to dry completely, then sand all the joints and corners smooth.
Step 5: Add juice groove
At this point, you could stain or finish (don't stain if preparing food on) if desired.  But I added a juice groove for added effect. It's mostly decorative to make it look like a real cutting board, BUT could also come in handy if you spilled something on it.  A juice groove is just like a little groove you cut along the edges to catch any liquids or spills from your cutting board.
To do this, I screwed some scraps together around the cover.  Don't screw directly to the cover, but screw the boards together TIGHTLY around the cover like shown.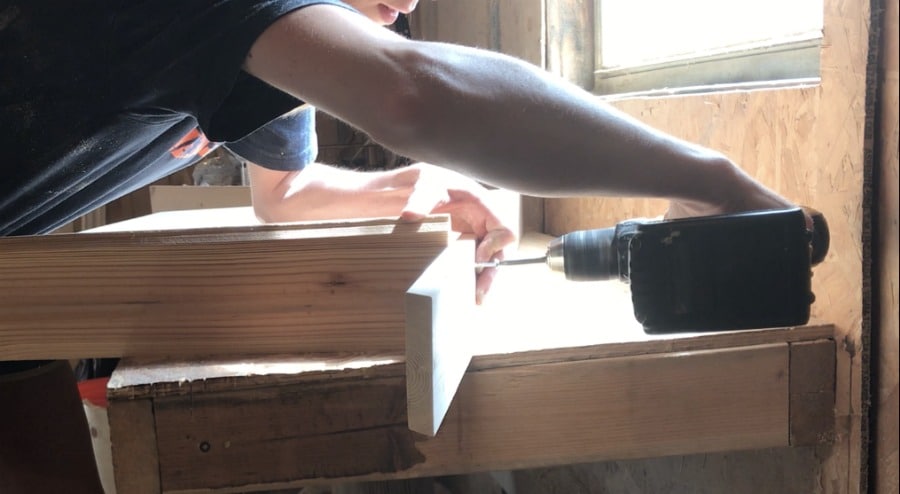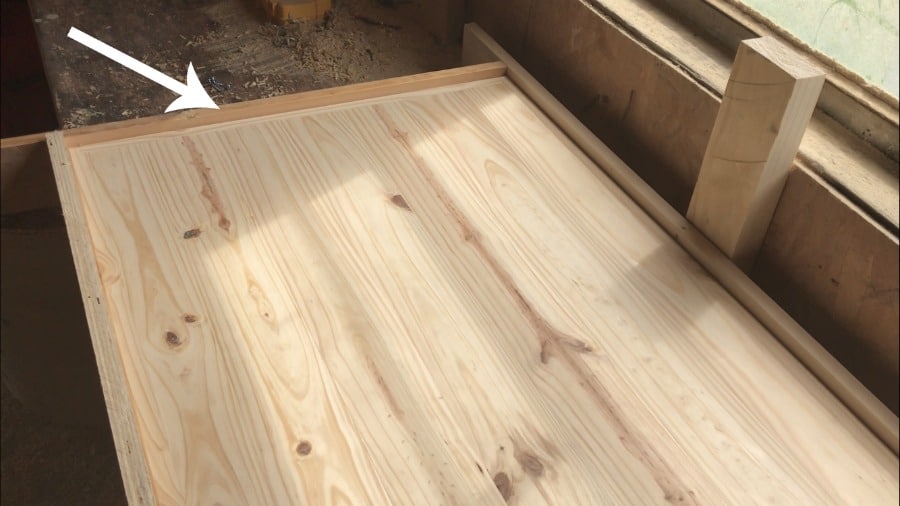 This will be used as a routing guide.
Insert a juice groove router bit into your router and SLOWLY and CAREFULLY run your router along the outside edge.  Keep it pressed against the lip of the boxed edge all the way around.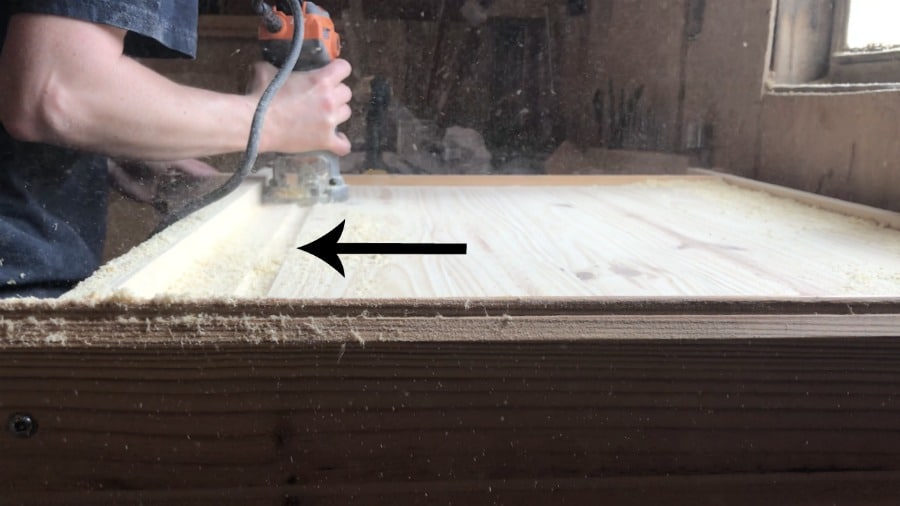 Unscrew the scrap wood and sand the groove once complete.

Step 6: Finish
Finish as desired.  I stained mine and finished with a water-based clear coat. However, if using to prepare food, be sure to use a food safe finish (not stain), something like a mineral oil or butcher block oil. If using as a cutting board, it's best to use a hardwood as well.
Once you have your finish applied, simply set in place 🙂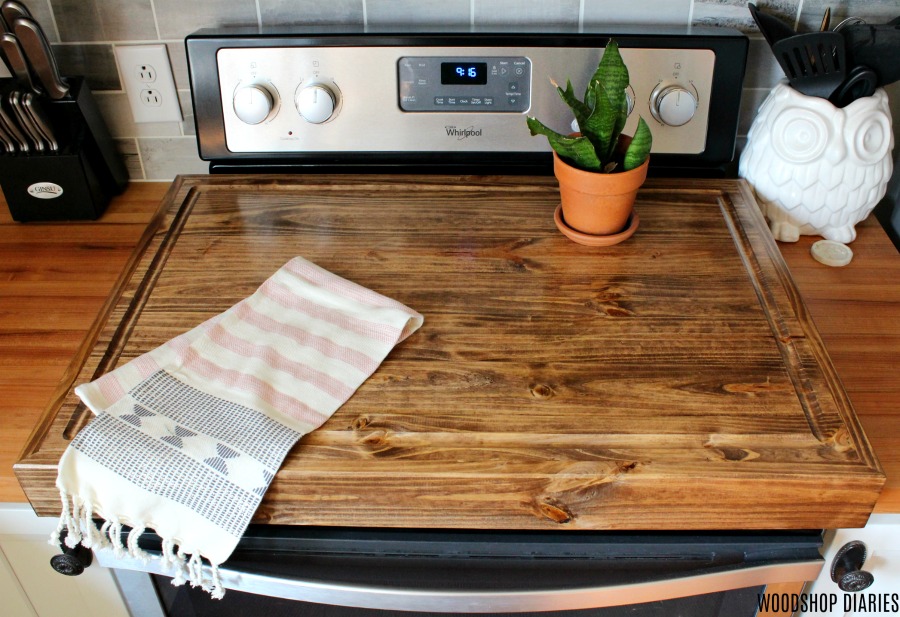 It's great for adding a little extra counter space when you aren't using your stove.  You could also flip it over to use as a wooden serving tray if you wanted.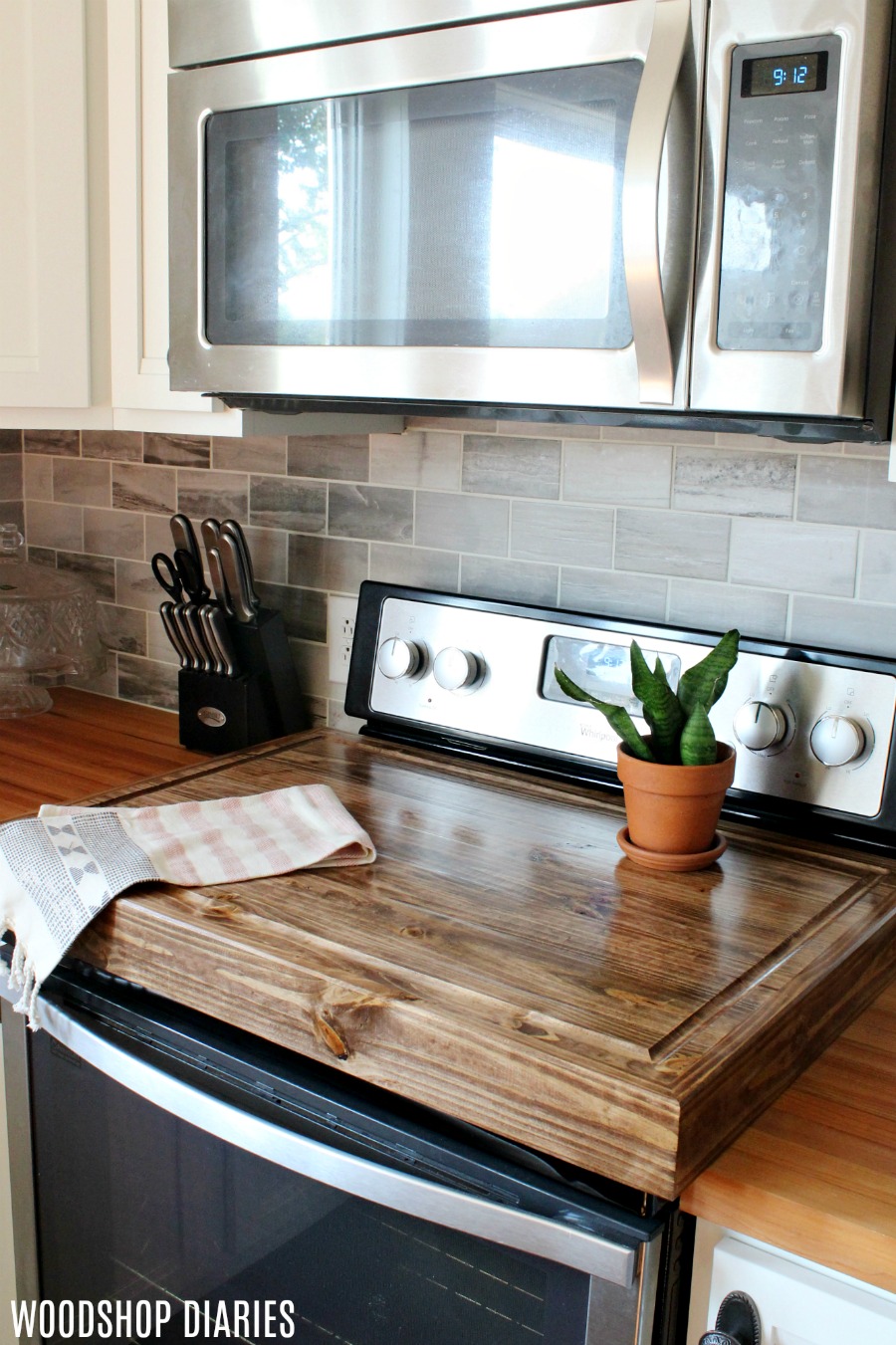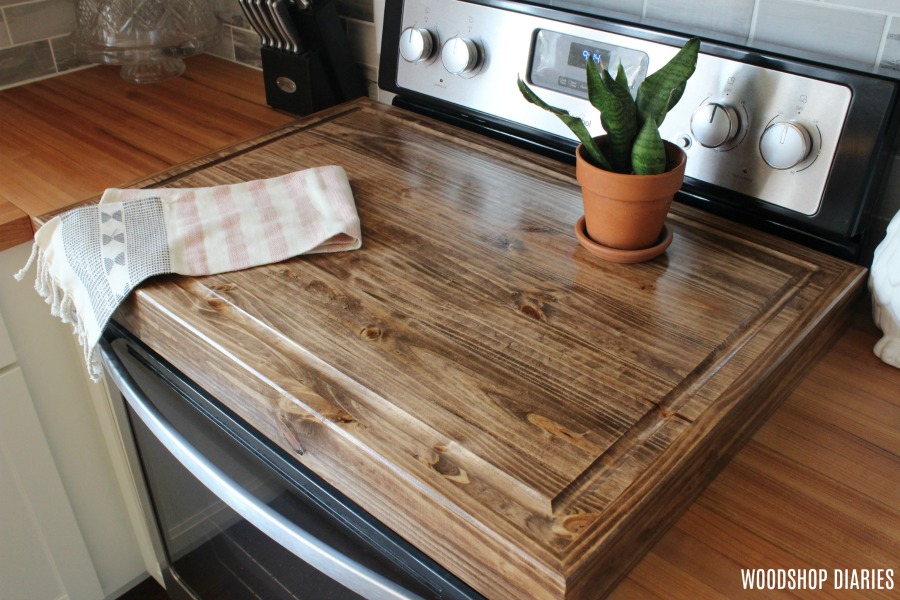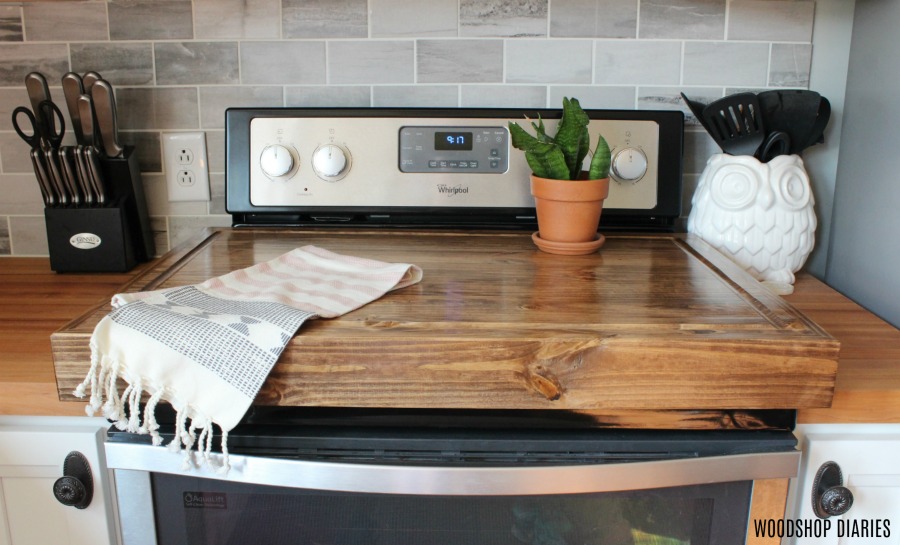 I hope you guys enjoyed this simple little project!  It's a great weekend project and a great handmade gift idea, too! Get out there and build one 🙂
Until next time, happy building 🙂