Hi friends!
I am loving this warmer weather – as you know, 72 is my favorite degree. After a long and unusually snowy winter, I was thrilled to get outside and start building again. And I have an exciting announcement: I've been invited to speak at the SNAP! Conference in Salt Lake City, Utah next month! The Snap Conference is a conference for bloggers, creatives, and entrepreneurs and it's a jam-packed 3 days of learning, creating, and celebrating. It'll be my first time going to Snap and I am super excited! Woohoo!

I'll be speaking on behalf of Simpson Strong-Tie, teaching conference-goers how to build this handsome DIY workbench!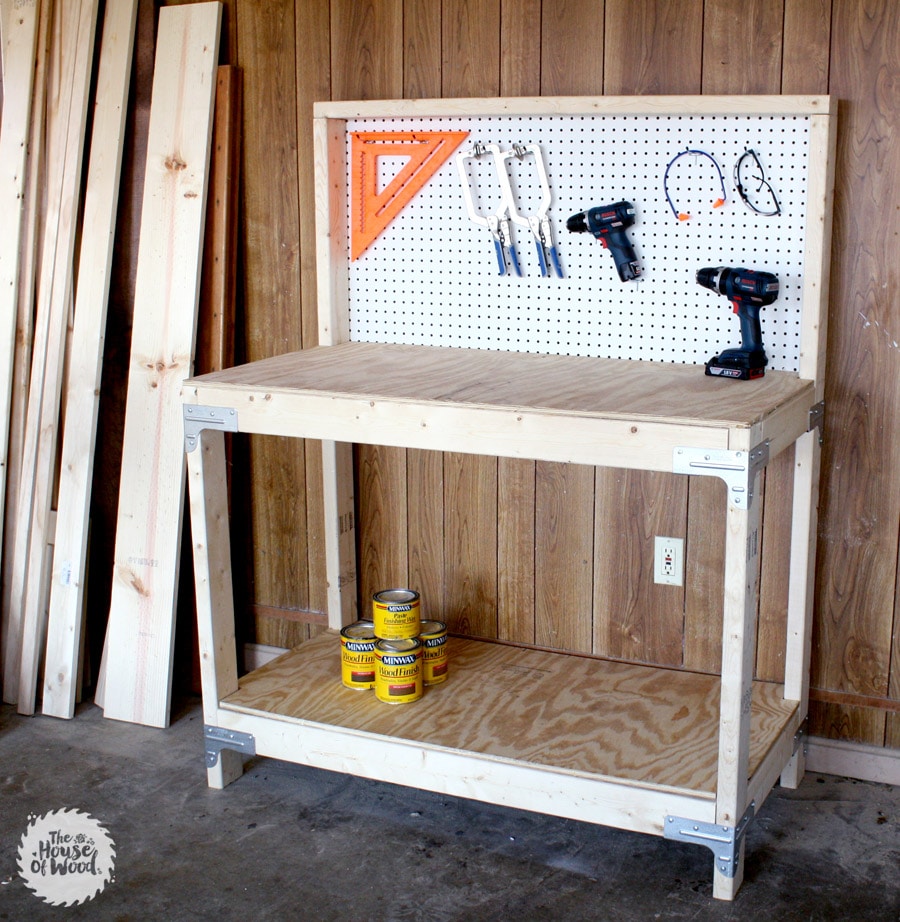 And guess what… this workbench comes in a DIY-ready kit, taking all the guesswork out of building! You just add lumber.
I know, right?! #genius
To prepare for teaching the class and to familiarize myself with their products, I asked the kind folks at Simpson Strong-Tie to send me a workbench kit so that I could do a dry run of it. I'm sure I'll be plenty nervous as it is and I pretty much failed my improv classes in college (I went to art school), so I like to be prepared. You could say I'm an over-achiever in the preparation department.
Are you a creative blogger? Will you be attending the Snap Conference? If you're there, please be sure to stop by and say hi! I'll be the girl wandering around with a deer-in-the-headlights expression on her face, sawdust in her ears, paint in her hair, and wood filler under her nails. Most likely.
Alright, so here are the players: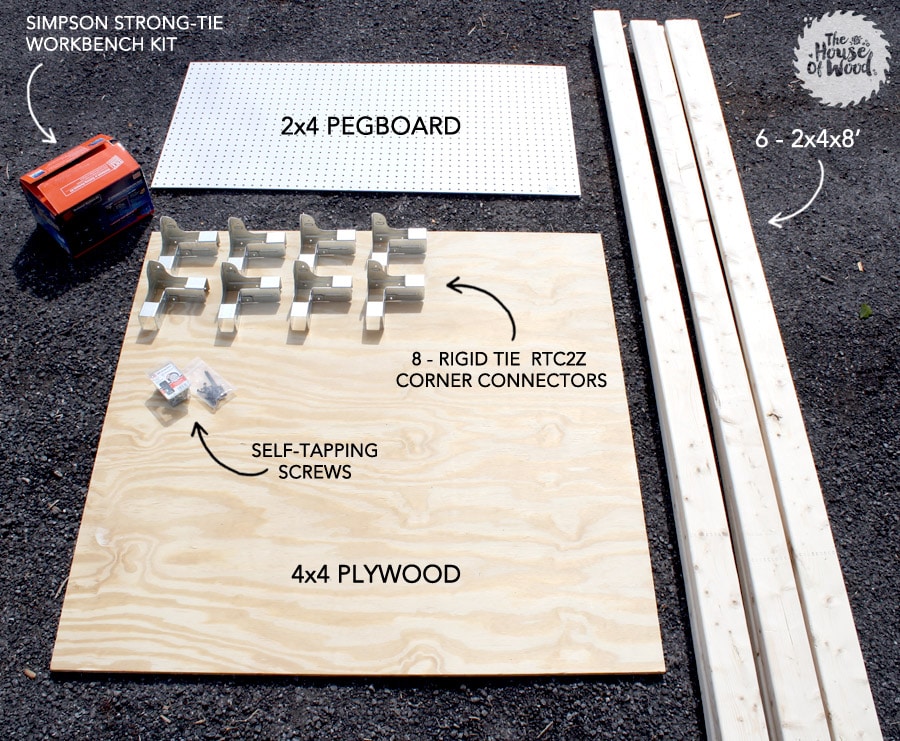 When I received the kit, I tore open the box to find 8 of those corner connectors and a box of self-tapping screws. I went to Home Depot and bought the plywood, pegboard, and 2×4 studs.
I cut the 4×4 plywood panel in half, and cut the studs according to the plans (included in the kit).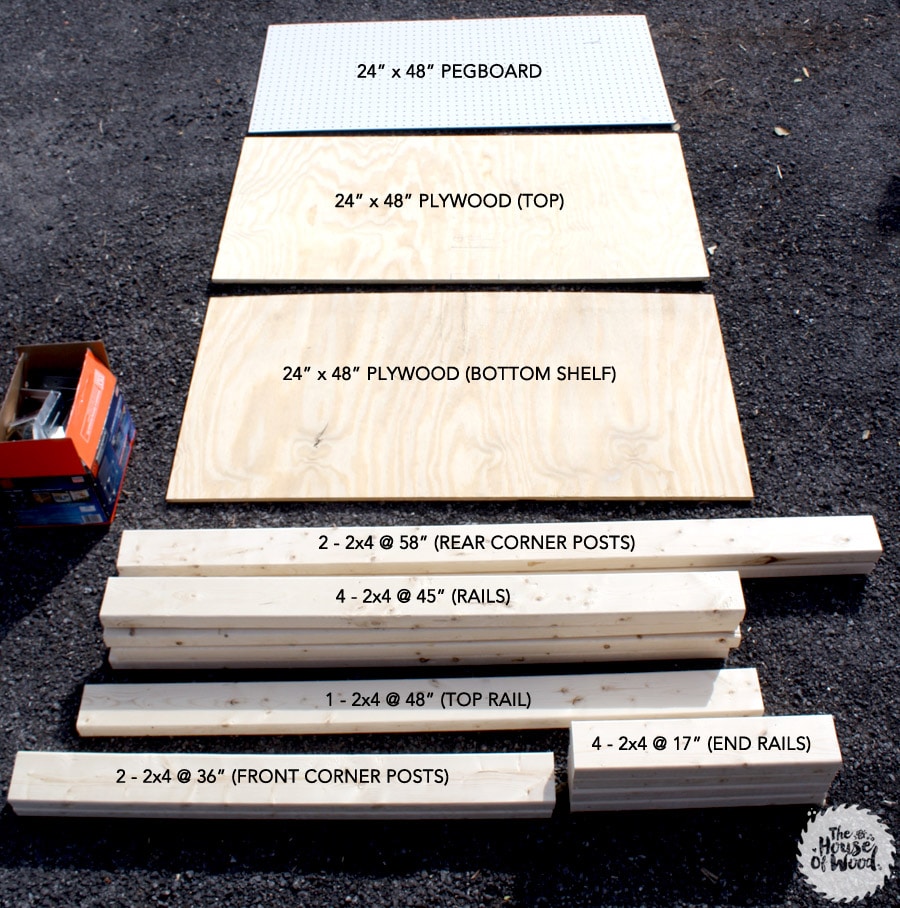 It's always more fun building with a friend. Or in my case, my little mini-me. She's a lefty, just like her mama. Rapunzel and Barbie were no help at all. Worthless.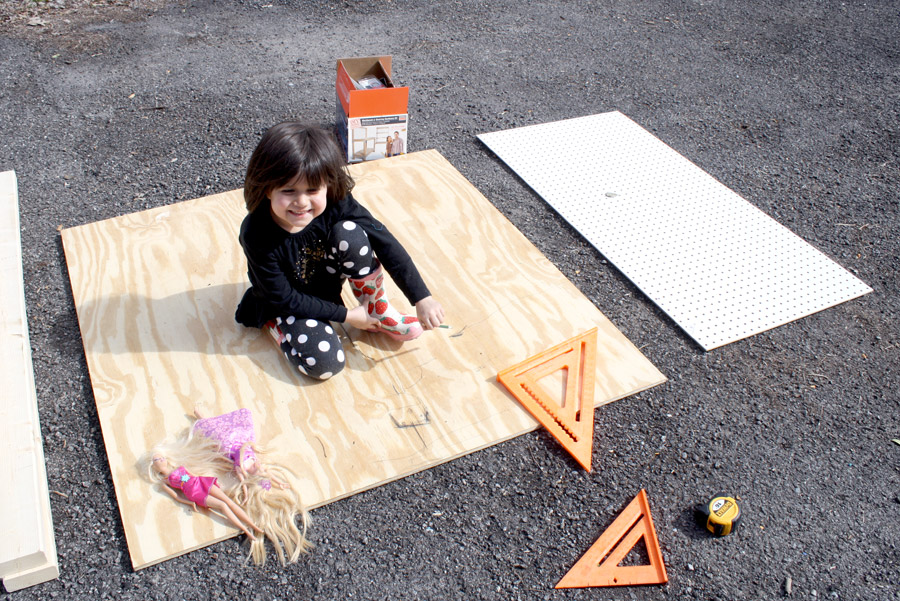 According to the directions, you just slide the connectors onto your lumber and screw the self-tapping screws in. I love these screws – no pre-drilling required! At first, I just thought my drilling skills were improving, but no. It was the self-tapping screws. Ho hum. Story of my life.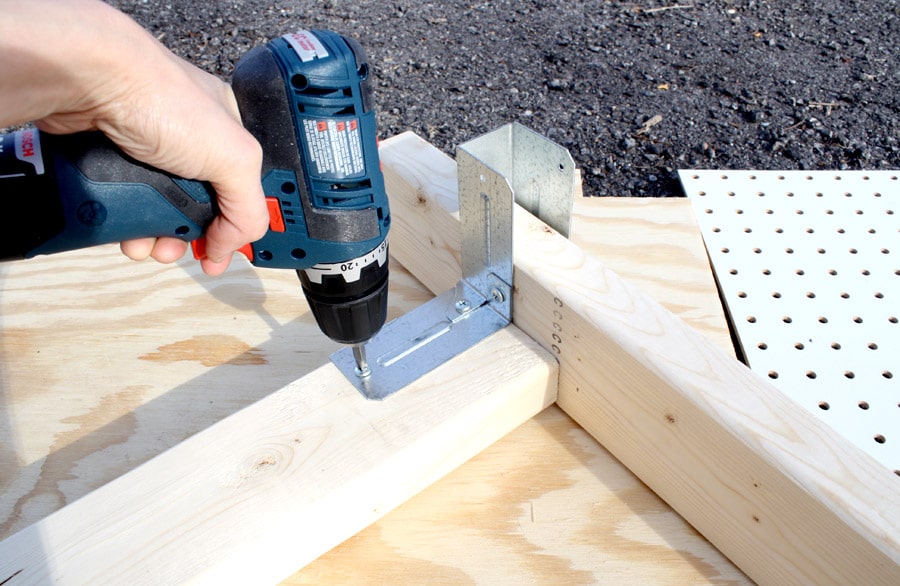 The beauty of this kit is that it's fully customizable. I stuck to the plan because I don't want any surprises when it comes time to teach the class, but you could totally modify the dimensions to fit your needs. I love that!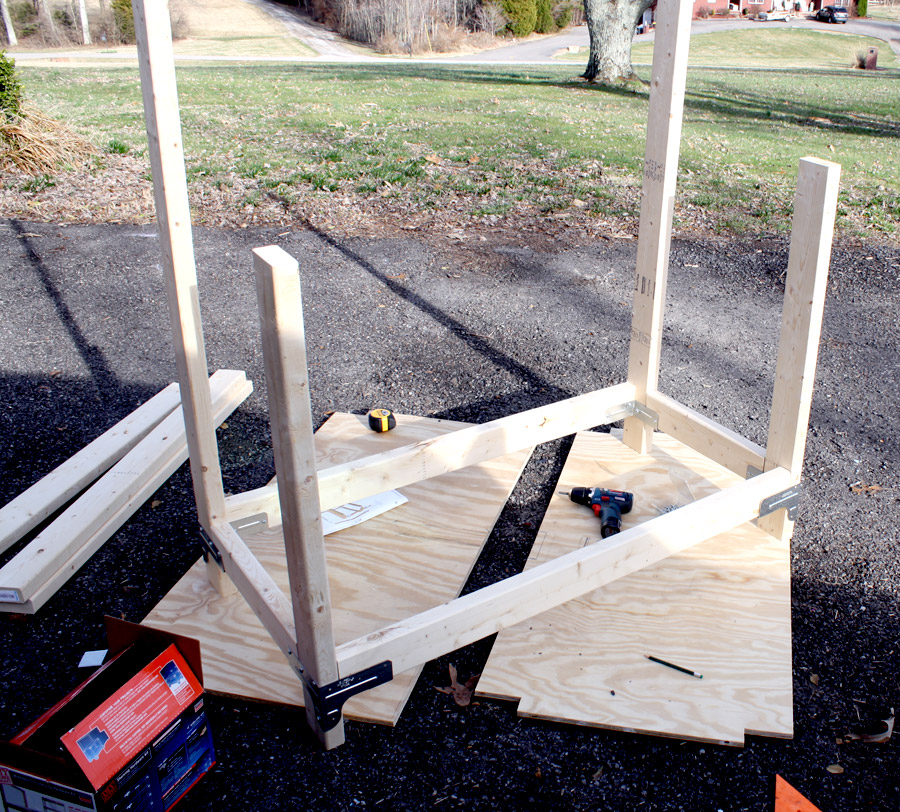 After notching out the corners of the plywood with my jigsaw, I just dropped the panels in place:
Seriously. How beautiful is this weather?! Gahhhh… so beautiful.
I screwed the pegboard onto the back and started organizing (my favorite part):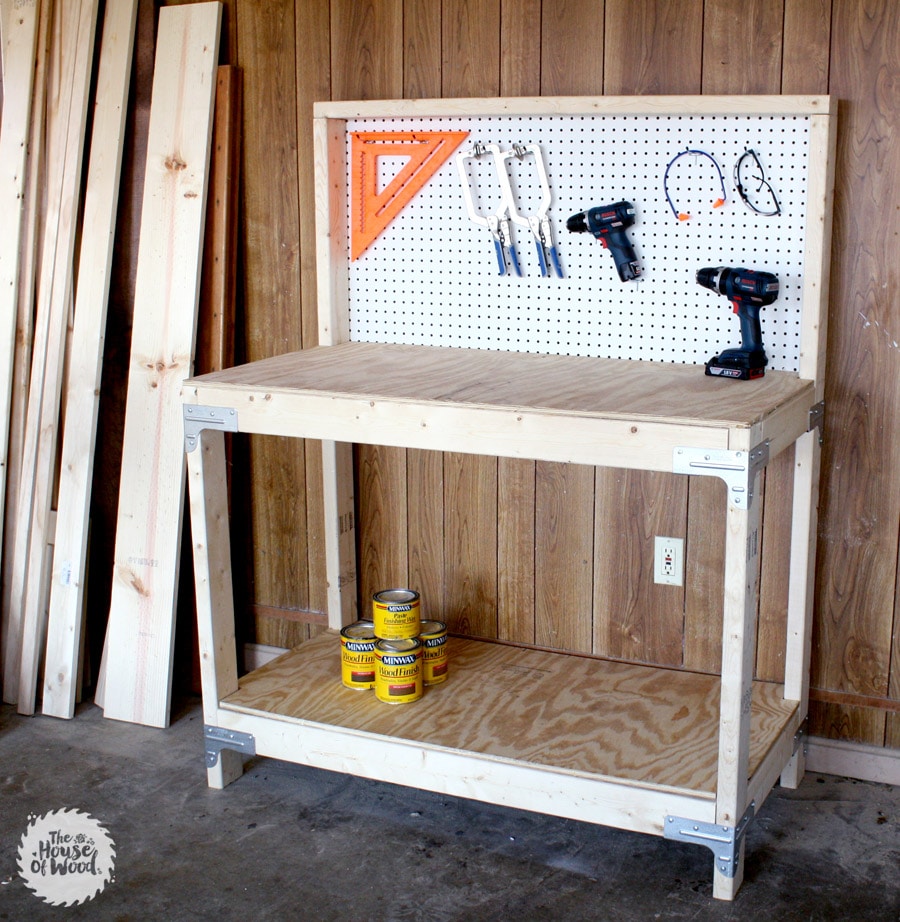 I built this workbench in just a few hours. Those connectors really take the guesswork out of building. I love how sturdy it is! I didn't use glue so when we move (which we will be doing in a few months), I can just disassemble it and use it again in our new home. #ftw
Holy cannoli, my knees are already singing Simpson Strong-Tie's praises. I finally  have a workbench so I no longer have to build on the garage floor. Hallelu!
Pin it for later!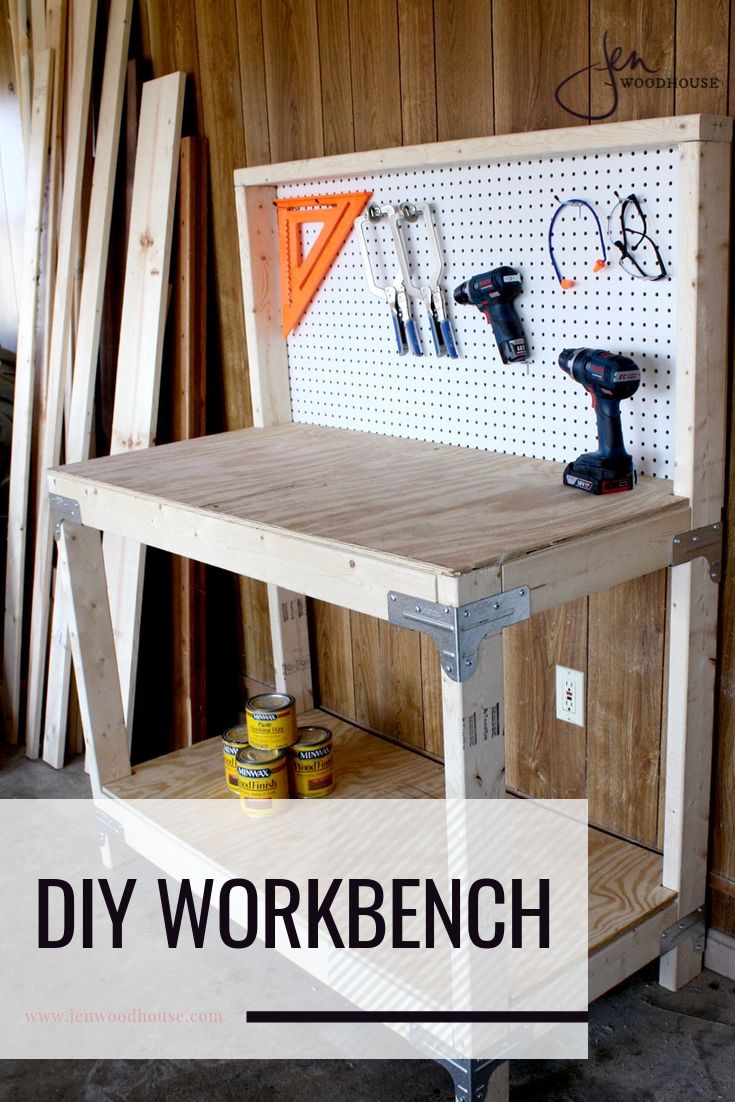 Can't wait to demo this workbench for Snap attendees – see y'all in Salt Lake City next month! Who's going? *Fist bump!