A plain guest bedroom gets a stunning makeover featuring custom picture frame molding.
*This project is sponsored by The Home Depot.
Now that our guest bathroom renovation is done, we're turning our attention to refreshing our guest bedroom! Because the bathroom renovation was so intense (we're talking 'many, many weeks and 8 blog posts' intense!), we're giving ourselves a bit of a break this time around. The room is literally a blank canvas that isn't in need of a ton of improvements – just a few minor changes that will make the room more functional and beautiful. Here's what it looks like currently: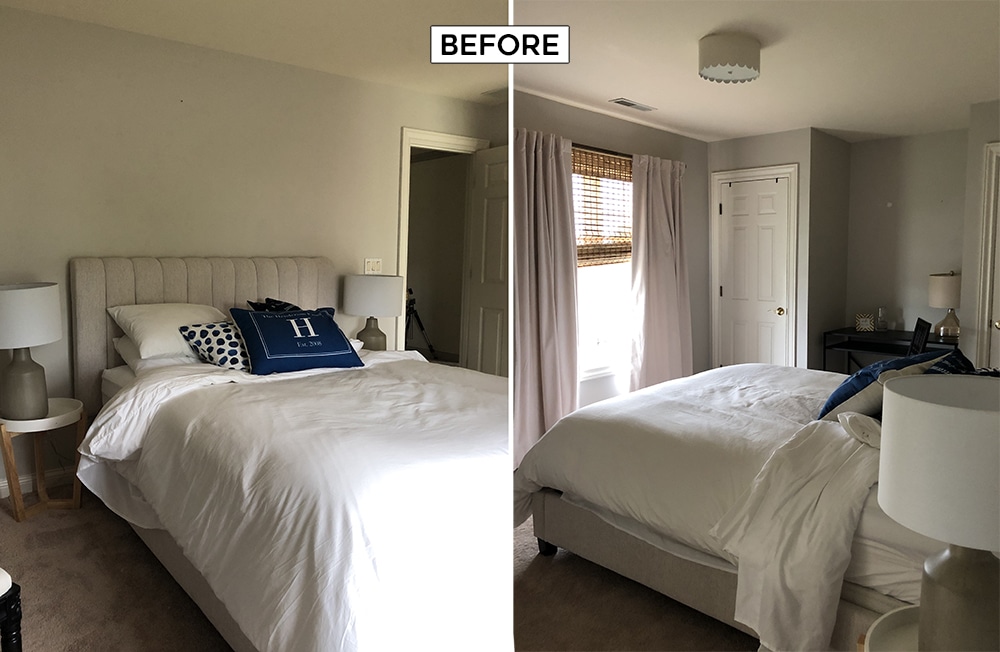 It's a great space with a beautiful ensuite bathroom, so I'm excited to give this room a nice little facelift to go with the new bathroom. We're expecting company later this week, so my mission is to get the room back to functional before our guests arrive. That being said, I suspect the crown molding installation and closet makeover will be pushed to the bottom of our priority list; the room will still be functional and beautiful without those things. We still want to tackle those projects though, so stay tuned for that!
Guest Bedroom Makeover To Do List:
Install picture frame molding on the walls
Replace the flush-mount light fixture with a ceiling fan light
Add nightstands, bedside lighting, and a rug
Add a desk/vanity area with a mirror
Replace the wire shelving in the closet with custom wood shelves
Install crown molding
I'm thrilled to be partnering with The Home Depot for this room makeover. Once again, the Home Depot mobile app will be my lifeline just as it was during our guest bathroom renovation. Here's what I'm thinking for the guest bedroom (product sources are at the end of this post):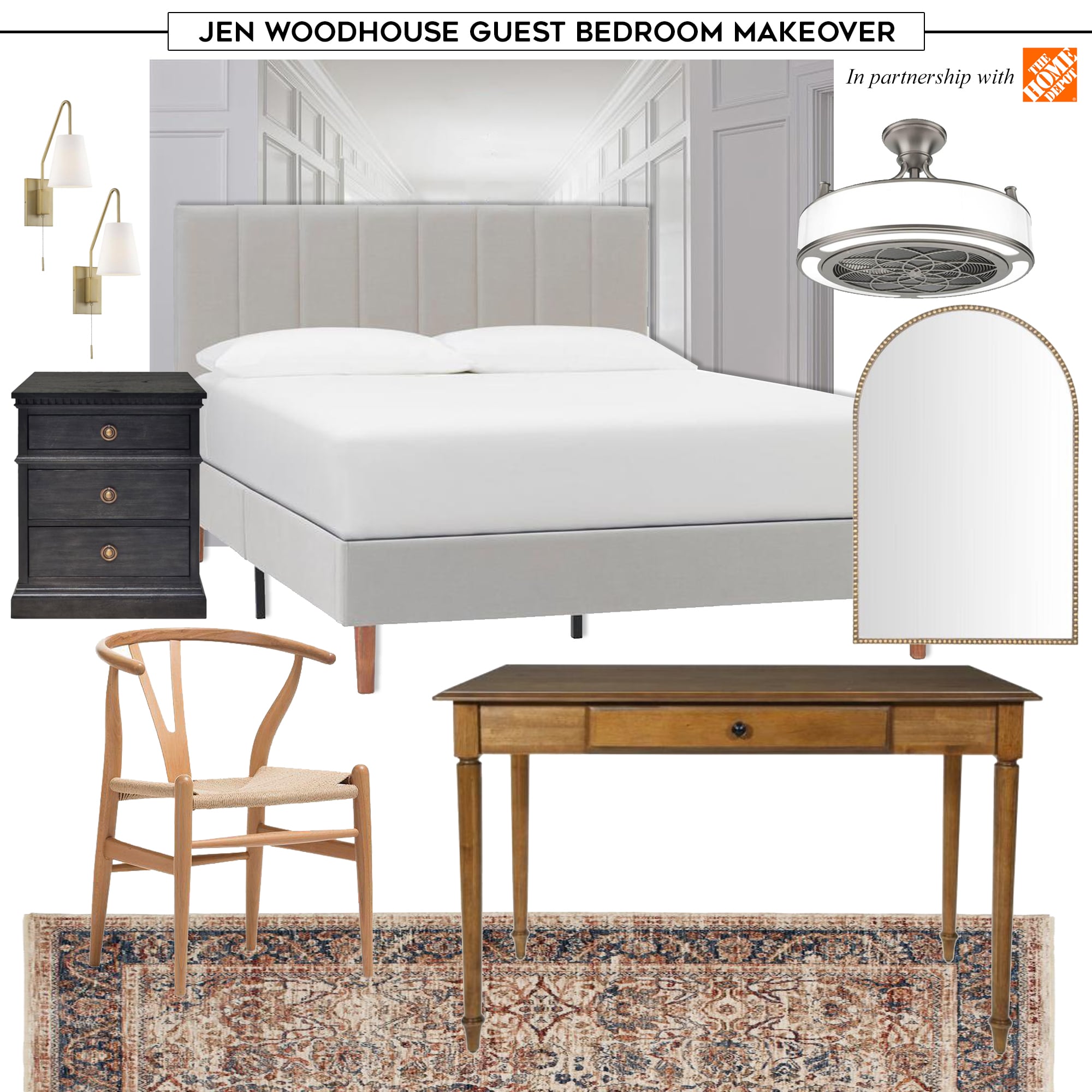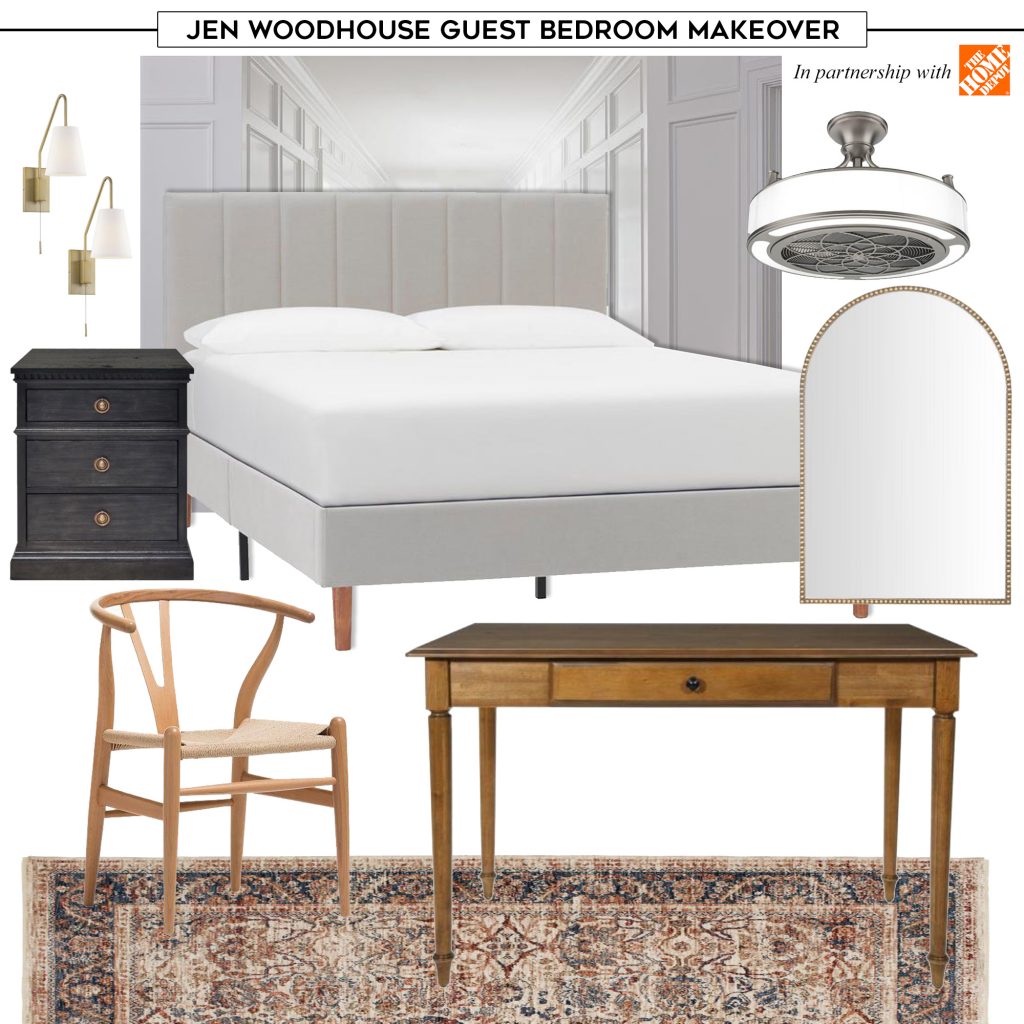 We're keeping the existing queen bed (I've linked a similar one below) but refreshing most everything else in the room: nightstands, lighting, rug, etc. The "bedside tables" we have currently have in the room are actually plant stands that I stuck in there when we first moved in. #embarrassing I'll be happy to replace them with these beautiful nightstands. I've been crushing on black furniture lately and the storage and details on this one are really lovely. I'll pair them with these warm brass sconces. I don't want to add any electrical work to the list, so I intentionally sourced plug-in sconces! I love the shape of these and the pull chain is just darling.
This room has a giant south-facing window in it, so while it gets a ton of gorgeous natural light, it also feels a few degrees warmer than the rest of the house. A ceiling fan will be a great addition to the room.
I wanted to add some architectural detail to the walls and opted for some picture frame molding. I think it'll be a fairly easy DIY project that will give us a ton of bang for our buck – both in cost and effort.
If you notice in the 'before' photo above, you'll see an alcove between the two closet doors. We could pretty much put anything in this space: a bench, armoire, desk, shelves… the possibilities are endless. I polled my Instagram audience on what makes a guest room more accommodating and got a lot of great feedback. We ultimately decided on a desk/vanity area, that way guests can either work or get ready here. Not only do they have an additional surface to place their things (laptop, purse, etc.), but by hanging a mirror above the desk, guests can use this area as a vanity if the bathroom is occupied.
We're excited to get started on this guest bedroom makeover – hopefully we'll get most of it done before our guests arrive later this week! Stay tuned and follow along on Instagram and Facebook to see our progress!
Product Sources: