*This post is sponsored by The Home Depot.
Last week, we were thrilled to be a part of The Home Depot Foundation's Celebration of Service kickoff event. Celebration of Service is a two-month long campaign where thousands of Team Depot volunteers honor and celebrate our military servicemen and women in a variety of projects and initiatives across the country. Now in its seventh year, the Celebration of Service kickoff event was held at Camp Southern Ground, a camp founded by GRAMMY-Award winning, multi-platinum artist, Zac Brown of Zac Brown Band. Camp Southern Ground's mission is to provide extraordinary experiences for special needs children, as well as children from military and veteran families. The camp aims to recognize and magnify these children's unique gifts in order to profoundly impact the world. The Home Depot Foundation couldn't have chosen a more perfect location for their kickoff event.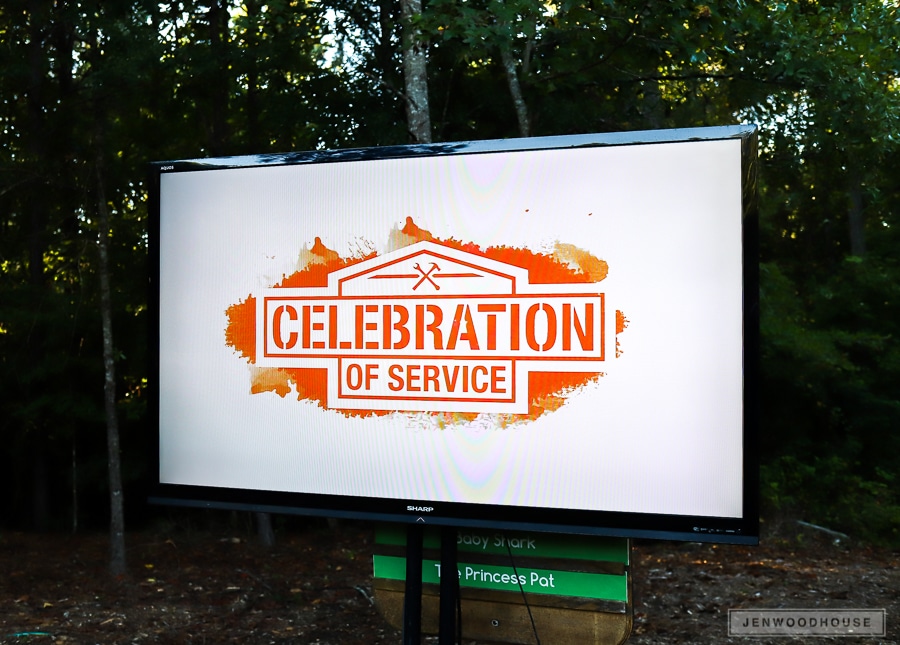 It was an incredible honor to work with The Home Depot Foundation and Team Depot. Since 2011, The Home Depot Foundation has awarded $213M+ to veteran non-profit partners and enhanced and improved over 44,000 veteran homes and facilities, positively impacting 3,700+ U.S. cities. They've also pledged $2M to hurricane recovery efforts and are among the first on the scene, repairing the damage and rebuilding communities affected by natural disasters.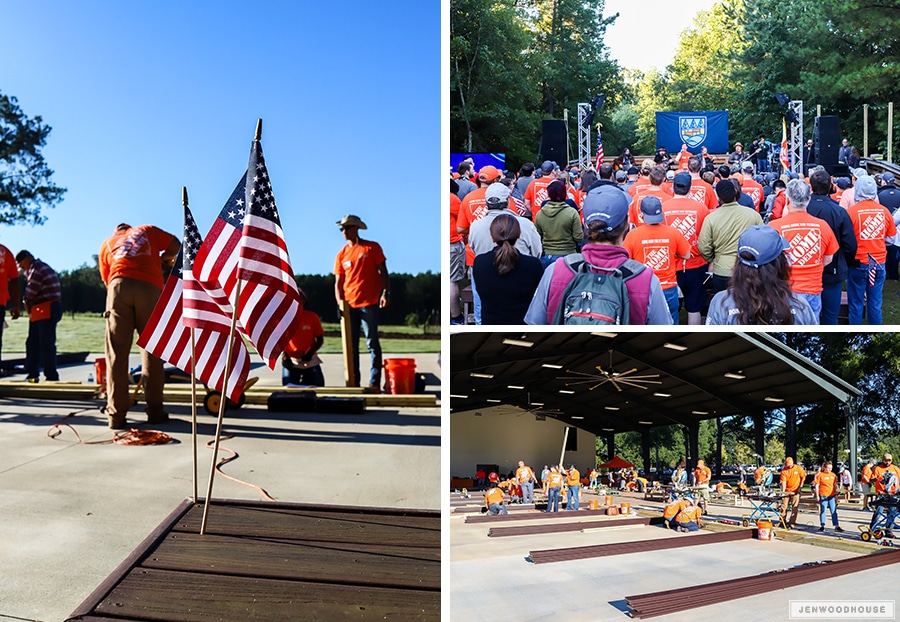 When we arrived at the camp, we were greeted by a sea of orange Home Depot shirts. What an amazing sight to see hundreds of people gathered together to give back to this community! Then, we were treated to a private mini-concert performed by the Zac Brown Band.
Mr. Giles Bowman, The Home Depot Foundation Chairman of the Board and Mr. Lucas, a Korean war veteran presented Zac with a challenge coin. Challenge coins, or "Commander's Coins" are awarded for excellence and are a part of military tradition. Zac also got his very own custom-painted Home Depot apron!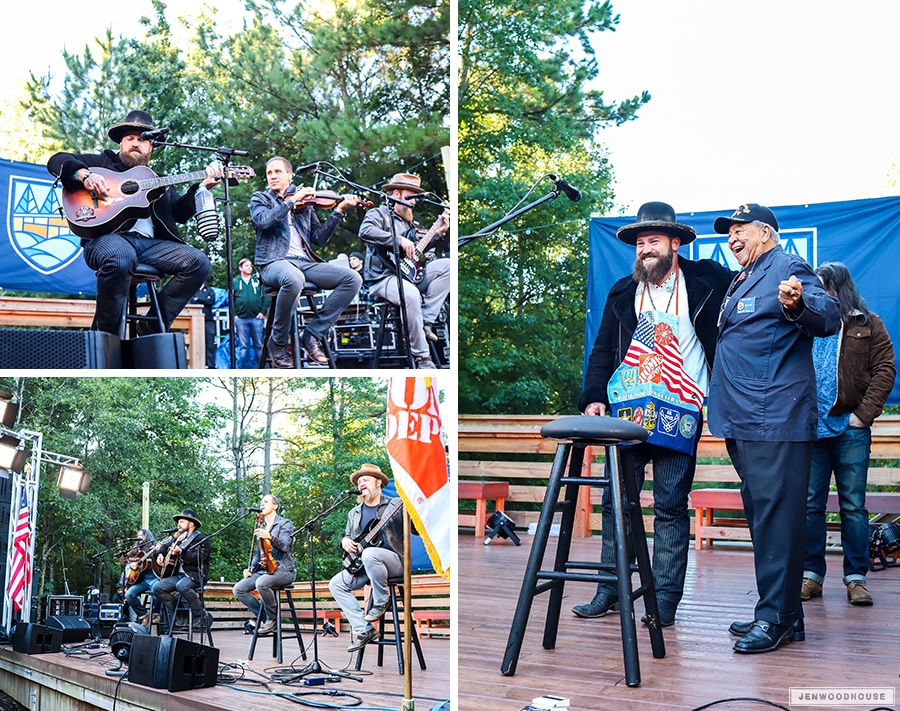 Many years ago, when I was performing music full time, I played a few gigs with Zac Brown in Atlanta and Columbus, Georgia. This was before he became the southern rock sensation he is today. It was pretty awesome to see how my three worlds – music, military, and DIY – collided in the most unexpected and fantastic way.
The band performed "America the Beautiful" (one of our favorite patriotic songs!) and their number-one hit, "Chicken Fried." My favorite verse was actually not written in the original version of the song. It was only after 9/11 that Zac added the third verse:
I thank God for my life
For the Stars and Stripes
May freedom forever fly
Let it ring
Salute the ones who died
The ones that give their lives
So we don't have to sacrifice all the things we love"
I love how passionate Zac is about our military. It made our involvement in this event even more special.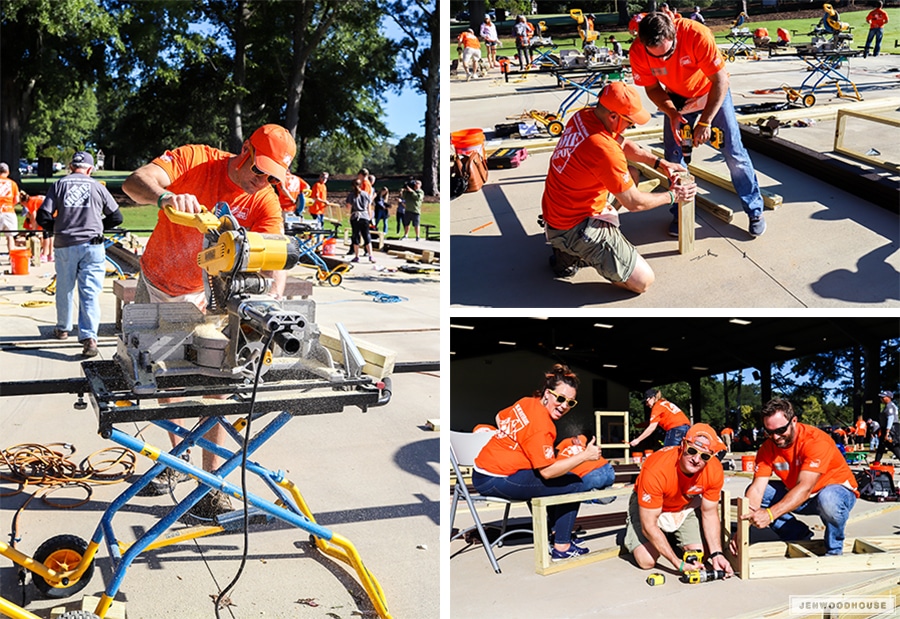 My grandfather was in the Navy, my dad retired from the Air Force, and my brother is a few months away from USAF retirement. Military life is the only life I've ever known and I wouldn't trade it for the world. Even still, I never expected to marry right back into it.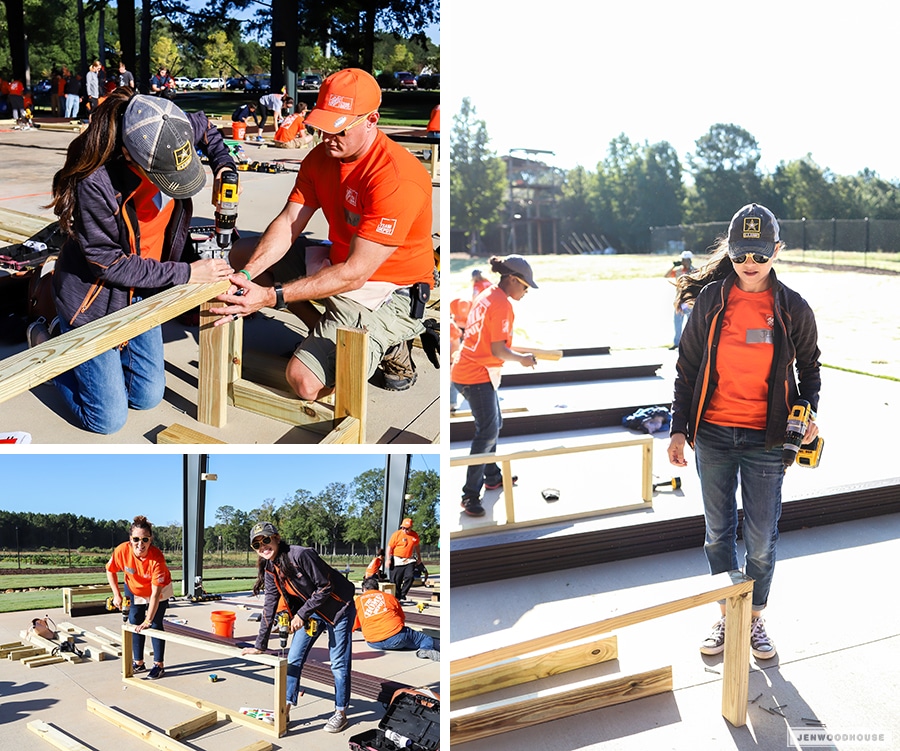 Now, as an Army wife, being involved in this event was so fitting. Adam was able to come along and be a part of it which was a huge blessing. He's been deployed a few times so we know that heartache and sacrifice all too well. Military life can be tough on our kiddos, so getting the opportunity to serve fellow military families meant a great deal to us.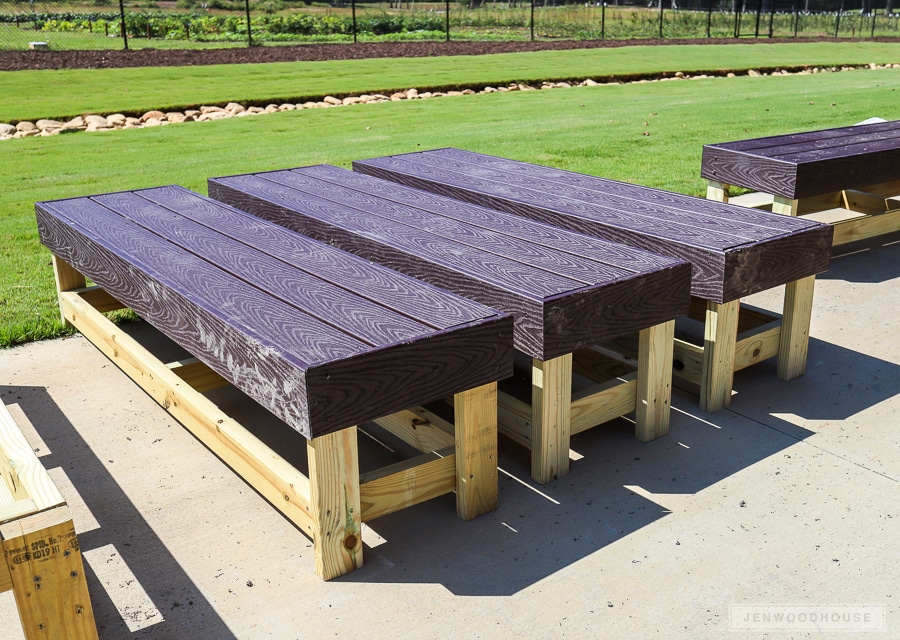 A team of about 200 people worked to improve the camp – we built benches, planters, archery targets, and did some landscaping and minor construction to the facility. But it wasn't all work and no play. We always have a ton of fun with the Bowers. I mean, just look at these guys. It's always a party.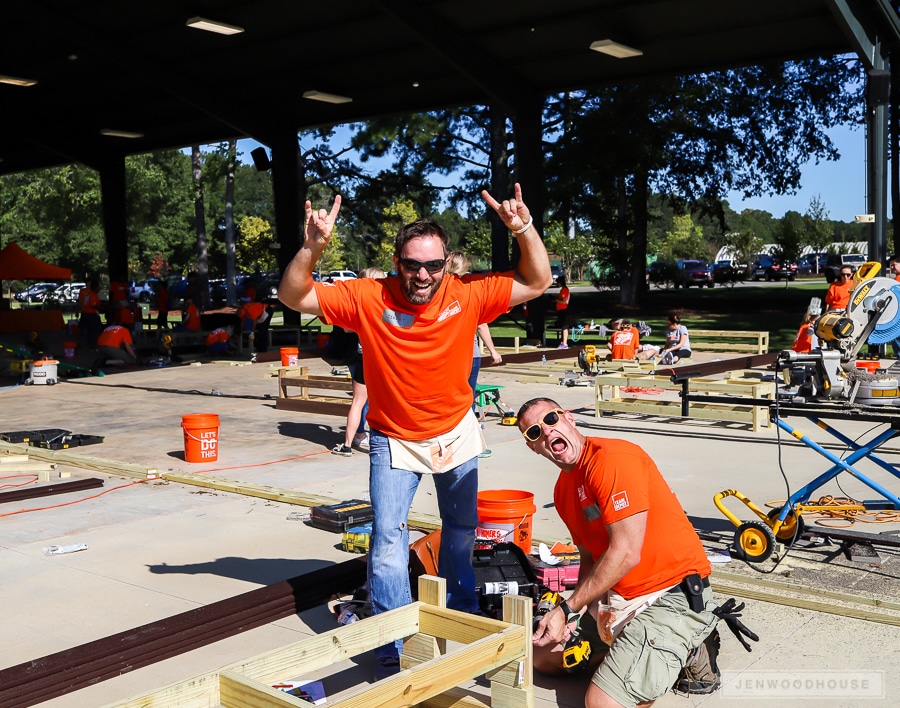 It's a rare blessing to be able to meet up with fellow blogger friends. It doesn't happen often, but when it does, we always have a blast building together. In addition to the Bowers, Jamison and Jamie from Rogue Engineer, and Brad from Fix This Build That were there. It truly was the best day ever.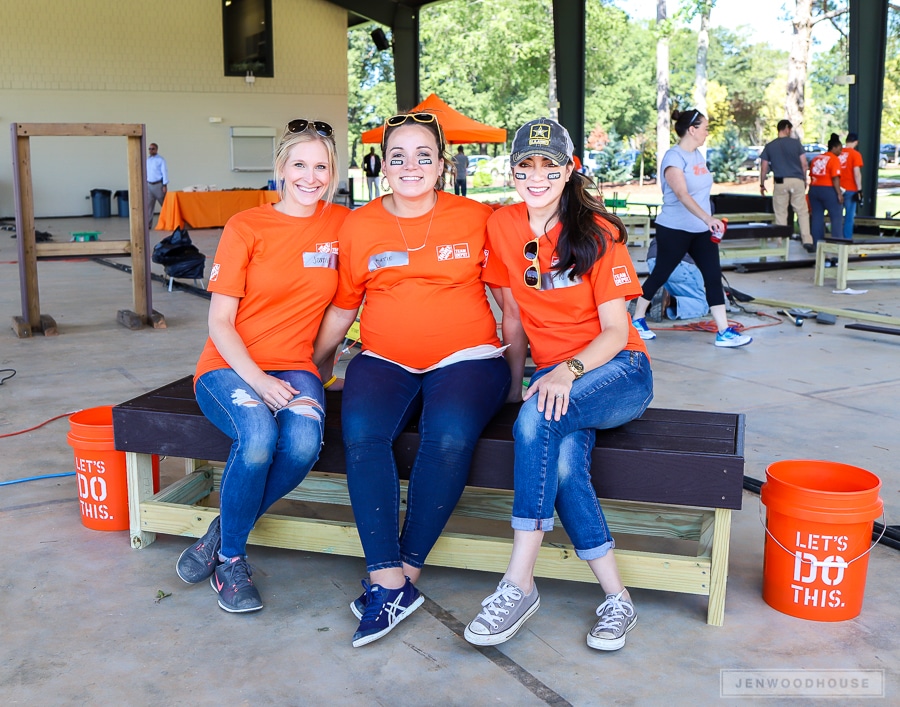 (From left to right: Jamie from Rogue Engineer, Katie from Bower Power, and me.)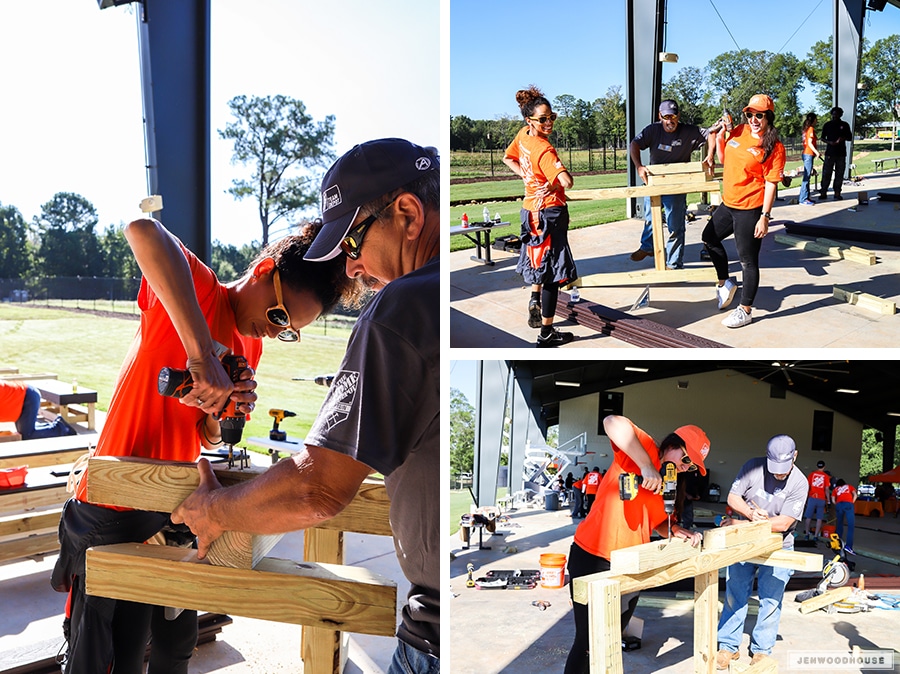 Even a couple of folks from The Home Depot social media marketing team got in on the action. Liana and Cody were rocking the power drill like a boss!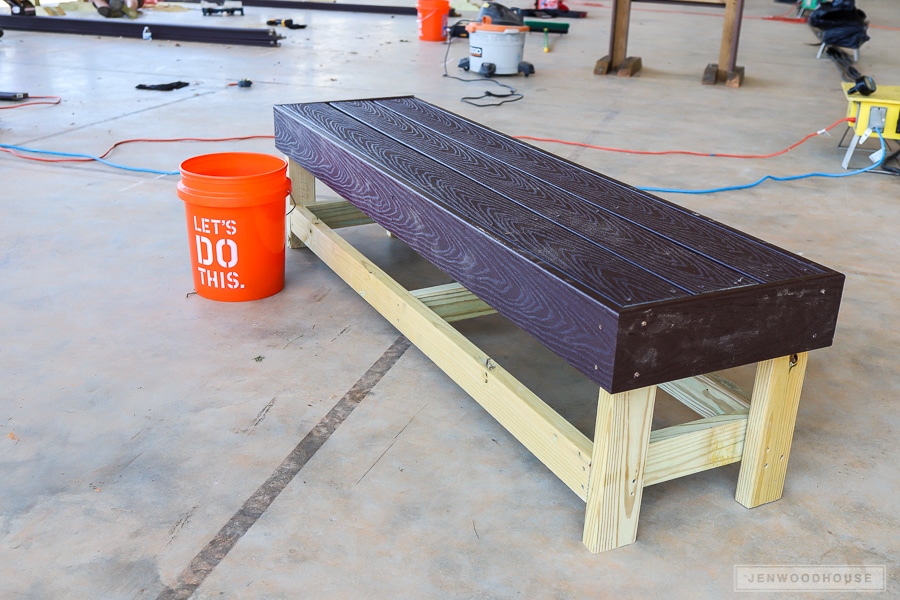 These benches turned out so well! It was the first time I've ever worked with Trex – what an interesting material! I've had a few people ask about plans for this bench so I drew them up for you!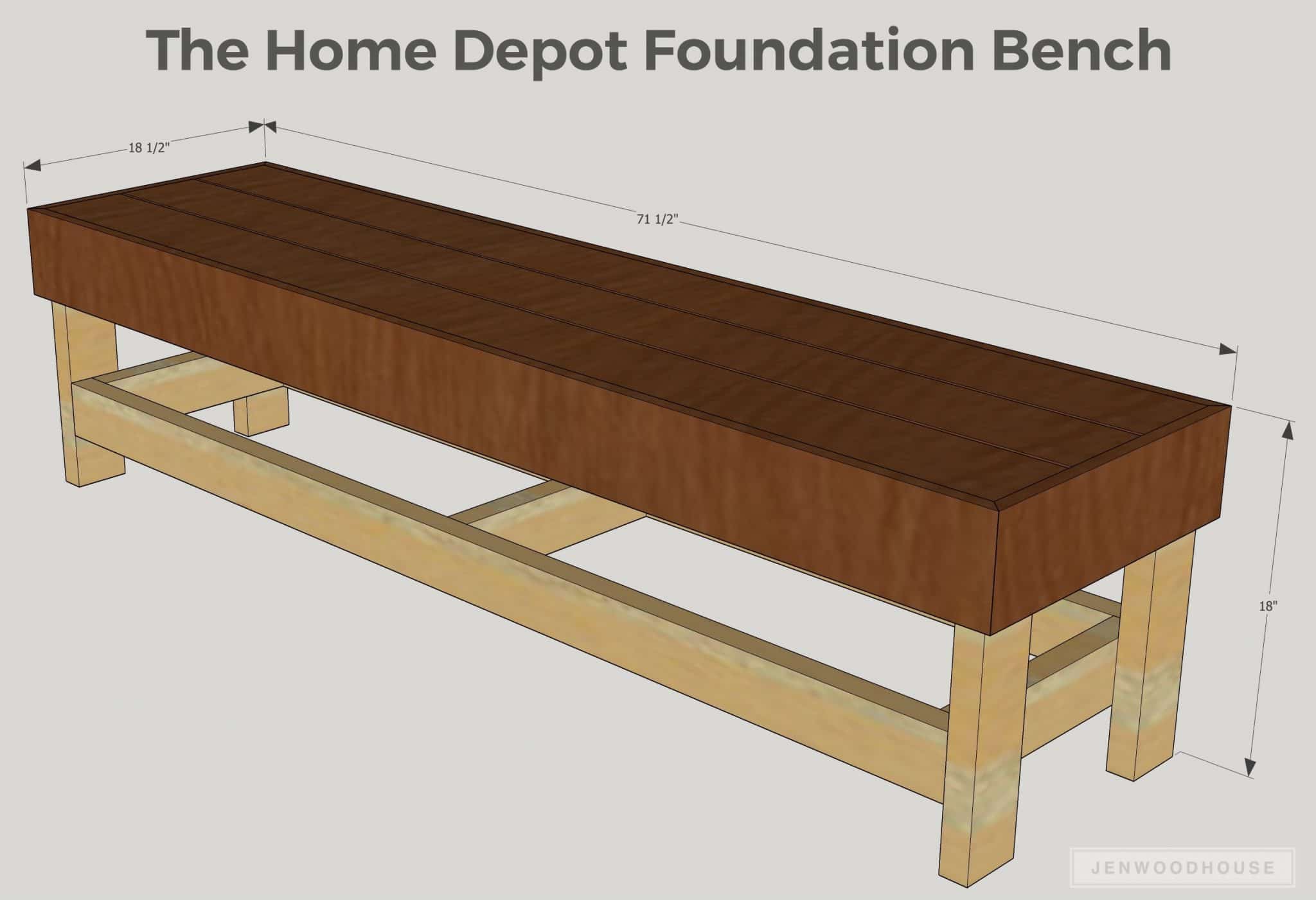 It was a very easy build that required minimal tools – only a drill and a saw, so this is the perfect beginner project if you want to get your feet wet in building your own furniture.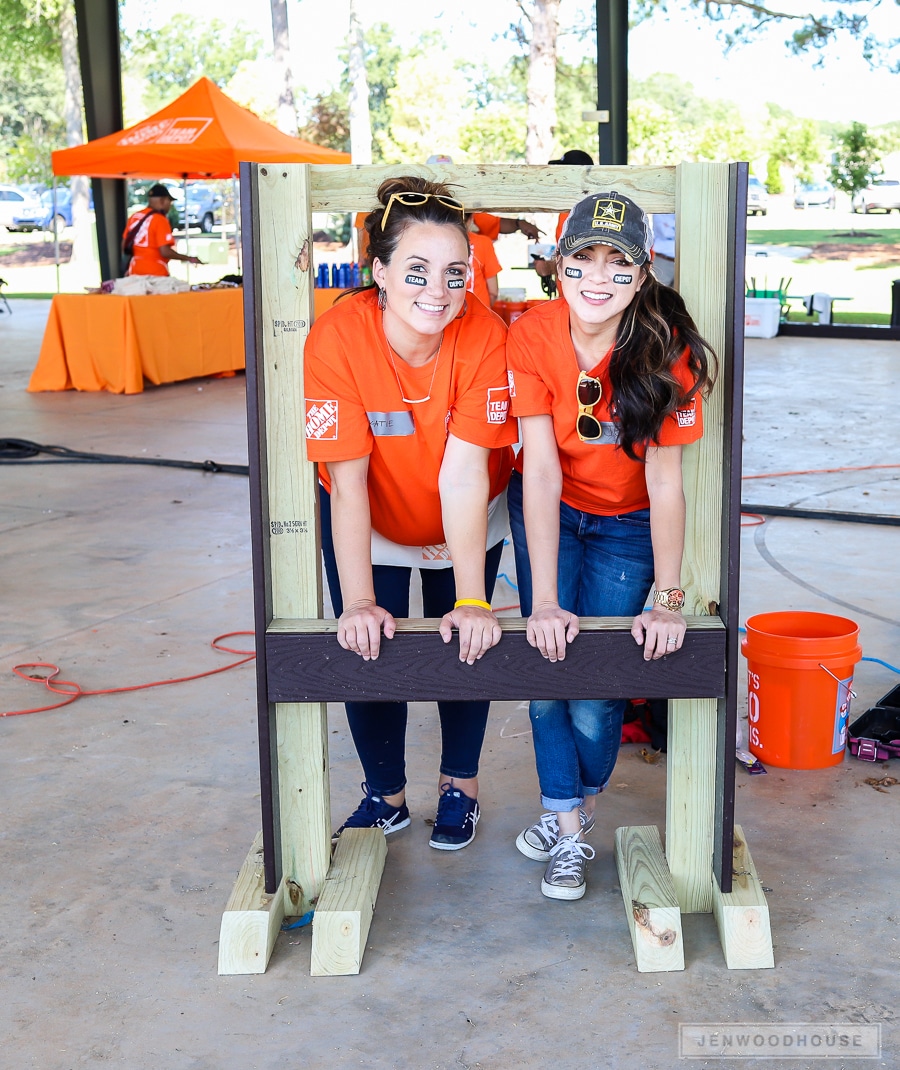 This lady right here has my heart… what a trooper! I know what it's like building when you're 9 months pregnant – only hardcore DIYers have that kind of dedication and Katie is a DIY powerhouse. Baby girl Bower is expected to make her appearance any day now! Thankfully, that day was not that day (of the event, I mean).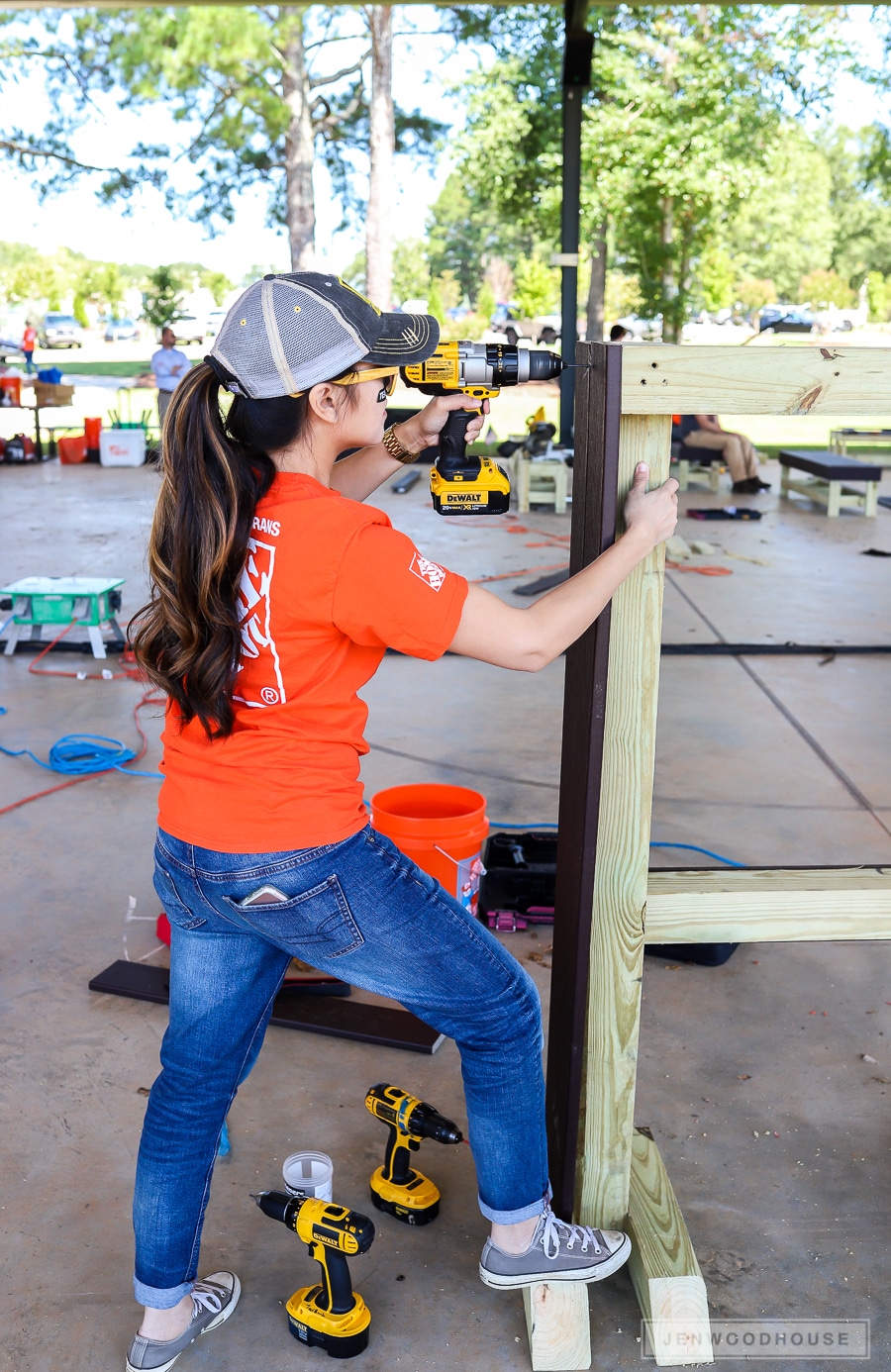 After the work was done, we all gathered in the dining hall to hear inspiring closing remarks from Johnny Joey Jones (aka Triple J), a retired Marine Corps Staff Sergeant who served in Afghanistan. While in Afghanistan, SSG Jones's job was to disable and dispose of bombs. He was stationed in the Helmand Province, the opium capital of the world, the financial base of the Taliban, and one of the deadliest provinces for U.S. troops. SSG Jones lost both of his legs in an IED explosion and he stepped onto the stage and opened with,
I had just one bad day."
He challenged us not to think of the glass as half empty or full, but to stop and think about if we're filling it up or taking from it. What an inspiring end to an incredible day. It was a blessing and an honor to be a part of such an amazing event, working alongside The Home Depot, a company that proudly supports our brave men and women in uniform. We all went home exhausted and happy, our hearts completely filled with gratitude.
Want to get involved? Here's how!
For the first time, The Home Depot Foundation is inviting Home Depot customers to participate in a variety of projects and initiatives across the country through their call-to-action: "Choose To Serve." They are encouraging community members to give back through a number of ways. Visit Celebration of Service to learn how to get involved.
#CHOOSETOSERVE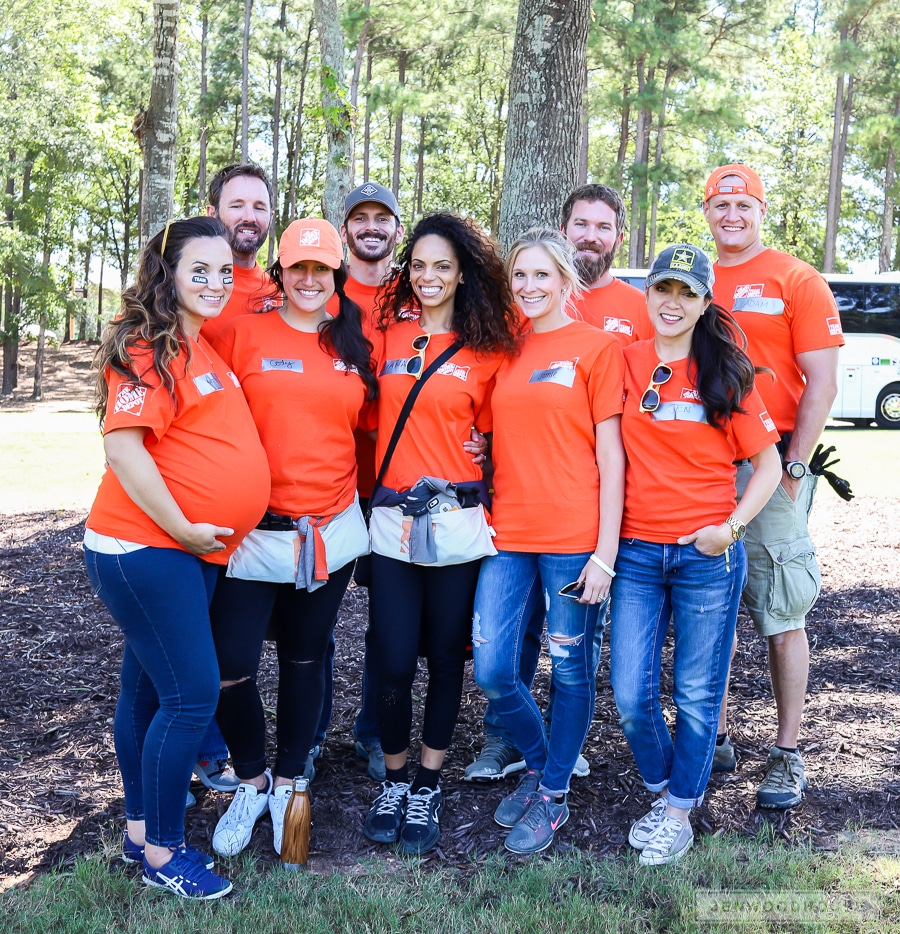 (From left to right: Katie and Jeremy, Cody, Brad, Liana, Jamie and Jamison, me and Adam.)
*I acknowledge that The Home Depot is partnering with me to participate in this Foundation Program (the "Program"). As a part of the Program, I am receiving compensation in the form of products and services, for the purpose of promoting The Home Depot. All expressed opinions and experiences are my own words. My post complies with the Word Of Mouth Marketing Association (WOMMA) Ethics Code and applicable Federal Trade Commission guidelines.