Oh. My. Goodness. YOU GUYS. Is it possible to fall completely in love with your hardwood flooring?! Because that's totally happening rightthissecond. Our new hardwood floors look SO GOOD!!! If you recall, we had three different types of flooring on the main floor of our home: dated honey oak hardwood, builder-beige carpet, and dark laminate (my least favorite thing in the world) that was installed over ceramic tile (okay, that's technically four different types of flooring). I'm not sure why there were so many different floor choices to begin with, but I'm a big fan of a cohesive, seamless look throughout. Replacing the mismatched floors was one of the things we wanted to do as soon as we moved into this house. I'm thrilled to partner with The Home Depot on this hardwood flooring project!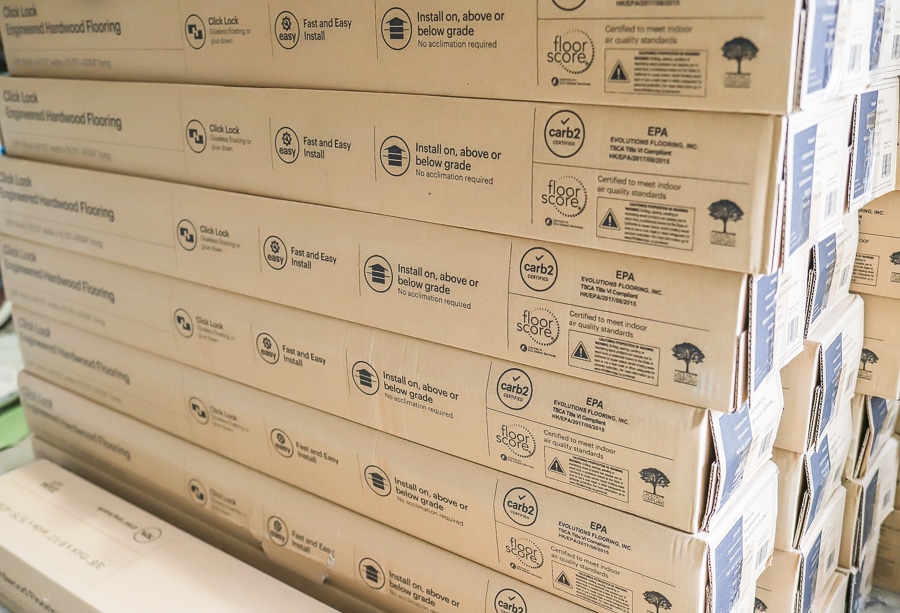 I researched a ton of different flooring options, from vinyl plank to tile. I talk more about why I chose engineered hardwood in this post. While all wood floors expand and contract due to changes in temperature and humidity, engineered hardwood is more stable than solid wood floors because of the way it's constructed. Engineered hardwood is made up of layers of real hardwood and high-quality plywood, each layer positioned in opposite directions. This makes for a more stable product, so the wood will less likely warp and bow in moist or humid conditions. This is especially important in rooms where moisture might be an issue, like a kitchen, bathroom, or laundry room.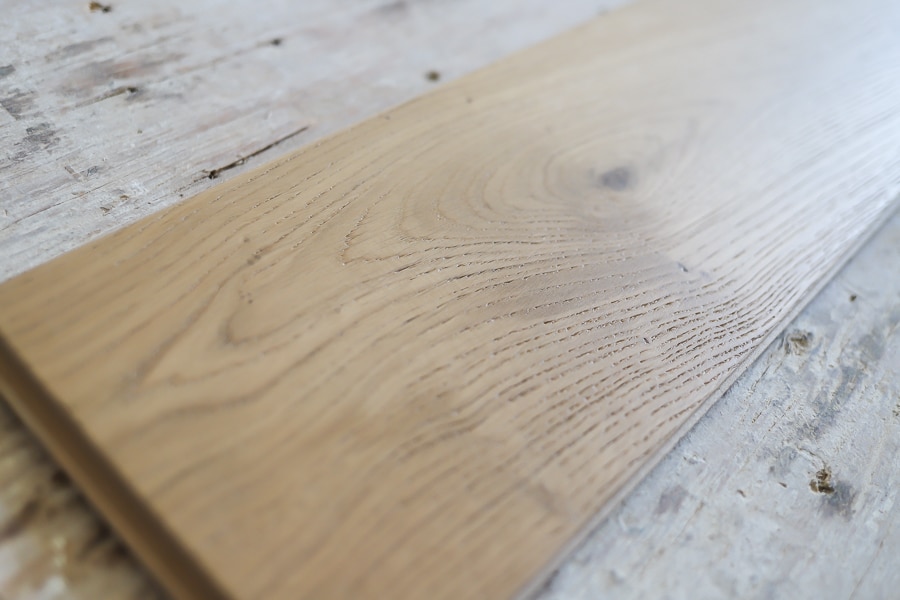 While all that's well and good, let's be honest. The main reason why I chose this flooring is because it looks INCREDIBLE. When we lived in Texas, we rented a house with dark wood floors and it showed every dust particle and dog hair, it was next to impossible to keep clean. I vowed never to have dark floors again, so when I laid eyes on this wide plank French oak hardwood flooring by Malibu Wide Plank, I was smitten. It is absolutely GORGEOUS!!! I love the light (but not too light) wood tone, the wide 6 1/2-inch planks, the depth of the smoked, wire-scraped oak grain, and the matte finish.
Also, this flooring can be installed as a floating floor (not nailed or glued) or it can be glued down. We chose to float the floor just for ease of installation (and because I'm a bit of a commitment-phobe). It can be installed on, above, or below grade and no acclimation is required. I love that it comes in various lengths, with 70% of the planks being 48 inches long.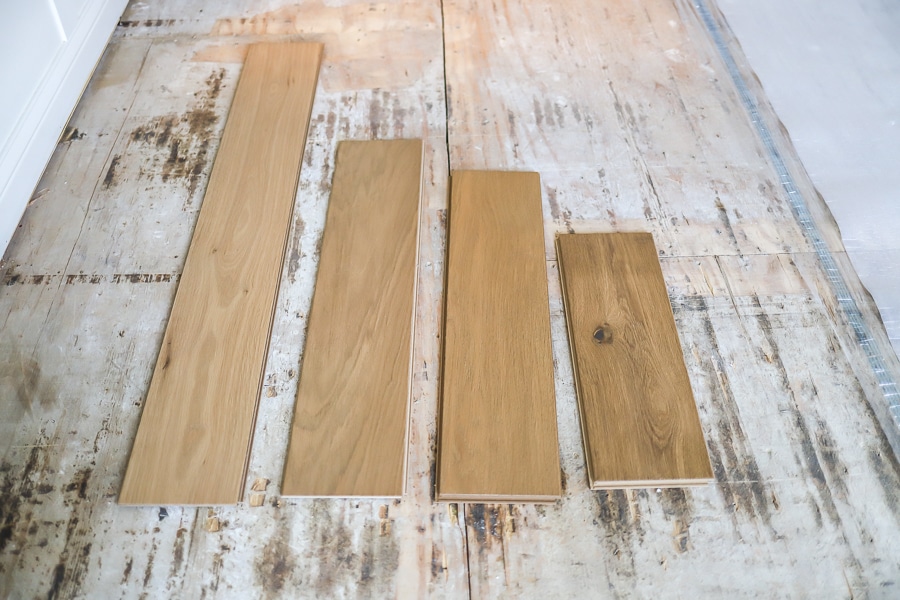 But wait…
It gets better.
This flooring comes with click lock construction, so installation is a breeze. Each piece fits together like a puzzle; you shouldn't have to wrestle with the floorboards to get them to lay flat and lock into place. Once you lay the tongue in the groove, it should click, lock, and fit like a glove.
"Like a glove!" That's what my husband said after each plank was laid down, Ace Ventura style. Oh, did I mention we had 1600+ square feet to cover?
Yeah. That didn't get old AT ALL. #sarcasm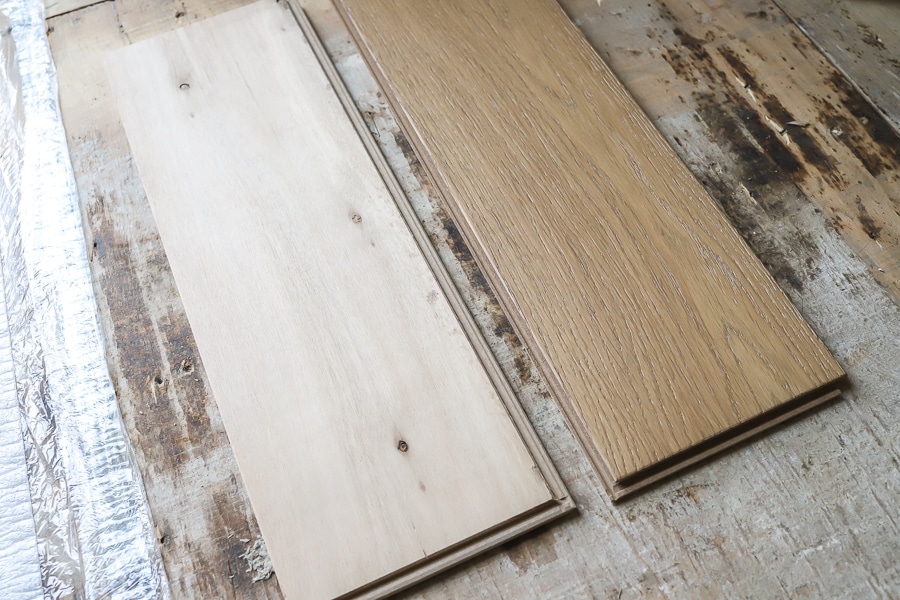 The most challenging part of this project was the fact that we were laying hardwoods across such a large space. Because the dining room opens up to the foyer, which opens up to my office, which leads into the living room, we needed to be sure that the floorboards would be straight going from room to room. And we didn't want to use any transition boards if we could help it; we wanted a beautiful, seamless floor throughout.
This is the first time we've ever laid hardwood floors, so I called on my good friend and custom home builder, Josh Brantingham to help us get started. Josh has built and renovated several homes and he was a huge help! The first thing we did was find the longest exterior wall to start on. An exterior wall is more likely to be straighter than interior walls, so that's what we wanted to reference. We measured and snapped a chalk line from one end of the house to the other. As long as the floorboards stay parallel to this chalk line, we know the floors will be straight.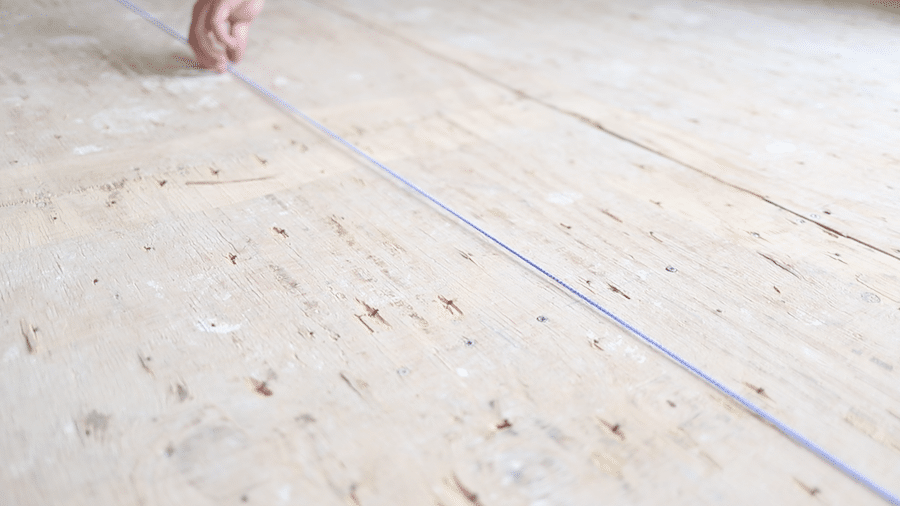 Once we had our chalk line, we rolled out the underlayment over the plywood subfloor. We chose this 2mm underlayment because it was cost-effective, yet provided a good moisture barrier and some sound dampening. It was an upgrade from the tar paper the contractors stapled down under the original floors.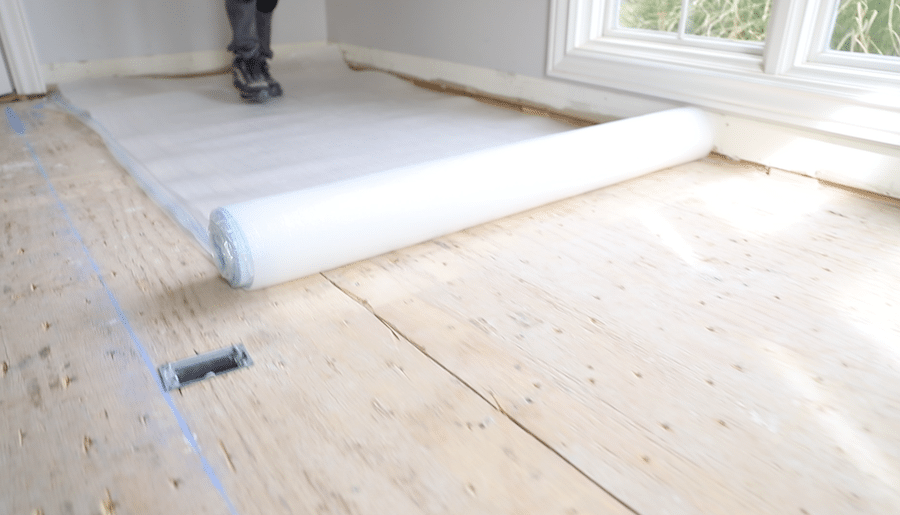 We laid the first few rows from left to right, top to bottom, checking to make sure we were staying parallel to the chalk line. As more rows are laid, the more secure the floor becomes. You also want to leave a slight gap between the floorboards and the wall, to allow for any wood movement. The baseboards will bridge this gap. This flooring installation kit comes with a pull bar, tapping block, and spacers. The spacers keep the planks the same distance off of the wall, while the pull bar and tapping block are helpful in tapping the joints tightly into place.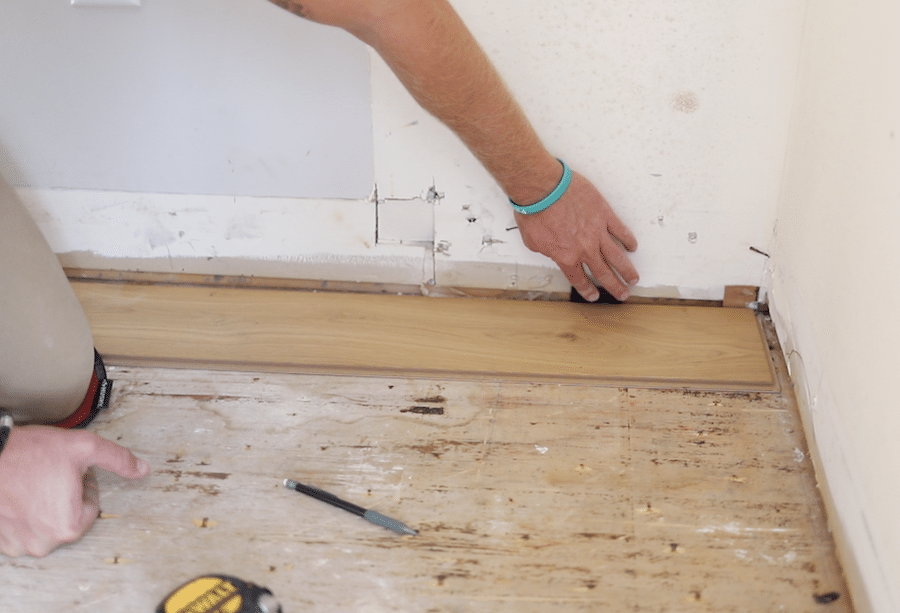 Also worth mentioning… when you're installing hardwood floors in a single room, you'd typically measure the room and figure out what width the first and last rows should be. Ultimately, you want the first and last rows to be similar in width – you don't want to start with a wide plank, then end up with a super skinny plank. But because we're laying this flooring across the entire first floor of our home, this step wasn't necessary. These floors are going in our foyer, dining room, home office, living room, kitchen, laundry room, powder bath, and hallway, so there will be many, many different walls and doorways that the floorboards will die into. It would be next to impossible to make each beginning and end plank match in width.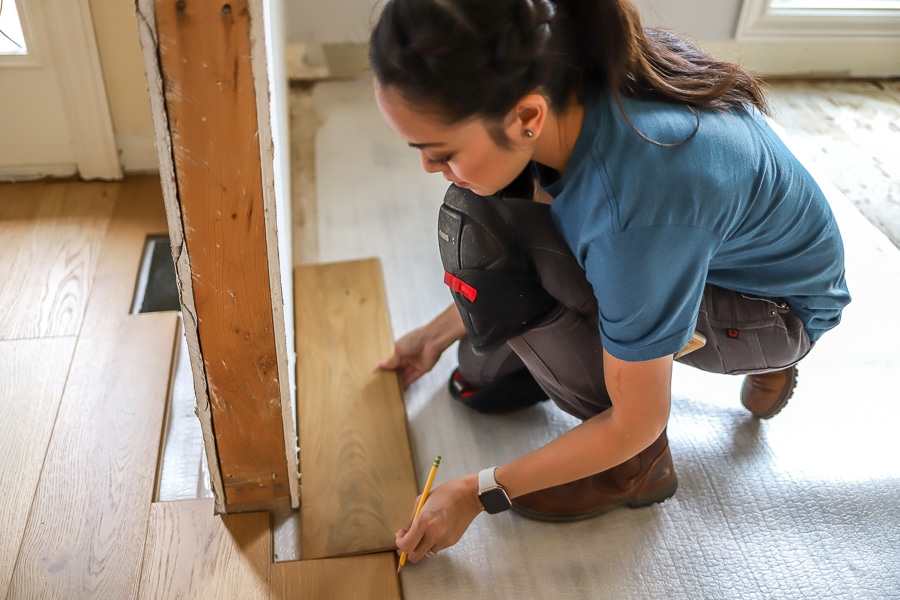 We laid the planks in a random pattern, staggering the seams. There should be a minimum of 6 inches from the seam of one board to the seam of the board below it. In other words, don't line up your seams – allow there to be at least a 6-inch overhang.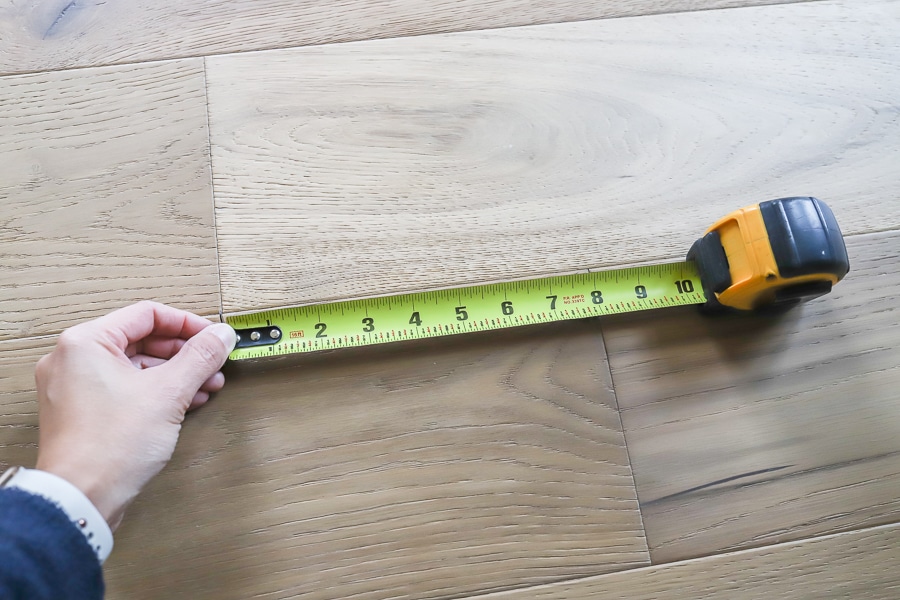 For vents, floor outlets, around door jambs and such, we had to cut or notch out parts of the floorboards. First, we took measurements, then notched out the board with a jigsaw.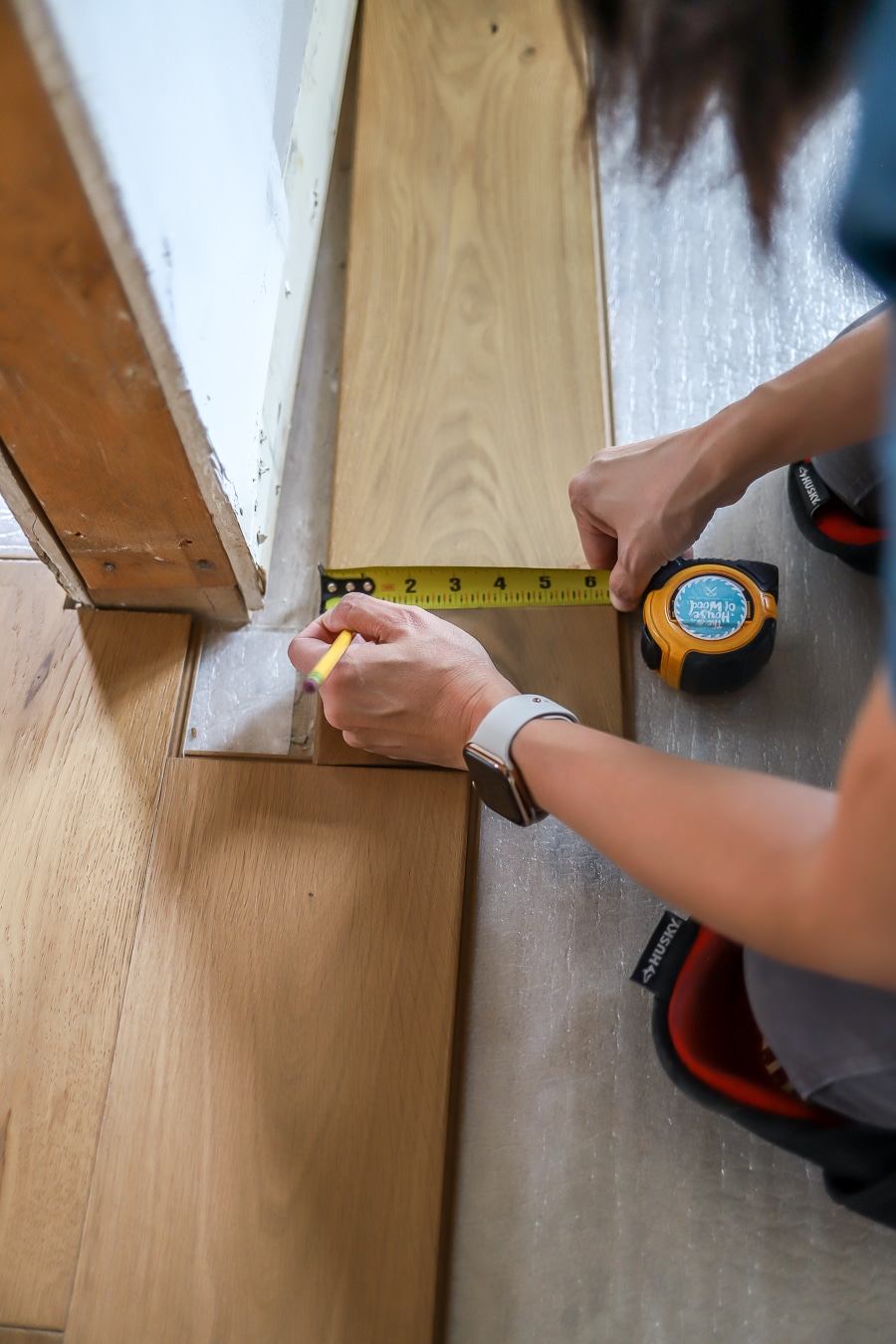 For this floor outlet, we first drilled a pilot hole for the jigsaw blade to start, then followed the pencil lines with the jigsaw. When we were done, we had a neat little window for the floor outlet to peek through.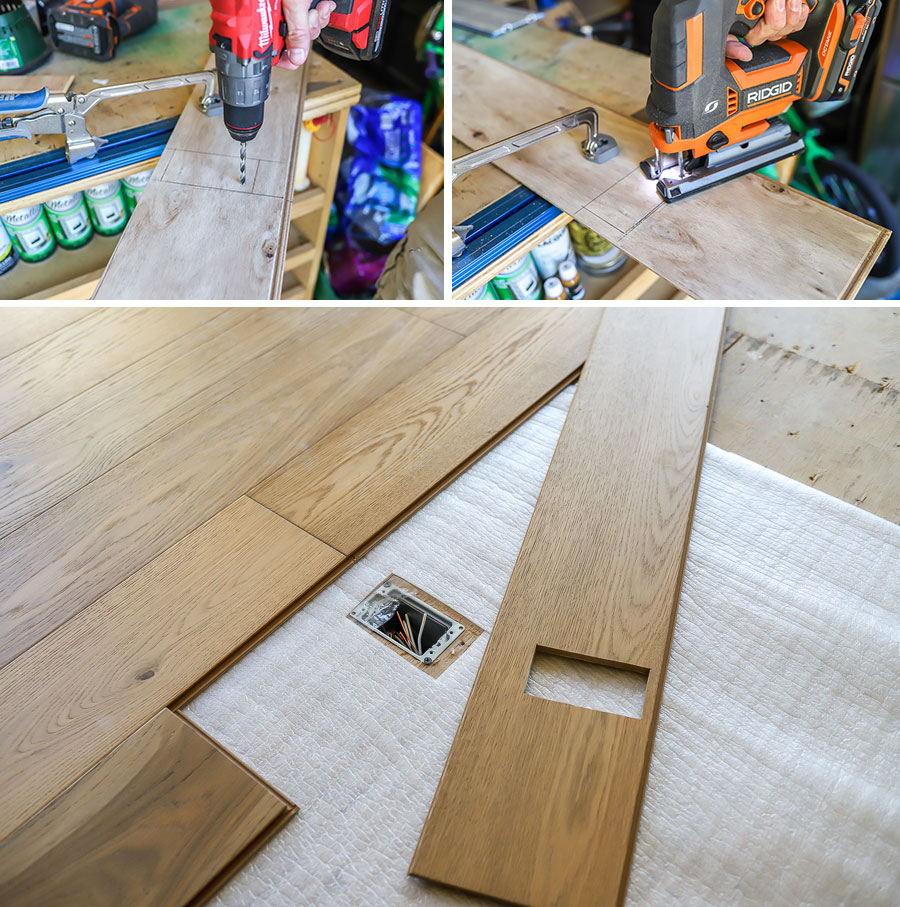 There were other times when we had to trim up the door casing so that the floorboard would fit under it – the Dremel Multi-Max worked well for this task. We used the Multi-Max in the floor demo as well, which you can see here.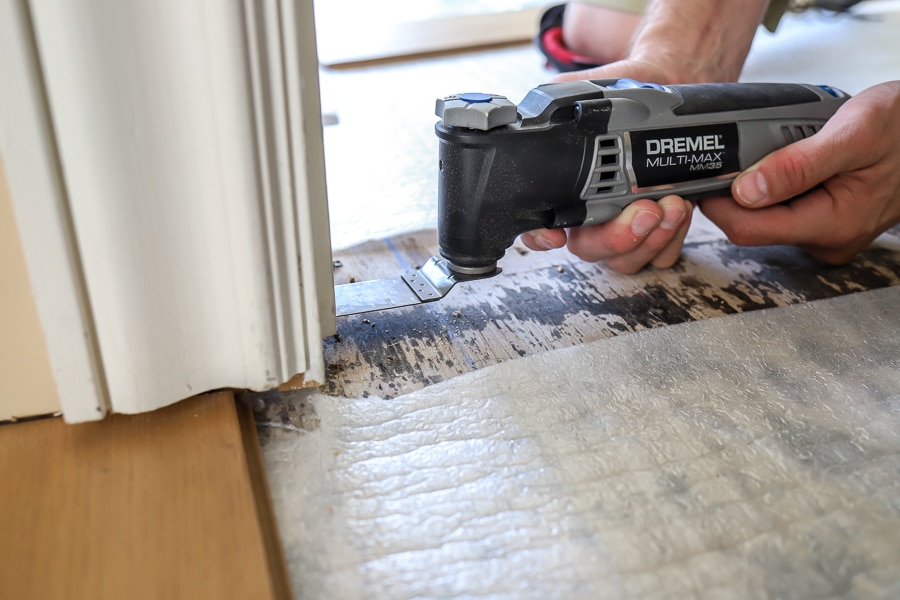 Once the tricky parts were taken care of, we were able to rock and roll. It was really easy to get our groove on and make great progress in very little time. Get it? Groove? Because this flooring has a tongue and groove? I'll be here all night, folks. Don't forget to tip your waitress.
It's fascinating how each plank clicks and locks into place, like a puzzle. And because we're floating the floor, it was easy to go back and lift up the planks if we made a mistake. This flooring is incredibly forgiving. The thing I can't stress enough is this:  just start. If you make a mistake, you can easily go back and fix it. It might take more time, but because there are no nails or glue involved, your mistakes will be easy to correct.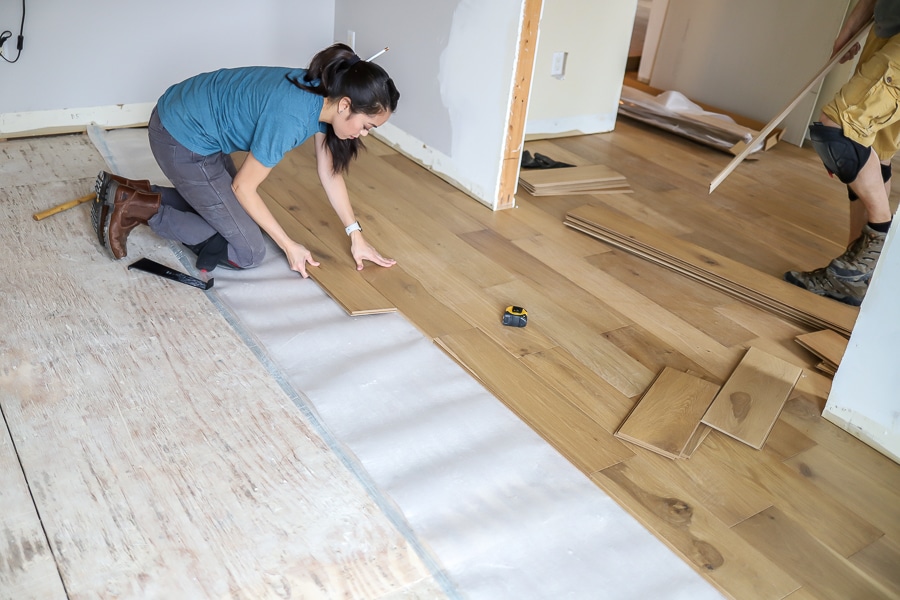 Lather, rinse, repeat! Oh, and invest in some good knee pads. They were our saving grace.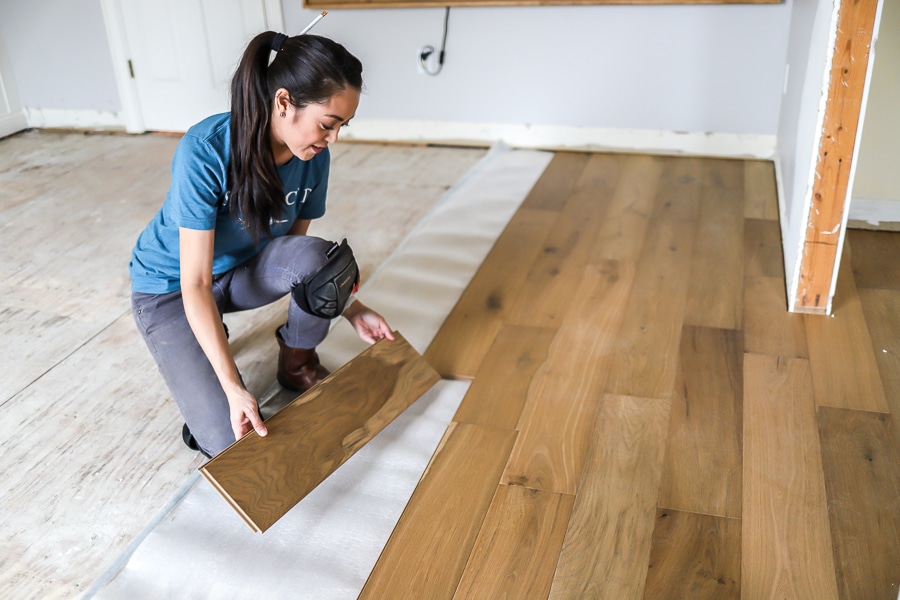 You guys. I can't believe we did this!!! It was our first time laying hardwood floors and they look absolutely amazing! It was a bit tricky to photograph because the light coming in from the windows washed out the wood tones a bit, but take my word for it, they look spectacular in real life. We saved ourselves thousands of dollars by installing these floors ourselves – the click lock installation really made things pretty foolproof.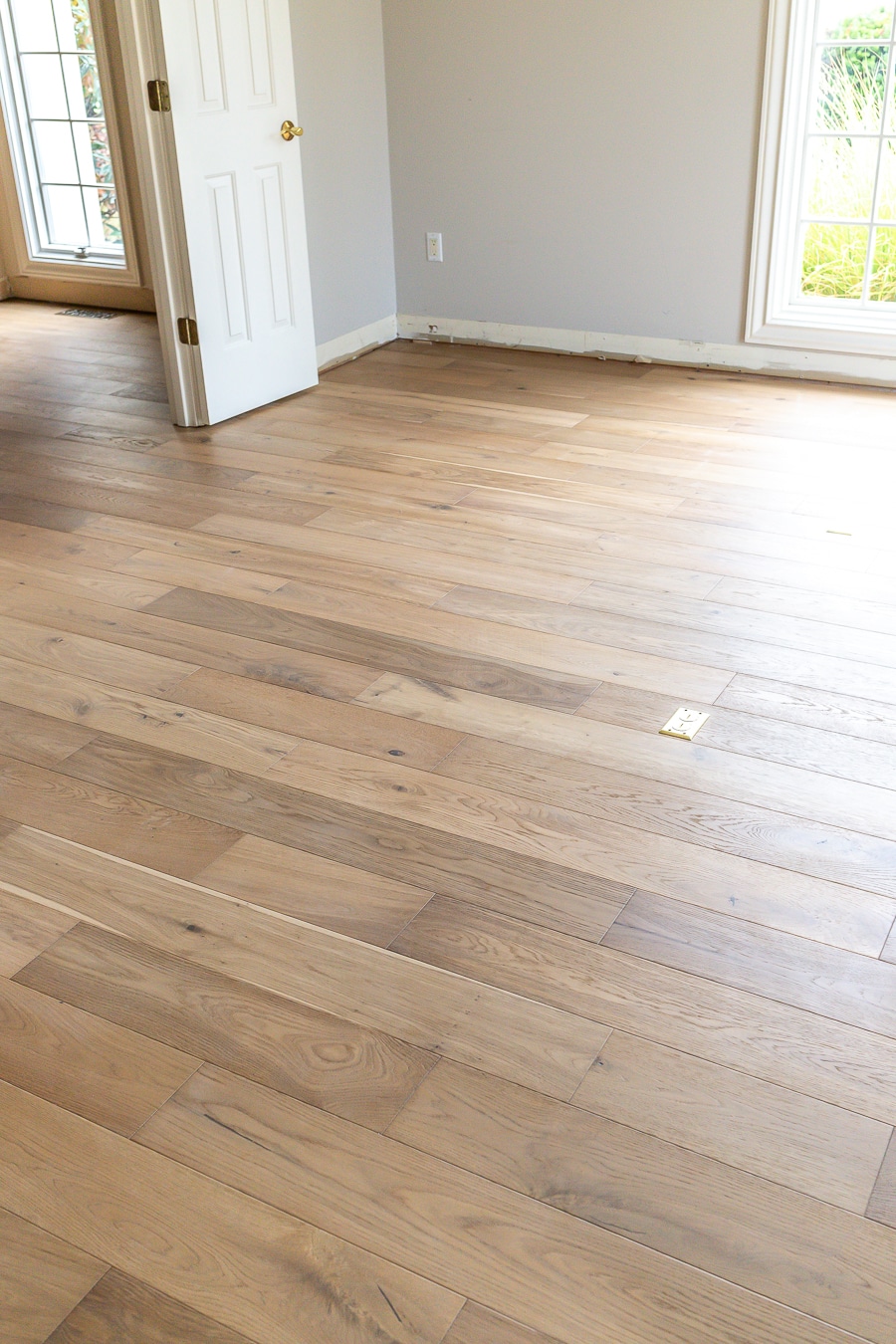 Oh, and don't mind the missing baseboards and trim – they've been special-ordered, along with my new French doors and custom transom windows. We can't wait to put this house back together – hopefully before we have to host Thanksgiving this year (!!!). We're also going to be tackling a home office makeover soon, so stay tuned for that! It's gonna be so good.
Want to see how we demo'd our old floors? Check out this post.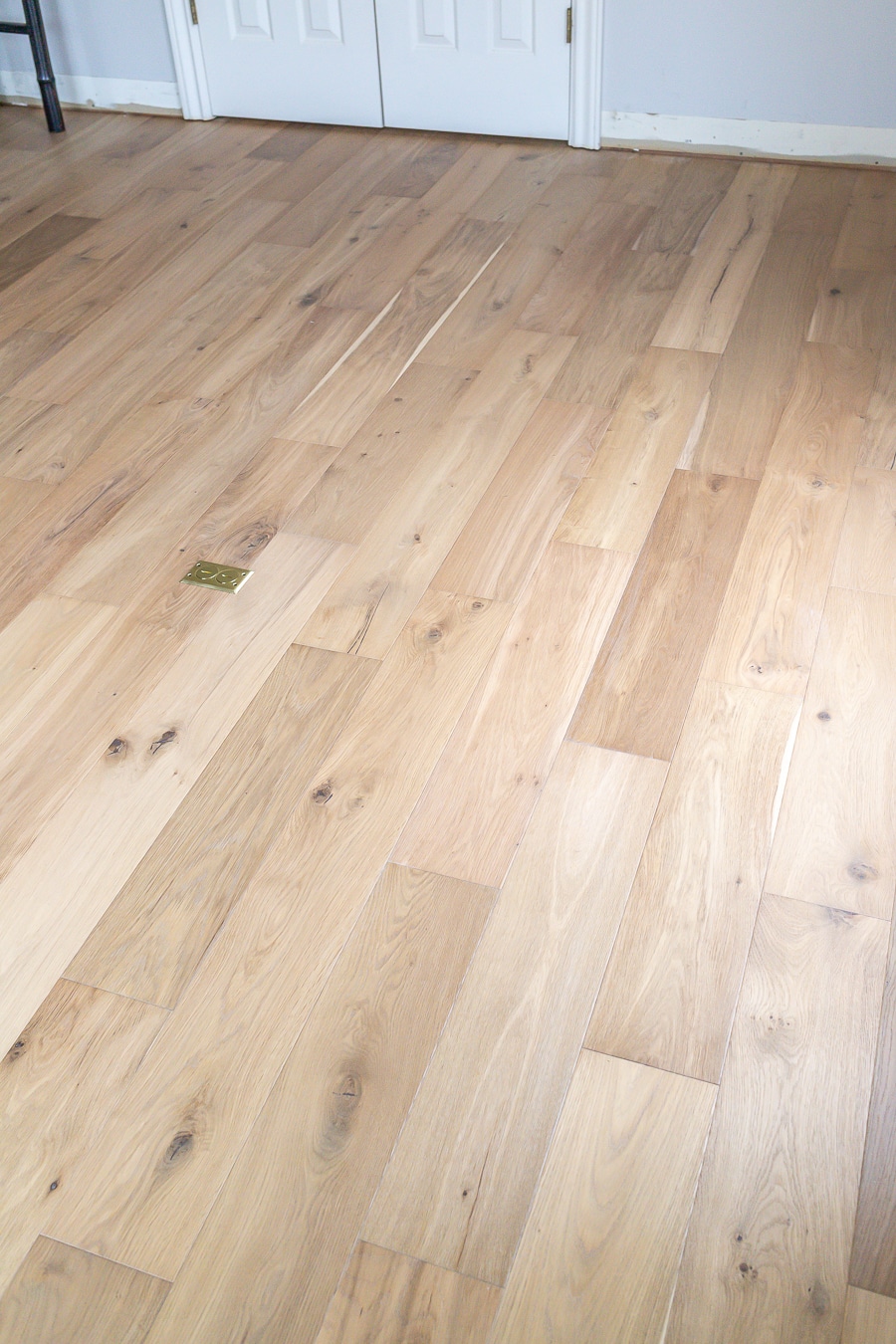 *I acknowledge that The Home Depot is partnering with me to participate in the Flooring Campaign. As a part of the Program, I am receiving compensation in the form of products and services, for the purpose of promoting The Home Depot. All expressed opinions and experiences are my own words. My post complies with the Word Of Mouth Marketing Association (WOMMA) Ethics Code and applicable Federal Trade Commission guidelines. This post contains affiliate links. To read my full disclosure policy, please click here.