It's finally happening! Our kitchen remodel is officially on the books and it's going to be our biggest renovation yet! I've never done a kitchen renovation before so needless to say, I'm more than a little intimidated. Join me as I learn how to navigate this entire process (and send any helpful tips my way!).
Here's what our kitchen currently looks like:
If you'd rather watch a video tour, you can do so here! In the video, I'm taking you through our kitchen and talking about what we'd like to change and which problems we're trying to solve.
Kitchen Layout
This home was built over 20 years ago and the kitchen could use some updating. It's a great space with tons of potential and I'm excited to make it more functional for our family. The layout will pretty much stay the same, with the sink in the kitchen island and the gas range across from it. We'll relocate the microwave to the island and make room for a range hood.
Kitchen Cabinets, Countertops, and a Dedicated Pantry!
We'll replace the cabinets and take them all the way up to the ceiling. Take a look at this corner cabinet. It's incredibly dysfunctional and impossible to organize. The back of the cabinets doesn't go all the way to the wall, so there's a lot of wasted space by it being placed on the diagonal. We'd like to square off this cabinet and turn it into a dedicated pantry (we don't currently have one).
Were desks in the kitchen a popular 90s trend? Because ours quickly turns into a clutter-catcher. We'll get rid of the desk and and the cabinet above it so we can move the refrigerator to this wall, next to the future pantry.
The countertops will also get replaced. I'm envisioning a marble-look stone (quartz? quartzite?) on the perimeter counters and soapstone on a white oak kitchen island. The backsplash choice is still up in the air, but depending on budget-restrictions, we may just go with a simple subway tile.
Flooring
I'm mostly intimidated by the flooring because we have dark laminate (not a problem to remove) over beige tile. I'm not looking forward to demoing all that tile. There are a few other layers under that tile and we're not sure what they are – cement board? concrete? OSB? There's no telling until we start tearing things up. We'll continue the same hardwood flooring that's on the main level.
The Kitchen Design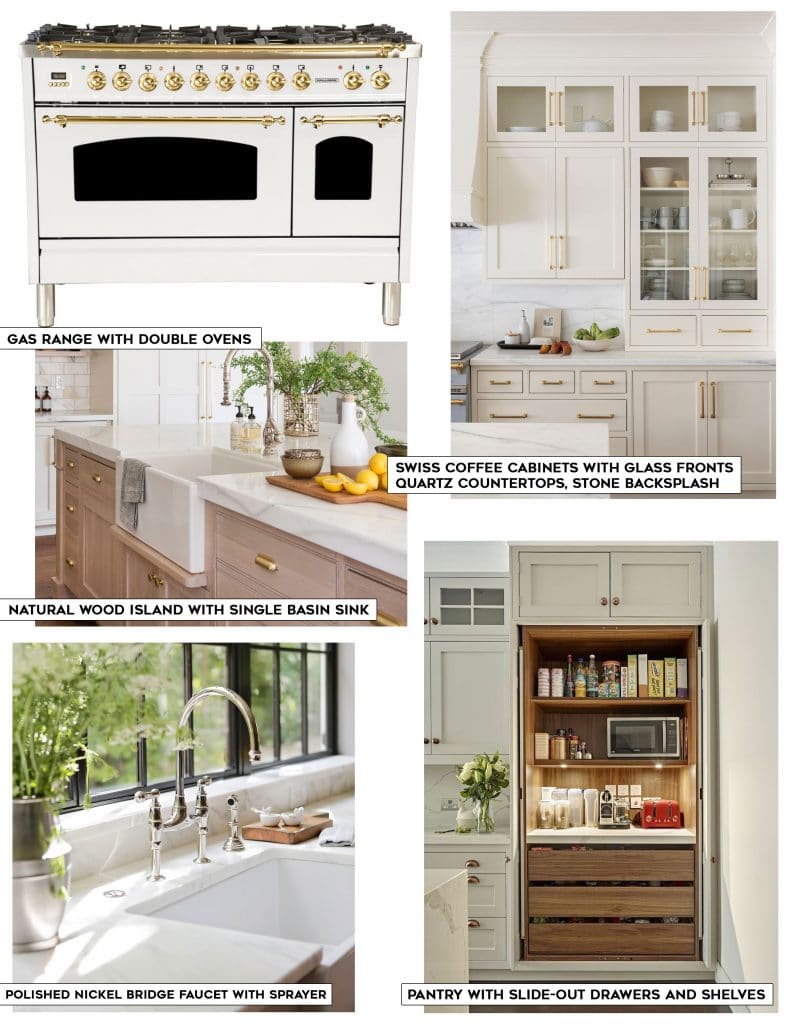 Appliances + Fixtures
Isn't that range to die for?! We're upgrading our current 30-inch range to this gorgeous 48-inch range. The sink and faucet will also get replaced. We are 100% on Team Single Basin Sink! The lighting will also get an update (why was the "droopy booby" light ever a choice?).
So that's the broad overview of our kitchen renovation plans. Hope you'll tag along as we navigate this whole new world!