A small powder room gets a beautiful renovation featuring a stunning floating stone vanity and statement wallpaper
This powder room renovation was one of those "someday projects" that unexpectedly turned into a "right this second" project. When we bought the house a few months ago, I knew I wanted to make a few small changes to this space, but it wasn't a priority because the room was perfectly functional as it was. However, when we removed the old floors, we realized it wouldn't have made much sense to install brand new hardwoods only to renovate other rooms right on top of them, potentially damaging them, so this powder room renovation quickly moved to the top of our rapidly-growing home renovation list.
Before I show you what this powder room looks like now, let's go back and take a look at what it looked like before we moved in: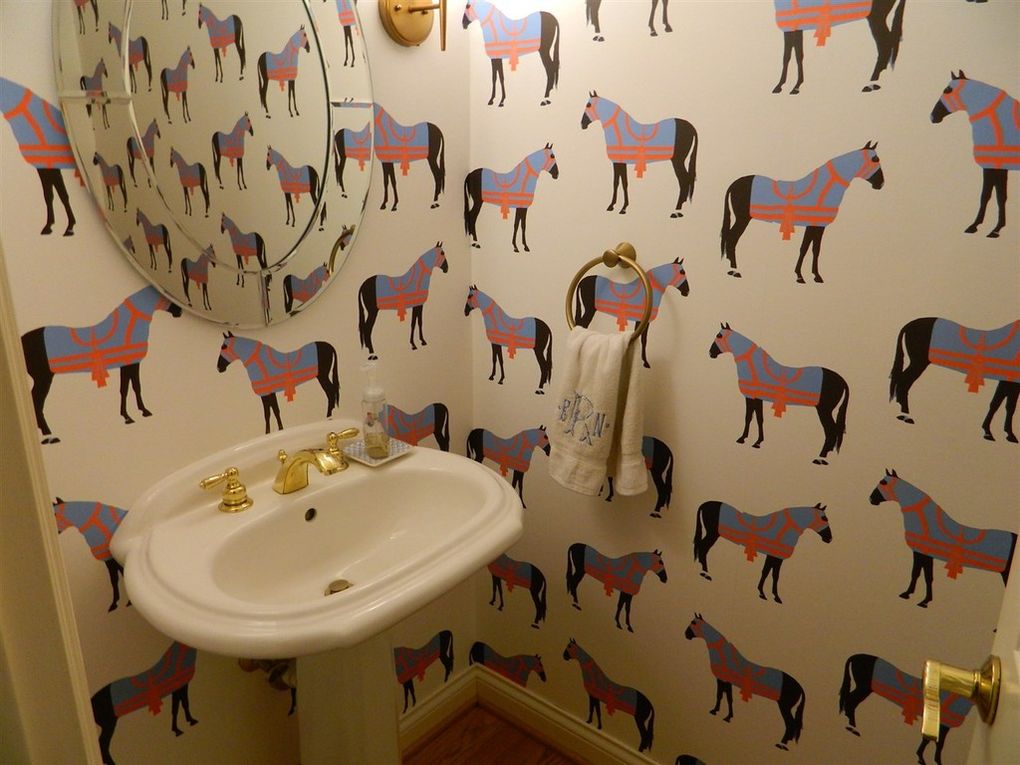 Pretty cute, right? I like that the horse wallpaper is a sweet nod to the Kentucky Derby – very apropo. This half bath was totally fine the way it was, but I knew we could improve upon this space with a few thoughtful changes.
First, the door swung into the room and banged into the toilet, which wasn't ideal. The space is so small, you had to open the door, step into the room and out of the way of the door just to close it. I thought a pocket door would make more sense here. Not only would it save valuable real estate in this small space, but it would add a bit of charm. And it would be in line with the aesthetic of this French provincial home – there are two existing pocket doors upstairs, between the jack-and-jill bathroom my kids share.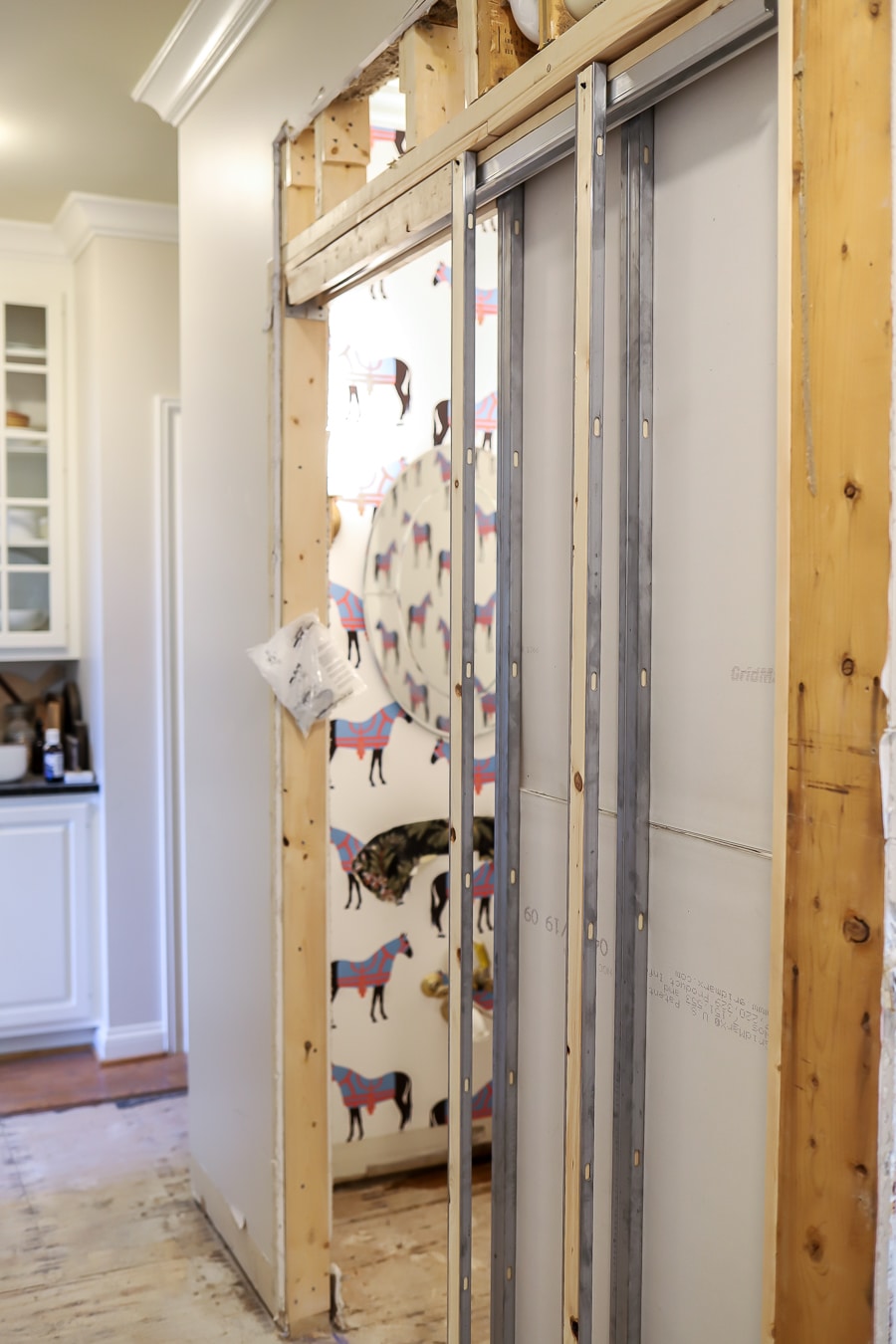 When we tore down the wall for the pocket door, we found a drain pipe running right through it, exactly where the pocket door would have to slide into! Thankfully, the plumber came and saved the day. He spent less than an hour re-routing the pipe to the back wall so that all of my pocket door dreams could come true (whew! For a second there). I also had the plumber move the faucet to the wall, since I had my heart set on this polished nickel wall-mounted faucet. We picked up a standard pocket door frame from our local lumberyard and framed it in place. Once the opening is framed out, we simply attached the pocket door frame in place. It's important to keep the framework square and plumb so the pocket door will slide easily. The manufacturer's directions for this pocket door are pretty straight-forward. We also installed these soft-open and -close hardware. Because I wanted the door to be both soft-open and soft-close, I bought two of these and installed them at both ends.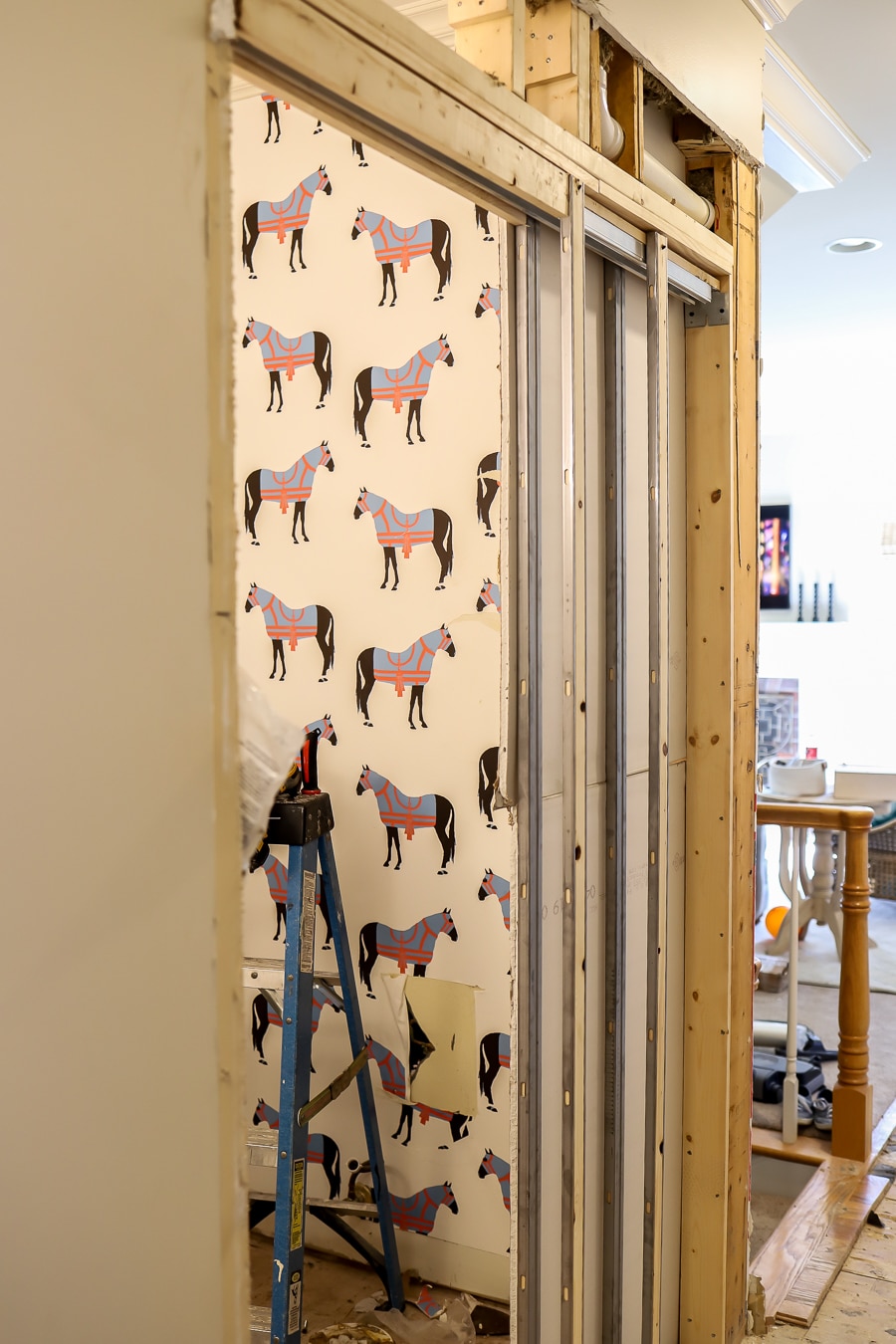 Second, the pedestal sink was perfectly adequate, but I envisioned a show-stopping, floating stone vanity in here, which would give us a lot more counter space and functionality. Since we were already living in a construction zone, we thought, "heck, let's go ahead and do it!"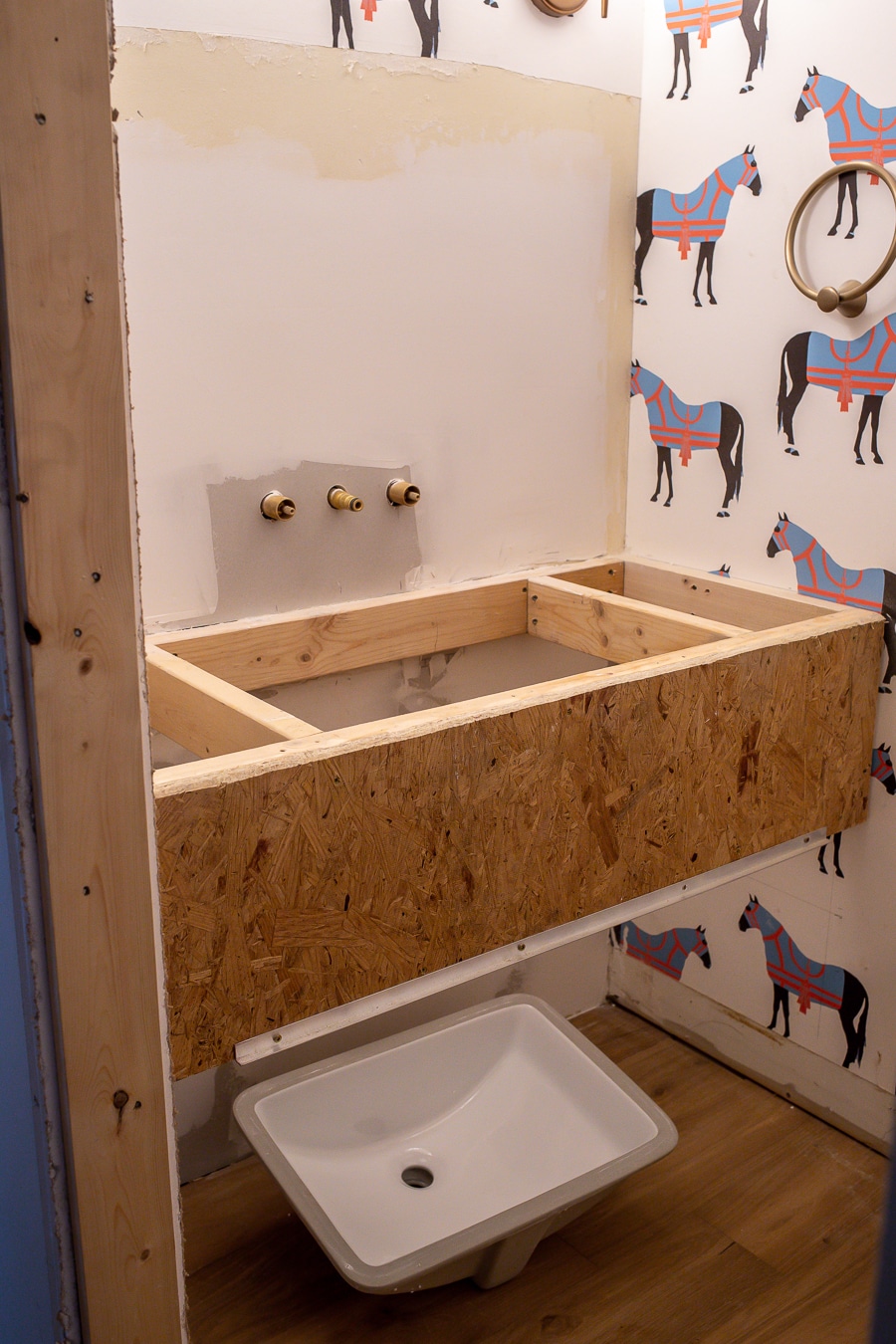 My friend Josh built the wood frame that would hold the vanity. He used a few 2×4 studs and a scrap piece of plywood. In hindsight, the plywood panel really isn't needed – the studs create a strong enough frame that the vanity can be attached securely to it. The aluminum L-bar in the photo above was actually removed – we discovered it was in the way once the vanity was put in place. We did add a few small flat steel bars underneath, to support the front apron, just as added security. The sink is a standard undermount sink. I had the vanity fabricated by a local stone supplier and they did an amazing job! I asked them to cut a waterfall edge for the front and match the veining so that the vanity looked like one continuous piece of stone. I absolutely love how it turned out and I love that we have a lot more counter space in here now!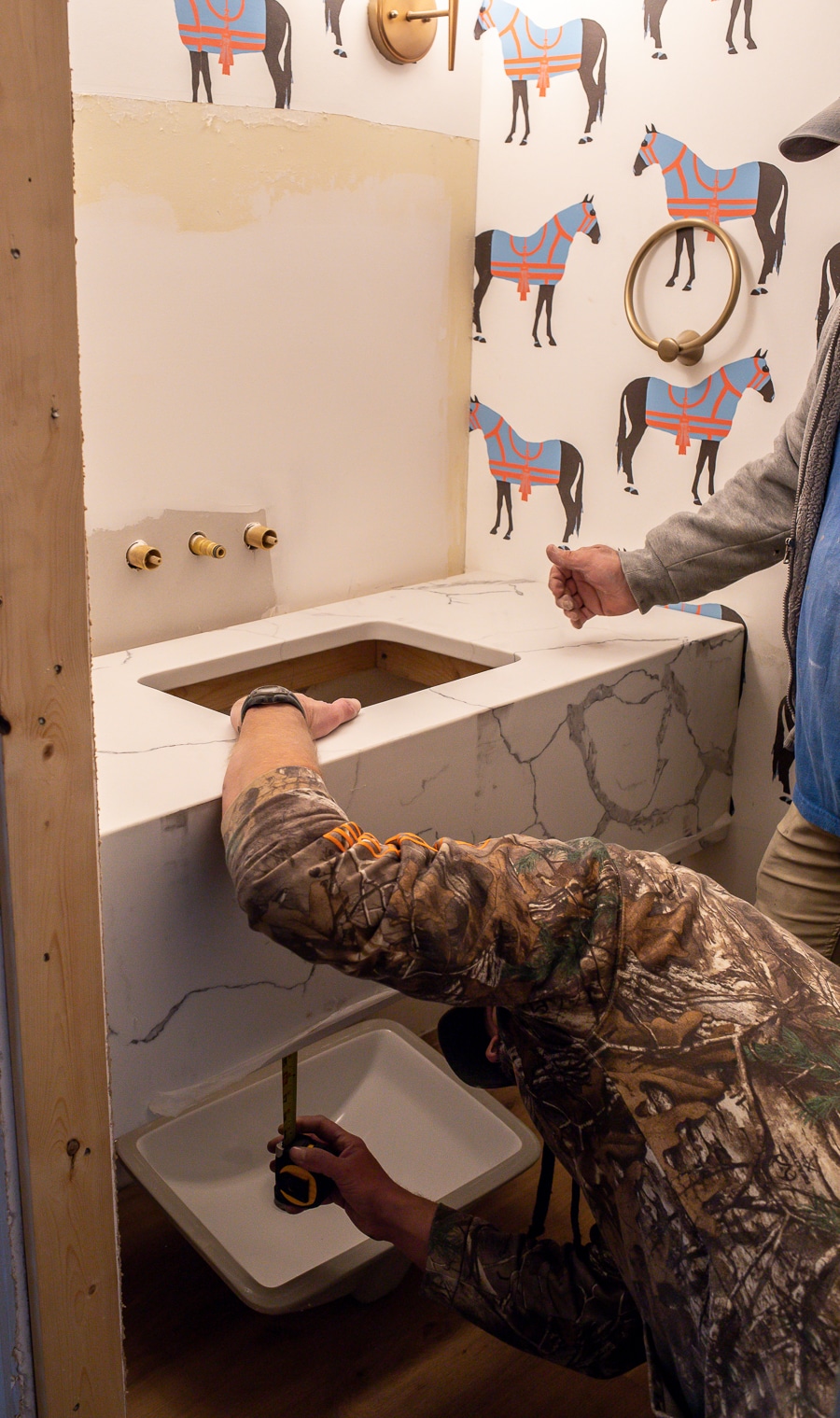 Because we tore down the wall for the pocket door as well as behind the sink to install the wall-mounted faucet, the horse wallpaper was done for. If you follow me on Instagram, you would know I put an absurd amount of thought into choosing another wallpaper. After months of deliberation, I finally decided on this gorgeous teal floral wallpaper and am so happy with this choice. When the sample arrived in the mail, I literally gasped over how pretty it was – I knew it was the one! Sometimes those gut reactions are just spot on. I worked with a local professional installer to get the wallpaper hung. After my frustrations with the peel-and-stick wallpaper in my linen closet, I was going to leave this job to the experts. If you're looking for a professional wallpaper installer in the central Kentucky area, shoot me a message and I'll pass along their info! I highly recommend them!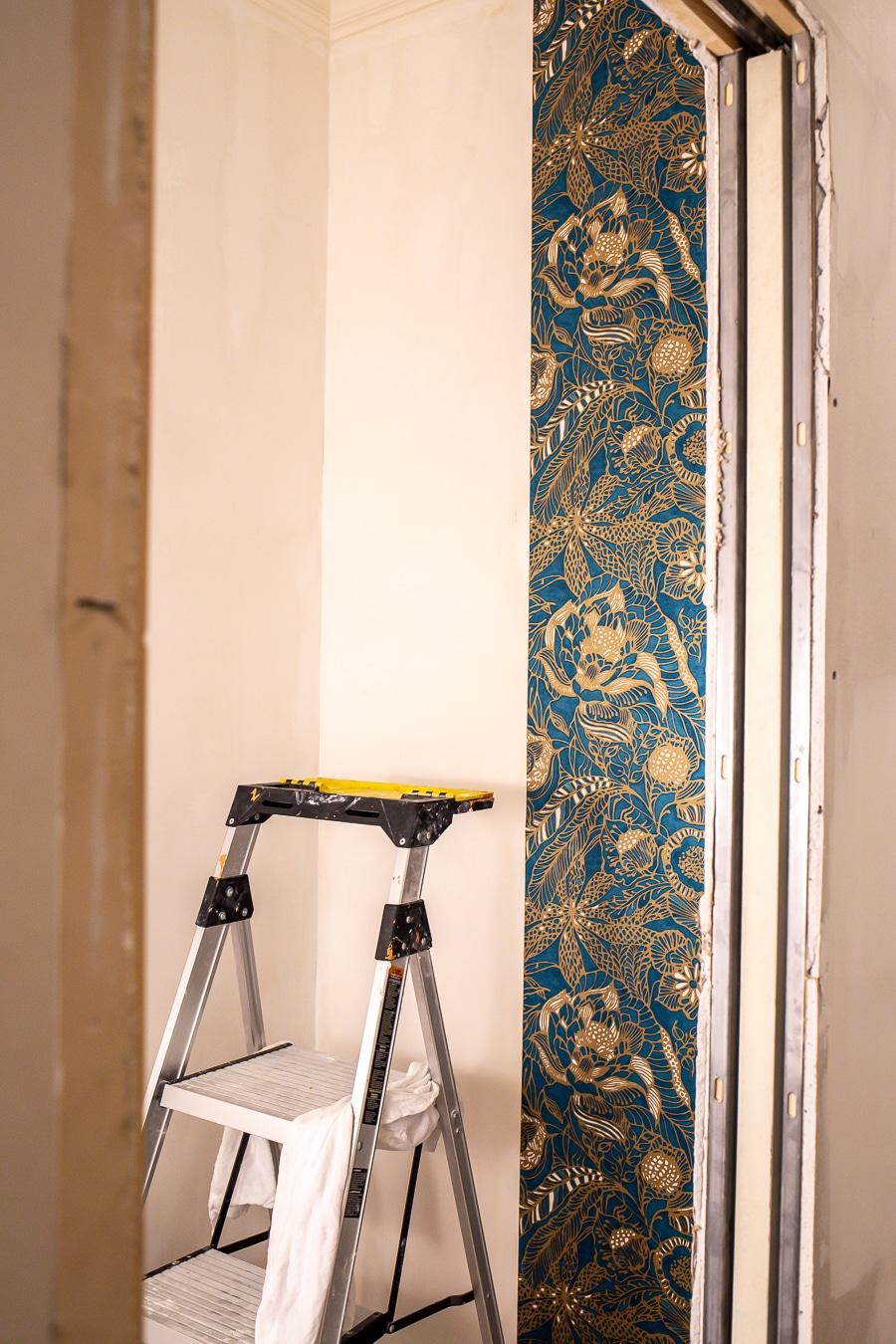 After the wallpaper was hung, it was time to put the room back together. We re-installed the toilet, switched out the mirror, and hung the polished nickel towel ring and bath tissue holder. I love mixing metals – the polished nickel has a warmer, richer tone to it than chrome, so it complements the brass mirror and sconces well.
Are you ready for a peek at our brand new powder room?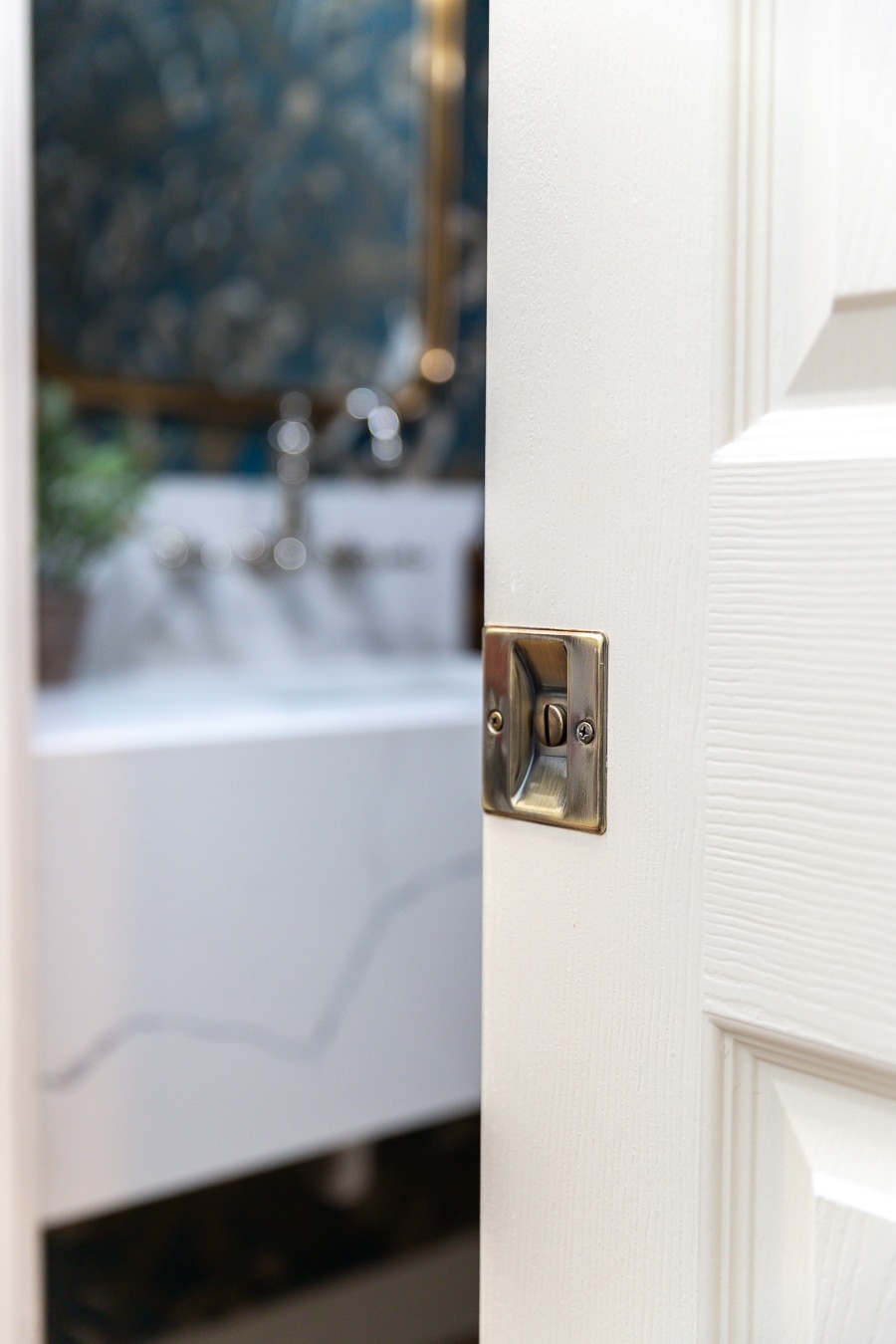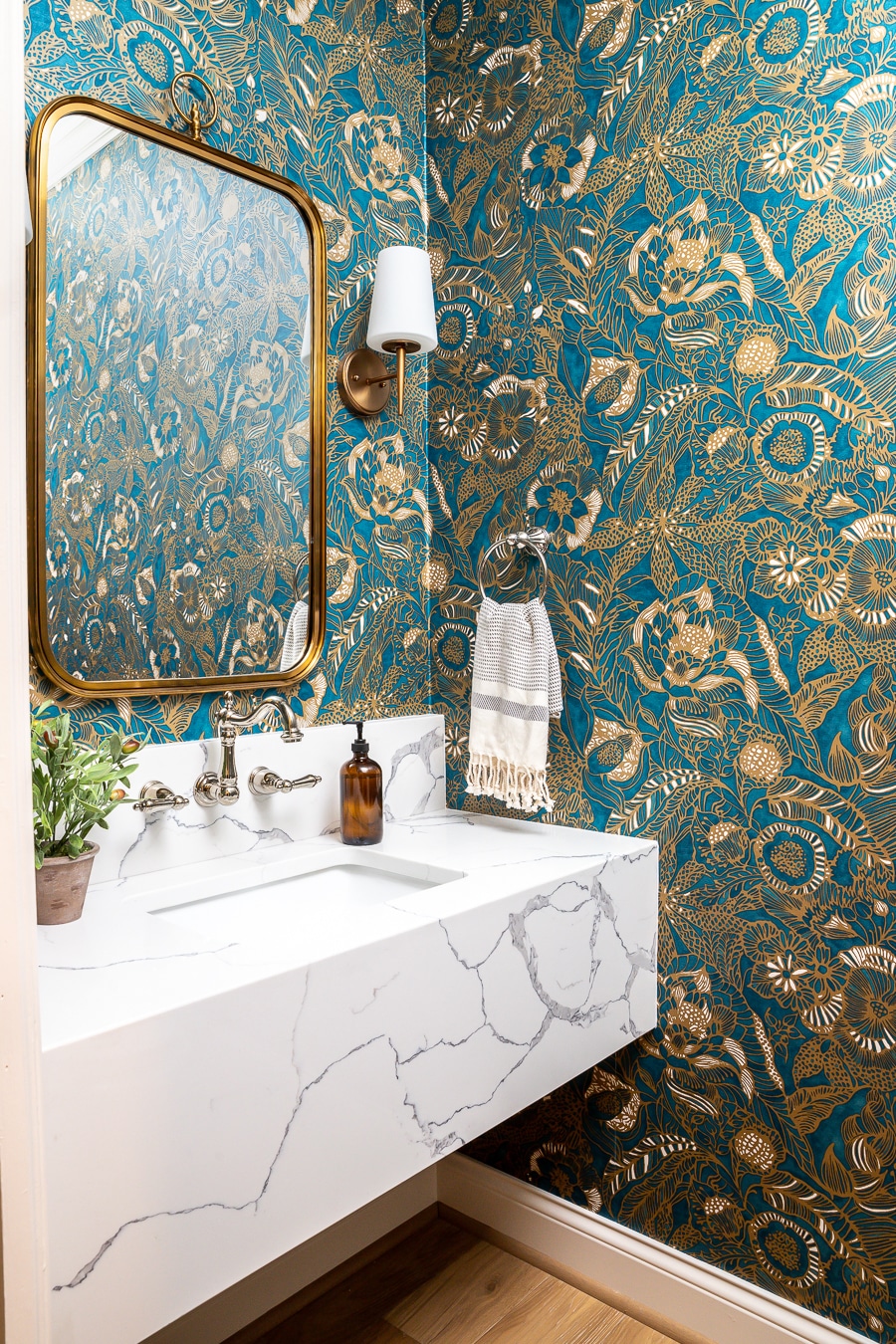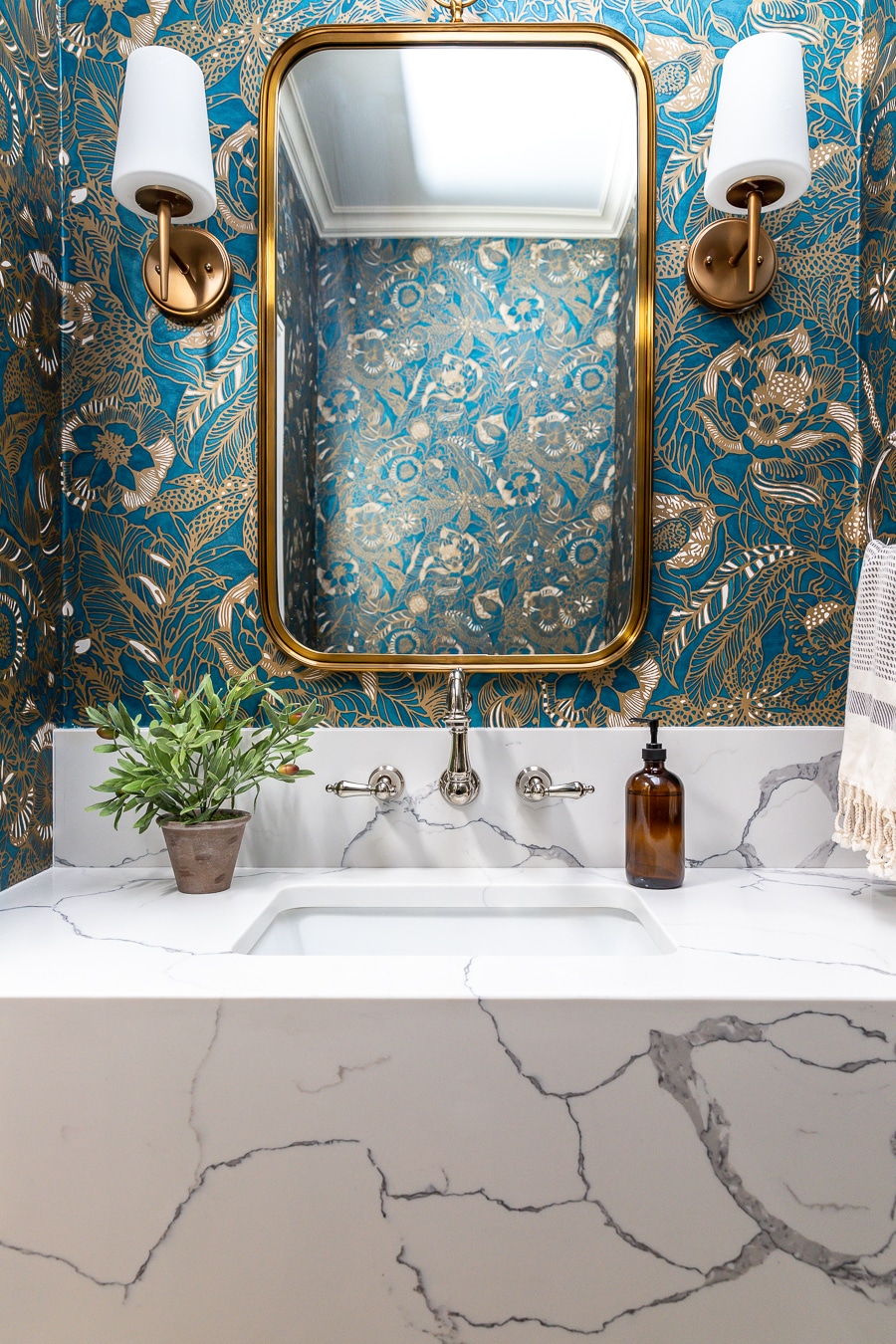 The only thing I'm not 100% happy with in this powder room is the finish on the mirror and sconces – they're a bit too brassy. I'd like to see a more understated, antique brass finish in here, so I may switch these out in the future. The jury is still out on that…
I'd also like to find some minimalist artwork for this space, to break up the bold floral pattern a bit. Maybe a small print with a large mat? I'm still on the hunt, so if you have any recommendations, I'd love to hear them!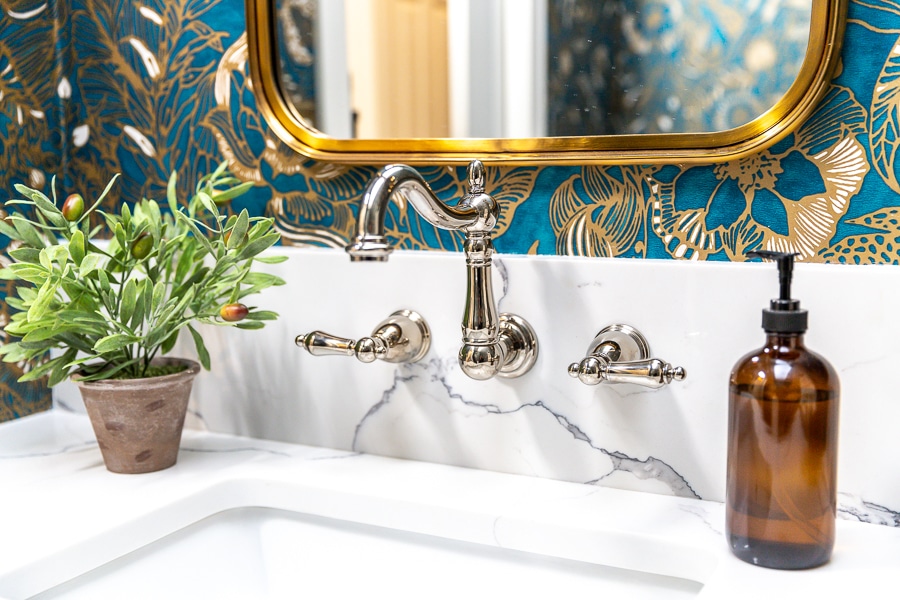 Product sources:
*This post includes affiliate links.