Hi friends! I'm so excited to share my latest DIY project with you all! My church wanted to update their staff area with a feature wall where they could hang their Core Values and the very next day, a company called Plank and Mill emailed me about a potential collaboration. Ahhh… God's perfect timing!
Plank and Mill is an Oklahoma-based company that sells real reclaimed wood planks. The planks are peel-and-stick, so installation is super simple! We were able to transform a blank, boring wall into a show-stopper in just one afternoon.
And we made a video! I'd love for you to subscribe to my YouTube channel. Check out our how-to video:
Plank and Mill has a square footage calculator on their site, so you can calculate just how much product you'll need to buy. They recommend ordering a little more than you need, just in case, so we ordered about 100 square feet of the reclaimed barn wood planks to cover our 96-square-foot space.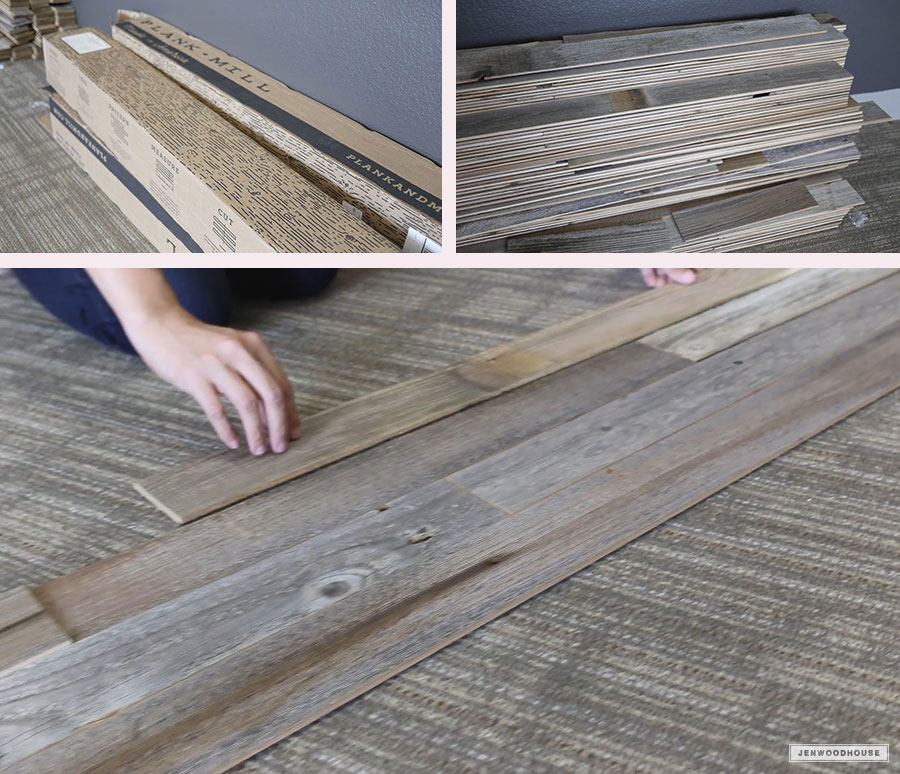 The planks are real reclaimed wood that have been planed super thin and have a peel-and-stick adhesive on the back for easy installation. You literally just peel the backing off and stick the planks up on the wall. Insanely easy!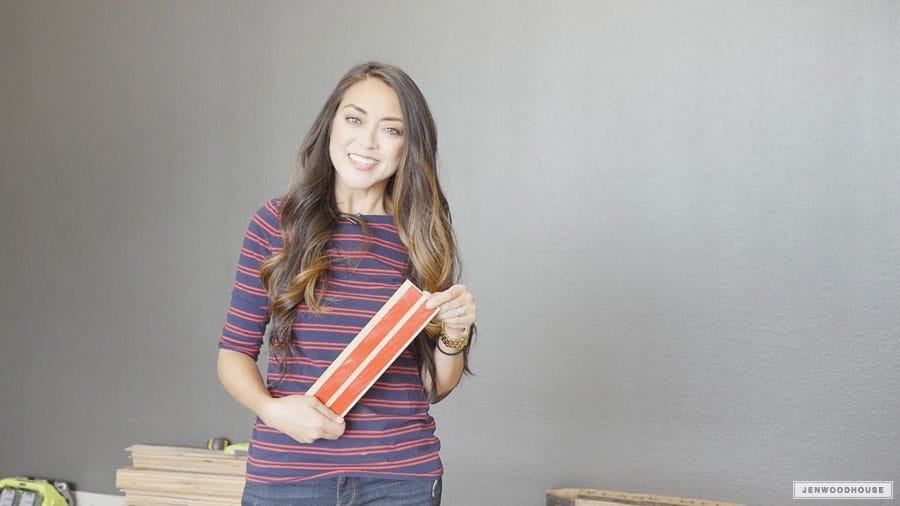 My church likes to change things up from time to time, so we didn't want to make this reclaimed wood wall a permanent feature in their space. We used a stud finder to find the studs in the wall, then screwed underlayment sheets to the studs so we could stick the wood planks to the underlayment.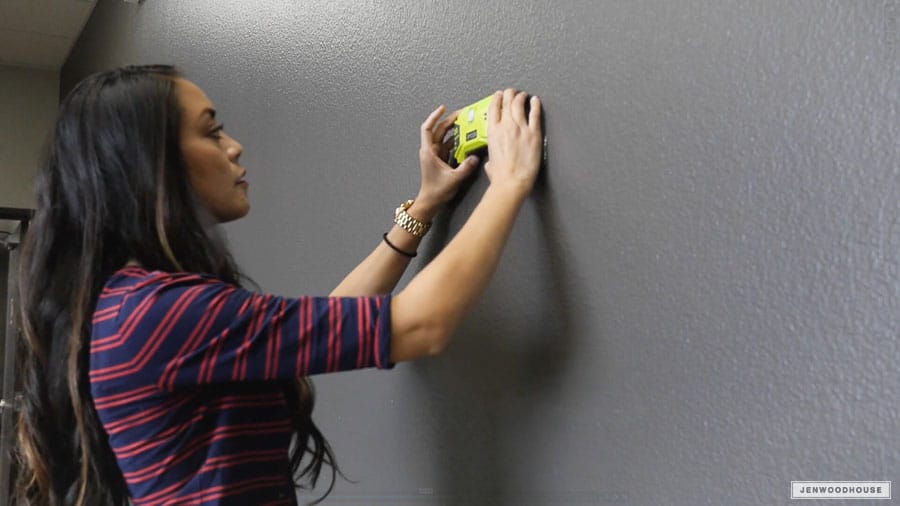 If you want to stick the planks directly on your wall, you certainly can, but just keep in mind that this is meant to be a permanent application, so if you want to remove the planks later, you may have to repair the wall after removal.
Per the instructions on Plank and Mill's website, they recommend starting in the middle and working your way out, so that's what we did. In hindsight, however, I realized that I could have started at the top left corner and I don't think it would have made much difference.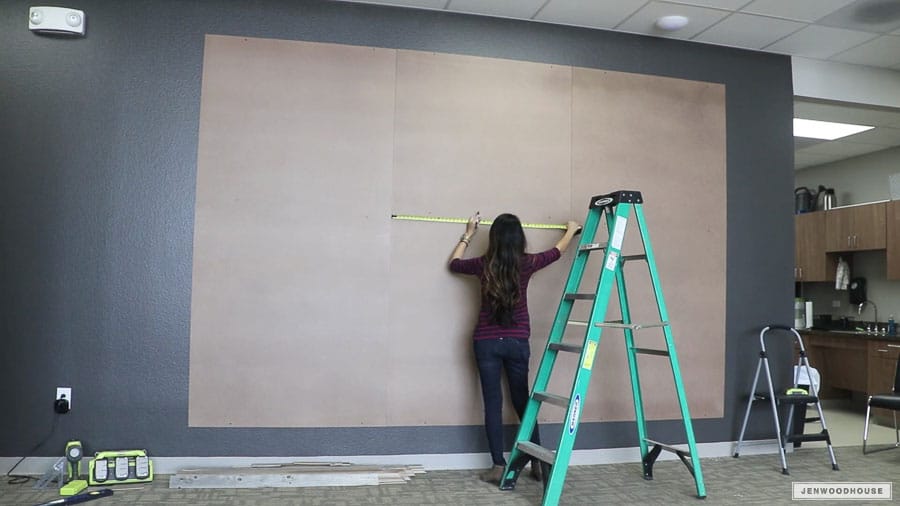 Now that I have my starting point, I just peeled the backing off and stuck the plank on the wall, using a level to make sure the planks were straight.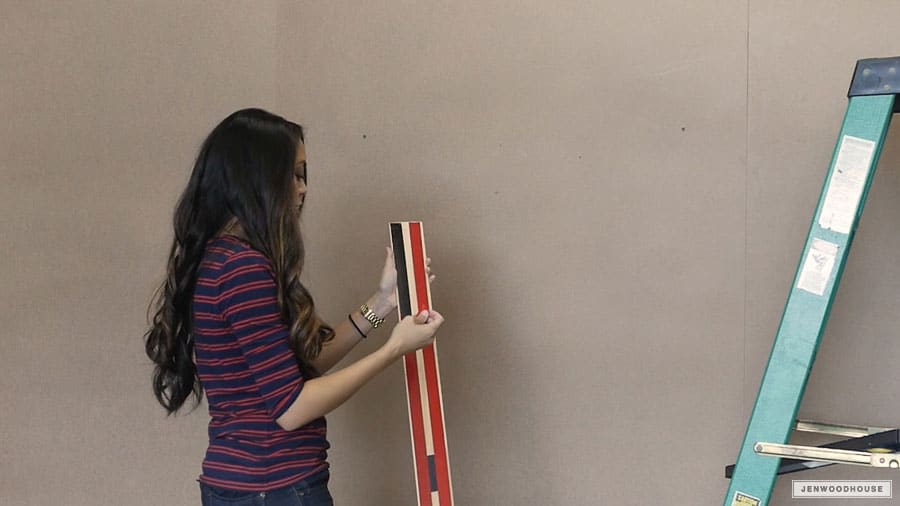 I also used the level periodically just to make sure I was still on track.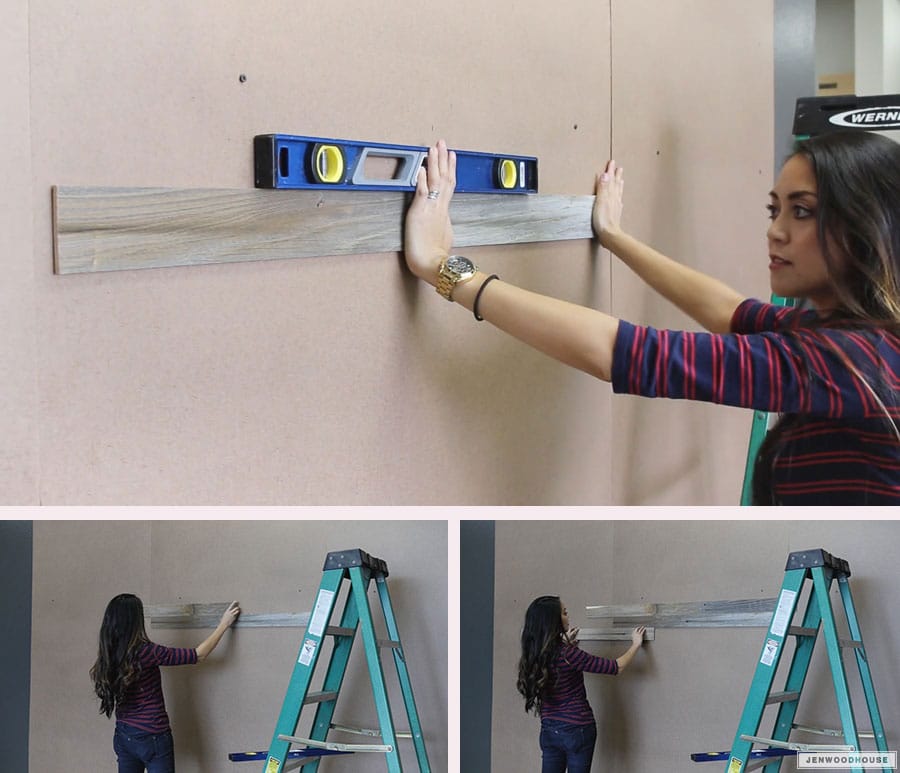 I had to cut some of the planks to fit, so I used a miter saw to do this. If you don't have a power saw, you can use a hand saw because the planks are thin enough that you can manually cut them without much effort.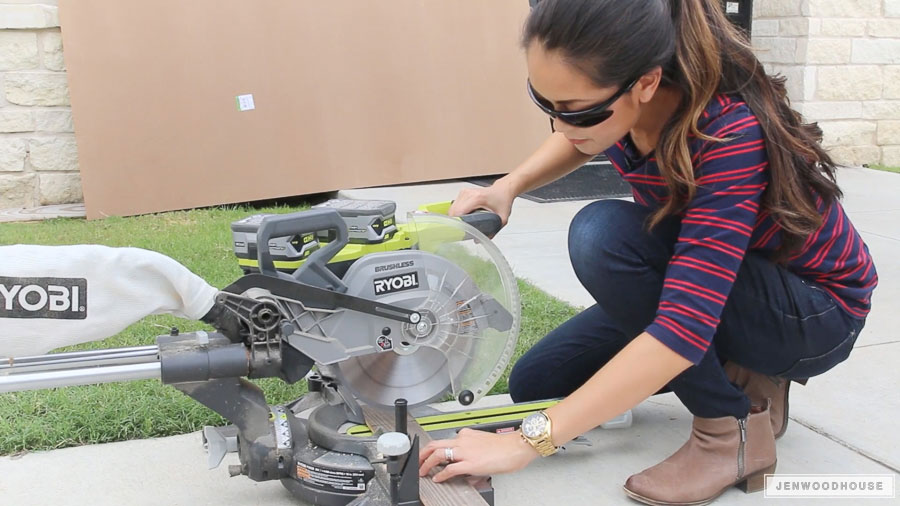 Peel and stick, peel and stick, peel and stick… lather, rinse, repeat eleventy times until the entire space is covered.
I staggered the planks for an authentic look, making sure to randomly sprinkle the different tones and colors throughout. There aren't any hard or fast rules here; the random imperfection adds to the rustic beauty.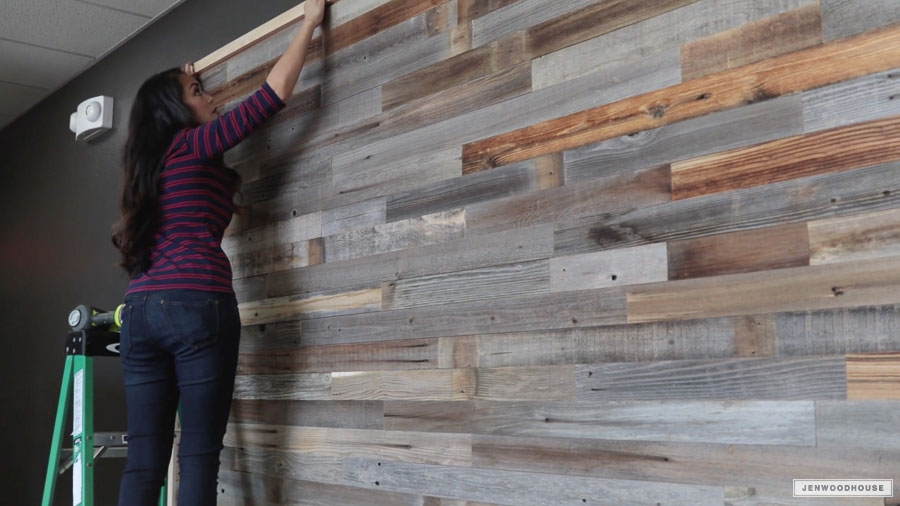 A huge thank you to Plank and Mill for sponsoring this project. My church loves their new feature wall and installation was a breeze.
Visit Plank and Mill to learn more about the wood we used for this project and if you create a reclaimed wood wall, we'd love to see it! Please tag @plankandmill  and me (@jenwoodhouse) so we can see your projects!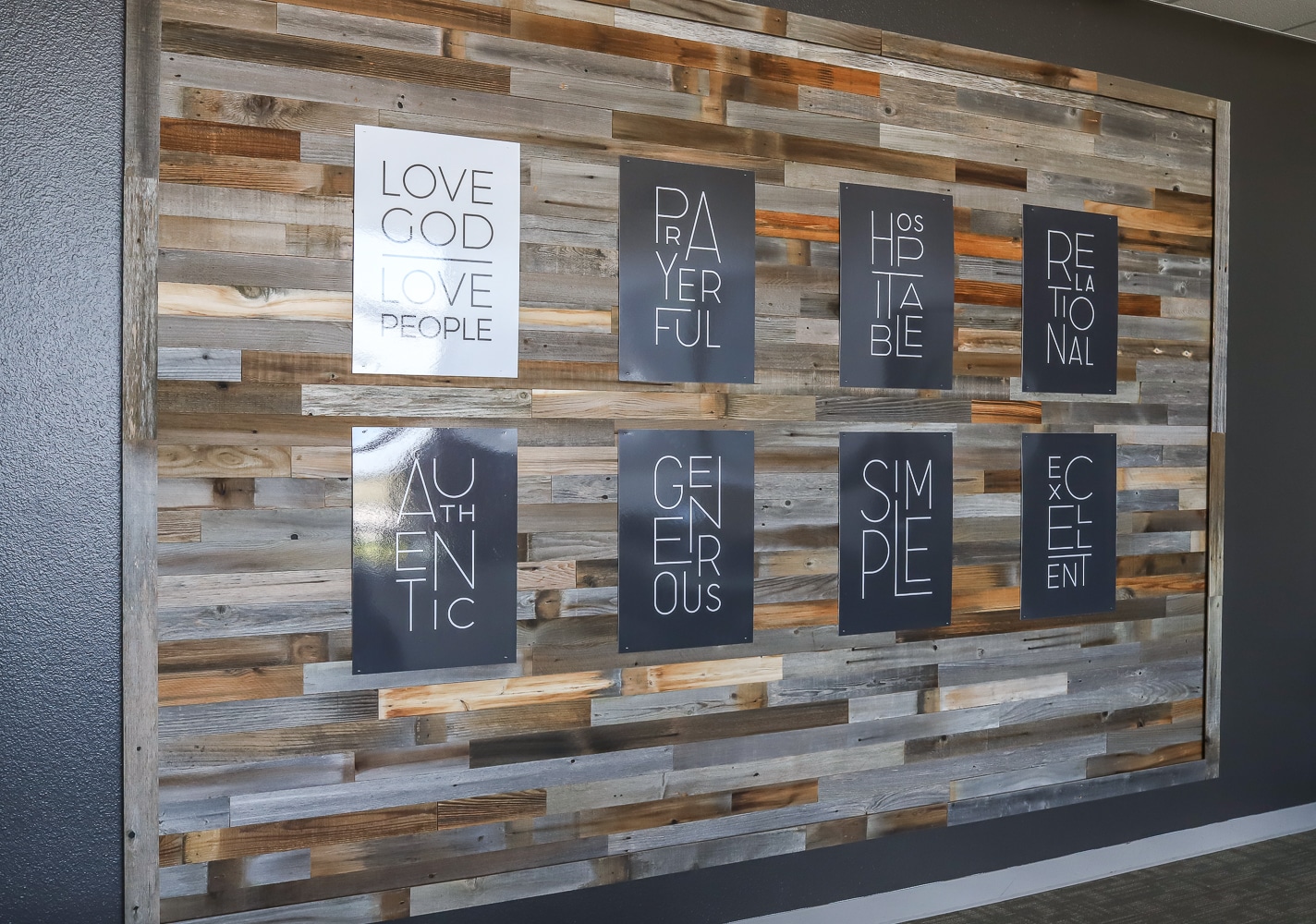 *This project is sponsored by Plank and Mill. All opinions and efforts are my own.