We've been searching for dining room chairs FOR-EVAR so when we stumbled upon these old Queen Anne chairs at an antique/thrift store, I thought, "hmmm… maybe these could work… with a little work." We haggled over the price with the storekeeper and ended up getting all 6 at $50 each. Not too shabby, when Pottery Barn and Restoration Hardware are selling their versions of the Queen Anne chair at over $200 a pop. I grew up on Queen Anne chairs and their traditional formality holds a special little place in my furniture-lovin' heart. But as you know, I can't leave well enough alone, nor can I resist a good DIY project. I think it'll do some good to give these old ladies a little face lift.
I failed to get a 'before' photo, but they had a rich cherry finish with a cream damask upholstered seat. Husband unscrewed the seat from the chair and I gave them a quick sanding with my power sander: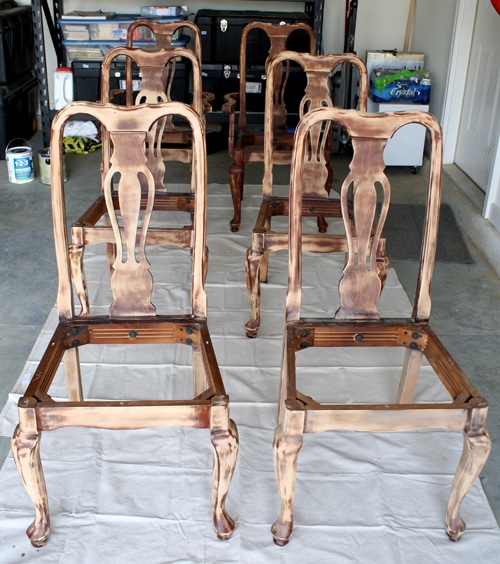 Sanded and waiting for primer
I wasn't too concerned with getting down to raw wood, since I'd planned on priming them. After sanding, I wiped them down with a damp rag and attacked them with a coat of white primer: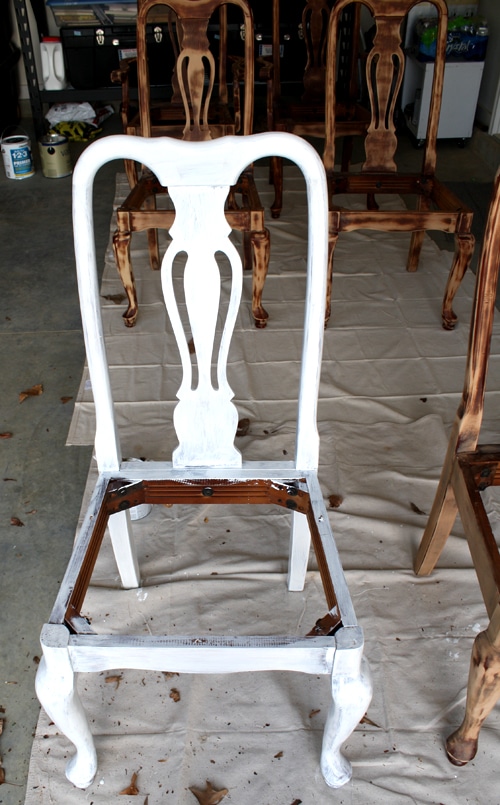 One primed, five more to go
Here's a close-up after I brushed on a coat of primer. Ugly with a capital U-G-L-Y, right? Painting's never been my strongpoint, folks.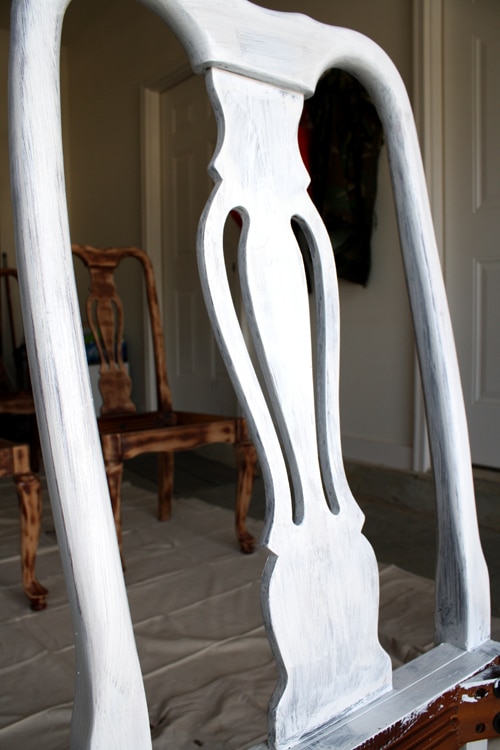 Finally! All 6 chairs are done… for now. Now I have to actually paint them.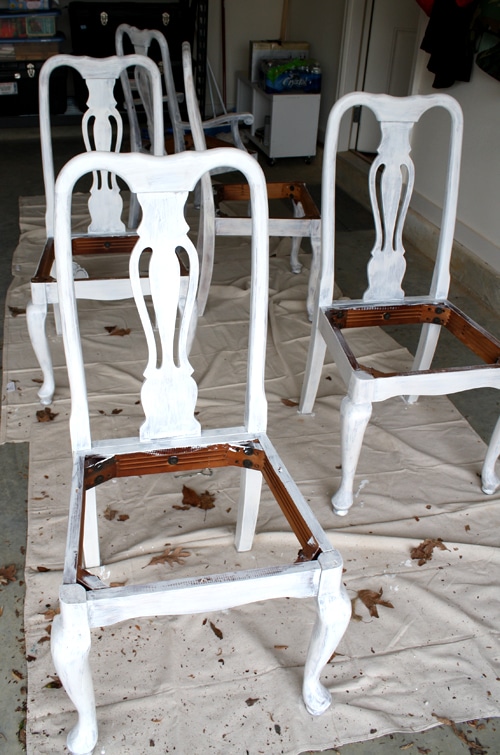 Meanwhile, as the primer dried, I reupholstered the seats. And by 'reupholstered,' I mean 'stapled some new fabric over the old.' The old padding was still in great shape, so I didn't bother replacing it. I bought 2 yards of this zigzag fabric at $9.99/yard. Well, looky there, my beloved chevron pattern finally makes its grand appearance in my home! Yay!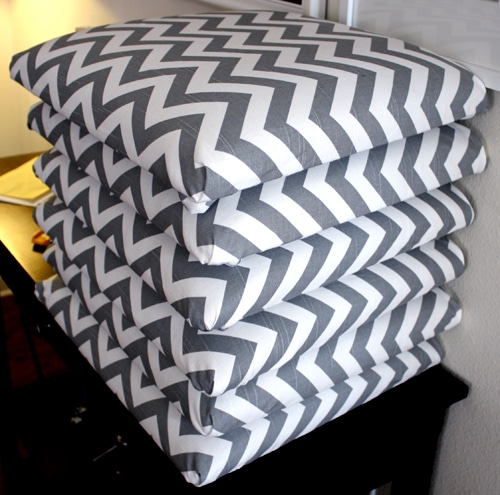 Reupholstered seats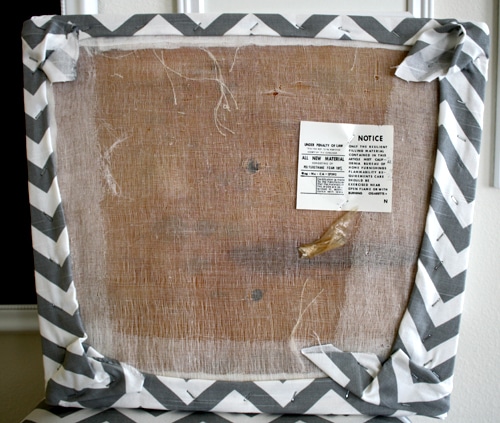 And here's a gratuitous shot of Evie, patiently waiting for me to finish reupholstering the seats. She is just so darn cute, I couldn't help myself (you're welcome).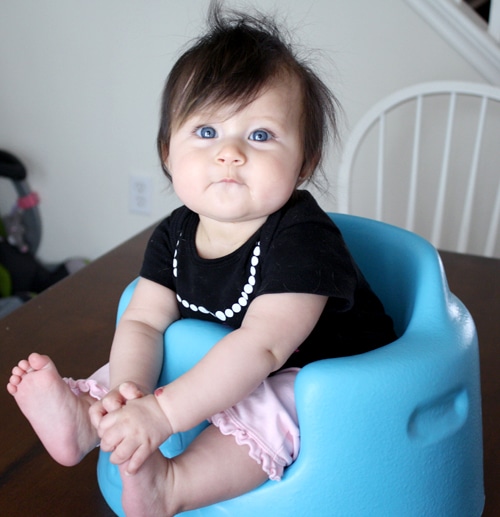 The next day, I brushed on the first coat of white, glossy paint. Then I let it dry overnight, then put on the final coat. After another 48 hours of drying time, I brought the chairs back into the house.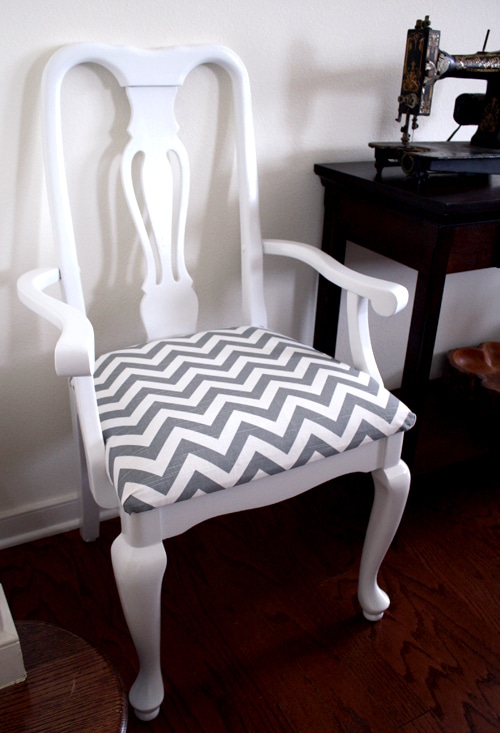 Here's a close-up of the seat. I love that this chevron fabric has a subtle slub texture to it: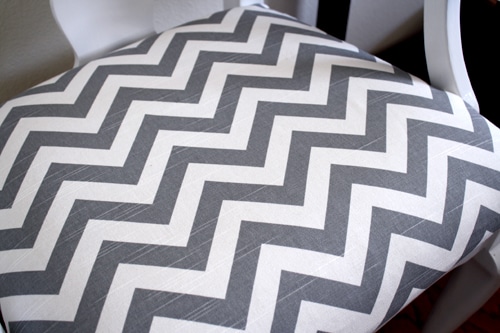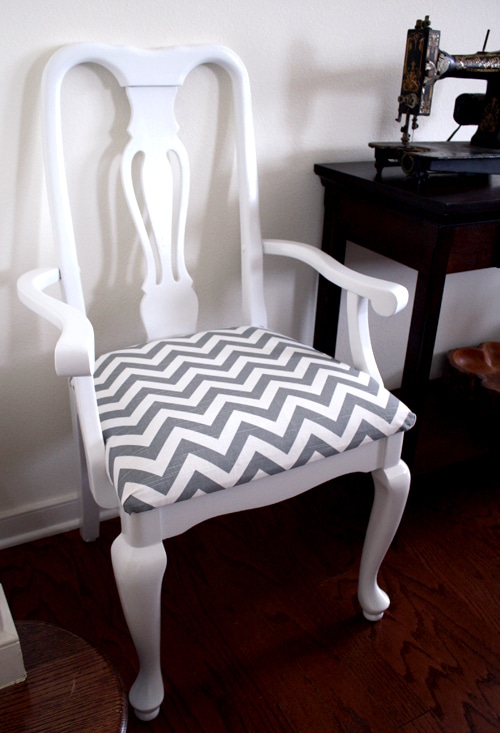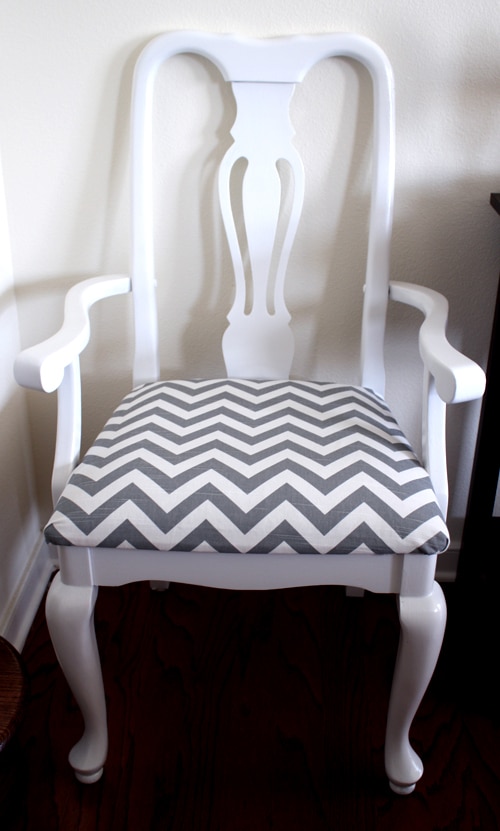 Granny got a facelift!
I love mixing old and new, traditional and modern. And I am loving the traditional silhouette of the Queen Anne chair with this crisp new modern treatment. What do you think?