Quartz Countertops
We took a fun field trip to the stone and granite showroom! Initially, I was considering quartz for the countertops because it's lauded to be maintenance-free and virtually indestructible. Because we're selling this home in a couple of years, I wanted to keep that in mind. However, after seeing the quartz slabs in person, I was less than enthused about them. Quartz countertops are a fine and acceptable, but safe choice. Some mimicked the look of marble, but in my humble opinion, marble just can't be replicated. Because marble is a natural stone, there's a depth and feel to it, a realness to it. And no two slabs are the same – there's just something truly magical about marble.
Above are some of the quartz slabs I was considering. None of them really set my soul on fire, though. I mean, do countertops have to set souls on fire? Of course not, but I figured if I was spending the money on custom countertops, why not get what I really wanted? If I stick with the "safe" and "acceptable" choice, would I later regret it?
Calacutta, Carrara, and Statuario Marble
Below are some of the marble slabs that were on the showroom floor. Aren't they just stunning? There are several types of white marble available on the market: the most notable being Calacutta, Statuario, and Carrara. Quarried in Carrara, Italy, (which is where it gets its name), Carrara is the most affordable kind of marble due to its wider availability. Carrara usually has more of a light grayish background with soft, feathery veins, while the more expensive varieties, like Calacutta and Statuario have whiter backgrounds and dramatic, striking veins. Calacutta is also quarried in Carrara, however because of its rarity, it tends to be more expensive. Statuario is typically what sculptors will use for their sculptures and has a crisp, white background with dark, bold veining.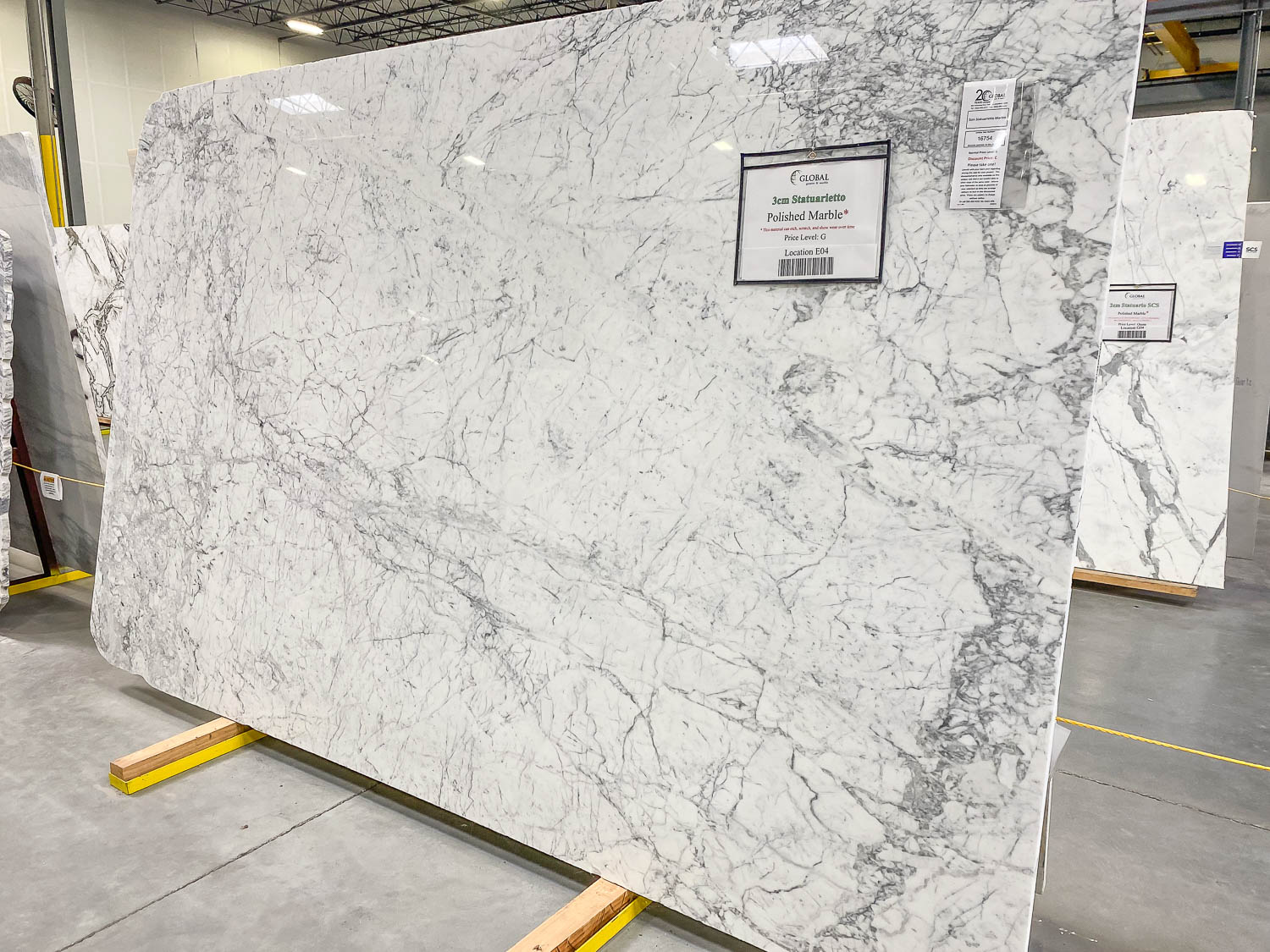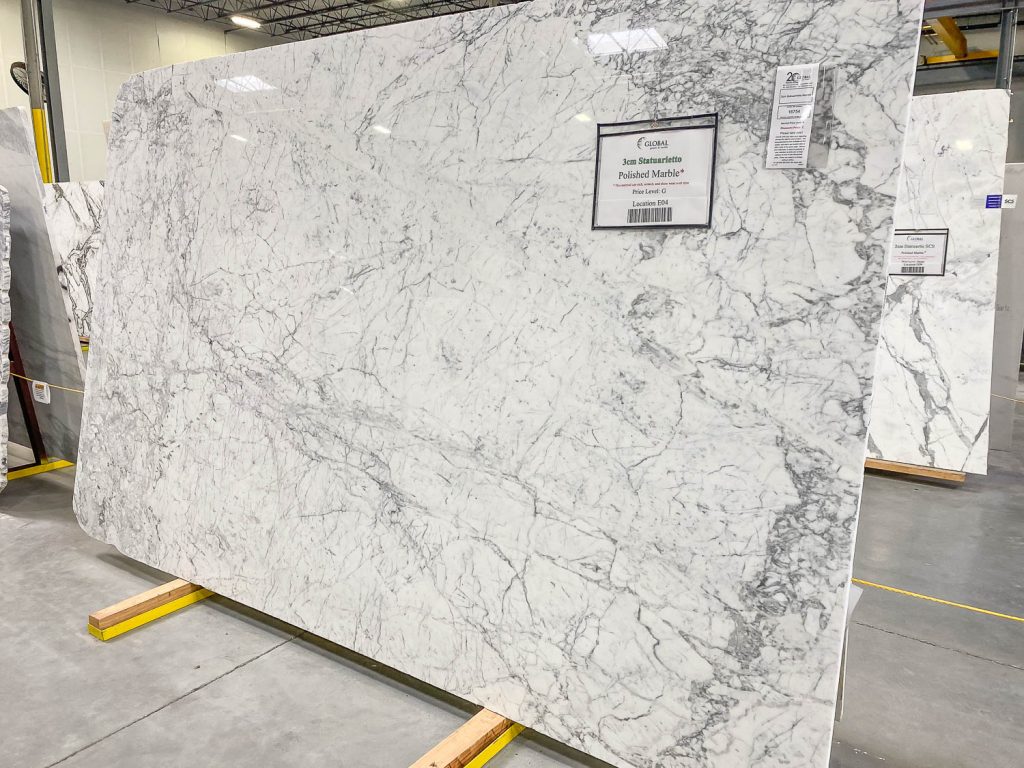 Many people shy away from marble because it requires more maintenance than quartz and can easily scratch, etch, and stain, but even after an absurd amount of research and understanding the time and effort it takes to care for marble, I still wasn't deterred. Maybe I'm blindly optimistic, but I don't think I'd mind some of the natural wear and tear – I think it would just become part of our family's story, which I think is sweet.
Soapstone Countertops
Soapstone is another natural stone that I was seriously considering for our kitchen countertops. Like marble, it has a softer consistency than quartz, however the look is vastly different from marble. Soapstone comes in different shades of gray and black, sometimes having blue or green undertones with gentle veining. It's non-porous, which makes it stain-resistant and antimicrobial, and also heat-resistant. While soapstone has a softness similar to marble, it doesn't crack or chip easily. However, scratches and subtle dents appear with normal wear and tear, but can easily be buffed out with fine sandpaper or oil. It also darkens or "patinas" over time and with a regular application of mineral oil or soapstone wax, you can enhance that natural darkening progression. Soapstone requires less maintenance than marble, in that because it's so dense, it doesn't need to be sealed like marble does.
Pricing Model For Stone Slabs
Instead of displaying a set price per slab, our stone showroom used a lettering system to give you an idea as to what price range that slab is in, "A" being the lowest and "G" being the most expensive. (I tried to steer clear of any slabs above "D"). Before they set me free to roam the showroom floor, they gave me a clipboard so I can jot down the name of the slab, the price range, and where it was located in the warehouse. Once I made my choices, they send my sheet to my stone fabricator, who then works up an estimate. I found it interesting that it's the fabricator who sets the price, not the stone yard. I assume this is so that the fabricator can mark up the slab and add their labor costs to the final quote. The stone yards we visited only sell full slabs. There are a few remnants in the corner of the warehouse, but for the most part, you're required to purchase a full slab. Your fabricator will be able to tell you how many slabs you'll need to purchase. Once the decision has been made, the stone yard delivers the slabs to the fabricator, who will then begin cutting and fabricating the countertops.
Sooo… quartz, marble, or soapstone? I'm leaning towards the natural stone, naturally, but the jury is still out… stay tuned!