Organizing my spice rack has been on my to-do list FOR.EV.ER. So, naturally, I scoured Pinterest for 'Pinspiration.' Previously, it was a dark, unorganized mess and I could never find anything or I'd forget I had a certain spice and then buy duplicates. So I decided to tackle this problem once and for all.
I picked up these cute little magnetic spice tins at World Market for $2 each. I was expecting the standard stainless steel color, but was pleasantly surprised with their choices of red, green, and teal. Naturally, I chose teal (big surprise). Then I picked up a 12×24 sheet of metal from Lowe's for $5, tacked it up to the inside of my cabinet door and voila! Organized spices. FINALLY. Well, that was easy. What took me so long?!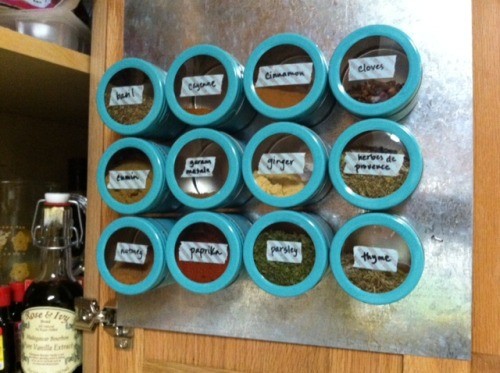 What about you guys? What kind of spice organization works for you?