*This post is brought to you by The Home Depot.
Hiiiii friends! It's Fall planting time, you guys! I know – I say that as if I actually know what I'm doing around plants. #blackthumb #plantmurderer #botanicide
(Okay. I'm done taggin' the hashes.)
Although I cannot be trusted to keep any plant alive, we're going to be building a hanging planter at this month's DIY Workshop! Want to come and wield some power tools with me?
I'll be co-hosting the DIY Workshop at the Briley Parkway Home Depot store in NASHVILLE, TN! Woohoo!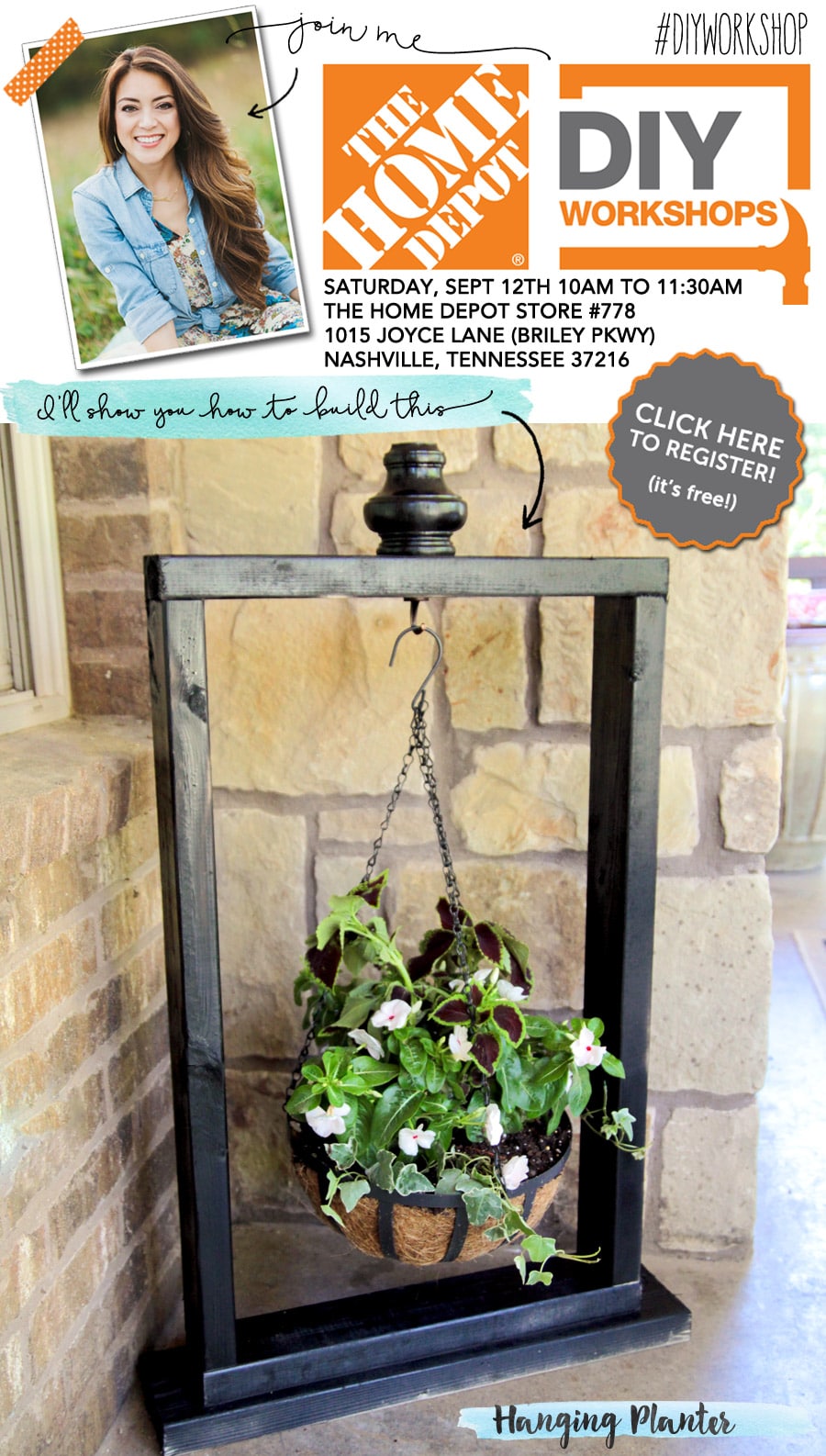 Here are the workshop deets:
Where: The Home Depot Store #778
1015 Joyce Lane (Briley Parkway)
Nashville, Tennessee
When: Saturday, September 12th
Time: 10:00 a.m. to 11:30 a.m.
Cost: Free!
If you're not in the Nashville area, don't worry – you can click here and enter your zip code to see if your local store will be hosting this workshop.
But wait… there's more!
A few of my blogging besties will be co-hosting this workshop too! If you live nearby, I encourage you to attend. They're a blast to hang out with.
Jaime | That's My Letter | Store #6210 | 503 New Park Ave., West Hartford, CT
Michelle | Decor and the Dog | Store #2111 | 920 Middle Rd., Bettendorf, IA
Chris | Man Made DIY | Store #410 | 7677 East Broadway Blvd., Tucson, AZ
You don't want to miss this event – it'll be exactly one ton of fun. REGISTER HERE and let us you know you're coming! We'd love to meet you. The hanging planter pictured above was designed by our sweet friends at Shanty 2 Chic, so we'll be building their version at the workshop.
If you'd like to challenge yourself with some fun angled cuts, you can build my customized triangular version below. I've drawn up the plans for you!
Click here to download the PDF plans for a Triangle Hanging Plant Stand.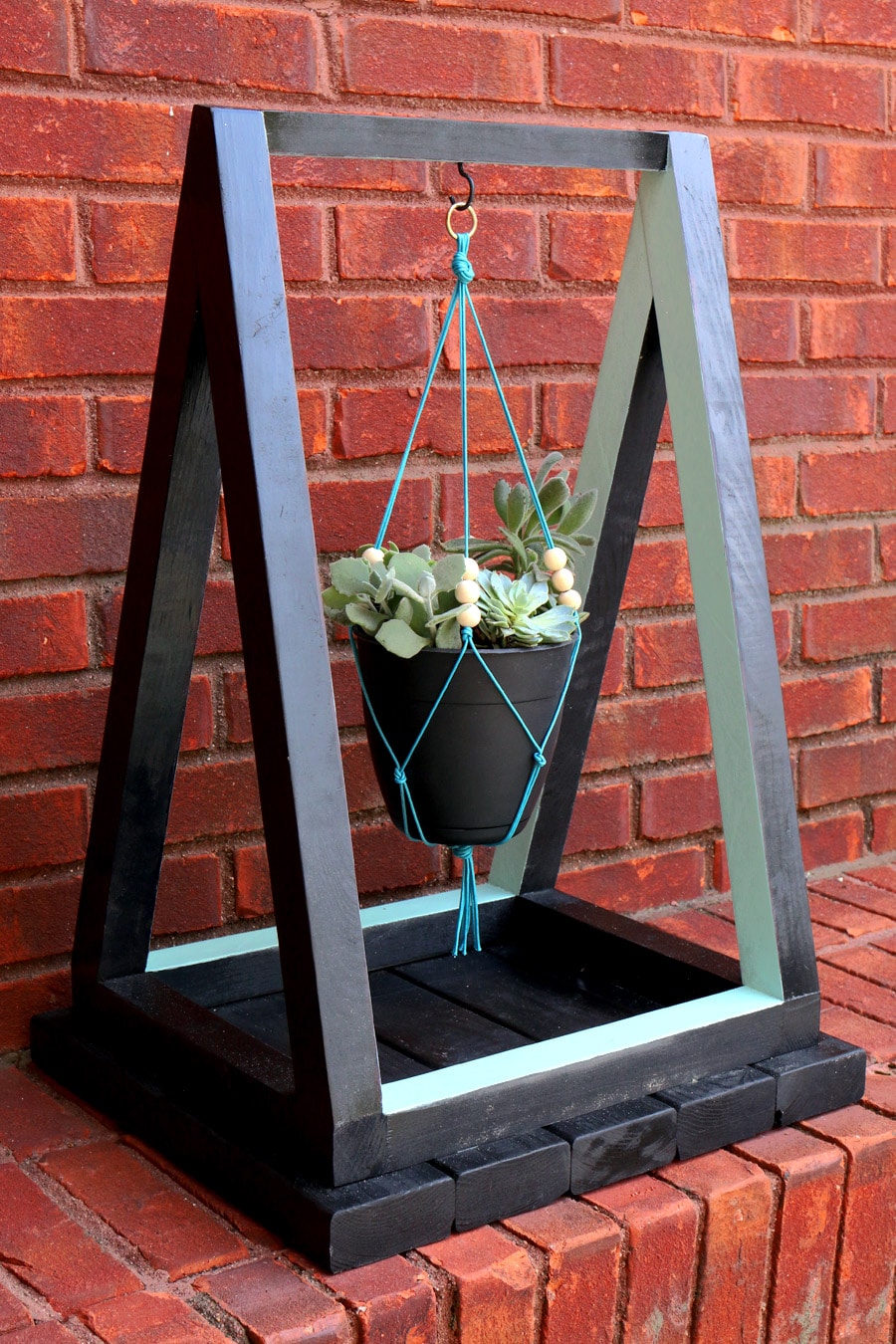 It took a few tries to get these plans just right. I drew the plans up, snuck out to my workshop to build, and when things didn't go according to plan (see what I did there?), I whined that Sketchup was a dirty rotten liar then texted my builder blogger friends Amy and Jaime (hey, that rhymed!) to support my accusations. Luckily, they helped me brainstorm a plan that actually worked!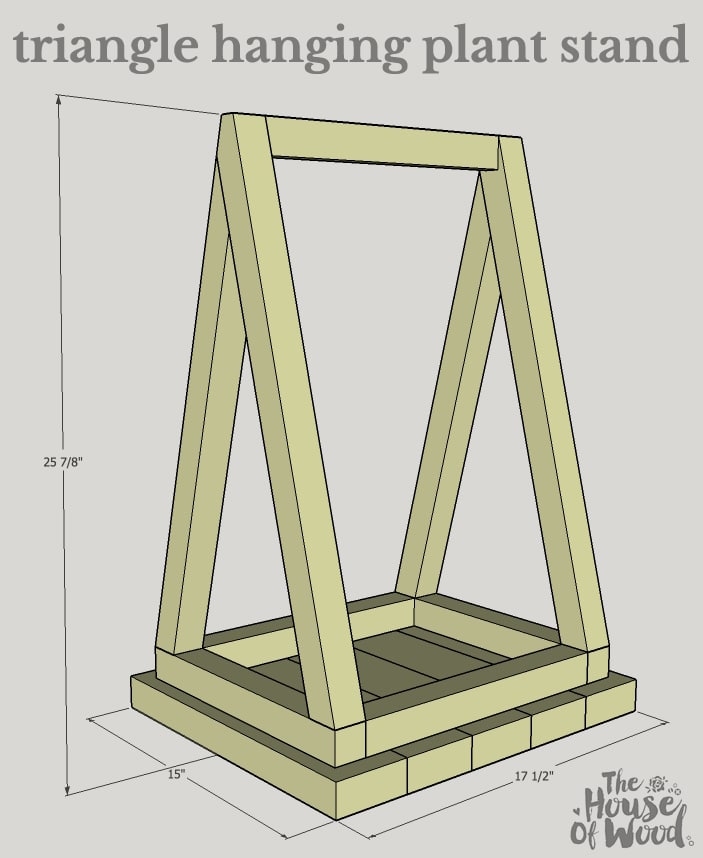 *This post contains affiliate links. To read my full disclosure policy, click here.
First, build the triangle pieces. I set my miter saw to 60º and cut the top ends, then set the saw to 15º and cut the bottom ends. If your miter saw doesn't go up to a 60º angle, I'd recommend drawing out your angle, then using a circular saw to cut it. You must measure carefully and ensure that your saw is true because even the slightest discrepancy will affect the overall build. I have a pile of triangular-shaped scrap wood to prove this theory.
Join the two angled pieces like so. Use wood glue, clamp, and let dry. Make two of these. Next, build the bottom frame and attach it to the angled pieces using 2-1/2″ deck screws and wood glue.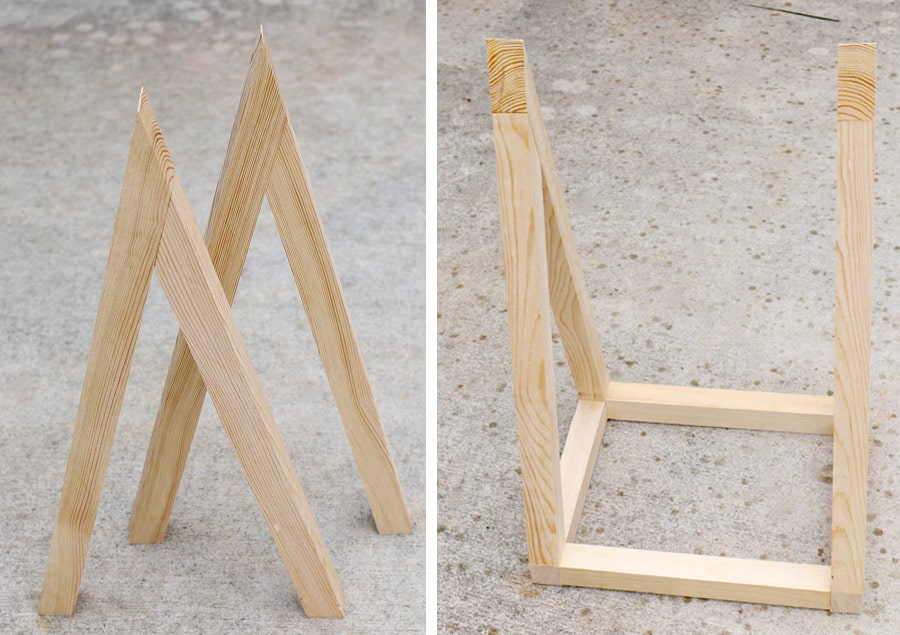 Then add the top rail with wood glue and 2-1/2″ deck screws. I chose to lop off the pointy ends with my circular saw.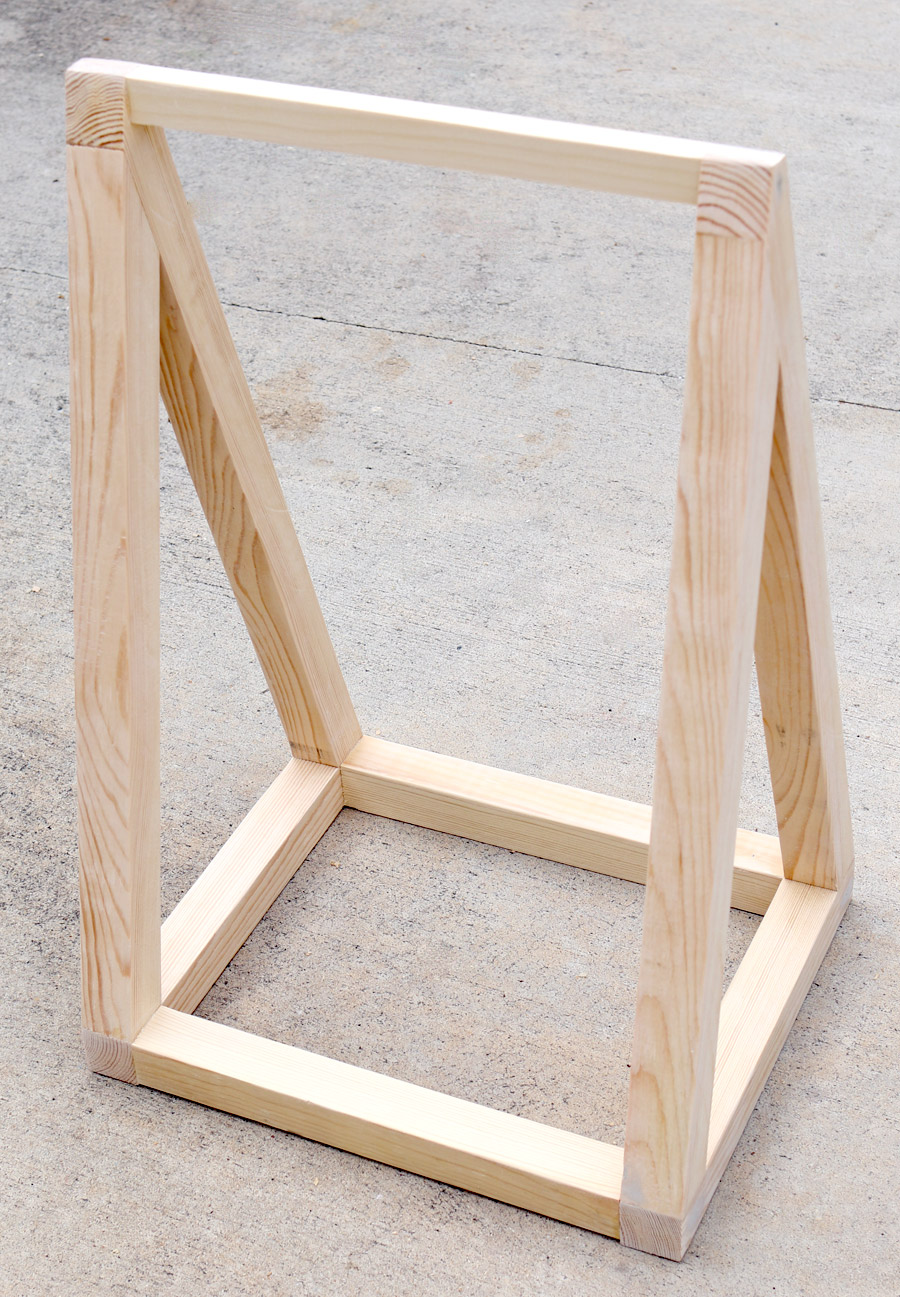 Finally, build the base by joining five 2x4s together. I used wood glue and clamped the pieces together. You may opt to join the boards with pocket hole screws, but I find that the glue by itself is strong enough. Once the glue dried, I attached the base to the triangle frame with 2-1/2″ deck screws and glue.
After a couple of quick coats of my favorite black spray paint, I went back and painted the interior faces with this minty color just to give it a little "pop of color."
Argh! Don't you just hate that term? When designers say to add a "pop of color" here or there or whereverthehell, I just want to strangle them!
Well, that escalated quickly.
Here's how it turned out: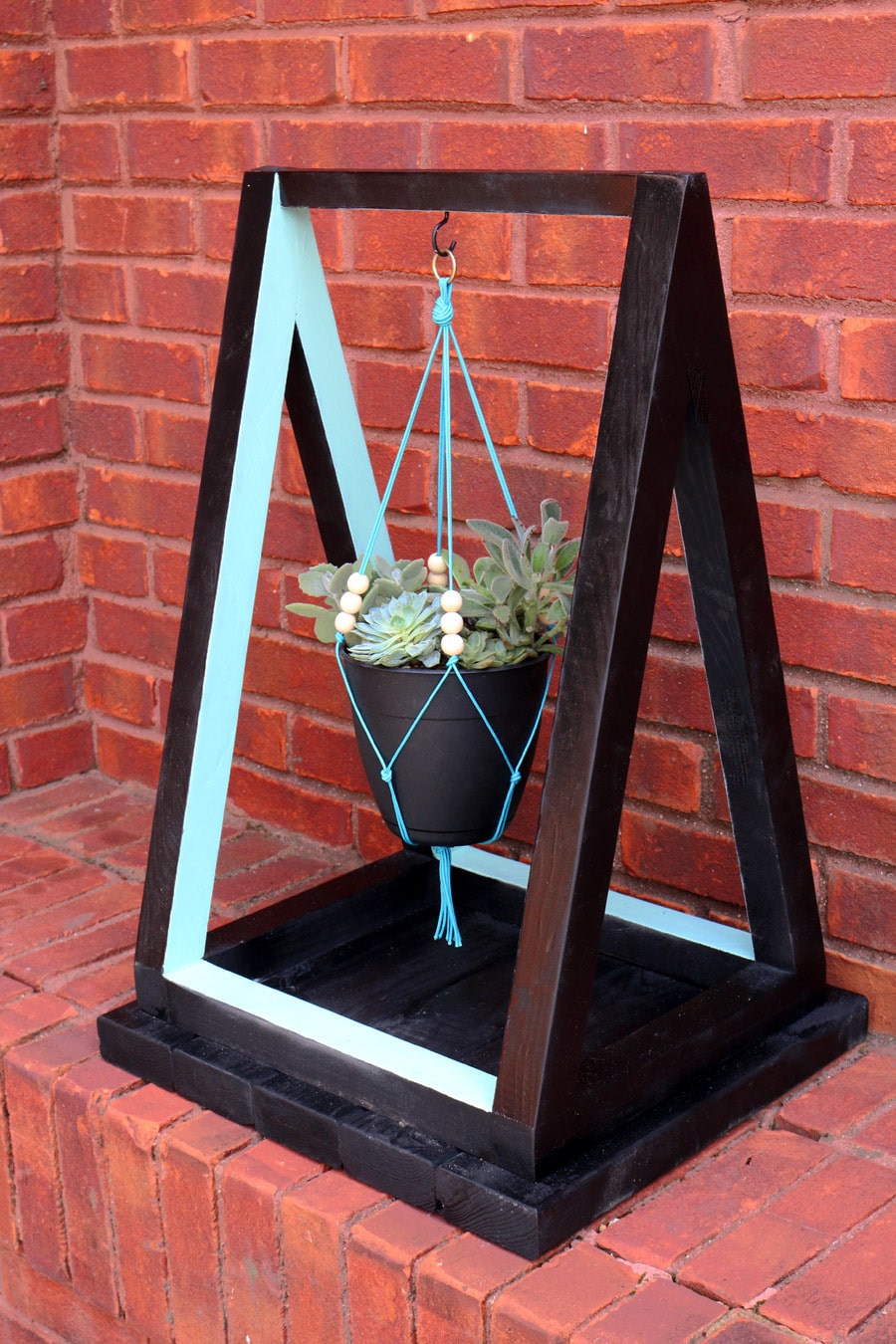 Succulents.
They say you can't kill succulents.
And yet…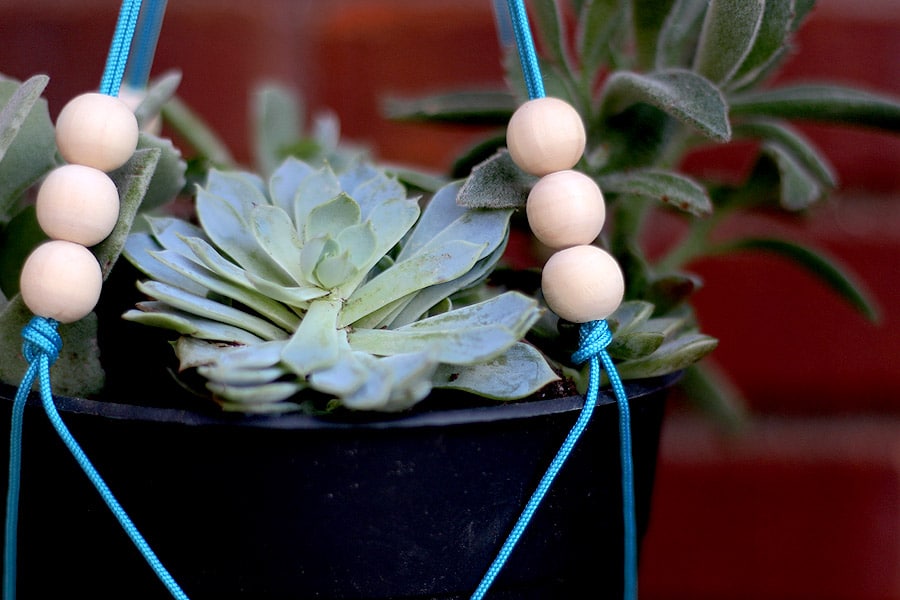 These "indestructible" succulents will most likely not see the end of the week. I don't mean to brag, but I'm kind of an over-achiever in the plant-killing department.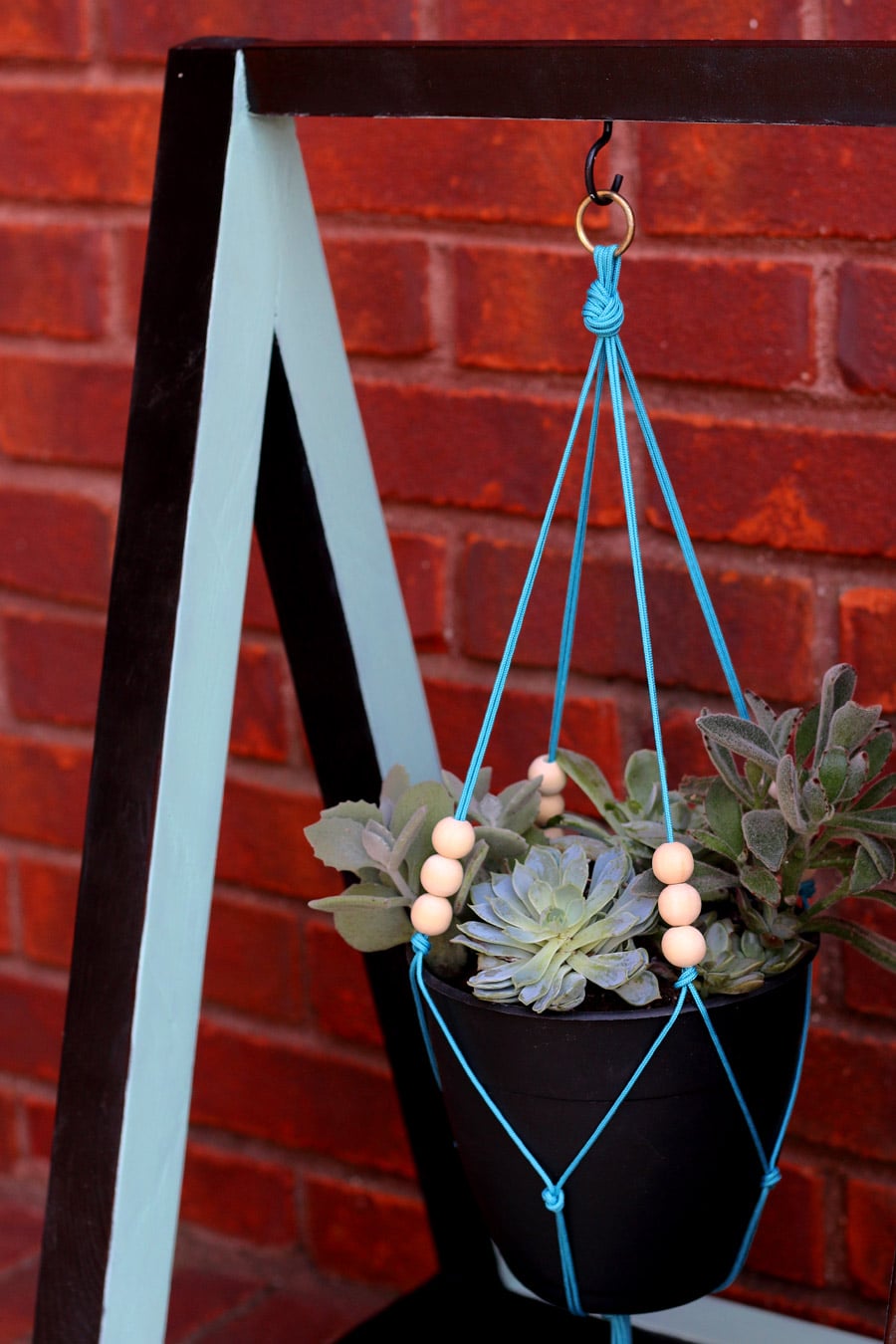 Love this project? Want to learn how to build it for yourself? Come to one of the DIY Workshops at The Home Depot! It'll be awesome. I dare you to build this hanging planter and put your own spin on it! Oh, yes. The gauntlet has been thrown down. I'd love to see your customized version, so if you build it, be sure to share it on Instagram, Twitter, or Facebook and tag me with #jenwoodhouse and #DIYWorkshop so I can see it!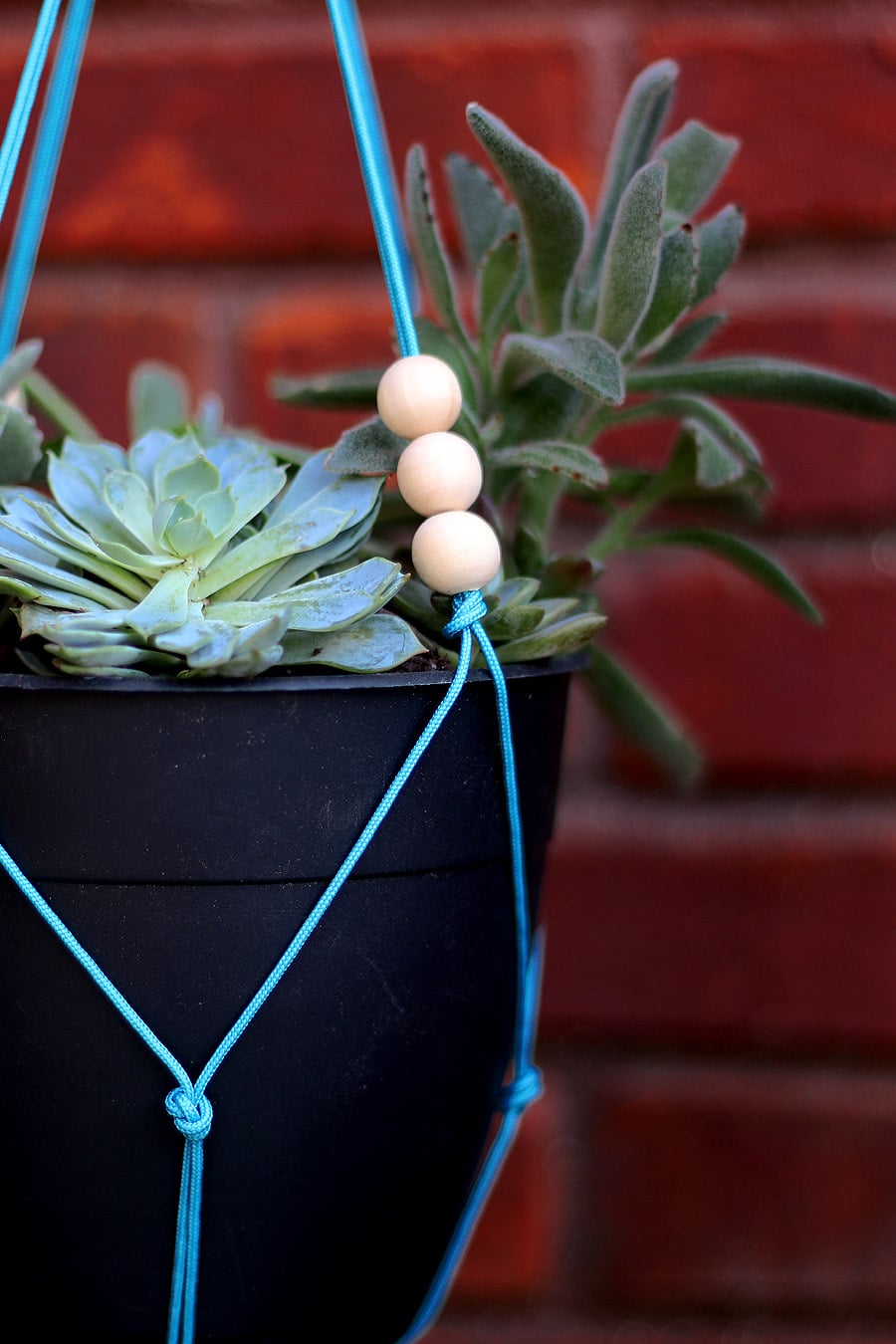 Feel free to pin and share this project using the image below. Have a lovely week and Nashville folks, I'll see you sooooon!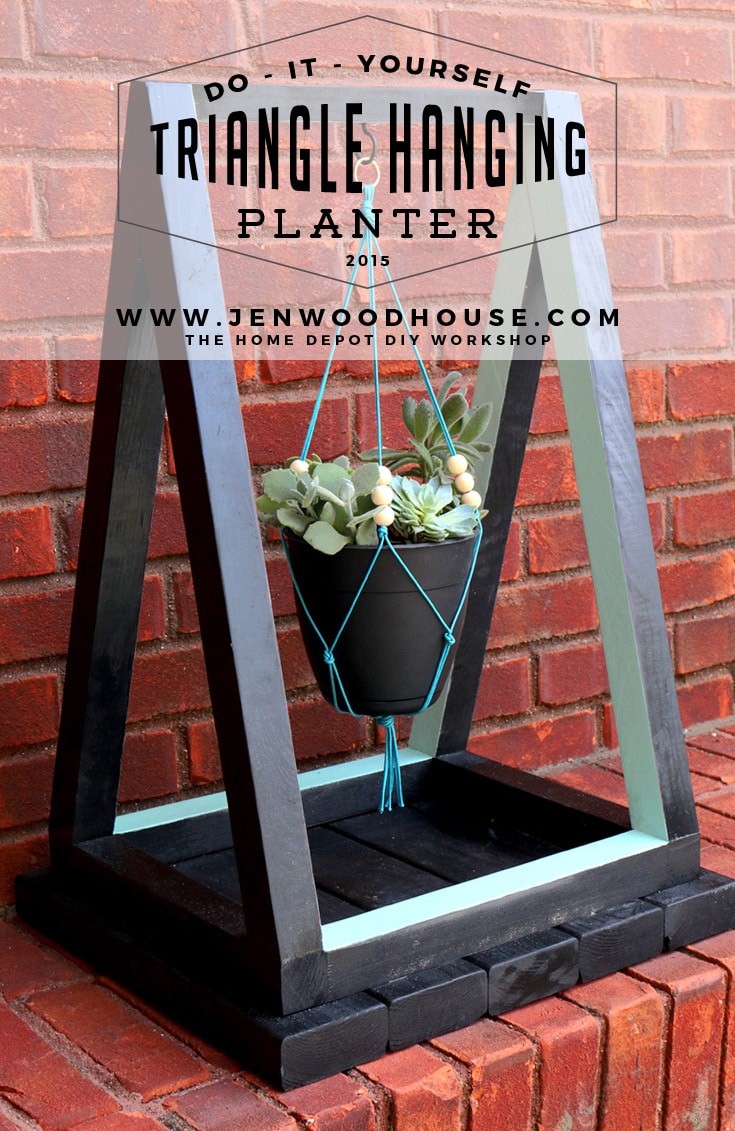 Were you able to attend the last two workshops where we rocked out a rolling grill cart and vertical planter? You can click on the images below for the plans and tutorials.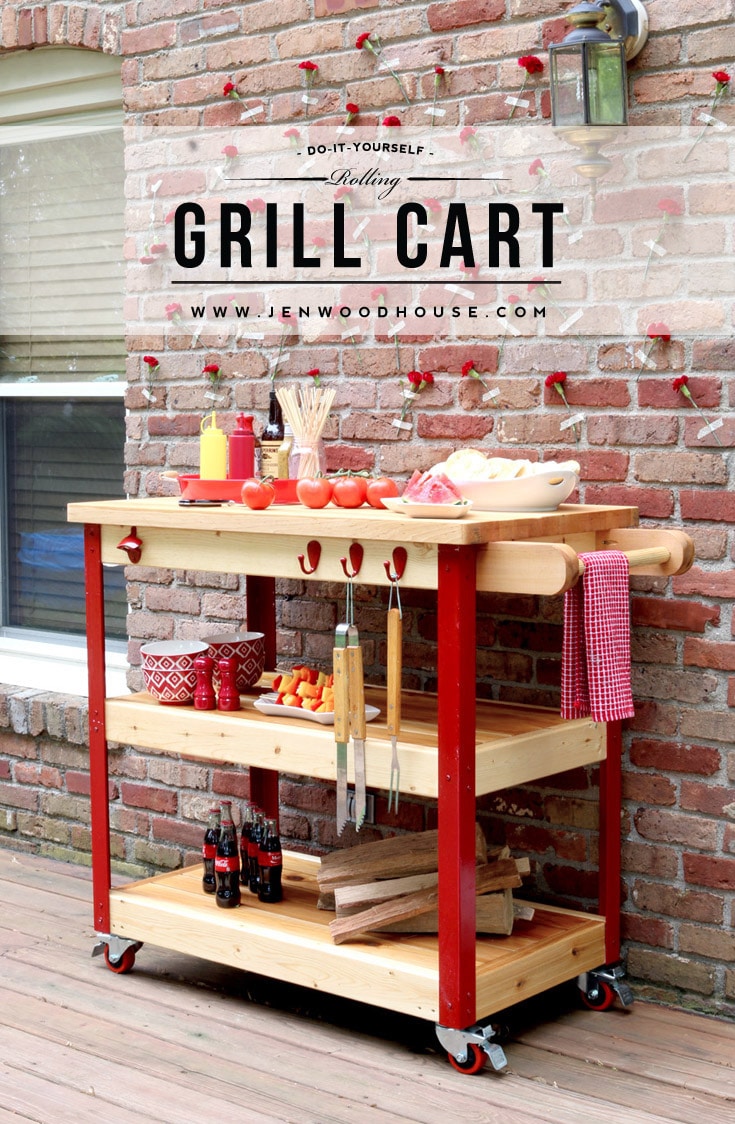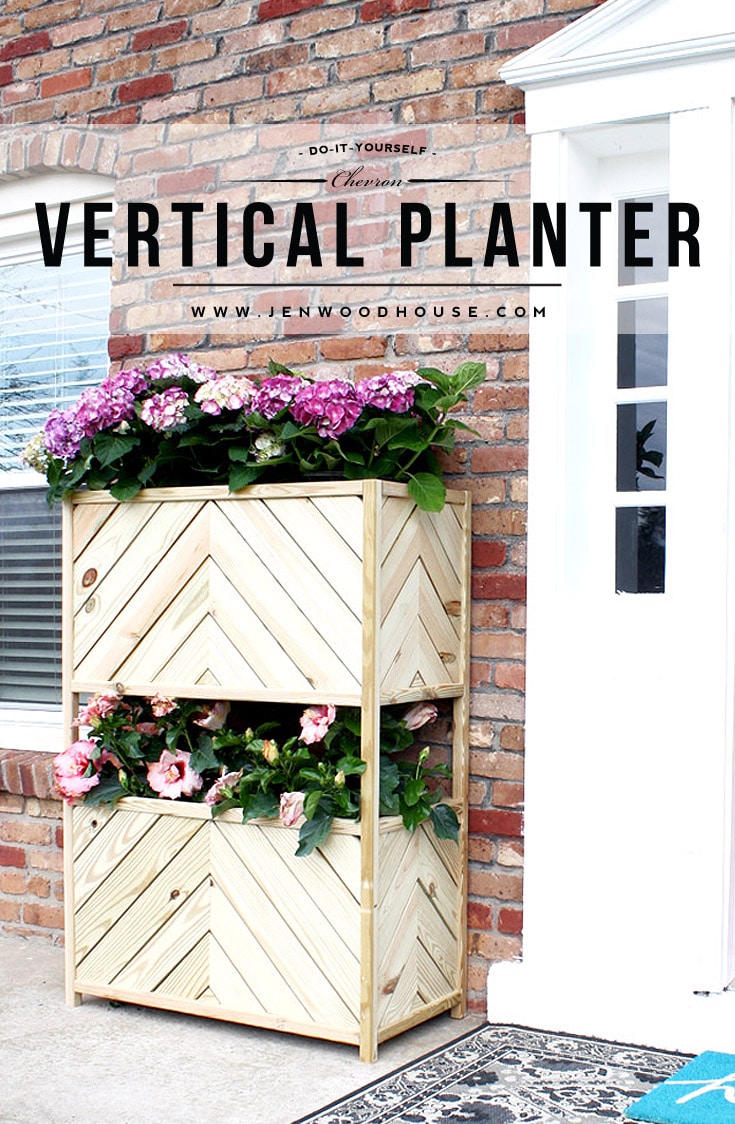 *I acknowledge that The Home Depot is partnering with me to participate in this Workshops Program. As a part of the Program, I am receiving compensation in the form of products and services, for the purpose of promoting The Home Depot. All expressed opinions and experiences are my own words. This post complies with the Word Of Mouth Marketing Association (WOMMA) Ethics Code and applicable Federal Trade Commission guidelines.