Do you ever have those projects that get pushed to the back burner over and over, and what should have taken you a week to make, ends up taking you months? This DIY Edge Grain Walnut Cutting Board with Epoxy Resin Inlay is one such project. Life happens. Pressing deadlines must be met. And so this cutting board sat in my garage for months, quietly waiting for me to find the time to finish it. I'm so glad I finally did because it turned out to be one of the most beautiful things I've ever made.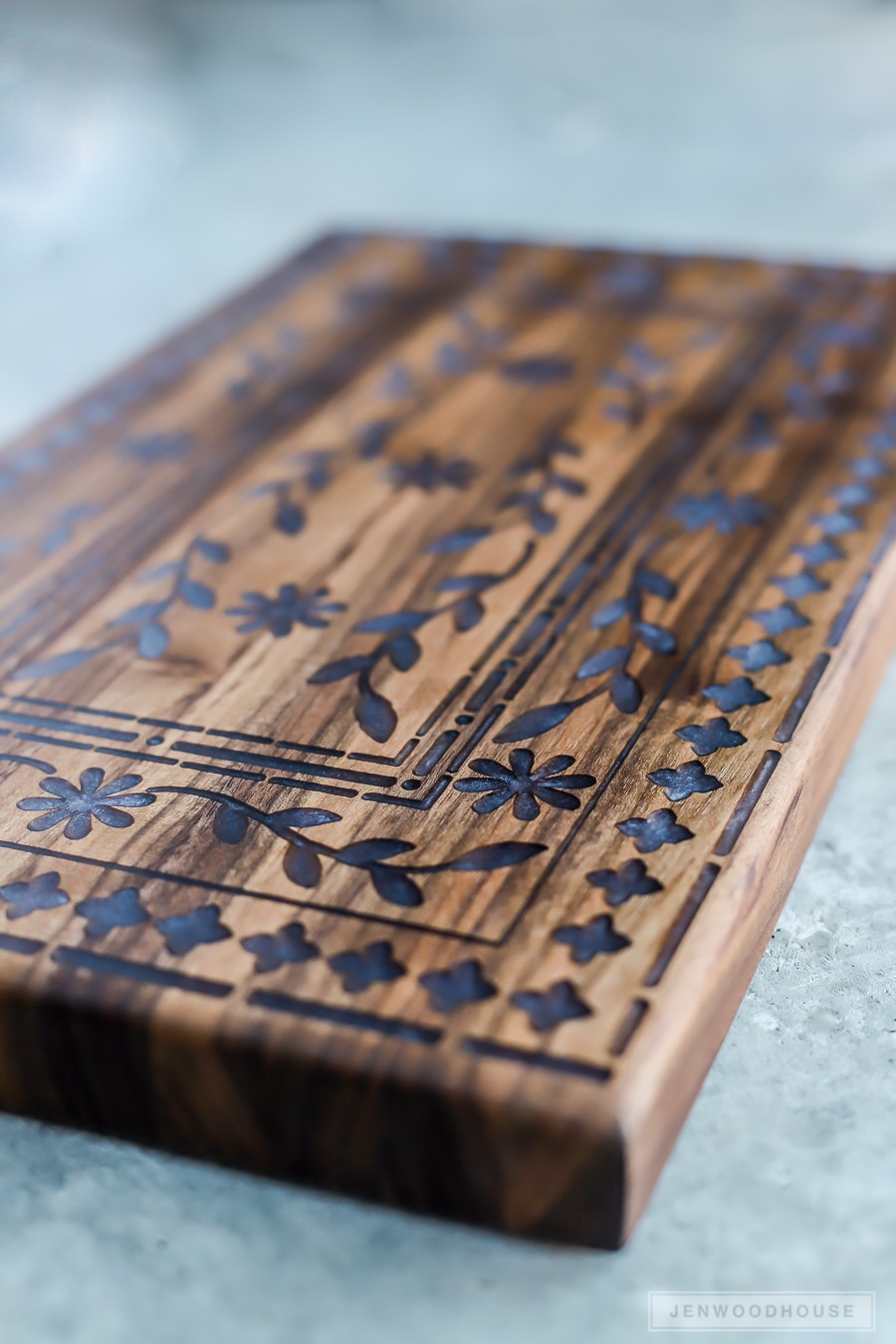 Inspired by these furniture pieces with intricate bone inlays, I wanted to translate a similar design to a cutting board. Obviously, hand-carving and -cutting bone inlays is beyond my skill set, so I came up with an alternate plan. I could not have done this project without my X-Carve 3D carving machine from Inventables, the sponsor of today's project.
Walnut Cutting Board w/ Epoxy Resin Inlay
Tools:
Supplies:
Black walnut or other dense hardwood, such as maple or cherry

Make the Cutting Board
First, we need to make the cutting board. I dug through my scrap wood pile for some black walnut. I made this cutting board much like this one – I cut the board to about 16 inches long, then using my table saw, I ripped it to 1 1/2 inches thick. After determining which edges I wanted to be the top surface of the cutting board, I laid the boards on their faces and applied wood glue. Then I turned the boards back on edge and clamped them together until the glue dried. I love using these parallel bar clamps for this task.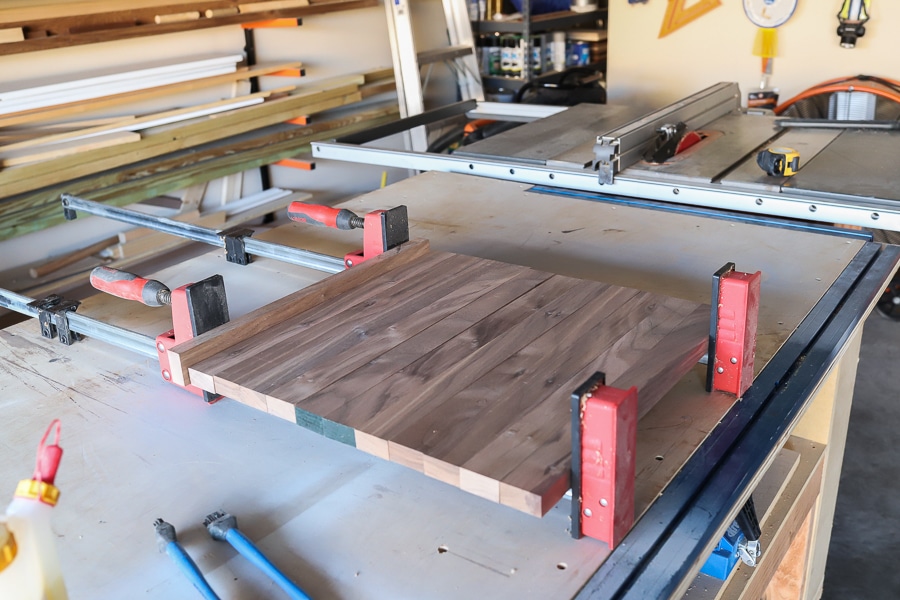 You'll want to get the boards as flat and as lined up as possible, to minimize the tedious task of sanding later on. I also used a couple of sacrificial boards on each side (see photo below) so as not to mar the cutting board with the clamps.
While the glue dried, I opened up Easel, Inventables' web-based program and started working on my inlay design. Huge shoutout to my dear friend Katie from Addicted 2 DIY. When I was having trouble getting my design to work properly in Easel, Katie walked me through Adobe Illustrator (a program completely foreign to me) and helped me get the files to properly talk to each other. She was a huge help. Katie is also an Inventables Brand Ambassador. Check out her awesome projects, like this adorable DIY pie box.
I've said it before, but I truly believe that a rising tide lifts all ships and the people I choose to surround myself with also live by that phrase. I love how supportive and encouraging our woodworking community can be!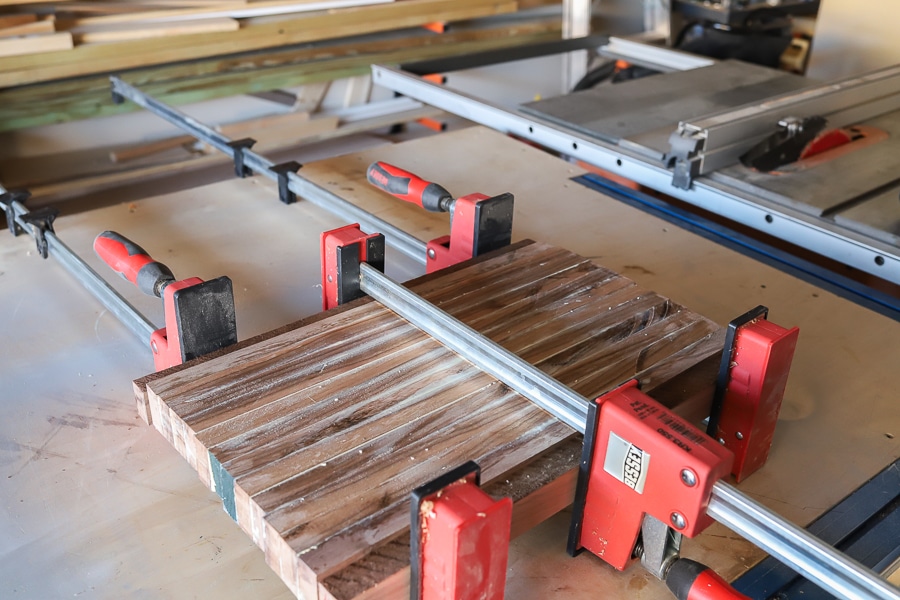 After allowing the glue to dry overnight, the board was ready to be taken out of the clamps. I ran the board through the thickness planer to get both sides flat, then sanded it smooth. Next, I used a trim router with a roundover bit to round over the edges.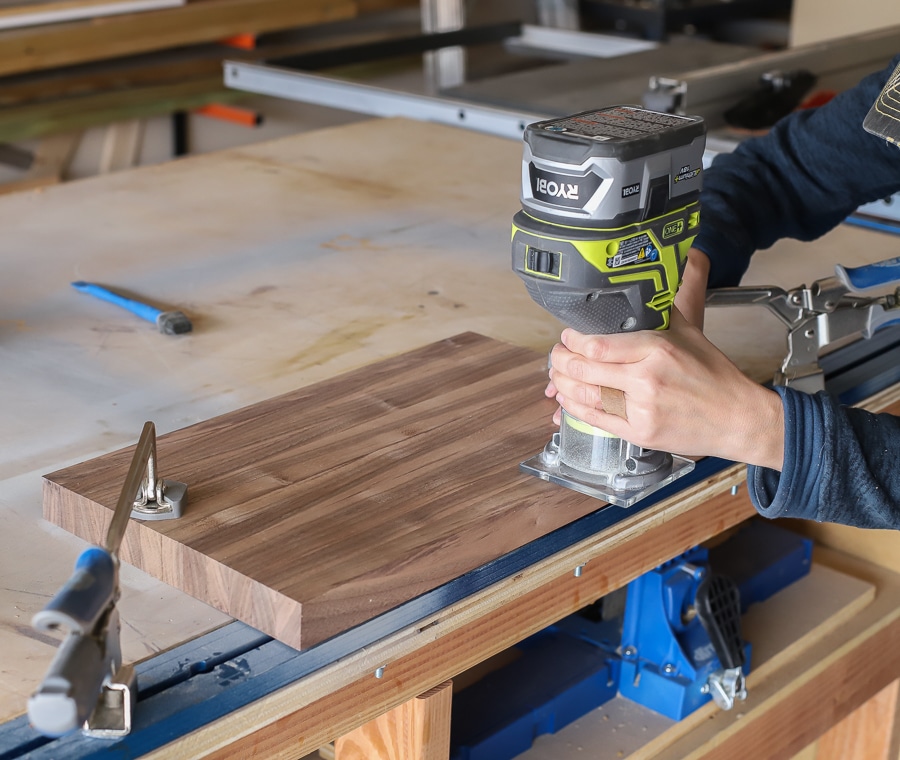 Now we're ready to carve!
Carve the Inlay Design
I opened up Easel, clamped the board to the work surface and let the X-Carve do its magic. A standard straight bit won't result in a crisp, clean cut with this particular pattern, so I used a 60º V-carving bit, which is ideal for carving very detailed and intricate designs.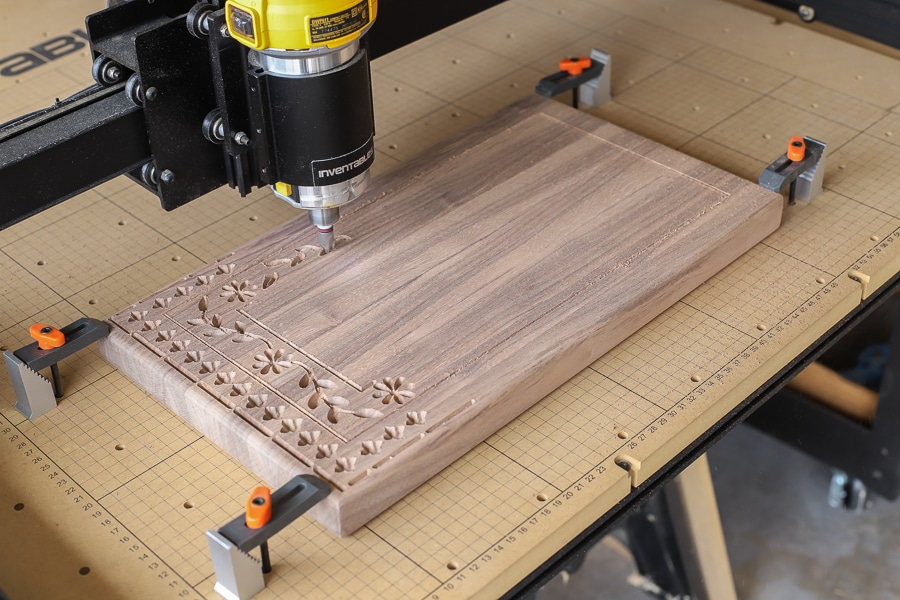 After about an hour and a half, the carving was complete. Pretty stinkin' beautiful, right?!
Pour the Epoxy Resin
Now it was time to fill the carving with epoxy resin. I've never worked with epoxy resin before, so I did a few trial runs on a scrap piece of plywood before going in for the real deal. And because this is a cutting board that will come into contact with food, I chose this food-safe epoxy resin.
I really wanted the inlay to look like mother-of-pearl, so I experimented with different colors and additives, all of which are food-safe! I found a lot of these edible gels and crystals in the baking aisle of the craft store.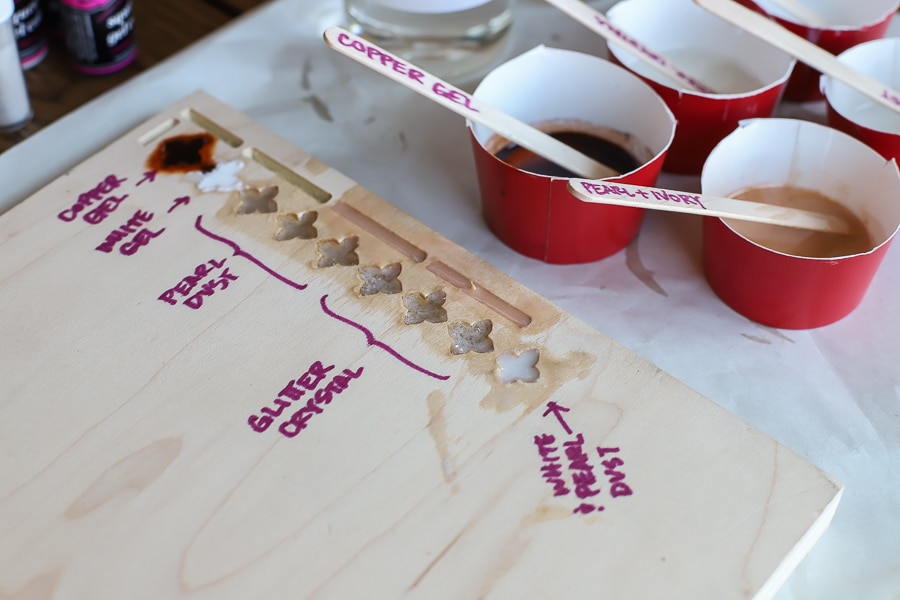 Per the instructions on the bottle, I poured equal parts resin and hardener, mixed it for 3 minutes, and poured it into the carvings. I used a blow torch to get rid of any air bubbles that appeared, then covered it with a cardboard box (to keep dust from settling on the surface) and left it to cure overnight.
Sand the Cutting Board
Once the resin hardened, it was time to sand the surface smooth. This is truly the most difficult part of this project, because you're going to sand for days, and then sand some more. The resin kept gumming up my sandpaper, so I had to keep replacing the sanding discs. I started with 80-grit sandpaper and worked my way up to 320-grit.
When I finally got the surface perfectly smooth and flat, I quickly rinsed the cutting board with water to get rid of the dust and debris, and also to raise the grain one last time. After the board dried, I hand-sanded it with a 400-grit sanding sponge to knock the wood fibers back down then removed the remaining dust with a damp cloth.
Apply Finish
Now it's time to apply a food-safe finish! You can use mineral oil or butcher block oil for this, but my good friends recently launched a new finishing product line, so I was excited to give it a try. It's called Simple Finish – you can learn more about it here. It was super easy to apply – simply wipe a heavy coat on, wait 15 minutes for it to penetrate, apply another coat, wait 10 more minutes, then wipe off the excess and buff with a soft cloth.
Feast your eyes…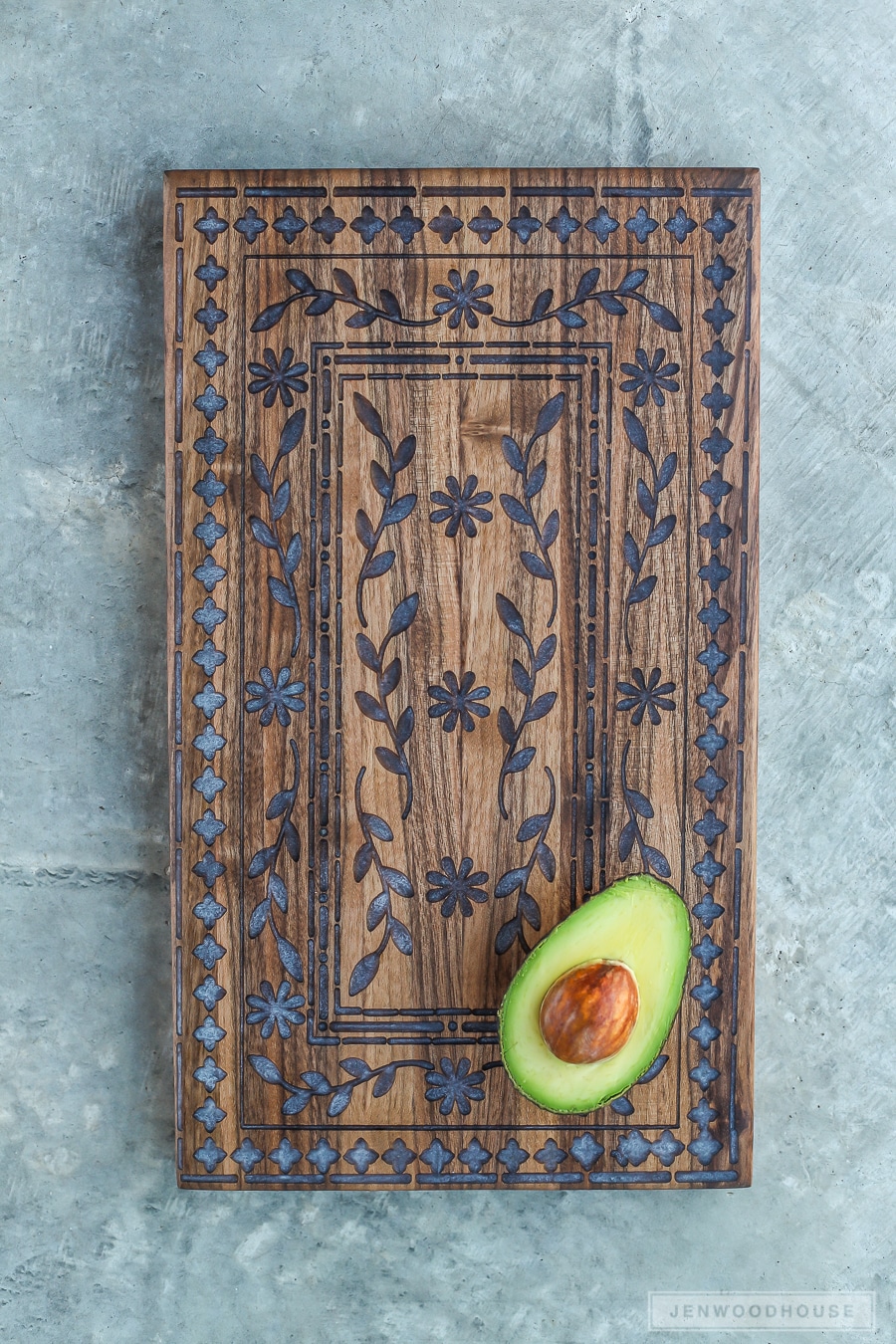 I really love how it turned out and can't wait to make more. Hopefully it won't take me months to complete this time because these epoxy resin inlay cutting boards would make amazing Christmas gifts! What do you think? Would you want to see one of these walnut cutting boards with epoxy resin inlay under your tree?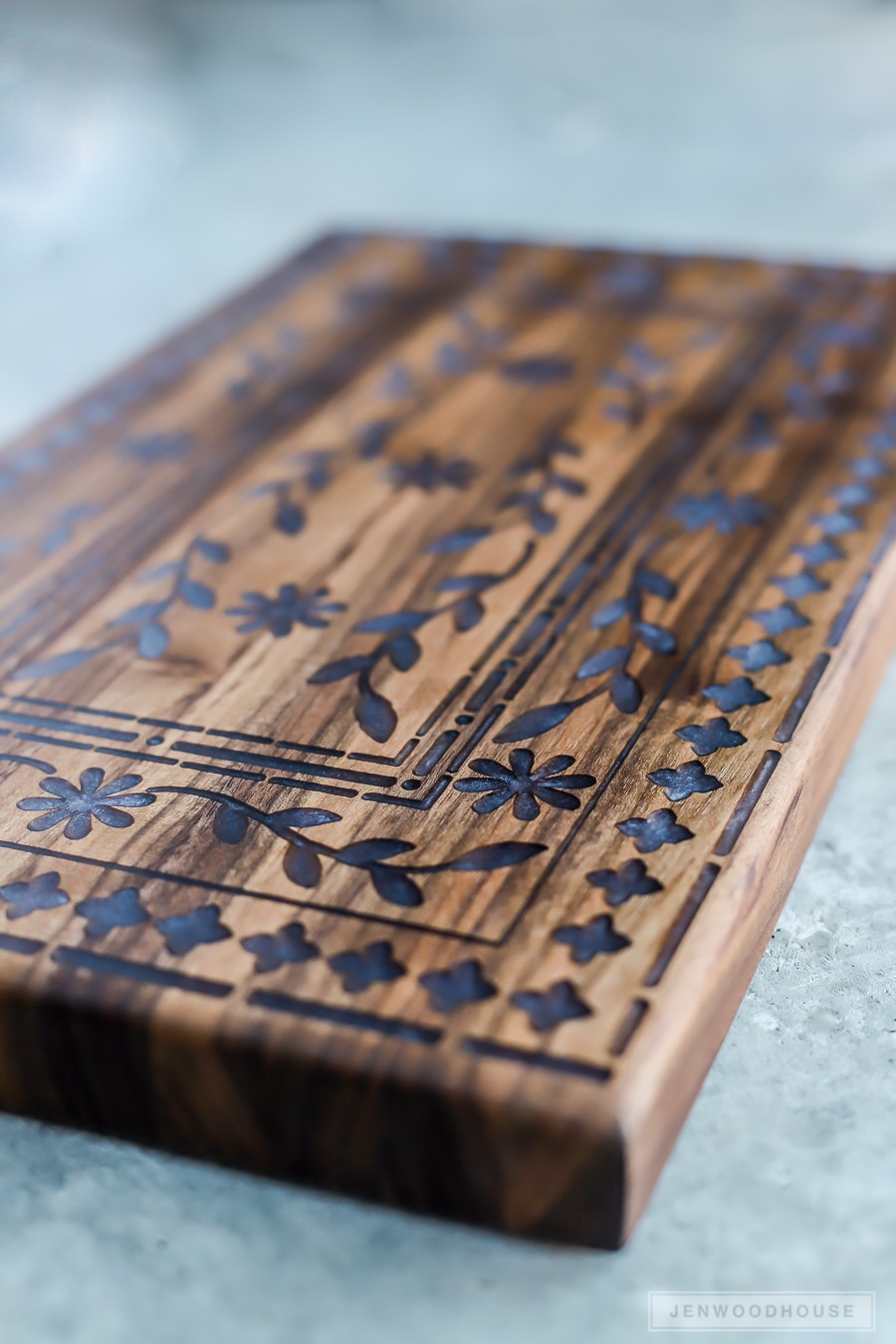 Thanks for reading, friends! I hope this project was worth the wait!
*This post contains affiliate links and is sponsored by Inventables. All efforts and opinions are my own.