*This post is sponsored by The Home Depot.
Our guest bathroom renovation is officially underway! Day 1 of Demo Day is complete and we're taking a closer look at three of the tools that made demolition go much easier and faster! If you missed our design plans for this renovation, click here.
We used this Ridgid rotary hammer fitted with this SDS chisel attachment to remove the floor tiles. I was really dreading this task, but was pleasantly surprised at how easy it was! It was actually a lot of fun once I got over the initial intimidation of this tool. This tool has three modes: hammer, drilling, and chisel modes. Hammer and drill modes operate like a standard drill while the chisel mode pumps back and forth, like a jackhammer. I used this setting with the chisel to bust up the tile. I found the easiest method was to run the chisel along the grout lines, then just pop off each tile like a puzzle piece. Sometimes I was able to remove the mortar and mesh backing all in one go, and other times, I had to remove the tiles and backing separately. Either way, this job was so much easier than I anticipated and I credit that mostly to having this tool. It was also extremely comfortable to handle – I found the vibration to be minimal, despite its powerful performance.
Another tool that was essential in demoing our bathroom was this Ridgid One-Handed Reciprocating Saw. We paired it with a general purpose Diablo 6-inch reciprocating saw blade to cut up the fiberglass shower stall. We thought we'd be able to just pull out the shower stall kit in a few large pieces, but we were sorely mistaken! Apparently, whoever installed this shower, built the walls around it, so we literally had to cut it out of the walls in tiny pieces. We quickly discovered that this was no easy task; it took some serious muscle! I relegated this job to Adam, since his childhood nickname was "Wrecker" and he was more than happy he had this tool. The reciprocating saw delivered maximum performance and power as well as comfort and control.
Safety is paramount whenever you're demoing a space, so be sure to turn off the power before you start tearing things apart. I'd also recommend turning off the power to any adjacent rooms, in case there are any electrical boxes on the other side of the wall that you could potentially come into contact with. This was the case for us – our son's bedroom is on the other side of this shower wall and we found his outlet boxes behind the insulation. We came pretty close to cutting into it – thank goodness we had the power shut off!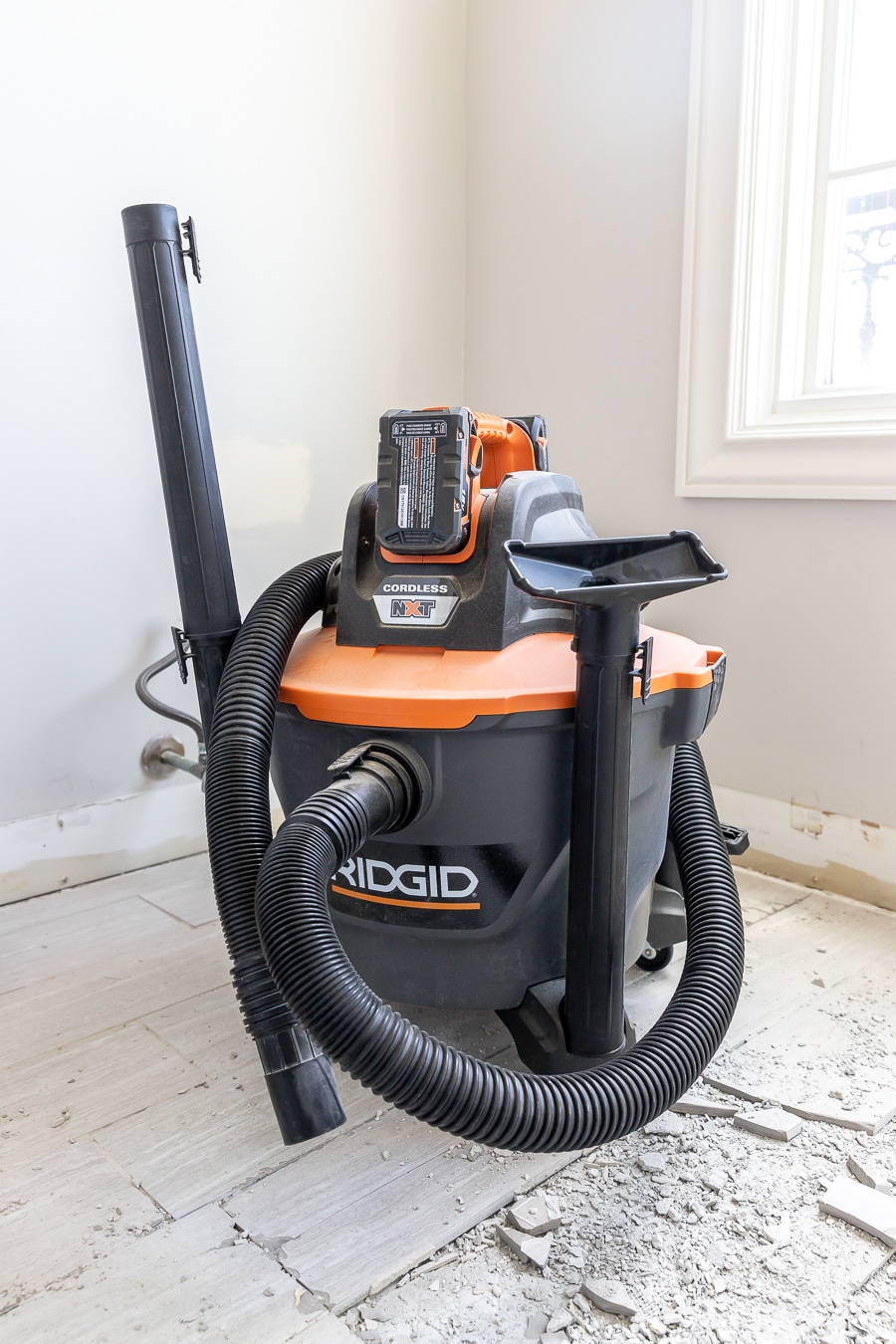 Of course, when you shut the power off, you can't very well plug in your tools! This is what makes battery-powered tools absolutely essential! We were excited to give the new Ridgid Cordless Wet/Dry Shop Vac a try – it was a lifesaver! I really like that it's small and lightweight – toting it up and down the stairs was an easy task. It can run using 1 battery, but accepts 2 for longer runtimes. The built-in accessory storage was pretty convenient too.
We're so thankful for these 3 tools – they made Demo Day so much easier and more efficient. If you're in the market for these new Ridgid products, visit HomeDepot.com for more product information. And be sure to follow along in our guest bathroom renovation – I'll be sharing more details here on the blog as well as on my Instagram account.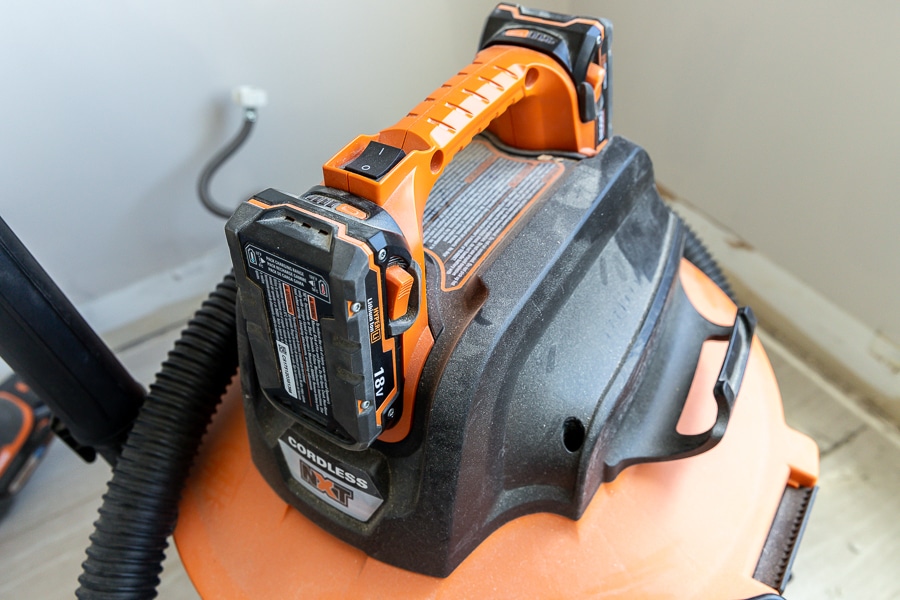 *I acknowledge that The Home Depot is partnering with me to participate in the ProSpective 2019 Campaign. As a part of the Program, I am receiving compensation in the form of products and services, for the purpose of promoting The Home Depot. All expressed opinions and experiences are my own words. My post complies with the Word Of Mouth Marketing Association (WOMMA) Ethics Code and applicable Federal Trade Commission guidelines. This post contains affiliate links. To read my full disclosure policy, please click here.