Mixing modern and traditional styles for a guest bathroom renovation featuring marble mosaic tile and vintage accents.
*This post is sponsored by The Home Depot.
Our guest bathroom renovation is officially on the books! Can one be equal parts overwhelmingly excited and completely terrified? Asking for a friend… You guys. Our next project is going to be epic and I can't wait to take you along! I'm thrilled to be partnering with The Home Depot for this guest bathroom renovation – it's going to be a total gut job and I'm pretty sure The Home Depot's project calculator and mobile app will get me through it!
Ready to see my design board?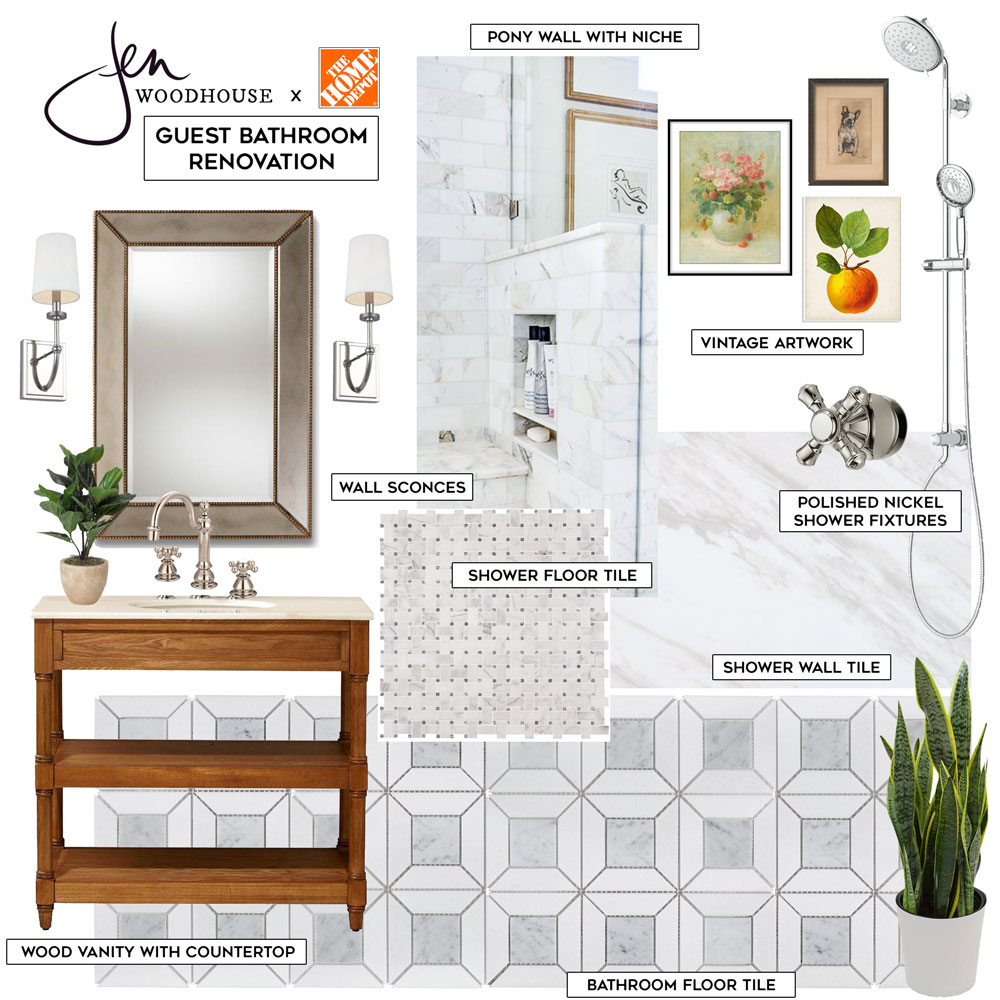 I'm still not sure how this will all shake out just yet, but I'm excited for the journey. And admittedly, I am totally scared out of my pants. I've never done anything like this before so there will be a lot for me to learn! We made a few changes to our powder room, but it was a cake walk compared to what we have in store for this guest bathroom. A few design choices may change, but I think this is a good starting point.
Here's a look at our guest bathroom currently: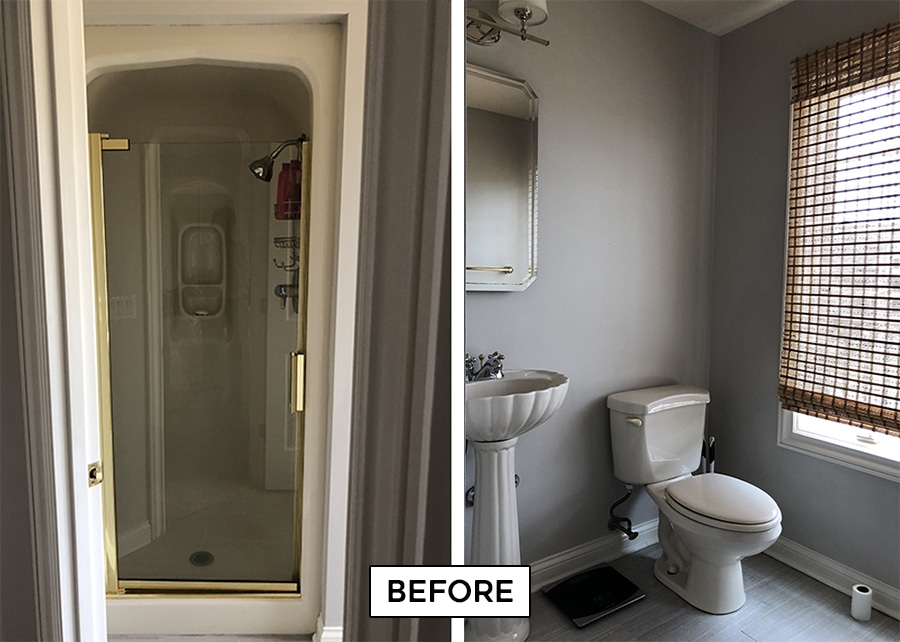 I love that our guest bedroom has its own ensuite bathroom, but there are a few things I'd like to improve upon. The space currently has a tiny shower stall insert, seashell pedestal sink, and almond toilet. The shower is embarrassingly small: measuring about 30"w x 32"d x 75"h! The overall space measures about 38 square feet.
There is a huge window in the room, but because of that tiny shower cave, you don't get any of that beautiful natural light! Such a shame! So my plan is to rip out that shower kit, take the wall down to a pony wall, and add glass to allow the light to flood in.
I'll also tile the shower, floor to ceiling, with large format marble-look tiles for a clean, classic look. I really wanted to use large format tiles on the shower walls because I assume they'll be much easier to keep clean! Less grout lines = less places for mildew to grow, right? That's my logic, anyway. I chose a classic basketweave marble mosaic tile for the shower floor so it's not slippery.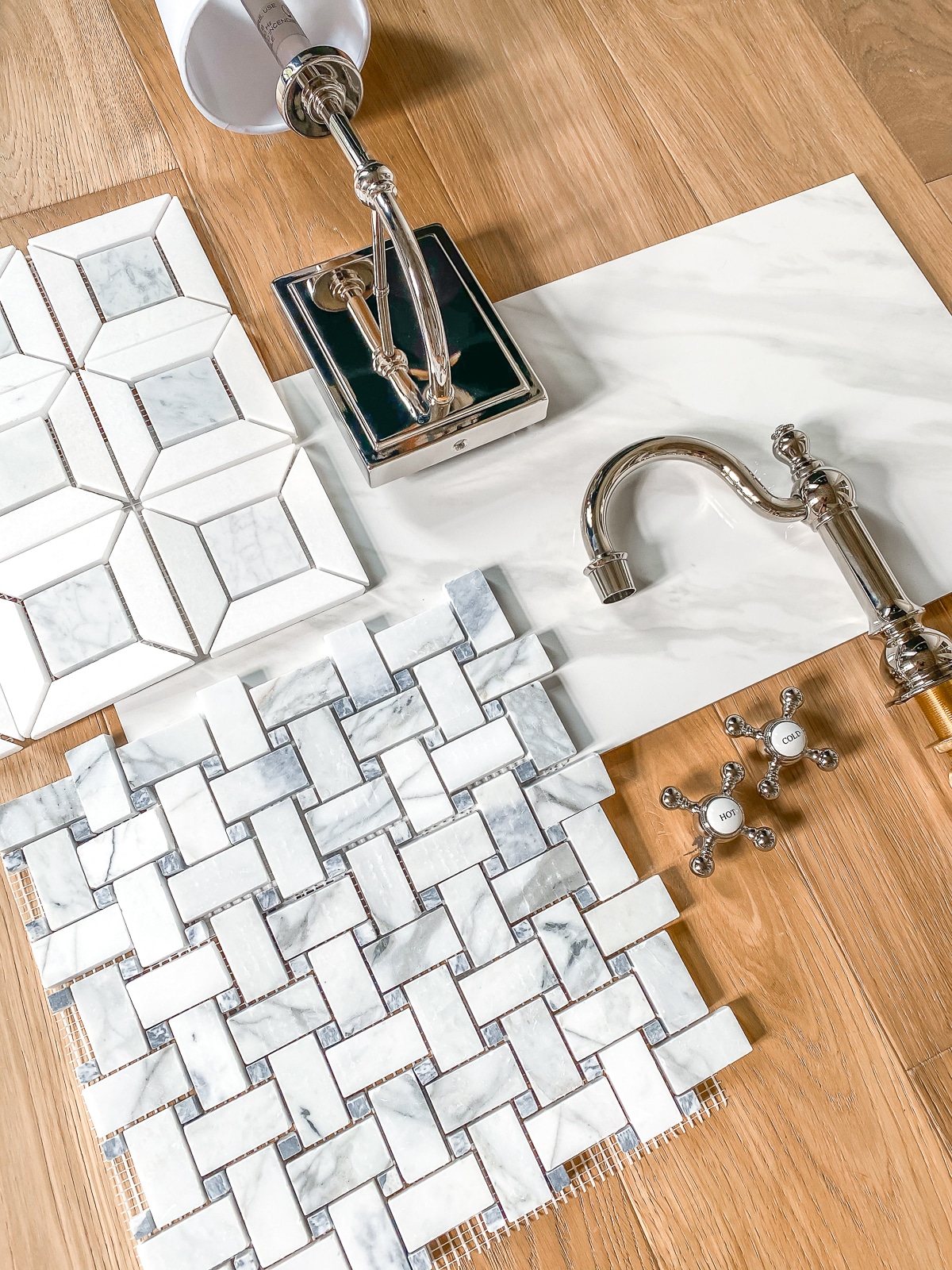 Let's talk about this gorgeous marble mosaic floor tile. It was a total splurge, but in such a small space, I felt I could afford to indulge a little. I searched high and low for an alternative, but kept coming back to this beautiful tile. In the end, I decided to go ahead and pull the trigger, and it became the jumping off point for the rest of the design.
I love mixing modern with traditional styles, which is why I chose this vintage-looking faucet with the most adorable hot and cold faucet handles! I'm hoping the warm wood vanity  and antique gold mirror will keep the space from feeling too cold and sterile.
Product Sources:
Here's our MASTER CHECKLIST:
Demolition
Remove bathroom door temporarily to make room for demo?
Turn off water and valves, empty pipes and tank
Remove pedestal sink and toilet, plug holes
Remove medicine cabinet, bathroom hardware, light fixture
Remove shoe molding and baseboards
Demo floor tile and cement board
Demo and remove shower stall
Remove insulation
Clean up site
Plumbing Rough-In
Move shower valves to opposite walls
Repair shower drain
Guidance on shower pan installation?
Install shower system
Install toilet
Electrical Rough-In
Relocate outlet to adjacent wall
Replace overhead vanity light with wall sconces?
Replace vent fan
Add lighting in shower?
Framing
Demo shower walls
Frame pony wall
Don't forget to add the toiletry niche (plan around tile size)
Floors
Shower Installation
Check to ensure studs are plumb and even, shim if necessary
Add insulation
Install cement board, seal seams
Roll on waterproofing membrane
Install shower tray and curb
Waterproof floor and curb
Walls
Repair drywall where medicine cabinet used to be
Molding?
Paint
Install baseboards and shoe molding
Tile
Tile shower walls
Tile shower floor
Tile bathroom floor
Grout and caulk
Vanity
Install vanity (will it fit?)
Install faucet and sink
Hang mirror
Lighting
Miscellaneous
Order and install glass shower door
Install toilet paper holder, towel bar, towel ring, towel hook
Add artwork and accessories
We've got a ton of work ahead of us, so stay tuned. I'll be sharing our progress here on the blog as well as on my social media channels – I'd love for you to follow along!