The first time we stepped foot in our basement, we knew we wanted to turn it into a dedicated theater space. My husband Adam loves going to the movies, but I avoid crowds at all costs, so this basement theater project is our compromise. 😉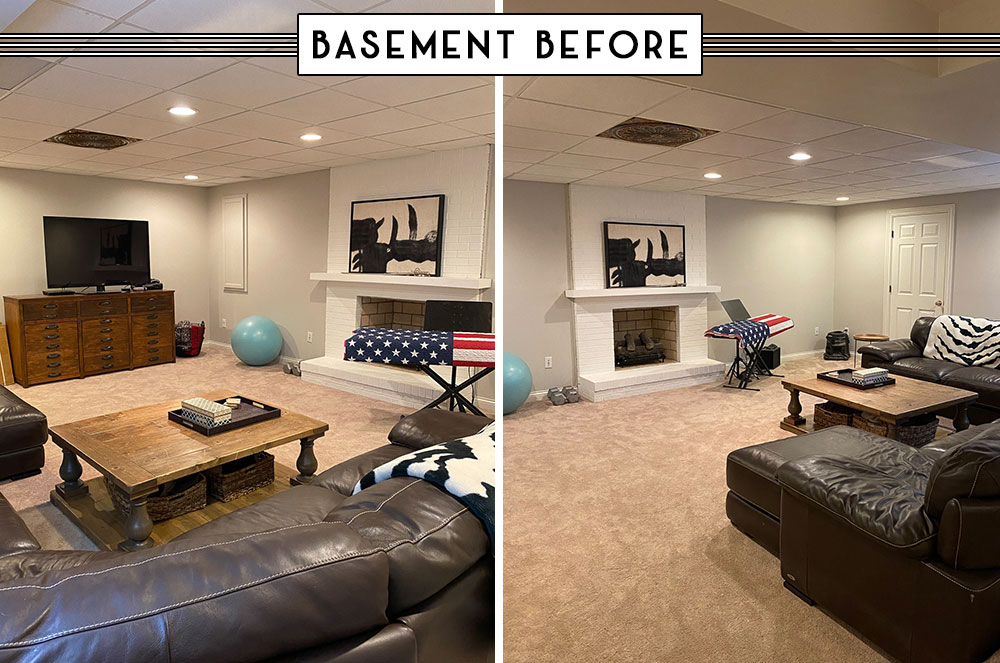 The Space
Our basement doesn't have any windows, which means we have total light control, making this space ideal for use as a home theater. One side of the basement is about 20 feet by 16 feet, with 8-foot drop ceilings, which is where the theater will go. There's also a gas fireplace with a brick surround. The other side of the basement is a bit smaller, complete with a powder room. I think that side would be perfect for a wet bar/concessions and game area, but that will be phase 2 of this basement renovation.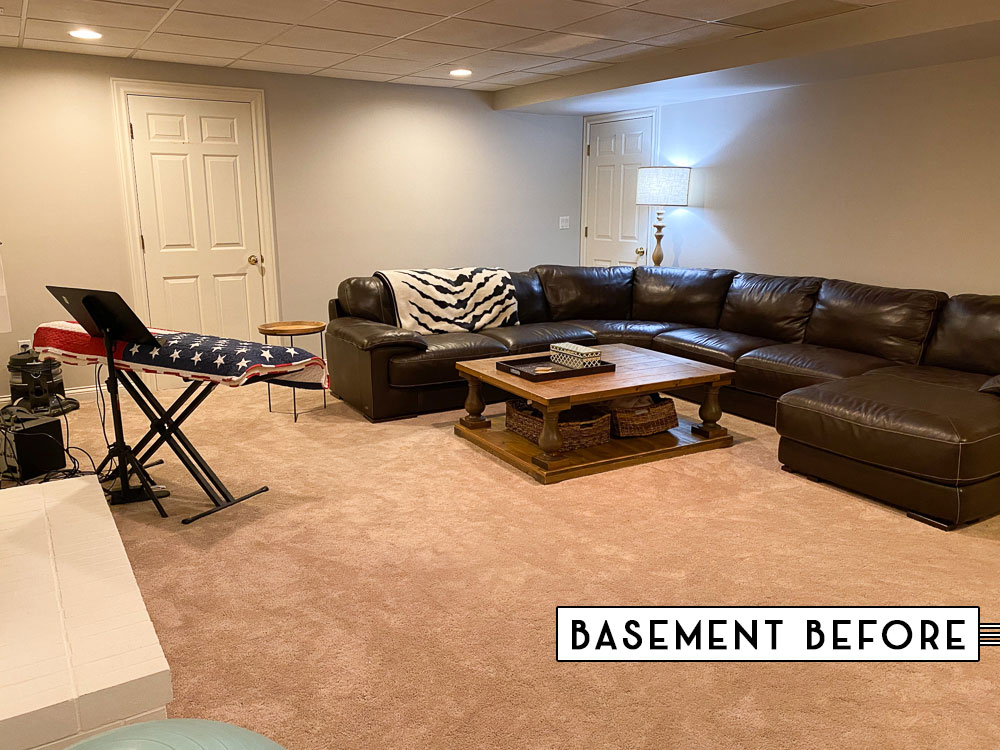 Adam has had that giant leather sectional for almost 15 years and it's spent most of its life in storage because it never fit in the homes we've rented. We finally have a space it will fit in, but after 15 years, I'm ready to see it go bye-bye. The leather is so cold and slippery – I literally slide off the couch, which is so uncomfortable! Adam sold the sectional on Facebook marketplace and I was really surprised he let it go so easily. I thought for sure he'd hold onto that thing forever. (Thank goodness he didn't.)
1920s Art Deco Inspiration
Lately, we've been obsessed with The Peaky Blinders TV show and have binge-watched all five seasons so far! The series is loosely based on the real-life Peaky Blinders, a street gang from Birmingham, England that operated in the early 1900s. The show does have quite a bit of bad language and violence in it, so it's definitely not family-friendly, but the interiors, set design, cinematography, characters, storyline, soundtrack, and costumes are so well done.
The Design
Being immersed in that 1920s era inspired me to design an art deco-themed theater room. I found so much inspiration in these old art deco cinemas. I'm envisioning dark walls, lush fabrics, and metallic gold trim. Instead of reclining theater seats, we ordered a super comfortable U-shaped sectional that will be perfect for movie nights. We had our sectional custom-made, but here's a similar-looking sofa and sectional.
I also plan on sprucing up the fireplace feature by removing the existing mantel and replacing it with a DIY art deco fireplace surround. I'd also like to build a bar table that will go behind the sectional. Aren't these barstools to die for?! I just love the emerald green velvet and the quilted detail.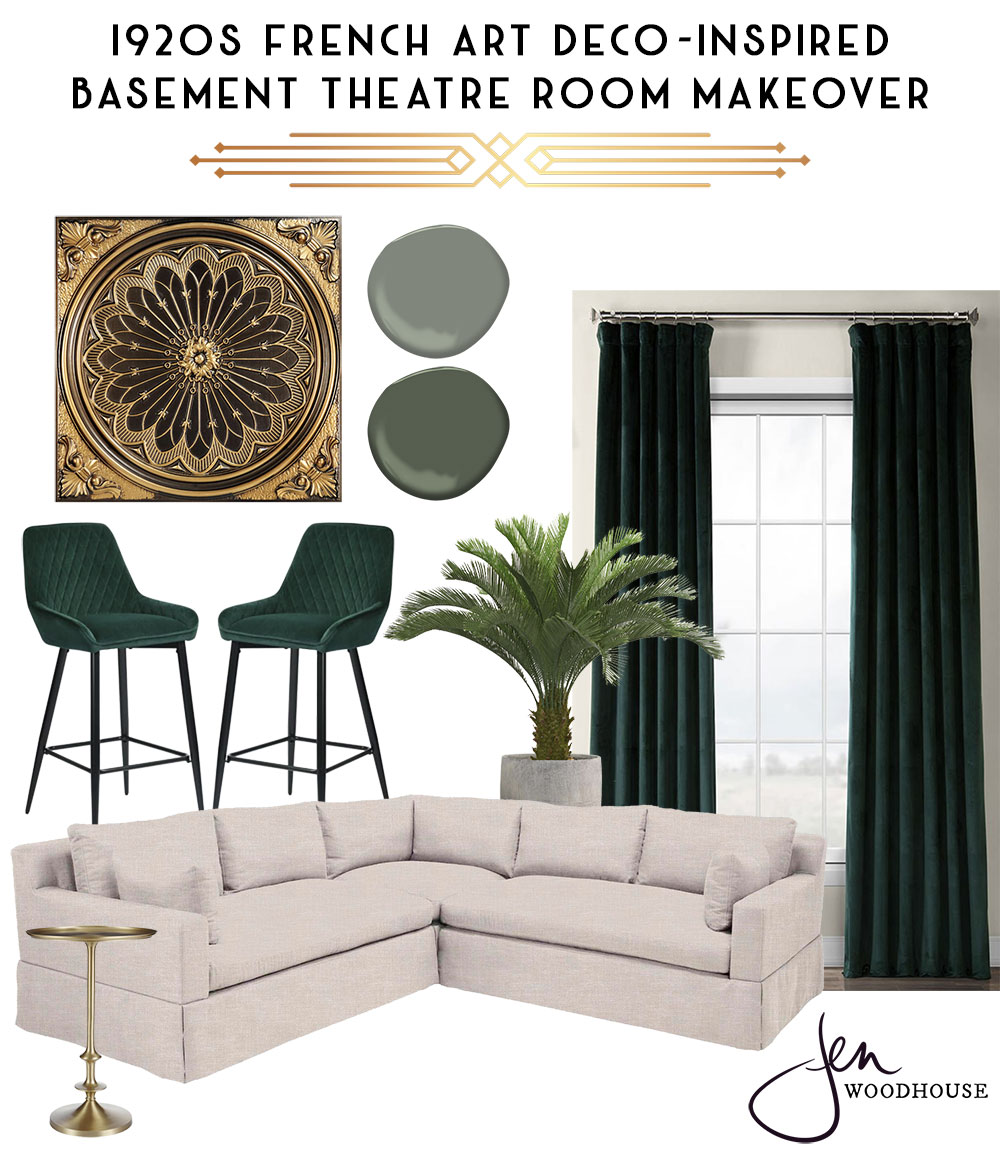 We've done a little research on home theater gear and are surprised to discover that it's not as costly as we'd expected. We found that a decent projector will cost around $500 or so and a projector screen (should we even opt for one – projector-friendly wall paint is available on the market) is less than $200. We're budgeting around $1,000 for the projector, screen, and sound gear. Of course, there are countless more costly options out there, but this house isn't our forever home and we're not interested in splurging on the biggest, best, state-of-the-art equipment. I'm confident we can create the "movie theater experience" on a budget!
I'm thrilled to be teaming up with The Home Depot on this basement theater renovation. The plan is to wire the space for wall sconces, install moulding on the walls, lay in these stunning ceiling tiles and complete the room with furnishings from The Home Depot. They have a massive catalog of home decor and furniture items. I am so excited about this design. It's literally kept me awake at night, dreaming and scheming and I can't wait to see it come to life!
Stay with me – it's gonna be good.
To Do List
Sell leather sectional and order fabric sectional
Electrical – wire for wall sconces
Finish carpentry – design and install wall molding
Paint walls, molding, doors, casing, baseboards, ceiling grid
Drop-in decorative ceiling tiles
Remove fireplace mantel
Build and install art deco fireplace surround
Design and build bar table
Hang projector
Assemble and hang projector screen
Hang curtains
Furnish and decorate room
Source List
DIY Art Deco Fireplace Surround – tutorial to follow!
DIY Bar Height Table – tutorial to follow!