Happy Summer, my Flower Friends! It's Carrie Bishop from River Rose Flower Company and I can't wait to walk you through today's DIY flower arrangement tutorial. I am going to teach you the EASY steps to create this farmhouse-inspired Patriotic 4th of July Flower Arrangement. A tasteful centerpiece like this one is going to complete the patriotic and festive feeling at your July 4th party/picnic/BBQ or family event. I designed a centerpiece that is completely American – in red, white and blues, of course! Now, let's arrange some flowers!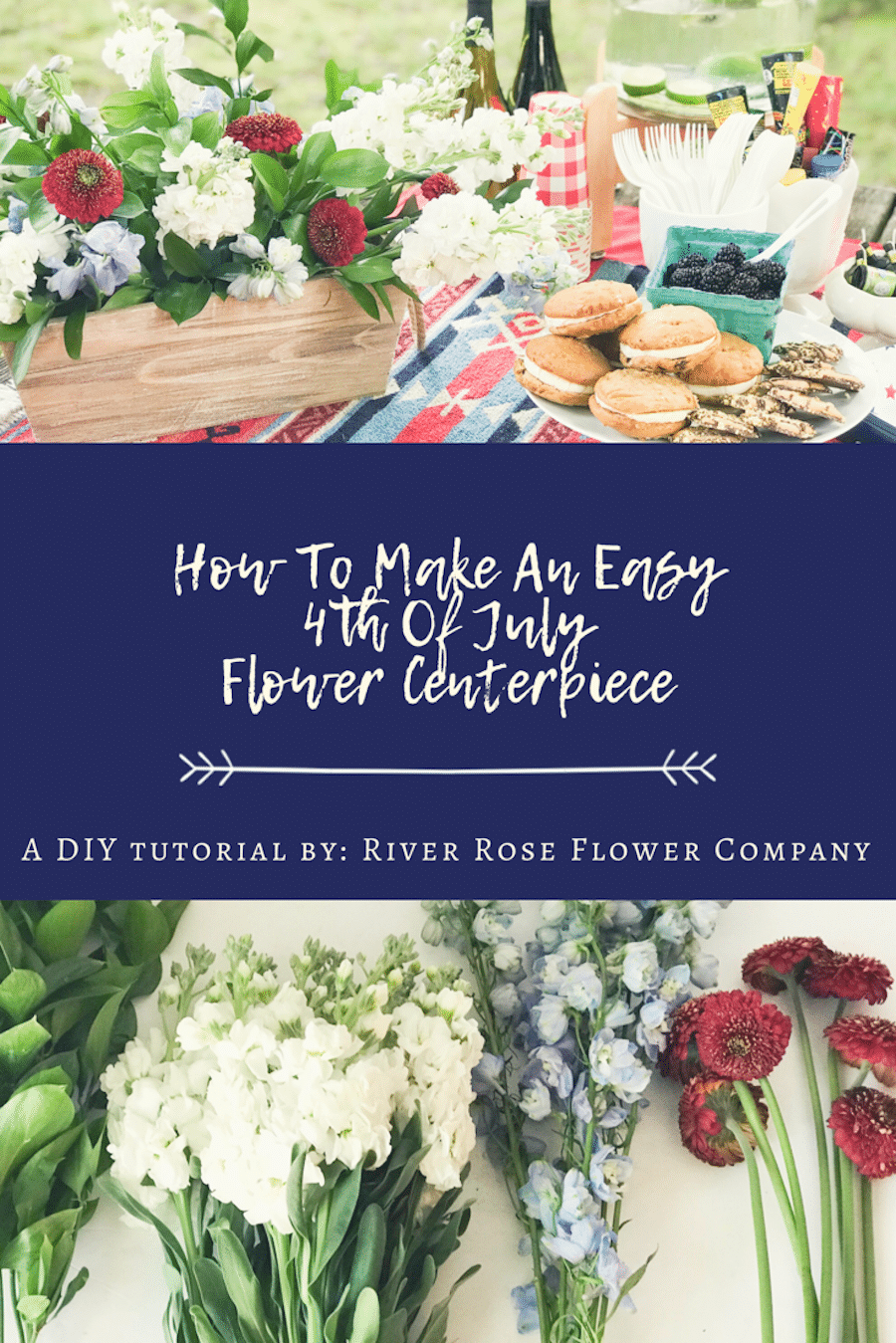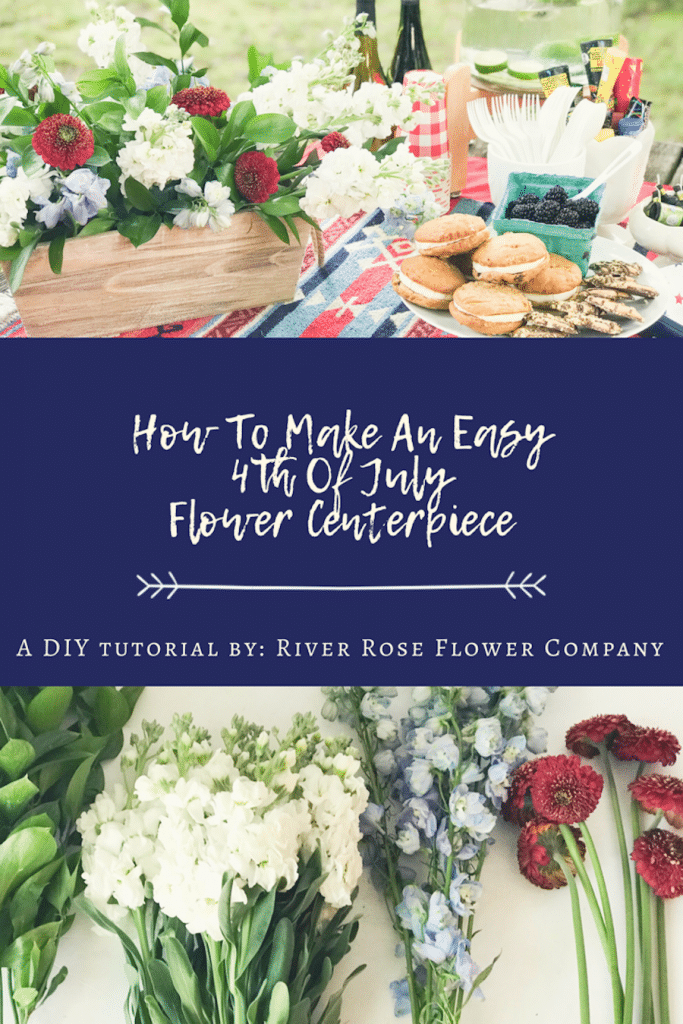 This patriotic 4th of July flower arrangement is easy, affordable, and something you can create quickly!
Supplies:
1 long container
1 plastic container
1 brick of floral wet foam
1 bunch of white flowers (stock)
1 bunch of blue flowers (delphenium)
1 bunch of red flowers (gerber daisies)
1 bunch of greenery (ruscus)
Knife
Floral shears or scissors
4-6 plastic bags

How To Make a Patriotic 4th of July Flower Arrangement

Step 1
If you have a long container that is deep like mine, you'll have to build up the base with the plastic bags and then you can place the plastic container on top.
Step 2
Soak the wet floral foam and stick it into the plastic container.
Pro Tip:Make sure the floral foam is above the rim of the long container. If it is too low, it will be hard for you to arrange your flowers. 
Step 3
Using a knife, cut the top corners off of the floral foam. This will give you more surface area to put stems through.

Step 4
Lay out your flowers. Figure out how many of each that you have. I like to have a nice variety of flowers when I arrange. For my 4th of July Flower Arrangements I chose: white stock, blue delphiniums and red gerber daisies. Typically, I will use three types of greens, but in this tutorial, we are keeping it simple and using only one: ruscus.
Pro Tip: When you are picking out flowers, have a base flower (large round flower), an accent flower (medium size flowers, which is usually the flower that you have the most of) , and a filler flower (micro flowers that they fill in the gaps). 
Step 5
Add greenery. Imagine a compass on the floral foam. Add shorter pieces on the north/south and longer pieces on the east/west. Then repeat in the other areas in a radiating pattern.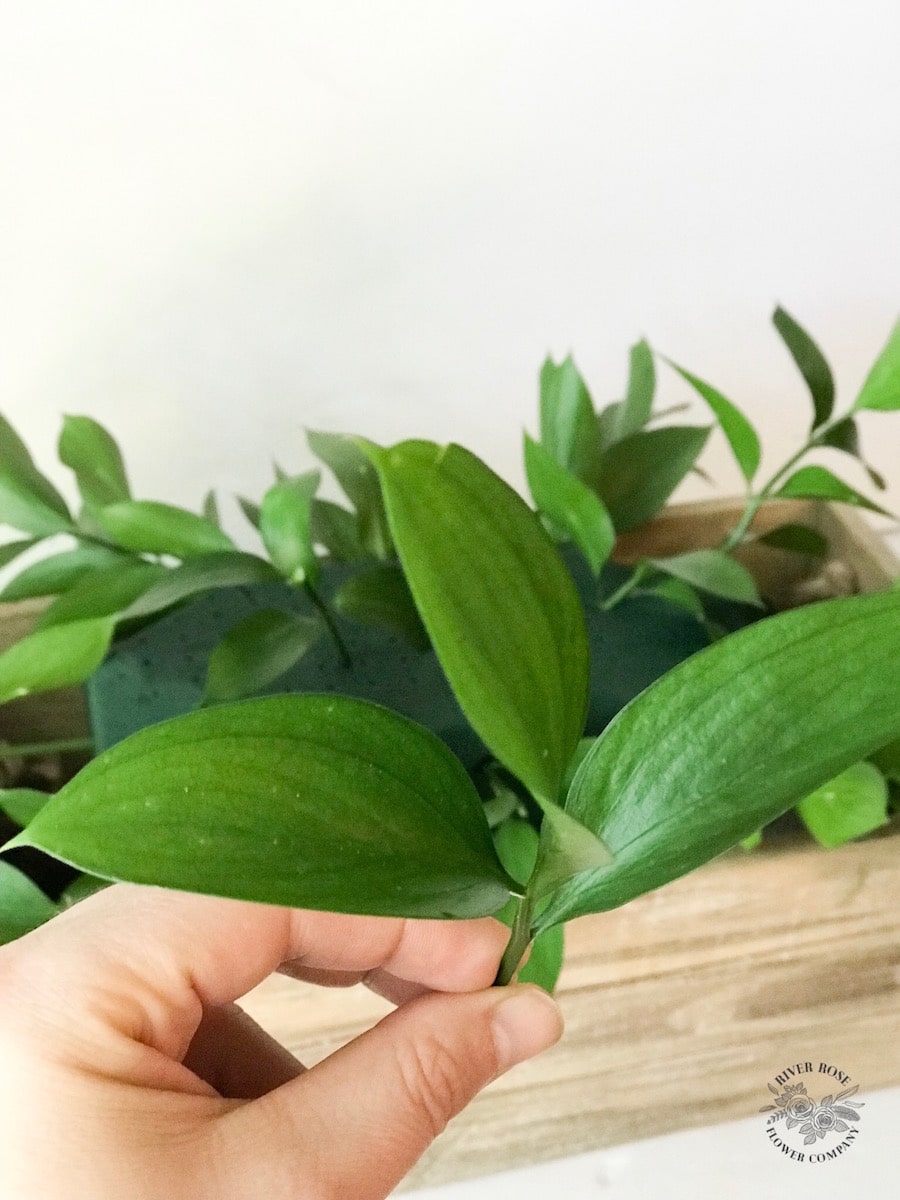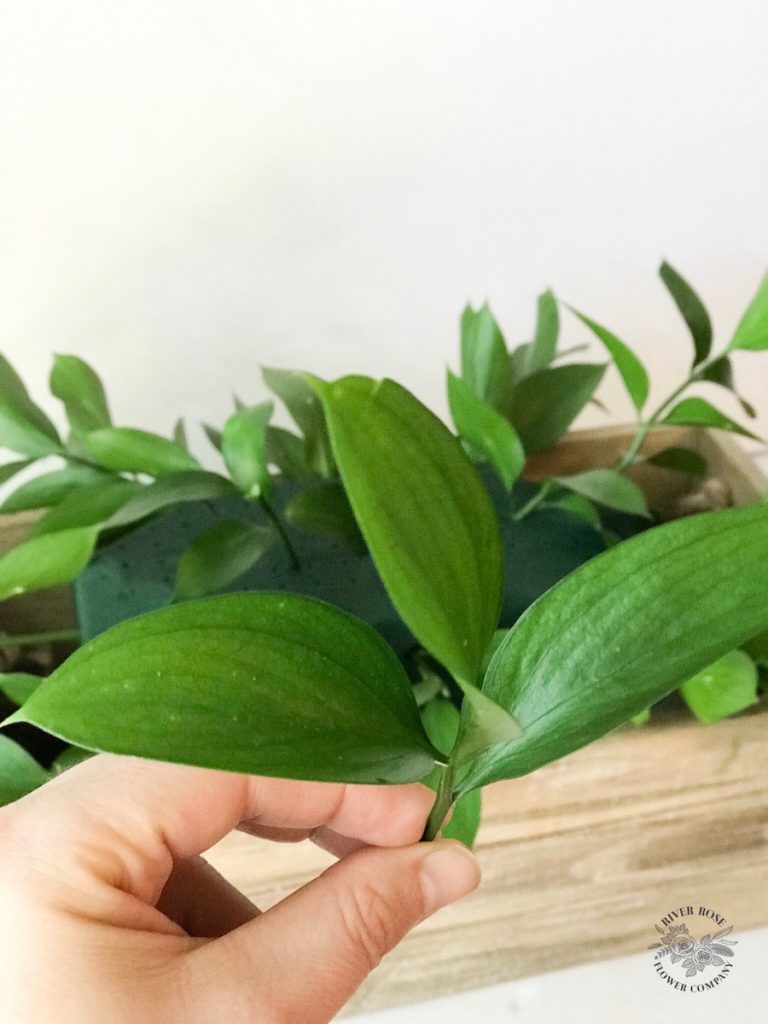 Pro Tip: If you strategically cut your greenery as pictured above, you will be able to make your greenery triple the amount of the greenery that you have. 
Step 6
Cover the floral foam as much as you can, leaving a few gaps for the flowers.
Pro Tip: Greenery is a very important part of flower arranging. It allows you to have a nice and lush looking centerpiece. Don't skip or skimp!
Step 7
Arrange the base flowers first.
Step 8
Arrange the accent flowers next.
Step 9
Cut two of the delphinium stems in half and you will have more stems to arrange. Place the longer stems on the east/west sides.
Step 10
That's it! Enjoy your patriotic 4th of July flower arrangement with friends and family! It's the perfect centerpiece for your backyard barbecue! Thank you for joining me for this fun and easy flower tutorial. I'd love to know if this inspired you to try your own patriotic farmhouse flower arrangement, tag us on Instagram @riverroseflowercompany and  @jenwoodhouse  so we can see your festive centerpieces!
Happy Fourth of July!
– Carrie
Want to DIY this patriotic 4th of July flower arrangement and don't know where to get the best flowers? I got you covered: A Flower Market Guide to buying and arranging flowers.