Hello House of Wood readers, Jaime here from jaimecostiglio.com and I'm honored to be guest posting here on Jen's site. We are longtime woodworking friends who share the joy of creating and making all the things – just like you! Wood happens to be the preferred material of choice for both of us but I never shy away from paint or fabric as well. I'm very excited to be part of Jen's contributor team and look forward to sharing many projects with you over the year.
Let's get this party started with making these DIY faux brass and marble candle holders.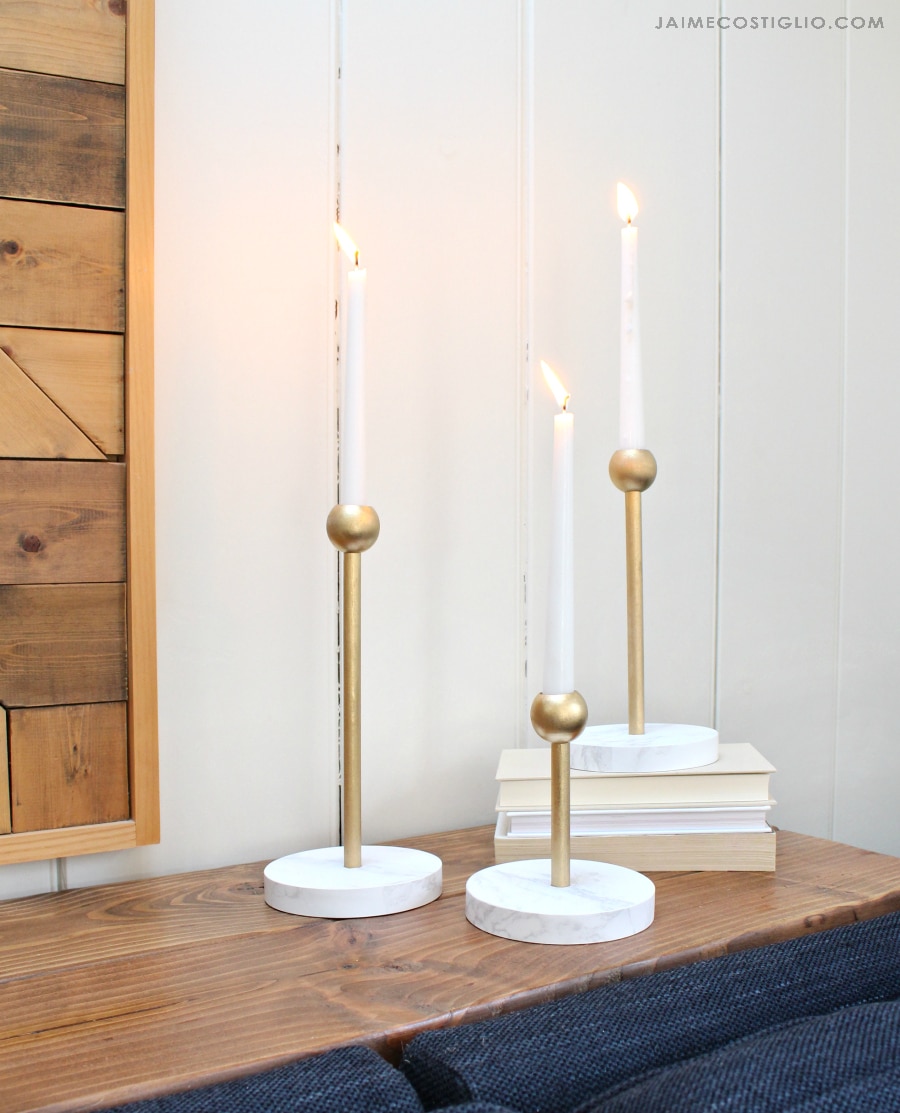 Don't tell anyone, but these candleholders are not real brass and marble! Did I have you fooled? I happen to think they look pretty real, especially that marble base: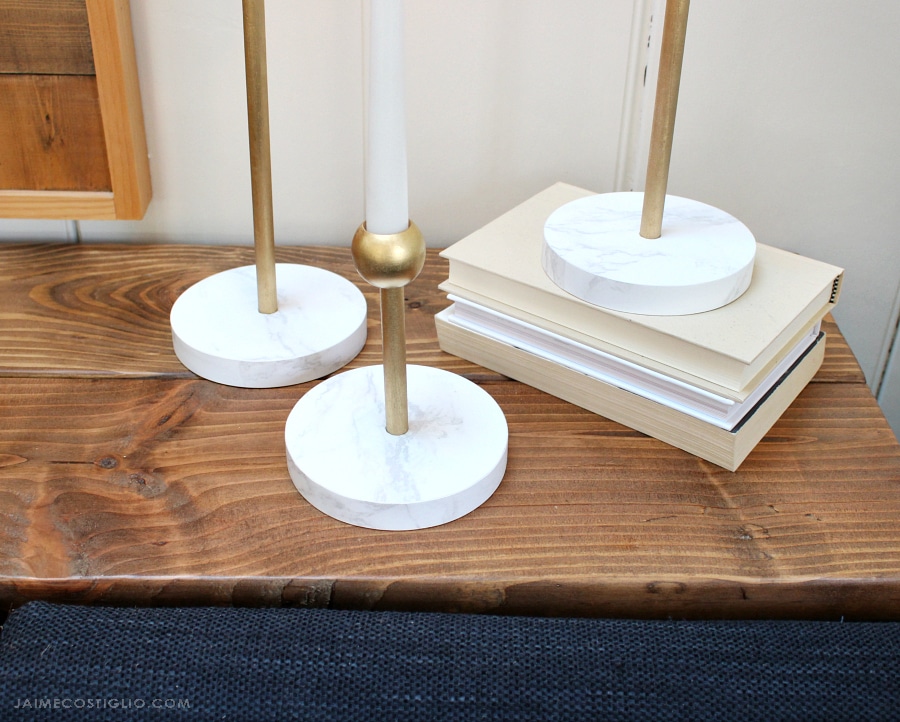 The secret is in the DIY sauce.
In all honesty, when Jen shared her round marble side table, I just had to try it for myself. I think you'll agree the results are pretty fantastic.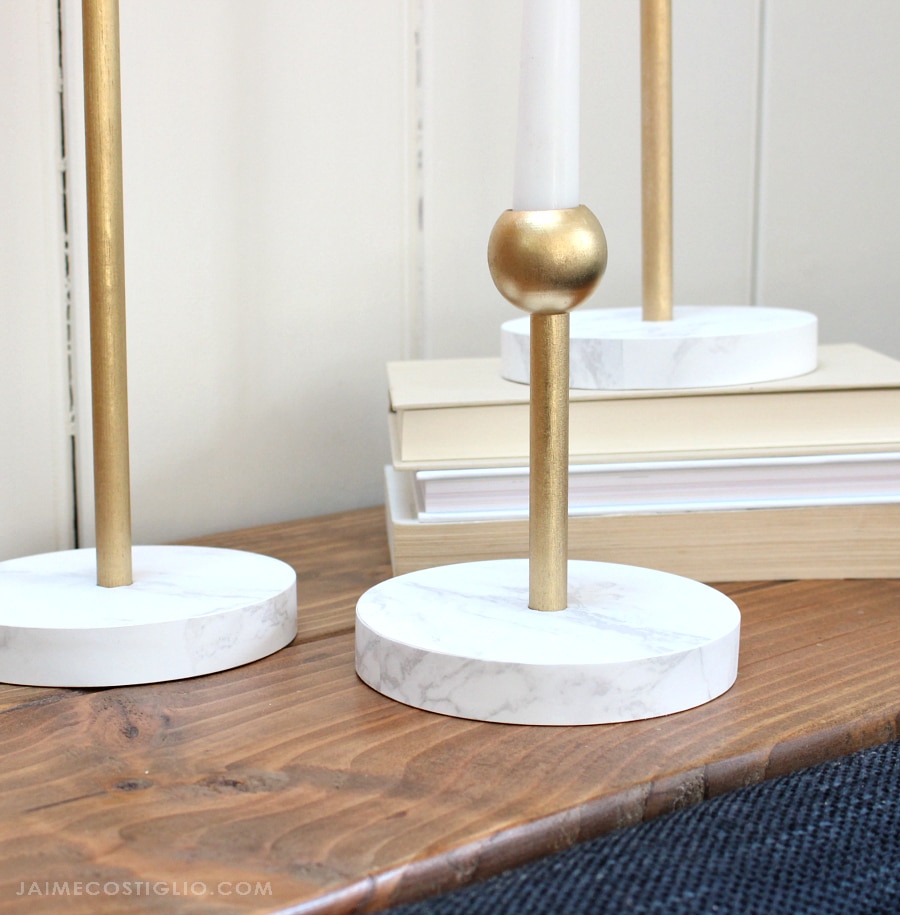 Your next table setting will look beautiful with these DIY faux brass and marble candle holders. The inspiration for this project came from here, but I opted for a marble base. And these candleholders are extremely economical running about $5 each, which means you could make a bunch running down the center of your table and it won't break the bank!
I'll show you how to make these DIY faux brass and marble candle holders down below.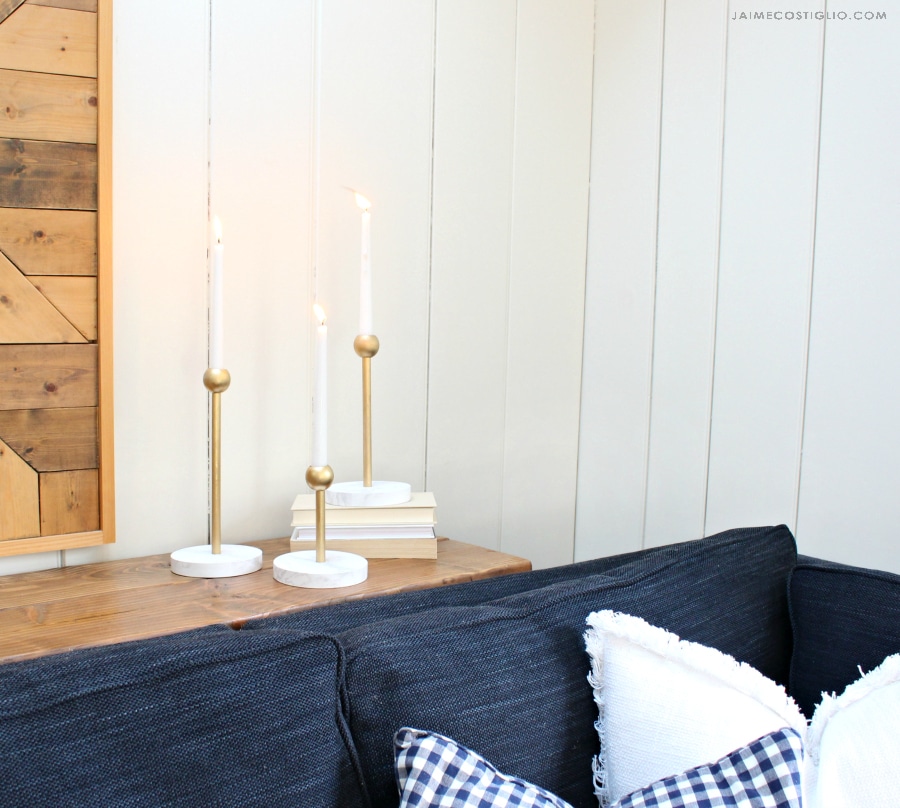 Supplies:
5″ wood rounds x 3/4″ thick
metallic gold spray paint
wood glue
1/2″ & 7/8″ Forstner bit
drill
marble contact paper (sample size)
150-grit sandpaper
straight edge paper cutter
tapered candles
Supply quantities will depend on how many candleholders you wish to make.  You can make 4 candle holder bases using the sample size marble contact paper.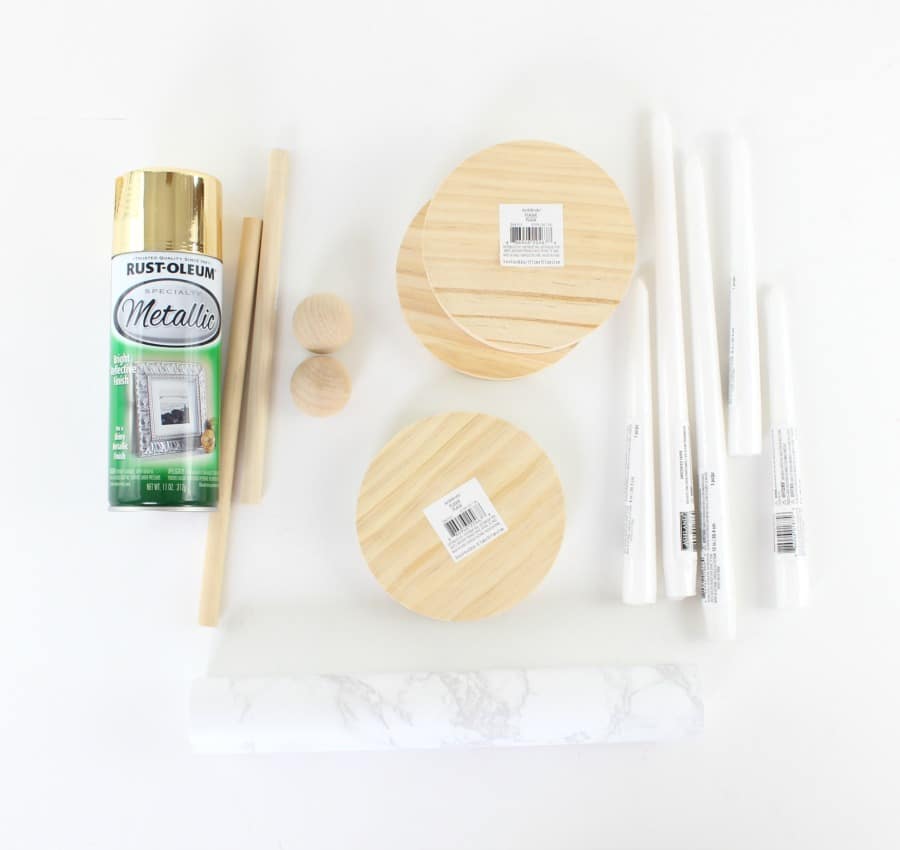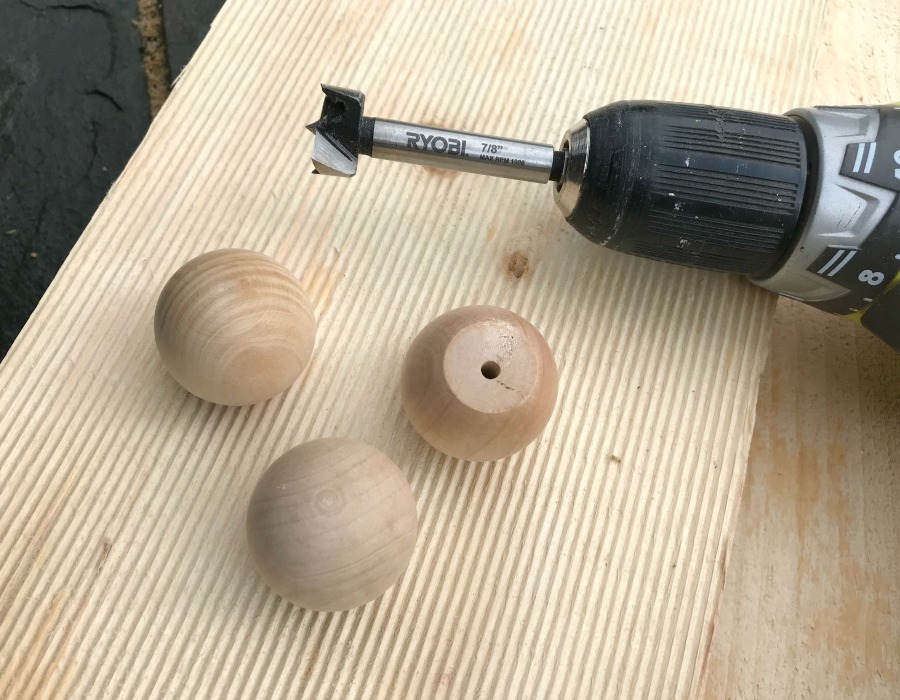 Step 1: Using a 7/8″ Forstner bit, drill a hole into the flat side of the wood doll head. This hole is for your taper candles. Double check the width of your tapers and adjust the drill bit size accordingly.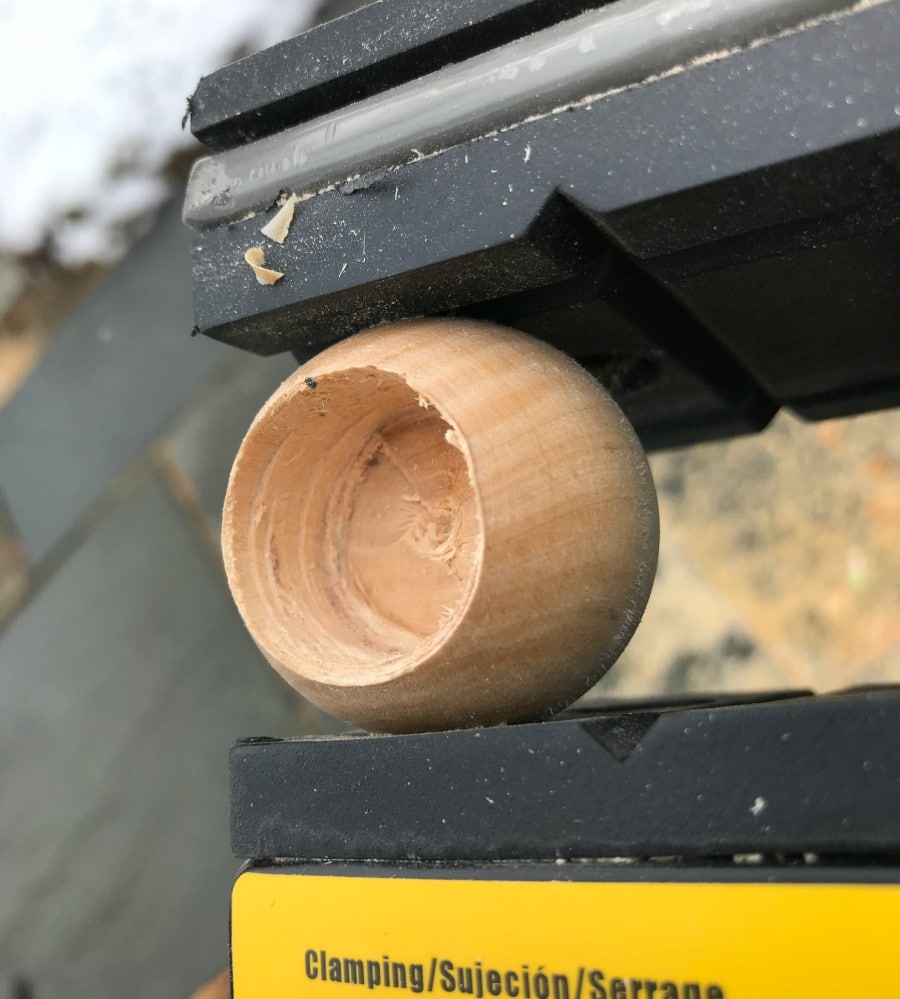 Step 1 continued: Place the doll head in a vise and drill about 3/4″ deep, enough for the candle to sit properly. Sand any rough edges using 150-grit sandpaper.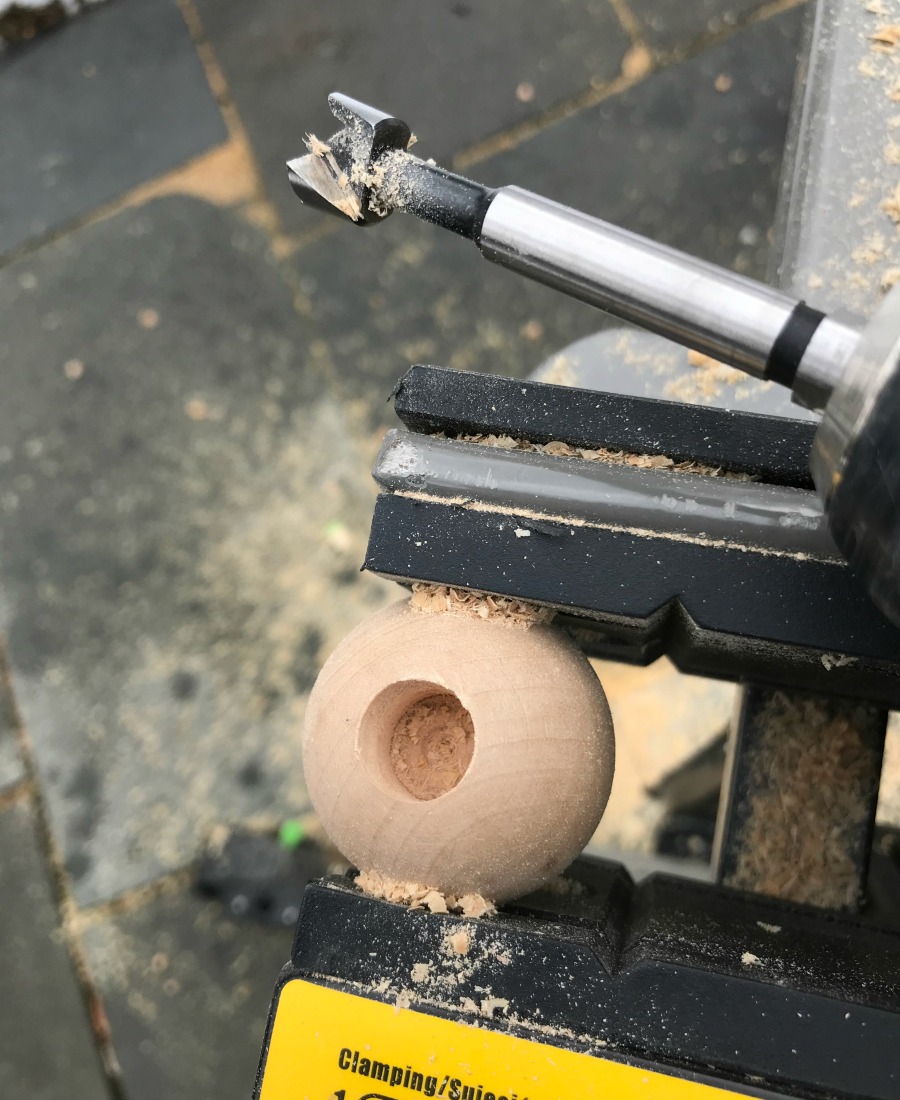 Step 2: Flip the wood doll head over and using a 1/2″ Forstner bit drill a hole for the wood dowel post, about 1/2″ deep.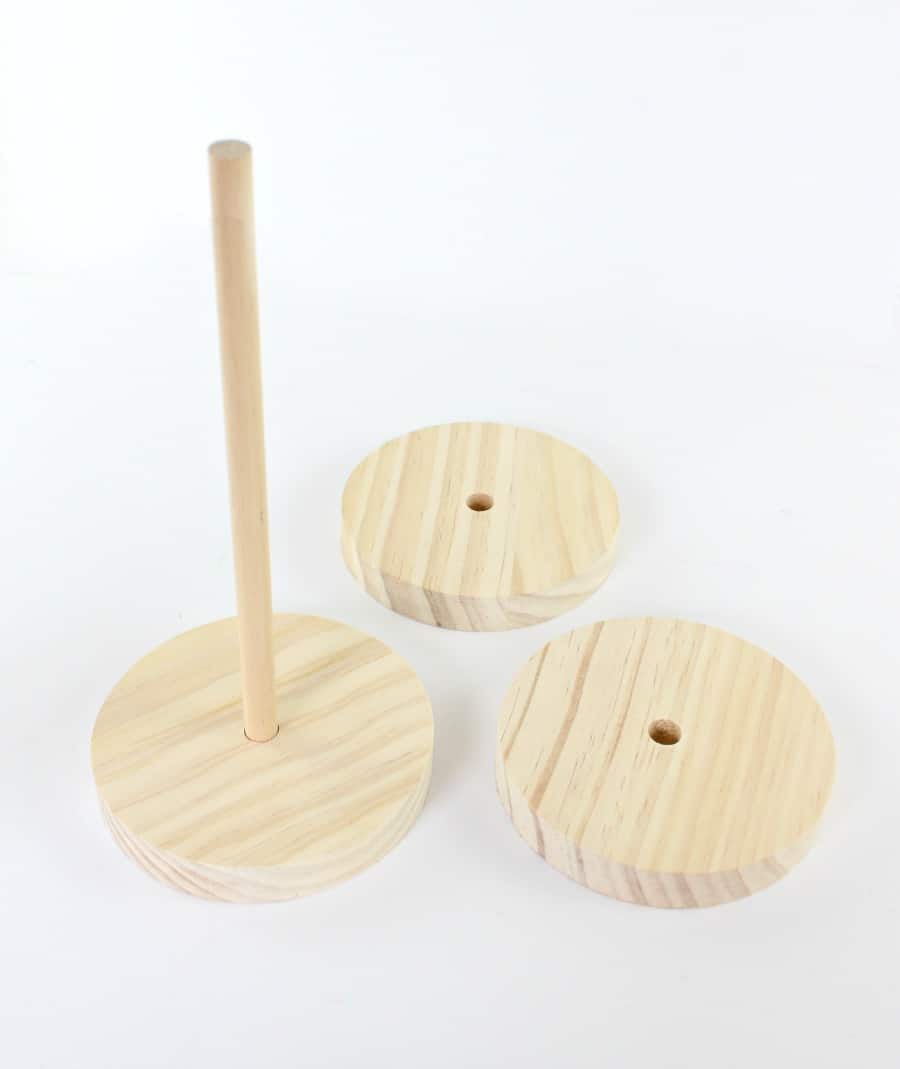 Step 3: Find and mark the center of the wood circles. Using the same 1/2″ Forstner bit, drill a 1/2″ deep hole for the dowel.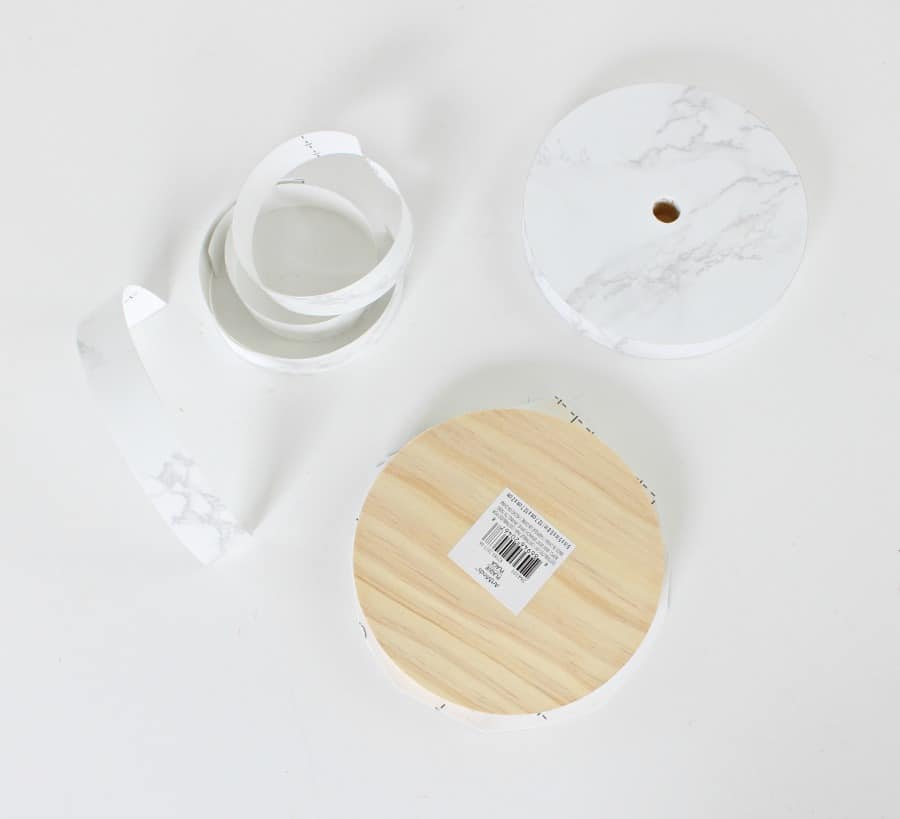 Step 4: Unroll the marble contact paper. Place the wood circle on top of the paper and cut a piece slightly larger than the 5″ circle.  Cut 7/8″ strips for the edging. Try to cut one continuous strip for the entire edge but you can piece it together if necessary.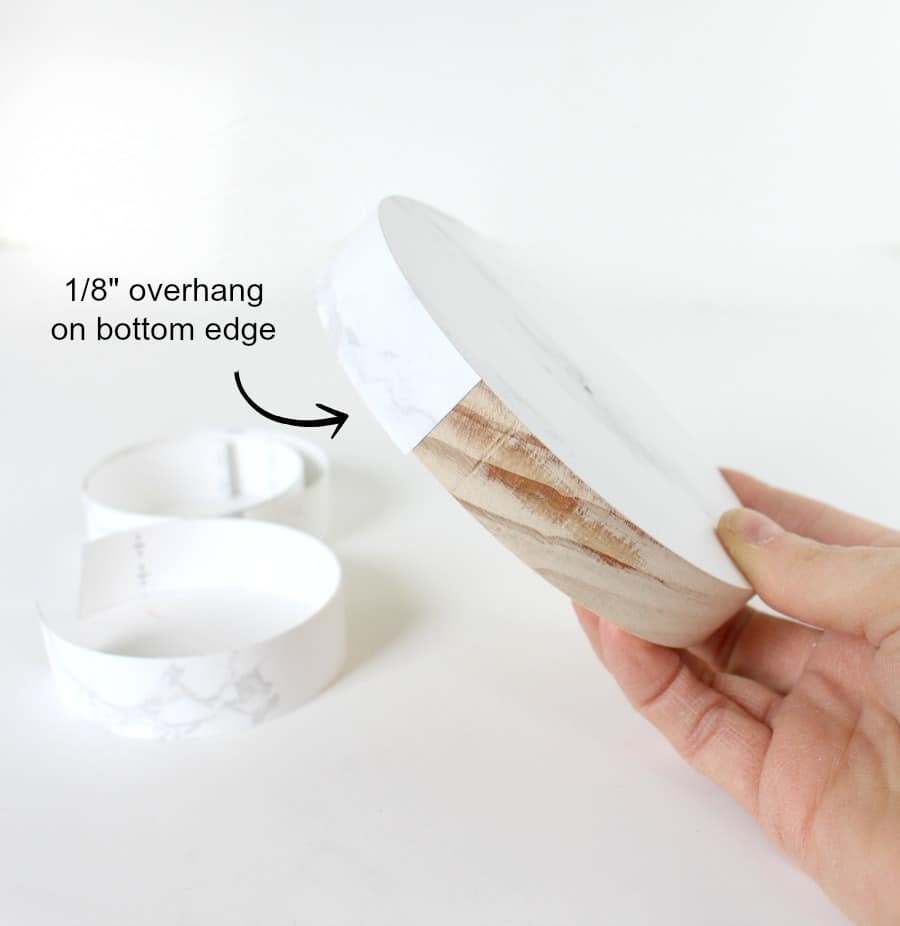 Step 5: Peel off the paper backing from the contact paper and press onto the top flat circle surface. Refer to Step 6 to trim the rough edge and achieve a super clean finish. Apply the edge strips keeping the top edge flush with the top of the circle and letting the overhang peek over the bottom edge.
Step 6: To achieve a super clean finished edge, use sandpaper to remove the excess contact paper. Be sure to sand at a 45º angle.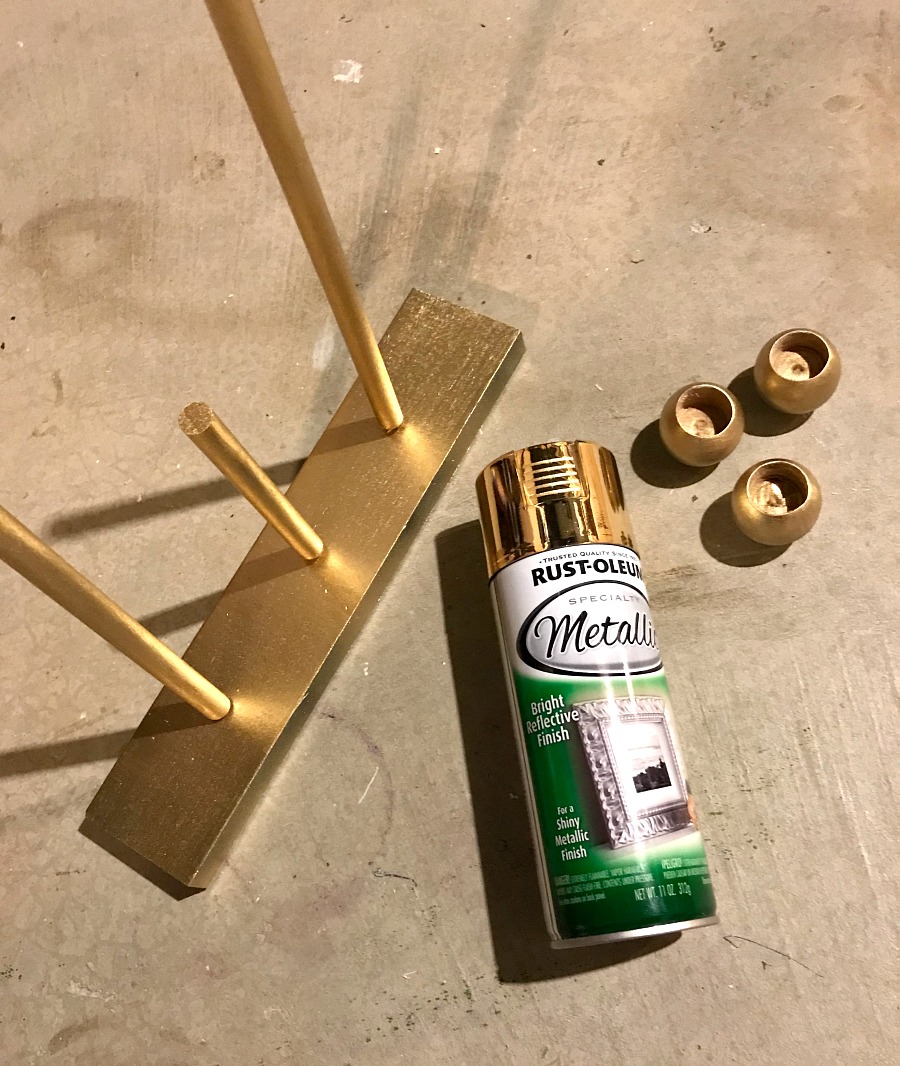 Step 7: Spray paint the wood dowel and doll heads using metallic gold. Loosely attach the dowels to a scrap board to make spray painting easier. Once dry, use wood glue to assemble your candleholders.
Pin it for later!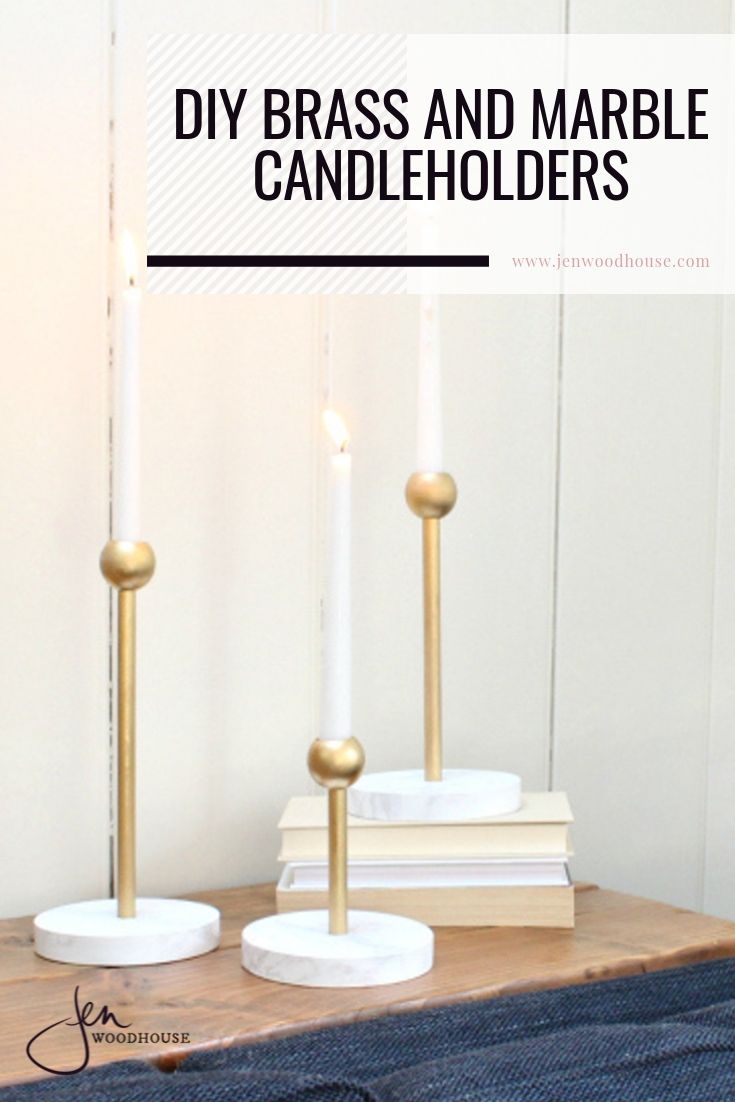 I hope you enjoyed this tutorial for these DIY faux brass and marble candle holders. We love to see reader projects, so please be sure to share and tag us (@jenwoodhouse and @jaimecostiglio) if you make these! I'll be back with lots more DIY in the near future.