Hi folks! I'm back with another easy peasy DIY project: sew your own crib skirt! Can you believe baby bedding can set you back several hundred dollars? In-sane. Infant bedding sets usually include a fitted crib sheet, crib skirt, and bumper pads. Because we've decided to forego the bumper pads due to the controversy surrounding them and their connection with SIDS, all we'd need are a few fitted crib sheets and a crib skirt. I couldn't find a ready-made crib skirt in a pattern or design that I liked, so I decided to DIY my own. I bought a sunny dandelion fabric from Texas Susannie's Fabric Store for about $10/yard and set to work.
First, I measured the space between the bottom of the crib mattress to the top of the under-crib drawer. Then I measured the width of the crib. I did this on the left, right, and front sides of the crib. I didn't bother with the back side since it wouldn't be seen because the crib is up against the wall. Then I cut out 3 pieces of fabric for the 3 sides. After running a quick iron over my fabric pieces, I folded a hem and ironed it flat. My first attempt included some heavy duty Heat 'n Bond hem tape, but my fabric was too thick, the tape didn't seem to bond the hem together well enough. So I abandoned my hem tape and whipped out the sewing machine. I ran a quick straight stitch and was left with 3 nicely hemmed pieces of fabric.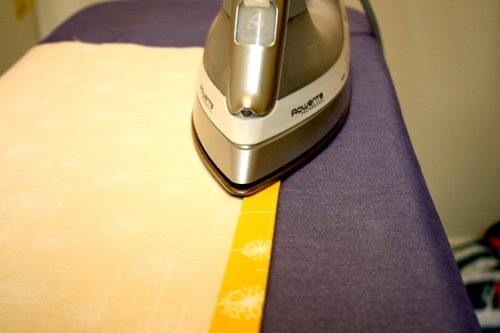 I kept the 3 pieces of fabric separate because it was easier to maneuver around the crib and made for a crisper look. Then I stuck velcro to the metal crib support and also to the fabric, so that the skirt would stay in place. Be sure to stick the 'teeth' part of the velcro on the crib and the soft velcro side on your fabric, so that it doesn't pull or fray in the wash.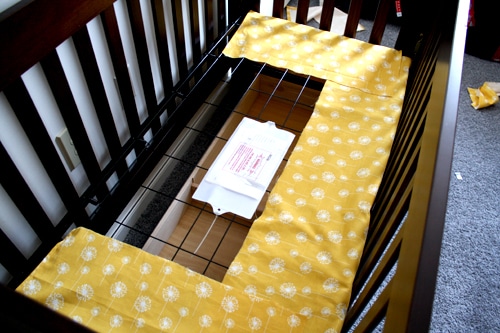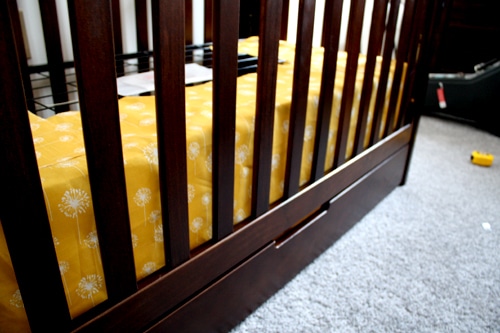 Then I simply laid our crib mattress in the crib and voila! Custom crib skirt at a fraction of the cost! And don't worry, the pillows, toys, and soft bedding will all relocate once Eggroll arrives. It doesn't get any easier (or cost-effective) than this!