Last month, I posted this mood board for the kiddos' future playroom, inspired by Dr. Seuss's Oh, The Places You'll Go! children's book. I love the message and the whimsical illustrations in it and plan to paint a wall mural of one of its scenes on the playroom wall: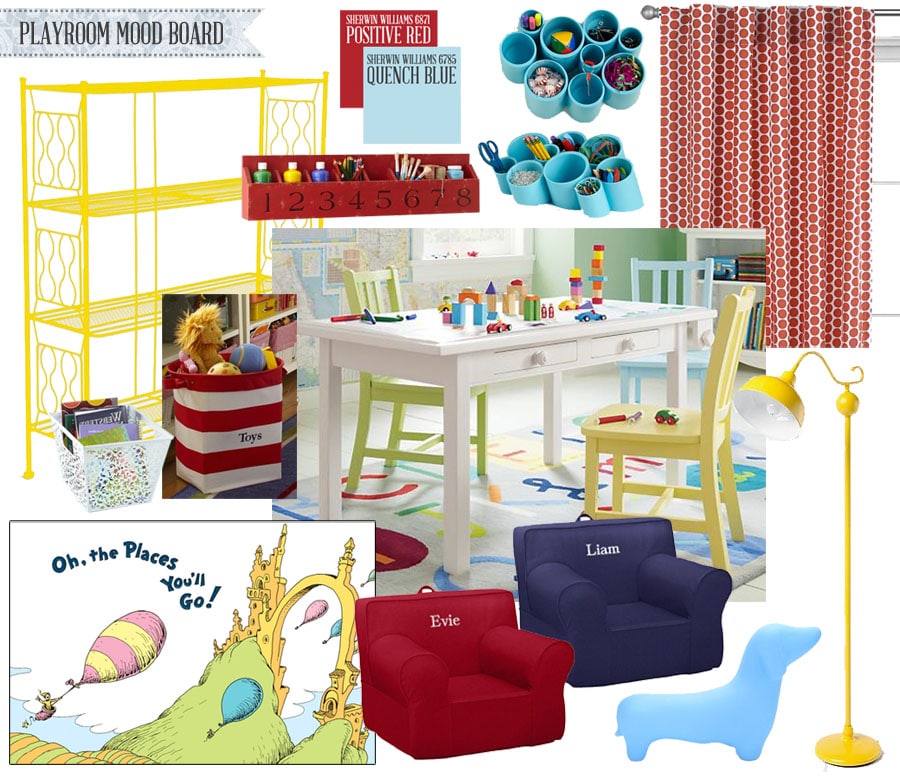 And take a look at this cute cubby wall shelf. It's from Pottery Barn Kids ($99), but it's no longer available. Even if it was, I can't bring myself to drop a hundred bucks on a shelf, especially when I have a bunch of scrap wood piling up in my garage, just waiting to be used.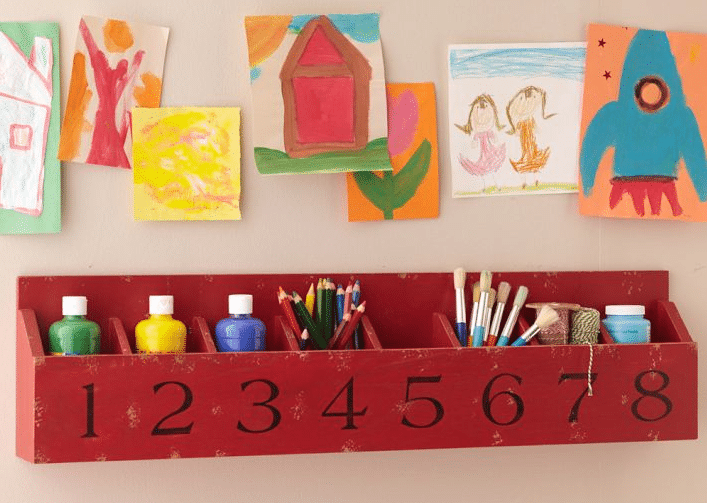 I was able to build this shelf with lumber I had on-hand, but if you don't and want to purchase lumber for this project, I don't expect it costing more than $10.00. Ana White has some excellent plans for this project. I used solid boards (it's what I had laying around), but you can use 1×3 and 1×2 boards, like in Ana's plans. Here are the pieces after I cut them: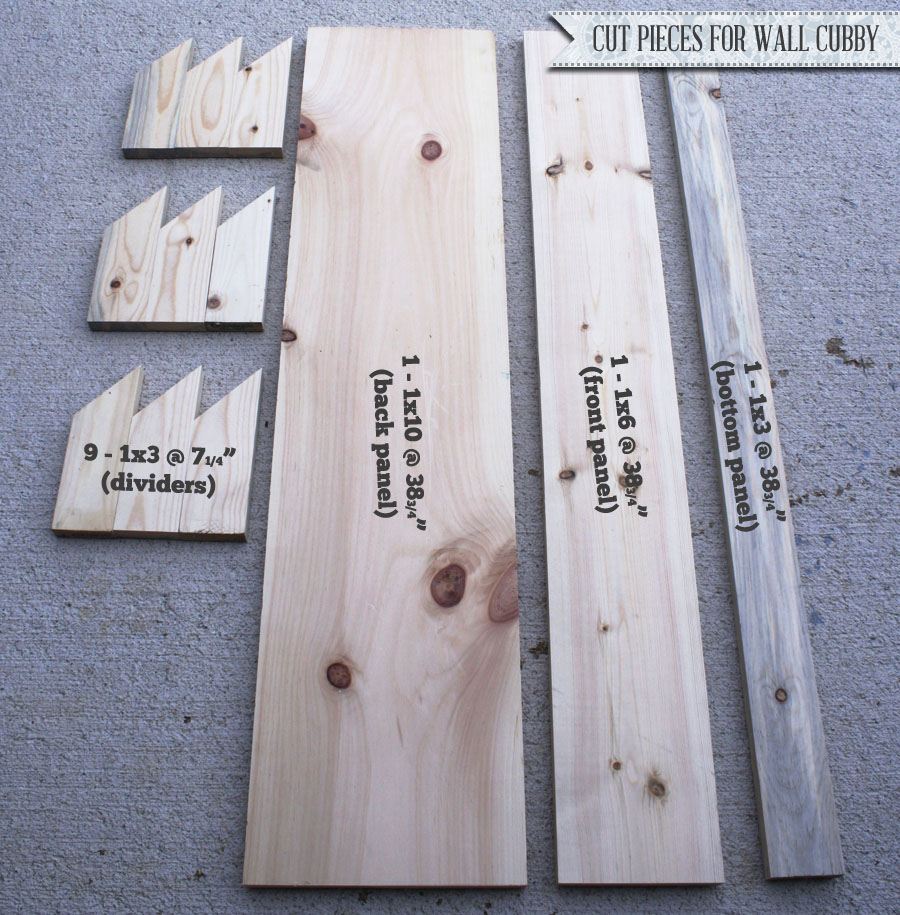 Then I quickly did a dry fit just to see how everything would come together. I also cut a 4″ piece of wood to serve as a guide, to make sure the dividers were evenly spaced.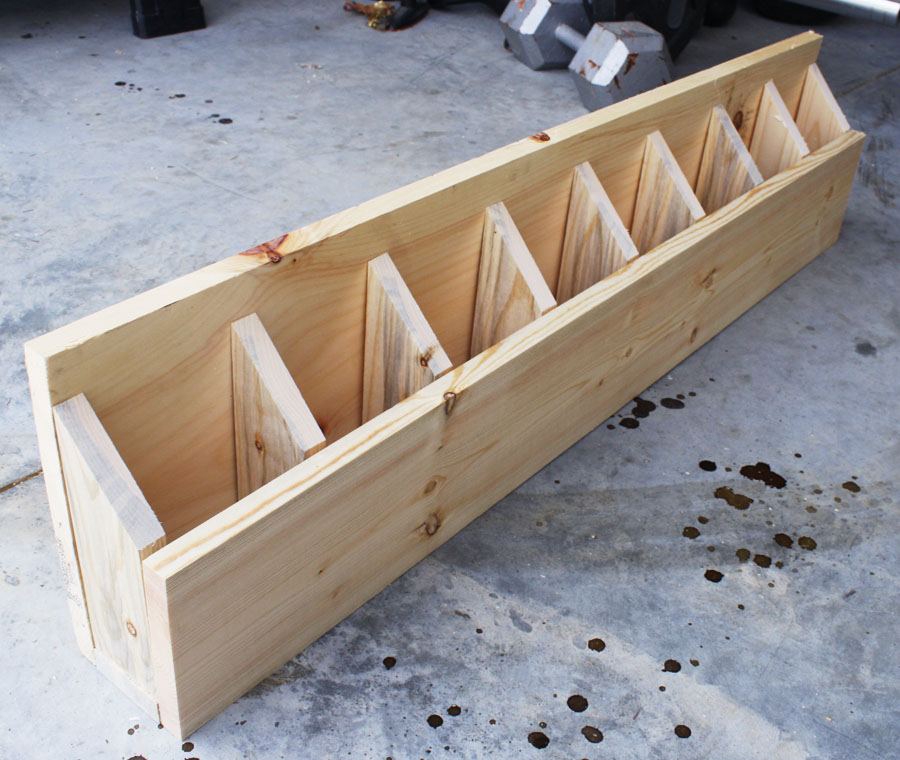 Using the 4″ block as a guide, I placed all the dividers where they should be and marked it with a pencil. Then I pre-drilled holes in the bottom board and attached all the dividers, countersinking the holes and using 2″ wood screws.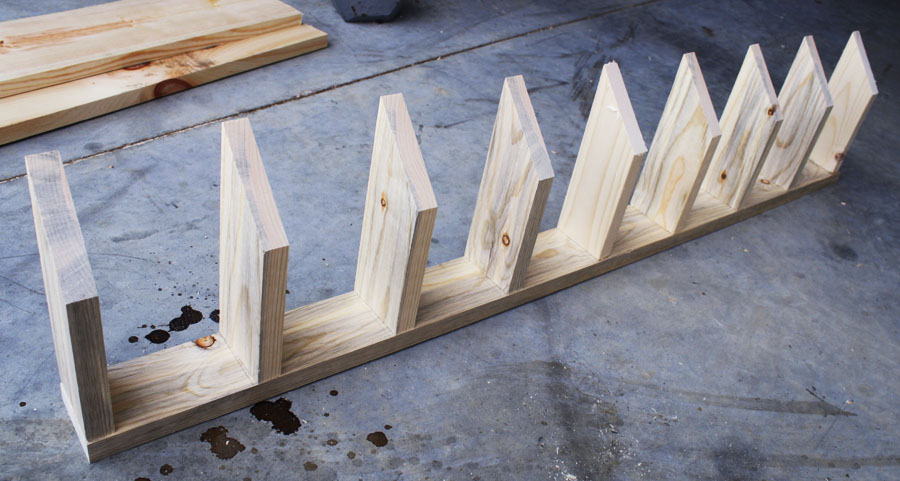 Then I pre-drilled holes and screwed the back board on: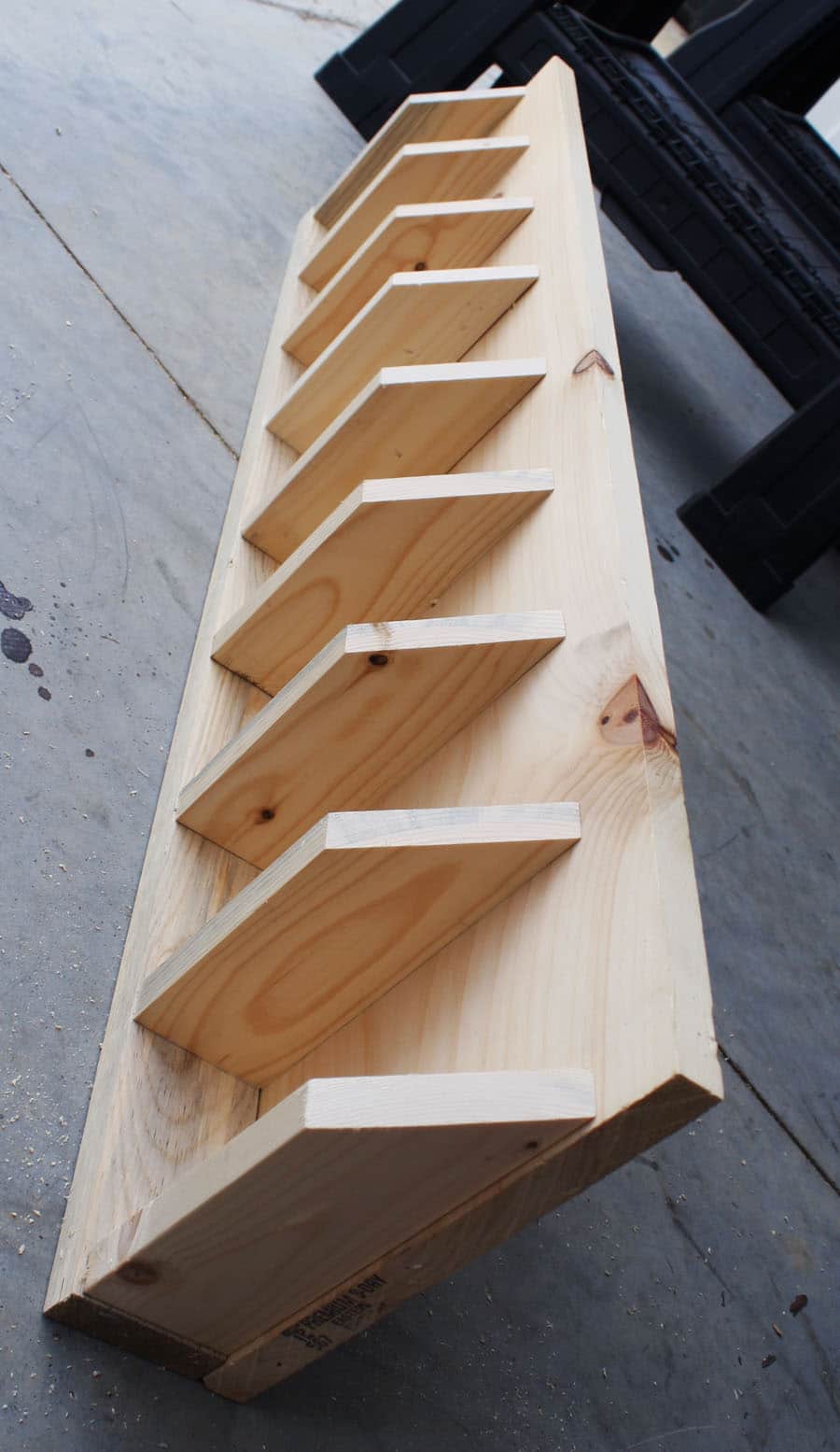 Here you can see where I placed my screws. The top row of screws is 1 1/4″ long because the angle in the dividers wouldn't have allowed for a 2″ clearance. The two bottom rows of screws are 2″ though. I countersunk all the screws so that when I hung it up, it wouldn't scratch the wall, and the shelf would sit flush against it.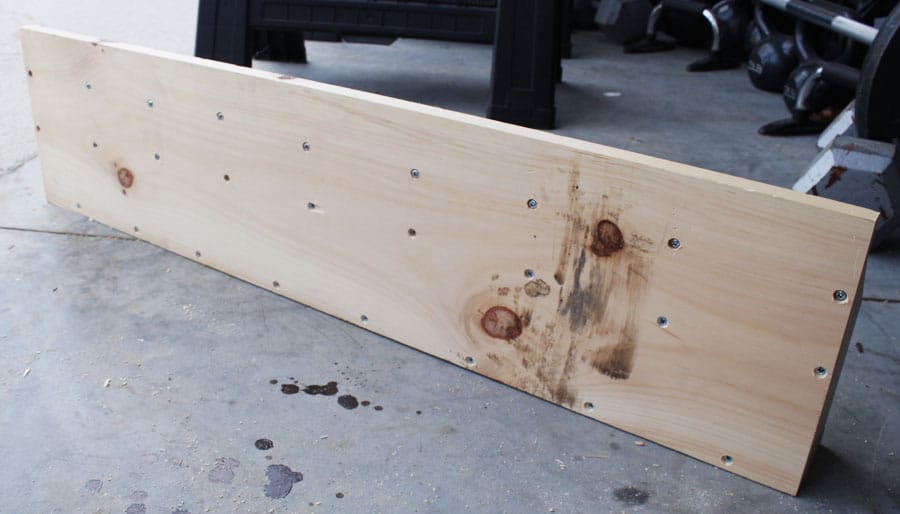 Then, before I added the front board, I went ahead and stained and painted it. I did a quick staining job, using Rustoleum's Ultimate Wood Stain in Dark Walnut. As you can see, I didn't even cover the entire thing. I just focused on the corners and edges because I knew I'd be painting over it anyway. Also, I figured it would be easier to stain/paint with the front board off so I could easily get into every nook and cranny. The thought of having to jam a paint brush down in each cubby makes my head hurt, so I'm glad I had the foresight not to add the front board on just yet: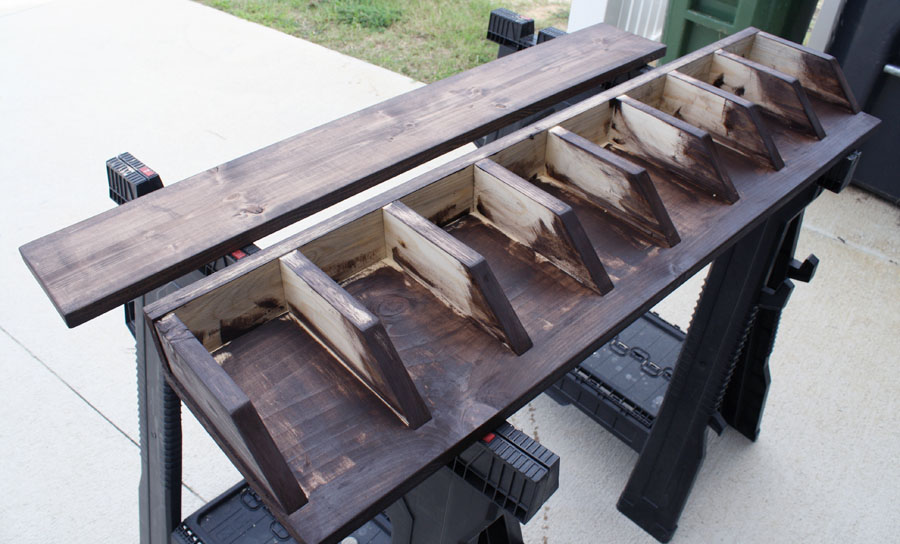 Then I put a couple coats of strawberry colored paint on top of the stain. This is the same Valspar paint I used for Evie's play chair. Again, I wasn't too concerned with giving it a perfect finish, because I'd be distressing it and making it look a bit shoddy, like Pottery Barn's shelf.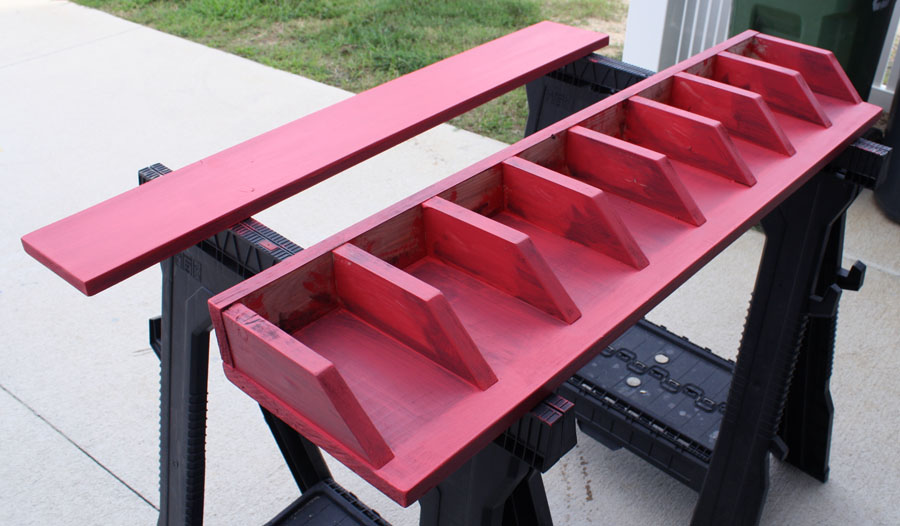 Then I used 1 1/2″ finish nails to nail the front board onto the shelf. I used a nail punch and covered the nail holes with wood putty.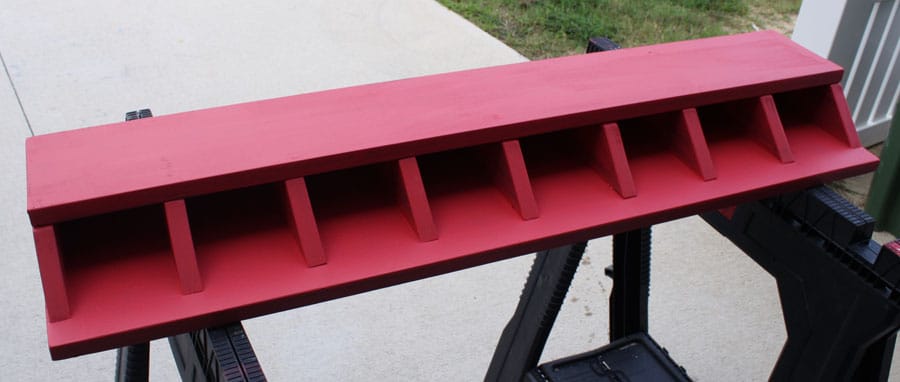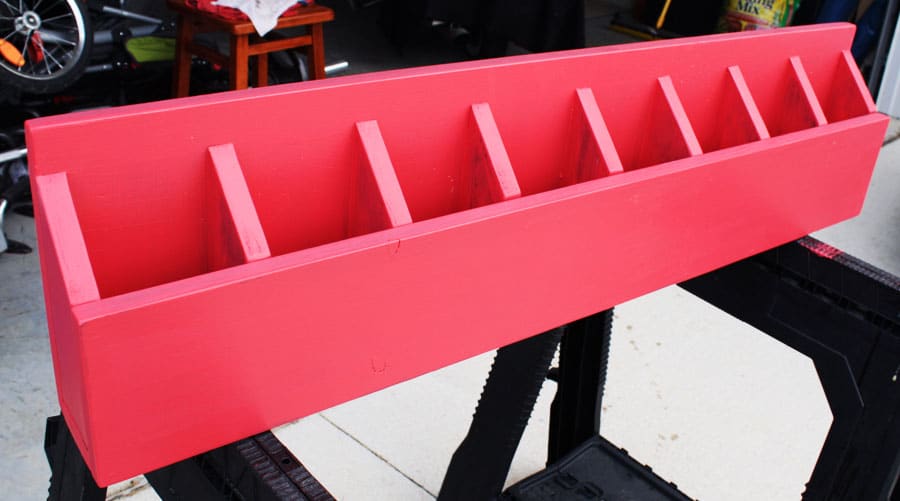 After the paint dried, I gave it a quick sanding and distressed the edges a bit, to reveal the dark walnut stain underneath. Then I printed out numbers 1 through 8 on the computer and taped it to the shelf. The font is bold Georgia at 300pt. Using a ballpoint pen, I traced over the numbers, pressing hard to create an indention into the wood. Then I hand-painted the numbers onto the shelf, using the indentions as a guide.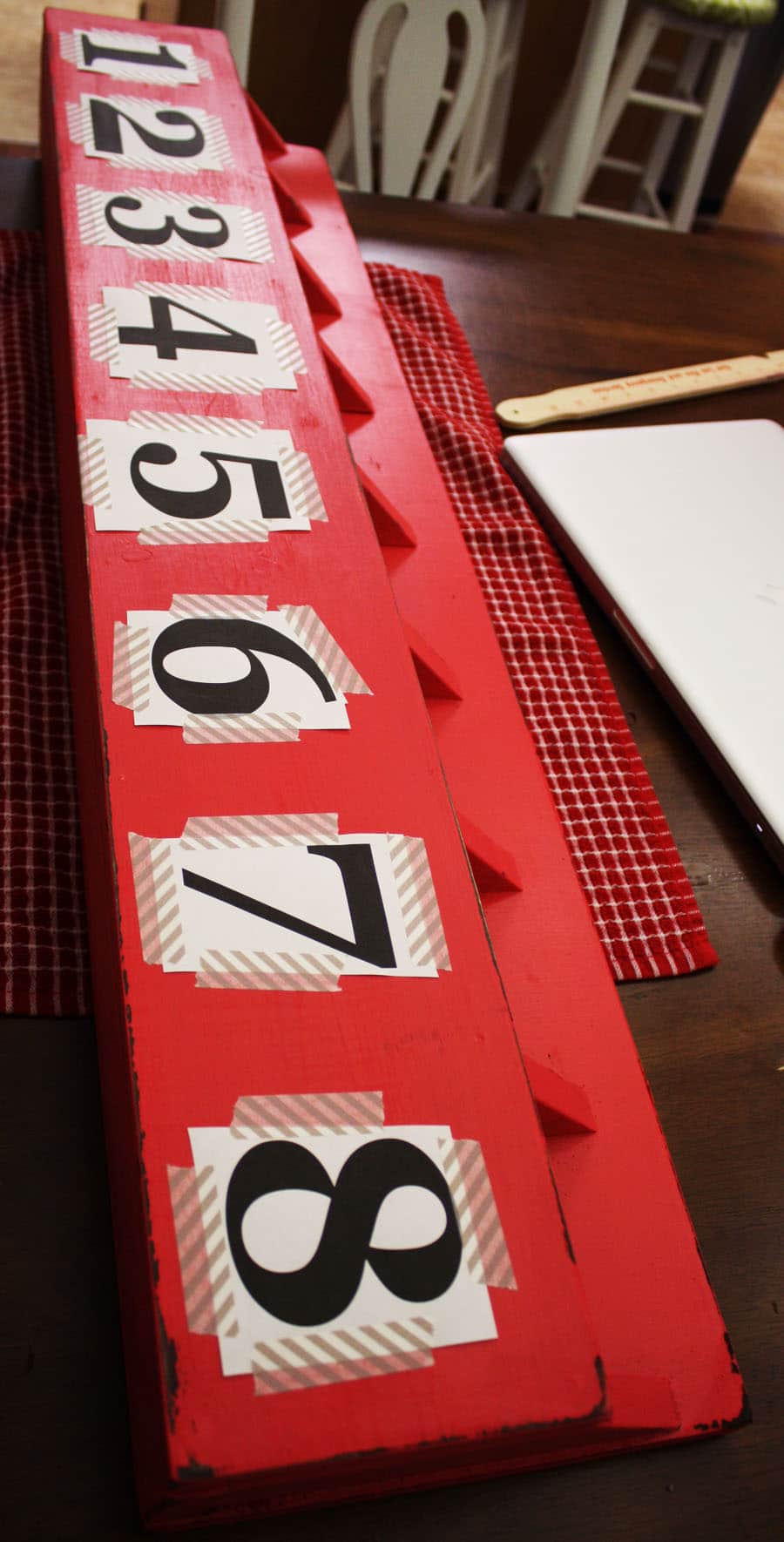 I gave the whole piece another quick sanding, so that the painted numbers didn't look so crisp and new, slapped on a quick coat of Rustoleum satin polyurethane to seal everything up and voila!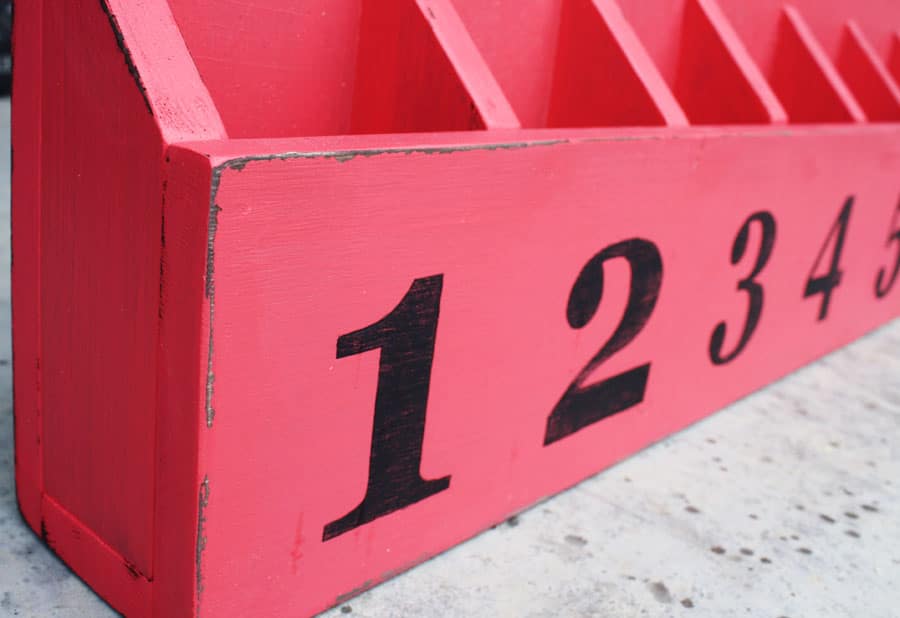 So here's Pottery Barn's $99 shelf: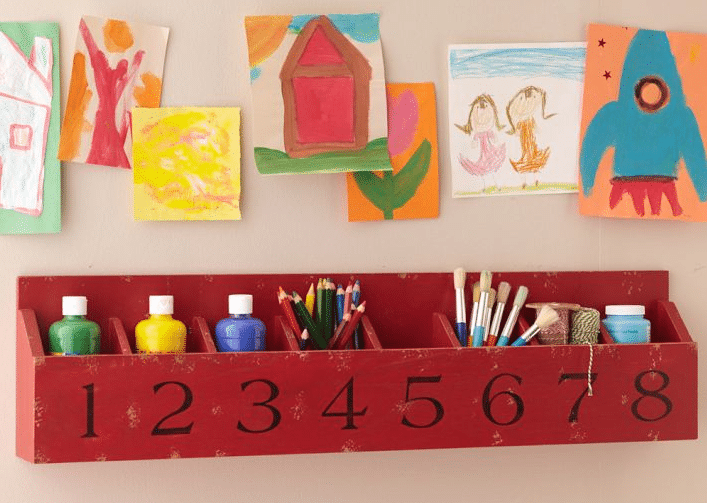 And here's mine (for free… yippee!) – Pin it for later!
Easy peasy and pretty quick too! I was able to do this project while Evie took a 2-hour nap. Another project is crossed off my TO DO list and I'm one step closer to realizing the kiddos' future playroom! Woo to the hoo! I think I'm in love! What do you think?