You guys. I just became one of those people. You know the kind. Those "catio" people. Yep, they totally exist. (Google it. I'll wait.)
See? Catios! They're totally a thing! And I just joined the Catio Club, except I'm of the canine variety. I built my dog his very own "Dogzebo." Or shall we call this a "Pup Pavilion?" Pawvilion? Pupvilion? Okay. I'm done.
Check it.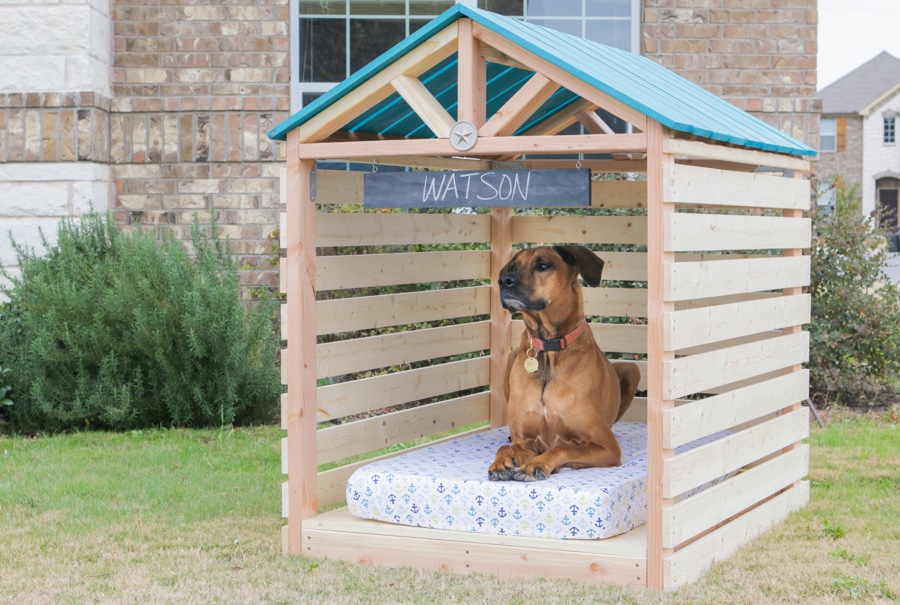 But seriously. Would you just look at this handsome guy? He's looking very regal and distinguished in this photo.
Everyone, meet Watson, our sweet Rhodesian ridgeback. Our gentle giant. My firstborn.
The ridgeback breed standard is about 80-85 pounds for a male. Watson is 100 lbs. I'm not sure how he grew to be so ginormous, but we love it. Everywhere we go, people stop and take pictures of him, all the while stating the obvious, "Wow! That's a big dog!"
You are correct, Captain Obvious. Now can you stop with the selfies so we can get on with our walk?
One year, Adam and Watson were out on a walk and a kid yells from across the street, "Mommy! That man is walking a deer!" Later that year, I bought Watson some antlers and he went as a deer for Halloween.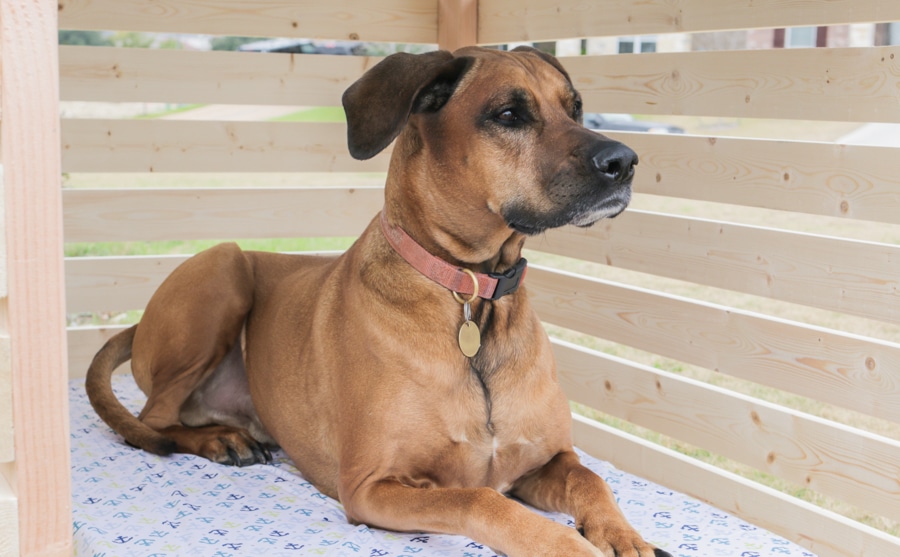 Watson is an inside-all-the-time dog, but he likes to keep me company when I'm out in my workshop, which is why I built him a gazebo rather than a full-on doghouse. This Texas heat is so unforgiving; a gazebo gives him the perfect shady spot to chill in.
Okay, so we have a giant dog – hence, the giant dogzebo. You'll want to adjust the dimensions to accommodate your pup if necessary. Are you ready to build your favorite furry friend a gazebo all his own?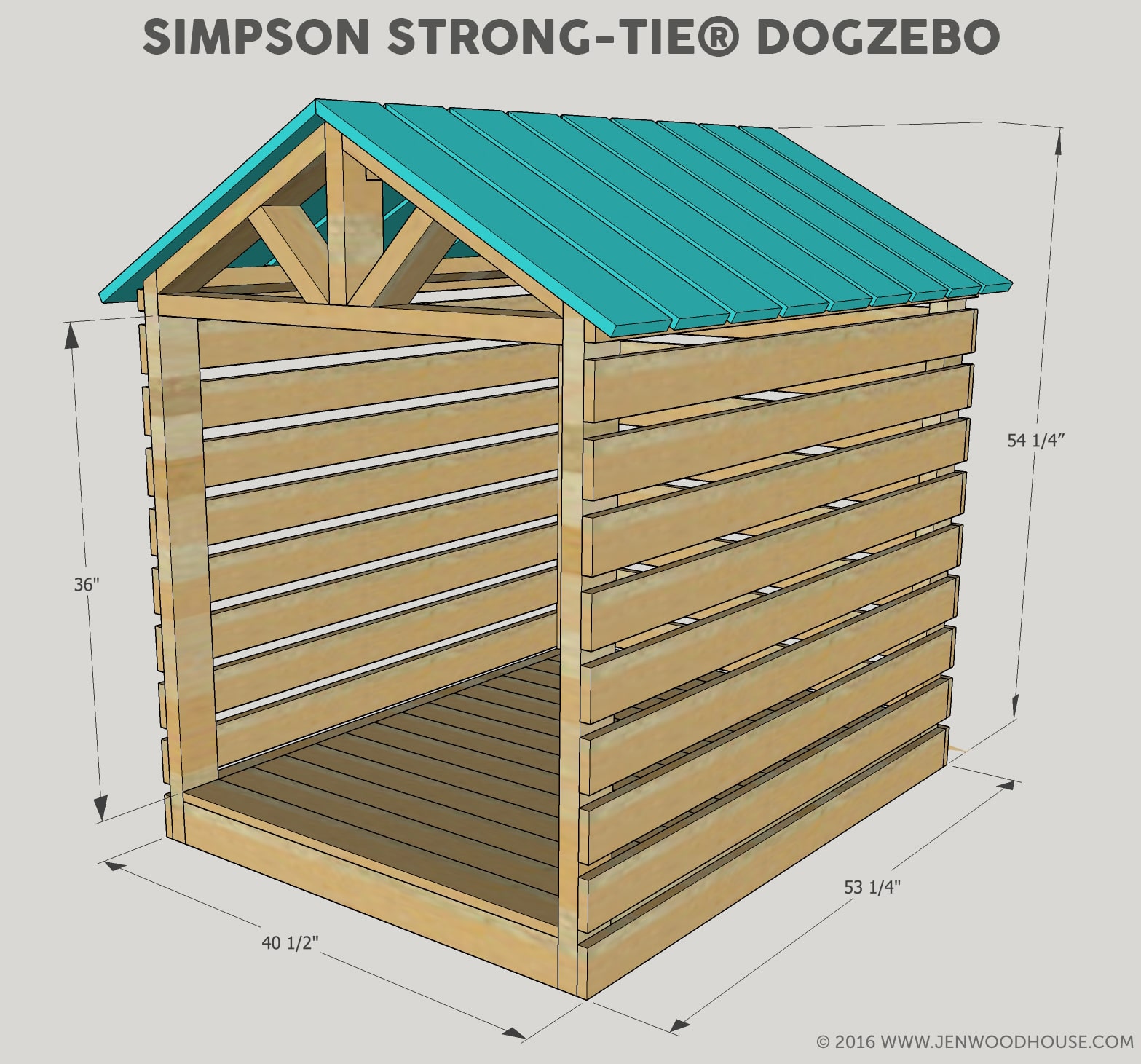 Depending on what kind of lumber you choose, this project will cost around $250.00 or so. I used untreated pine boards because I don't enjoy working with pressure-treated wood. The treated stuff is tougher on my saw blades and feels icky when handling it due to the chemicals in the wood. I'd rather use the untreated stuff and then protect the wood from the outdoor elements with an exterior-grade finish.
Allow me to draw your attention to the photo below. Please notice the missing rafter. This is what happens when you don't buy enough material and are too lazy to return to The Home Depot for the third. time. that. day.
It happens. #storyofmylife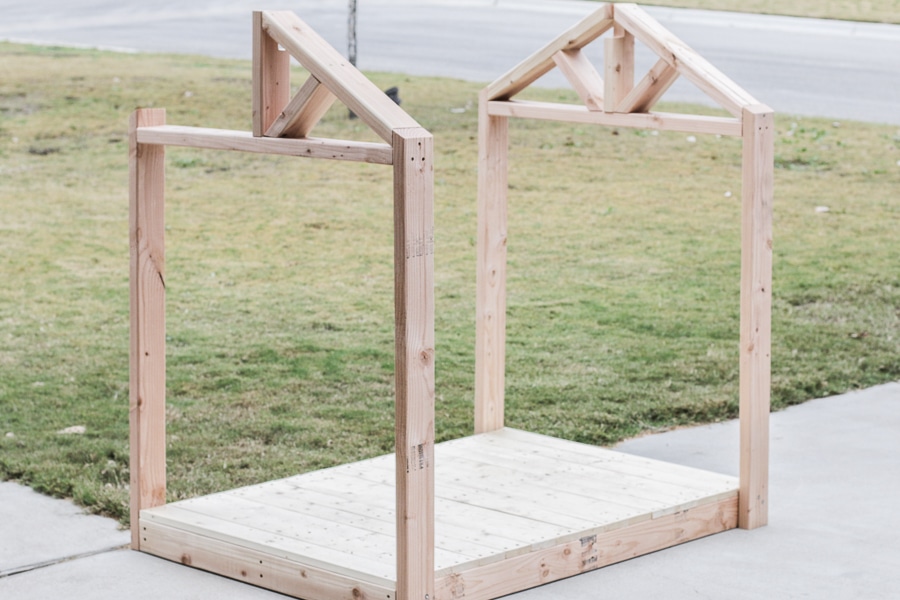 I used these Simpson Strong-Tie Deck-Drive™ exterior wood screws. They're self-drilling, so you don't need to pre-drill a pilot hole, which saves time.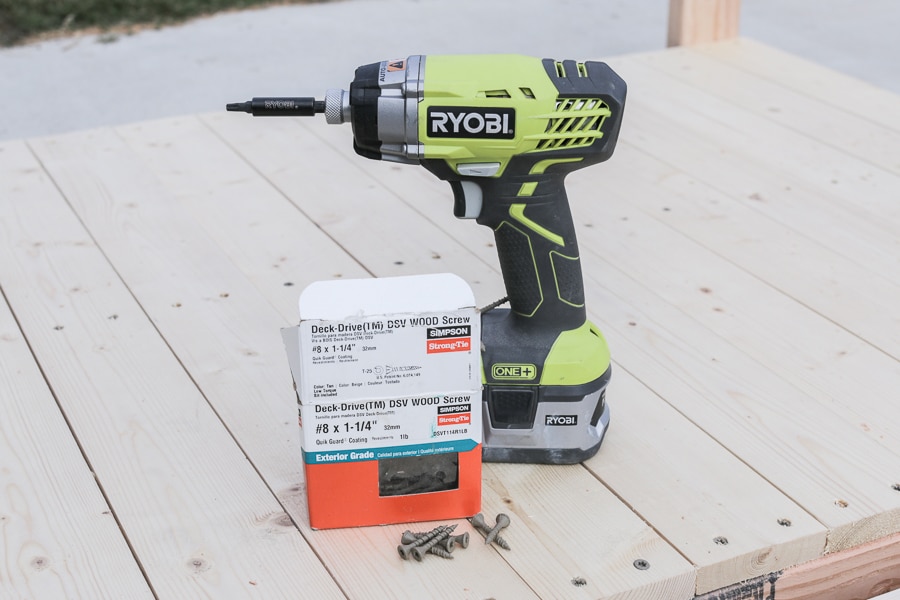 I pre-drill anyway, because I have trust issues.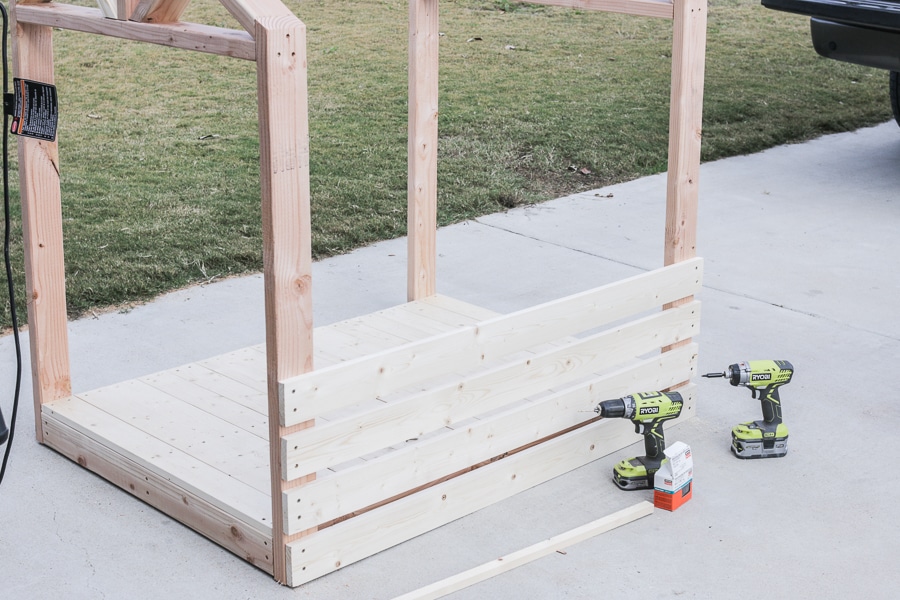 See that skinny piece of scrap wood laying on the ground in the photo above? We cut a 1-inch thick piece of wood to serve as a spacer so we could space the slats evenly, without having to measure each time. #worksmarter
And look! Building is a family affair! The kiddos loved helping build Watson's doghouse. Their rates are very competitive – the boy works for lemon Oreos and the girl works for lipgloss. Life is good.


I added these Simpson Strong-Tie® RTA2Z Connectors to strengthen and square up the frame.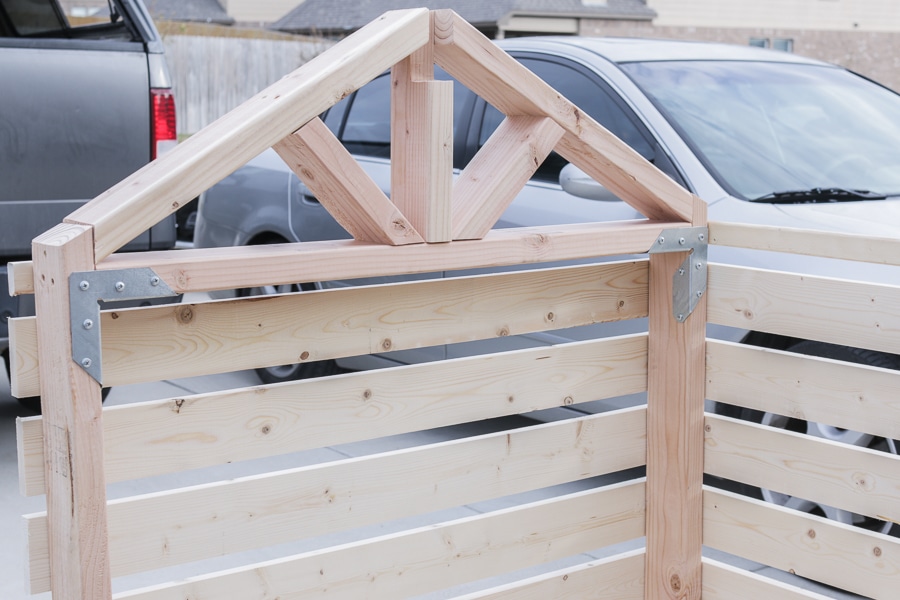 If you're a competent carpenter, you'd use SD Strong-Drive screws with these connectors. But if you're me and you've gone to The Home Depot three times in one day and still managed to forget something, you'll use wafer screws or whatever screws you dig out of the bottom of your toolbox.
But you're not going to be me, are you? You're going to be better than me.
Do as I say, not as I do.
Maybe one day I'll switch those screws out.
Maybe.
But probably not because I'm lazy and forgetful.
Remember?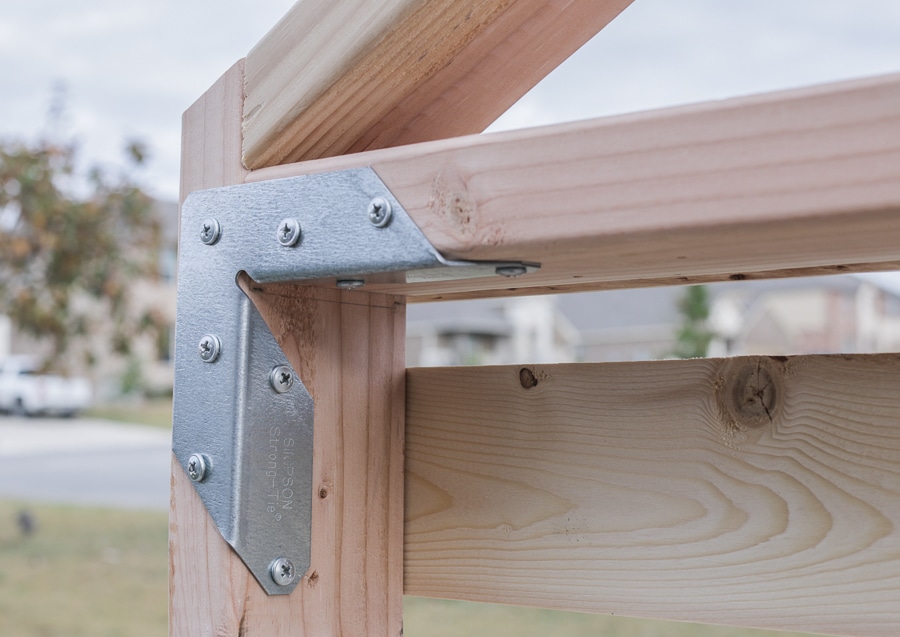 Okay, moving on!
Now that the floor, frame, back, and sides are done, it's time to construct the roof.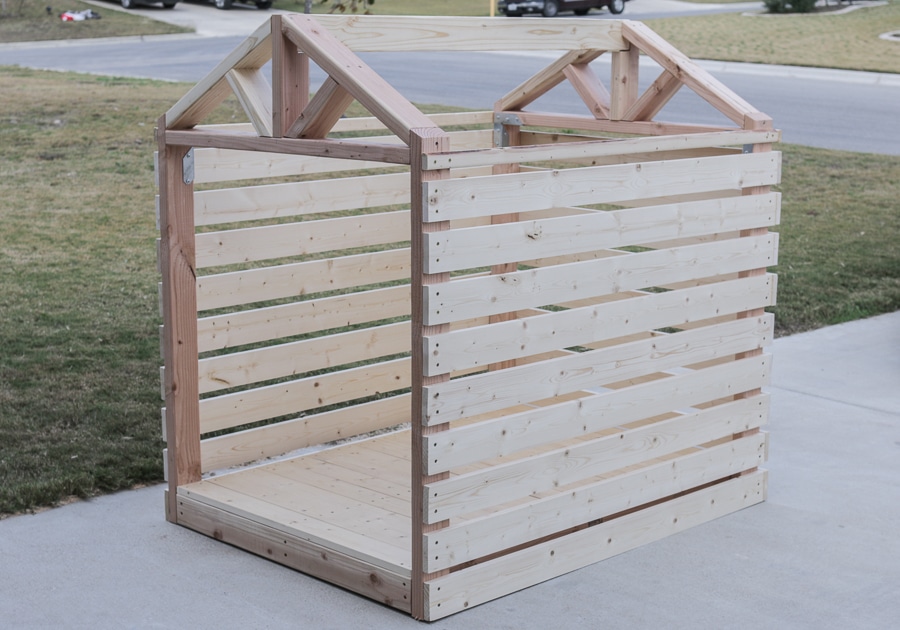 Cut the roof slats to size (9 slats per side) and attach them with more wood screws. Easy peasy.
This dogzebo is large enough to accommodate a standard crib mattress. We usually keep the kids' old mattress in the back of the truck for Watson, so I just moved it into the dogzebo.
And do you know what makes the best large dog bed? After years of going through dog bed after dog bed (they're either too small, or just don't last!), we bought a round papasan cushion and it's large enough for Watson to sprawl out and it's held up to everyday wear and tear like a champ.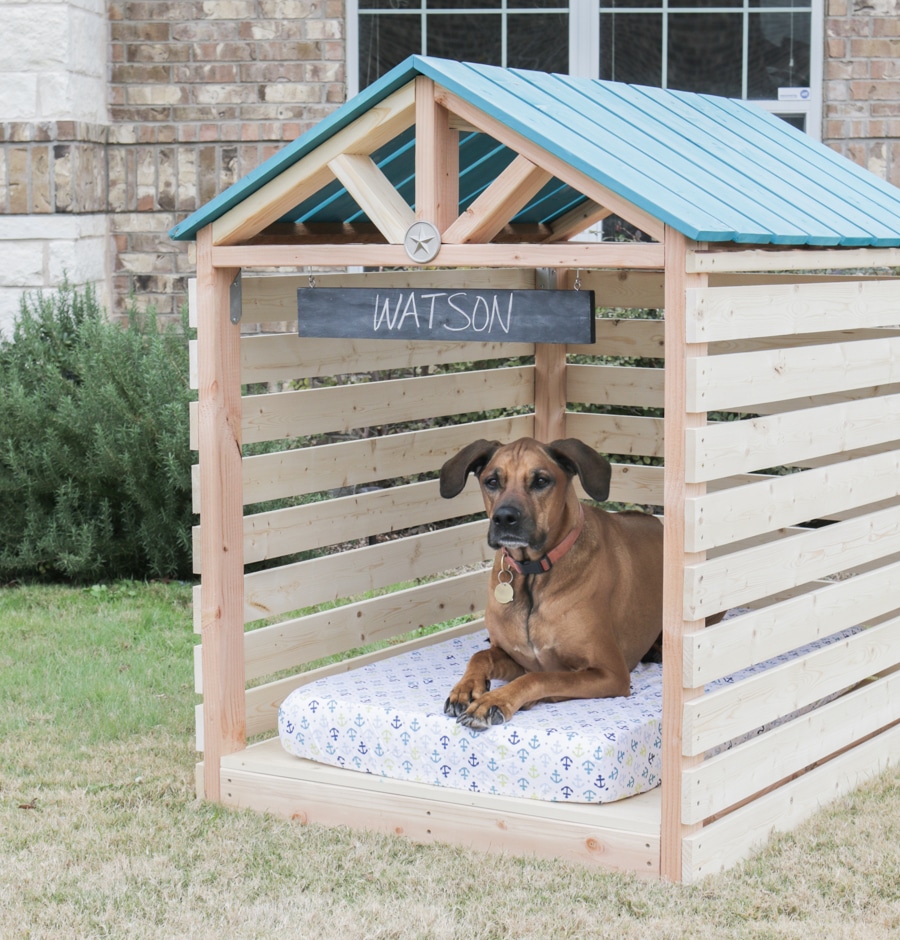 I may be biased, but I'm pretty sure Watson is the best dog ever. We just love the ridgeback breed in general and Watson is our favorite. Also known as the African Lion Hound, ridgebacks were bred to hunt lions. They're fearless, intelligent, and even-tempered. This guy is amazing with small kids too – their temperaments are such that if they're annoyed or upset in any way, they'll remove themselves from the situation, rather than get aggressive.
Case in point: Evie bogarted Watson's dogzebo and turned it into her clubhouse. Watson appears to be displeased about the current state of affairs.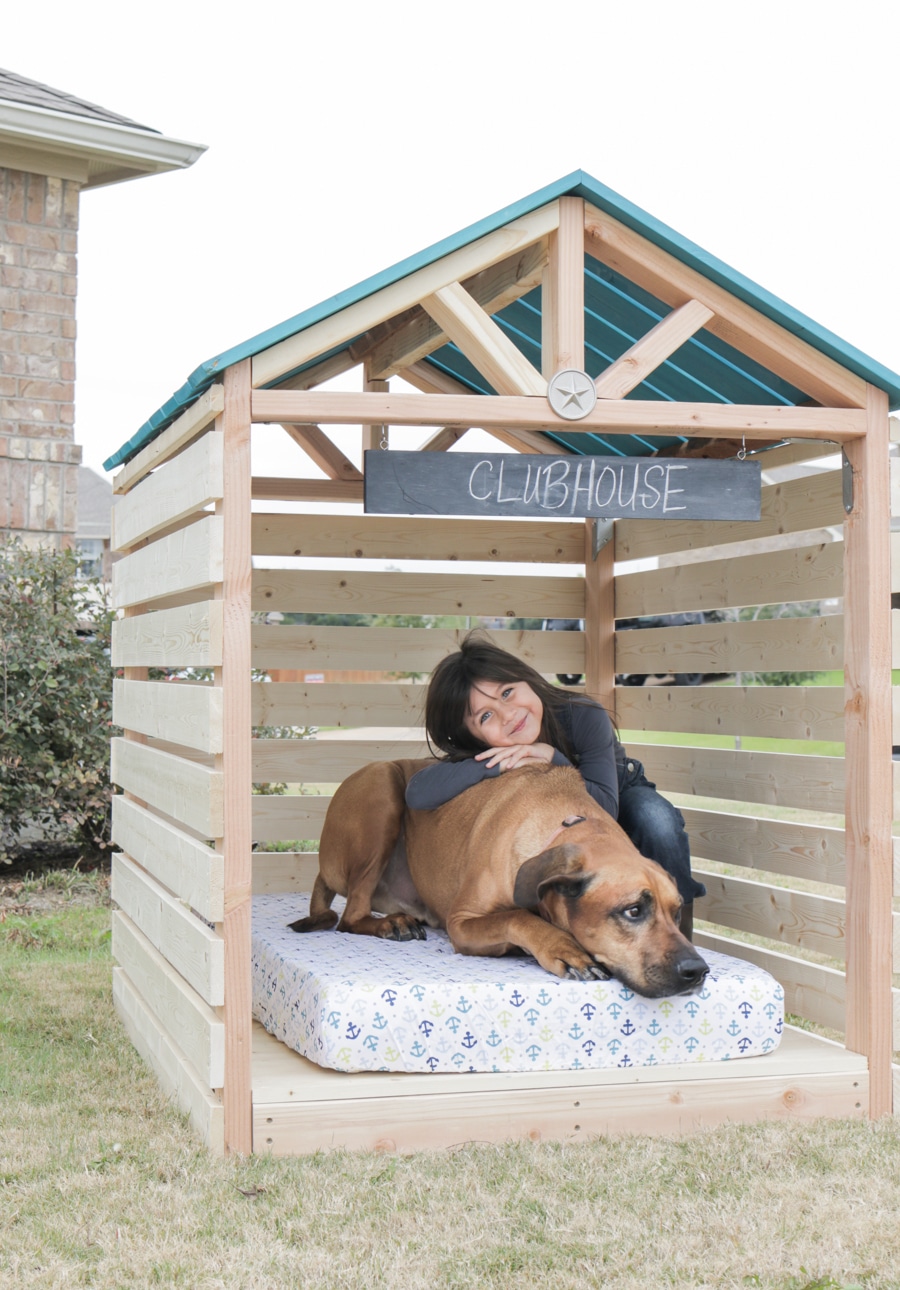 So he gives in, as big brothers often do.
Sorry, bro. There's no winning this one.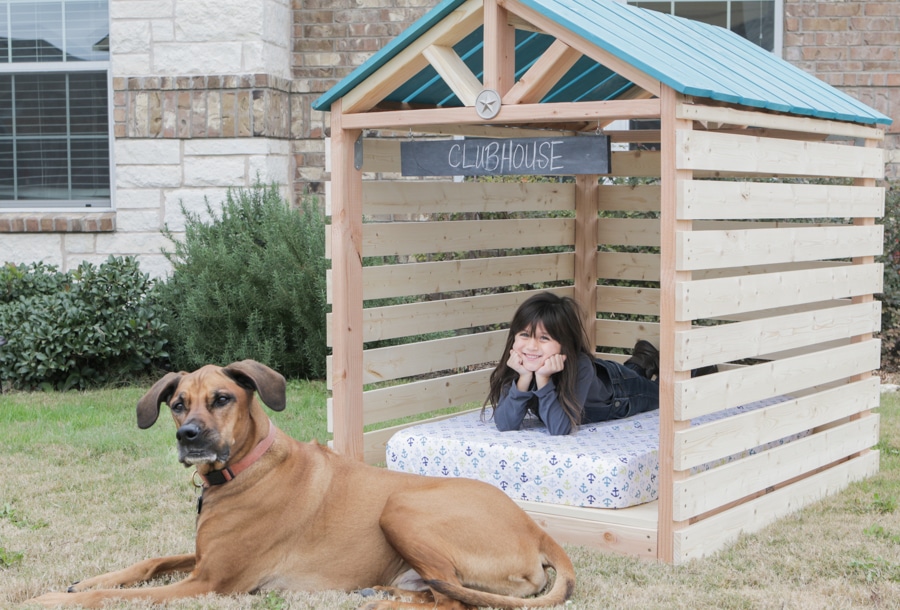 Thanks for stopping by, friends! Be sure to download the plans so you can build your own DIY doghouse gazebo. Happy building!
*This post is sponsored by Simpson Strong-Tie. All opinions, helpful children, and giant dogs are my own.