Easy and scary Halloween decor that you can make with a few simple supplies, yes please! Jaime here from jaimecostiglio.com where it's all DIY all the time so naturally, we are making a spooky DIY Halloween Black Cat Wood Cutout to decorate your mantel, bookshelf, door, or yard.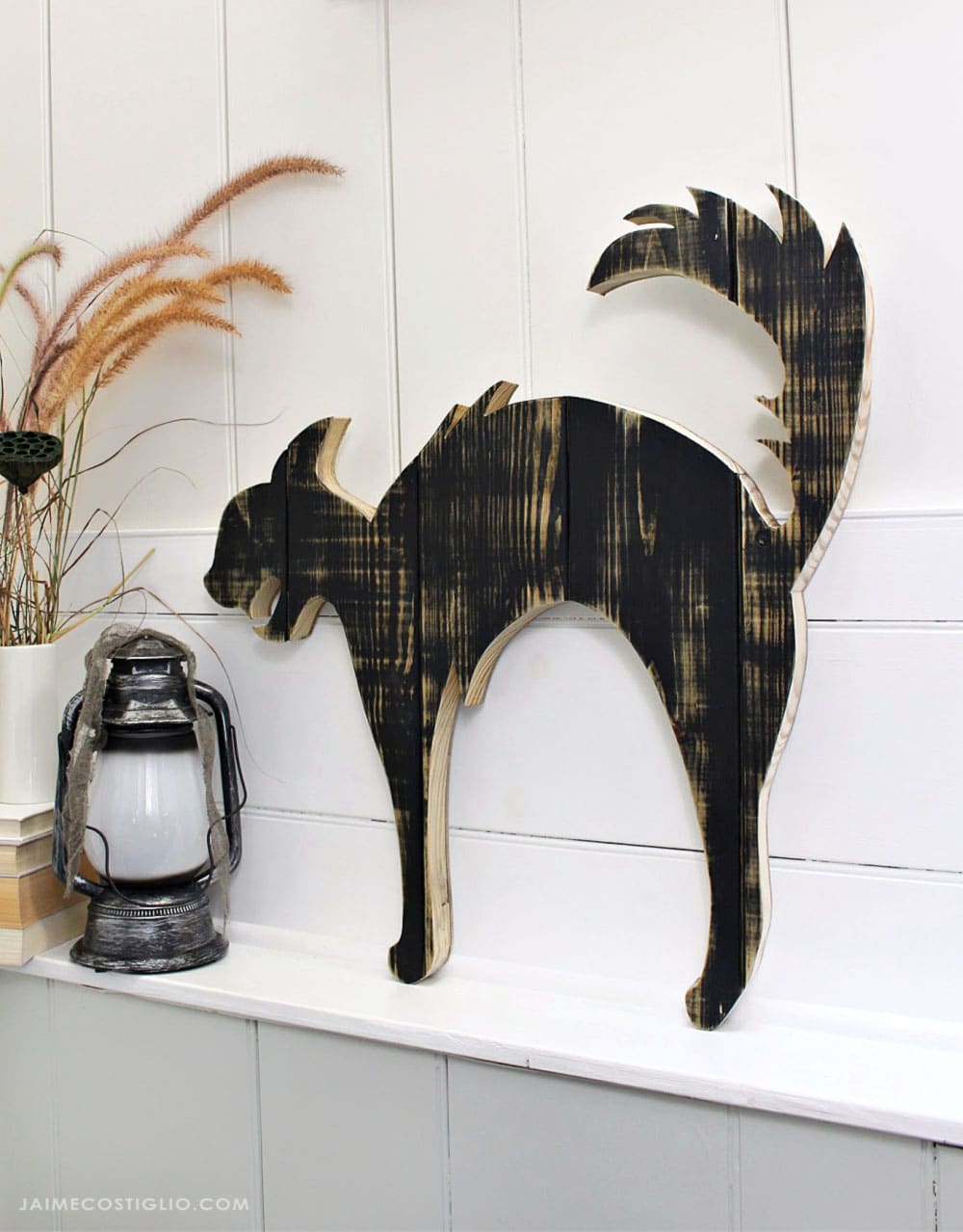 Take a large piece of MDF or plywood and cut out a cat shape to make your space spookier. Halloween yard decorations are the most fun. How cool would your yard look with a bunch of creepy cats prowling around? And you can make it any size you like, I stuck with 24″ wide because an inexpensive handy panel at the hardware store is 24″ wide.
Can't draw a spooky cat? Don't worry, that's what the internet is for. Find you favorite scary cat silhouette clip art and I will show you how to enlarge it using the grid method. (Please be sure the clip art is royalty free, no copyrights and good for personal use.)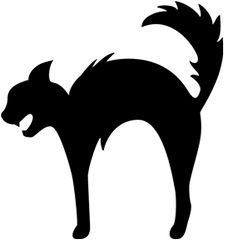 This black cat shape has a great curved spine and spiky fur with some really mean looking teeth. The shape is simple and easy enough to cut out, but still with enough detail to make it spooky.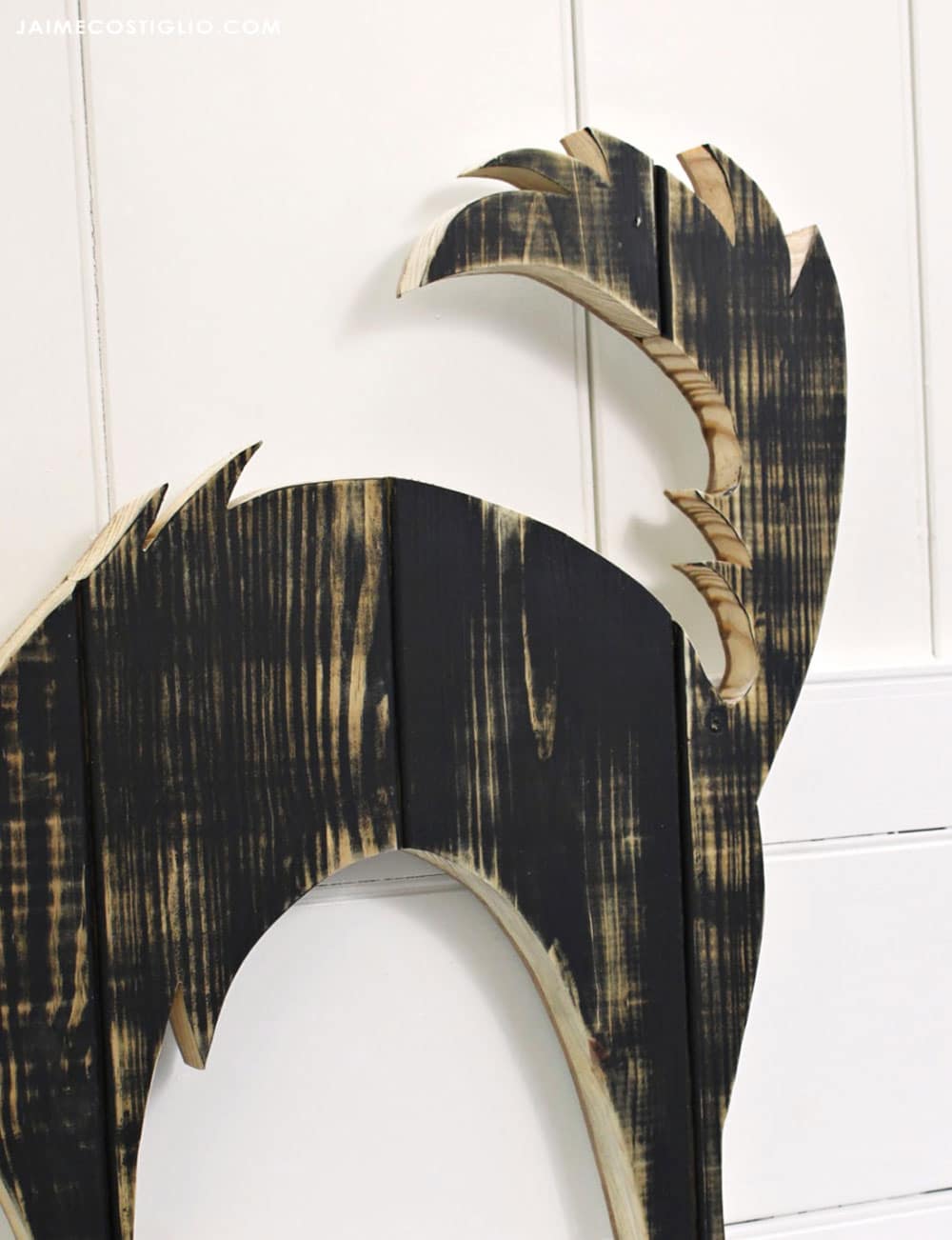 I opted to layer the MDF with some old deck boards for a thicker cat, but you can use any thickness of MDF or plywood and achieve a similar look. Let's get to it then, down below are the step by step instructions to create a black cat wood cut out.

Supplies:
(1) 2′ x 4′ handy panel MDF or plywood (any thickness will work)
clear quilting ruler or yardstick
pencil
cat silhouette print out
jigsaw
sander
black acrylic paint
paintbrush
Step 1
Print out your desired black cat silhouette shape (I used this cat shape here). Be sure the clip art is royalty free and for personal use only. Either print from the preview image directly or insert the image into a word document and print.

Step 2
Begin by drawing a grid onto the printout using a clear ruler or yardstick and a pencil. My cat printout is 8″ x 7 1/2″ and I simply divided the image in half and then halves again until I ended up with about a 1″ square grid. Make the same grid onto the larger MDF piece, start by dividing in half, then halves again until you have the same number of squares.

Step 3
I opted to attach wood boards to the MDF screwed on from the back, but this is completely optional and you can cut the cat directly from the MDF if you prefer.  Using the grid as your guide sketch out the cat silhouette onto the MDF (or boards). Then use a jigsaw to cut out the shape.

Step 4
Sand any rough edges smooth. I actually really like the wood cut out as is but this is Halloween and a black cat is more creepy.

Step 5
Paint the cat shape using black acrylic paint and a paintbrush. Once dry, give it another light sanding to allow the wood grain to pop through and clean up the edges.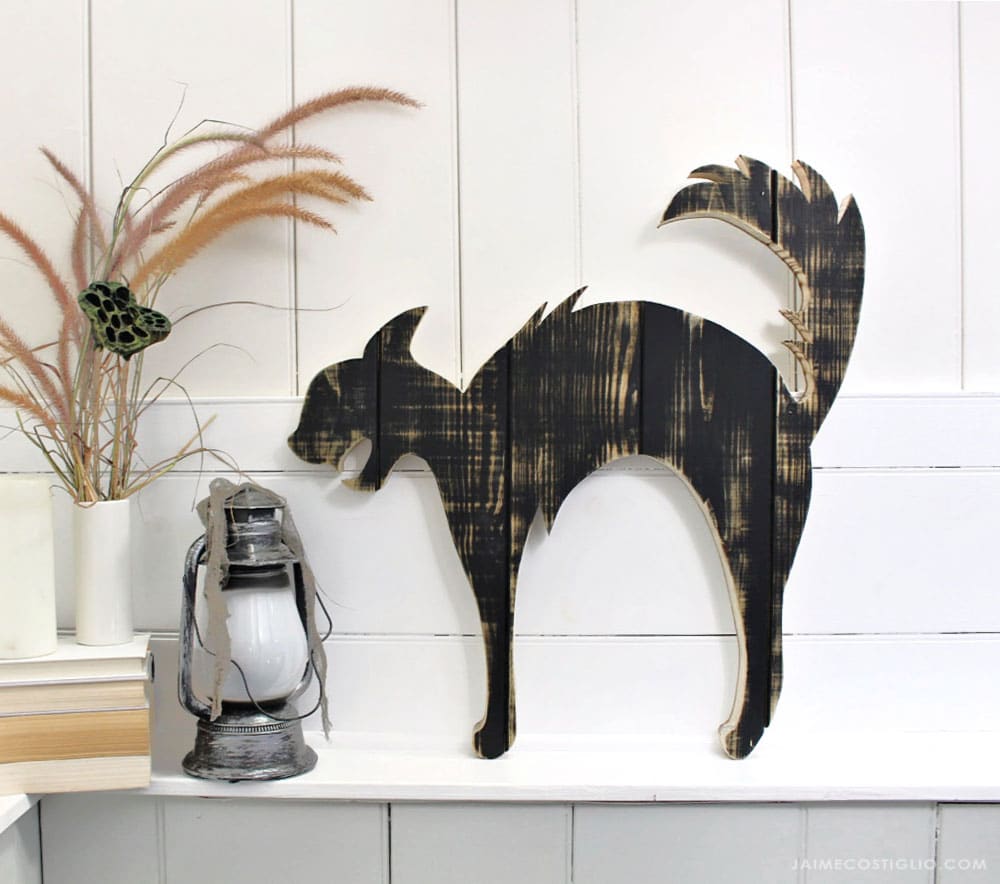 Place your cat on the mantel or ledge, wherever it will scare the most people. Halloween doesn't have to be complicated, just a few simple decorations like a DIY Halloween Black Cat Wood Cutout and you're all set! Happy Halloween!
Pin it for later!