Hello and happy Monday! I'm back with a new DIY furniture project to share with you all! My dad needed a place to set his printer, so I called on my lovely friend, Ana White to help me design plans for a printer table that would complement his existing desk.
This was my dad's current printer table situation: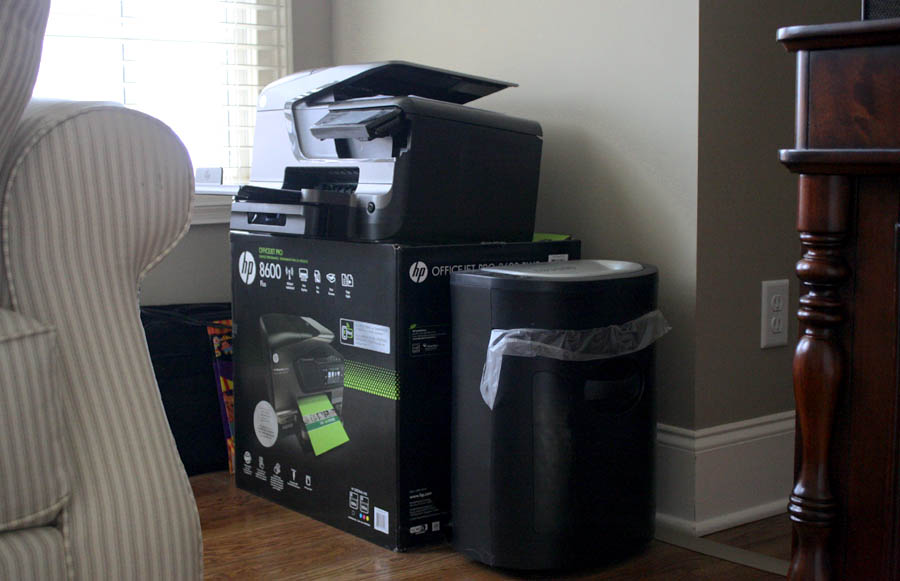 Um. Yeeeeeeah.
UNACCEPTABLE.
Especially for a guy
who has a daughter
who builds furniture.
Amiright?
Our conversation went a little like this:
Dad: Hey, look at my new printer.
Me: *blink blink* Dad, you always put everyone else's needs before your own, you never ask for anything, and I love you for that, but um, have you met me? I kind of have this thing, where I build stuff. Can I help you with this whole situation?
Dad: Okay, that's cool.
God love him.
So here's what we came up with: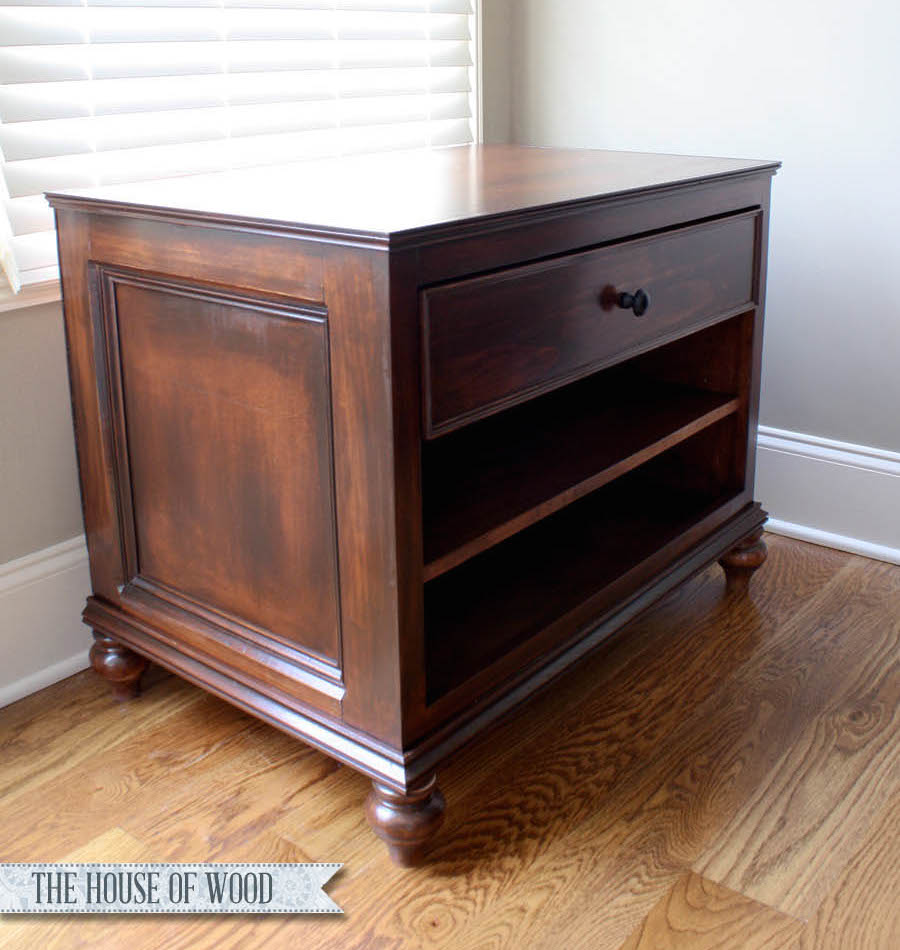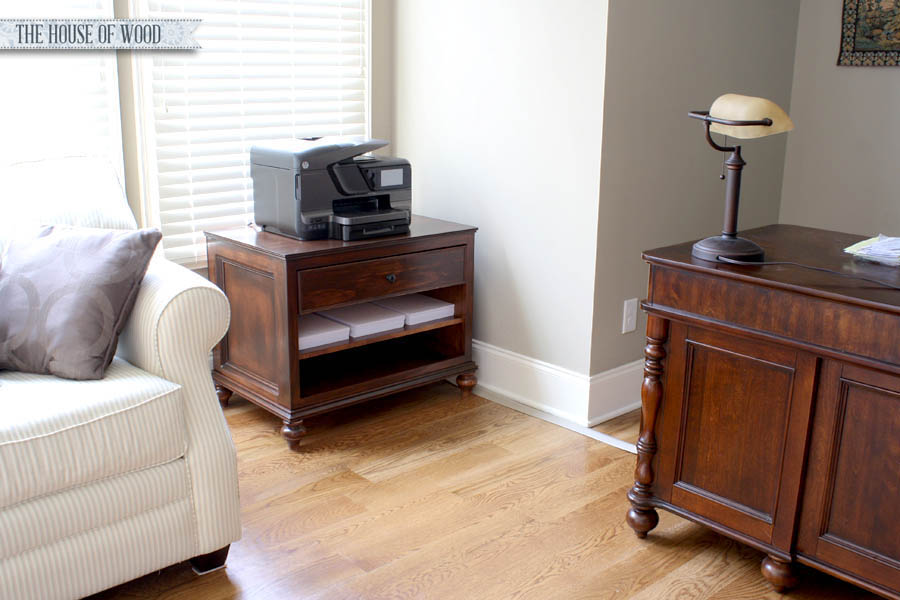 A step up from the ole cardboard box, right? The challenge was to design a table that complemented my dad's existing desk and I think we pretty much nailed it! Though the two furniture pieces don't match exactly, they look like they still belong together. And of course, with every build I do, I think that it's my best work and favorite piece. That's progress for you. Or a fickle mind. Tomayto, tomahto.
I'd say this is a more intermediate build only because of the extra trim work details, but you can easily turn this into a beginner project if you leave out all the decorative trim.
You can download the plans for this printer table here.
*Update: The finishing tutorial for this printer table can be found here.
*This post contains affiliate links. To read my full disclosure policy, click here.
Okay, so let's get started, shall we?
1. Build the Carcass
First, drill 3/4″ pocket holes on the underside of the bottom board and attach the two sides with 1-1/4″ pocket hole screws. As always, I used my favorite plywood, Purebond Hardwood Plywood. It's available exclusively at The Home Depot. Not only is it the prettiest plywood I've ever seen, but it's formaldehyde-free and made here in North America. Read about why Purebond Plywood is the healthier alternative here and why I've taken the Purebond Pledge.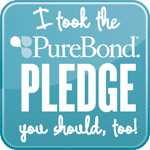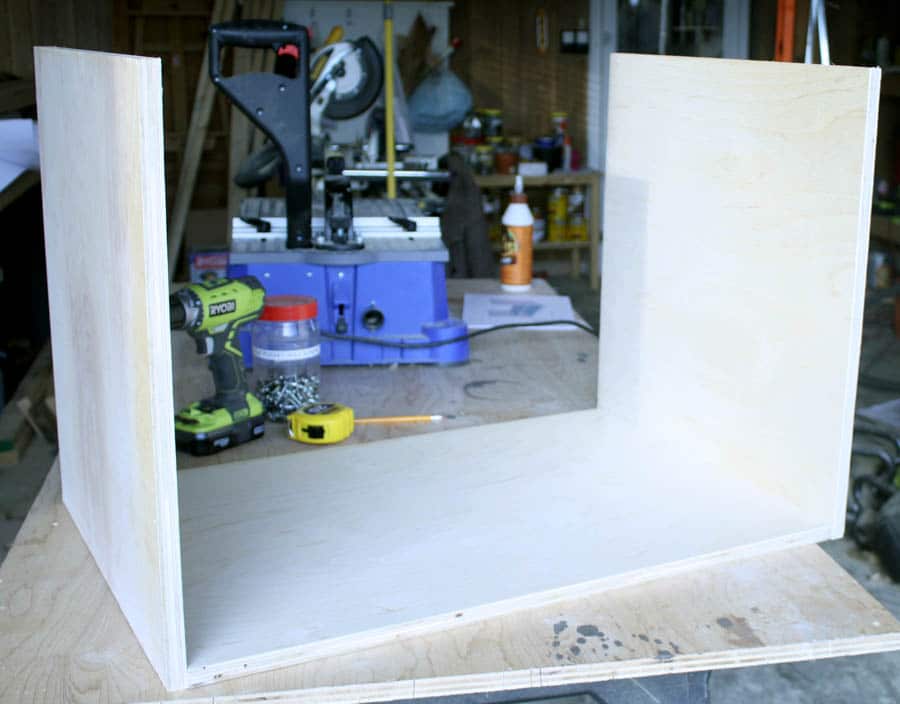 I wanted to give my dad an adjustable shelf, so I used the nifty Kreg shelf pin jig that came with the Kreg DIY Project Kit. This jig makes it easy to drill straight and evenly spaced holes for the adjustable shelf pins. I used a scrap 1×4 board as a spacer for the bottom.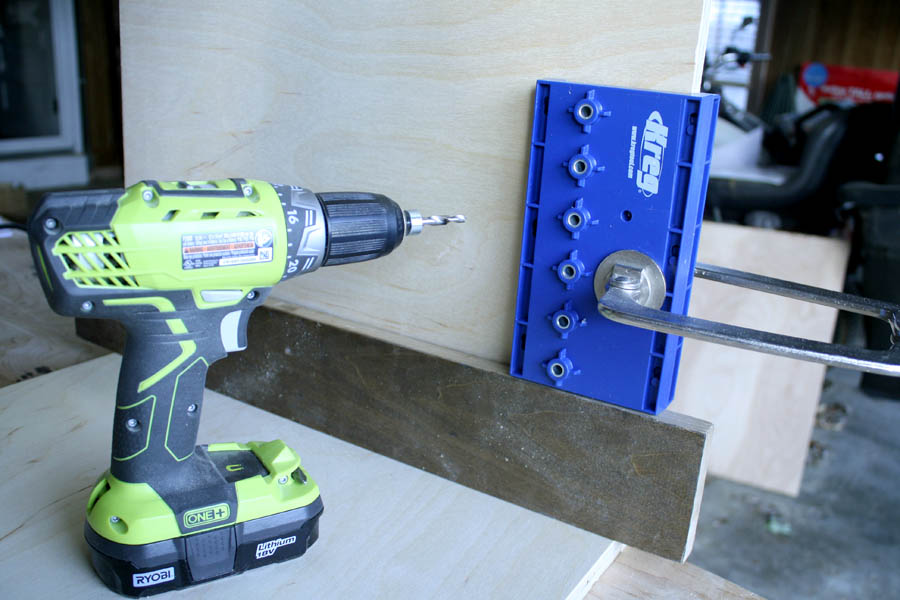 Look how profesh! I drilled the shelf pin holes on each side.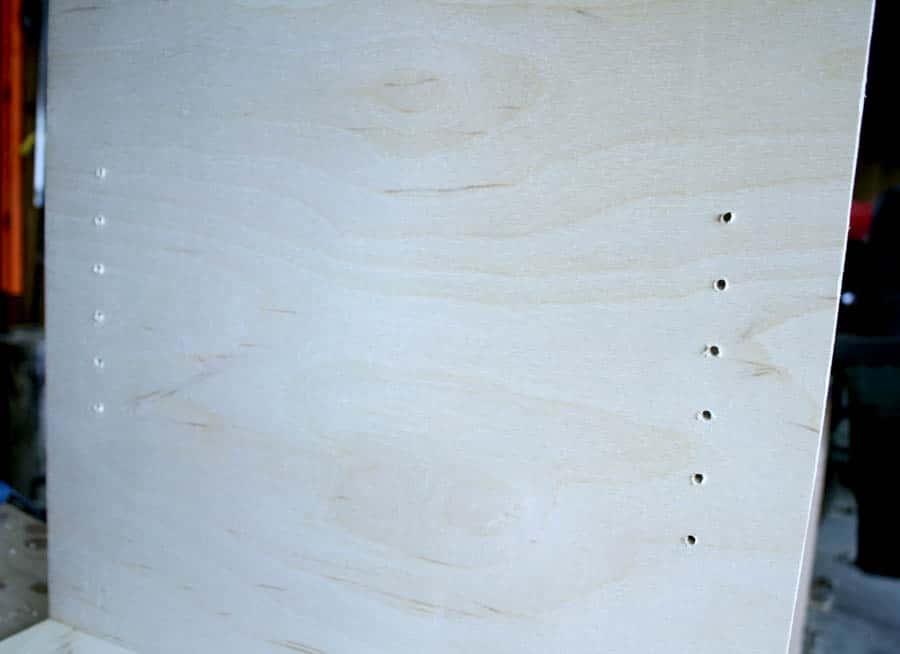 2. Route the Trim
Now here's where it can get a little tricky. Because I wanted the inside edges of the 1×3 trim to graduate to the thinner moulding, I used a 45º angle bit on my table router and routed the edges of the 1×3 boards. But because it would be a frame, I couldn't route the entire edge of the vertical trim pieces. After a few practice runs on scrap wood, I finally figured out the correct length (16″) to route the vertical pieces so that everything lined up when assembled. It'll make sense in a minute (I hope).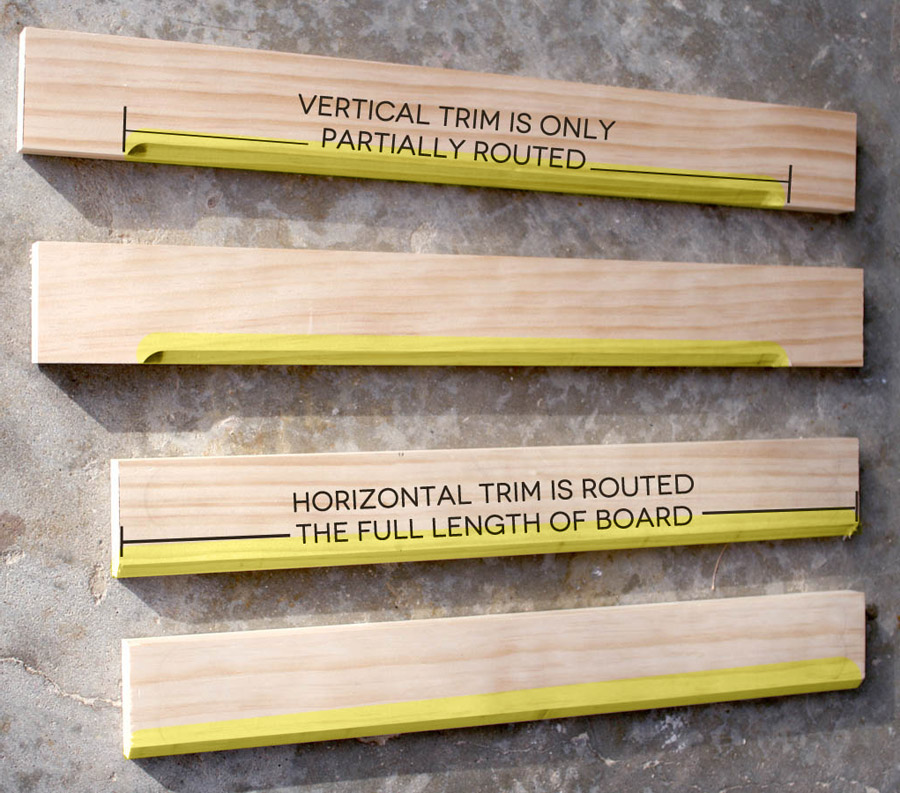 In the highlighted photo above, see how the two 1×3 boards on the top are partially routed? Those pieces couldn't be routed all the way to the edge because there would be a gap where the horizontal pieces met. By partially routing those boards at 16″, all four of the routed edges line up when the frame is assembled. The other two boards (on the bottom) are routed the entire length of the board. Hope that made sense!
I wonder if it would have worked if I built the frame first and then hand-routed the inside edges… ? Knowing me, I probably made things more difficult than they needed to be. Let me know if you come up with a better, more efficient way of accomplishing this. At any rate, after a bit of brain power and a little trial and error, I got the routed edges to line up perfectly! Here is the front view of the trim: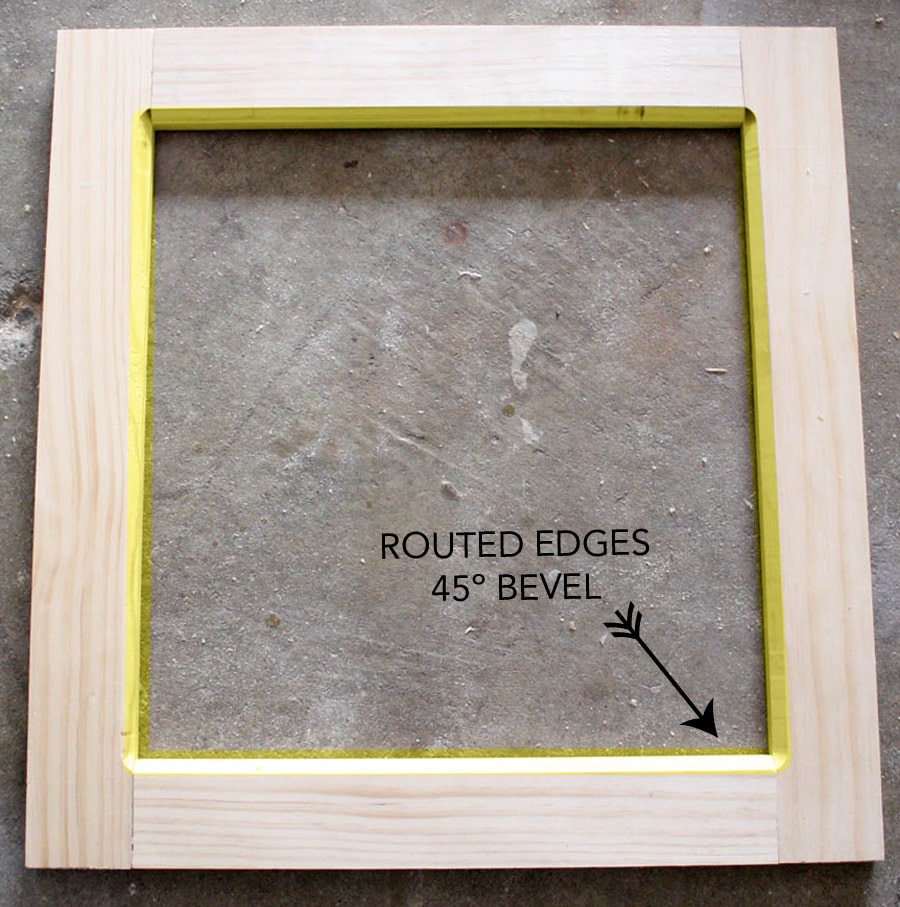 And here is the back view, attached with 1-1/4″ pocket hole screws.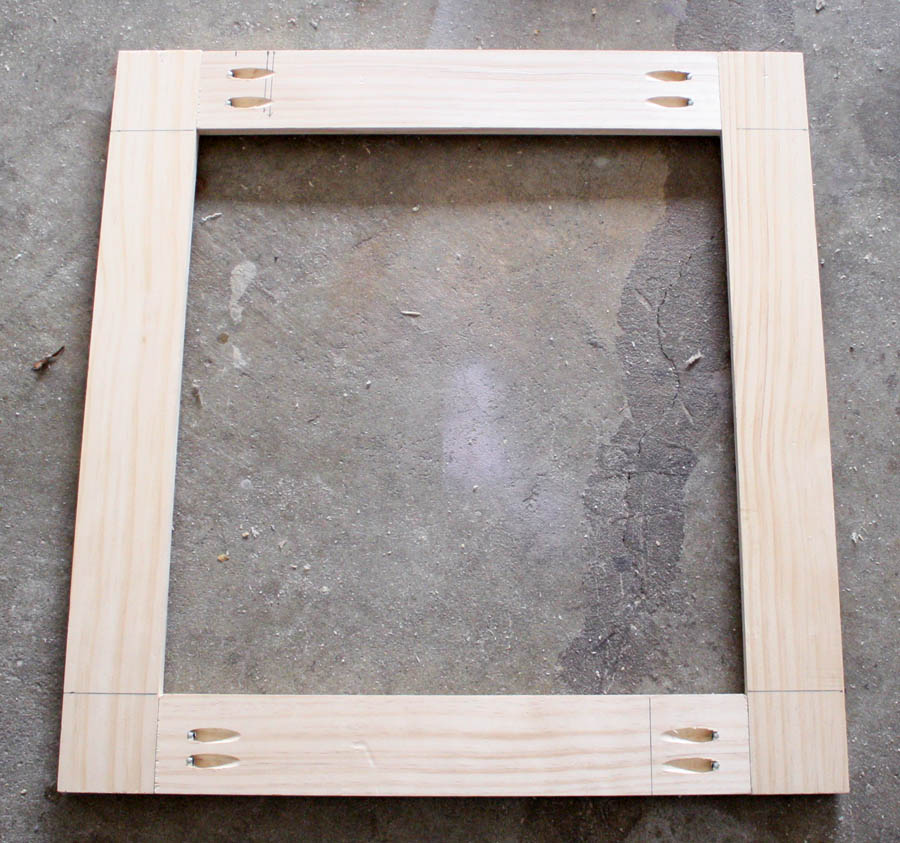 Then I glued and nailed the 1×3 trim to the sides with 1-1/4″ brad nails. After that, I measured and miter-cut the smaller trim and attached it with 3/4″ brad nails and wood glue.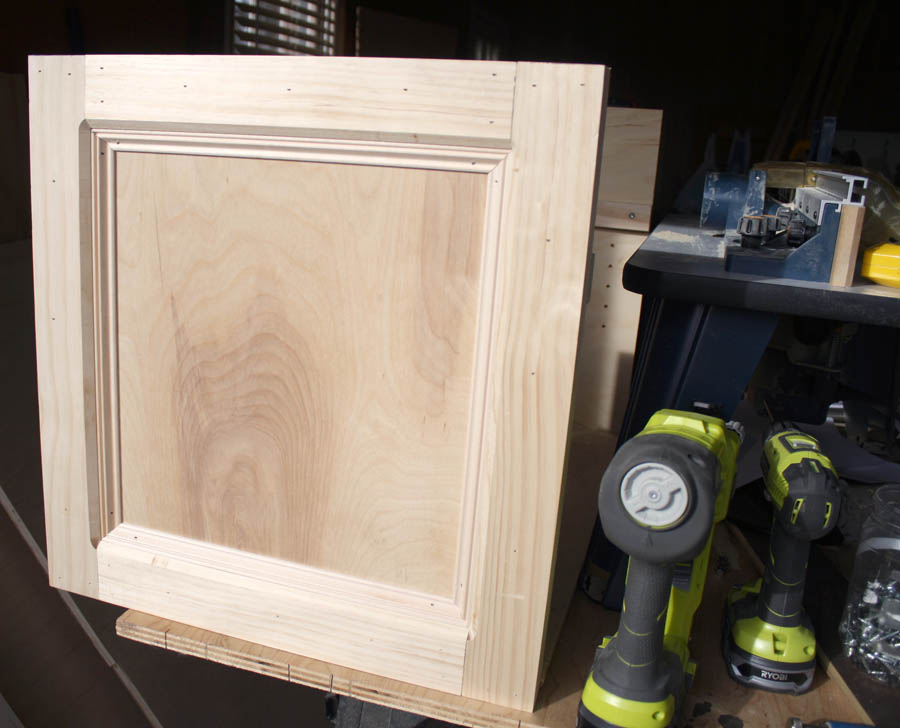 Here is a closeup of the trim work. I love the look of the recessed moulding. The devil's in the details, don't you think?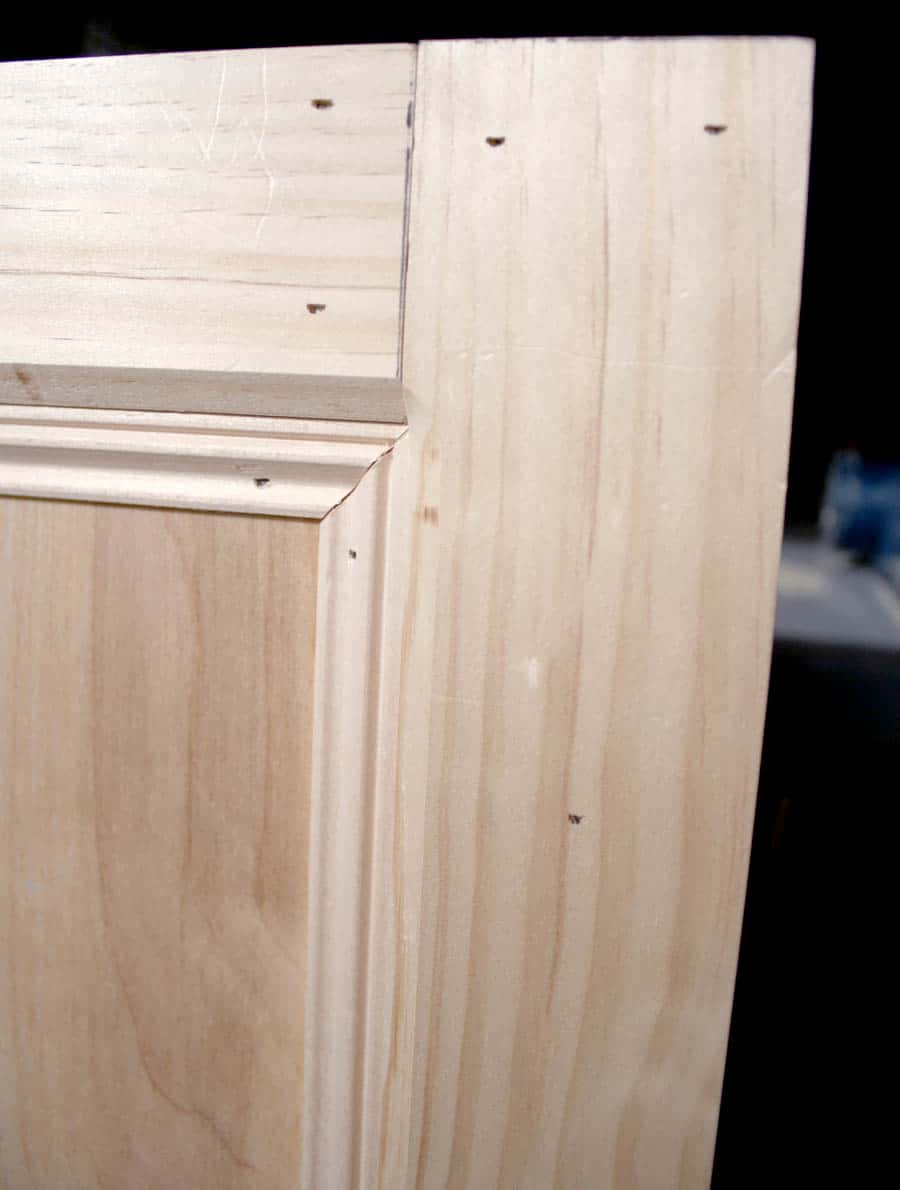 After both side panels were trimmed out, I built the face frame and assembled it with 1-1/4″ pocket hole screws then attached it to the front of the carcass with wood glue and 1-1/4″ brad nails. The face frame hides the raw plywood edges nicely.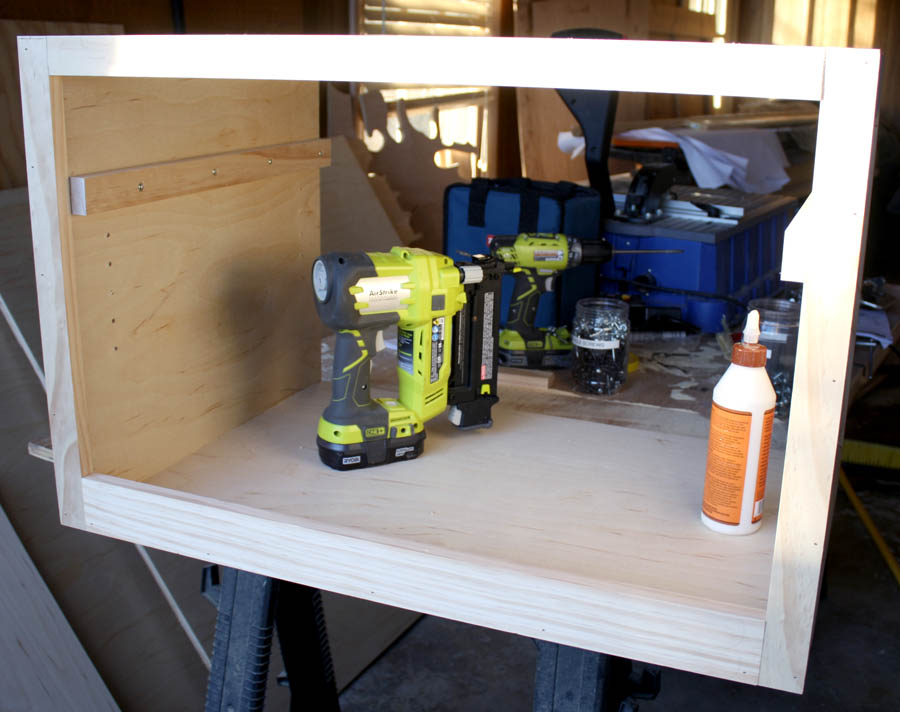 3. Install the Drawer Slides
These are the drawer slides I used. Following the installation instructions that came with the slides, I aligned the cabinet member slide to the front edge of the drawer cleat and attached it with the screws included in the package. Then I attached the drawer member slide to the drawer. Be sure to measure the opening of your drawer space and build your drawers to fit, rather than just going on plan measurements, for precision. You know, if you're into that sort of thing.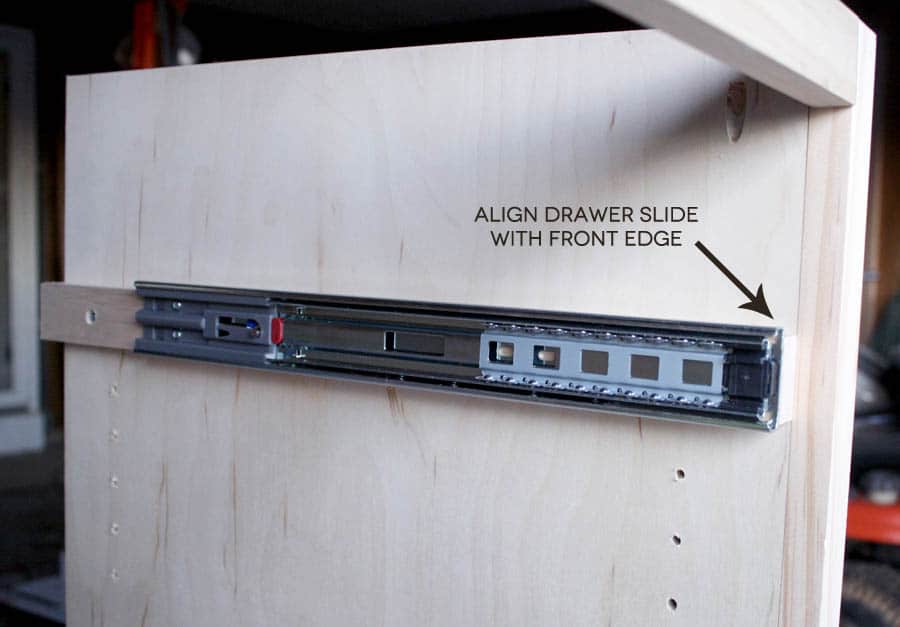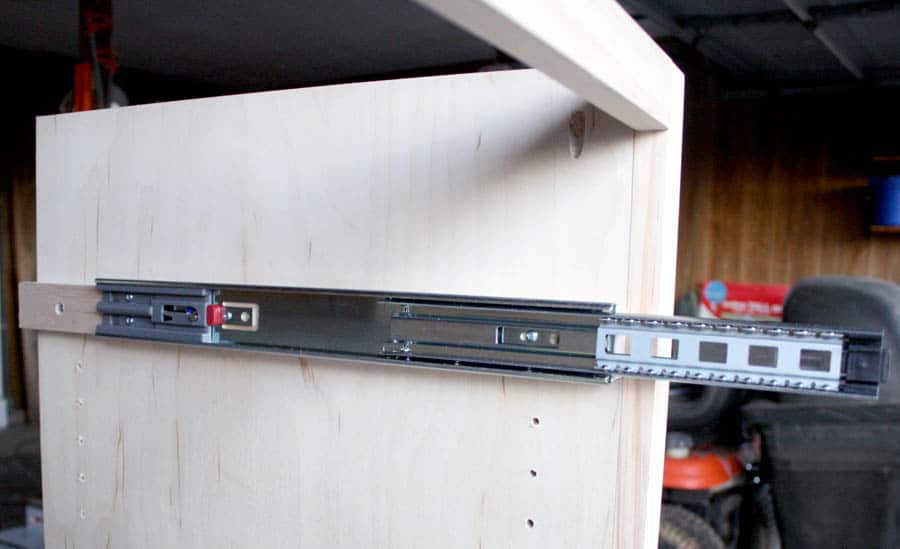 Hallelujah, praise the Lord! The drawer is square, fits perfectly, and is installed properly! If you can't tell, building drawers has long been a source of anxiety for me, but I'm getting better at it! Practice makes perfect.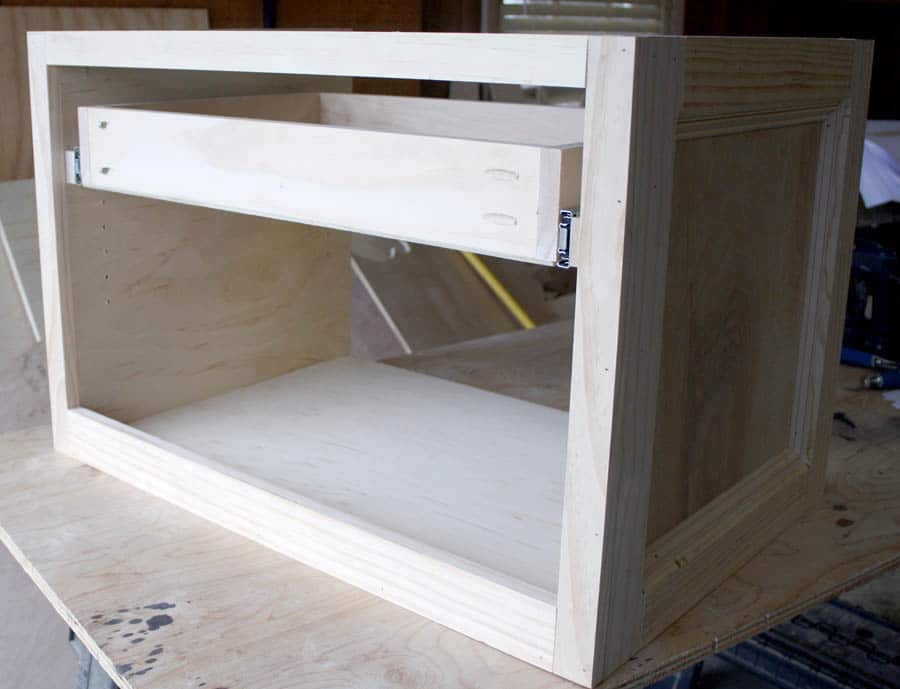 Ah, the sweet, sweet smell of success! Just give me a minute to relish in this moment, would you?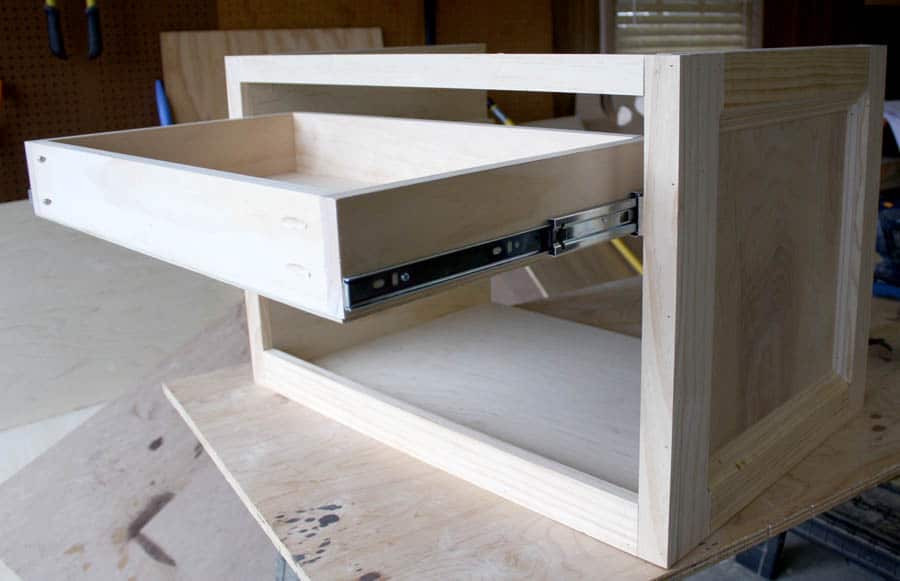 Okay, I'm done.
Next, I attached the drawer face with some brad nails and glue, and installed the knob. The screw that came with the knob wasn't quite long enough to reach to the other side, so I countersunk the hole on the inside of the drawer so that the screw would reach the knob.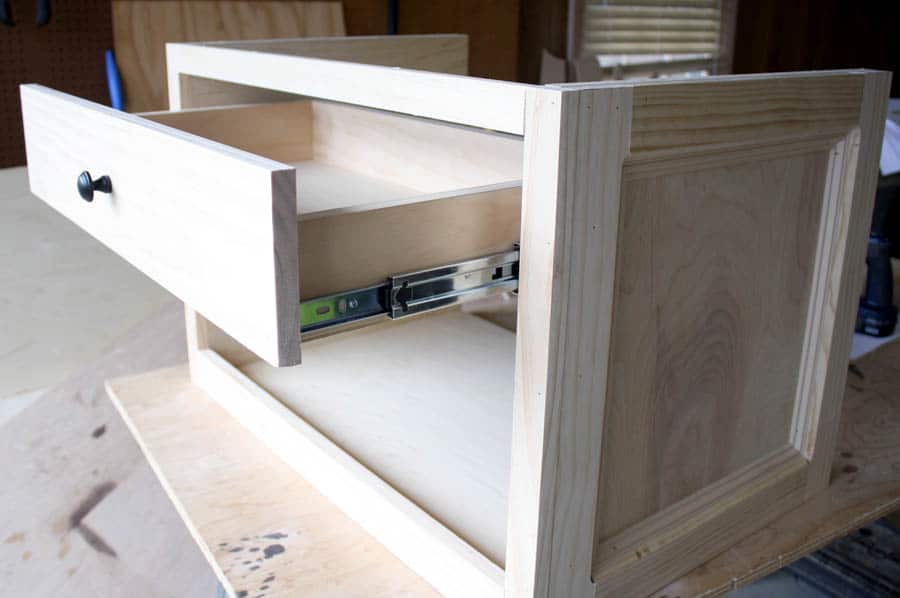 I finally used my Kreg Rip-Cut for this project. It had been collecting sawdust in my garage for months because I was too lazy to figure out how to use it. Basically, it attaches onto your circular saw and provides a straight edge guide so that you can cut or rip lumber in a straight line. Cutting plywood down to size with this thing is easy as pie.
Great. Now I want pie. And how funny would it be if I sliced my pie with my circular saw? Not funny at all, actually. Messy. Very messy. And dangerous. Honestly, what kind of crazy person do you think I am?!
Disclaimer: circular saws are not meant to cut food products. Please do so at your own risk. Then take photos and send them to me. I need a good laugh every now and then.
Amendment: Please disregard that last paragraph. I really can't afford to be sued over such ridiculousness.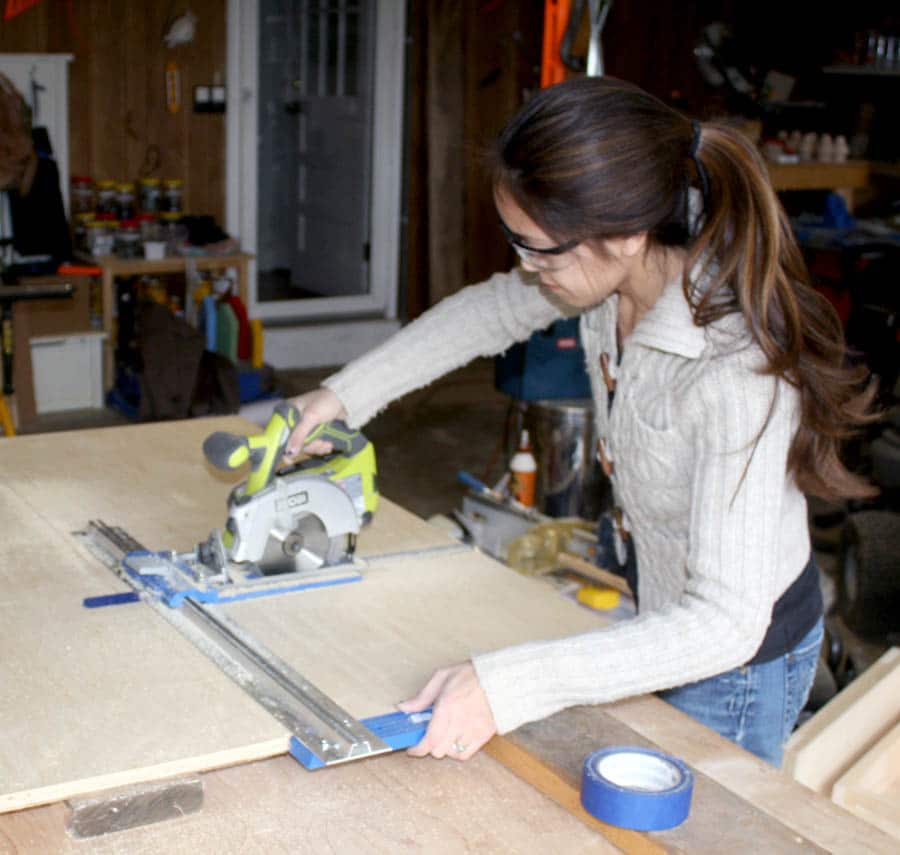 Okay then. Moving on.
Here are a couple tips to help minimize tear-out on your plywood edges: first, you'll want to use a blade that is specifically made for cutting plywood. The more teeth on the blade, the finer the cut. Also, tape along the line where you're going to make your cut and it can help hold the fibers together long enough for the blade to pass through cleanly.
After cutting the top out of the plywood, I attached it with glue and brad nails. Pocket hole joinery underneath would also work well here. Then I added some decorative moulding around the top and bottom edges, as well as around the drawer face, just to church it up a bit.
4. Attach the Bun Feet
Using these thingamajiggys called "hanger bolts" and "tee nuts", I was able to attach the Osborne Wood bun feet to the bottom of the printer table. First, I drilled a pilot hole into the top of each foot. A drill press would be the ideal tool to use here, to assure that your pilot hole is perfectly perpendicular.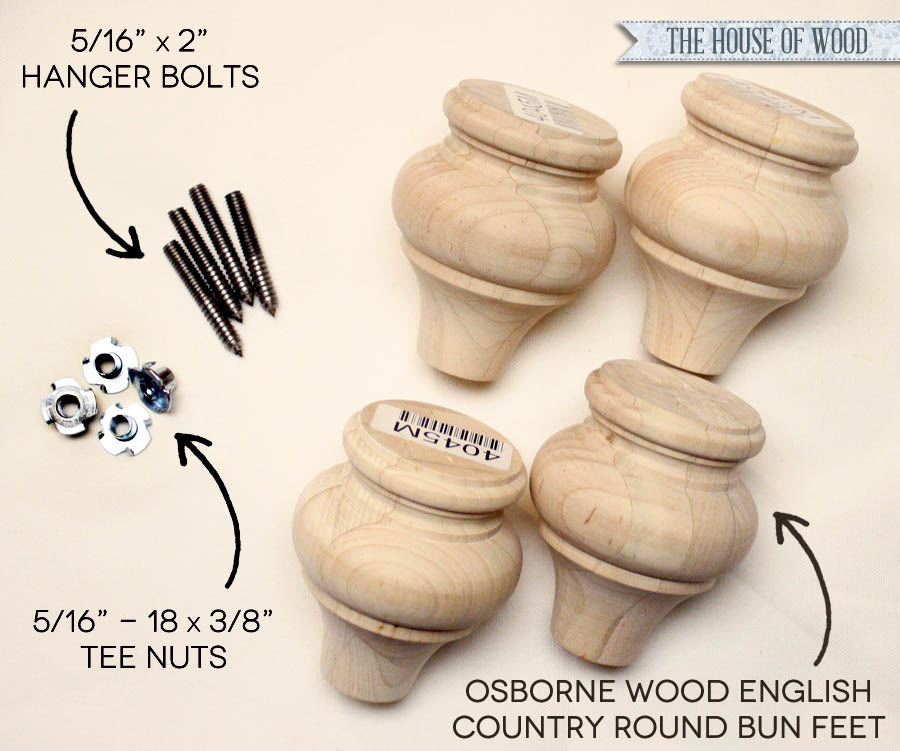 Next, it was time to thread the hanger bolts into the pre-drilled hole in the bun feet. This took quite a bit of muscle to do, so I called in the "Big Guns." And by "Big Guns," I mean I asked my husband to do it. And he suddenly became a genius because instead of strong-arming the thing with a pair of vice grips (like I was doing, quite unsuccessfully I might add), he grabbed a nut and a box wrench and threaded the bolts into the feet like it was butter. Color me impressed.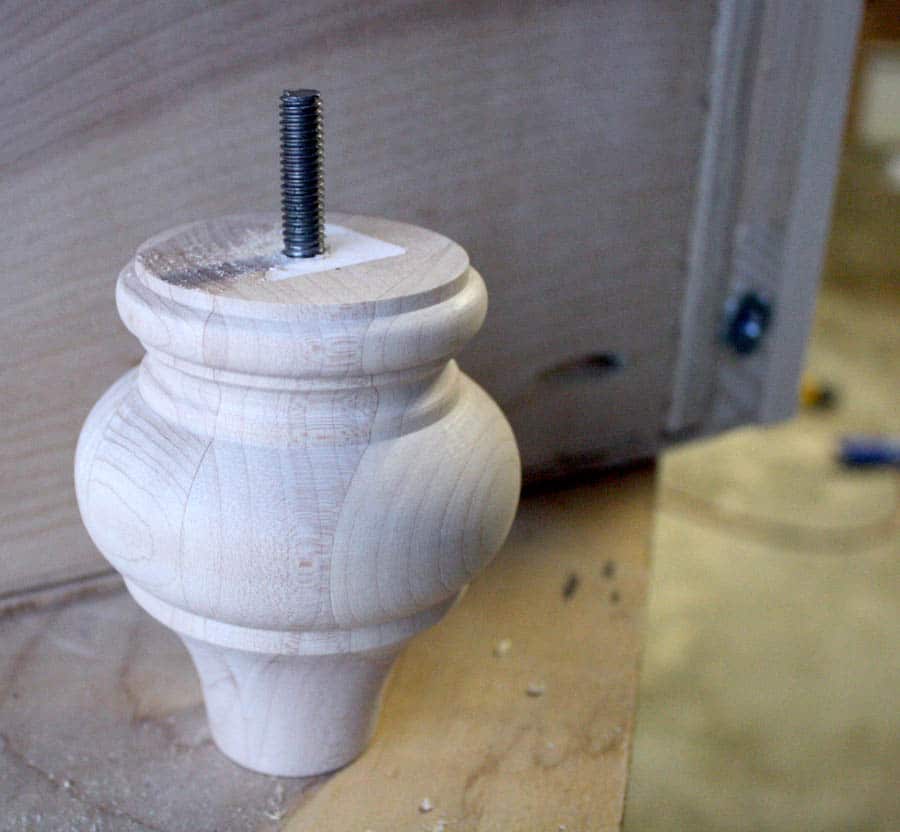 So while Adam was being all Stephen Hawking over there, I pre-drilled a hole on the bottom of the printer table, then tapped the tee nuts in with a hammer. Then I just screwed the feet into the tee nuts. This hanger bolt/tee nut combo allows for leveling adjustments if you happen to have uneven floors. Bonus!
I also discovered I enjoy saying 'tee nuts' – there's a joke in there somewhere but I'm just gonna leave that to your own imaginations. You're welcome.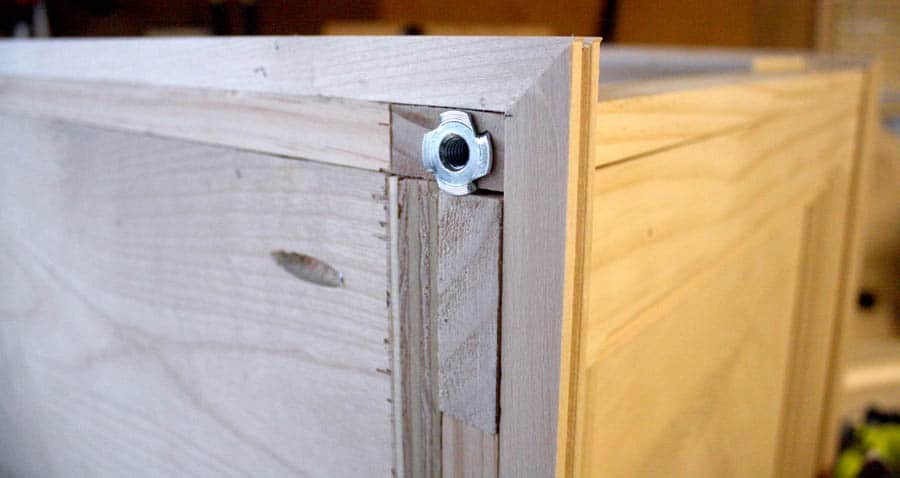 And look at that middle shelf! It's adjustable. Oh yeah! I even made it so that it could fit exactly one piece of paper.
Oh, Foresight, you elusive creature, you.
I ironed on a band of veneer edging onto the edge of the plywood shelf so that it looks like a solid piece of wood. You didn't know that your iron totally counts as a power tool, did you? Yep.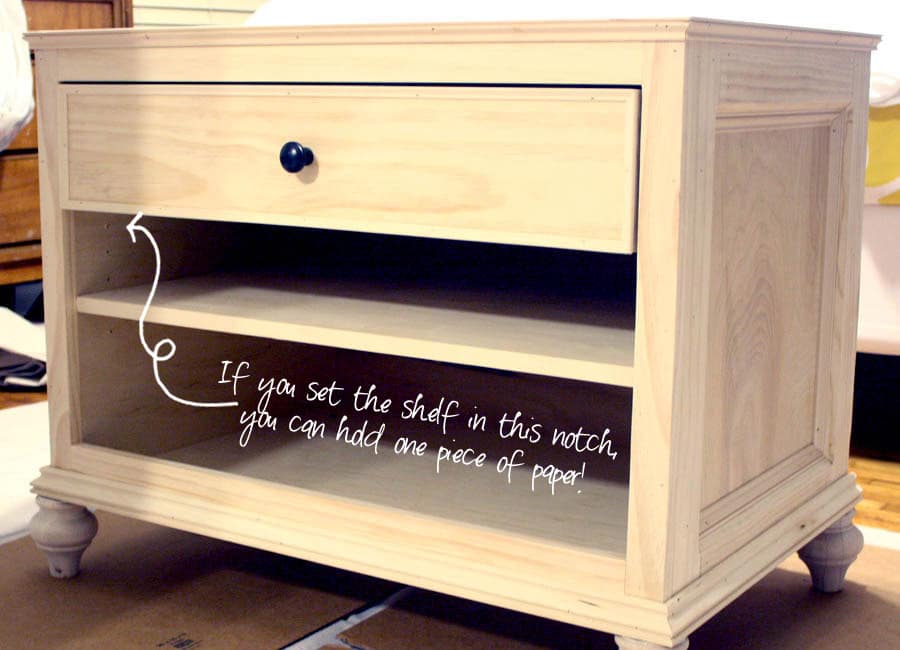 And those are soft-close drawer slides. So fun! I kept trying to slam the drawer shut but it just wouldn't give in. What can I say? It doesn't take much to amuse me.
And here it is, in its new home! What do you think? No more cardboard box furniture, for the WIN!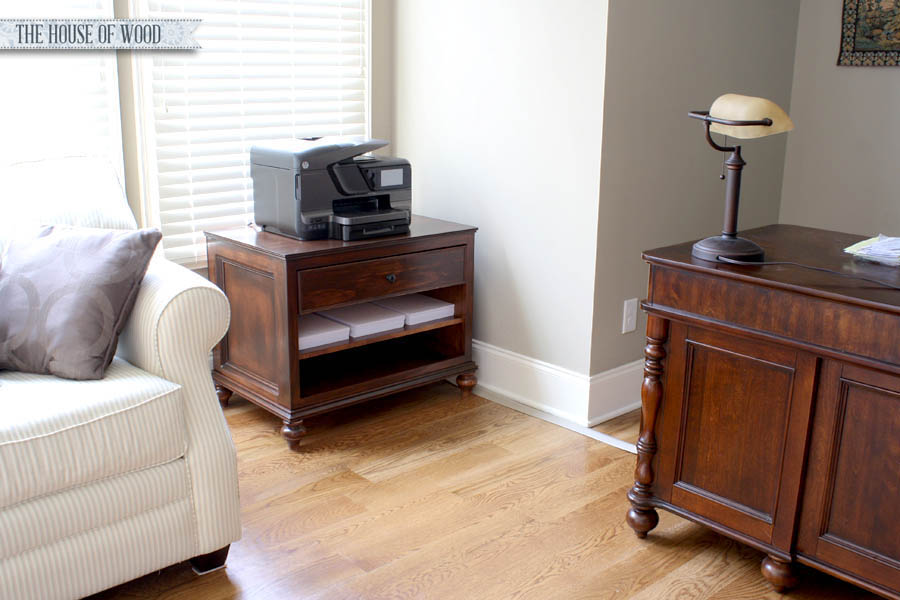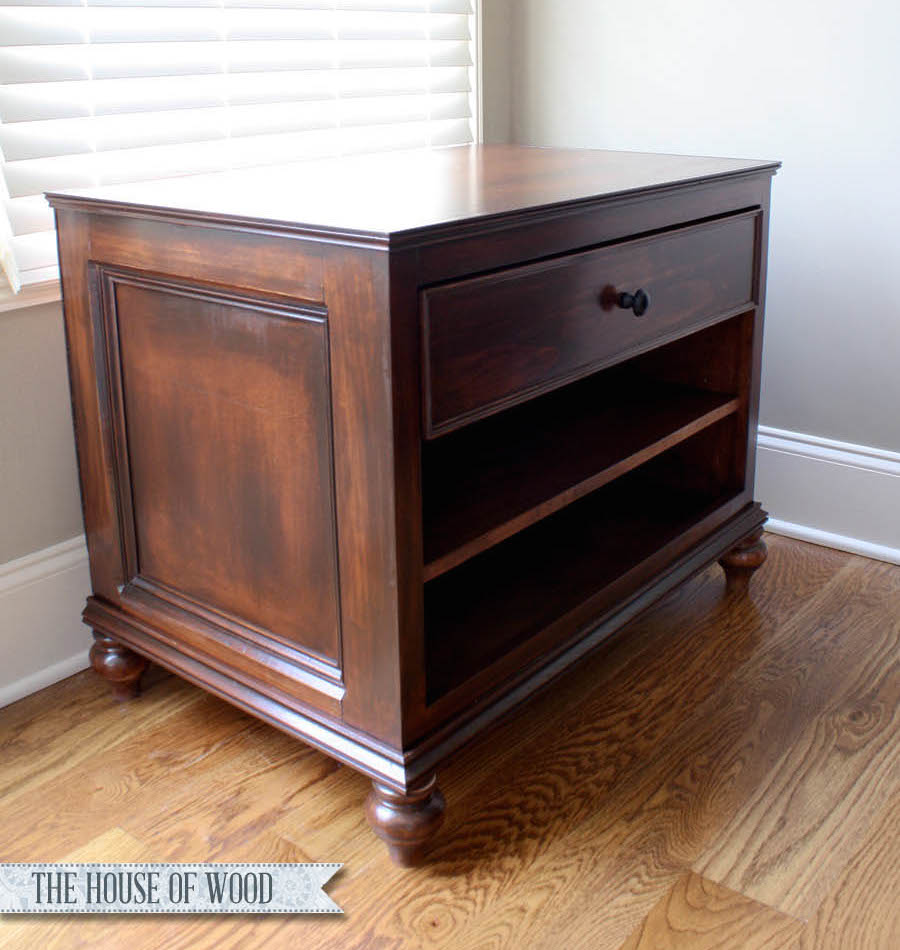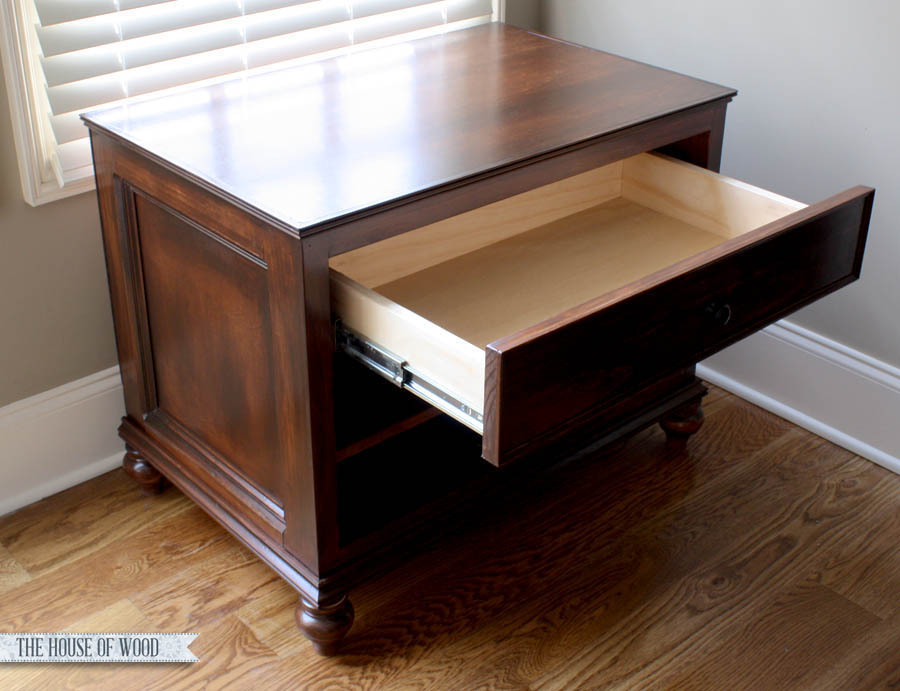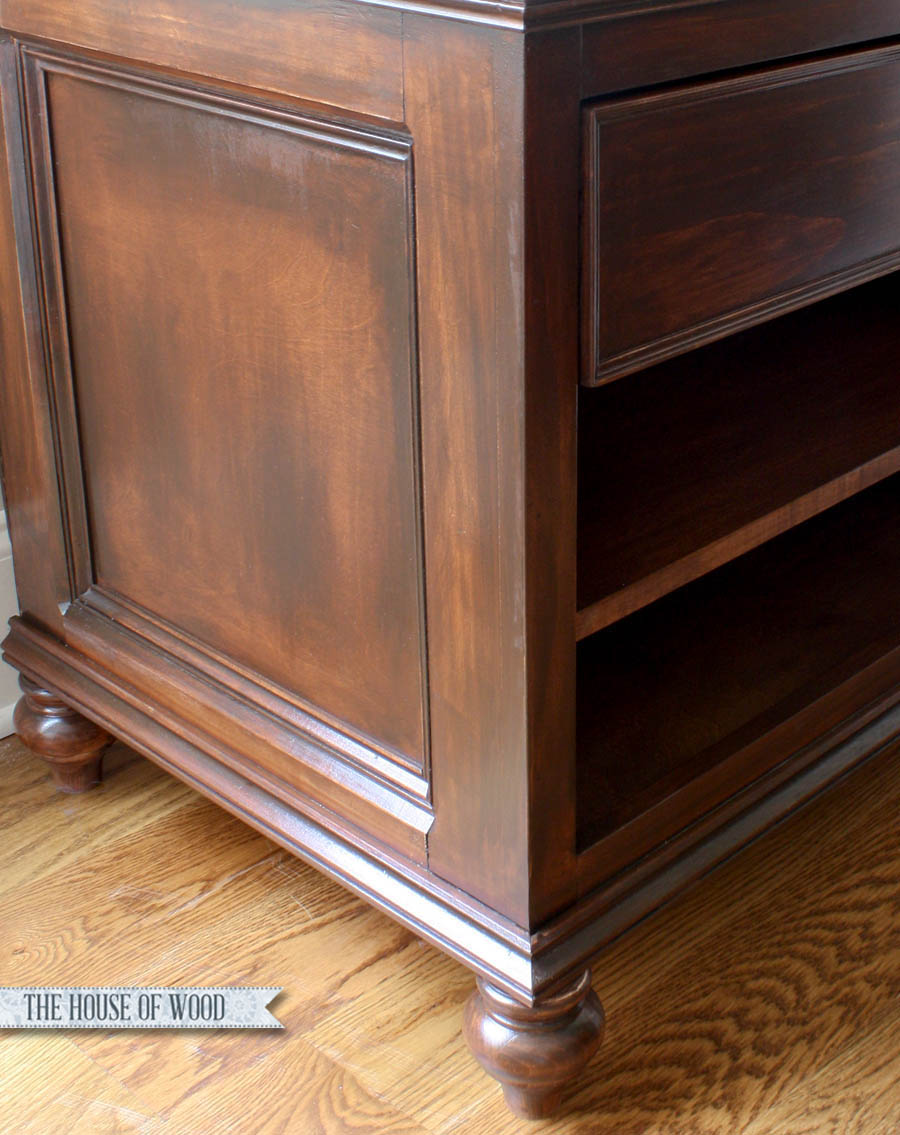 As always, I'll be your BFF if you pin and share this project. And be sure to hop on over to Ana's site and download the free plans! Oh, and I'll be back to dish on that snazzy finish too, so stay tuned!
Update: The finishing tutorial for this printer table can be found here.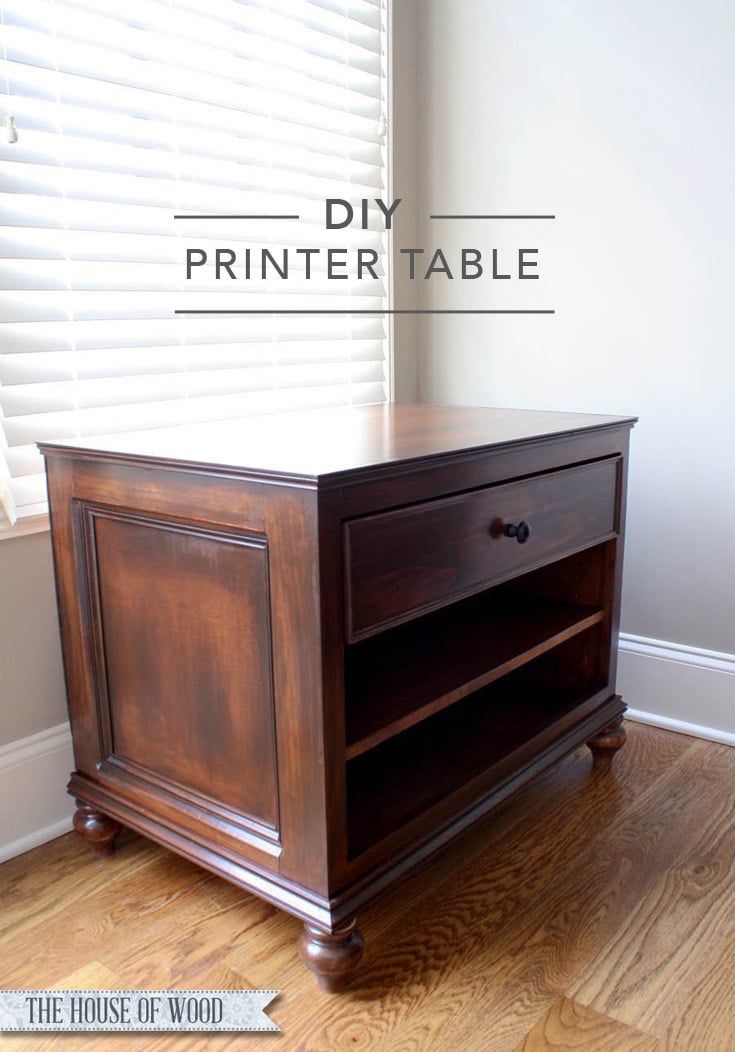 Disclosure: Kreg provided me with a complimentary DIY Project Kit to use on a project and Osborne Wood provided the furniture feet. I was not told what to write or what project to complete; all opinions, ideas, and professions of undying love for their products are completely my own. In other words, you can't buy my love, people. I do what I want.
Pin for later!