When searching for artwork to hang above our bed, these destination art prints from ZGallerie caught my eye: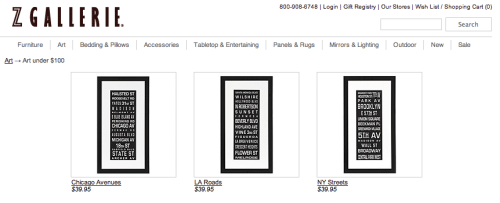 ZGallerie Destination Art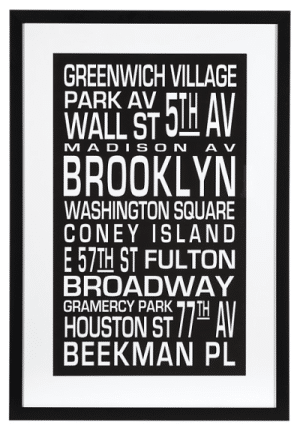 ZGallerie New York Scene
But because I am NOT willing to shell out about $300 bucks just to own the set ($89.95 + tax, shipping & handling per print!), I chose the DIY route (especially when I look at something and my first thought is, 'hey, I can do that!). So armed with my trusty Adobe Photoshop, I put my basic graphic design skills to work. The first task at hand was to find the font used in the original prints. My initial guess was 'Eurostile,' but since it's not a free font, I googled "free Eurostile font" and found a worthy substitution: a font called 'Waukegan.' I had to scale and stretch the font to my liking, but it turned out pretty well in the end.
Also, I'm psyched I was able to DIY this project because I could personalize it. The ZGallerie prints feature New York City, Los Angeles, and Rome. While LA and Rome are fine cities, they have no significance to Adam and me. Instead, New York City, Fukuoka (Japan), and Nashville are three cities that hold very special places in our hearts, so they were the obvious choices.
After tweaking everything in Photoshop, I headed to the printers to have my artwork printed. I bought three black 11.75″x36″ frames at Michaels for about $35 a pop (on sale, 40% off!) and called it a day. Also, it's probably not worth mentioning, but if you suffer from pregnancy brain like I do, I'll let you in on a little secret: one should find the frames first and then create the artwork according to those frame dimensions. Otherwise, one might have one helluva time finding frames to fit wonky artwork dimensions (not that I know anything about this). Anyhoo… I framed the prints and dear Husband hung them up on the wall above our bed. I think they look pretty city chic, don't you? And saving about $180 makes them look even better!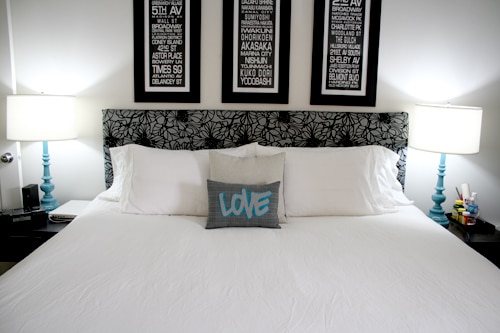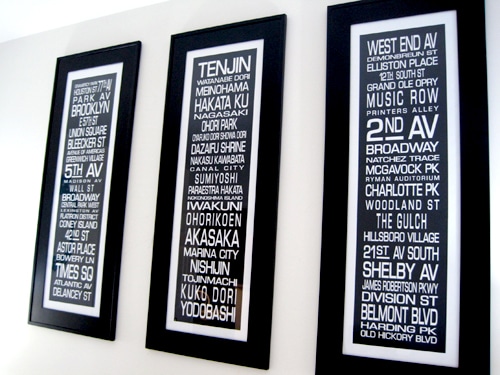 *Update: After getting numerous requests for these prints, I've started selling them in my Etsy shop! Of course, this is totally do-able on your own, but if you want to save yourself the time and effort, feel free to place an order with me! I'd be happy to create a custom piece for you!
Pin for later!