Hungry Eyes. That was my youngest sister's nickname growing up because she'd always order the biggest thing on the menu and then not be able to finish it.
Huuuuungry Eyes,
One look at you and I can't disguise, I've got…
Huuuuungry eyyyyyes.
I feel the magic between you and I…
The song is stuck in your head now, isn't it? You're welcome. What? It was a good song and even better in the movie, amiright or amiright? #nobodyputsbabyinacorner
When I designed this workbench, I knew I wanted to be able to fit a full sheet of plywood on it, so I made it massive at 4 feet wide by 8 feet long. And now that it's complete, I'm re-thinking my decision to make it so enormous. Now I need a bigger garage.
Just call me 'Hungry Eyes.'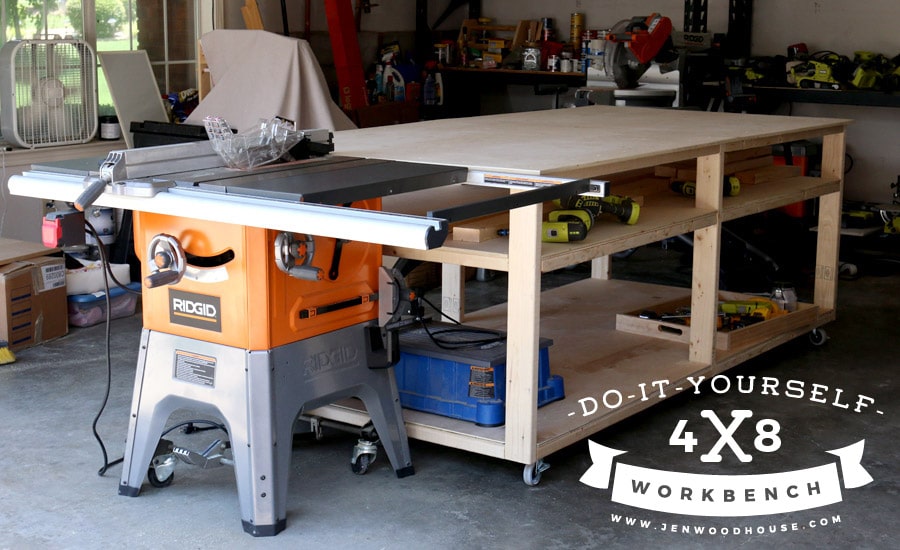 This was a super simple and very quick build with a few clever features added. The materials list is pretty straightforward – a few 2×4 studs and three sheets of plywood or MDF are all you need. The cost for this bench runs about $100 in lumber. Because I chose the nicest, prettiest plywood, Purebond Plywood, my cost was closer to $150. What can I say? I have my priorities.
*This post contains affiliate links. To read my full disclosure policy, click here.
Whenever I'm building, my workspace gets so overcrowded with tools and materials that I no longer have space to work. I find myself wasting time clearing off the mess I made before I can continue working. Inspired by the ingenious Paulk workbench, I added this second shallow shelf so that my tools and things are still within arm's reach, without cluttering up the top of my workspace. The bottom shelf can hold scrap lumber and other larger tools.
Another handy feature I added was a couple of these magnetic strips to hold screws, drill bits, tools, and other miscellaneous (magnetic) things.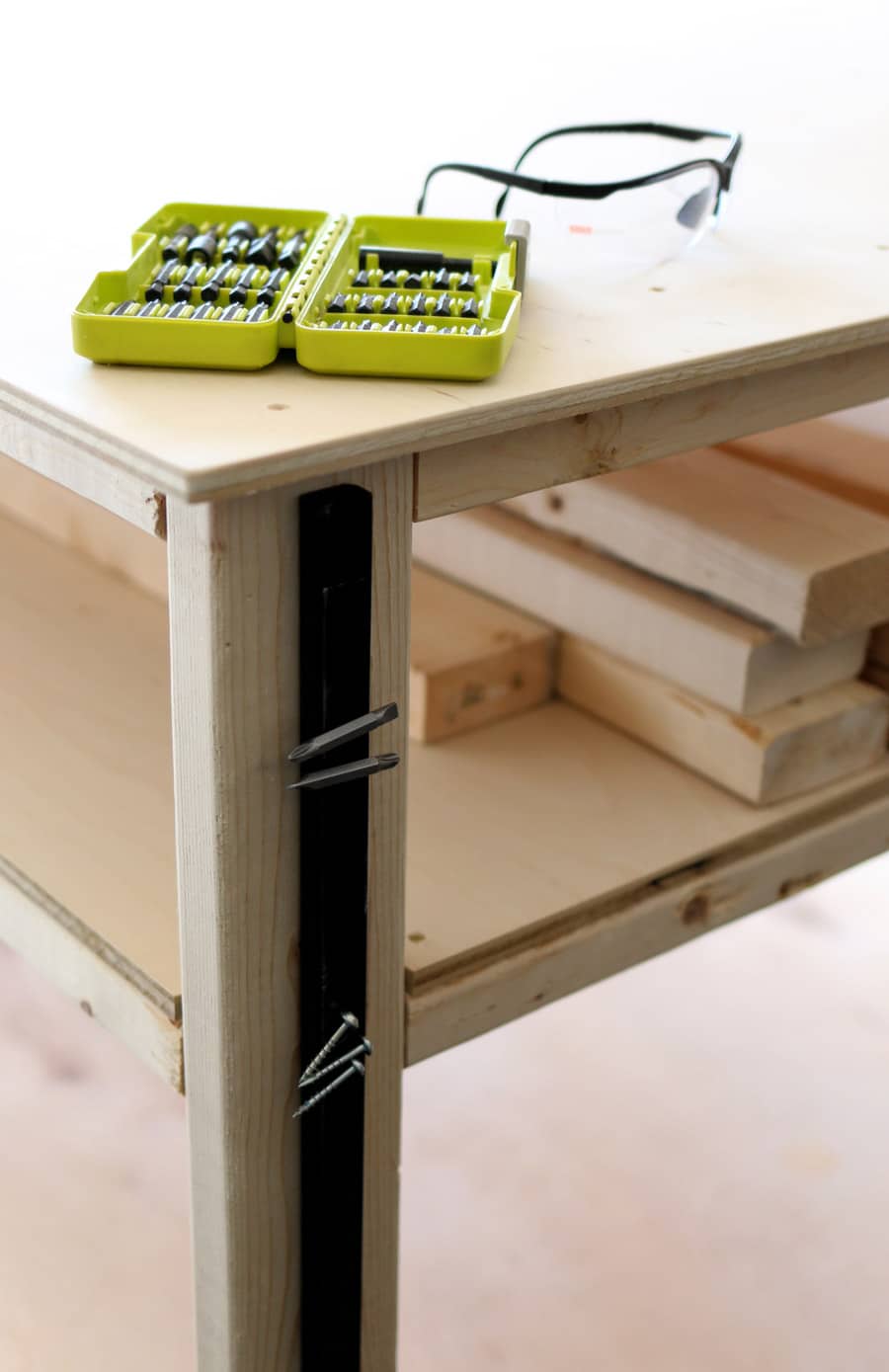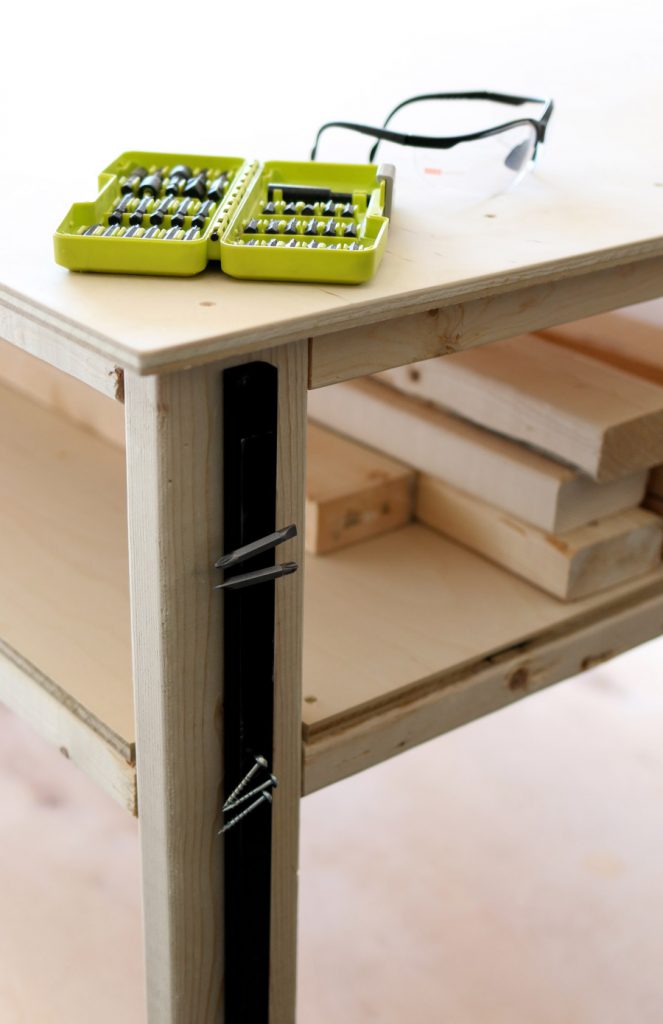 The workbench is the same height as my table saw, so it can also serve as an out-feed table for the saw. The workbench is on locking swivel casters so it's easily movable and manageable, despite the size of this beast.
Pretty neat, right? Okay, so let's get on with the tutorial!
First, I built a couple of gigantic letter E's. I used pocket hole joinery for this. This is the Kreg Jig I use and love.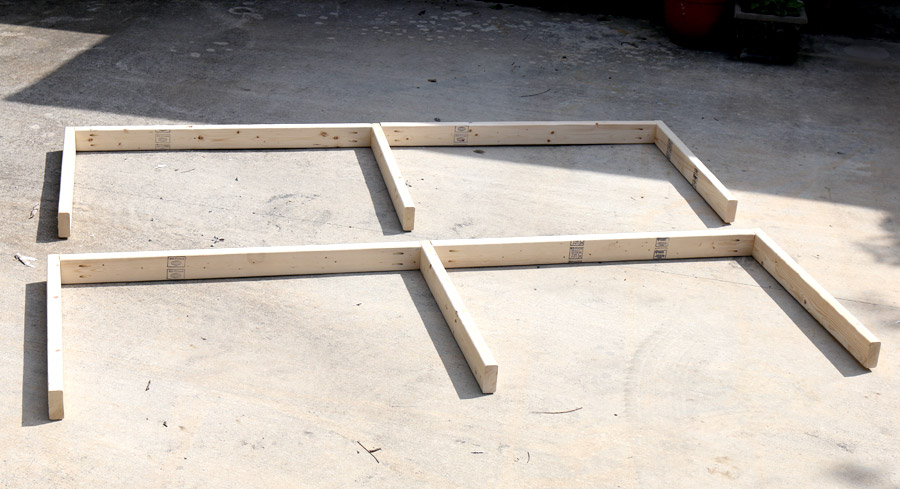 Then I built the carcass with 2-1/2″ pocket hole screws and wood glue.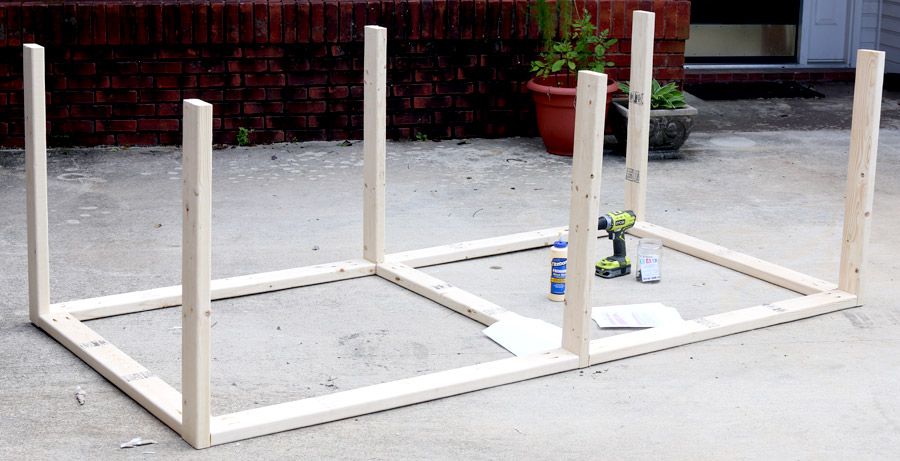 Next, I notched out spaces in the plywood with my jigsaw so the legs would fit in nicely.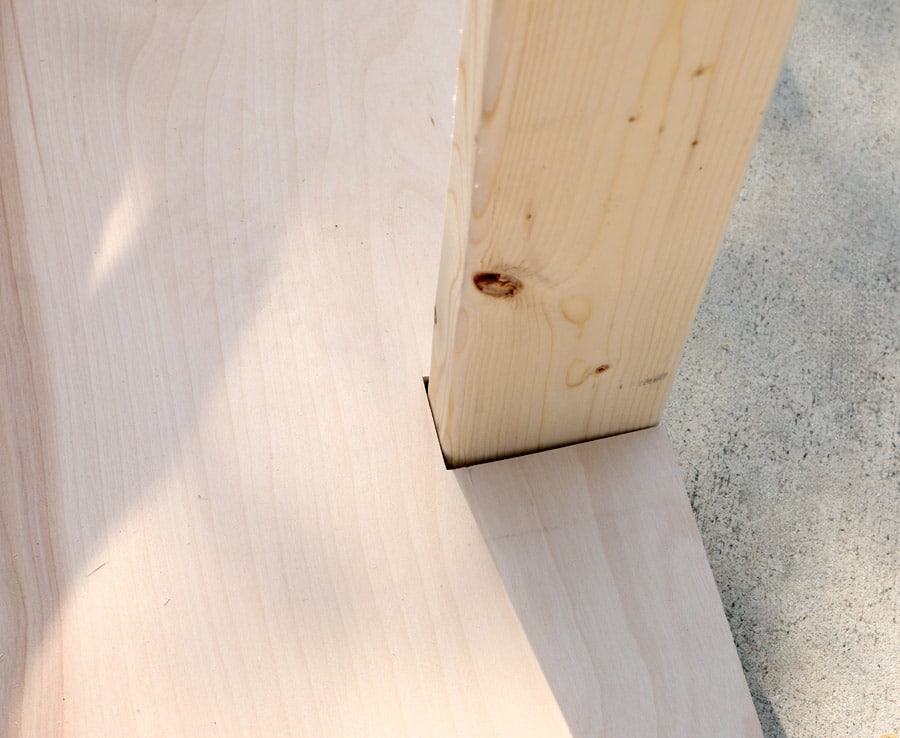 Then I dropped the plywood into place and secured it with 1-1/4″ deck screws. Bottom shelf: done!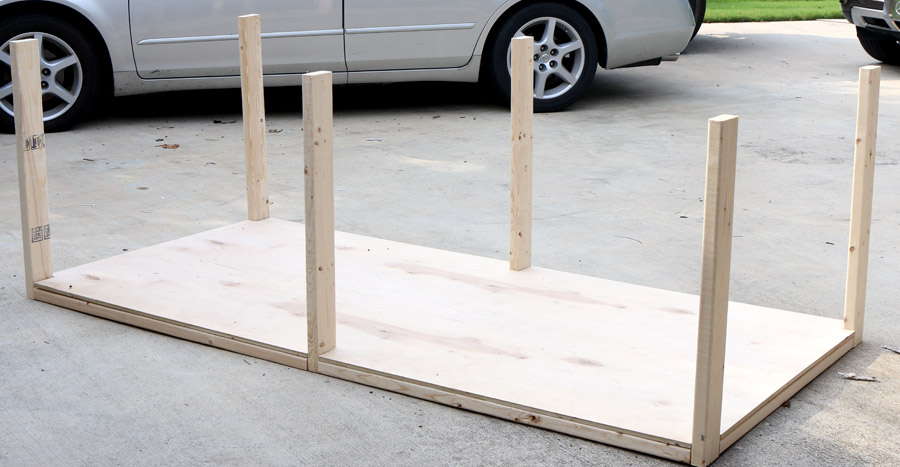 Before I could move on, my 2- and 4-year-old decided it was their stage/tricycle track.
It's a good thing they're cute.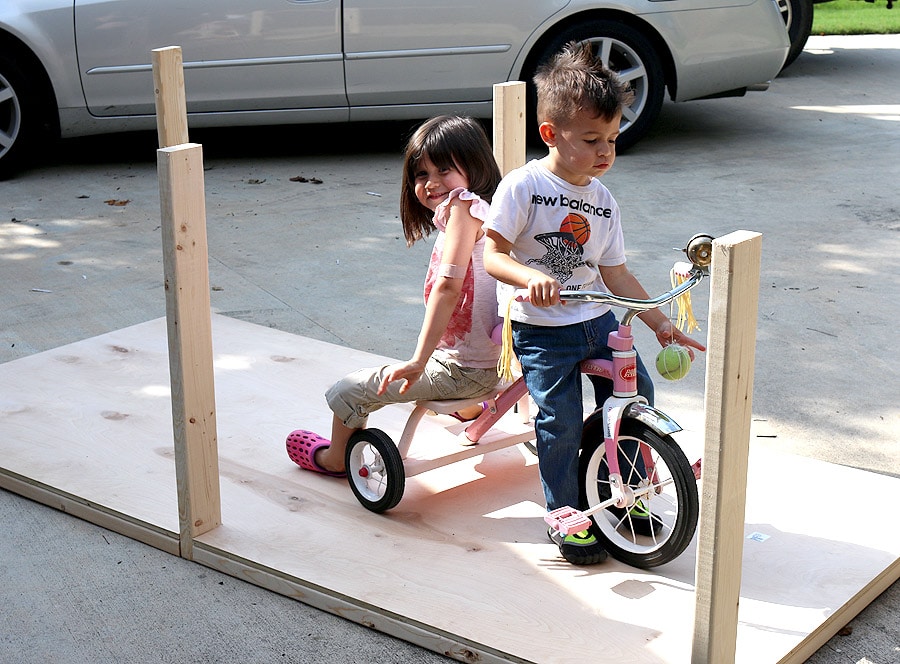 Before the workbench got too heavy, I decided to attach the casters. I used lag bolts to secure the 3″ locking swivel casters to the bottom. The casters in the middle are non-locking.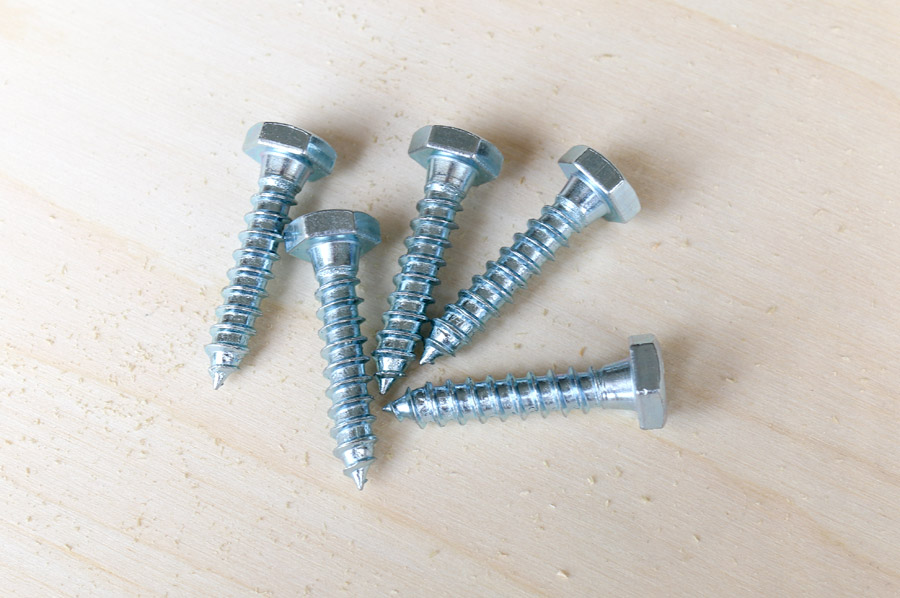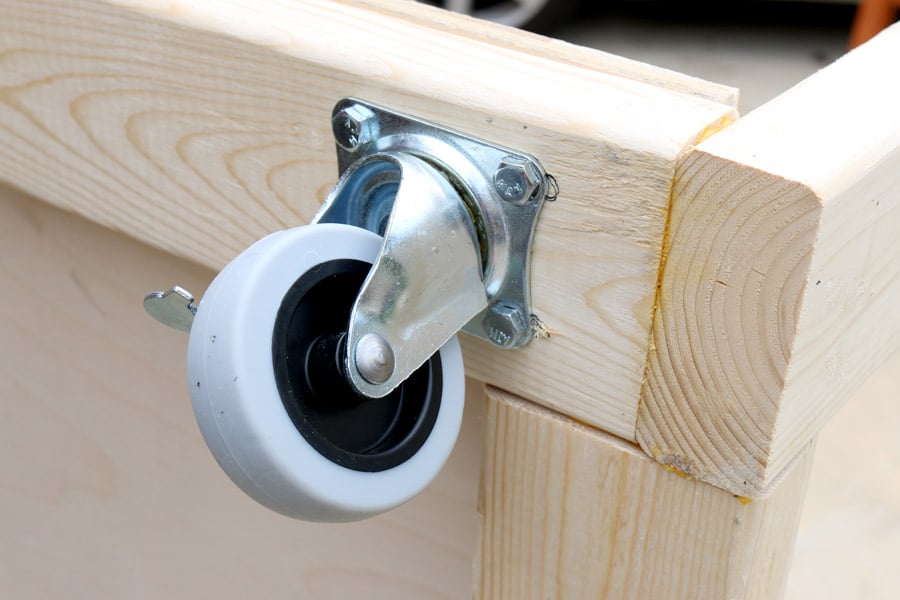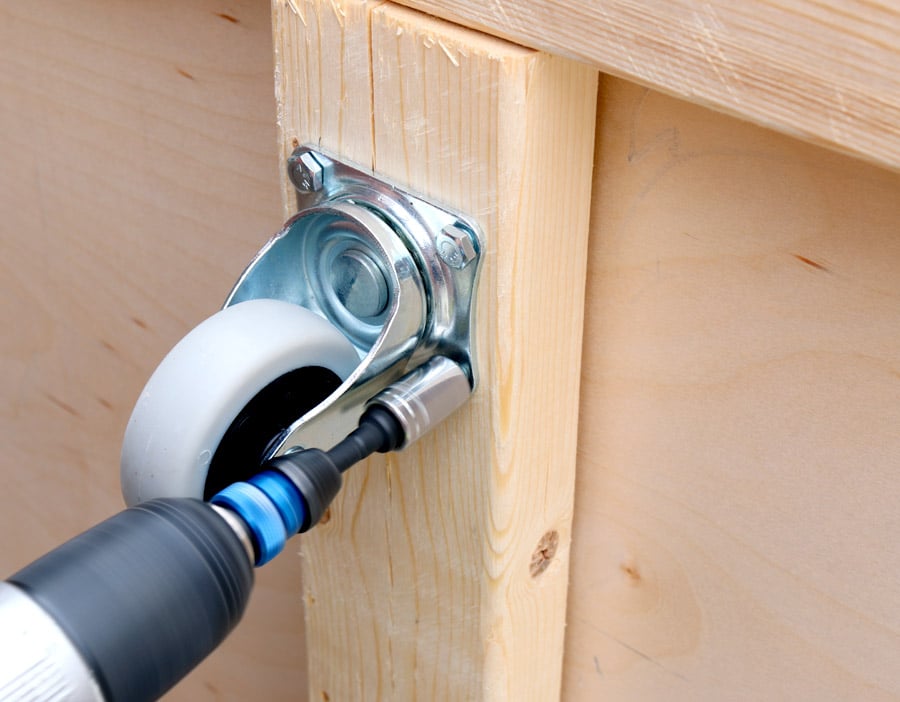 Then I built the second shelf frame just as I did with the bottom.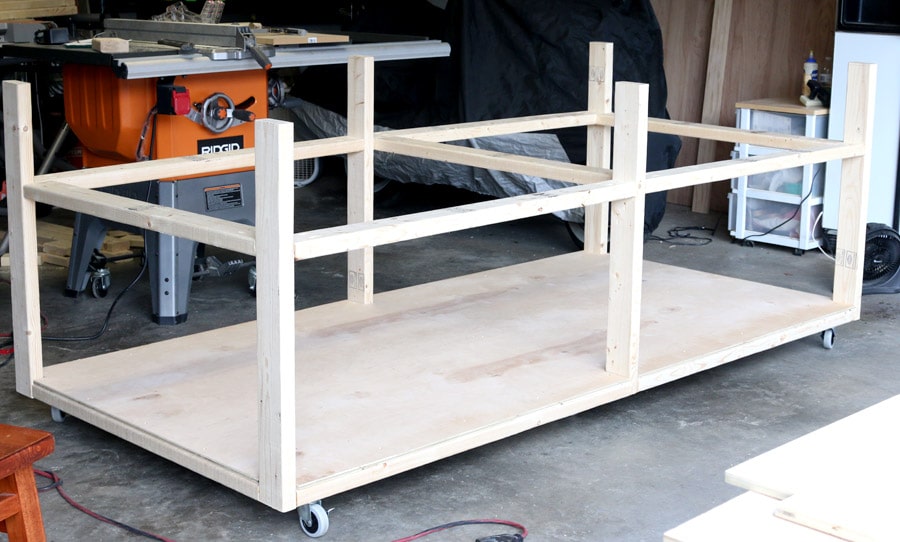 Same thing with the plywood here too – notch out the leg spaces, drop in the plywood, and attach it with 1-1/4″ deck screws.
For the two bottom shelves, I cut the plywood down a couple inches on two sides because I wanted it to sit flush to the frame, with no overhang. I did this with my table saw, but you could easily use a circular saw with a Kreg Rip-Cut. If you use a circular saw, I'd recommend switching out the blade to a plywood/OSB blade to minimize tear-out in your plywood.
It was quite a challenge to rip and cut a full sheet of plywood without an out-feed table, so I know this workbench will be very useful after it's built.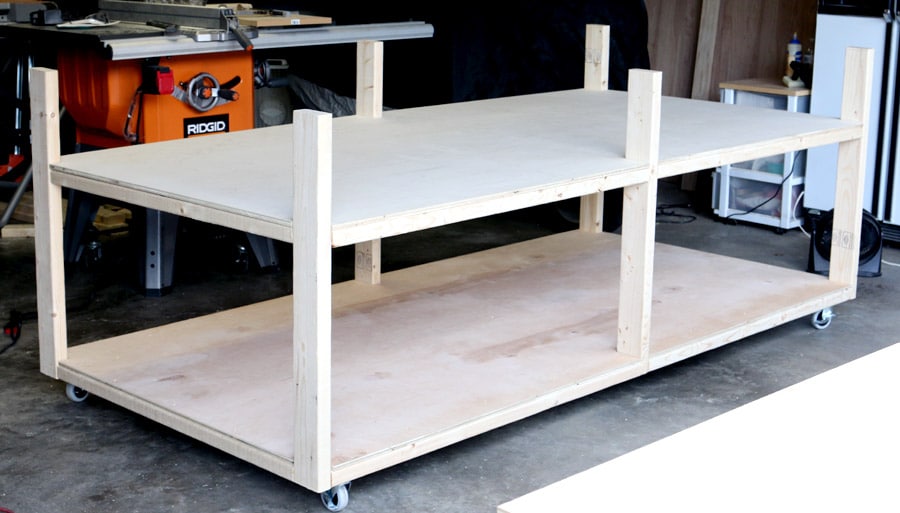 This thing is super sturdy – solid as a rock, see?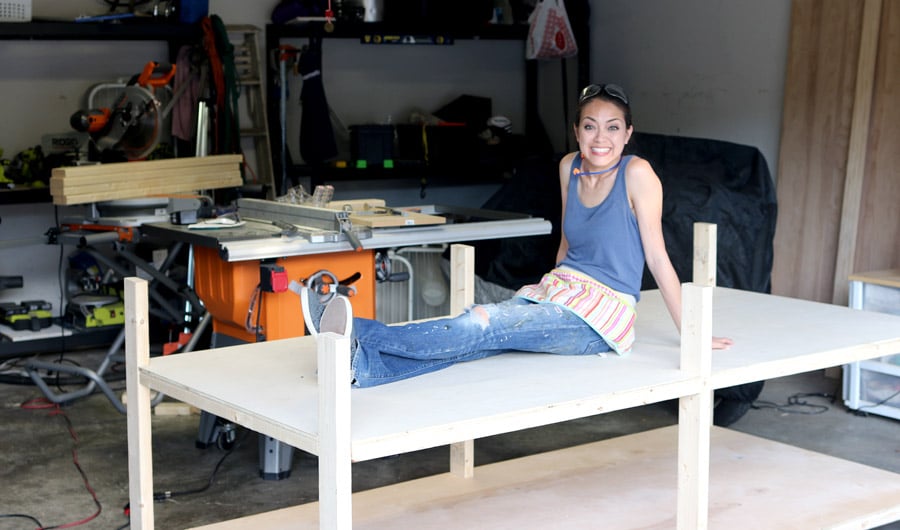 Then I moved onto the top – building out the frame like I did the previous ones.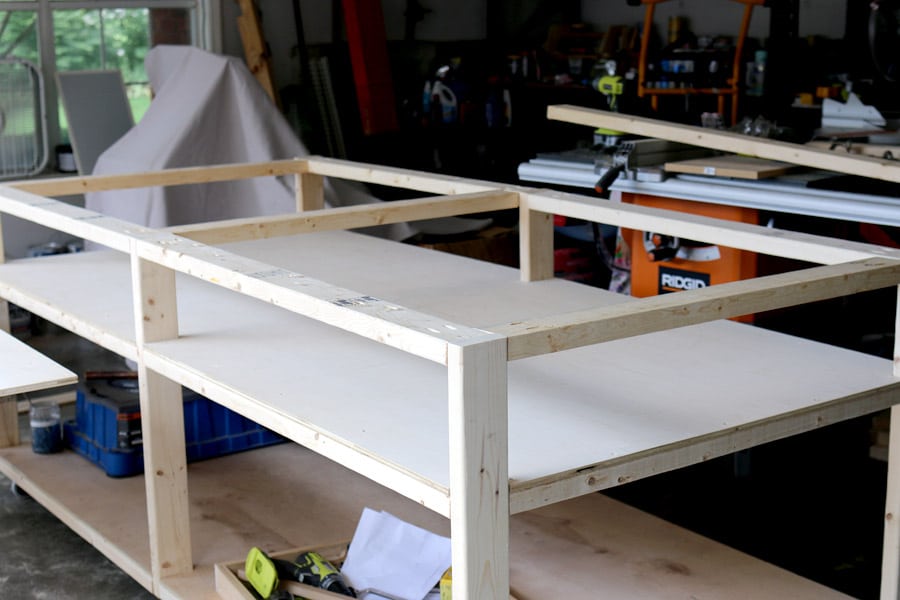 This time, I didn't have to cut the plywood at all. I just laid it on top, allowing for an inch overhang on all the sides, then attached it with 1-1/4″ deck screws. I didn't use glue here because once the top gets too buggered up from working on it, I can easily remove the old top and replace it with a new sheet of plywood.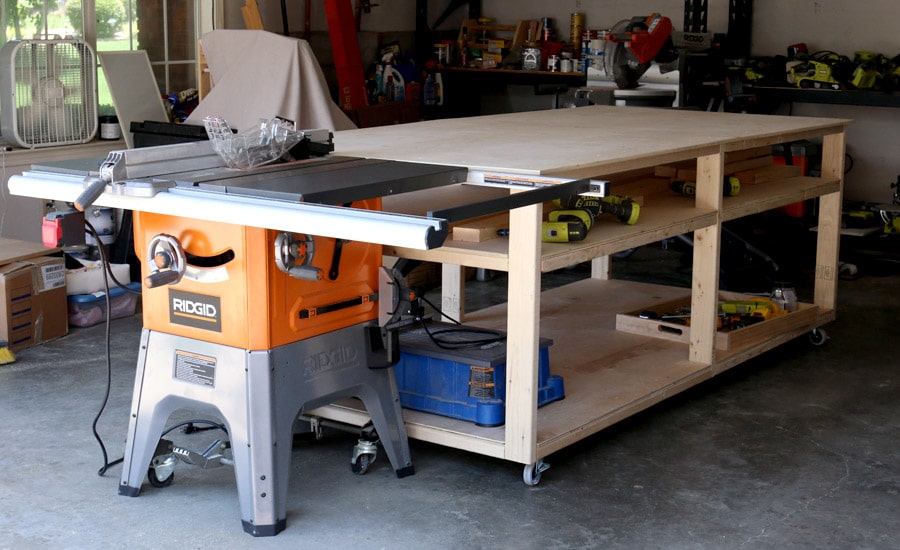 I just love this shallow second shelf – super useful!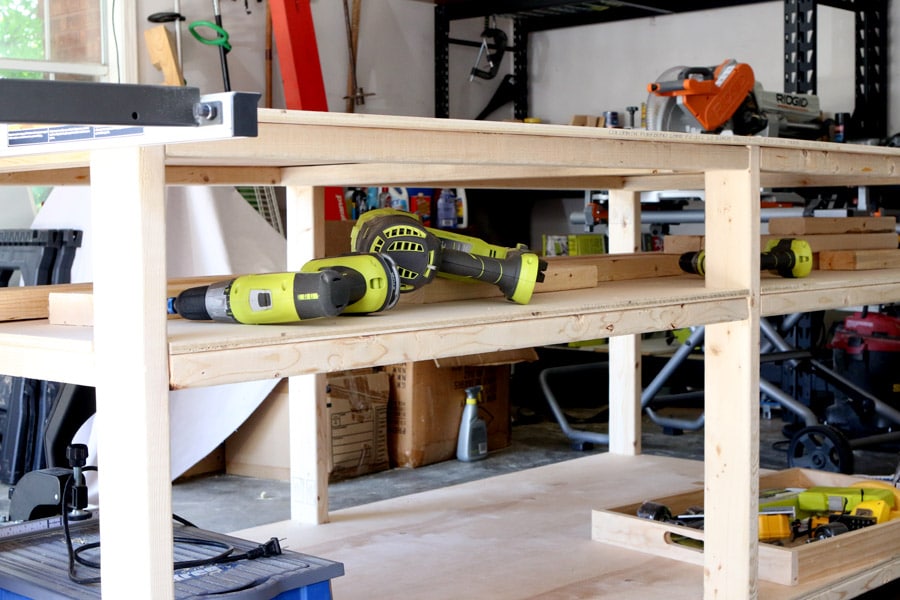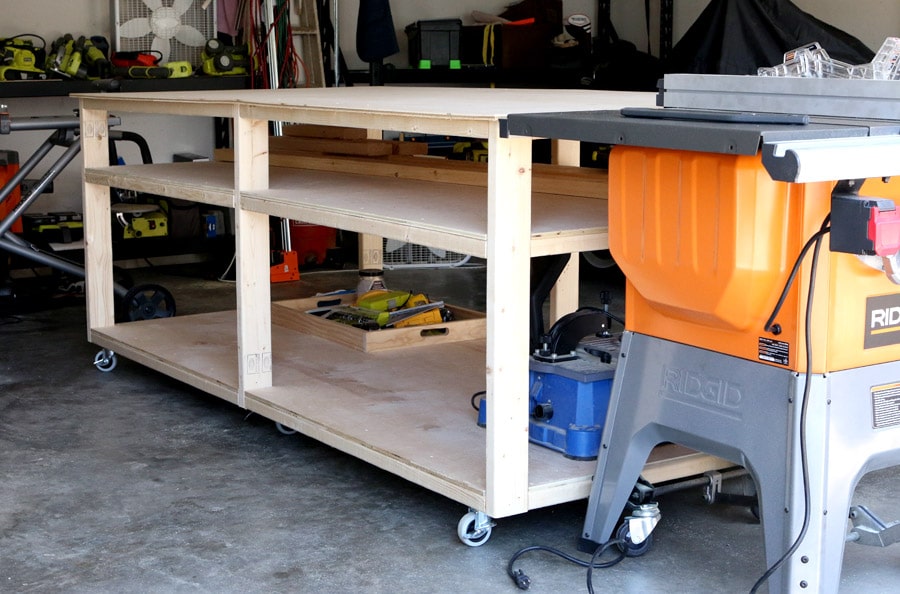 When I look at this behemoth of a workbench, the song starts playing in my head:
One look at you and I can't disguise, I've got…
Huuuuungry Eyes…
I feel the magic between you and I.
I've got hungry eyes for all the projects just waiting to be tackled. I. Am. So. Excited.
If you'd like to build this for your own workshop, I've drawn up the step-by-step plans for you!
I would love for you to pin and share this DIY workbench using the image below! Thank you and happy building!