Happy Holidays, Friends! Carrie Bishop, from River Rose Flower Company here. I'm back to share the easiest method for making holiday wreaths with a wire form. It is so simple, and it's only 10 easy steps!

Supplies:
1 bunch of baby blue eucalyptus
1 bunch of seeded eucalyptus
10-20 small cedar branches
10-20 small pine branches
10-20 small juniper branches
1 wire wreath form
1 pack of floral wire
Floral shears
Wire cutters
How To Make An Evergreen & Eucalyptus Wreath in 10 Easy Steps
We're going to be using baby blue eucalyptus, seeded eucalyptus, cedar, juniper, and pine. Feel free to use other types of evergreens, but these are just a few of my favorites.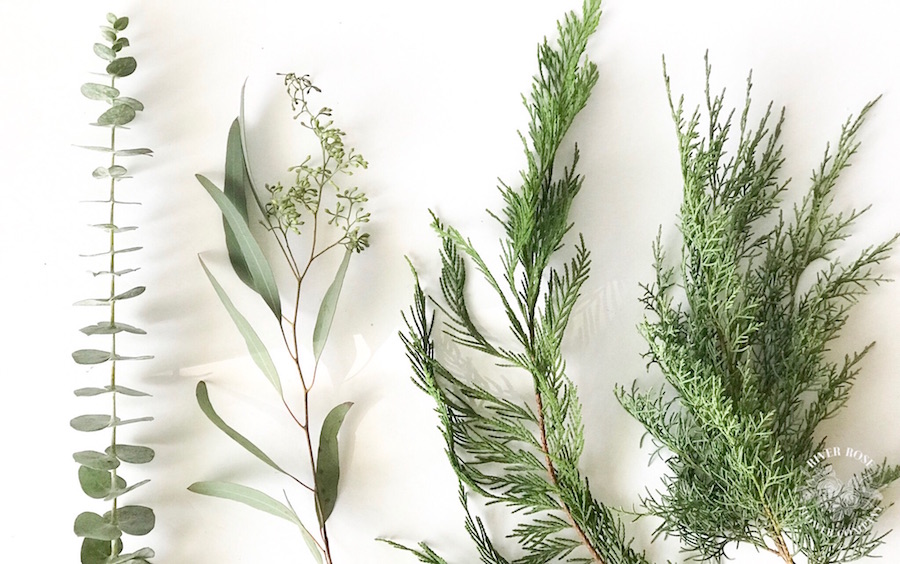 Want to know how to make your fresh greenery last through the holiday season? Click here to read my tips!

Step 1
Make sure that your evergreen branches are all the same length. I try to make each branch the quarter of one section of the wreath form being used. This will help you have a more balanced and organized wreath.

Step 2
Mark the top of your wreath by making a wire loop hook. This will be your north point. You will then start off by laying down one of each of the evergreen branches.

Step 3
Cover the entire wire form. Make sure that each layer of evergreen branches is evenly distributed.

Step 4
Take 5-6 wire pieces (4-6 inches long) and tuck the wire under the two middle rings of the wire form in order to make a "U" shape.

Step 5
Add the seeded eucalyptus or any greens with berries, as the top layer to your wreath.

Step 6
Twist the wire sections to secure the greenery.

Step 7
Flip the wire over, so the ends of the wire are on the back side of the wreath form. Carefully untuck extra leaves and branches to hide the wires. This will also help "fluff" up the wreath so it does not look flat.

Step 8
Remove a few of bottom leaves of the baby blue eucalyptus in order to "thread" the end of the stem into the wreath.

Step 9
Cut smaller 2-3 inch pieces of the baby blue eucalyptus and place them throughout the wreath in order to add depth.

Step 10
Hang up your wreath and enjoy the beautiful wreath that you just made.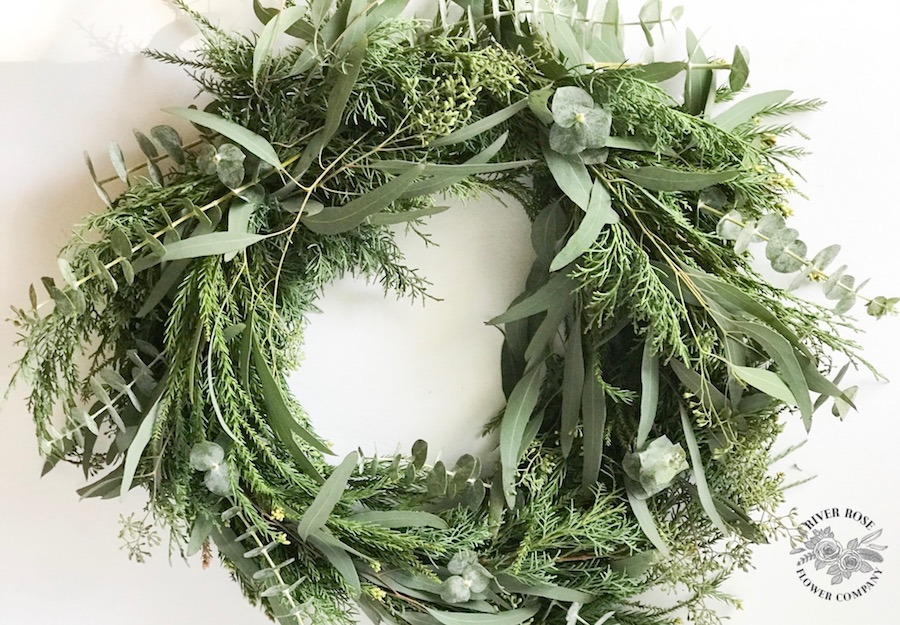 As promised, 10 easy steps. I hope you enjoyed this evergreen and eucalyptus wreath tutorial. Now that you know this method, you can try it with different types of evergreens and other materials for your holiday wreaths. Thank you for joining me!
Carrie
Pin it for later!