Plumbing rough-in for a small bathroom and leveling the floor with a self-leveling underlayment.
Welcome back to our Guest Bathroom Renovation! We're transforming our guest ensuite bathroom from BASIC to BEAUTIFUL (hopefully! Fingers crossed.) We're mixing modern and traditional styles for a classic, timeless feel that features marble mosaic tile, warm wood accents and vintage elements.
If you missed my previous posts on this guest bathroom renovation, catch up here:
Here's where we left off: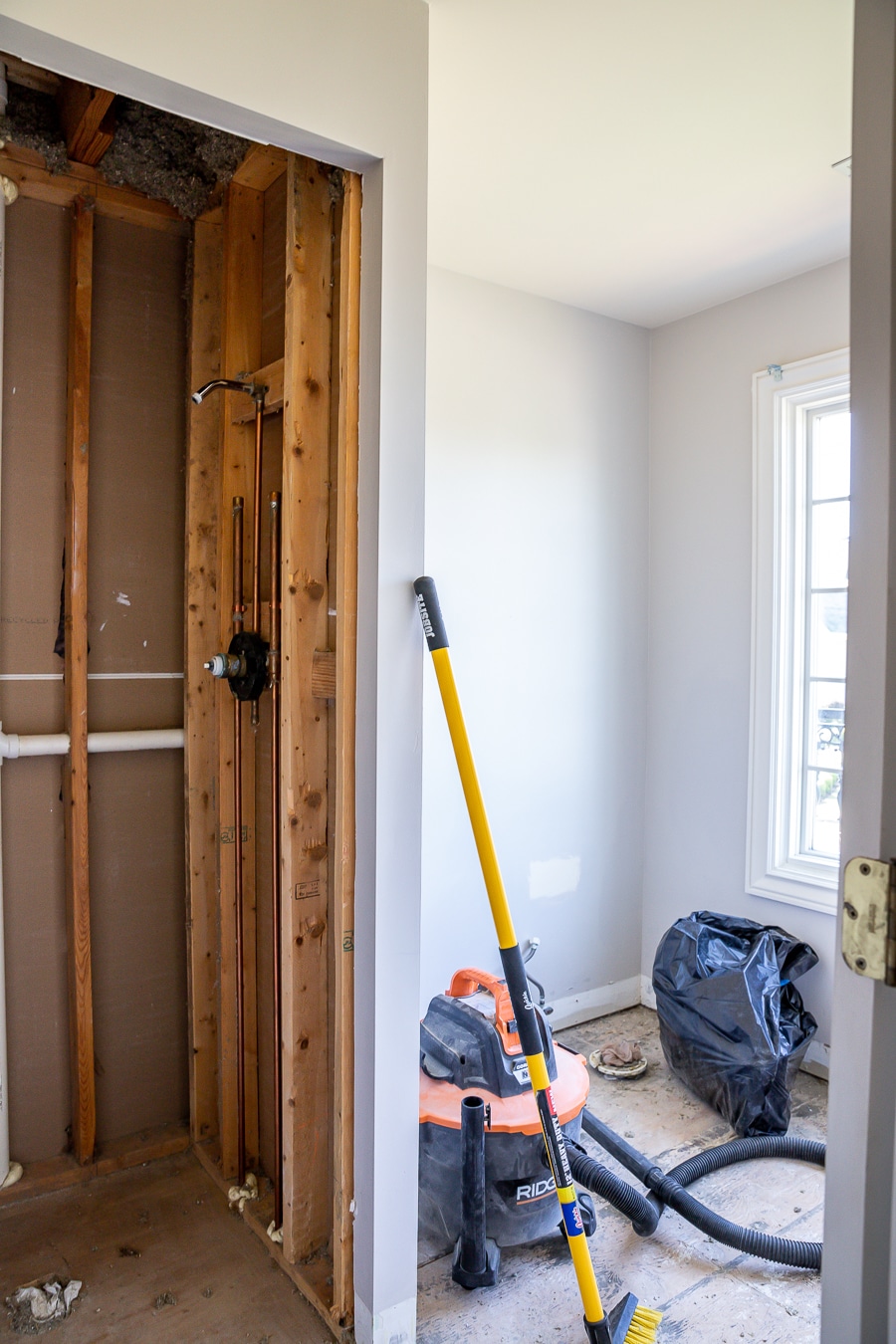 We removed the toilet, sink, mirror, hardware, light fixture, shoe molding and baseboards, floor tile, shower stall, and insulation. You can watch the play-by-play on my Instagram stories.
Today's To Do List: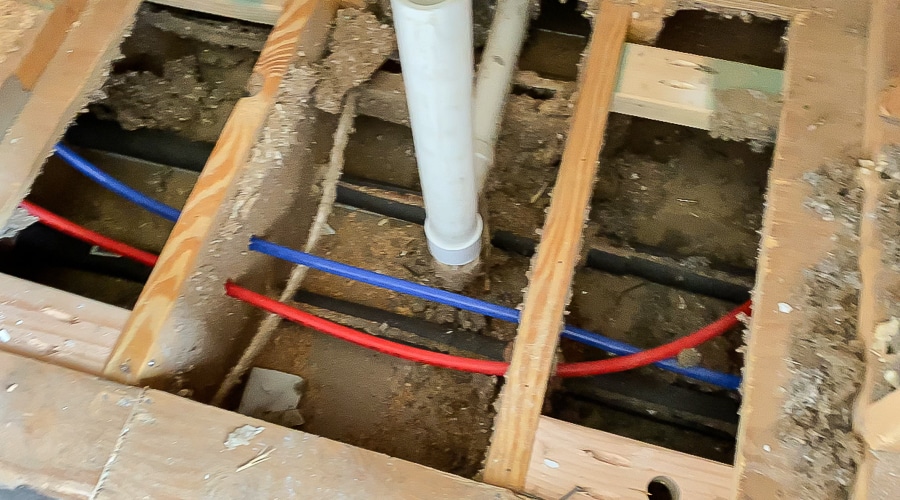 The plumbers replaced the copper pipes with PEX piping and moved the valve and pipes to the opposite wall. (My apologies for the fuzzy iPhone pic!) It took two of them about 3 hours to do this. They cut into the subfloor and ran the PEX pipes under the floor and up the opposite wall. They chose to use PEX because it's much easier and quicker to install and it's more durable than copper. The less time they spend on installation, the better my cost savings are since they're paid by the hour. Also, the lifespan of PEX tubing is 40-50 years and it's quickly becoming the industry standard.
As soon as the plumbing was moved, we patched the subfloor and demo'd the wall (that was fun). I can't believe how open this space feels now!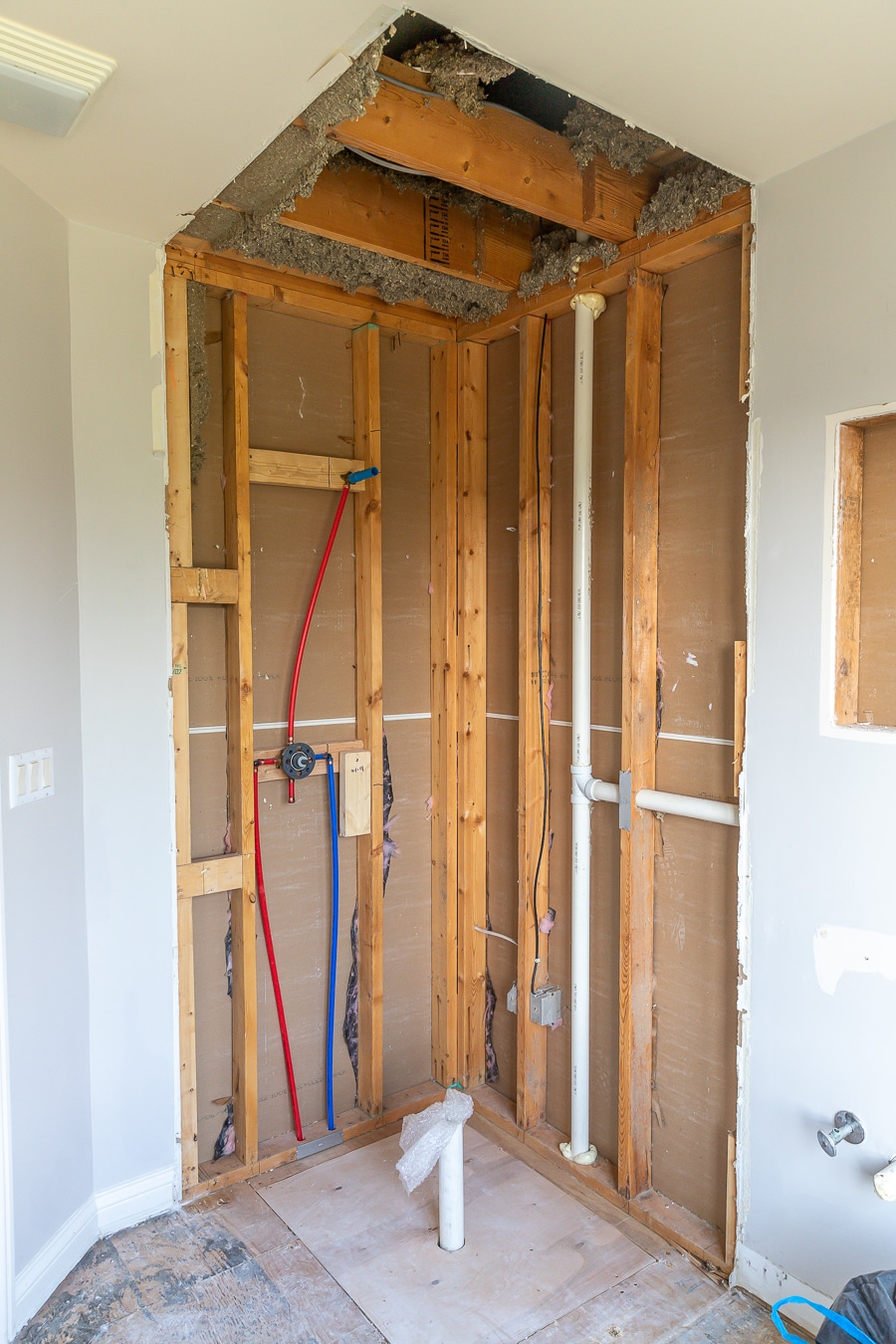 Now it's time to move onto prepping the floor. I ran a level across the floor and found that there were quite a few dips and high spots. I had my suspicions of this because the previous tile had lippage in some places.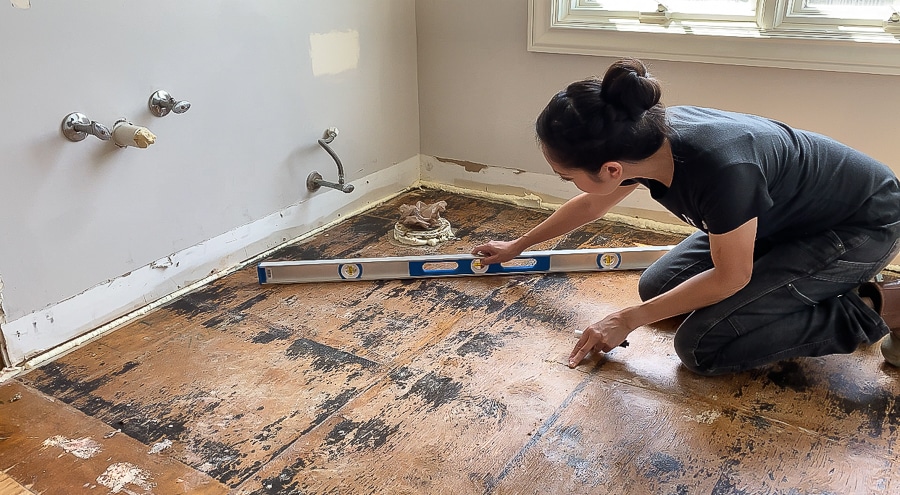 After some research, I found this self-leveling underlayment – you can pour this onto a floor and it seeks its own level. Per the manufacturer's directions, this underlayment primer is recommended for proper adhesion. The directions say after applying the primer, you can pour the self-leveling underlayment in as little as 3 hours, but not more than 24, so I rolled it on with a short nap roller and let it dry.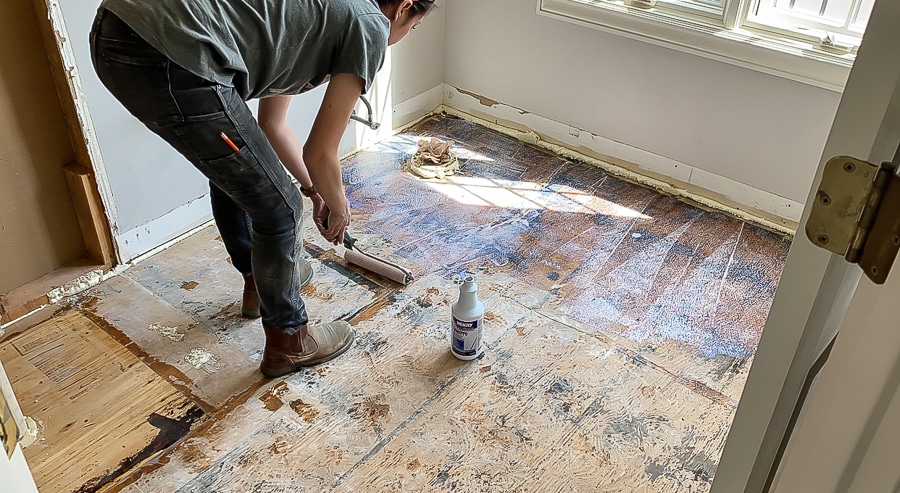 Before applying the primer, I sealed the joints in the subfloor with silicone caulk and dammed the perimeter with spray foam insulation. A professional tile guy on YouTube recommended these steps to prevent the self-leveling underlayment from dripping through the cracks or behind the walls. In hindsight however, I realized this was an unnecessary step for me and the spray foam insulation was a pain in the butt to remove after the fact.
I didn't need to dam the perimeter of the room because the self-leveling underlayment wasn't as thin as I was expecting. I mixed it up exactly according to the directions and the consistency was still thick enough that I could easily control where it went. Oh, well, live and learn.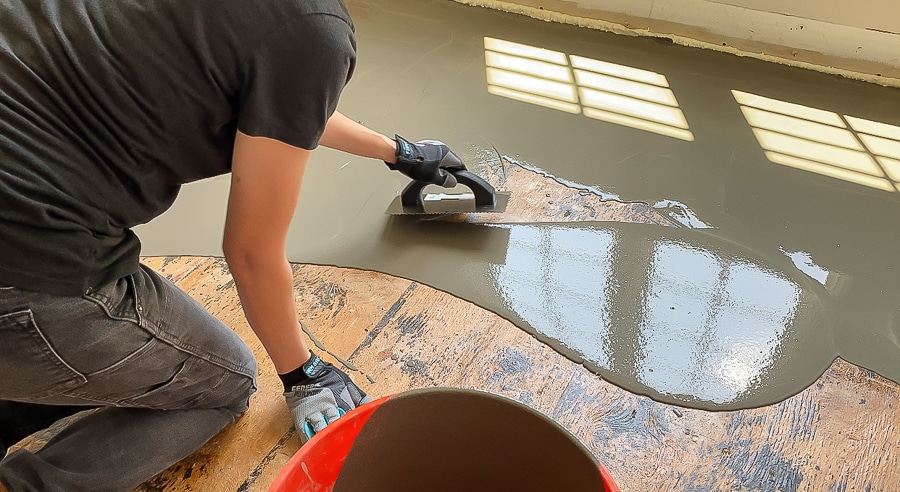 I mixed up the self-leveling underlayment using a paddle attachment on my drill and poured it onto the floor. Then I used the flat side of a trowel to spread it around, breaking the surface tension and allowing it to flow. Once it's all spread out, you just let it do its thing, seek level, and cure for the recommended time: 6 hours for ceramic tile and 16 hours for all other floor coverings.
Next on the list is to install the cement board on the floors and walls, build the frame for the pony wall, and start building the shower back in. This guest bathroom renovation is moving along nicely and I'm learning a lot! Follow me on Instagram for behind-the-scenes videos and sneak peeks!
Guest bathroom renovation MASTER CHECKLIST:
Demolition
Remove bathroom door temporarily to make room for demo?
Turn off water and valves, empty pipes and tank
Remove pedestal sink and toilet, plug holes
Remove medicine cabinet, bathroom hardware, light fixture
Remove shoe molding and baseboards
Demo floor tile and cement board
Demo and remove shower stall
Remove insulation
Clean up site
Plumbing Rough-In
Move shower valves to opposite walls
Repair shower drain
Install toilet
Electrical Rough-In
Relocate outlet to adjacent wall
Replace overhead vanity light with wall sconces?
Replace vent fan
Add lighting in shower?
Framing
Demo shower walls
Frame pony wall
Don't forget to add the toiletry niche (plan around tile size)
Floors
Shower Installation
Check to ensure studs are plumb and even, shim if necessary
Add insulation
Install cement board, seal seams
Roll on waterproofing membrane
Install shower tray and curb
Waterproof floor and curb
Walls
Repair drywall where medicine cabinet used to be
Molding?
Paint
Install baseboards and shoe molding
Tile
Tile shower walls
Tile shower floor
Tile bathroom floor
Grout and caulk
Vanity
Install vanity (will it fit?)
Install faucet and sink
Hang mirror
Lighting
Install wall sconces or overhead vanity light?
Miscellaneous
Order and install glass shower door
Install toilet paper holder, towel bar, towel ring, towel hook
Add artwork and accessories