A small and basic spare room is transformed into a stunning Parisian-inspired guest bedroom.
Welcome back! It's finally REVEAL DAY for our Guest Bedroom Makeover!!! This guest bedroom makeover was made possible by The Home Depot, which, if you know anything about me at all, it's pretty much my second home! I could not have tackled this project without them and I am so excited to show you what this space looks like now! But before we get into it, let's take a peek at how this space used to look. Rewind!
Watch the Video Tour
Guest Bedroom Before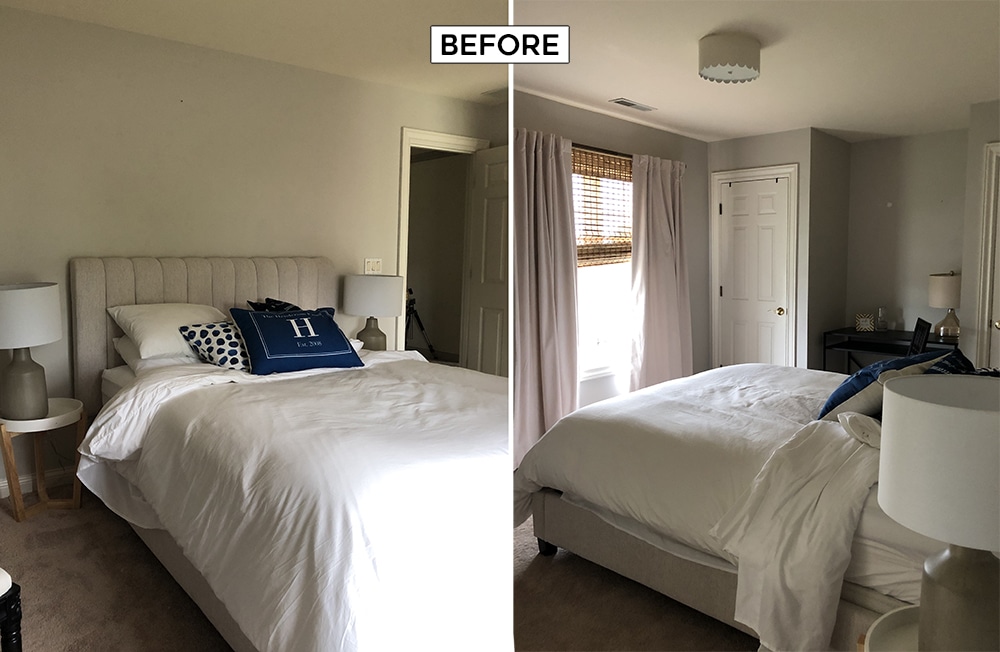 As you can see, our guest bedroom is a great space with tons of natural light – and it has an en-suite bathroom, which is so nice. We just finished renovating this bathroom and really love how it turned out, despite all the blood, sweat, and tears that was poured into it! Now that the bathroom looks incredible, of course we have to bring the bedroom up to par (obvi).
If you recall, here is the design plan for our guest bedroom makeover. It's a decent space, but pretty basic. It's literally a blank canvas so making over this room was super fun. Everything in this room is from The Home Depot – they've got a ton of furniture and home décor online and I've included the links to all of these products for you at the end of this post.
Ever since we bought our French colonial home last year, I've been inspired by Parisian architecture and design so I wanted to bring those elements into this space as well. Typically, in French design, you'll see ornate millwork and soft, neutral color palettes, so I thought, 'what better way to dress up this blank canvas than through some fancy picture frame molding?!' This is a really easy and affordable DIY project! Depending on what kind of molding you choose, a project like this can cost as little as a few hundred dollars and it really gives you a ton of bang for your buck. It completely transformed the look and feel of this room! Here's a tutorial for this DIY picture frame molding/wainscoting project; we also filmed a YouTube video!

Ceiling Fan Light Installation
This room has a large south-facing window in it, so it runs a bit warmer than the rest of the house, which is why we switched out the existing flush-mount light to this ceiling fan/light combo. We've had 3 of these fans for a few years now and have been pretty happy with it. I like that the blades are not exposed, so they're great for kids' rooms, especially when there are bunk beds involved. We have a YouTube video for this installation too!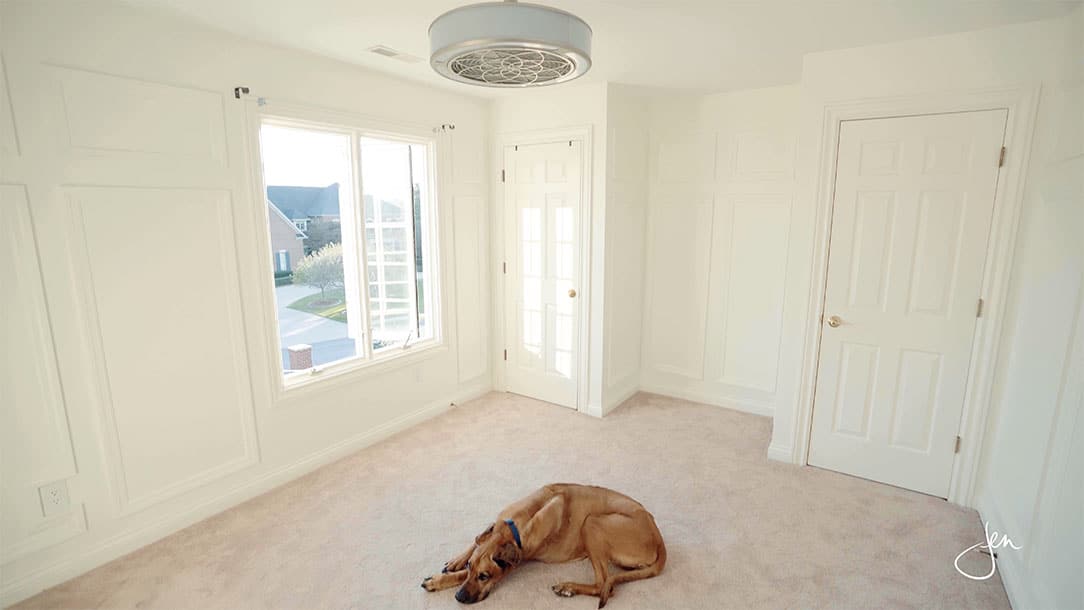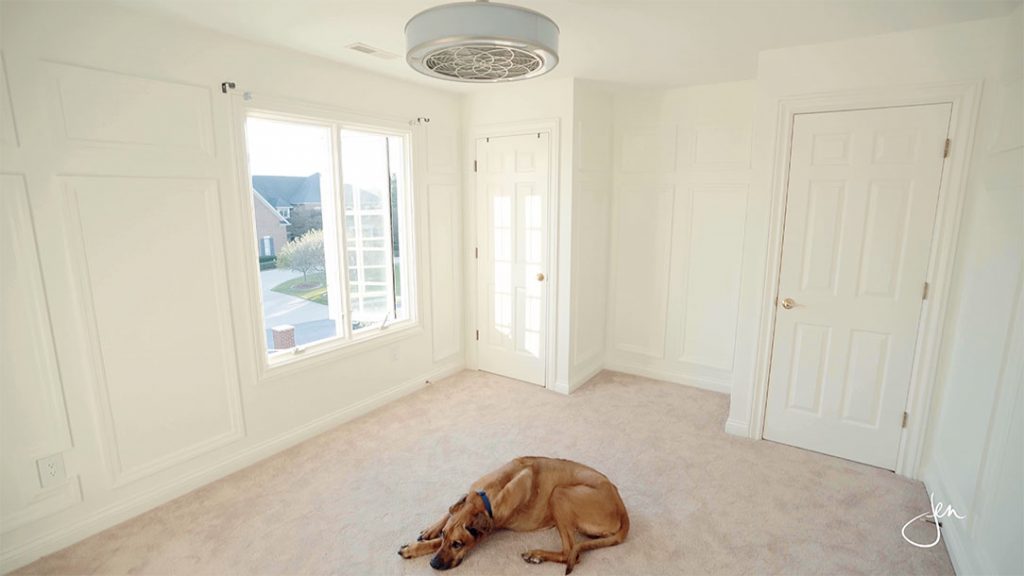 Once again, I worked with the most amazing painters, Roll With It Painting. They caulked all of the seams on the molding, filled the nail holes with painter's putty, and painted the entire room. We used Swiss Coffee for both the walls and trim – satin finish for the walls and semi-gloss for the trim. It's the same color we used for the bathroom and I still love it so much!
Now that the molding is installed, the paint is dry, and the ceiling fan is hung, it's time to put this room back together! Are you ready to see our brand new guest bedroom?!
Guest Bedroom Makeover: The Big Reveal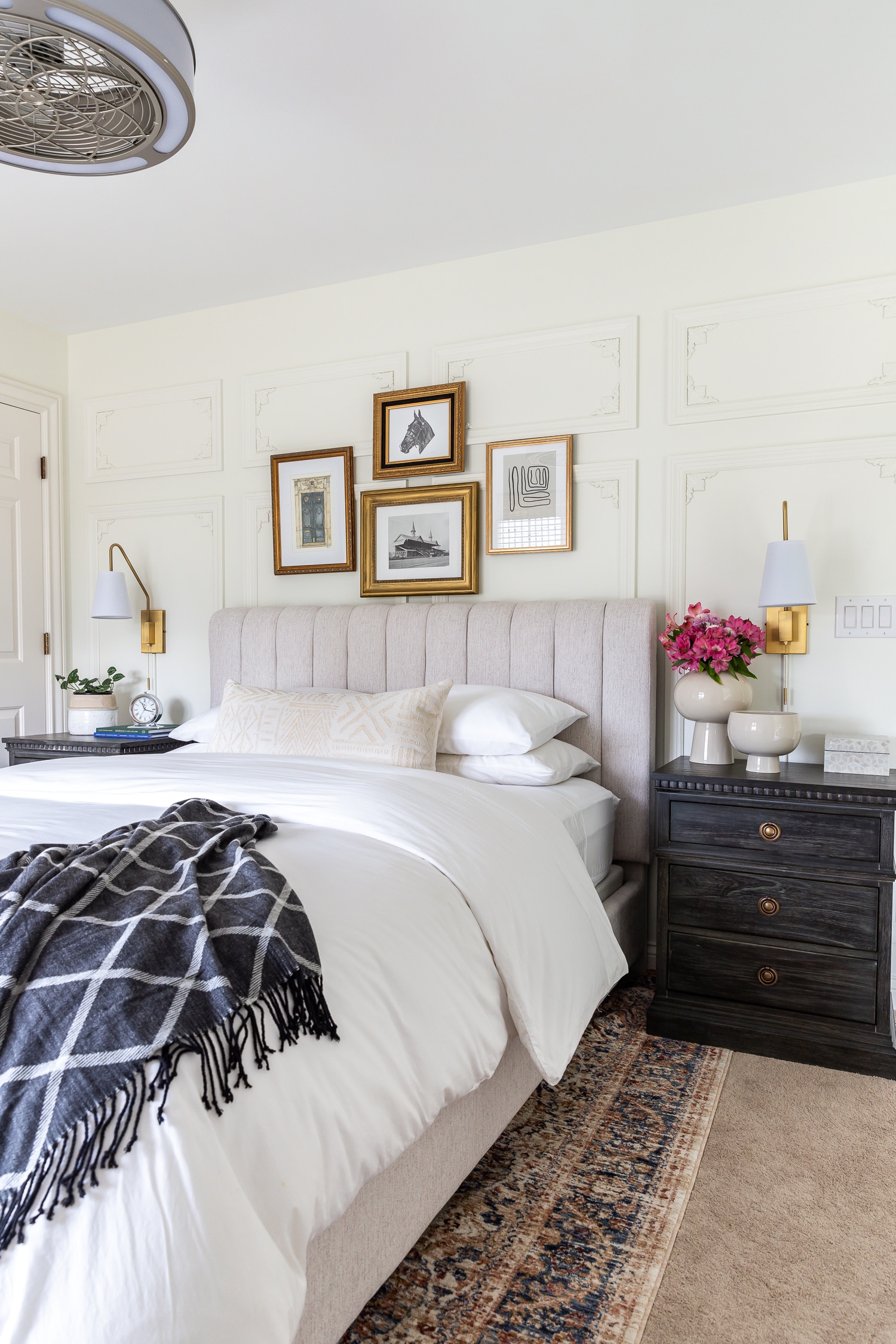 I love these nightstands – they've got a ton of storage and this dentil molding detail is so pretty. Since we didn't put a dresser in the room, these nightstands offer some storage for our guests. I've been crushing on black furniture lately and I think these really help ground the space.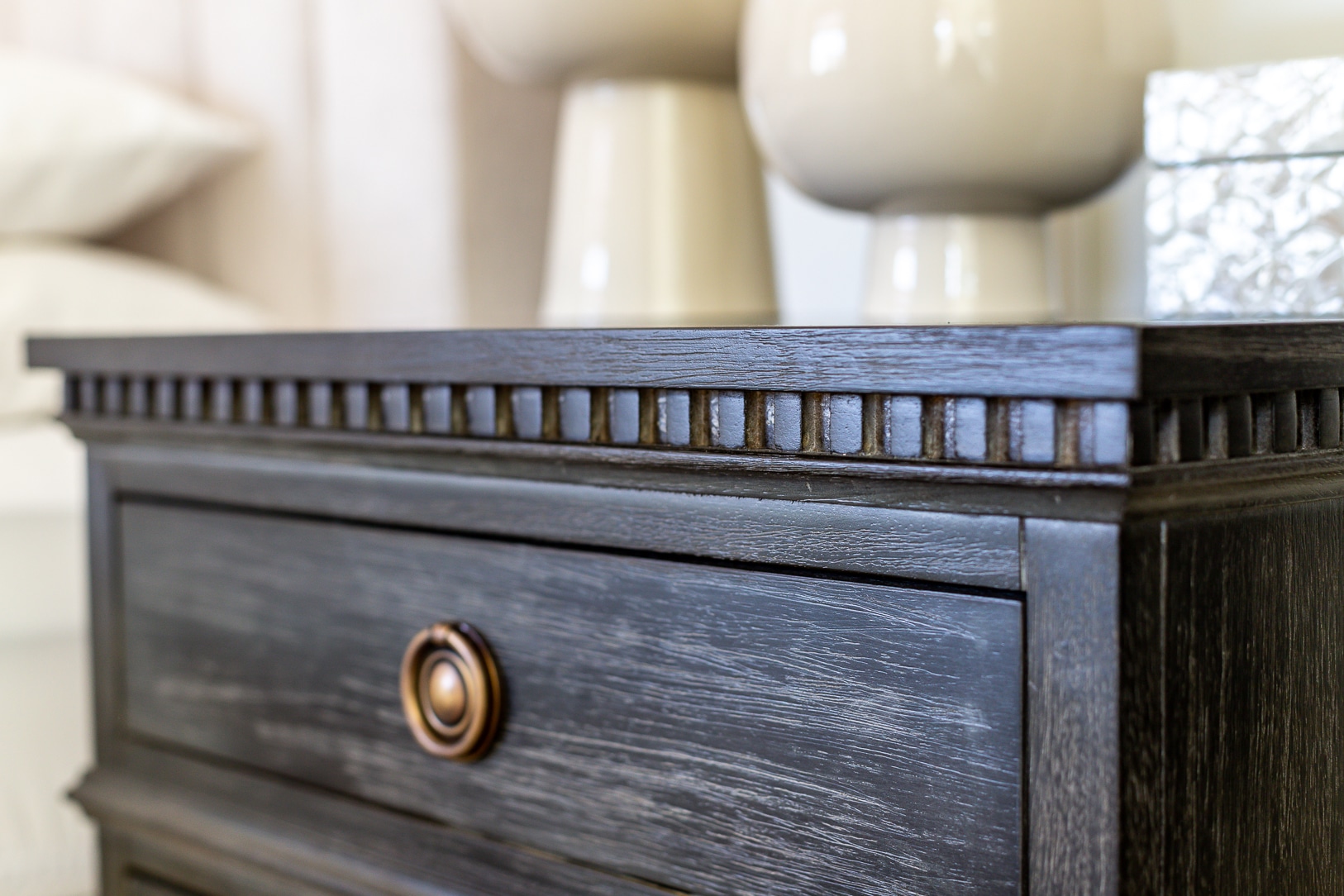 I paired the nightstands with these brass wall sconces to help keep the top of the nightstands clear. These lights can be hard-wired or plug-in. We opted for the plug-in option so I didn't have to do any electrical work! I didn't want to run electrical here because I didn't want to limit myself (or any future homeowners) in this room. We just mounted the sconces on the wall and used these cord covers to help conceal the lamp cords. And how darling is that pull chain?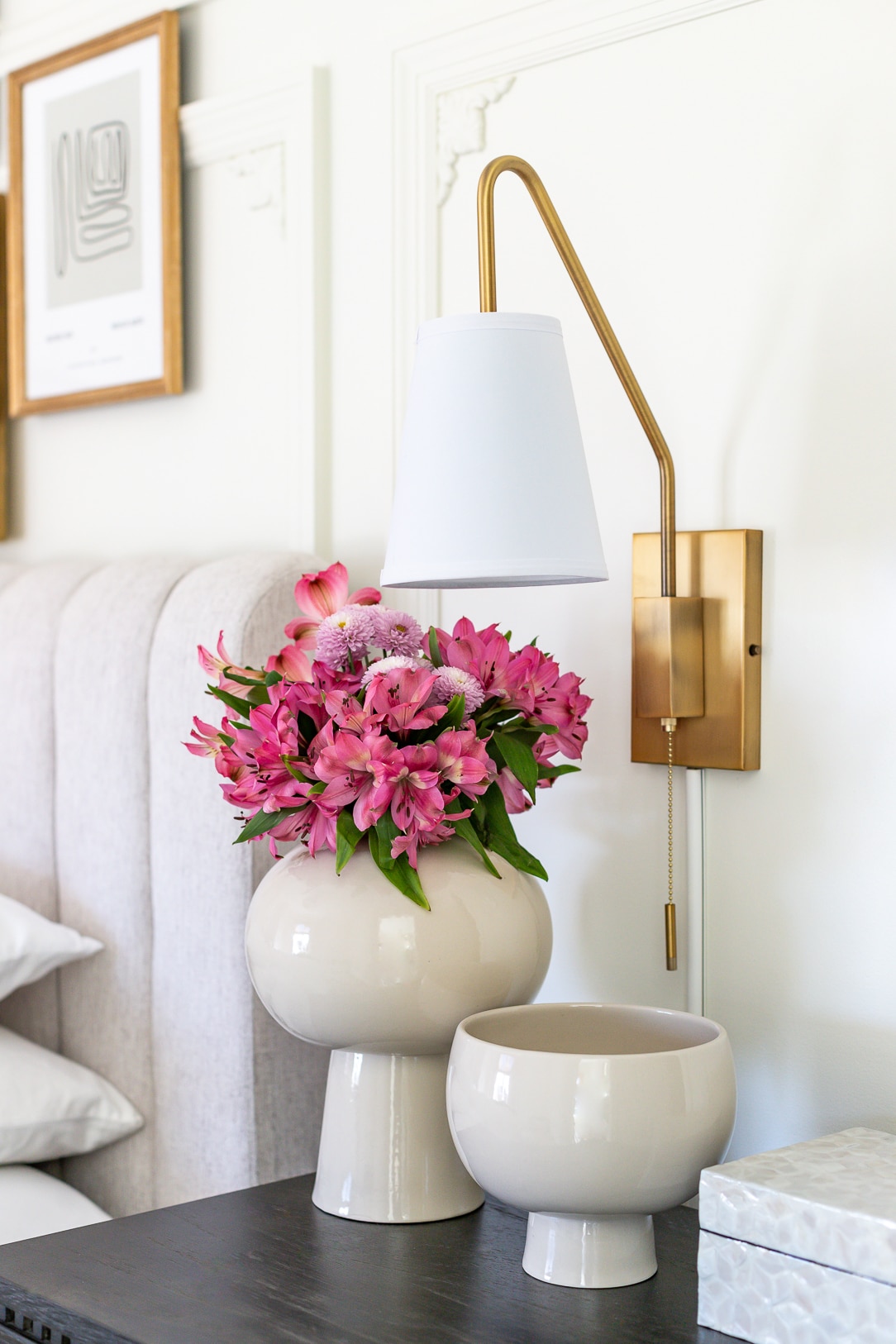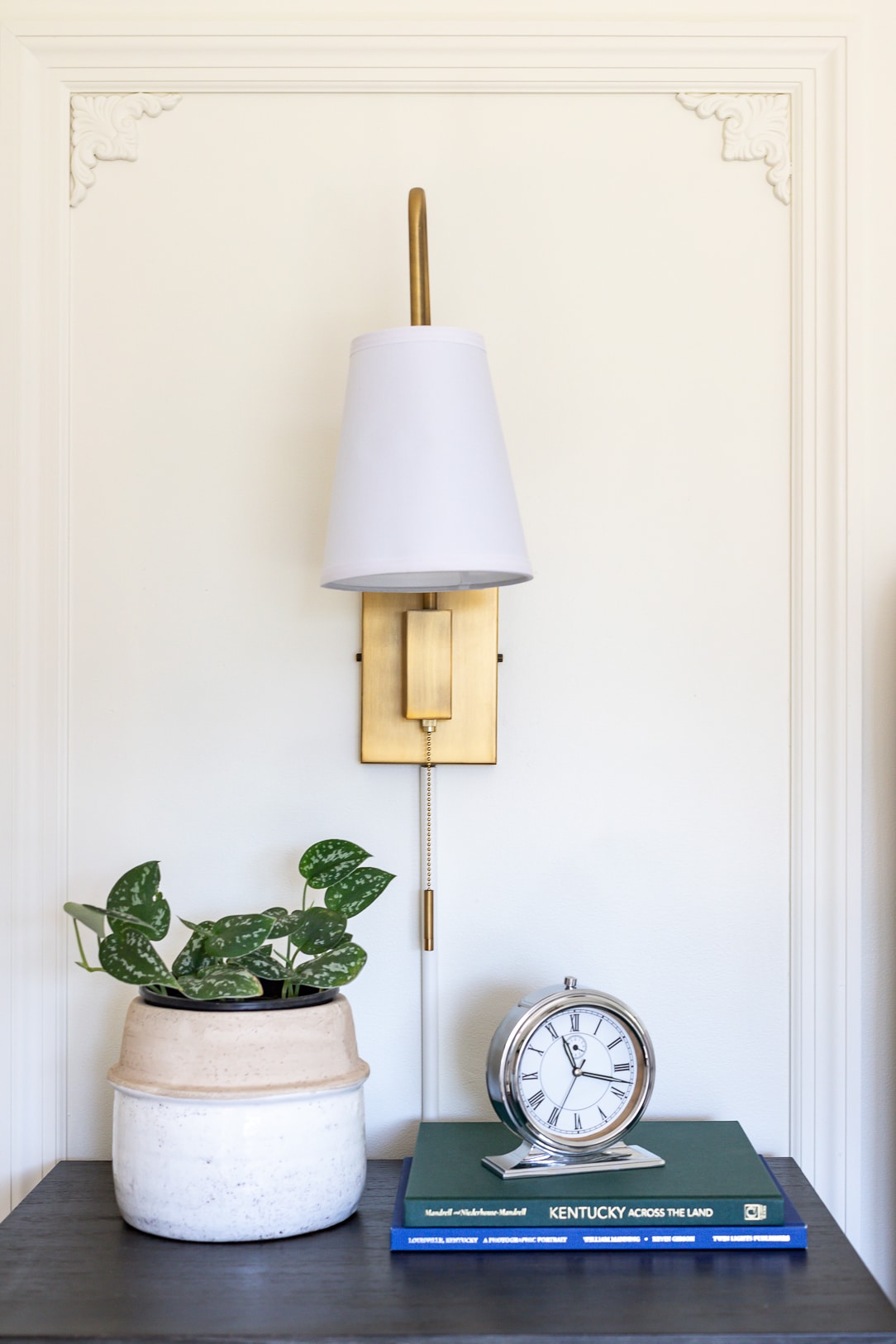 This alcove is a perfect spot for a writing desk – it gives our guests an additional surface to put their things, sit down and work if they need to, and charge their electronic devices. We hung a pretty arched mirror so that this area can also serve as a vanity – now they have somewhere to get ready, in case the bathroom is occupied. This would also be a great place to put a welcome basket, a few snacks, maybe even a coffee station, depending on how accommodating you want to be. I'm also working on a post with a list of must-have guest room essentials, just in time for all of the holiday hosting you'll be doing.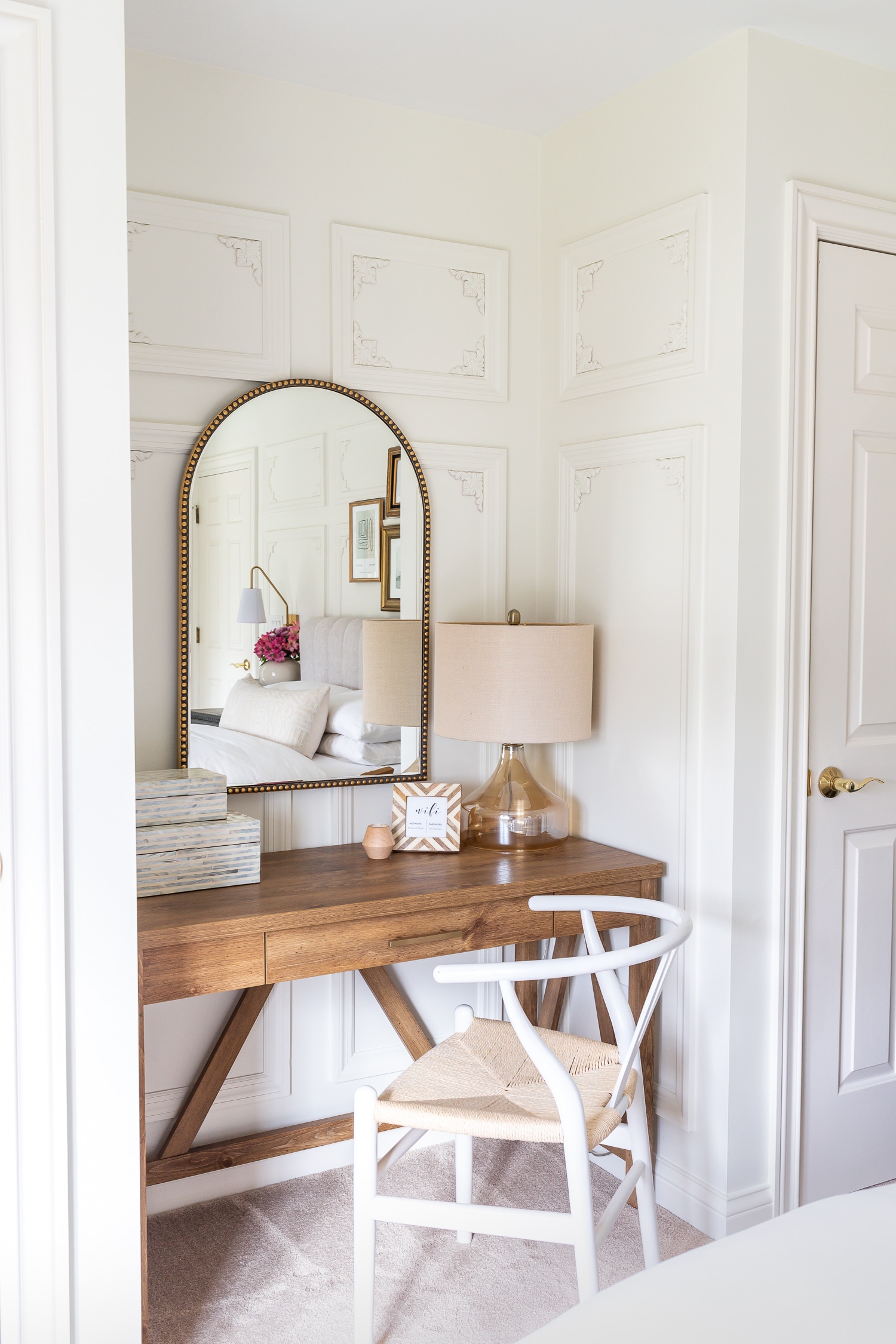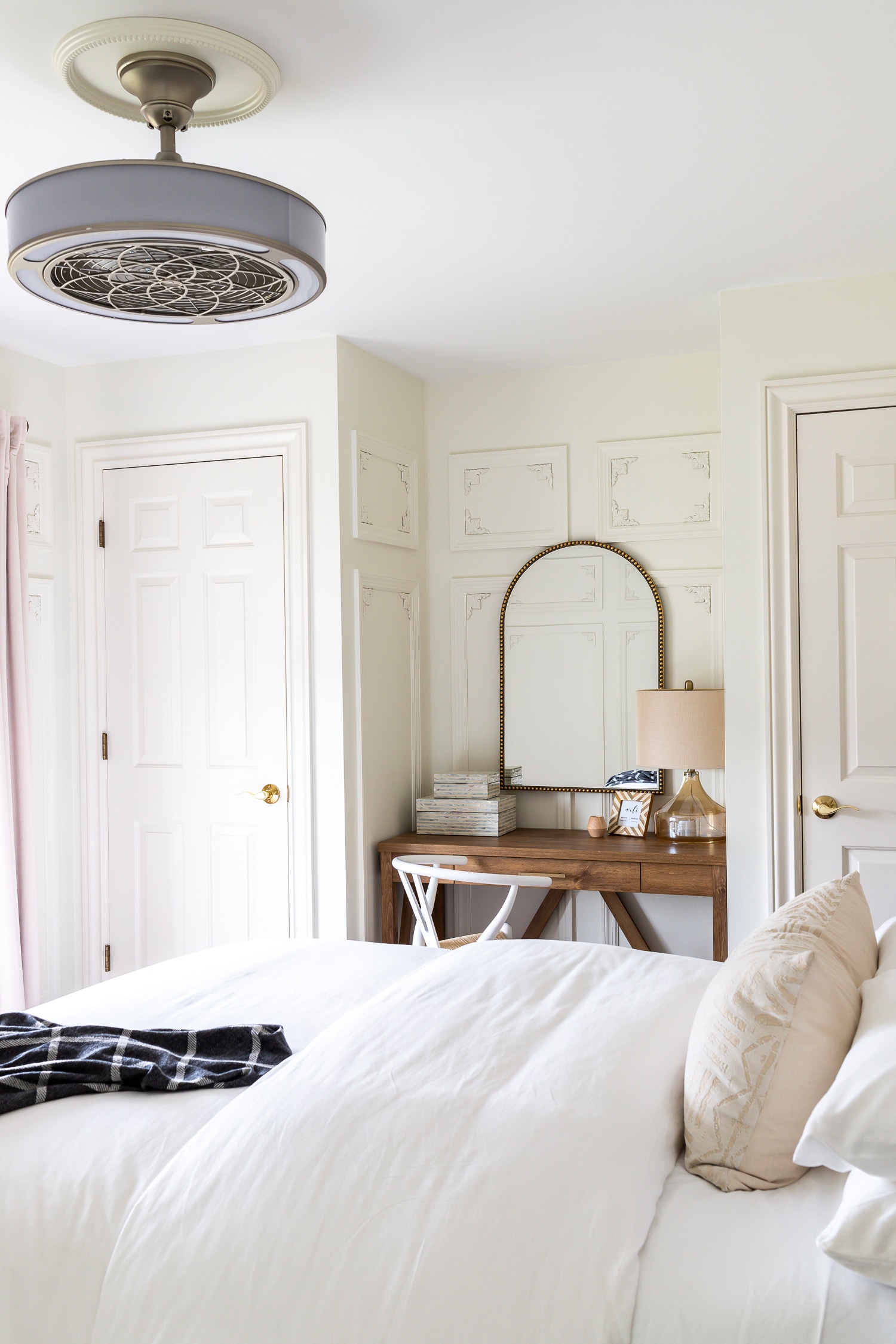 The two doors flanking the alcove are closets. The closets have basic wire shelving in there, so I'd like to pull those out and replace them with custom wood shelving and hanging rods, similar to our linen closet makeover. That project is also on the list, so keep an eye out for that as well! We also set out a folding luggage rack in the room so that our guests have a place for their luggage.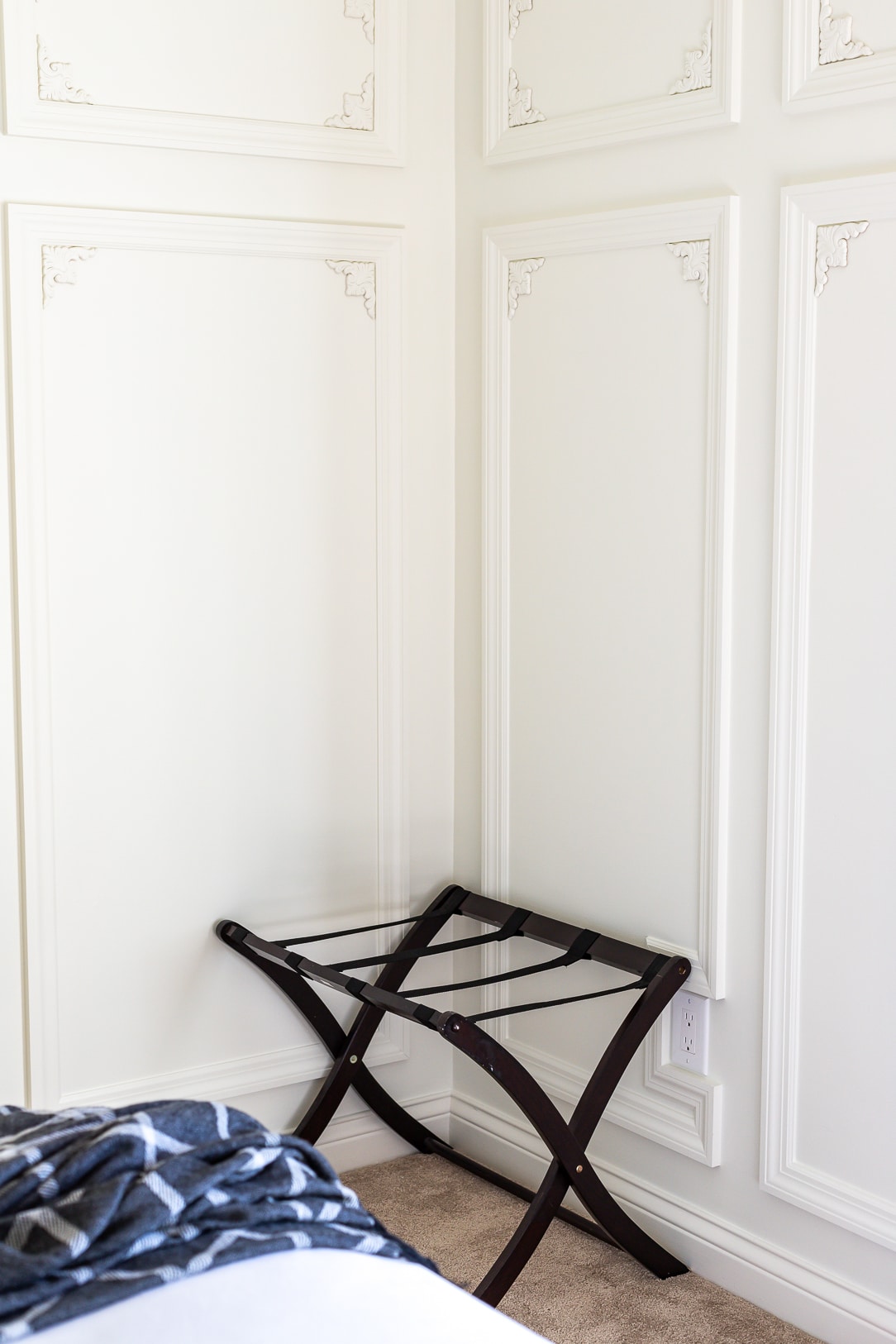 We hung a mini art gallery above the bed. Two of these pieces – the hand-drawn horse head and the watercolor French doors – are especially meaningful to me. I worked with an incredibly talented artist named Kesia Finley and she now sells these as prints her shop! I can't wait to add more of Kesia's artwork to my collection. I believe art should be meaningful and intentional and I wanted to pay homage to Kentucky, since it's such a special place to us. The racehorse and the old photograph of Churchill Downs and the Kentucky Derby do just that. Once again, I'm pulling in the elegant French theme with the watercolor Parisian doors and modern abstract print.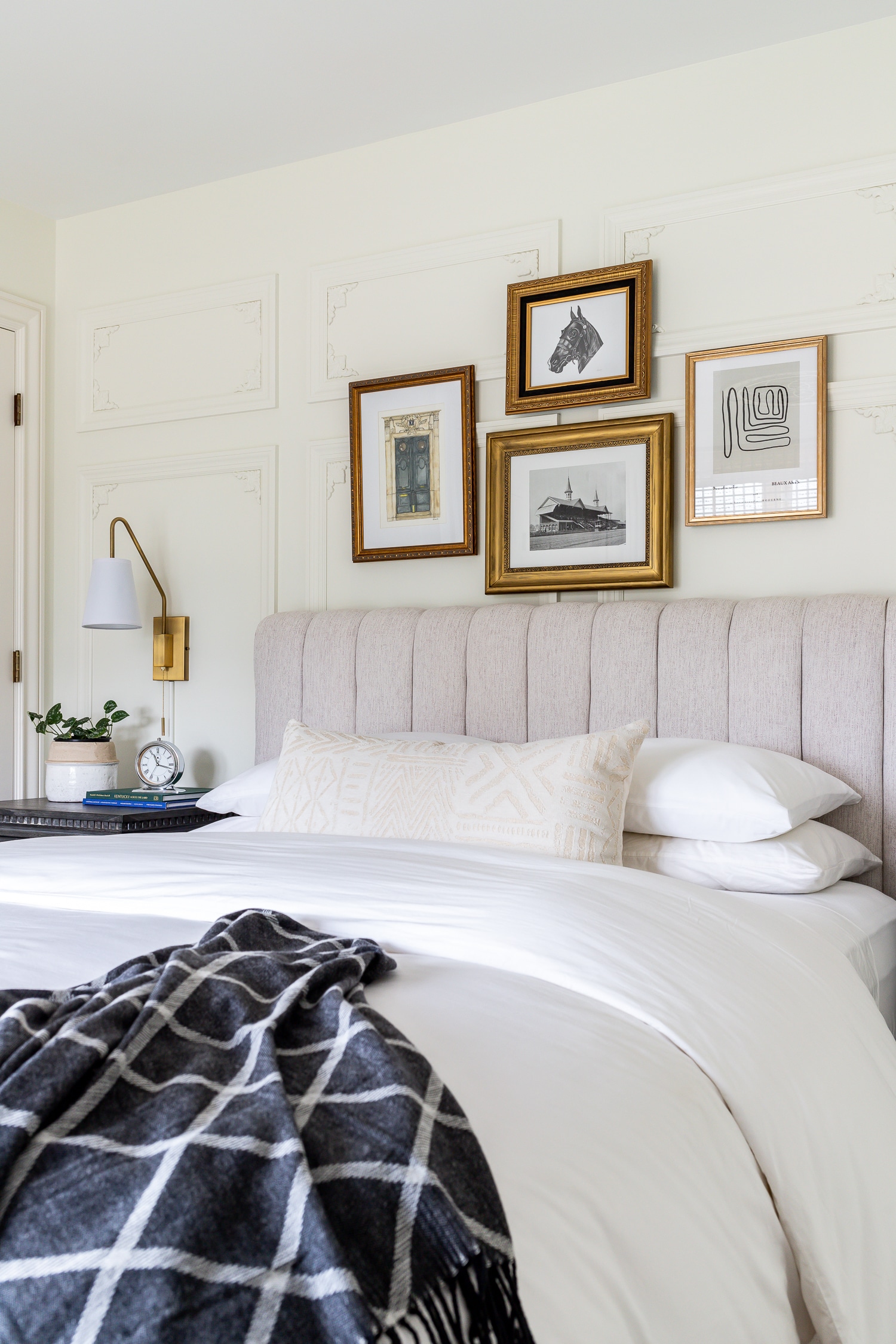 I love mixing all of these different mediums – we've got watercolor, pencil, photography, and ink all represented here in this gallery. Even though the art is eclectic, the antique gold frames tie everything together and make it all look cohesive. By the way, the thrift store is a great place to find old vintage-looking frames for cheap!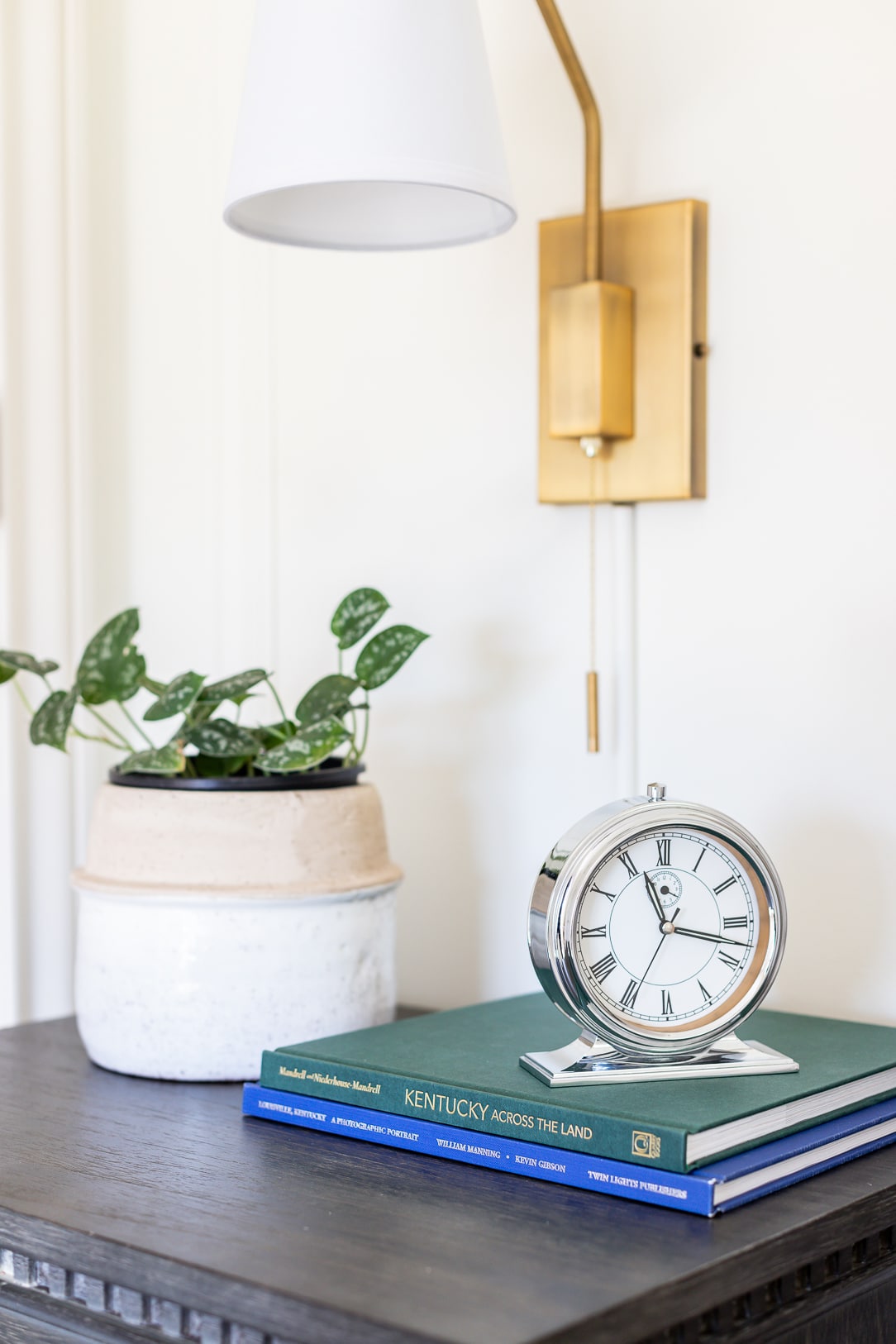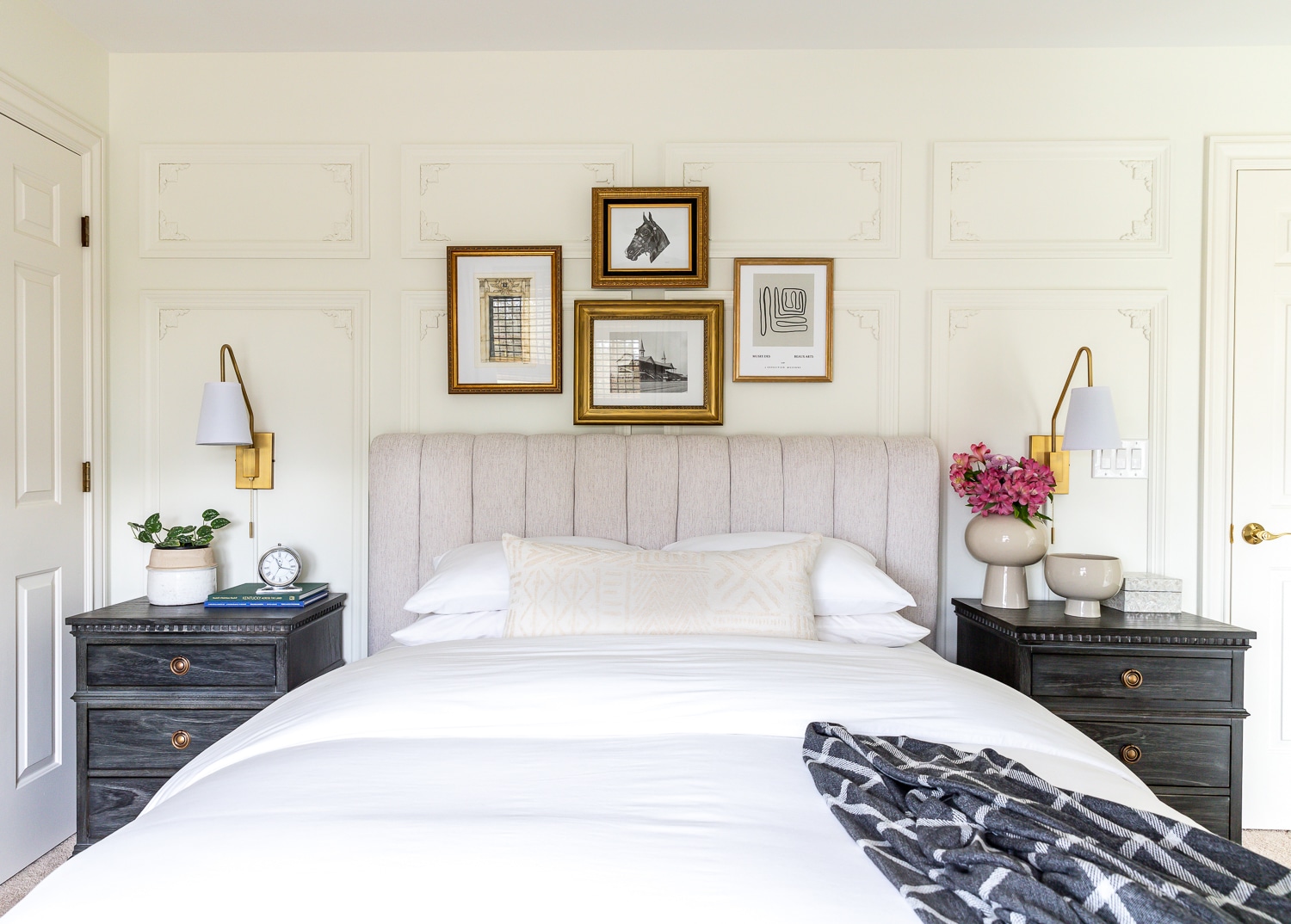 I hope you enjoyed this little tour of our guest bedroom! Be sure to keep your eye out for our upcoming videos and posts on all of the different projects we did in this room! Now… who's ready for a visit???
Product Sources:
*Affiliate links used.