*This post is sponsored by The Home Depot.
You guys! We gave our guest bedroom a complete makeover! And get this… everything you see here is from The Home Depot! When you think of The Home Depot, you think of tools, paint, and lumber, right? Well, did you know they also carry a massive home decor and furniture line? I knowww. MIND. BLOWN. And friends, their new home decor line is not only extensive and incredibly affordable, but oh so good.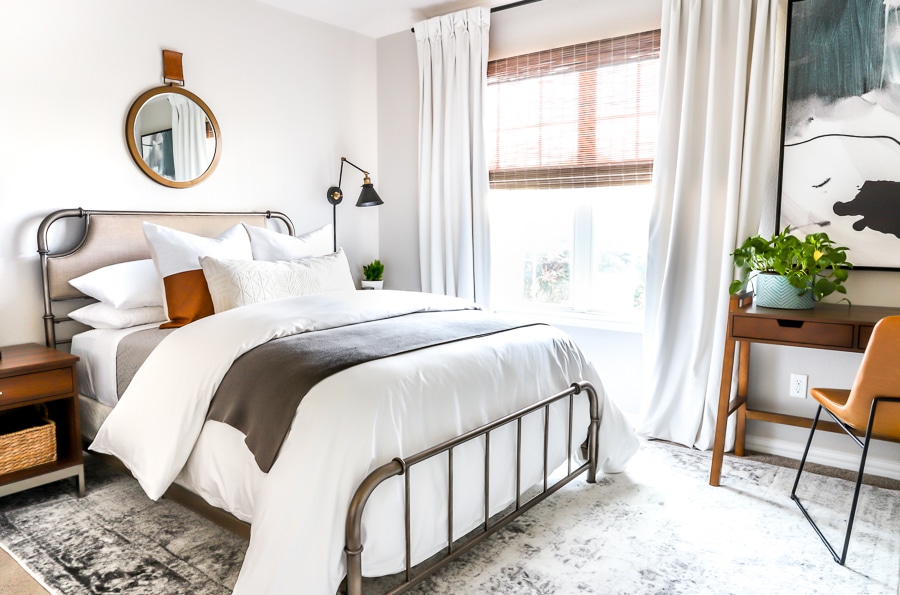 I am totally in love with our new guest bedroom! I've provided a complete product list with links down below, for your convenience. But before I give you the complete tour, let's take a peek at what this space looked like before. I apologize in advance for burning your retinas with this hot mess express. You've been warned.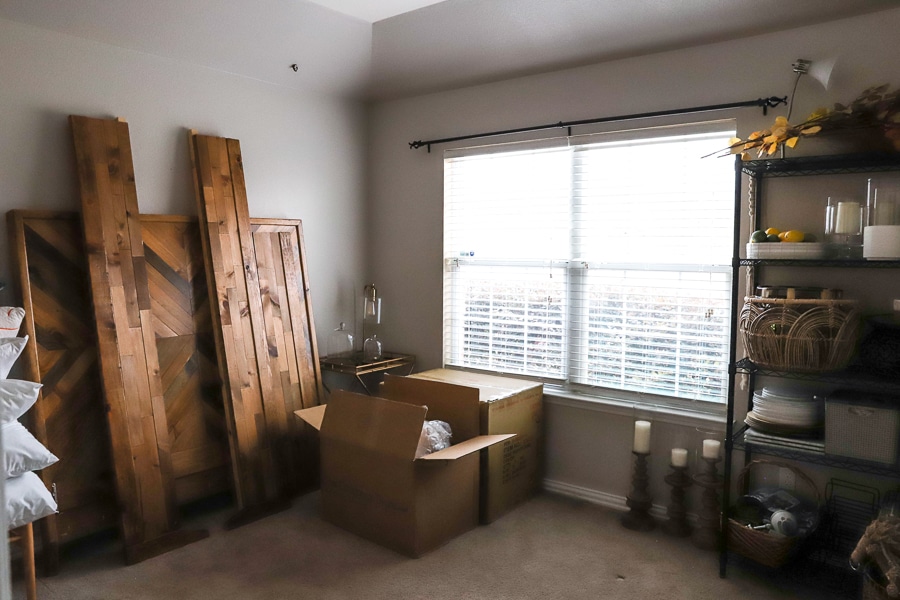 We used this spare room mainly for storage and to house all of my plant babies because it's the only room in our rental home that gets a decent amount of natural light. Measuring about 10 feet by 11 feet, this room isn't very large, but it's perfectly adequate as a storage room/guest room.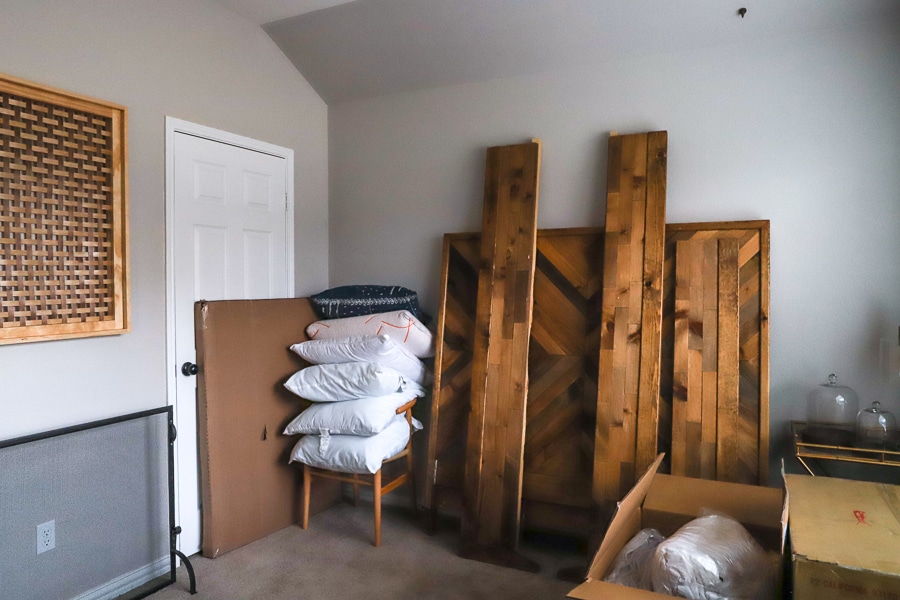 On the other side of the room is a closet, but the swing-out door took up valuable real estate. We couldn't put a nightstand on that side because the door would crash into it. I am SO glad we replaced the closet door with a sliding barn door. It was such an easy fix and the room is much more functional now!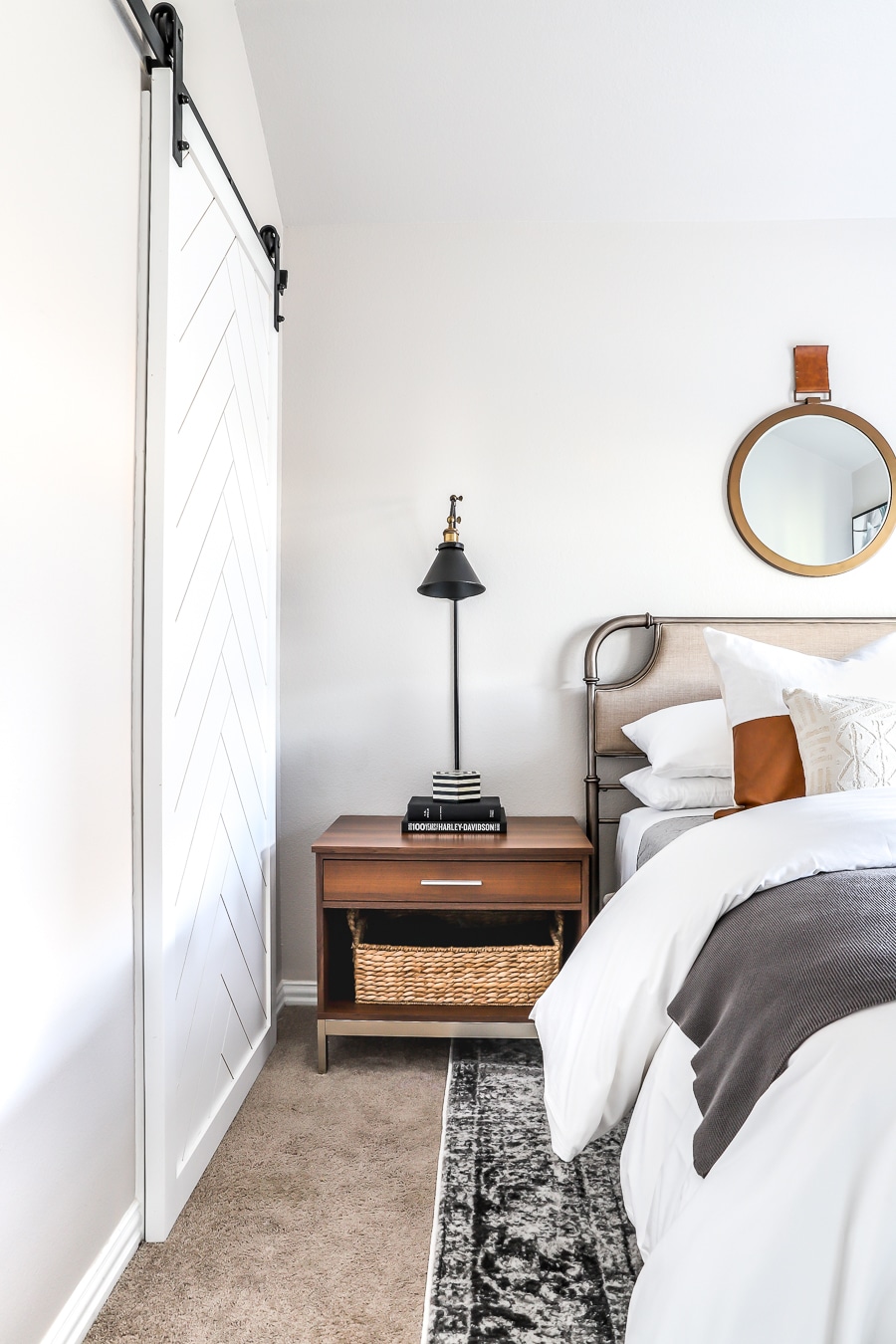 Installing a sliding barn door is also renter-friendly! We simply took the old door off its hinges, but didn't remove the door frame or fill in the holes where the hinges were. Then we screwed the sliding track to the studs in the wall and hung the door on the track. This sliding door is a huge space-saver and the herringbone pattern is such a stunner! Now we can place a nightstand on both sides of the bed without any issues. And when it comes time for us to move, we'll just remove the sliding door, spackle and paint over the holes in the wall, then put the old door back on. Easy as pie.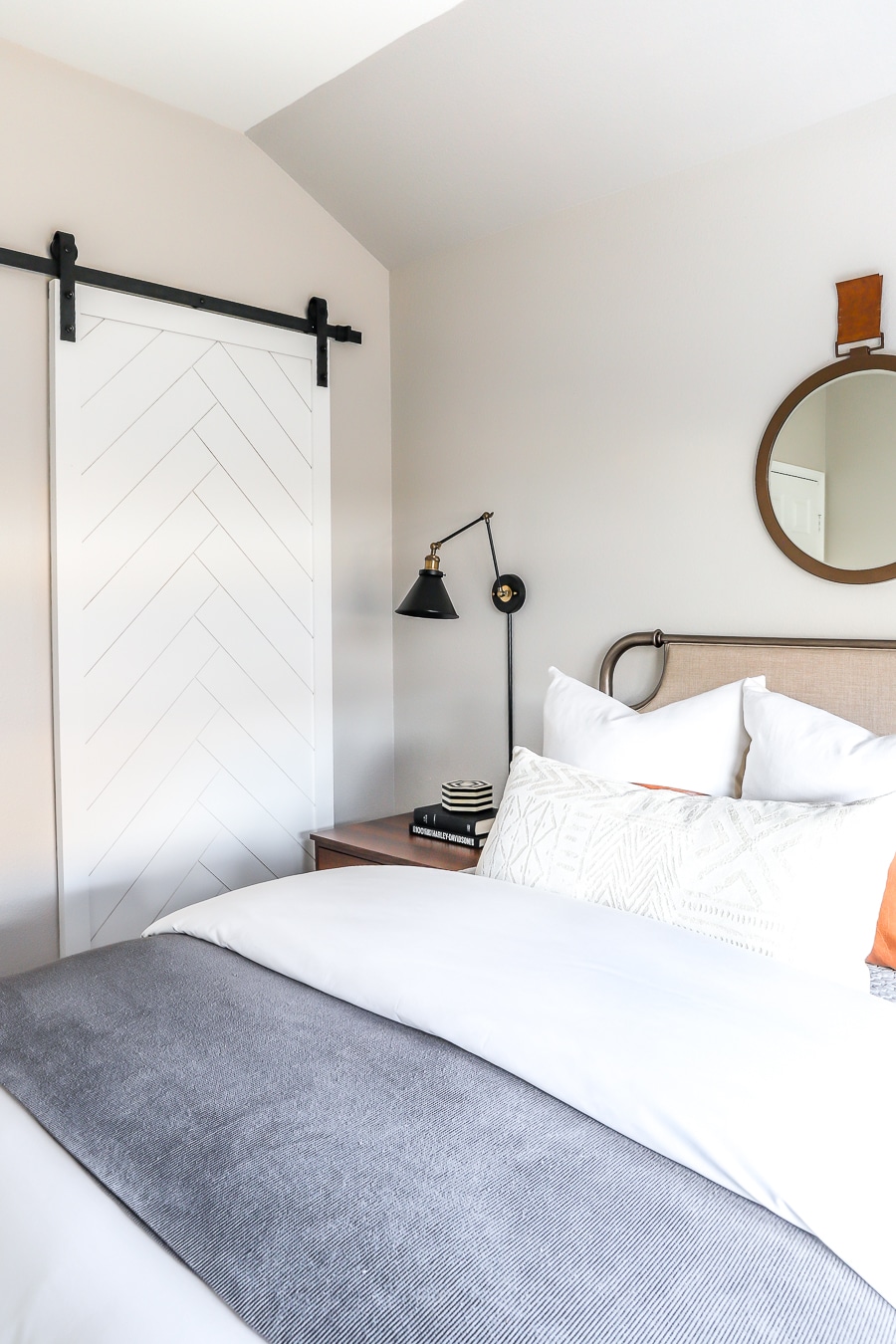 Another renter-friendly feature we added are these chic black wall sconces. They're plug-in lights, so no fancy electrical work is necessary! I love that they give the room a more polished and custom look, while also leaving plenty of surface area on the nightstands.
And can we just take a second for this amazing bed?! I am in deep smit. The design is just so cool. And the bed rails fold up, so assembly and disassembly is a literal breeze. So smart. The mattress and box spring, pillows, and bedding are also from The Home Depot! I had NO IDEA they offered textiles! I had the leather and linen throw pillows and cream lumbar pillow custom made by Etsy seller, Sew + Cloth. The area rug and round mirror are also from our favorite orange store.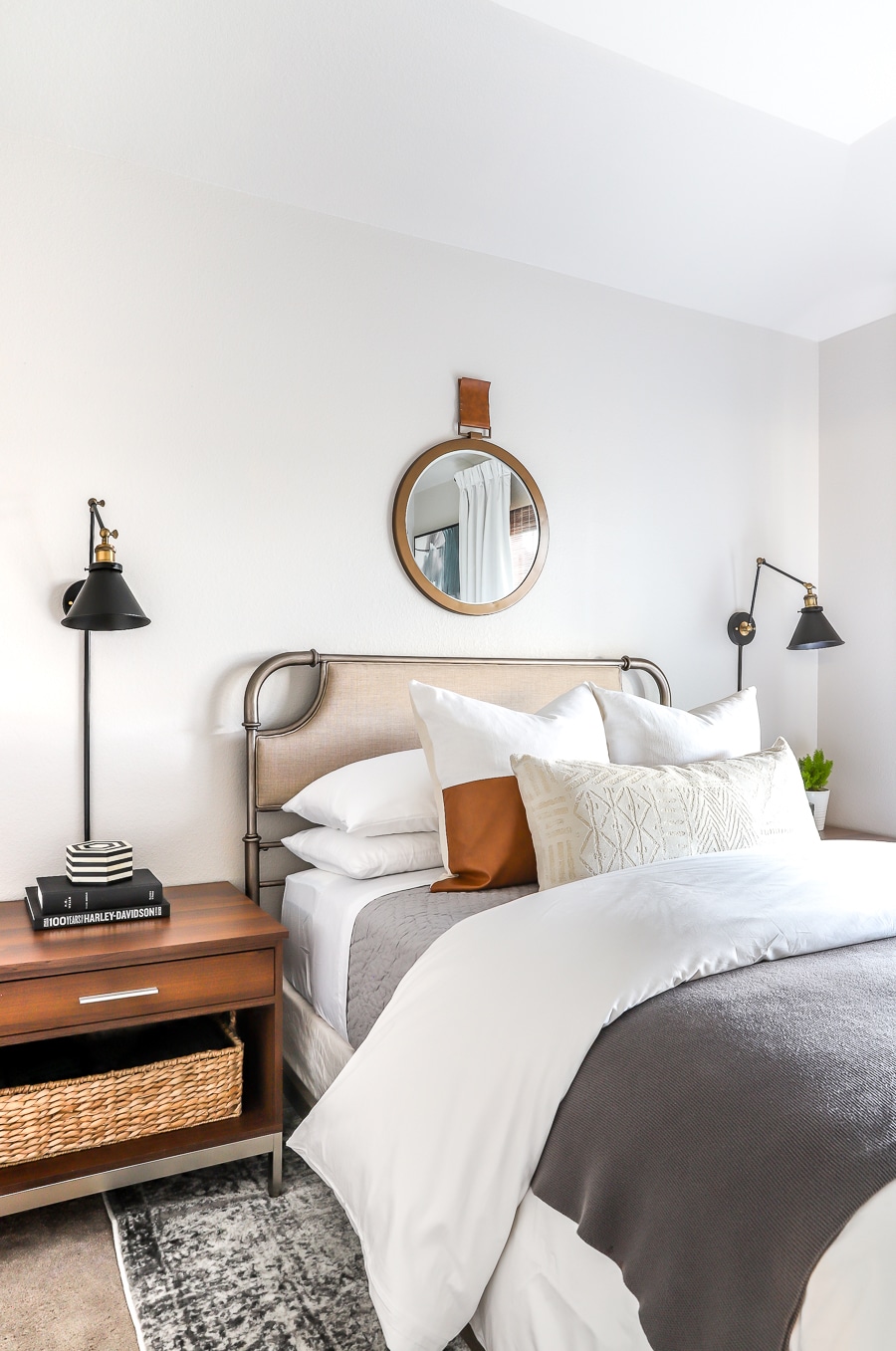 The abstract artwork, custom bamboo shade, and velvet French pleat blackout drapes also came from THD! I seriously can't get over the quality of these products – the shades were custom-cut at no extra charge and they're cordless! The velvet drapes are so luxurious – they've got a hefty weight to them, so they hang beautifully and those French pleats make me feel super fancy!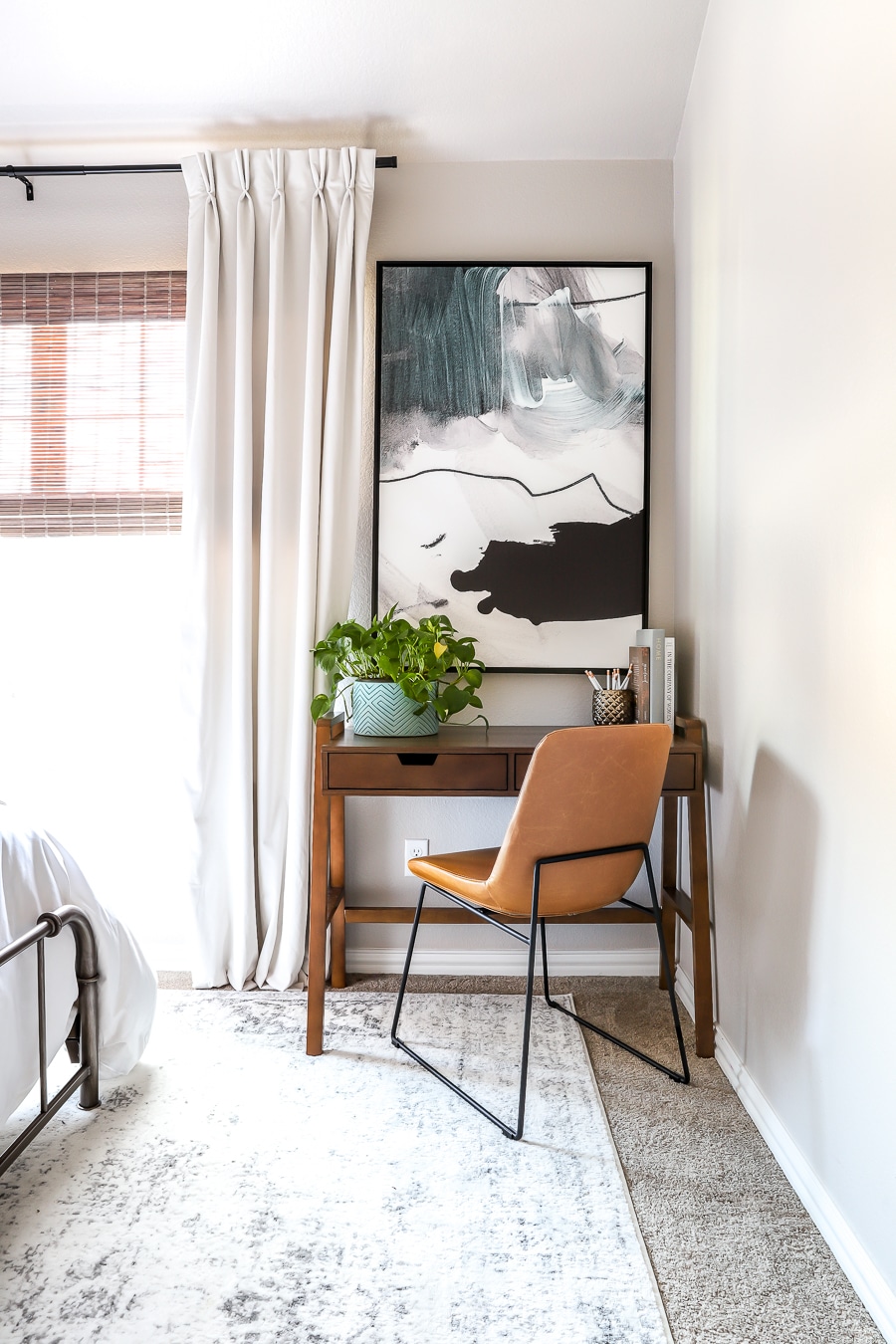 This modern mid-century desk fits perfectly in this space, don't you think? Ohhh, that tan faux leather and steel chair has my heart. The quality is top-notch; I especially love the stitching detail. Color me impressed, Home Depot! They are seriously stepping up their home decor game.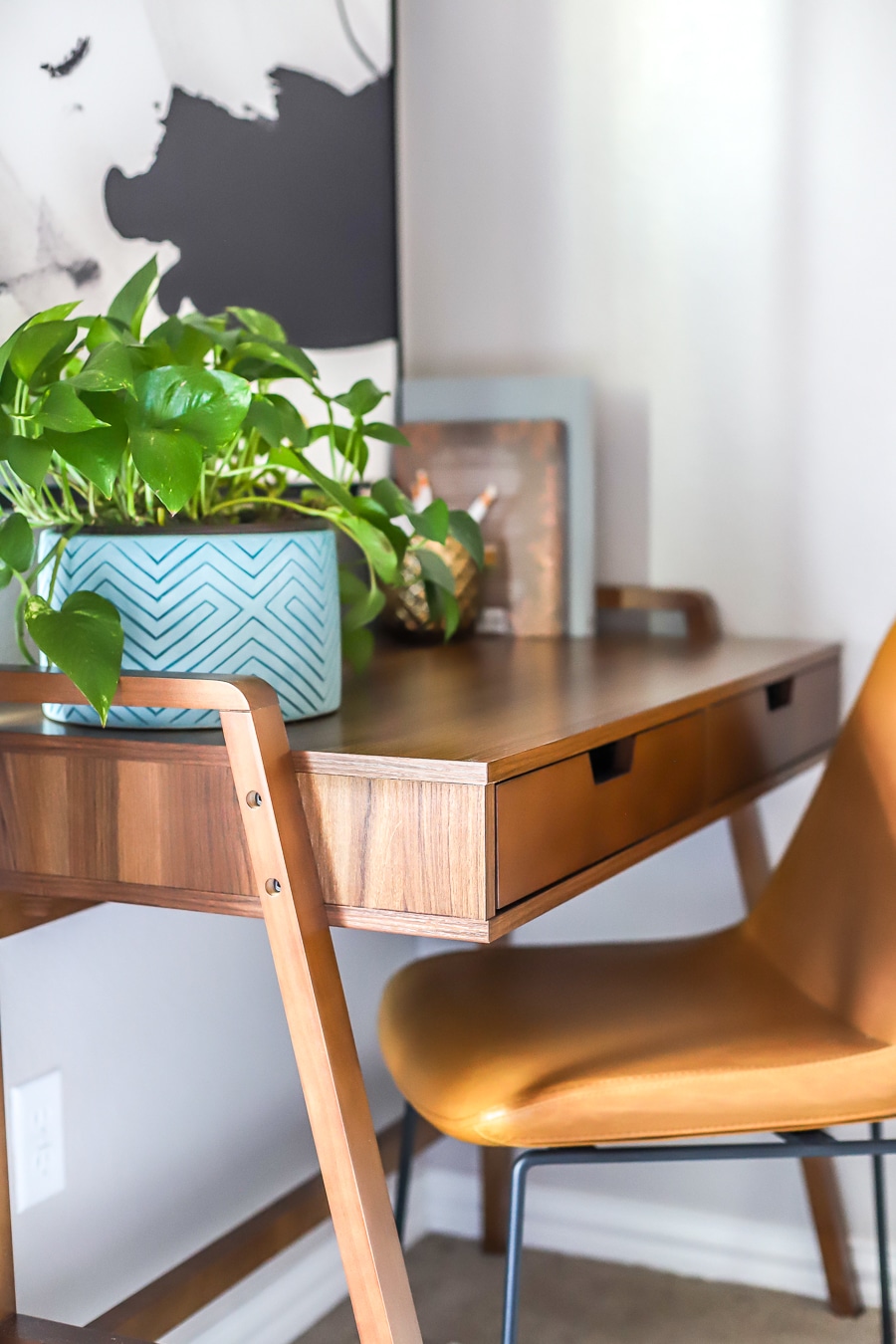 Now then. Bring on the house guests! Hope you enjoyed our guest bedroom makeover. Check out the new home decor line at The Home Depot – you'll thank me later. Happy decorating!

Source List: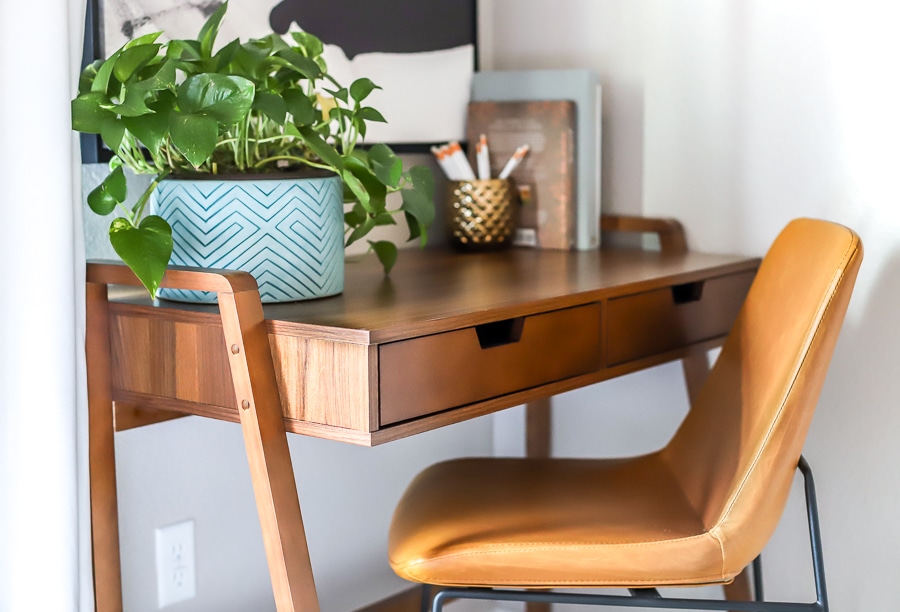 *I acknowledge that The Home Depot is partnering with me to participate in the Home Decor Campaign. As a part of the Program, I am receiving compensation in the form of products and services, for the purpose of promoting The Home Depot. All expressed opinions and experiences are my own words. My post complies with the Word Of Mouth Marketing Association (WOMMA) Ethics Code and applicable Federal Trade Commission guidelines. This post contains affiliate links. To read my full disclosure policy, please click here.