*This post is sponsored by The Home Depot.
Hi friends! This year has just flown by! Can you believe it's Fall already? Ahhh, my favorite season! As soon as the stores start selling Halloween candy, I bust out my boots and scarves faster than the kids can say "trick-or-treat" (which is awkward, being that I live in TEXAS). We don't usually decorate for Halloween, but this year, Adam really wanted an excuse to buy a fog machine, so we decided this year was going to be the year we scare all the neighborhood kids.
I mean, let's be honest. Does anyone ever really need an excuse to buy a fog machine?
I don't think so.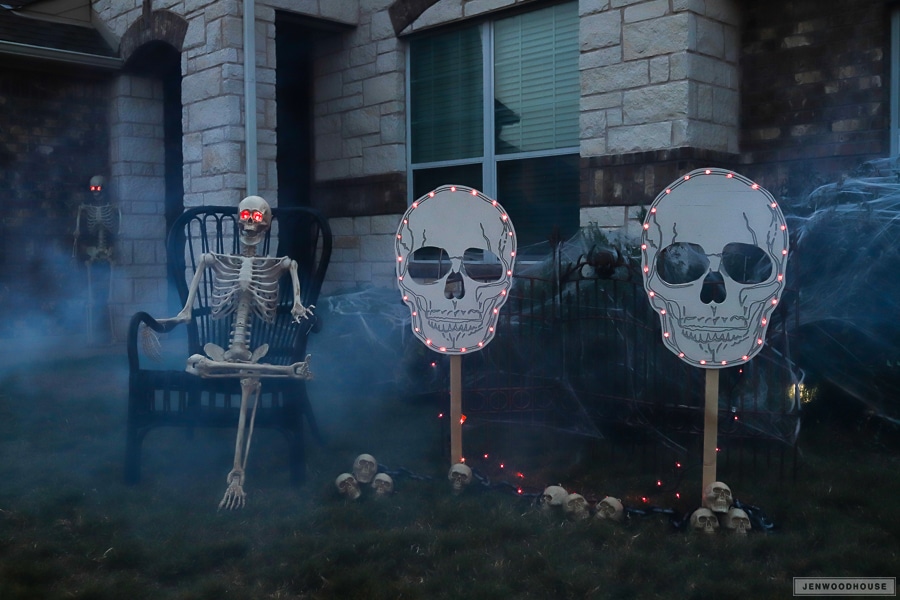 Check out that creeper in the background. The kids named him Spookahauntas. You know, like Pocohontas? Get it?
I'm really pleased with how these DIY skull yard signs turned out! Want to make one for yourself? You can sign up for the Do-It-Herself (DIH) Workshop that's happening THIS THURSDAY (Sept 21st) and learn how to make a Harvest Yard Sign. Click here to check your local store for details. You don't want to miss it, so mark your calendars, grab your favorite friends and learn how to make a Harvest (or Halloween) Yard Sign with us. You can customize it any way you'd like – the possibilities are endless and so much fun!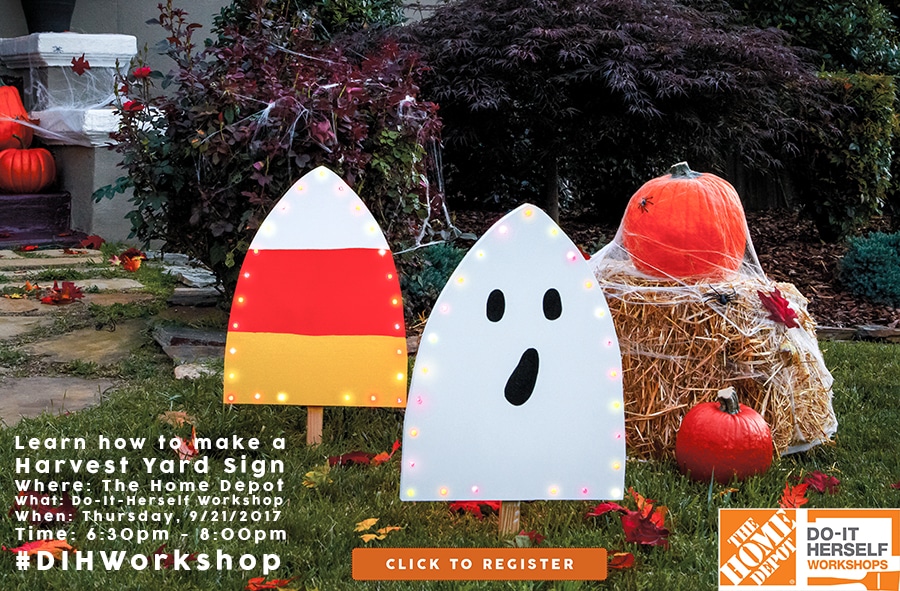 The Home Depot offers fun Workshops at all of their store locations. There are currently three types of workshops: Do-It-Yourself (DIY), Do-It-Herself (DIH), and Kids. We love that Home Depot holds these free workshops because we can learn how to make easy home repairs and renovations and build fun home decor projects.
Need more info? Visit http://workshops.homedepot.com for more details.
Where: The Home Depot
What: Do-It-Herself Workshop
When: Thursday, September 21, 2017
Time: 6:30pm – 8:00pm


You know what else is fun? Putting my own spin on this project. Read on for the tutorial on how to make these DIY Spooky Skull Yard Signs.
Tools & Materials:
*Affiliate links used. 
For my yard signs, I first used my X-Carve 3D carving machine to carve out all the details onto two pieces of plywood. You can also do this with a Dremel tool or a palm router, if you're like a ninja with a router. I am not, so I used a robot. Next, I used a jigsaw to cut out the eye sockets, nose, and perimeter. Then, I drilled holes around the edges of the signs for the lights.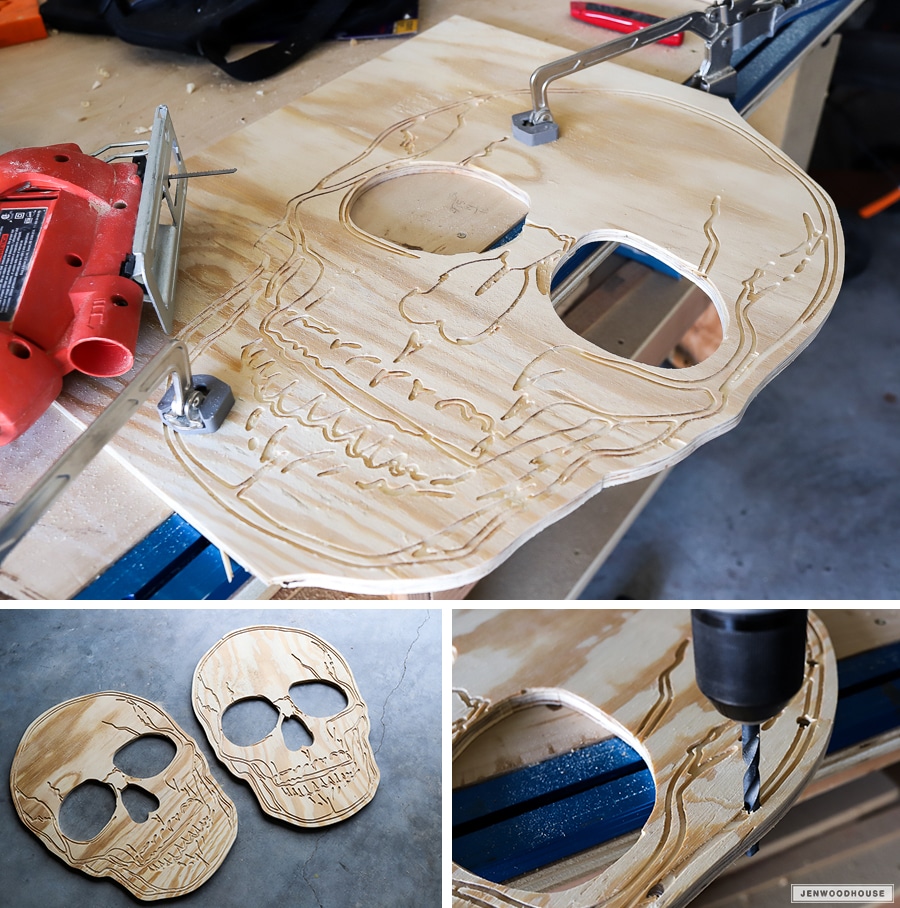 After a quick sanding, I spray painted the skull signs white. I also hand-painted the carvings with a light grey acrylic craft paint. It was time-consuming, but the subtle depth it adds was worth the effort. Then Adam inserted the lights into the holes, glued and nailed a stake to each sign, then stuck them into the ground.


What do you think? Simply spooktacular, right?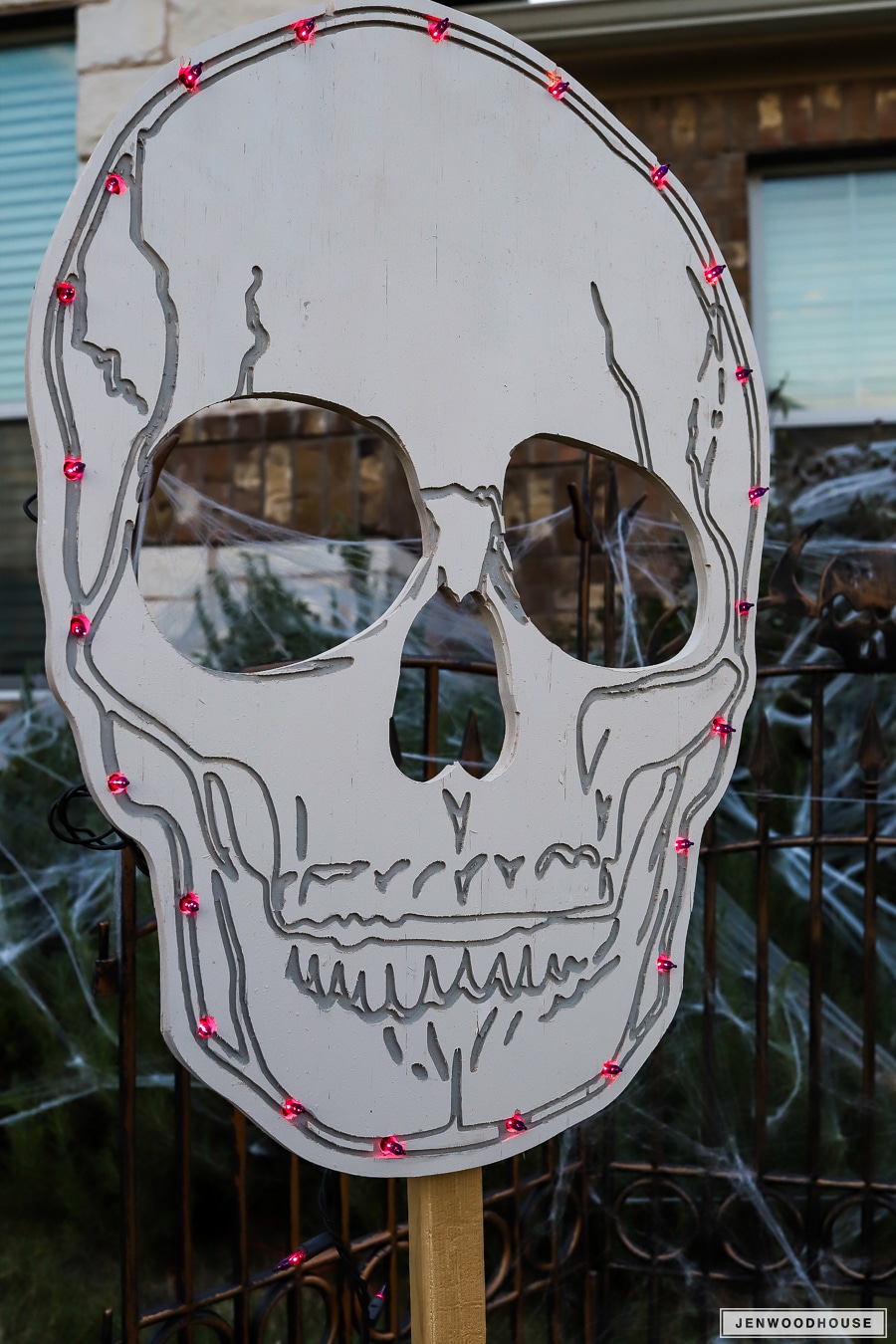 It turned out better than I expected! Check out how one dude is chillin' in the chair (let's name him Horace) while Spookahauntas creeps in the background.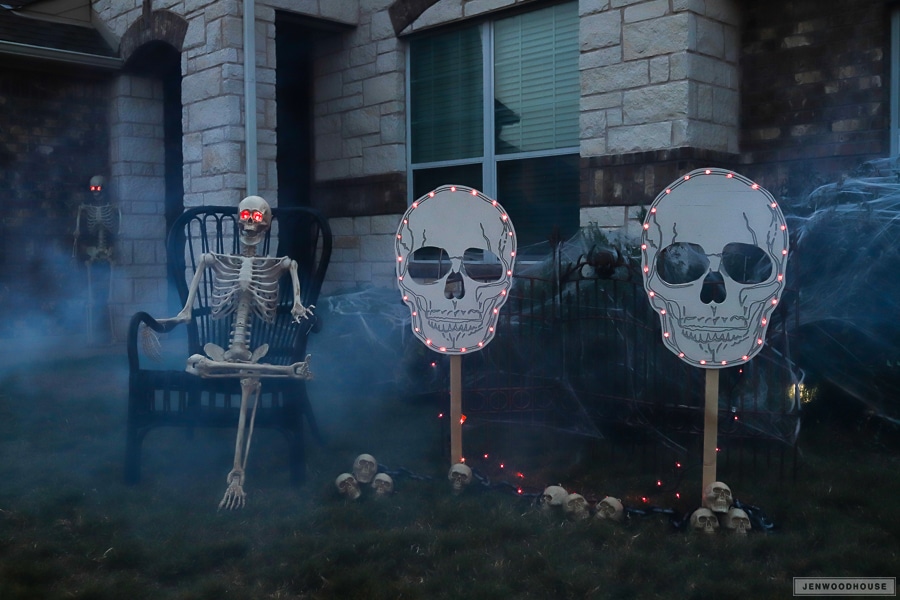 Our neighborhood kids can be a bit mischievous so we zip-tied Horace to the chair, just in case he decides to get up and walk off.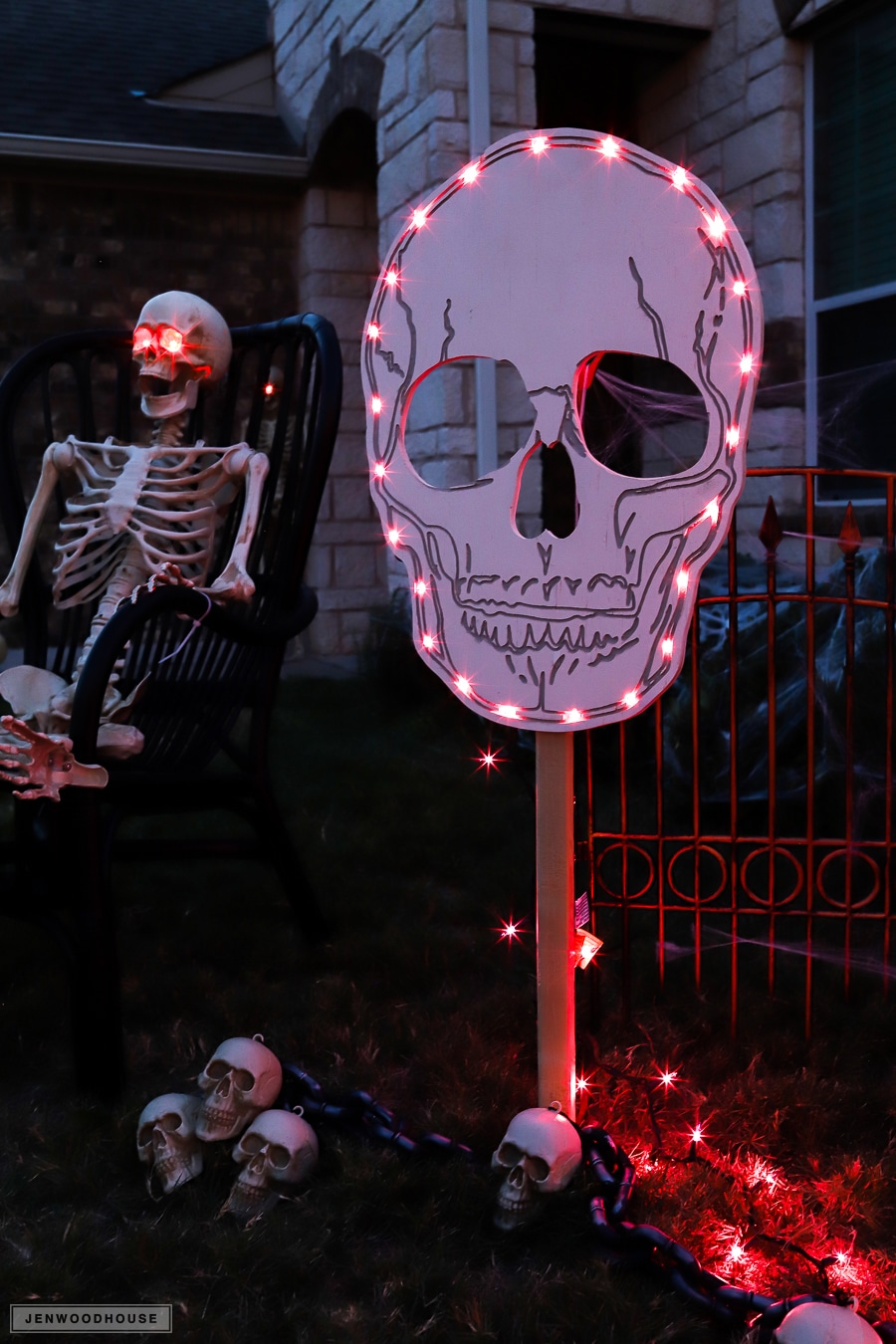 I bought all of our Halloween decorations from The Home Depot. They have a huge selection and the kids have a blast playing with the spooky displays.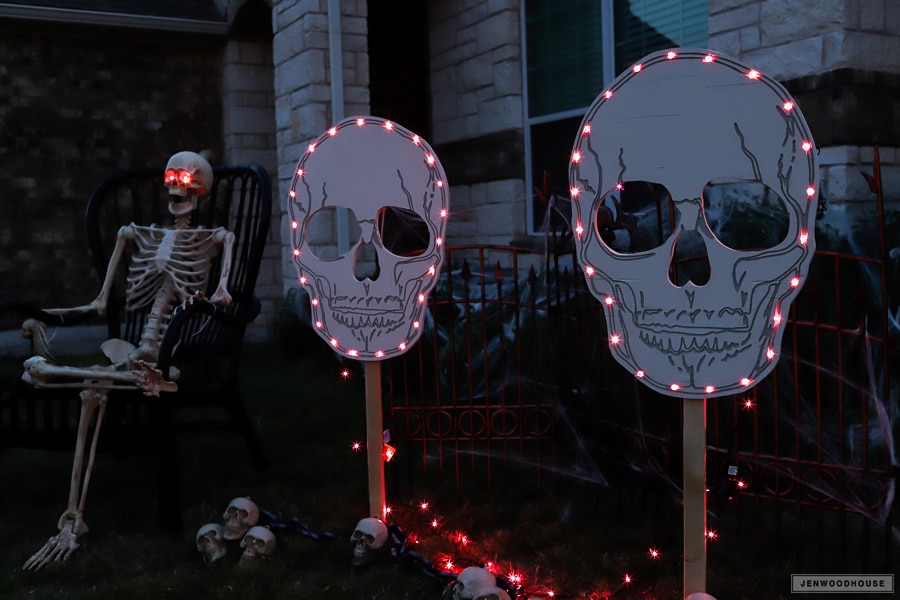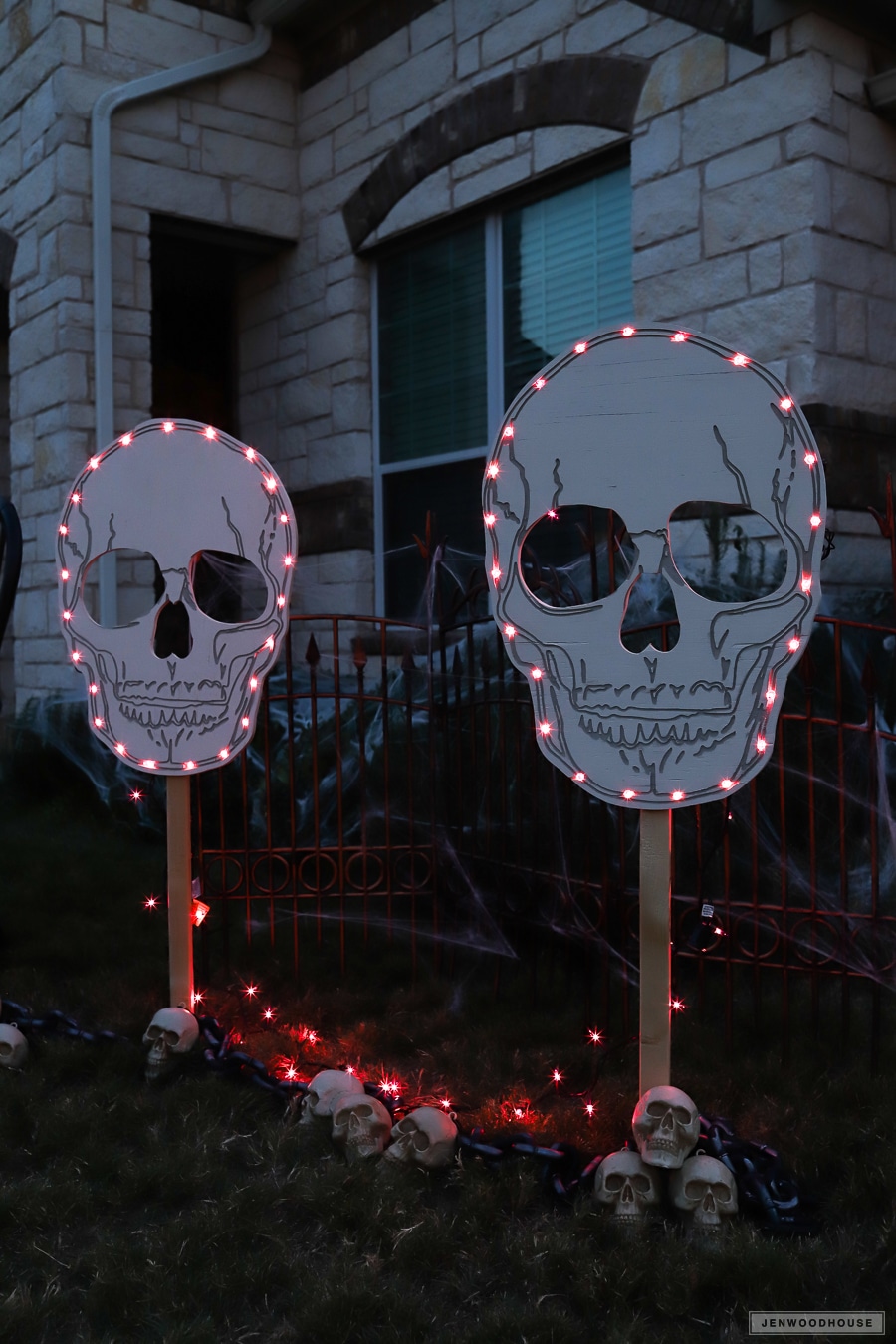 Before you go, be sure to check out how my blogger friends customized their project! You'll be inspired by all of their fun ideas!
If you've recently attended an in-store Workshop at The Home Depot, we'd love to hear your thoughts! Feel free to leave comments and feedback by clicking here.
Love this project? Please PIN and SHARE it!
Pin it for later!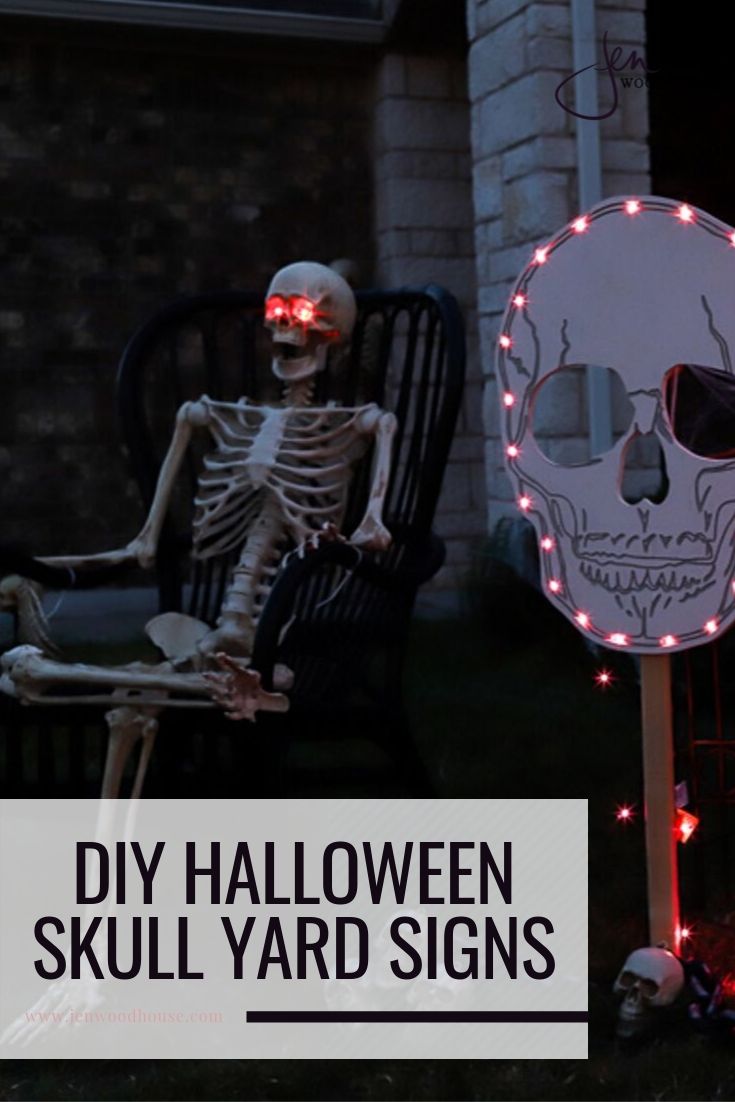 *I acknowledge that The Home Depot is partnering with me to participate in this Workshops Program. As a part of the Program, I am receiving compensation in the form of products and services, for the purpose of promoting The Home Depot. All expressed opinions and experiences are my own words. This post complies with the Word Of Mouth Marketing Association (WOMMA) Ethics Code and applicable Federal Trade Commission guidelines.