We have big news!!! If you keep up with me on Instagram, you already know that we are in the middle of another cross-country transition (Army life!). We've said goodbye to Texas and hello again to Kentucky! We're absolutely THRILLED for this move because we are officially HOMEOWNERS! That's right, we finally bought a house after YEARS of renting and landlords and military on-base housing and property management companies and not having permission to tackle major home renovations or paint walls or even put up window treatments (I know, crazy, right?!). I feel like I finally have the freedom to stretch my creative design muscles and I can't even begin to express just how excited we are. Adam is already dreaming up plans for his "man cave" – he's claimed the entire basement, but I don't remember ever agreeing to that…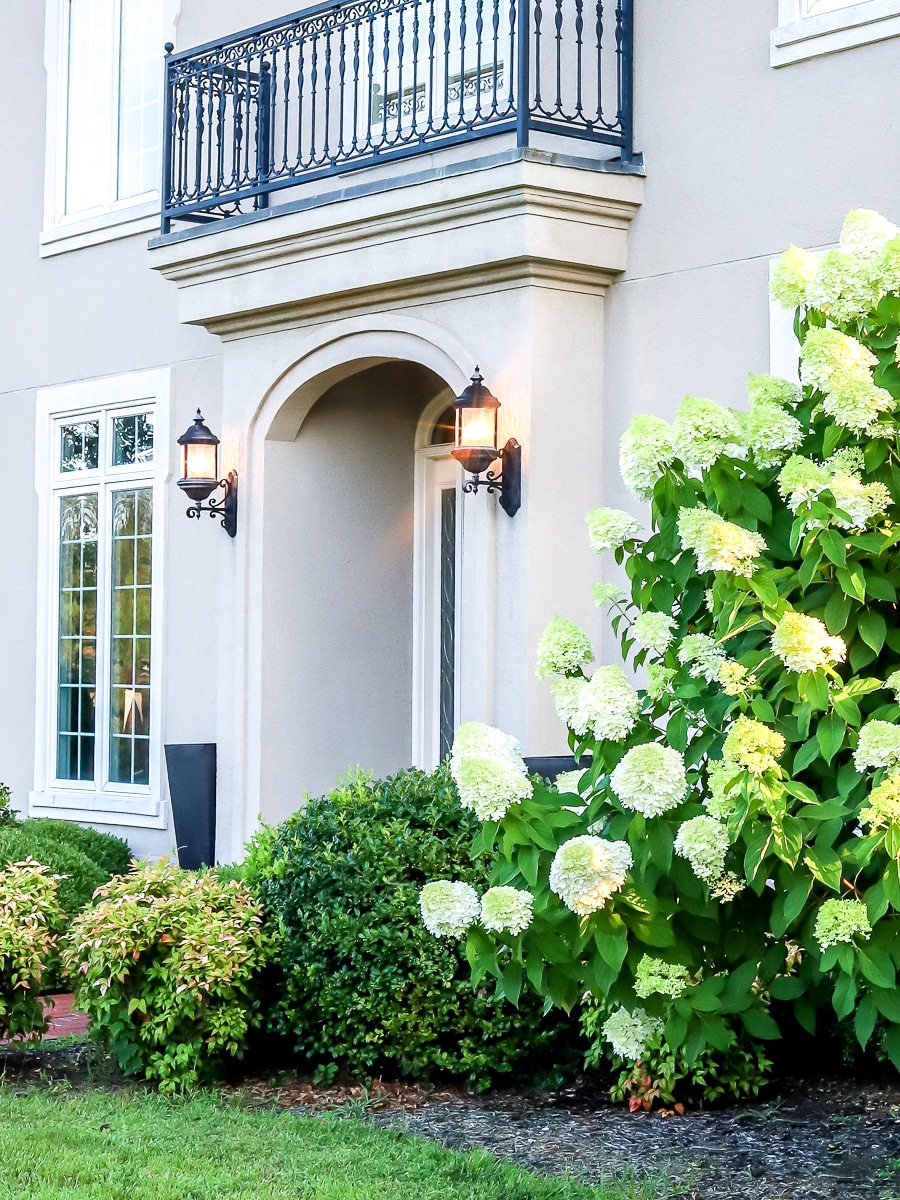 If you'd like to take a peek at our new digs, be sure to join me on Instagram. I'm sharing a candid video walk-through of our new house saved to my Highlights reel. You'll get to see a messy, real-life video house tour (with hundreds of unpacked boxes) – not one that's styled to perfection (yet).
Even though we're eager to get our hands dirty with DIY projects, we're being especially mindful of not jumping into any solid decisions just yet. As we live in the home, we're taking note of how we'd like it to ideally function for us. It'll be fun to see how this all shakes out years from now.
Curious about my design plans for our new home? Follow my Pinterest board here: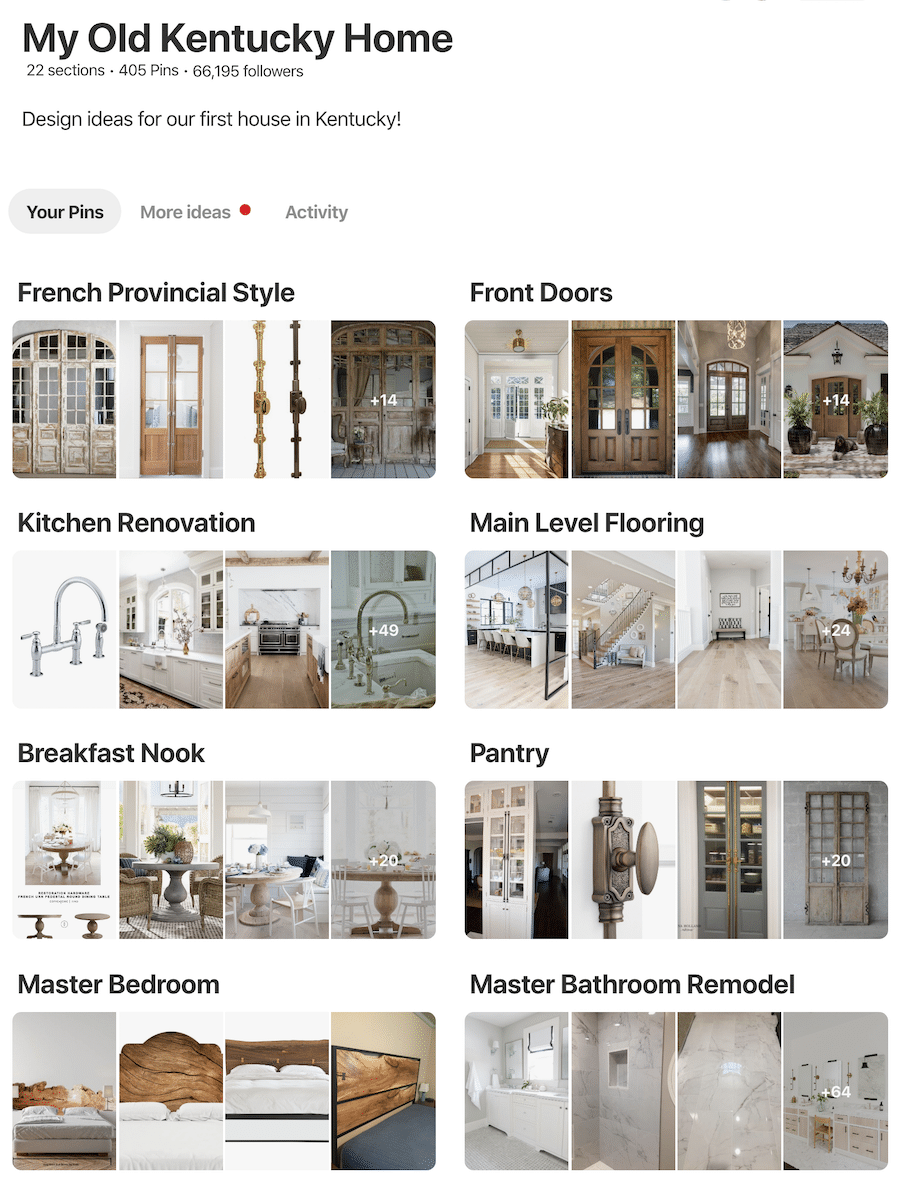 A few upcoming projects:
BUILD A DETACHED WORKSHOP!!!
One of the must-haves we had when we were house-hunting was that the home would either have an existing detached building for my workshop or space on property to build one. With the snowy Kentucky winters, I wanted to make sure we could actually use the garage to park our cars, instead of parking them in the driveway, like we did in Texas. This meant we'd need a 2-car attached garage for our vehicles and an additional space for my workshop. We also didn't consider any homes with an HOA since we knew we might have to build a separate building on property. So, before we ever made an offer on our home, we had our realtor pull the plat and speak with city officials to ensure that we had permission to build. This detached workshop will be one of the first projects we tackle because of timing. We moved in June, so we either have to get the workshop built before winter comes or wait until the following year to break ground. Of course, the earlier the better because I'm itching to get back into the shop!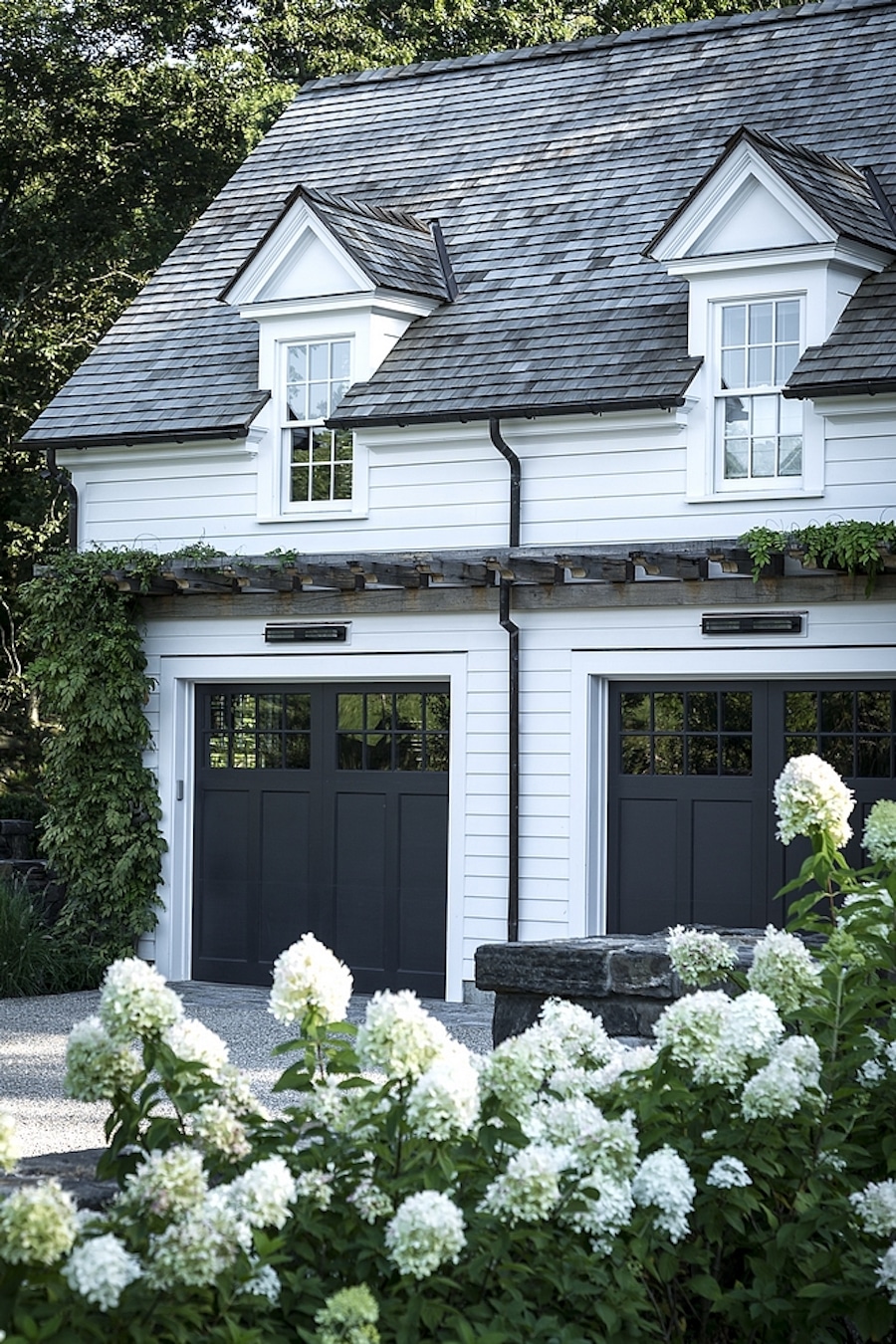 FLOORING
Currently, there's a mix of flooring choices on the main level – honey oak hardwoods in the entryway, dining room, and office, carpet in the living room, and dark laminate in the kitchen and laundry room. We're planning on replacing this mismatched flooring with one cohesive French oak hardwood, like this. We hope to begin this project around August/September of this year and have it complete before we host family for Thanksgiving! #crossingfingers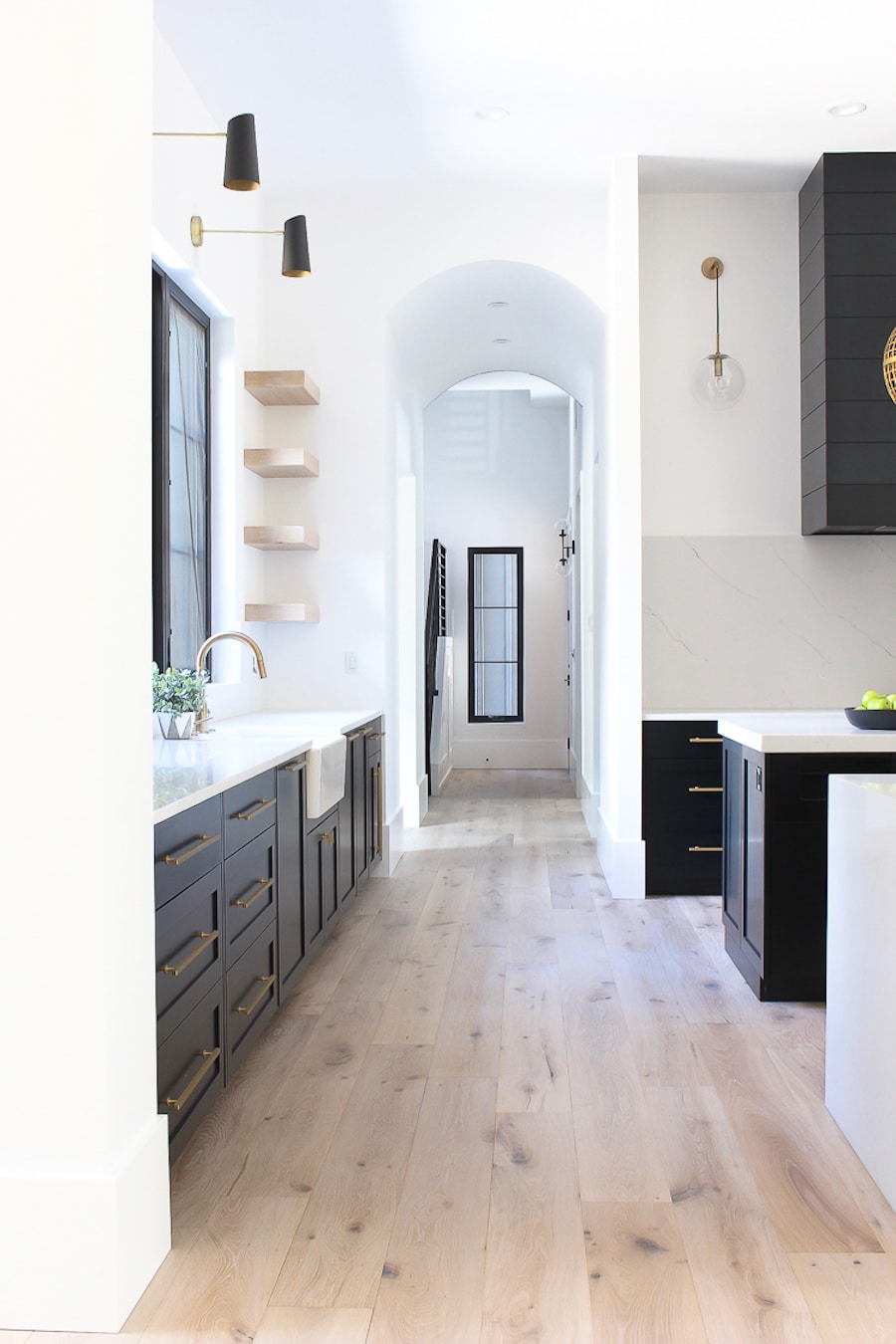 KITCHEN RENOVATION
This will be another huge undertaking as we're planning to complete a full kitchen renovation. We'll tweak the layout somewhat, but no major structural changes will be made. We plan on replacing the cabinets, countertops, appliances, lighting, fixtures, backsplash, and hardware. I envision white cabinetry with recessed panel doors that go all the way up to the ceiling, with glass-fronts on some, with a large, light wood island with seating and storage. The perimeter countertops will be a marble alternative with subtle veining, while the island may have a more striking veining pattern, or maybe I'll go with a different countertop material entirely. There's currently a sink in the island with the range directly across. We'll keep this same layout and replace the sink with a single-basin under-mount sink with a gorgeous polished nickel bridge faucet. The jury is still out on the backsplash and hardware, but I'm thinking something subtle and classic, so as not to compete with the showstopper wood kitchen island. Here's my vision for our dream kitchen.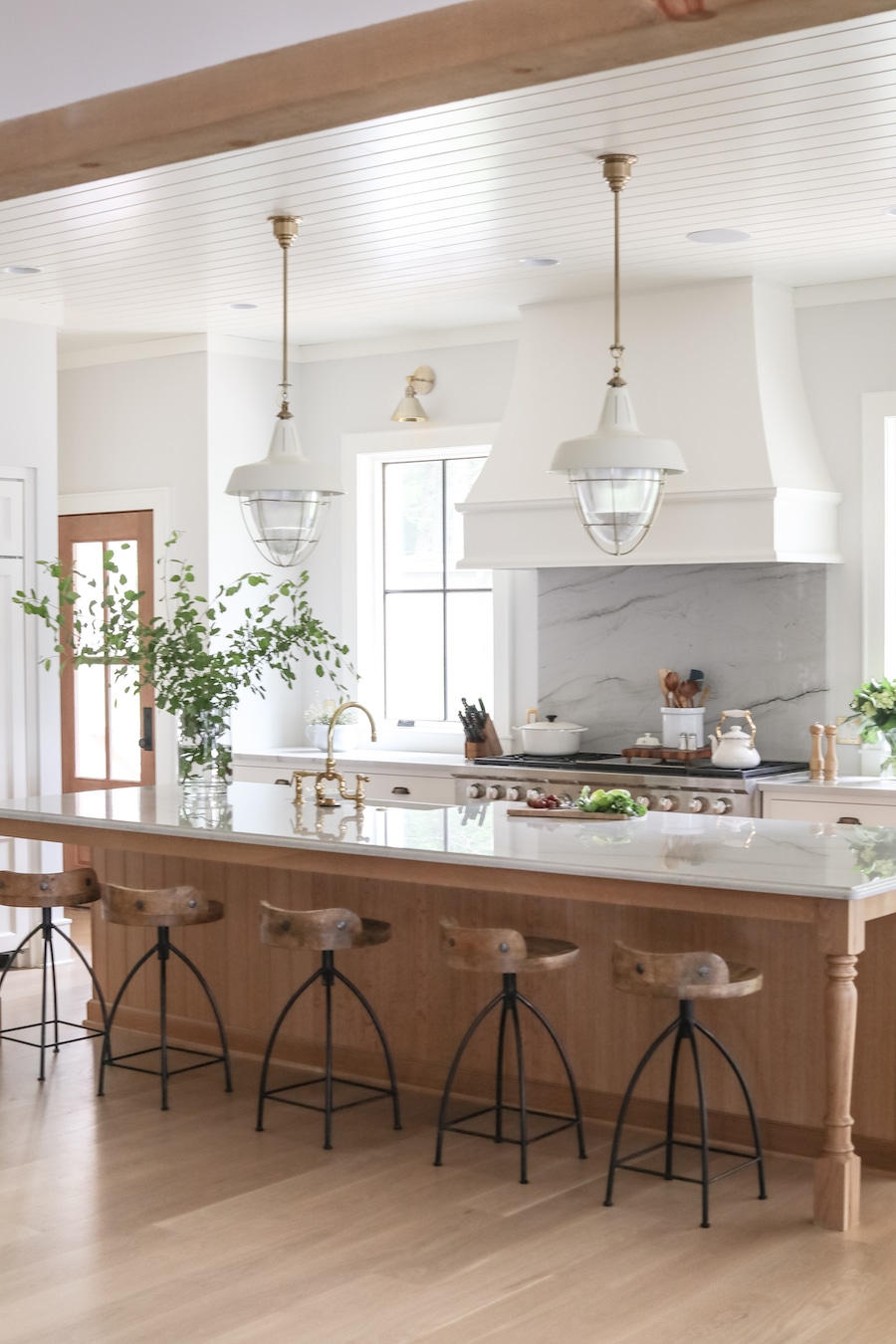 MASTER BATHROOM REMODEL
Our master bathroom layout is awkward and not very functional. A garden tub is tucked in the corner of the room with two small vanities on each side. And I just discovered my vanity is about 4 inches lower than Adam's! (I thought it felt weird when I had to wash my face on my knees… okay, I'm exaggerating.) There's a large walk-in shower and water closet on the other side of the room. We plan on reworking the layout so that it makes more sense and maximizes space. We'll likely demo this down to the studs and start fresh because all of the finishes are quite dated. When we lived in Japan, these wet rooms were pretty common – I'd love to recreate that if space and budget allows. If not, I think doing away with the tub completely wouldn't be outside the realm of possibility. In all our years of having a tub in the master bathroom, we've never really made much use of it, other than to store Adam's smelly gym bags. I'd rather have a large shower than a bathtub any day of the week. Also, the linen closet is missing, so we may opt to put one in if we can't make the wet room idea work. We have 'his' and 'hers' closets as you walk into the bathroom and we'd love to renovate these spaces along with the master bathroom remodel. You can see more master bathroom ideas here.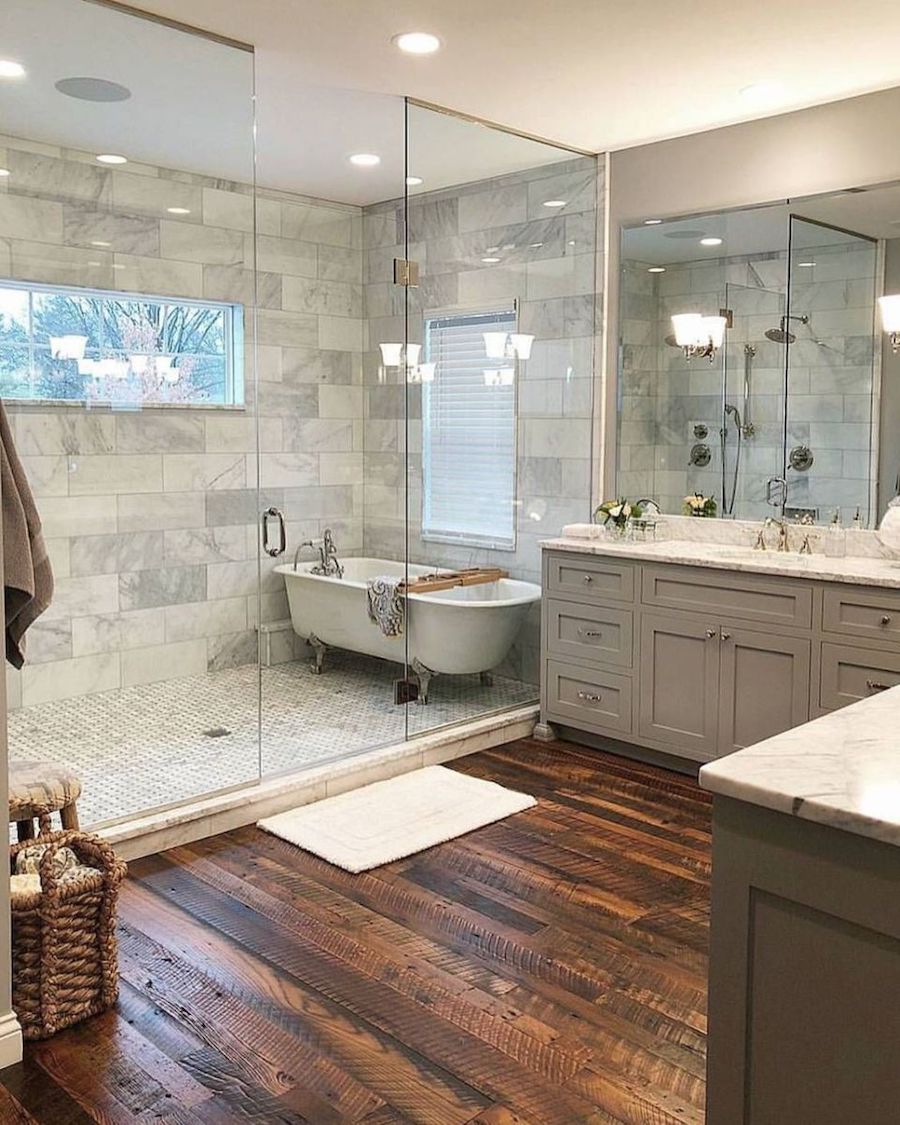 POWDER ROOM RENOVATION
This will be a fun room to redo. The door to the powder room currently opens up and bumps into the toilet in the small space. We think it would make more sense to install a pocket door here, to maximize space and function. I'd love to see some kind of statement wallpaper in here too, along with a floating marble vanity with a wall-mounted faucet.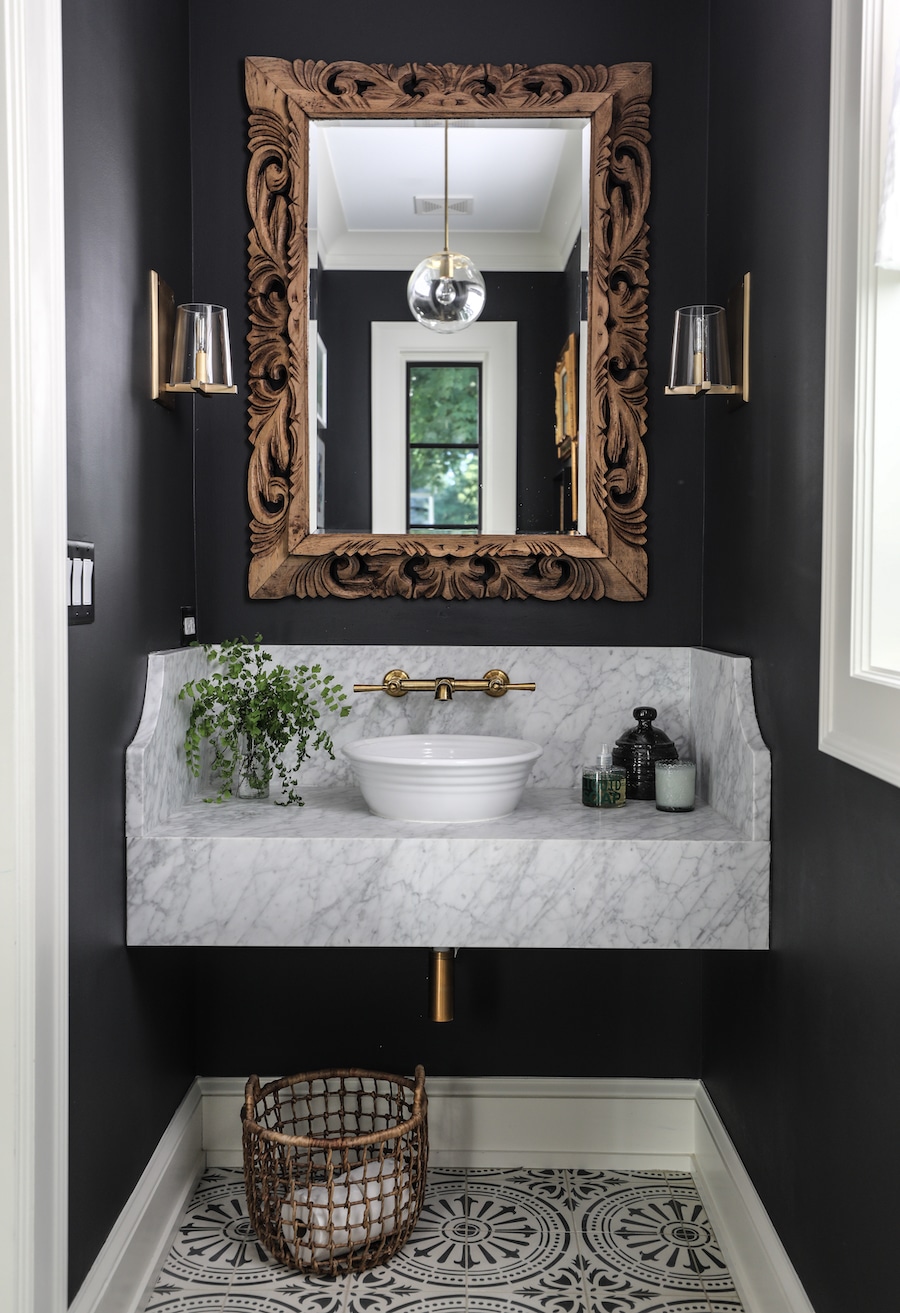 In addition to these home renovations, there will be plenty of DIY furniture builds. We sold most everything when we left Texas (including our beloved sliding barn door loft bed, cabin bed, chevron bed, and walnut entertainment center!), so we basically have to start from scratch again. Which is just fine by me because this house has such a different style and feel; our old furniture wouldn't have been a good fit. We're going to be building a king bed, the kids' beds, various nightstands, coffee tables, and more, so rest assured, there will be no shortage of new project plans coming your way!
These are just a few of the projects on our list, but it's certainly enough to keep us busy for awhile! This house has so much potential and I'm excited to uncover it all and take you along as we walk this new journey! Thanks for sticking with me. It's gonna be good.