Hi friends!
I hope y'all are recovering from a gluttonous Thanksgiving holiday! I know I am. I can already hear the treadmill wheezing as I step foot on it. Just kidding. That's me wheezing. From running. Just kidding again. I don't run. Unless I'm being chased. By someone who wants to end my life. And I kind of love this life, so… yeah. No, seriously… I don't run. And if you do, congratulations. You're insane.
Over the holiday, I tackled a DIY project that only insane people tackle: stenciled drop cloth curtains. Yep. So if you run for fun, this little nightmare of a project might also be your cup of tea. Only kidding. I'm really happy with how everything turned out. However, next time, I might not choose to be overly-ambitious in stenciling 3 panels of fabric! Fabric that moves, wrinkles, and generally disobeys my every command. But that's clearly user error.
The folks at Royal Design Studio were kind enough to send me the Parlor Lace stencil from the Allover Damask Stencils Collection so that I could use it in my drop cloth curtains project. I was pleasantly surprised to find out how large it was! Not only was the stencil oversized, the detail of the lace was exquisite! I also loved the durability and quality of the stencil. I'm looking forward to using it over and over again in future projects (on everything except disobedient fabric).
First, I purchased three 9×12 drop cloths from Lowes Depot, washed and dried them, then cut them in half to make 6 panels (though I'd only need 3 panels for this project). After that, I hemmed all the cut edges, then ironed each panel. Now my hum drum drop cloths were ready to be transformed into exquisite, lacy gorgeousness.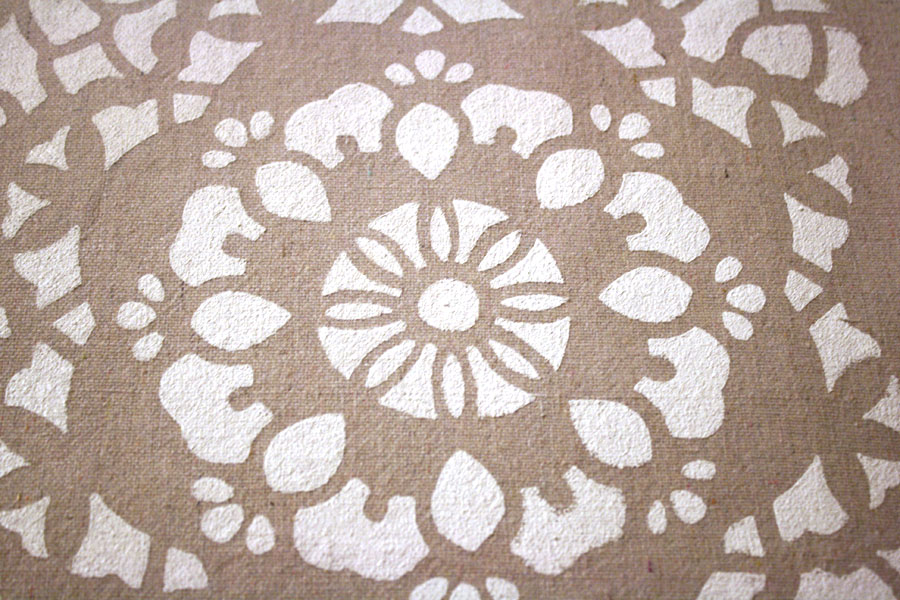 Are you ready for this jelly?
After trying several different paints, methods, and tools, I finally decided to use regular ole latex paint with a foam roller. I watered down the paint periodically just to make the consistency more flowy (and not goopy). I was also running out of paint, so this was my el cheapo way of making the paint last as long as possible. And at 9 o'clock at night, I did not have the patience to make another run to the home improvement store for more supplies.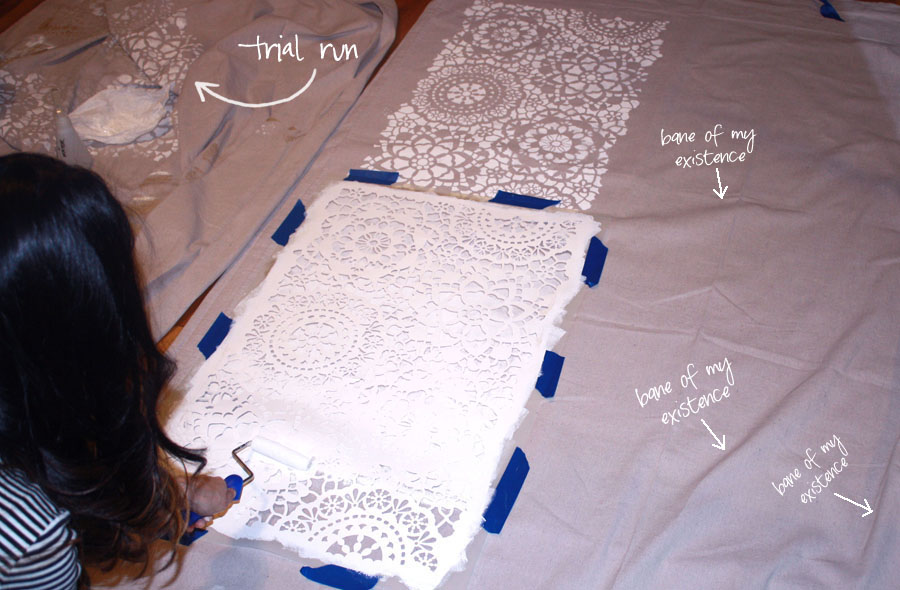 I laid down an old drop cloth under the drop-cloth-turned-curtain-panel to serve as an actual drop cloth (genius!) to protect my landlord's floors. I suppose I should have taped down the actual drop cloths so that the fabric would be less likely to shift and move and make me want to drown a sack of kittens, but let's be honest. Ain't nobody got time fo dat! I did, however, take the time to tape down the stencil. Then I just rolled the paint over the stencil. I was surprised to find that it was so forgiving, despite my stencil noviceness (that's a word. Shut it.). Because the stencil had such intricate detail, I was worried that paint would bleed under or the design would somehow be compromised, but to my surprise, when I lifted the stencil up, a crisp, clean, elaborate design was left on the fabric. Oh, ye of little faith, this is completely idiot-proof! My kind of DIY.
Oh, and don't think I don't see you checking out my ombré hair and saying to yourself, "girl, don't you know that ombré is over?" I'm in denial. Or just waaaaay ahead of my time, since we all know history repeats itself, amiright?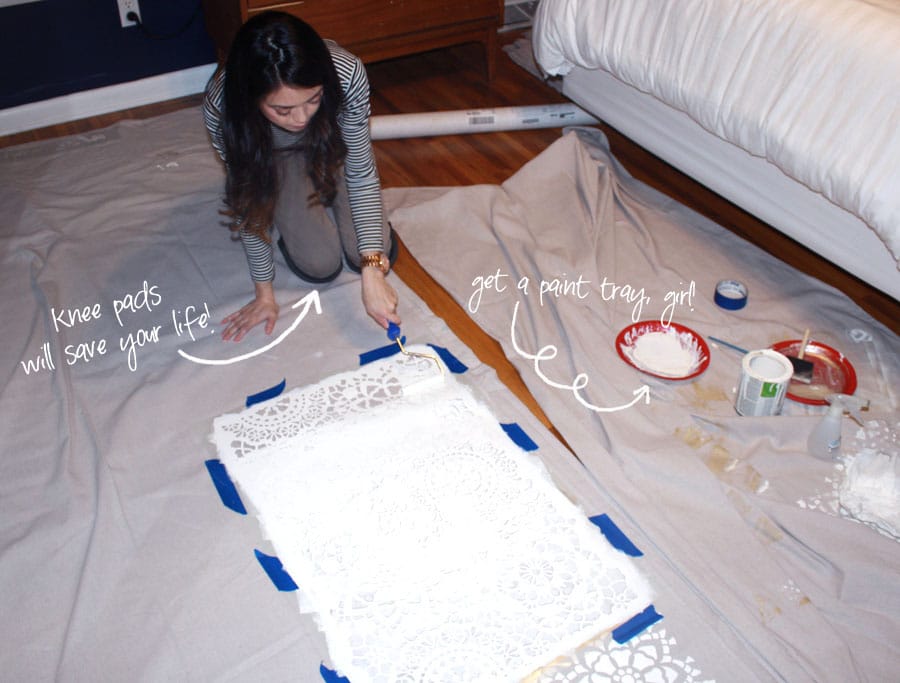 And a gazillion years later…
Congratulations. I'm a hundred. #namethatmovie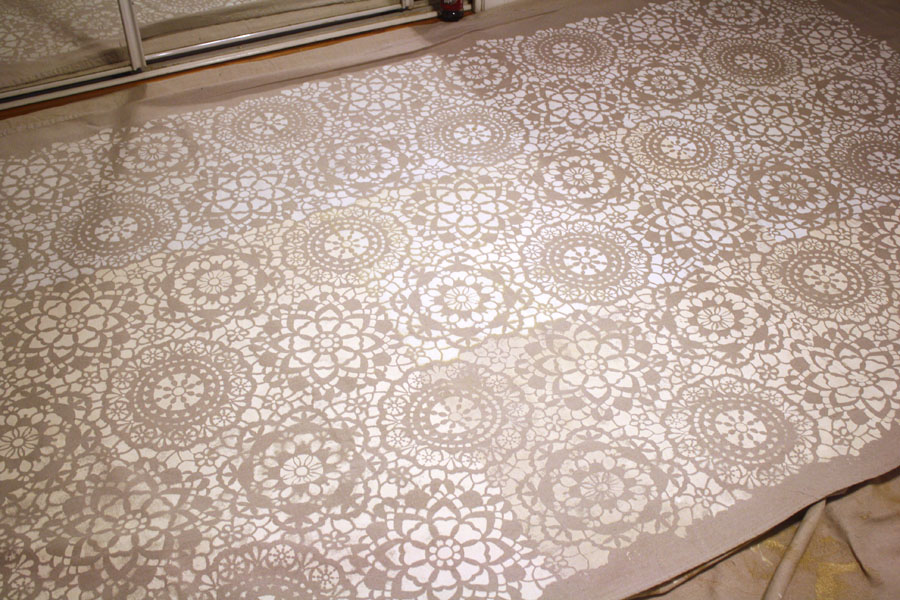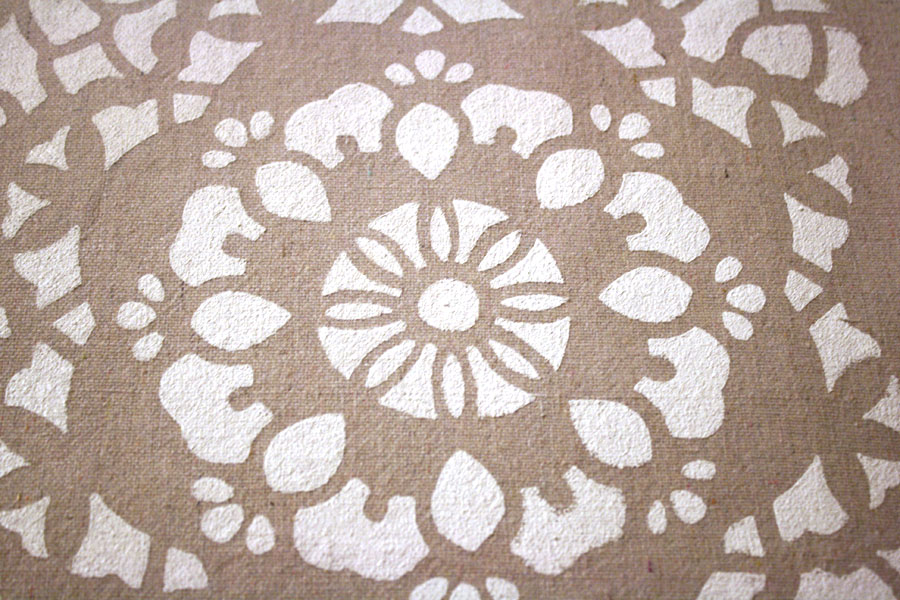 Gorgeous, right? I just love this stencil so much! Royal Design Studio has a ton of different stencils in so many different styles. Check them all out here and get inspired!
So what do you think? Does this get your stenciling juices flowing? Well, stay tuned… I'll be back on Monday with an exciting giveaway for you lovelies! I'll also be back to share how these beautiful stenciled panels look hung up in my room. Until then, have a glorious weekend!
Disclosure: Royal Design Studio sent me the Parlor Lace stencil for free in exchange for a review. This did not influence my review in any way. All opinions and sarcastic remarks are completely my own.