*This post is sponsored by Wood, Naturally.
Real wood continues to be the most widely used material for decks due to its affordability, availability, looks, and comfort. While there are pros and cons to both wood and composite decking, wood is the real deal – it's authentic, with a natural warmth and richness that is incomparable. It's entirely possible that I may be biased, but this is the House of Wood, after all.

Affordability and Availability
Wood is generally more affordable than composite decking and is also widely available. While composite decking touts being virtually maintenance-free, prepare to pay twice the price or more, which is one of the main reasons why pressure-treated wood has been the best-selling decking material for years.
Cost effectiveness was one of the main reasons why we chose to use pressure-treated wood when we built a floating deck and pergola for our neighbors last summer. Not only did it give us the most bang for our buck, but the homeowner wanted a truly authentic look that only wood can provide. Natural wood adds so much warmth and character to their backyard – they can enjoy their beautiful outdoor space for years to come.
All decks, including composites, require some maintenance. Both composite and wood decks are susceptible to things like mold and mildew because they are in contact with outside elements, however mold spots are more difficult to remove from composite decking.
Additionally, composite decking can fade in direct sunlight and tends to sag and bend more than wood, generally needing more support and structure to prevent sagging. Some composites require a finish applied once or twice a year to keep from fading and also need an annual deck safety inspection. Similarly, wood requires refinishing every 1 to 2 years, as well as an annual deck safety check, but can last 20 years or more with consistent care.

Looks and Comfort
Today's composite decking is designed to emulate the organic beauty of wood and wood grains, however, wood can be stained in a much wider array of colors to match any home style, while composites have fewer color and finish choices. Also, when composite decking fades as previously mentioned, most brands typically cannot be stained or painted. I can't imagine the frustration we'd experience had we paid top dollar for a composite deck, only to have to replace fading boards shortly thereafter due to this blazing inferno we call Texas.
Speaking of the burning lake of fire, the surface temperature of composite decking can get uncomfortably hot; so hot that you can't walk on it barefoot. They also tend to be slippery and can look fake and plastic whereas natural wood feels good and smells great.
I just love wood!
(I'd totally wear that on a t-shirt, but I'm afraid people would get the wrong idea.)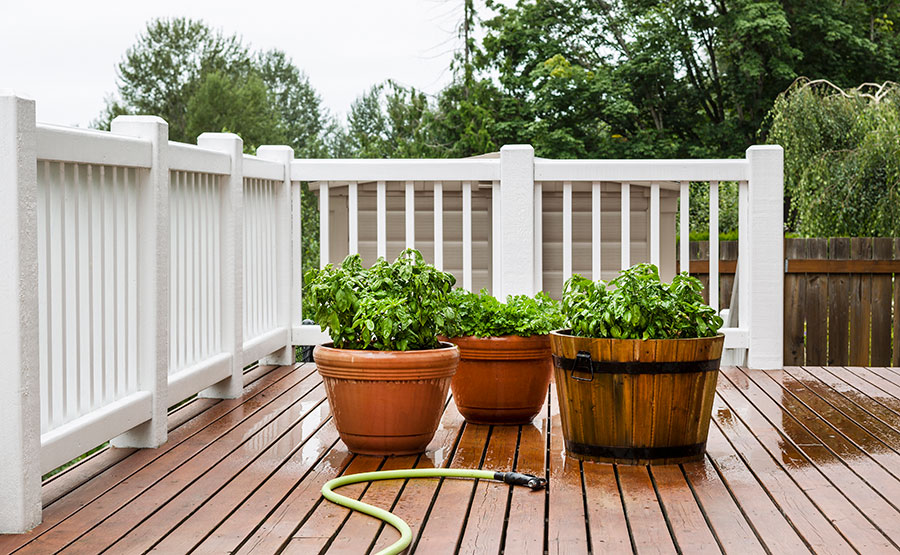 With proper care and maintenance, high-quality, natural wood decks will stand the test of time. You can't go wrong with real wood when it comes to economy, beauty, and longevity, which is why it's been the top choice for homeowners for decades.