Ever since I laid eyes on this Restoration Hardware wood & steel console, it's been on my "To Build" list. I am happy to say, it's finally moved from "To Build" to "BUILT!" Most times I'll write down a task, just so I can cross it off the list, like "feed children" or "take shower." Obviously, I don't need to write those things down to remember to do them (most of the time), but there's something about crossing things off of lists that I find so therapeutic. That's not weird, right?
Hi. I'm Jen and I'm a habitual list-maker and task crosser-offer.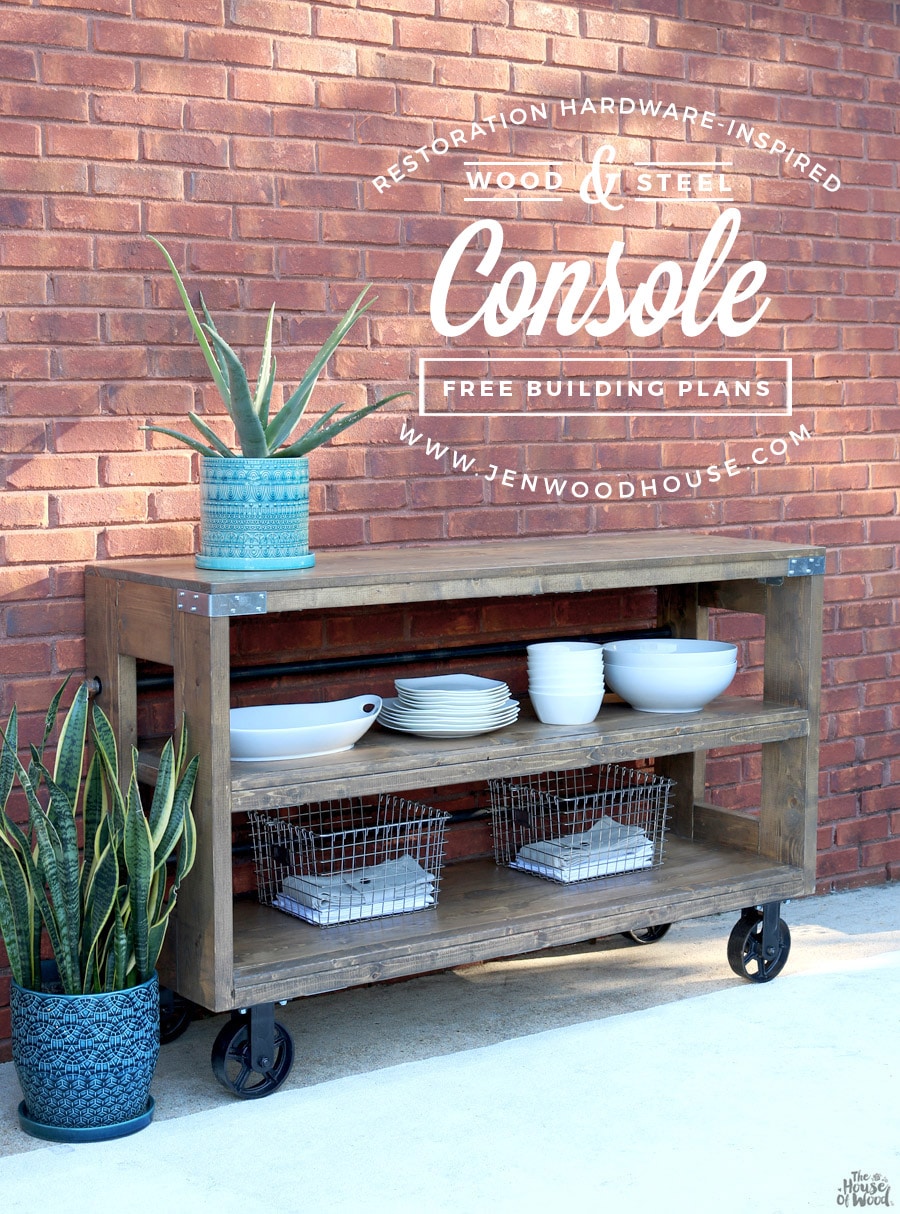 Well, I'm glad to have this one crossed off my list because I've been drooling over it forever. Be sure to follow me on Instagram, Facebook, or Periscope for an exclusive, behind-the-scenes look at my upcoming projects. If you do, (thank you – you're awesome!) you would have seen sneak peeks of this project (as well as the mistakes and headaches along the way – but more on that later). I am SO excited to finally share the plans with you today!
*This post contains affiliate links. To read my full disclosure policy, click here.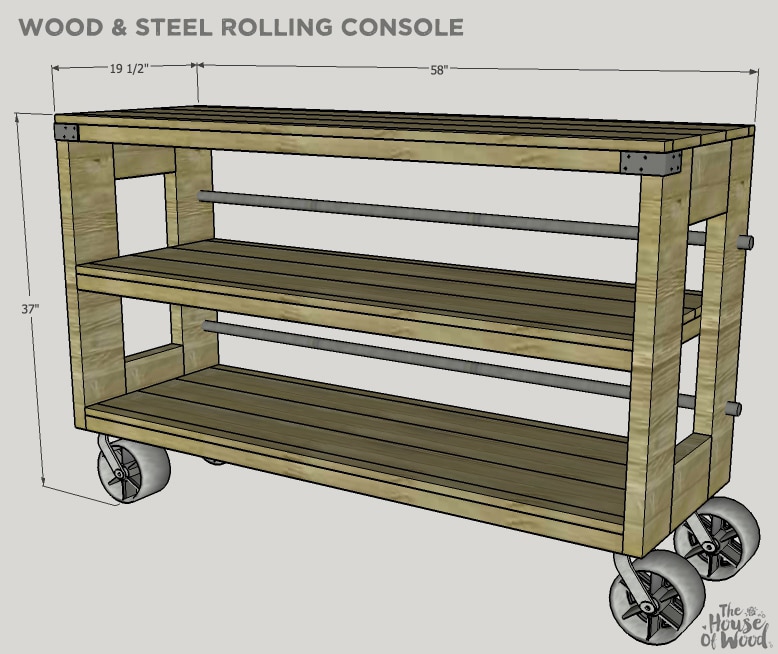 I teamed up with the fine folks at Simpson Strong-Tie to bring you the tutorial for this project. I love the industrial design element that the metal angles add and Strong-Tie products are super strong to build with. You might remember me talking about this product when I built my first workbench. For this project, however, I used several different connectors: Rigid Tie™ RTA2Z  connectors, GA2 gusset angles, and A44 angles.
Are you guys familiar with Simpson Strong-Tie? I bet you are and you just don't realize it. If you look at your house, deck, pergola, or any other building or structure, you'll most likely see metal connectors such as joist hangers, roof truss connectors, straps, mending plates, etc. that are joining the lumber together. Simpson Strong-Tie makes a dizzying array of connectors so you're bound to find one (or several) that will meet your needs; they've been the building industry standard for over 60 years. Pretty impressive, right?
So if these connectors can hold up a house, you better believe this console is as solid as a rock and built to last.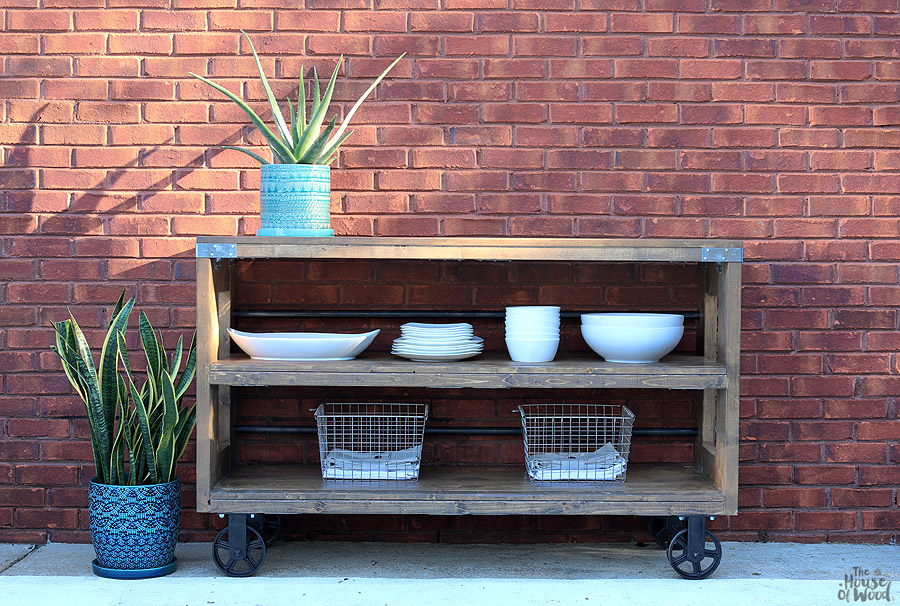 HOW TO BUILD A WOOD & STEEL ROLLING CONSOLE WITH SIMPSON STRONG-TIE
Here's what the carcass looks like (flipped upside down in the photo below).
*Note: the plans include two additional 2×4 pieces attached to the bottom of the console because I had to go back and add them to attach the casters in later steps. While my photos may slightly differ from the plans, the plans are correct, so when in doubt, follow the plan.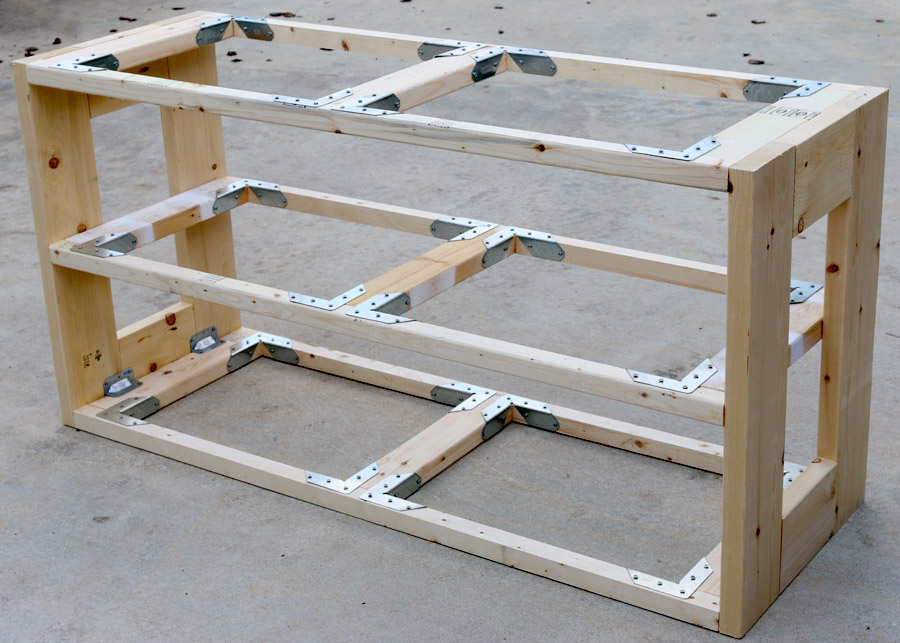 I used Simpson Strong-Tie's Strong-Drive® wafer-head screws to attach the connectors. You guys. I absolutely LOVE these screws – you don't have to pre-drill pilot holes so these screws save me a bunch of time and effort. #worksmarternotharder
Then, by planking the 1x boards on top, I was able to hide the RTA2Z connectors from view.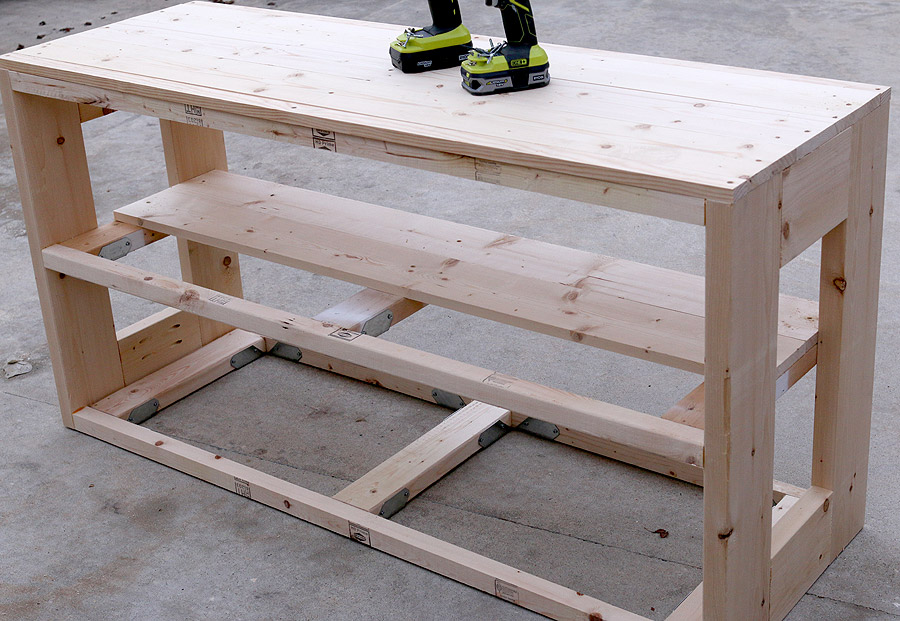 And here's another tip: I highly recommend owning at least two cordless drills if you're able. It's a great time-saver because you don't have to change out drill bits when working with different screw heads.
When I was attaching the 1×6 boards to the carcass, I had one drill fitted with a countersink drill bit and the other with a Phillips head bit so I could pre-drill and countersink the pilot holes into the 1x boards with one drill, then grab the other drill to drive the screws in. And in no time at all, I had the entire console built.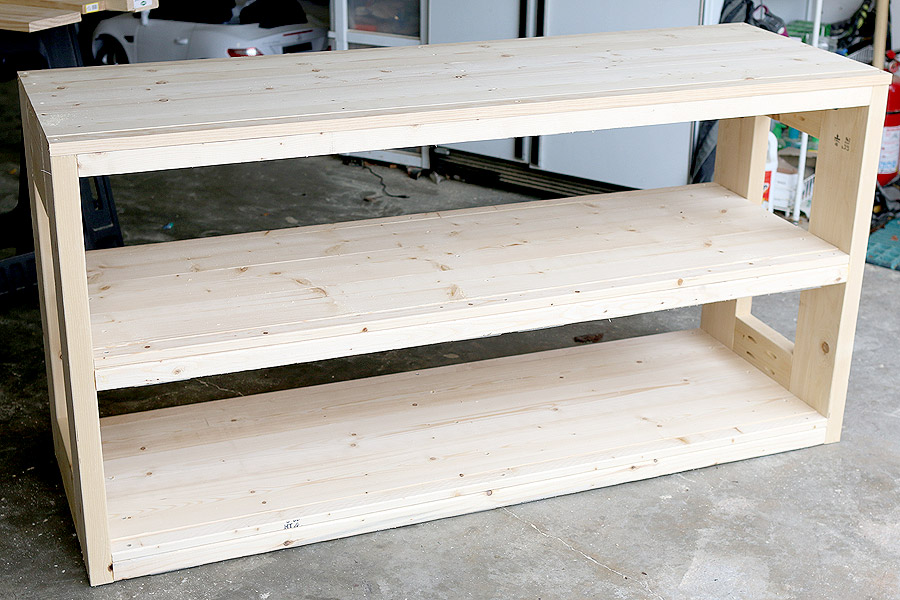 Okay, so after this is where things got a little hairy. Whenever I begin a project, the first thing I do is sketch up a plan, then once I build it, make mistakes, and find more efficient ways of building, I go back and revise the plan so that you're set up for success. In other words, I've made plenty of mistakes along the way so you don't have to. You're welcome.
Once again, the plans are written correctly, so you should be fine as long as you build according to plan. But let's go back a bit, because I don't want this tutorial to be misleading. In the photo above, you'll see that I built the entire console before installing the casters. Well, they say that hindsight is 20/20, right? If I were to do it over again, I would have installed the casters at this step: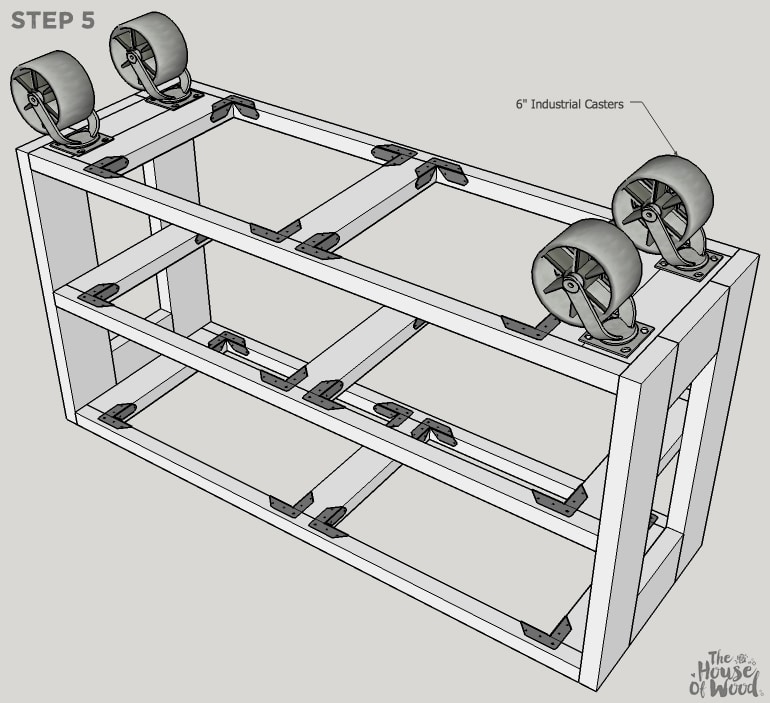 I posted the photo below on Instagram after installing the casters (see? You totally should be following because it's always a party over there). I decided that I didn't like the carriage bolts being visible, so I had to redo everything. Well, not everything, but seriously. What a time-suck.
Oh, and thank you to everyone who offered advice and suggestions, by the way. They were very much appreciated!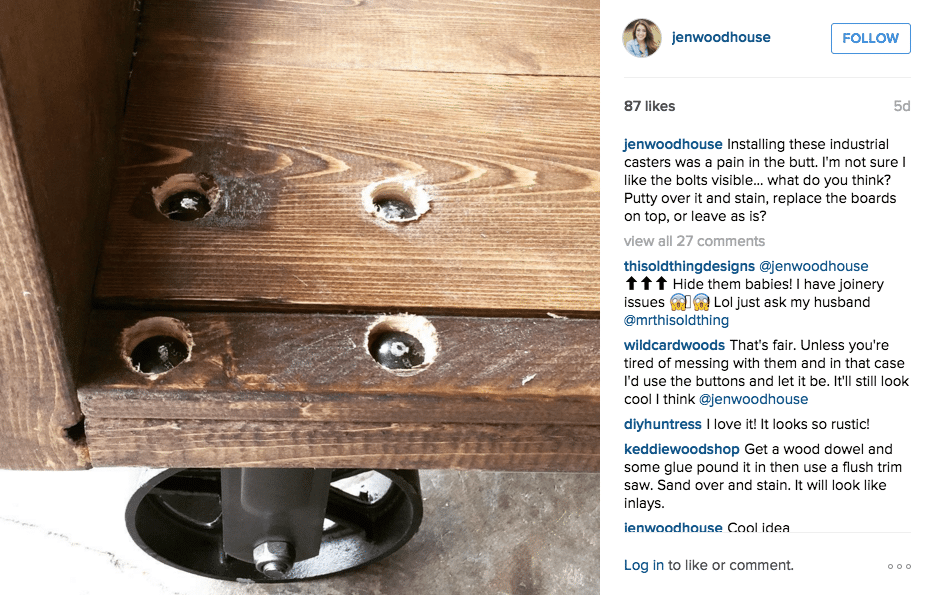 In the plans, you should install the casters at Step 5. First, pre-drill holes for the carriage bolts, then using a 7/8-inch forstner bit, countersink the hole so that the locking nut will sit just below the surface of the wood so that the top 1x boards (which you'll add later) can lay flat on top. Insert the carriage bolts from the bottom up so that the locking nuts are on top. Hope that made sense. Basically, all you'll be doing is hiding the hardware beneath the top 1x boards, instead of how I screwed it up in the picture above (see what I did there?). Ugh. Just looking at all that extra work gives me a headache. Do as I say, not as I do. By the way, I bought the 6-inch steel casters from here.
I used a 1-1/4-inch hole saw to drill the holes for the pipe to sit in, clamping a couple pieces of scrap wood to minimize tear-out from the hole saw.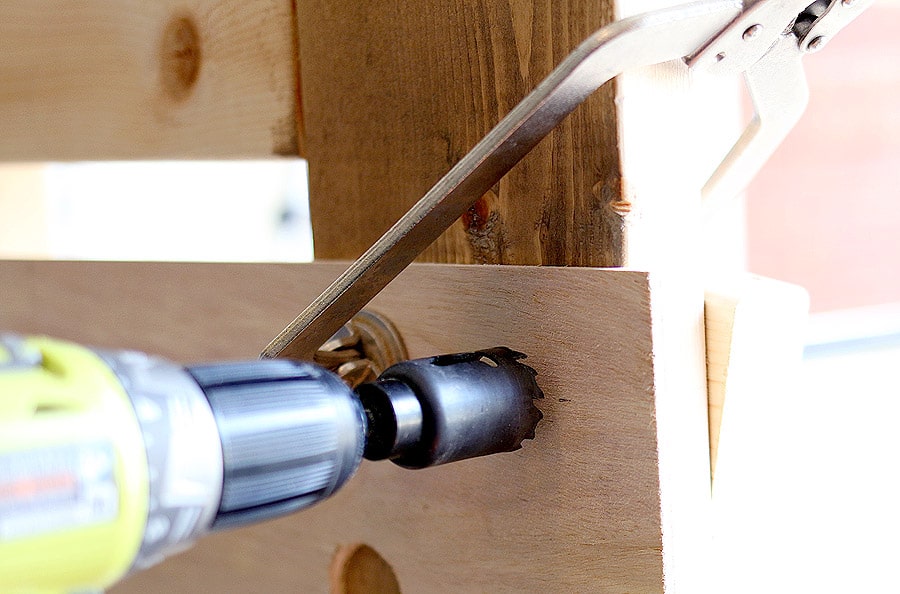 Finally, I inserted the 3/4-inch pipes along the back of the console, screwed the pipe caps on each end, and attached the A44 angles – which are purely decorative, not structural.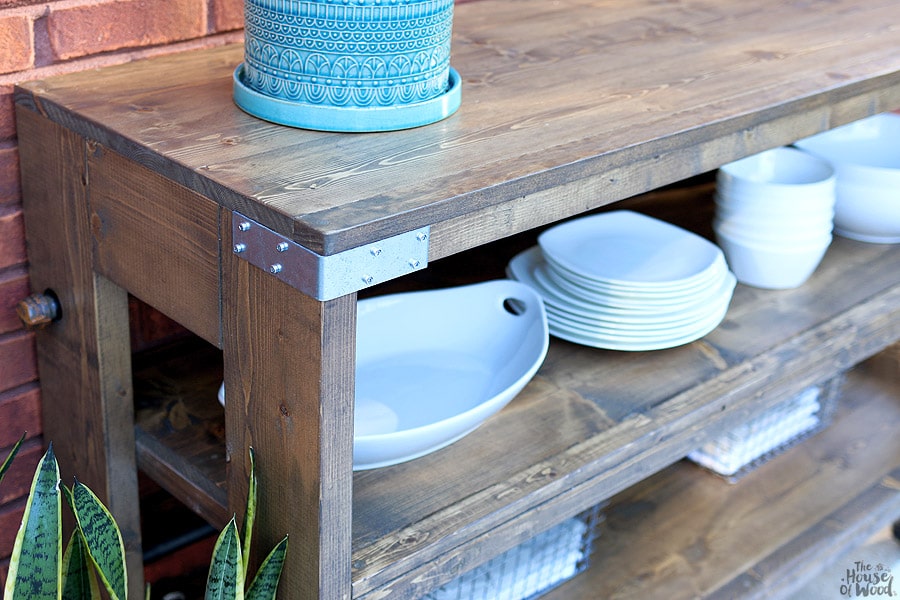 Please excuse the rust on the pipe caps. Of course it would rain cats and dogs as soon as I rolled this thing outside. Lovely.
So what do you think? Are you digging the rustic, industrial look of this console as much as I am? Pretty stinkin' close to the original, right? Except my DIY version is well over a thousand dollars less. Boom shakalaka.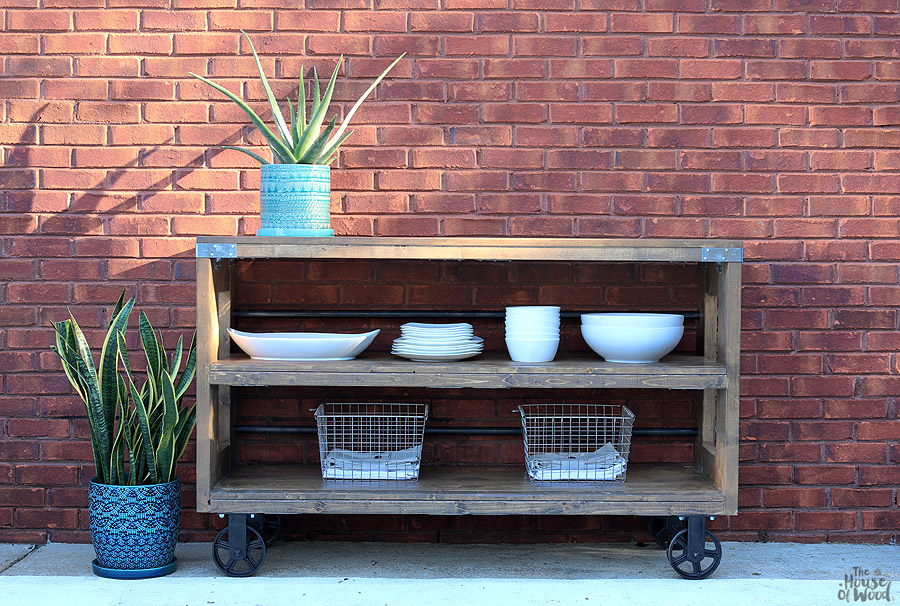 Now all I have to do is find a place for it in my house. Just another thing to add to my To Do list. But thank goodness for To Do lists because otherwise, my kids would be surviving off a sleeve of Saltines and I would literally smell like the walking dead. Speaking of The Walking Dead… GLENN!!! Ahhh!!!
Thanks for reading, friends! Be sure to download the free PDF plans so you can build this wood & steel rolling console. Good luck, be safe, ask questions if you need to, and get 'er done!
SHOP THIS POST


Oh, and be sure to PIN IT so you don't forget it!


*Big thanks to Simpson Strong-Tie for sponsoring this post. All efforts, completed To Do lists, and professions of undying love are purely my own.
Pin for later!